Travel agency franchise Cruise Planners has announced that it is working with Space Perspective to offer clients a chance to go where few have ever gone — space.
The company has reserved two full capsules scheduled to fly in 2025 and 2027 on Spaceship Neptune, developed to be the most accessible, sustainable, and safety spacecraft on or above earth. The six-hour journey will take eight explorers and a pilot to the edge of space in a luxurious capsule propelled by a SpaceBalloon.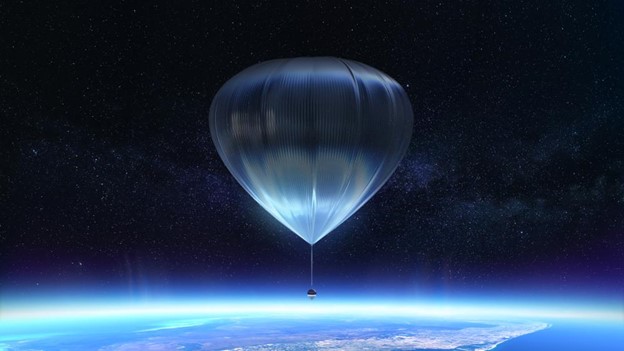 Spaceship Neptune will be attached and secured to the SpaceBalloon for the entirety of the flight, making it a safe journey for the travelers. Other vessels separate mid-flight and transfer to different flight systems.
According to Space Perspective, Spaceship Neptune will be lifted to space by the balloon, powered by renewable hydrogen with no rockets and no carbon footprint. Guests won't have a jarring blastoff; instead they'll ascend steadily at 12 mph.
MORE: Carnival Increases Steakhouse and Teppanyaki Prices, Moves Lobster Night
"Cruise Planners has always been a pioneer and at the forefront of innovation in the travel industry," said Michelle Fee, CEO and founder of Cruise Planners. "We are excited for our advisors to be able to offer such a unique experience to their clients that pushes all boundaries of travel as we know it."
The interior Space Lounge layout has been designed to maximize comfort and enhance the astronaut experience of seeing earth from space. Explorers can take advantage of the telescope and interactive screens that share key information as the journey unfolds — or celebrate with a champagne toast from the bar.
Guests will be able to enjoy the views from the largest windows ever flown to space, giving them 360-degree visibility. A high-speed wifi connection will also be available.
"Space Perspective is changing the face of space travel," said Edyta Teper, Head of Global Sales-Trade Partnerships. " We are delighted that Cruise Planners is one of the early pioneers to present this exciting and life changing experience to their clients."
READ NEXT: 9 Cruise Concepts That Didn't Quite Catch On