Listen to one cruiser's story:
[smart_track_player url="https://traffic.libsyn.com/cruiseradioshow/BONUS008JAN618.mp3″ title="Norwegian Breakaway in Winter Storm" artist="Cruise Radio" social_email="true" ]
Even as the Norwegian Breakaway was returning to the port of New York City later than expected, reports were surfacing of the "nightmare" endured by passengers. How bad was the ship's journey through Winter Storm Grayson? Bad enough that the cruise line actually apologized for having sailed through it!
Breakaway Passengers Glad To Be Off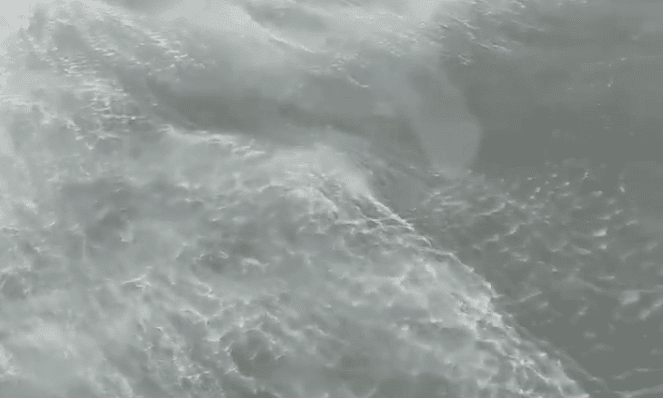 Shortly after disembarking from the storm-battered ship, passenger Mary Lou Harrison tweeted, "So relieved to be off the Norwegian Breakaway after sailing through [the storm]. The response by [the ship's] captain and hotel director to passengers fears and issues on board was appalling."
Fellow passenger Karoline Ross told the New York City CBS News affiliate it was "the worst moment of my life." Sailing with a large group to celebrate the 80th birthday of their family patriarch, Ross — described as a "seasoned" cruiser — went on to say, "When you're on a boat in the middle of the ocean and water is pouring down the stairs, you're thinking, 'This is not going to end well.'"
A major complaint among many cruisers was the lack of communication between the ship's staff and passengers. While Norwegian on Thursday posted an alert to their website that the Breakaway would be returning to port later than expected due to the storm, this came as a surprise to those on board. "Passengers boarding the [ship on Saturday] heard about our delayed arrival in port before those of us on board," tweeted Harrison. Others on board spoke of only finding out about this change when they saw stories posted to Facebook.
"The captain should've told us a little more," passenger Brenda Wriedt told CBS. "He kept saying, 'We're in rough seas.' Well, no crap we're in rough seas!"
Norwegian Apologizes To Cruisers
#NorwegianBreakaway Happy we survived the storm. Questionable decision by Norwegian to risk nearly 5000 lives and sail through this storm. Emotional impacted many passengers. pic.twitter.com/kTwbCMyCmt

— Ishan Byrde (@ishanbyrde) January 6, 2018
"During the early morning hours of January 4," read a statement released by the cruise line, "Norwegian Breakaway encountered stronger than forecasted weather conditions due to winter storm Grayson during the trip's return to New York from the Bahamas. All guests and crew are safe. We sincerely apologize to our guests for these stronger than expected weather conditions and any resulting discomfort they may have experienced."
This response was not particularly well received in some corners. "Really, Norwegian?" tweeted @NoWayHome. "WE all knew it was forecast as a monster storm 'Bomb Cyclone!'"
Ross told CBS News that her family would be demanding a refund for all 9 of the staterooms they booked. But she also wanted answers as to why the captain made the decision to put them through such misery in the first place. "He took all our lives in his hands, and we were really in a bad spot," she said. "It was really horrible."
Read More: 9 Tips for Norwegian Breakaway