MSC Cruises has created a new video that showcases their new health and safety protocol onboard to keep passengers and crew protected in light of the current health crisis.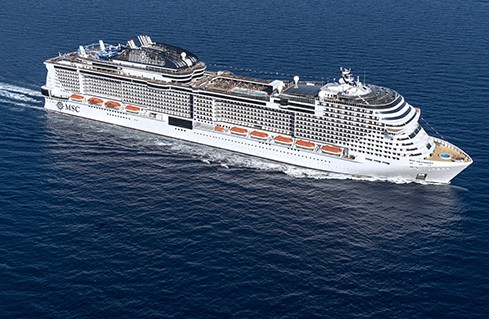 The video was recorded on the line's flagship MSC Grandiosa, which resumed sailings in the Mediterranean in August. The line has capped the ship's capacity at 70 percent for now.
What MSC Is Doing To Protect Guests
Embarkation and Around The Ship
Passengers have their temperature checked before entering the terminal, their health questionnaire is reviewed, and every guest completes an antigen swab test. Everyone has a set embarkation time and is provided with a wristband that serves as their cruise card and reduces contact points.
Luggage is disinfected before being taken on board, and new cleaning methods are being used on the ship — including the use of a hospital-grade disinfectant.
Hand-washing stations are available on the ship, and passengers' temperatures are checked daily.
Masks are expected to be worn in many public areas around the ship, and are provided daily in each passenger's cabin.
Accommodations have been made to allow for social distancing, and the ship has a fully-equipped medical center and a contingency response plan if anyone gets sick.
There are also isolation cabins to keep those with suspected cases and anyone they've been close to separate from the other guests.
Activities, Amenities and Entertainment
There is a full activity schedule with smaller groups of guests, and the pools, hot tubs, and aquapark are open. Entertainment is still abundant around the ship both day and night, and theater shows will still be in full swing, but with a smaller crowd capacity.
The kid's club has a new check-in process, and spa treatment practices have been enhanced with new health and hygiene measures — for example, a pane of plastic between the passenger and manicurist.
Dining 
Menus are available not only in physical form but also on guests' smartphones via a QR code that passengers can scan.
Instead of traditional self-serve buffets that passengers are used to on a cruise, food will be plated up by crew members for you.
Excursions
Right now, travelers can only take shore excursions through MSC, because they have been specially developed with the same health and safety standards that the line has implemented onboard — including drivers and guides who undergo health screenings.
Disembarkation 
Disembarkation is coordinated to allow for continued social distancing.
Sailing Details
A second ship, MSC Magnifica, was also due to resume sailing in the eastern Mediterranean in late August.
However, there was a lack of interest in those cruises, partially due to the additional testing measures put in place for Italian residents who recently traveled to Greece (Magnifica's initial itinerary had three port calls there).
Because of this, that ship's return has been pushed back to October 19.
MORE: Photos — Tour Ocean Cay MSC Marine Reserve
MSC Grandiosa is currently operating seven-night itineraries that stop in Genoa, Naples, and Sicily, Italy; Valletta, Malta; Barcelona, Spain; and Marseille, France. For now, bookings are only open to those living in Schengen countries.
Watch The Video