Some of the biggest names in the cruise game shared their thoughts on the challenges they're dealing with as their lines prepare to resume sailing.
During this week's State of the Global Cruise Industry event, they spoke about everything from universal testing for all passengers to why large cruise ships will likely play a crucial role in the upcoming return.
Why They're All Working Together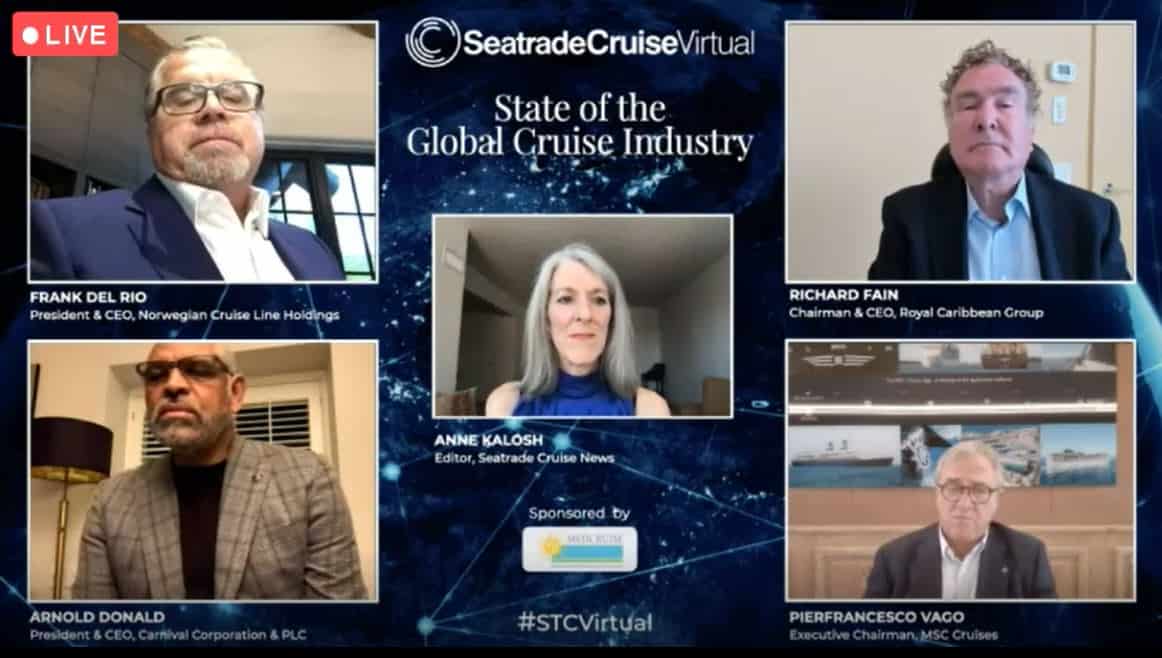 One message that came across loud and clear: All of the cruise lines are united in this fight. "No one competes [when it comes to] health and safety in this industry," Carnival Corporation's CEO Arnold Donald said.
Nowhere was this clearer than the declaration from Cruise Lines International Association — the trade organization representing the vast majority of cruise lines — that universal testing would be implemented across the board for all of its ocean-going cruise lines.
Tough questions were asked and answered. When questioned as to why his company had canceled November sailings.
Norwegian Cruise Line Holdings CEO Frank Del Rio said bluntly, "This is not a race, and I am in no race to be the first one out of the gate."
He also pointed out that it would take time to implement all of the protocols being discussed, saying that "some are easier than others."
READ MORE: Carnival Executive Shows What Life On Board Will Look Like
In fact, the entire endeavor of relaunching is, he pointed out, bigger than anything being taken on elsewhere.
"We are a city at sea," Carnival Corporation CEO Arnold Donald said. "We have casinos, we have restaurants, we have entertainment activities… what city is testing every resident?"
Despite the recent cancellations, both Del Rio and Richard Fain CEO of Royal Caribbean Group still believe ships will sail this year.
"People want to get back to their normal lives," said Del Rio, adding that as a result, "cruising will come back strong. This is a bump in the road. This has been a very safe and health industry. We hear about it [when things go wrong on board] because we're the only industry [required] to report about it."
Added Pierfrancesco Vago, executive chairman of MSC Cruises, "Ships are sexy and attract attention. If something happens on a cruise ship, [the news travels] around the world."
But it was Donald who gave cruise lovers perhaps the most reason to feel optimistic. "I'm optimistic," he said of a return to sailing before the end of 2020, going so far as to say that on a scale of 1-5, "I'd say 4.5 [or] 4.9."
Large Ships Could Be First To Return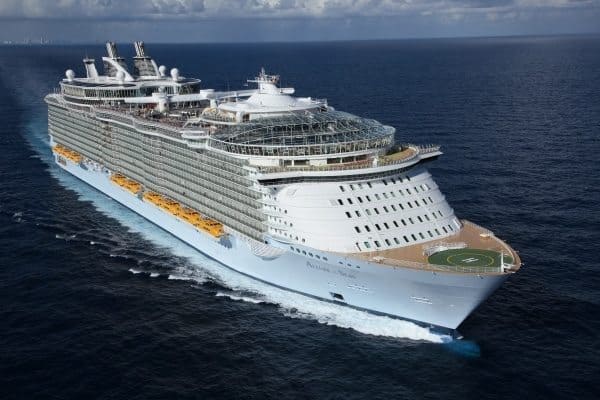 Another tough topic that came up was consumer confidence. More specifically, how do you convince would-be passengers — especially those who might be first-timers — that cruising is safe?
This is especially challenging given the tsunami of bad publicity which washed over the industry during the early days of the crisis and the perception of cruise ships putting a lot of people into a confined space.
"Crowds are a problem everywhere in the world," acknowledged Fain. However, he pointed out that "the larger ships simply spread [the crowds] out more. We feel quite good that larger ships offer the opportunity to spread people out."
Unlike most other environments — including the cities in which people live — Fain pointed out that one major advantage with ships is that they "have the ability to control the environment."
To illustrate that he again pointed to the industry's determination to implement universal testing. "We are the only industry in the world going 100 percent testing."
Although much attention is being focused on vaccines, Vago said that it "won't be the magic wand. They're part of it, but testing will define it."