Need something to look forward to? How about the big changes Royal Caribbean is making to their private island, CocoCay, more details of which — including price points — were just released. Although the full expansion won't be completed until the end of 2019, many of the new features will debut far earlier and are currently available for booking. And while they say that the best things in life are free, that definitely will not prove to be the case here. The cruise line is adding additional attractions that will be free for all guests, but they've also released details on what it will cost to access some of the island's thrill rides and exclusive areas.
It's worth noting that along with all of the new features, the resort is also getting a new name. And while Royal Caribbean has branded the island "Perfect Day At CocoCay," we suspect most people will continue referring to it as simply CocoCay.
The Timeline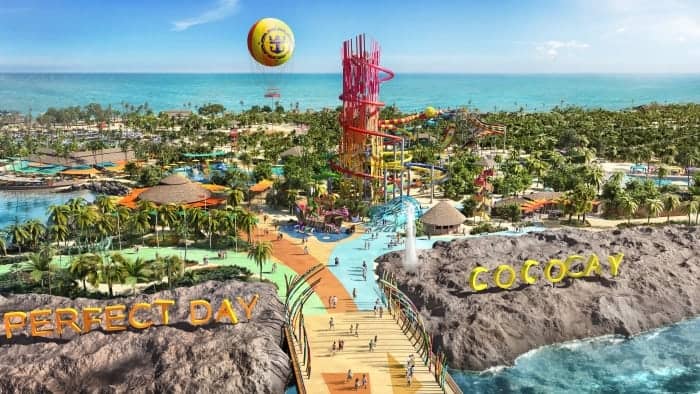 The new pier will open in November 2018, allowing guests to access the island directly from the cruise ship as opposed to having to take a tender boat.

The tethered helium balloon known as Up, Up, and Away — offering incredible views of the entire island — is expected to take flight by December of 2018, which is also when Chill Island and Oasis Lagoon (a large, freshwater pool) will open.

The big-ticket attractions like Thrill Waterpark and the zipline (which are also the ones that will come with an added fee) are expected to open in May of 2019. That's also when dining venues Skipper's Grill (complimentary) and Captain Jack's (with a la carte pricing) will begin serving up grub.


The last phase – which will include South Beach (open to all) and the for-fee Coco Beach Club – are slated to open by December of 2019, as well as the new, overwater cabanas. 
How Much Will Things Cost? 
As we mentioned before, many of the improvements being made to CocoCay will be complimentary, as indicated on the listing below: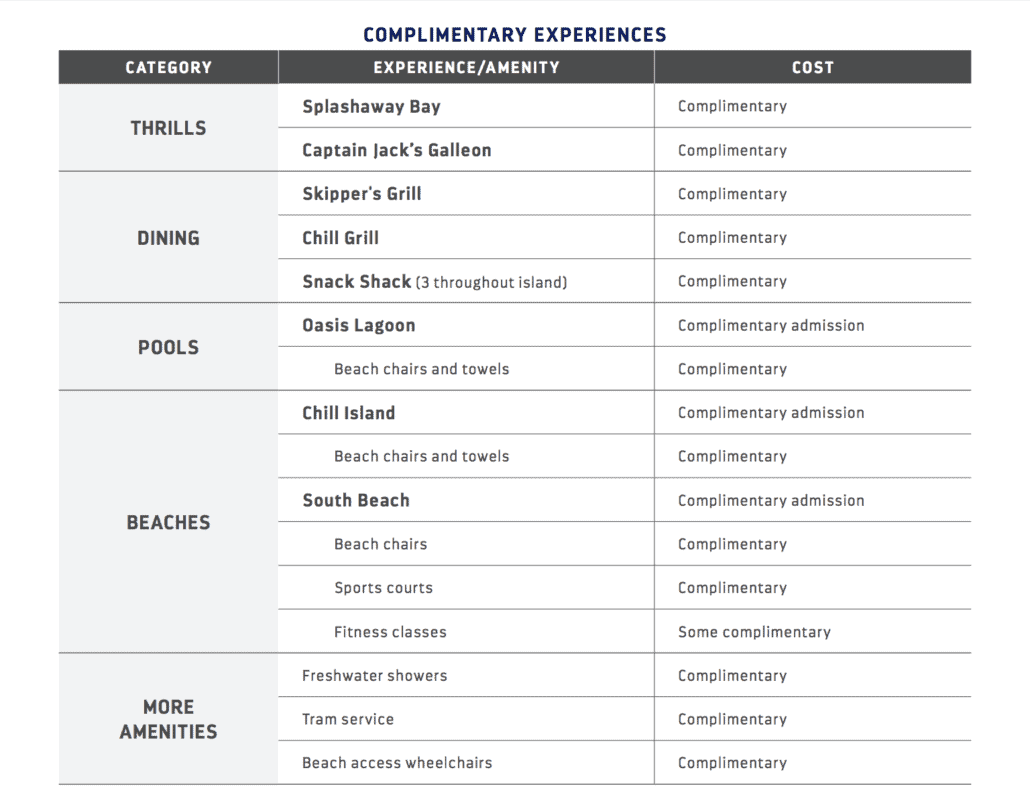 But what folks are really going to want to know is what events will come with an added charge… and just how much that charge will be. It's worth noting that you'll see a range of prices listed, as they will vary by season. (Prices can also, of course, change without notice.)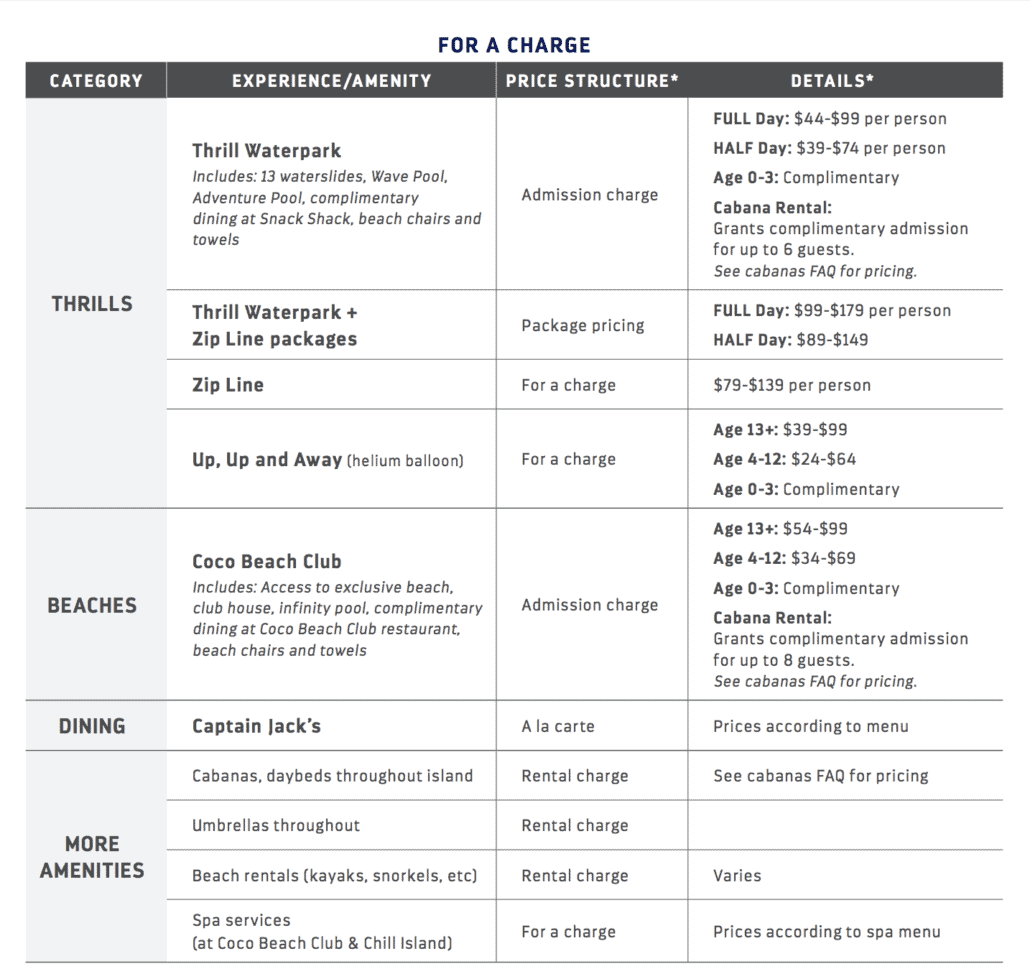 As of now, the Thrill Waterpark – which is slated to include 13 waterslides, a wave pool and a free dining venue – will cost anywhere from $44 to $99 per person for a full day. Half-day tickets will ring up at $39-$74 per person. (Those under the age of 3 will receive complimentary admission). The best deal would seem to be renting one of the Thrill Waterpark Cabanas, which includes admission to the area for up to 6 guests. To distinguish between guests who have purchased access (whether full or half day), colored wristbands will be issued. 
The Zip Line will cost $70 to $139, and can also be bundled into a Thrill Waterpark package starting at $89 per person. 
The big ticket items will be found at the new, exclusive Coco Beach Club, which will feature a club house, infinity pool, restaurants, and more. On this section of the island, you'll be able to rent a regular cabana for between $949 and $1,549, while the overwater cabanas will set you back between $999 and $1,599, with each option granting access to the Beach Club area for 8 of your favorite people.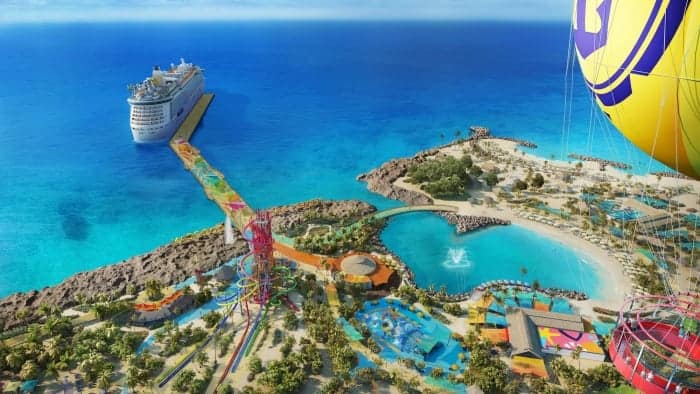 Royal Caribbean is clearly going all-in on cabanas, as they will also be available at Chill Island, Oasis Lagoon, and South Beach for between $299-$569. All of the cabanas (except those in the Thrill Waterpark) can be used by up to 8 guests. Surprisingly, there are not currently plans for any adults-only areas on the island, nor are there exclusive areas for those who've reached a higher Crown & Anchor Society level. However, both your beverage package and wi-fi packages purchased for onboard use will work on the island, too.
Passengers who are already booked on cruises and looking to find prices for various experiences during their sailing are advised by Royal Caribbean to head to their website and click on the Cruise Planner section.
Giving Nassau a Run For Their Money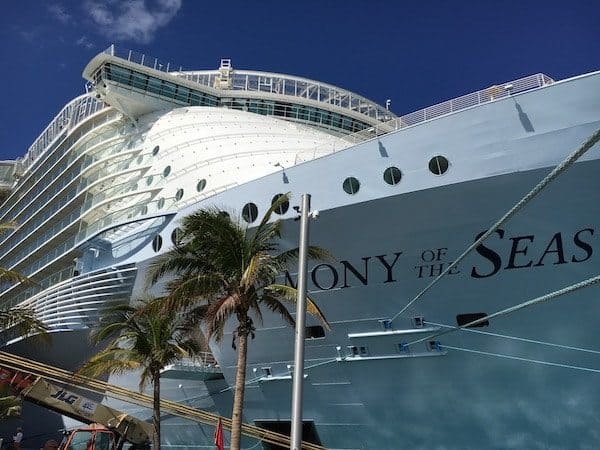 Clearly, cruise lines have realized the value in having guests spend money on properties they control as opposed to those run by others. For example, the Atlantis resort (with its huge water park and aquarium) charges as much as $199 per person for a day of fun. "It's brilliant on Royal Caribbean's part," a frequent guest of the cruise line told us. "And there are plenty of areas for people who don't want to pay for all the bells and whistles. But it'll be tough on parents who have to tell their kids, "Yeah, we're not paying for that. Go swim in the ocean!'" 
What do you think of Royal Caribbean's plans for Perfect Day at CocoCay? Are you willing to pay extra to rent a cabana or enjoy some of the for-fee features?  
SaveSave