One cruise ship's return to the port of Palm Beach became a rocky ride on Friday thanks to high winds. The resulting rough seas presented the captain and his passengers with a rougher-than-expected ride.
Rocky Ride Caught On Camera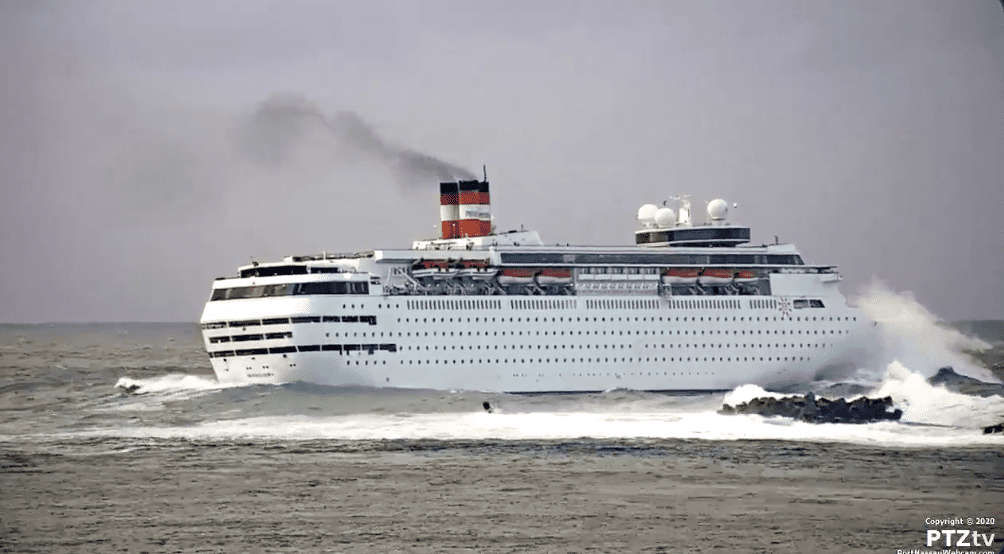 Upon first glance, it would be easy to mistake the ship in the video for a Carnival ship, thanks to the distinctive "whale tail" funnel. And while the ship in question did once sail under the Carnival Cruise Line flag (as the Celebration), it is now known as the Grand Celebration. 
Under that name, it makes up one half the fleet of Bahamas Paradise Cruise Line, with Grand Classica being their other vessel.
Despite the Grand Celebration doing a bit of severe rocking at one point, by video's end, things have returned to normal as the ship pulls into port.
Watch Grand Celebration Video
Watch Grand Classic Video
Thanks to PTZtv, which trains cameras on some of the most active ports in the country, the Grand Classica's return to Palm Beach was captured on video.
Here's #GrandClassica pitching out of #Nassau on https://t.co/EJRqRrPlWx … more to go, stay tuned! pic.twitter.com/1enrCMgCzz

— PTZtv (@PTZtv) February 22, 2020
Another Ship Experiencing Rough Seas
Saturday afternoon also found Carnival Cruise Line warning that the Carnival Pride was experiencing "adverse weather" as well as a technical issue. By Sunday morning, it was clear that the ship's return to Baltimore would be delayed.
And sure enough, on Sunday morning, Carnival informed passengers set to board that their departure would be delayed.
READ MORE: Carnival Ship Experiencing Technical Issues 
"The ship will arrive later this afternoon," a Sunday morning update from Carnival read. "Please disregard your Arrival Appointment and arrive for embarkation between 6:30 p.m. and 9 p.m. (EST)." For the inconvenience this might cause, each guest will receive a $15 per person (not per stateroom) onboard credit "to cover the cost of lunch."
Carnival asked that all Pride guests be on the ship by 9:30 p.m. EST, adding, "Our itinerary remains as planned." The update mentioned in passing the technical issue the ship had been suffering. "We also want to let you know [the] cruising speed issue has been resolved."
Carnival Pride Video Tour
Featured photo via PTZtv YouTube Channel