Royal Caribbean's Anthem of the Seas is the second in the Quantum class, just after namesake Quantum of the Seas. They are considered "smart ships," outfitted with lots of high-tech activities and amenities.
On top of being technologically advanced, Anthem of the Seas is a stunning vessel, featuring sophisticated and well-thought-out staterooms, restaurants, lounges, and public areas.
Recently, Royal Caribbean announced that it would be deploying Anthem to sail cruises around the UK this summer. With that in mind, we thought it would be fun to put together a photo tour for anyone who may be considering taking a cruise onboard — this year or further into the future!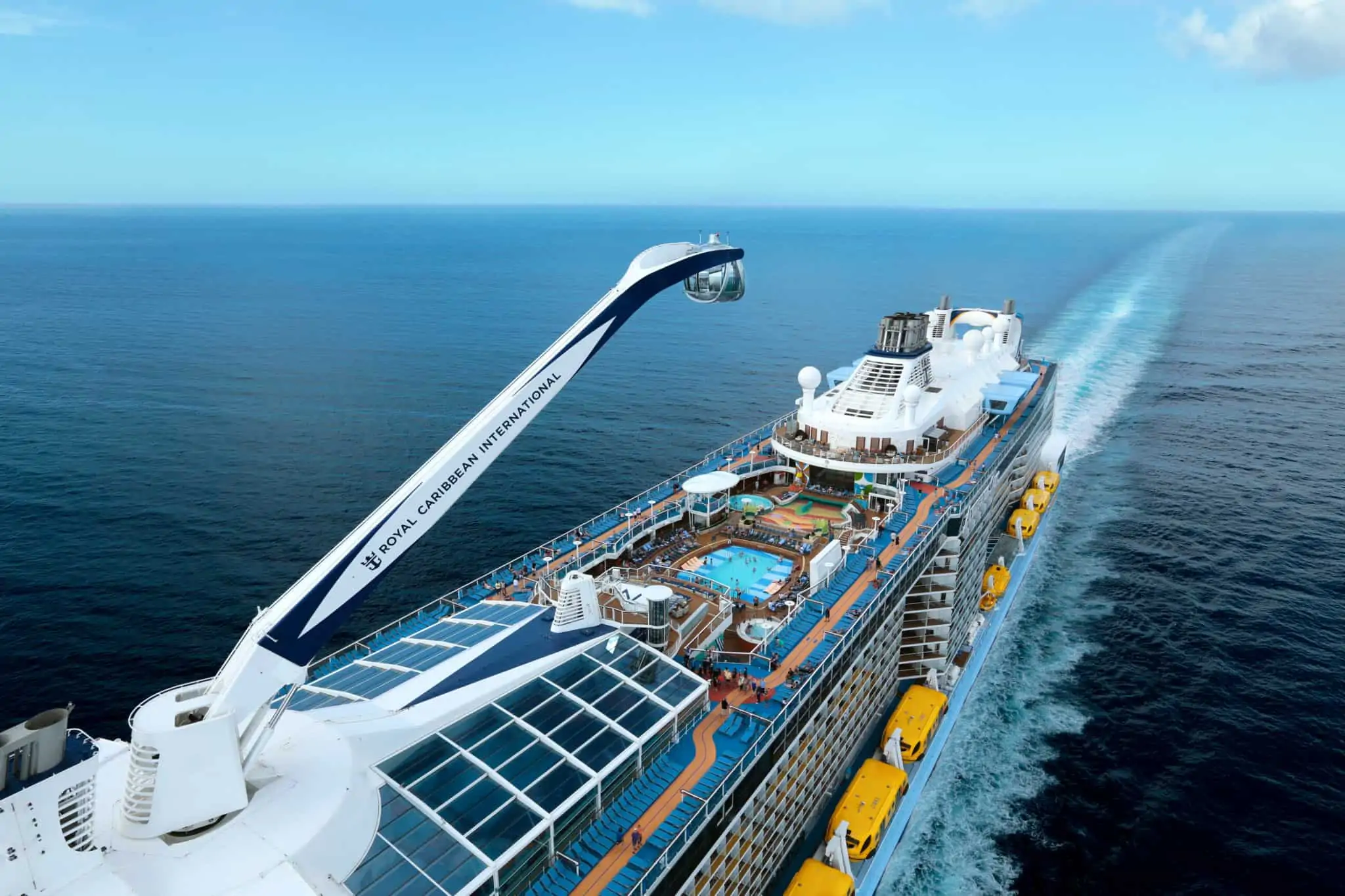 Before we get to the photo below, let's talk about the one above. That pod-looking thing you see hanging out over the upper deck is the North Star, an observation capsule that gives passengers a unique view of the ship and surrounding area. You wouldn't really be able to have a view like that any other way!
Below is the Royal Esplanade. Lined with bars, shops, and restaurants, it's basically the ship's central gathering area.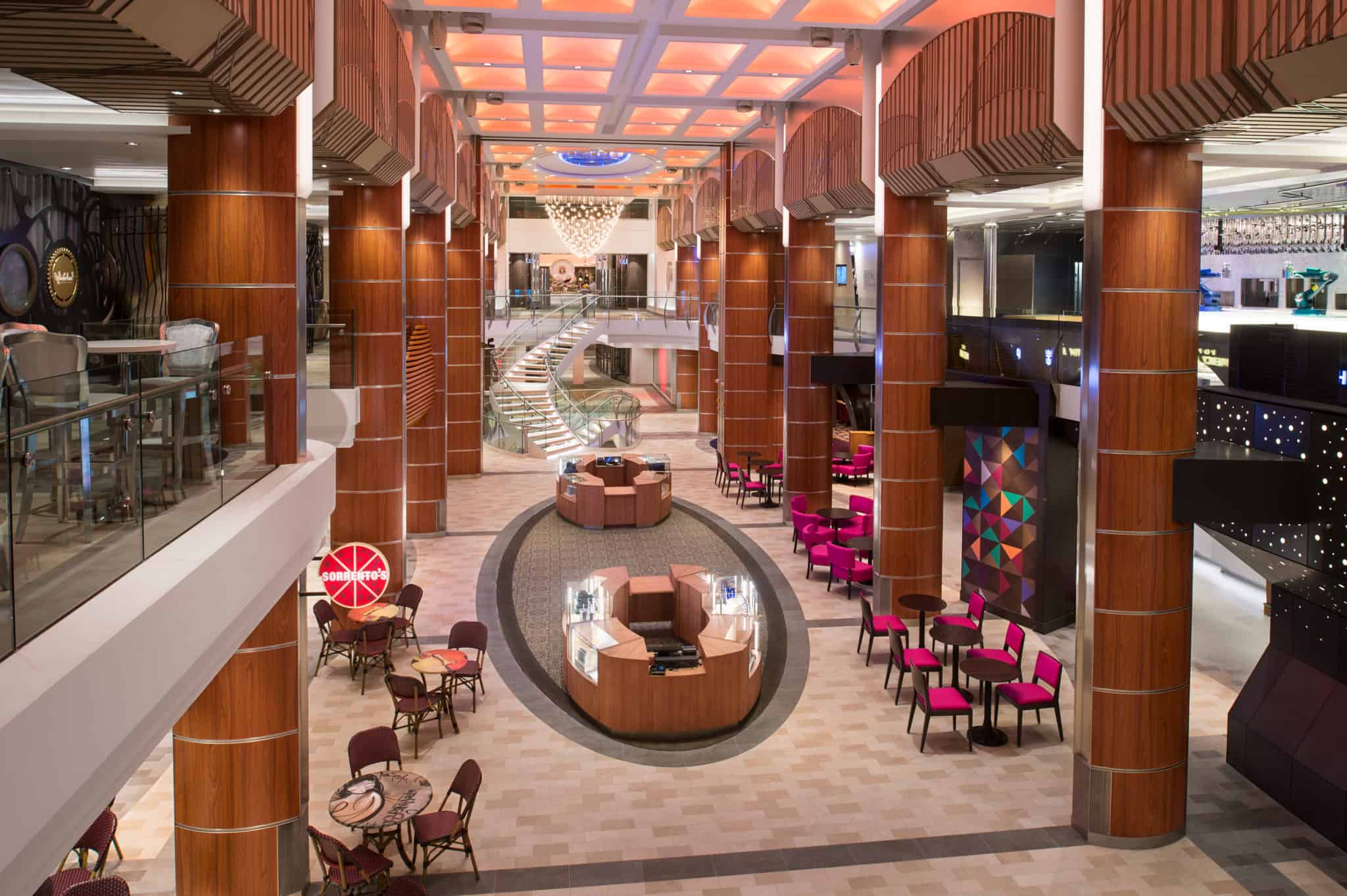 Now let's move all the way up to deck 14 in the Solarium, where the Sunshine Bar can be found. The Solarium is an excellent spot to spend a sea day no matter the weather, and the Sunshine Bar complements the space nicely.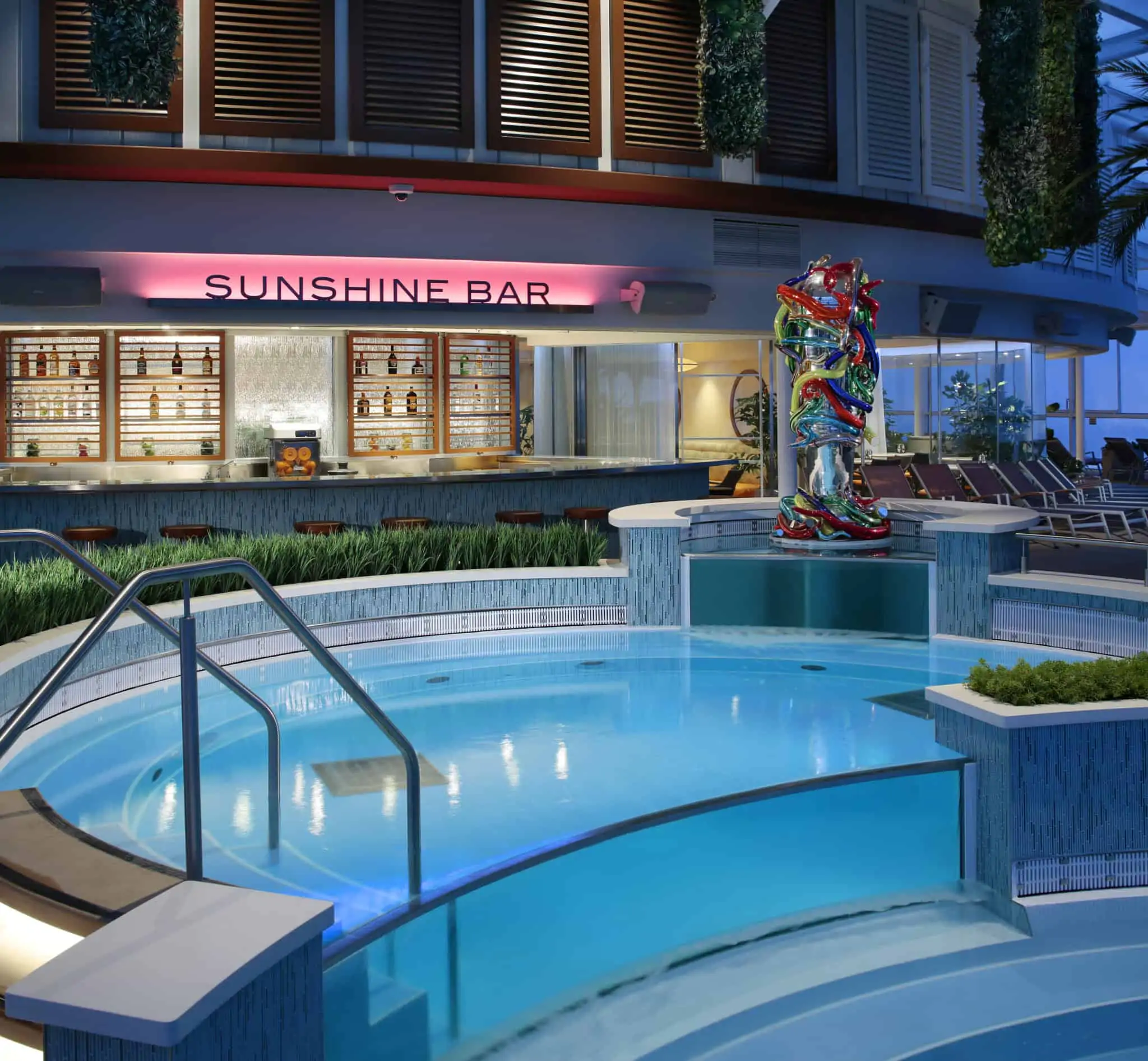 Another great spot to enjoy a leisurely day on the ship is — of course — the main pool deck. For those who want to lounge, swim, and partake in all the action, this is where you'll want to be.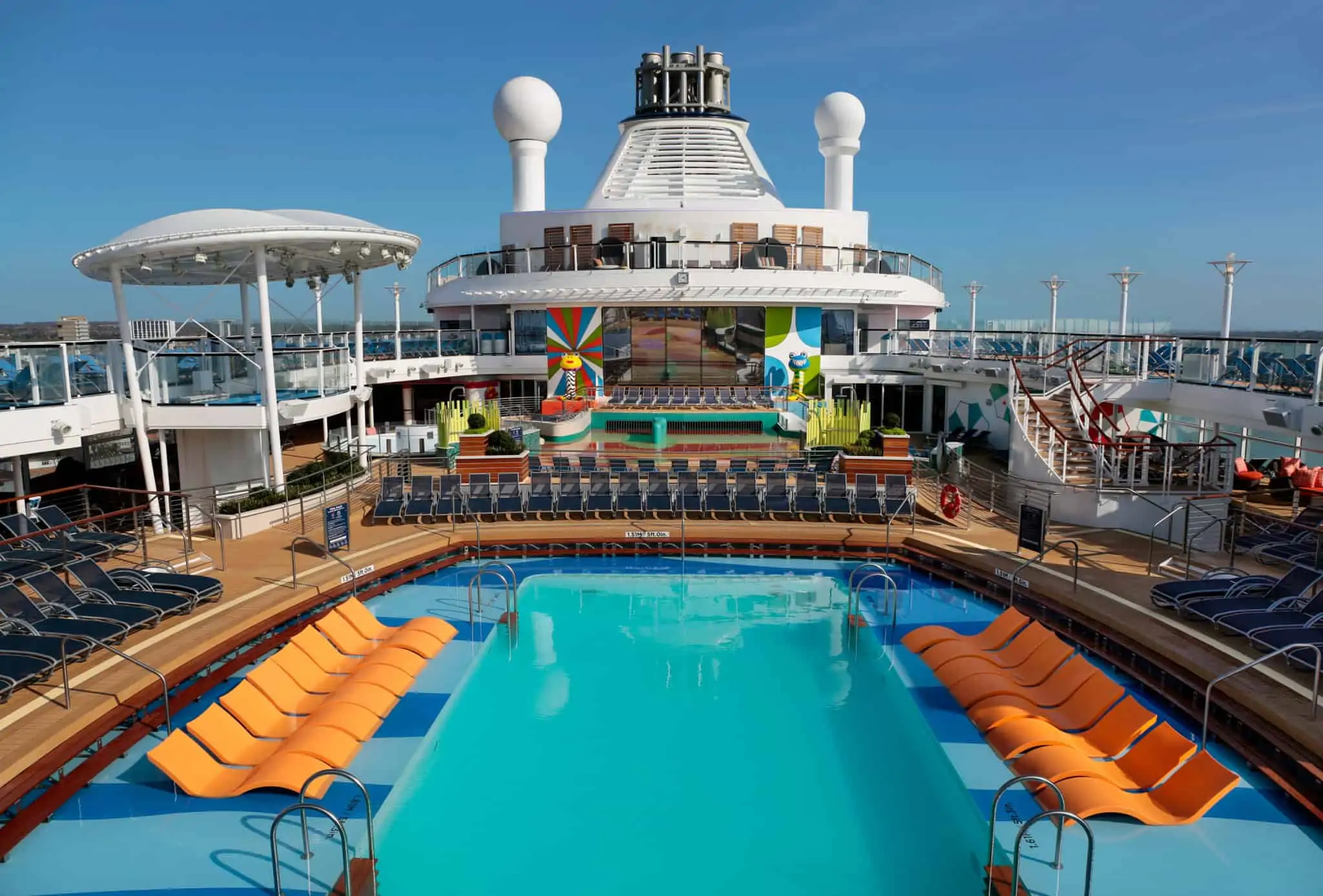 What Royal Caribbean ship would be complete without a FlowRider surfing simulator? This cruise line staple has been a favorite among passengers for years.
Cruise Ship Photo Tour: Celebrity Millennium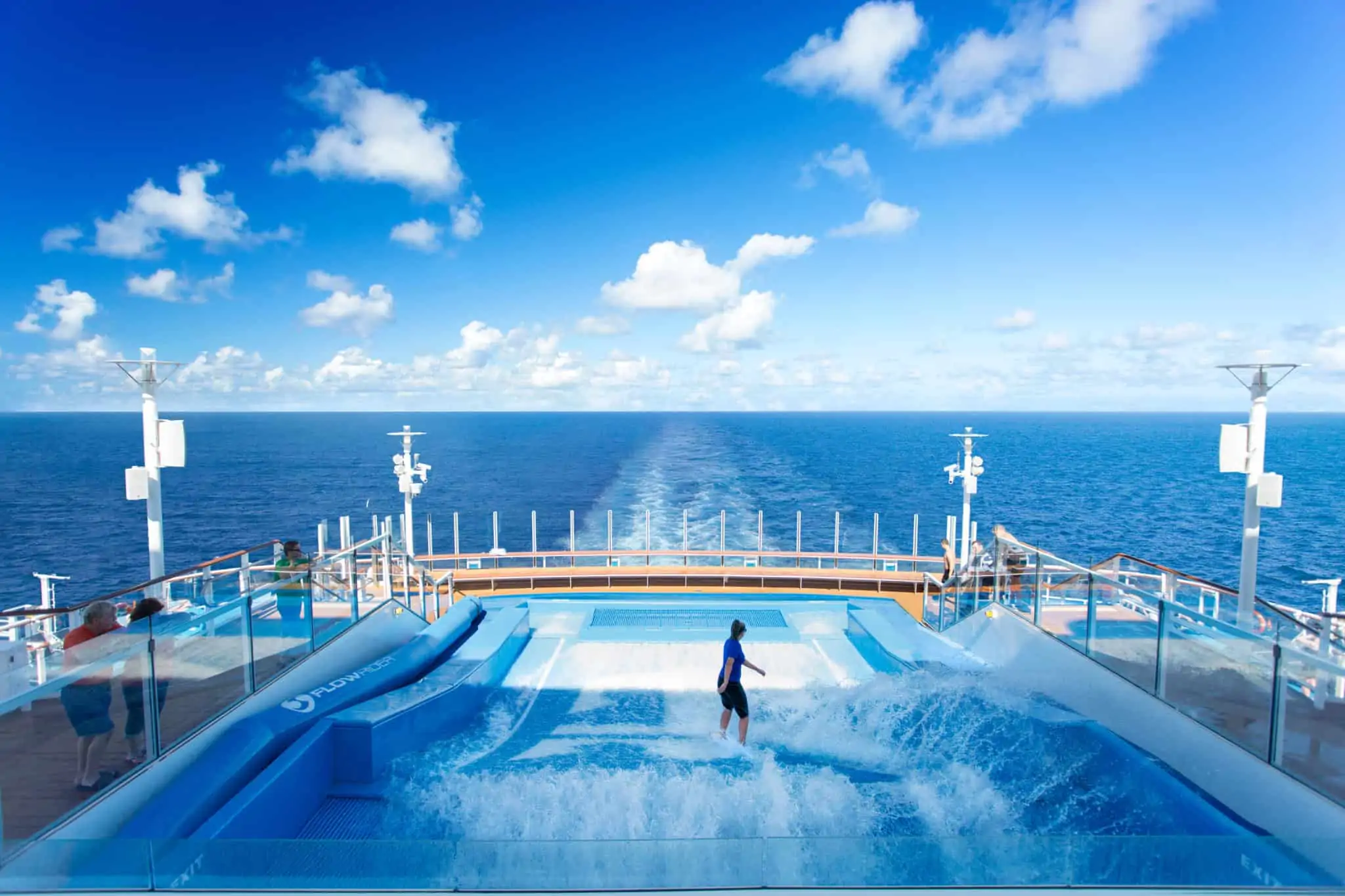 Let's head inside for a look at what the cabins are like onboard Anthem of the Seas. First, we'll start with one of the biggest suite categories on the ship: a Royal Loft Suite. As you can tell by the picture, it looks more like a high-rise loft apartment than it does a cruise ship stateroom!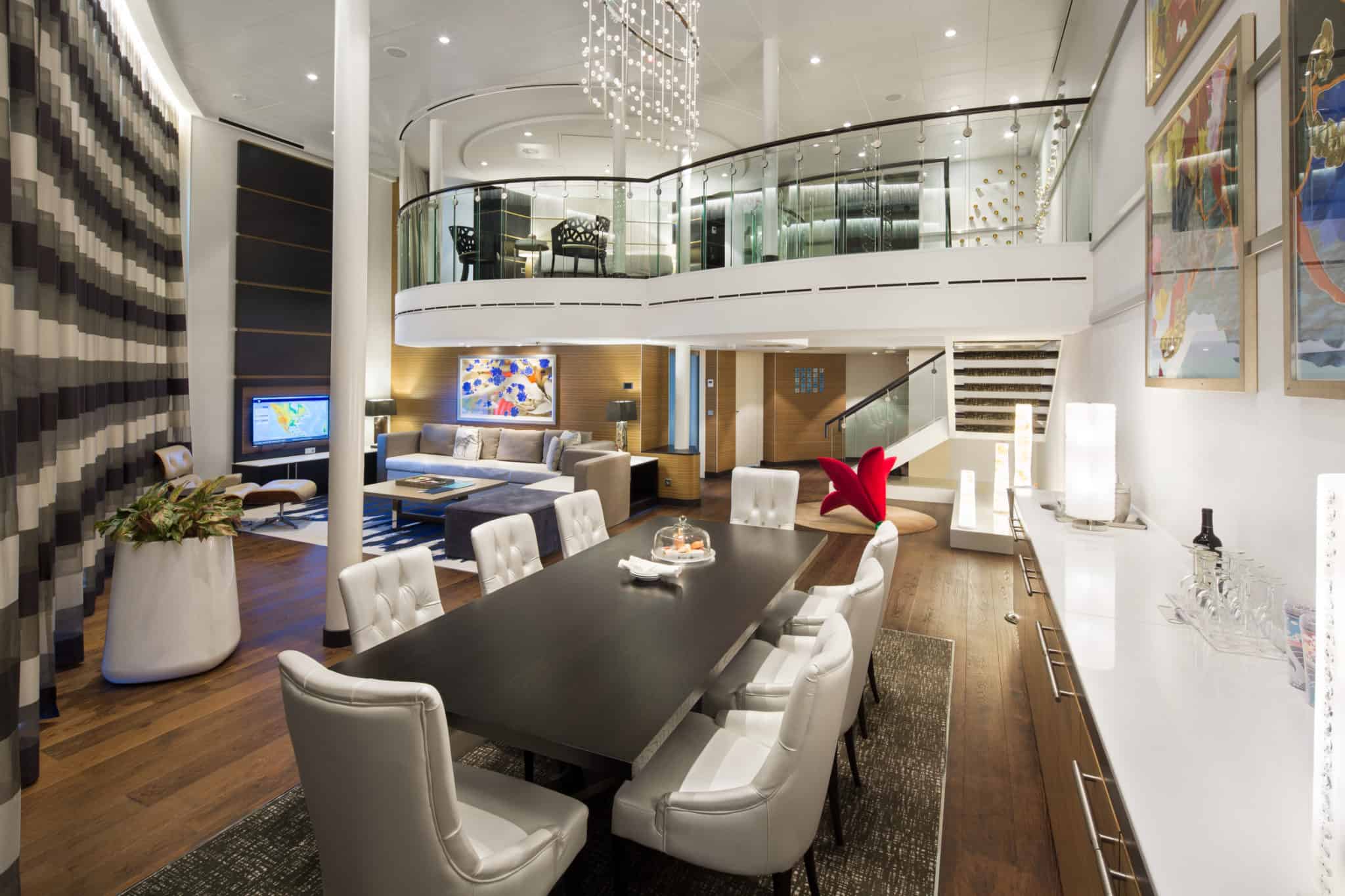 If you want to see more of what an average stateroom on this ship looks like, don't worry — we've got you. This is a large oceanview cabin, which is basically the same as a standard oceanview but with a bit more space. Interior and standard balcony cabins are similar.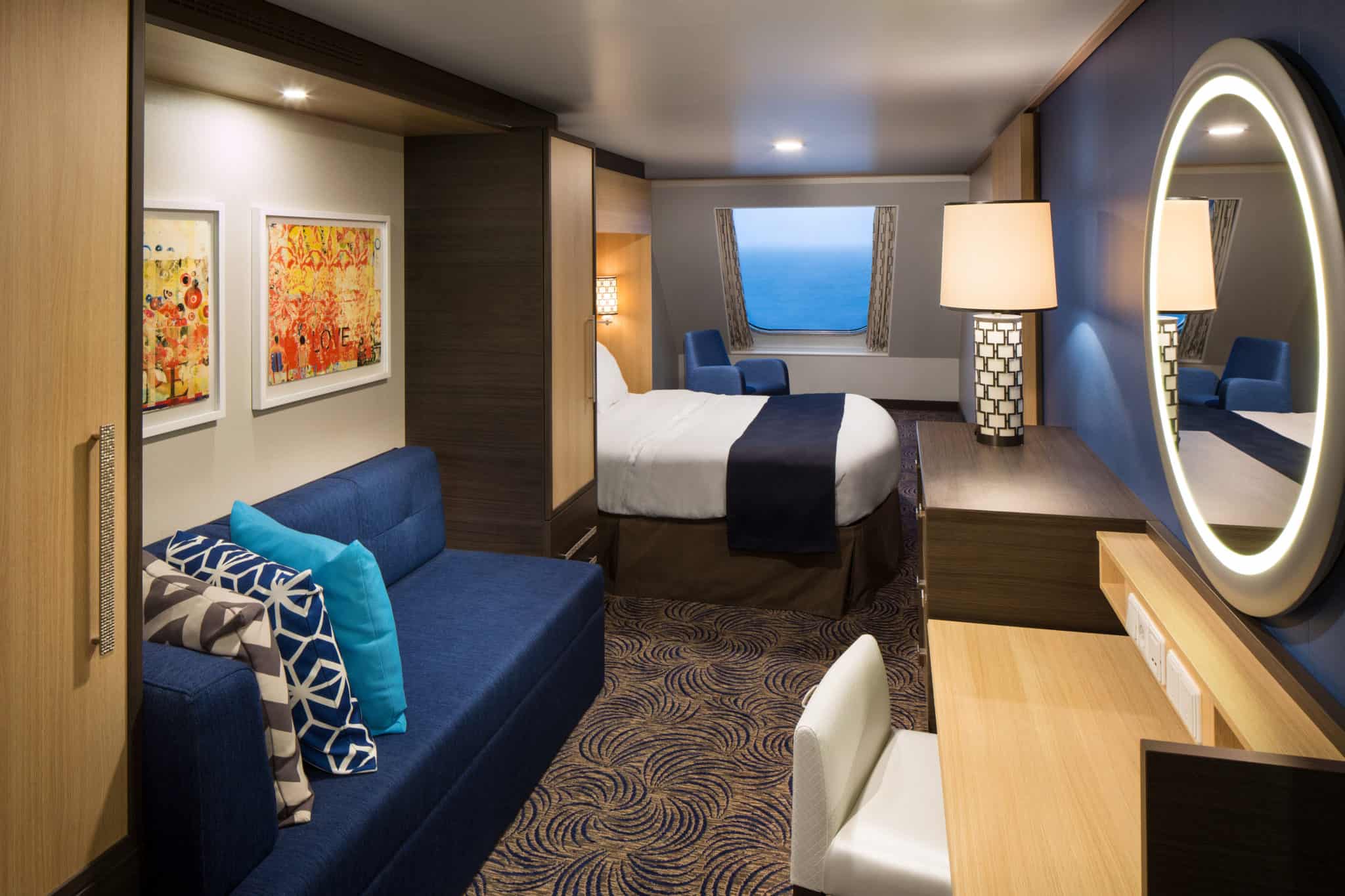 Remember how we mentioned that Anthem of the Seas is one of the Quantum-class "smart ships?" This is a great example of that. Pictured below is the Bionic Bar, where those two robotic arms are actually your bartenders. They grab ingredients, shake, and pour cocktails all on their own.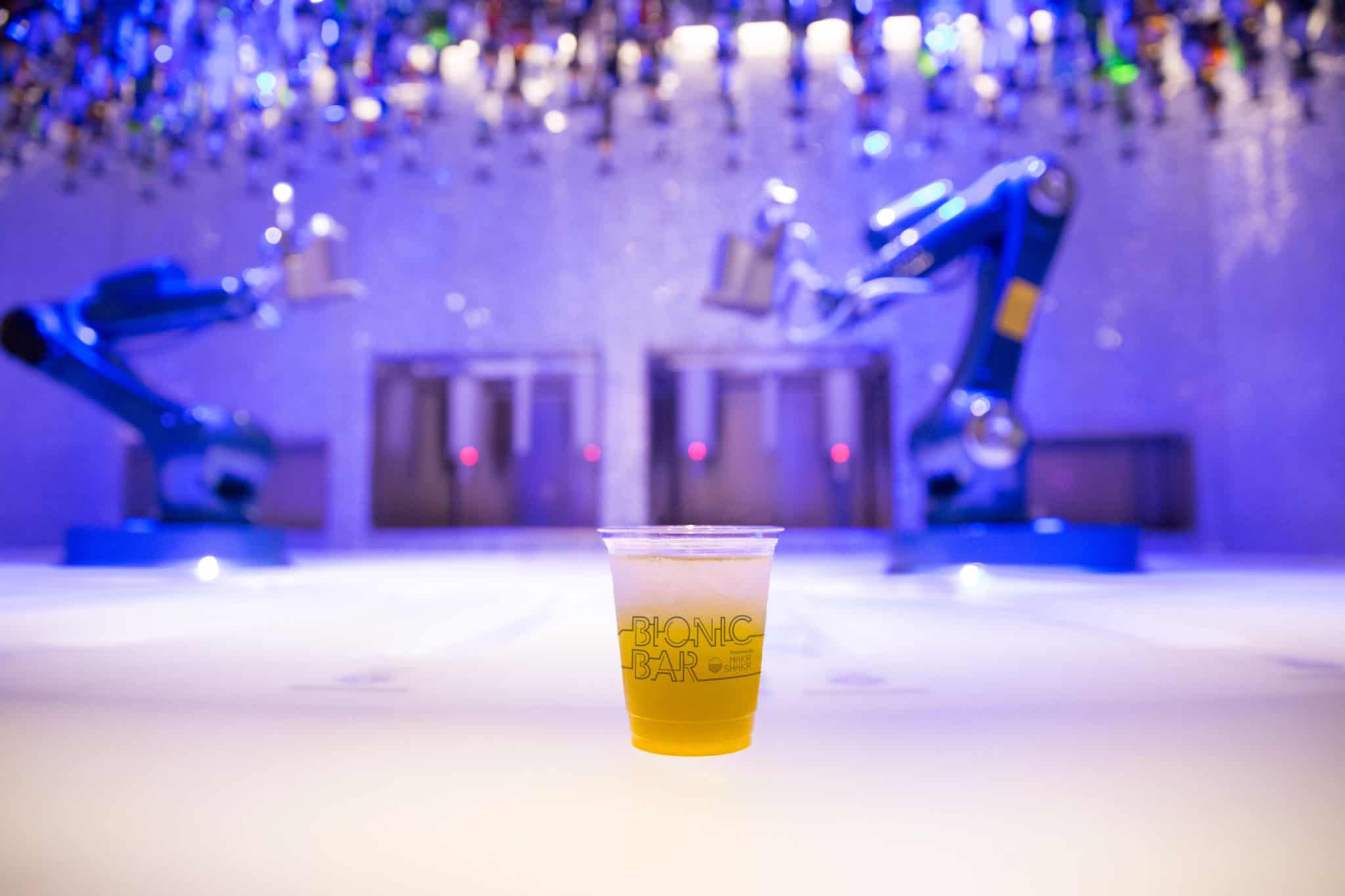 You might recognize the name Jamie Oliver, a British chef, restaurateur, and cookbook author who has also hosted and guest starred on a slew of television shows throughout his career. In 2014, Oliver partnered with Royal Caribbean to create Jamie's Italian onboard Quantum of the Seas, and the family-style specialty venue has been featured on several more ships since then. Here's a peek at the colorful restaurant on Anthem.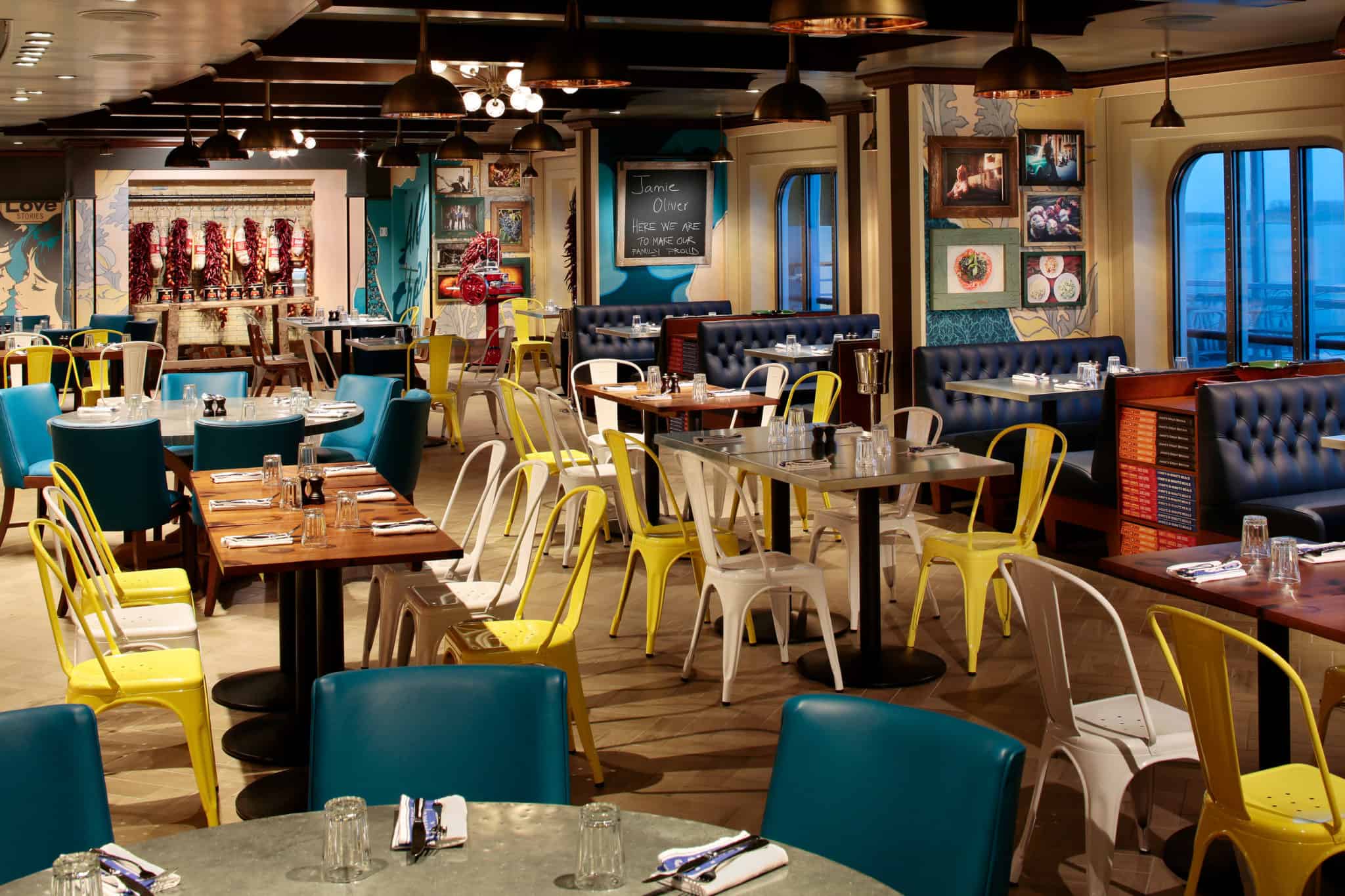 Anthem of the Seas has several main dining rooms, which are complementary venues that are generally open for breakfast, lunch, and dinner. Pictured here is the American Icon Grill, which is one of these beautiful restaurants.
READ MORE: Cruise Lines That Are Sailing in Summer 2021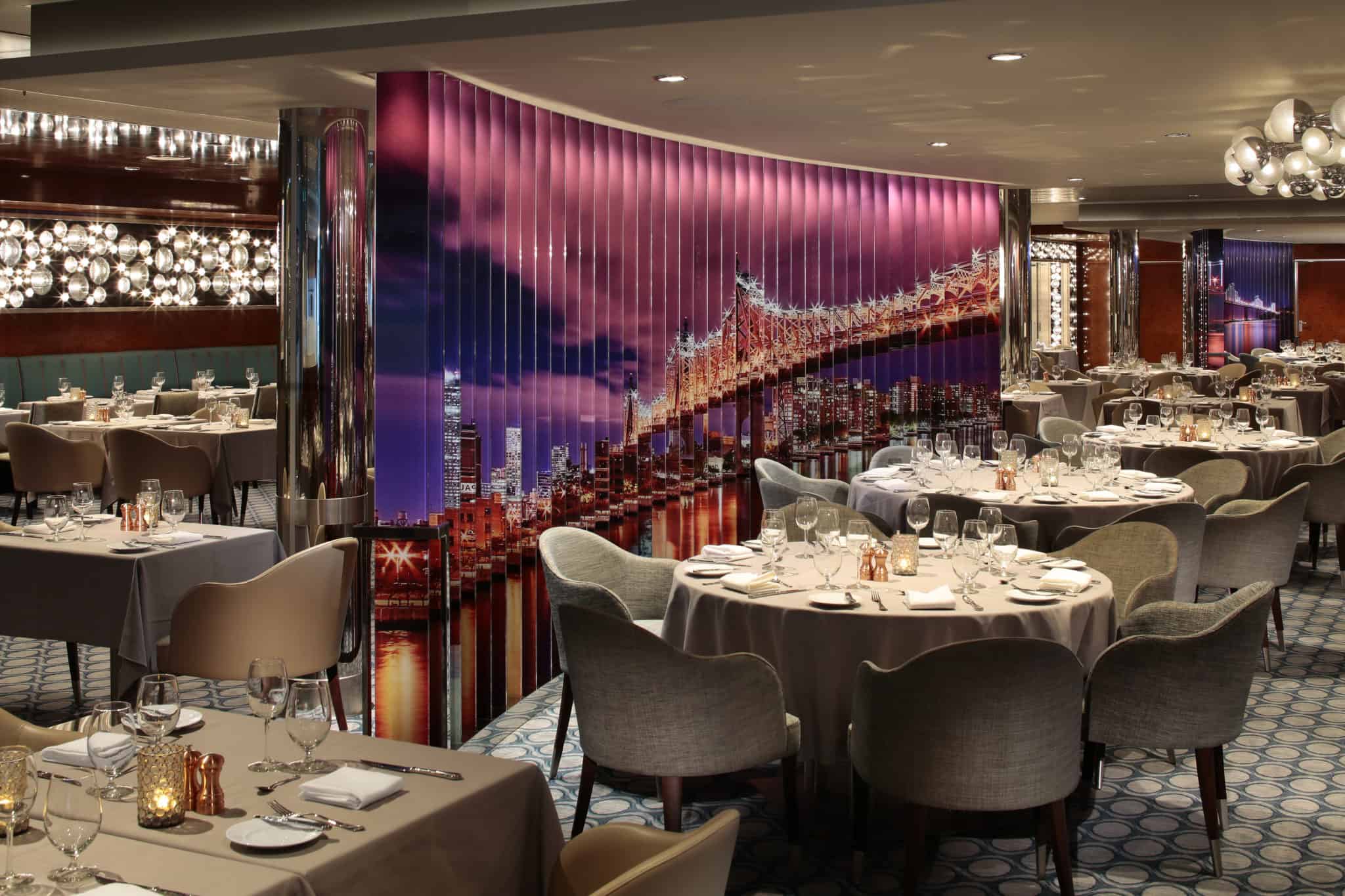 Another central spot on the ship, The Via, is an atrium-like area (without the multiple decks-high ceiling). Just off The Via are Jamie's Italian (which is where the photographer is standing), a Hublot and Bulgari shop, and Vintages Wine Bar — which you can easily spot in the photo thanks to the wine bottle-shaped wall cutouts!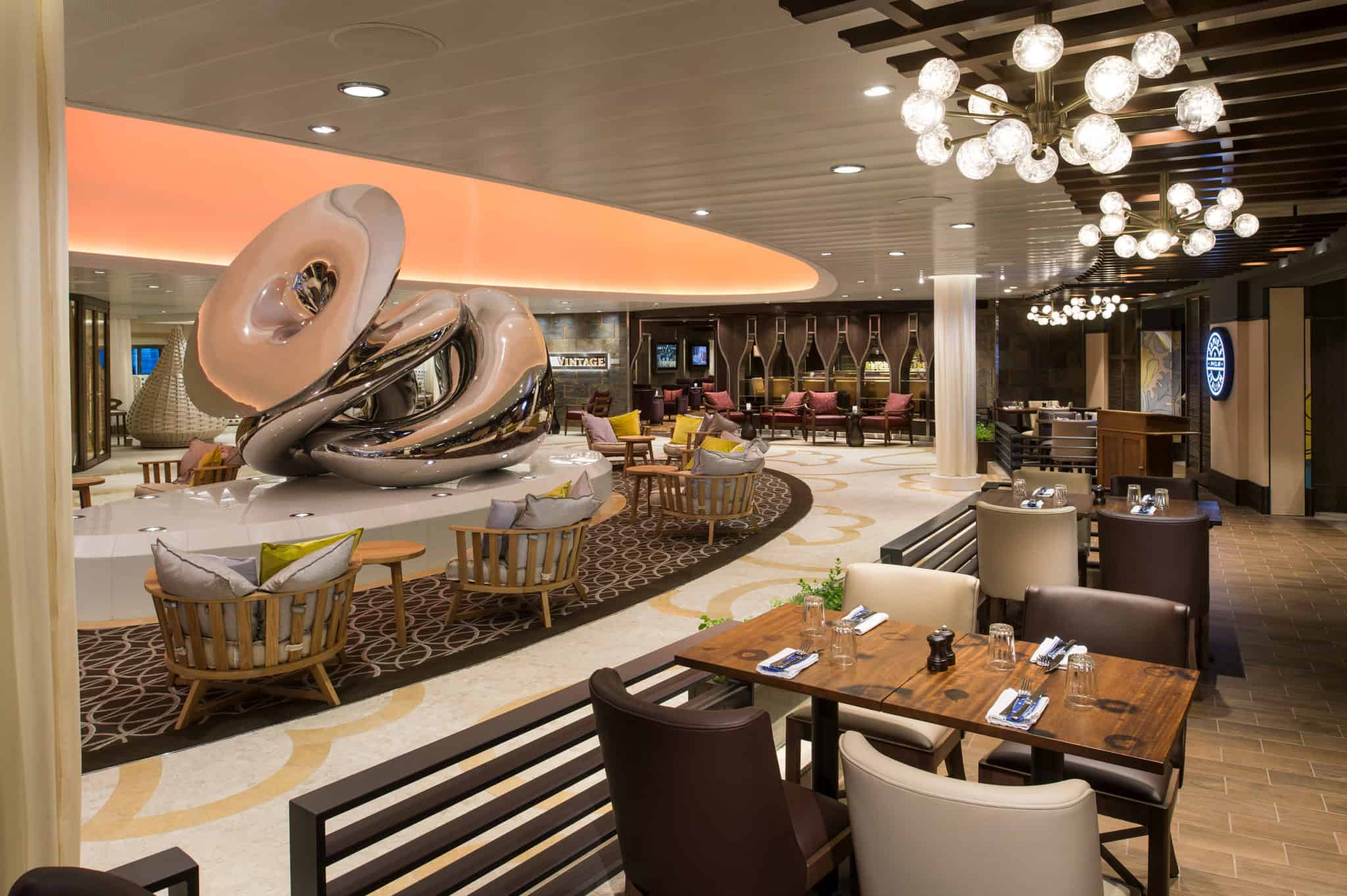 Anthem of the Seas has a large multi-purpose indoor space called the SeaPlex. There, passengers can play laser tag, go roller-skating, play sports, attend circus school, and — yes — purposely hit people in bumper cars!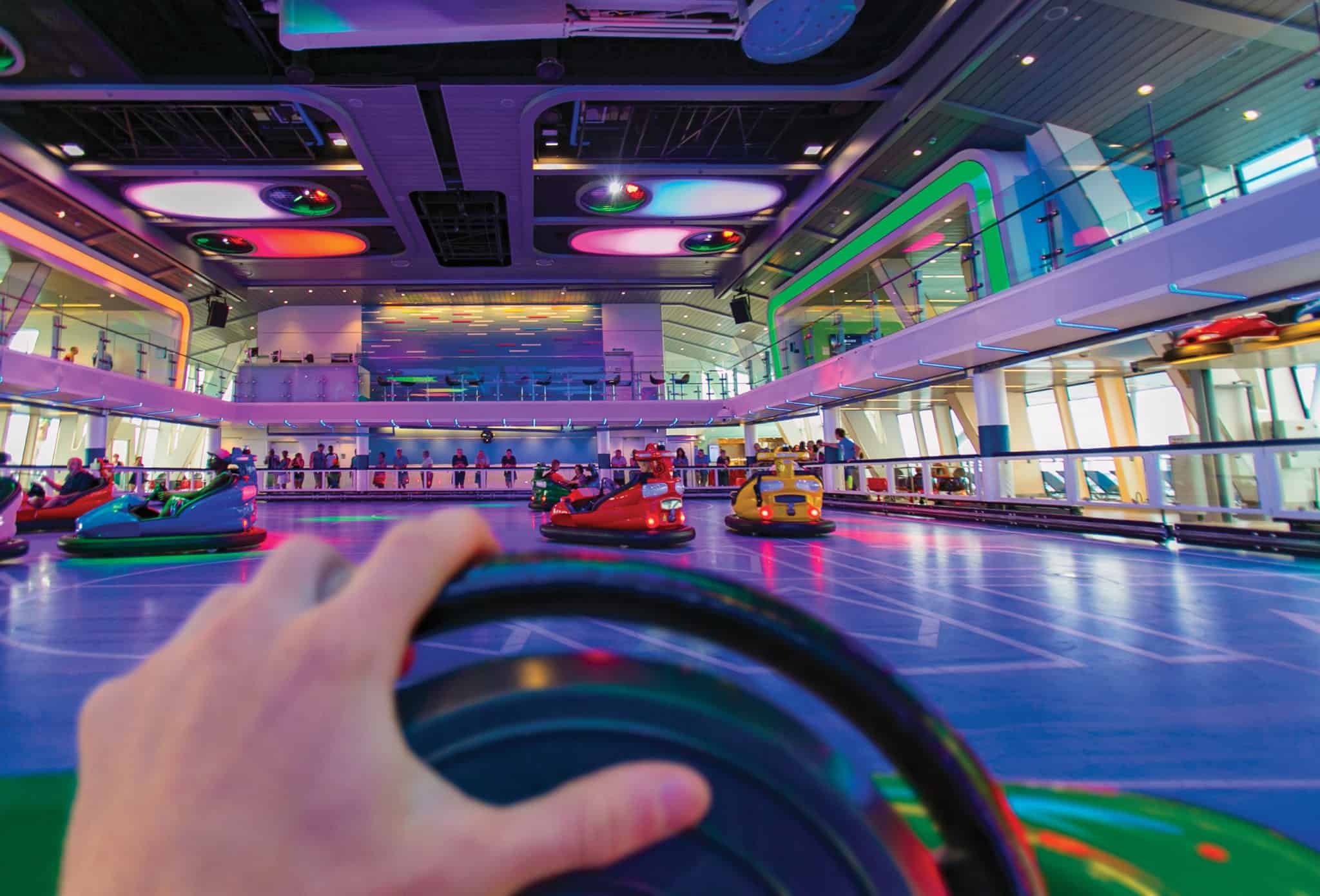 There's a surfing simulator onboard, so why not add a skydiving simulator too? That's exactly what Royal Caribbean did with the debut of these Quantum-class ships.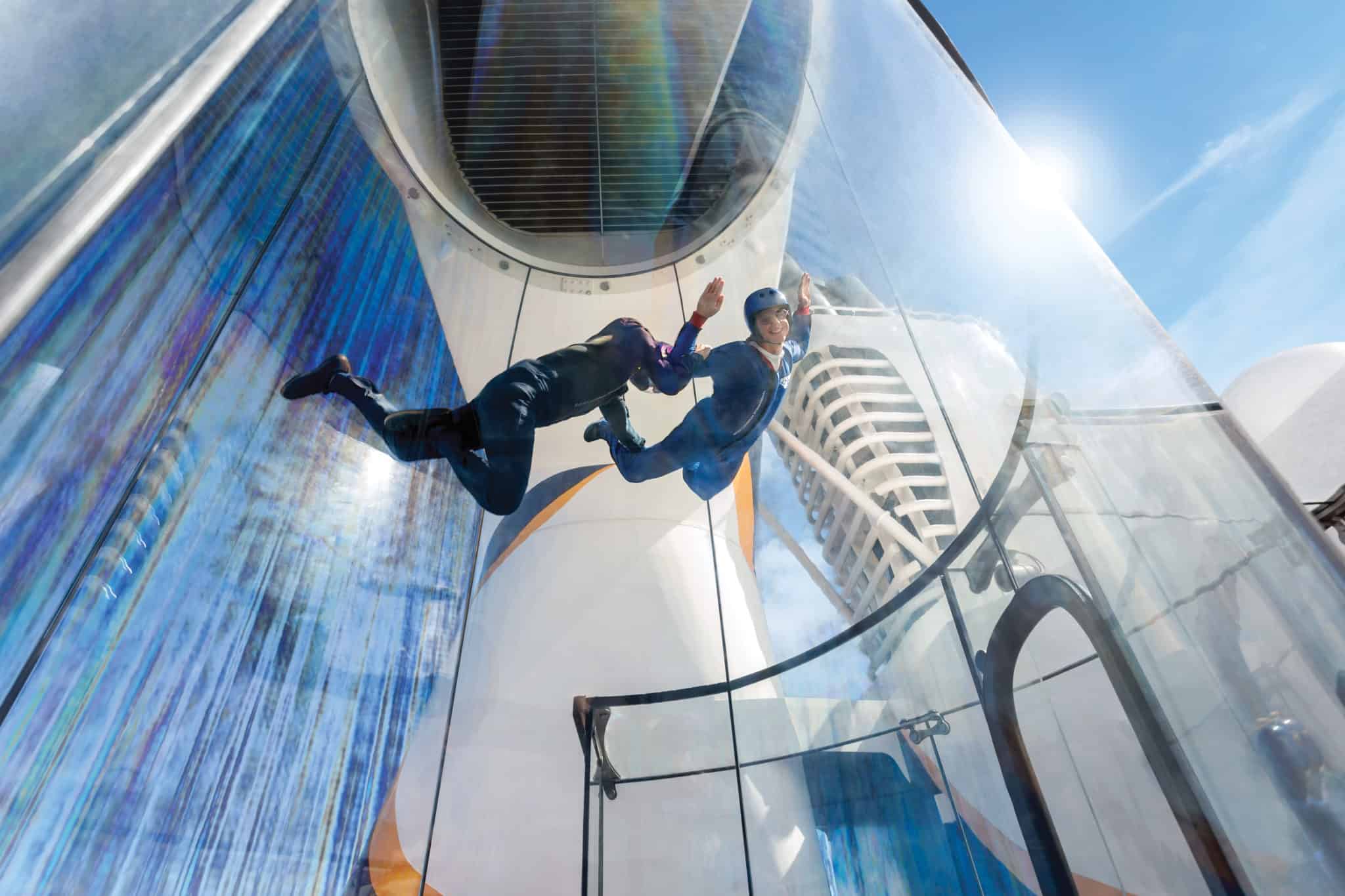 The aft-facing Two70 lounge is much more than a lounge… and much more than a theater. But when it's being used as a theater, it's quite incredible. A high-tech projection system has the power to transform these floor-to-ceiling windows into pretty much any scene. This works well for the production shows that are held here, in addition to six roboscreens that are capable of moving in any direction.
When it isn't being used as a production show theater, the Two70 Lounge is used as, well, a lounge, a lecture hall, and a space for classes such as ballroom dancing, cooking, and jewelry-making. At night, the venue is transformed again into an adults-only nightclub.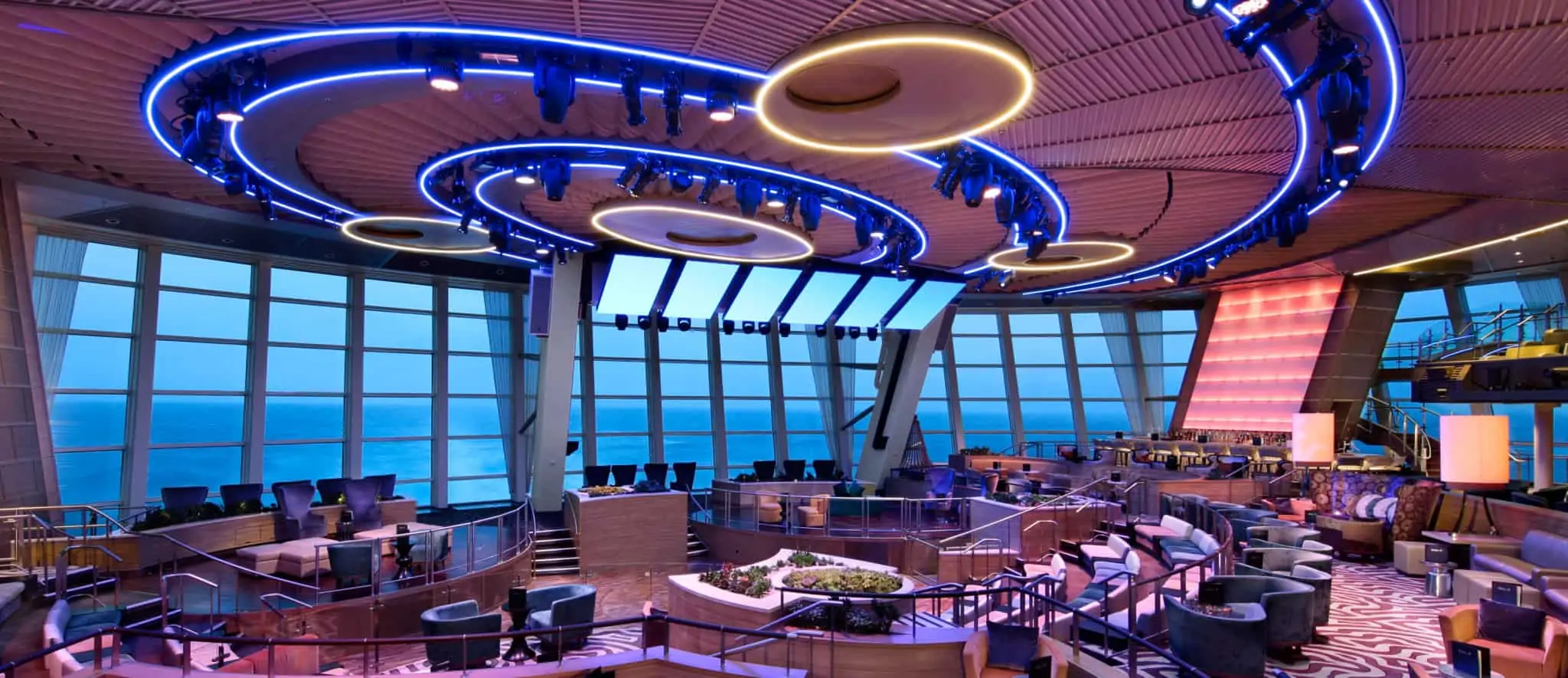 Pictured below is a portion of the ship's fitness center where spinning classes are held. A variety of other fitness classes are also offered onboard including pilates and sculpting.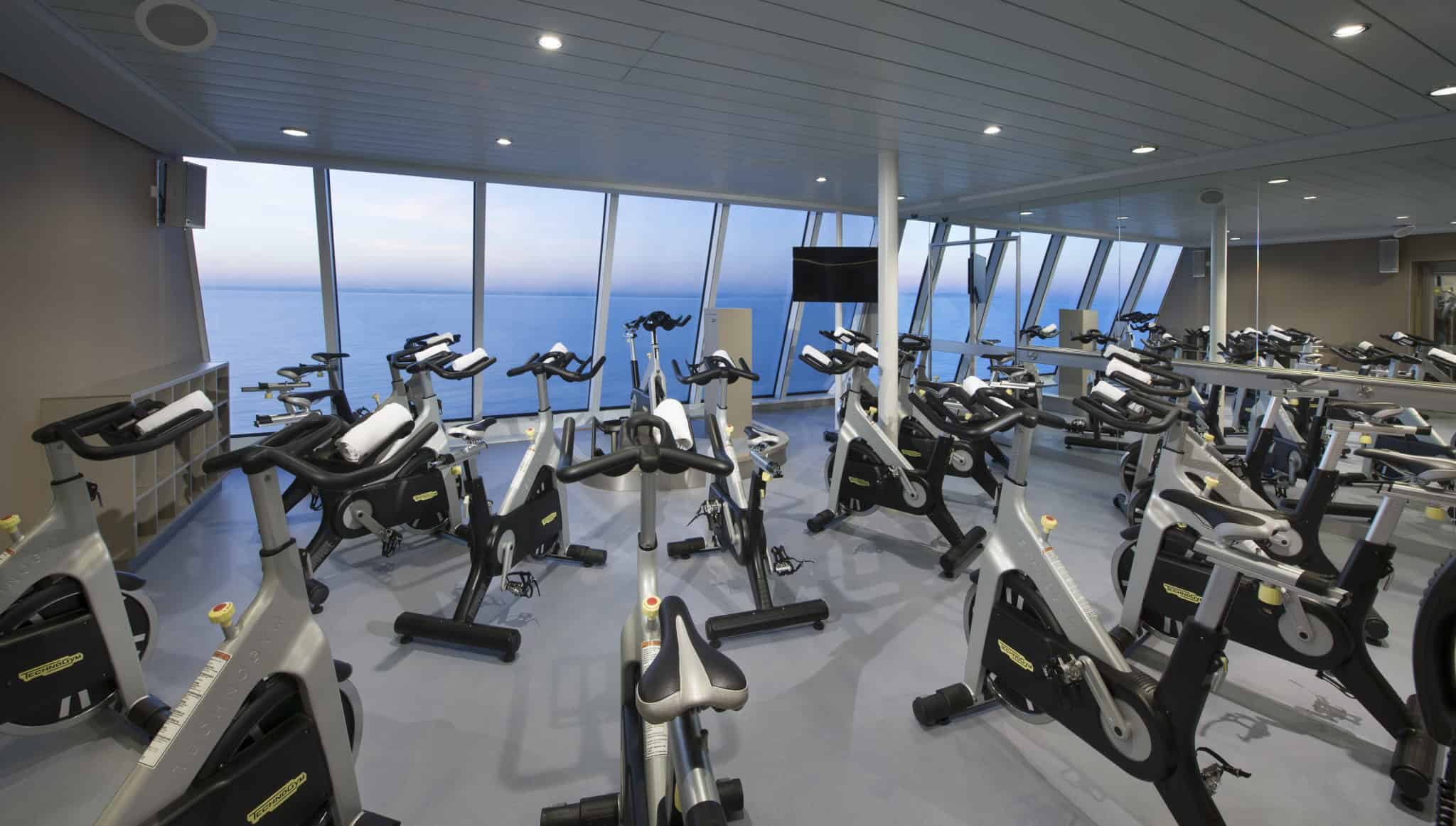 Last but not least, we couldn't not mention the fact that Anthem of the Seas is well-equipped for the youngest passengers that sail on her. The vessel has different kid's clubs for all age groups, filled with fun amenities and group activities. Pictured here is Fuel, an exclusive space for teens.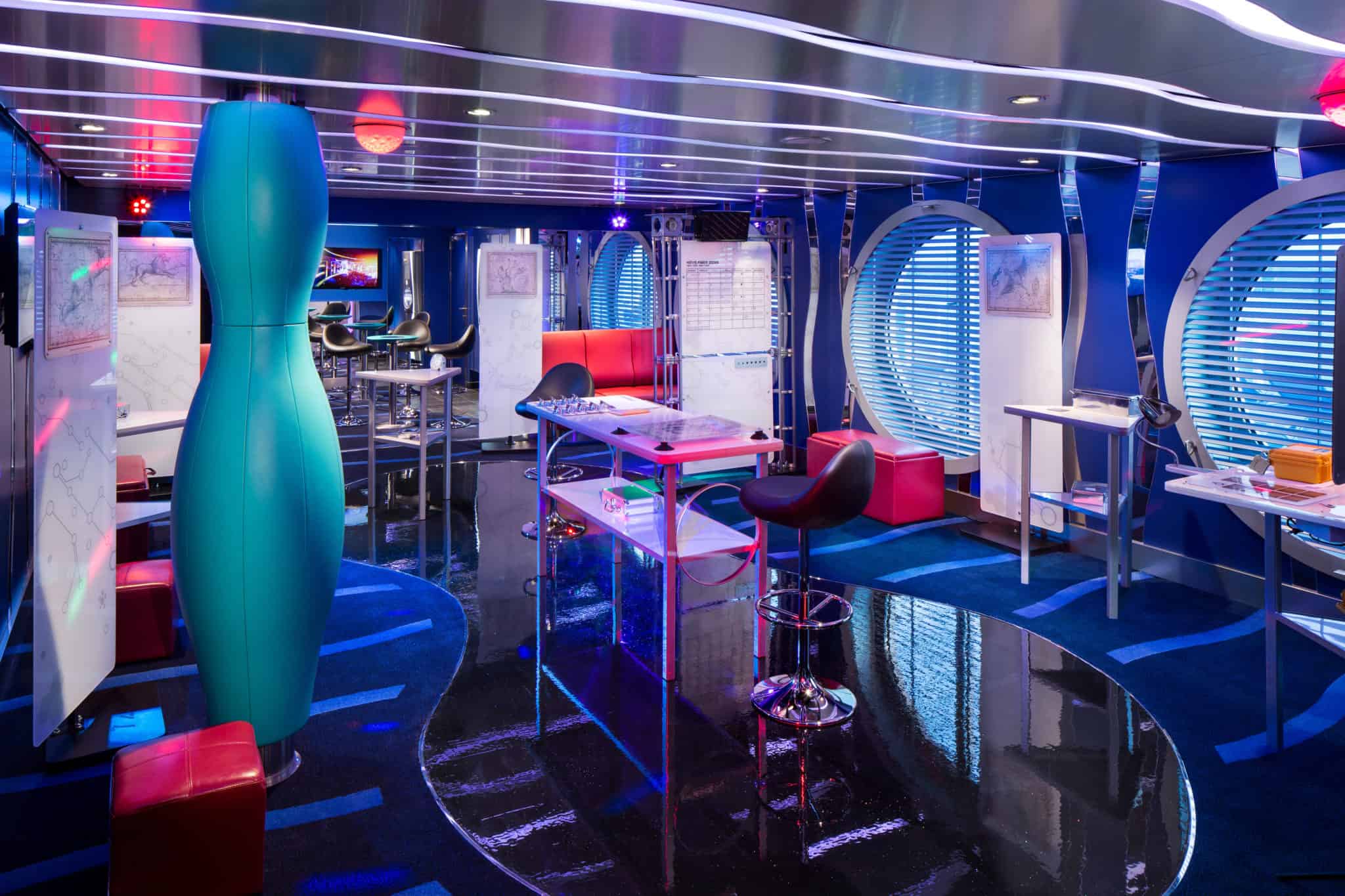 We hope you've enjoyed this photo tour of Anthem of the Seas, and that it helps you plan for your upcoming voyage!
SEE MORE: Celebrity Edge Photo Tour
Pin it for later!