A cruise passenger who tried to stage a mutiny after the ship on which he was sailing changed its itinerary wound up being made to walk the metaphorical plank.
Cruise Passenger Given The Boot!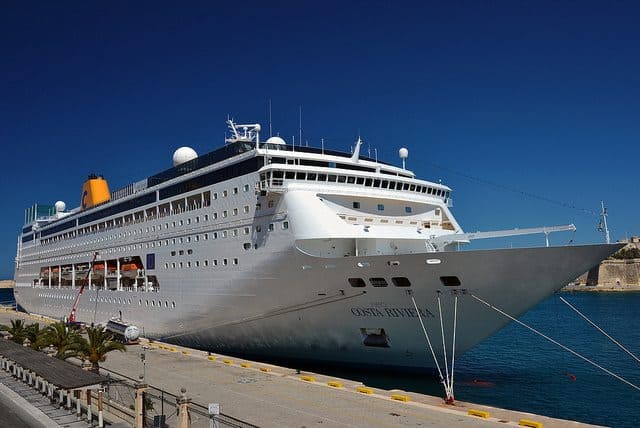 According to a story in The Telegraph, Frenchman Alain Jan became irate when the Costa neoRiviera made several changes to its scheduled itinerary. The ship, which bills one of its appeals "longer stopovers [at] elusive and unusual destinations," was slated to visit Madagascar, Maurice, Reunion and the Seychelles islands. But two days into the journey, the captain announced that several stops would be skipped due to a plague epidemic on the island. (The World Health Organization has declared Madagascar a serious risk, reporting that over 100 people have died from bubonic and pneumonic plague).
The paper reports that Jan and his wife took this initial cancellation in stride. But when two additional stops were skipped, the news didn't go down quite as well… even with Costa offering to make things right with some on-board credit. Dissatisfied with the response his complaints received from crew members, Jan began a petition… and then things got serious.
"That evening," the paper quotes Jan as reporting, "we organized a protest in the restaurant. There were 60 of us banging our fists on the table to alert other cruise passengers to this con job." Upon learning that their protest had not had the desired result, a second rally was staged in the ship's theater and the captain was forced to call in the local police.
Read More: The Truth About Cruise Itinerary Changes
"He listened to both our versions of events," Jan said, "and I asked to speak to the French ambassador. Then the policeman asked the captain if he wanted to disembark anyone, and he pointed to me." Jan and his wife were escorted off the ship.
Freed From A "Floating Prison"
The story had something of a happy ending for the bitter cruise passenger. "I spent two nights in a hotel in the Seychelles with my wife, then [we were] flown home [on a flight] paid for by Costa. That's how I was freed from the floating prison!"
Accused of knowing for months of the itinerary changes but keeping them under wraps, Costa denied to the paper the charges. "The company made every effort to maintain the stop-offs on Madagascar, looking into all the alternatives," they said in a statement. Costa added that they understood the disappointment experienced by some passengers, but the "security, health and well-being of passengers and crew are an absolute priority."