Our first day at sea began with our first Q&A session with John Heald. It started with a continental breakfast that included croissants, muffins, mini bagels, yogurts, and parfaits, along with juices and coffees.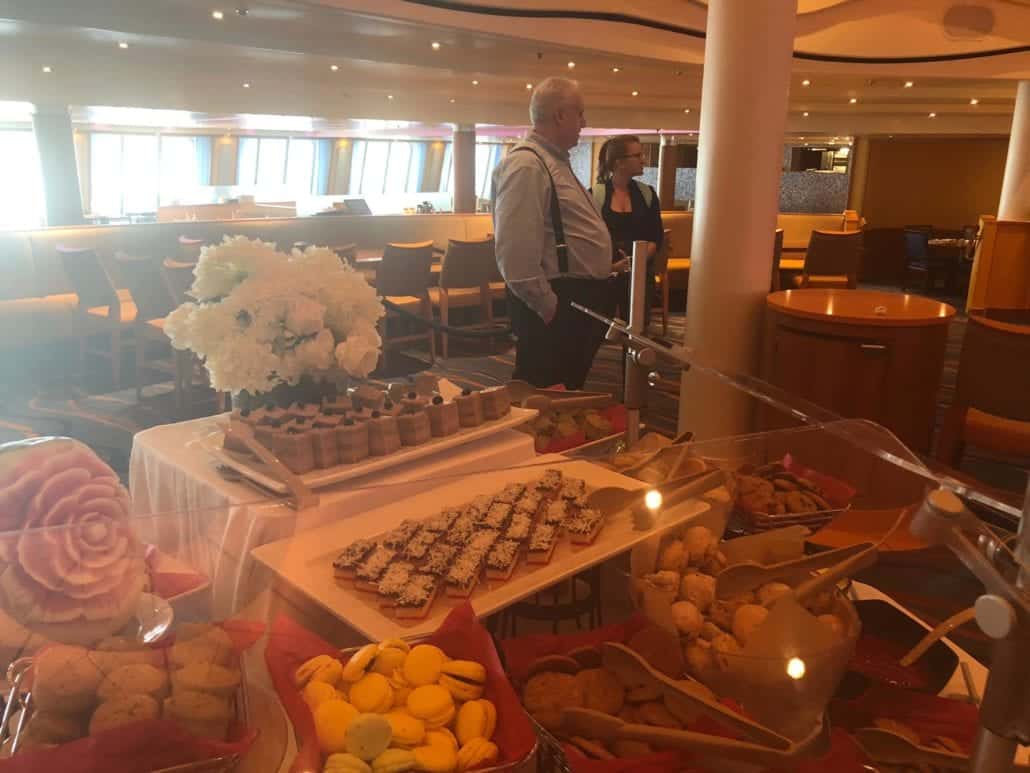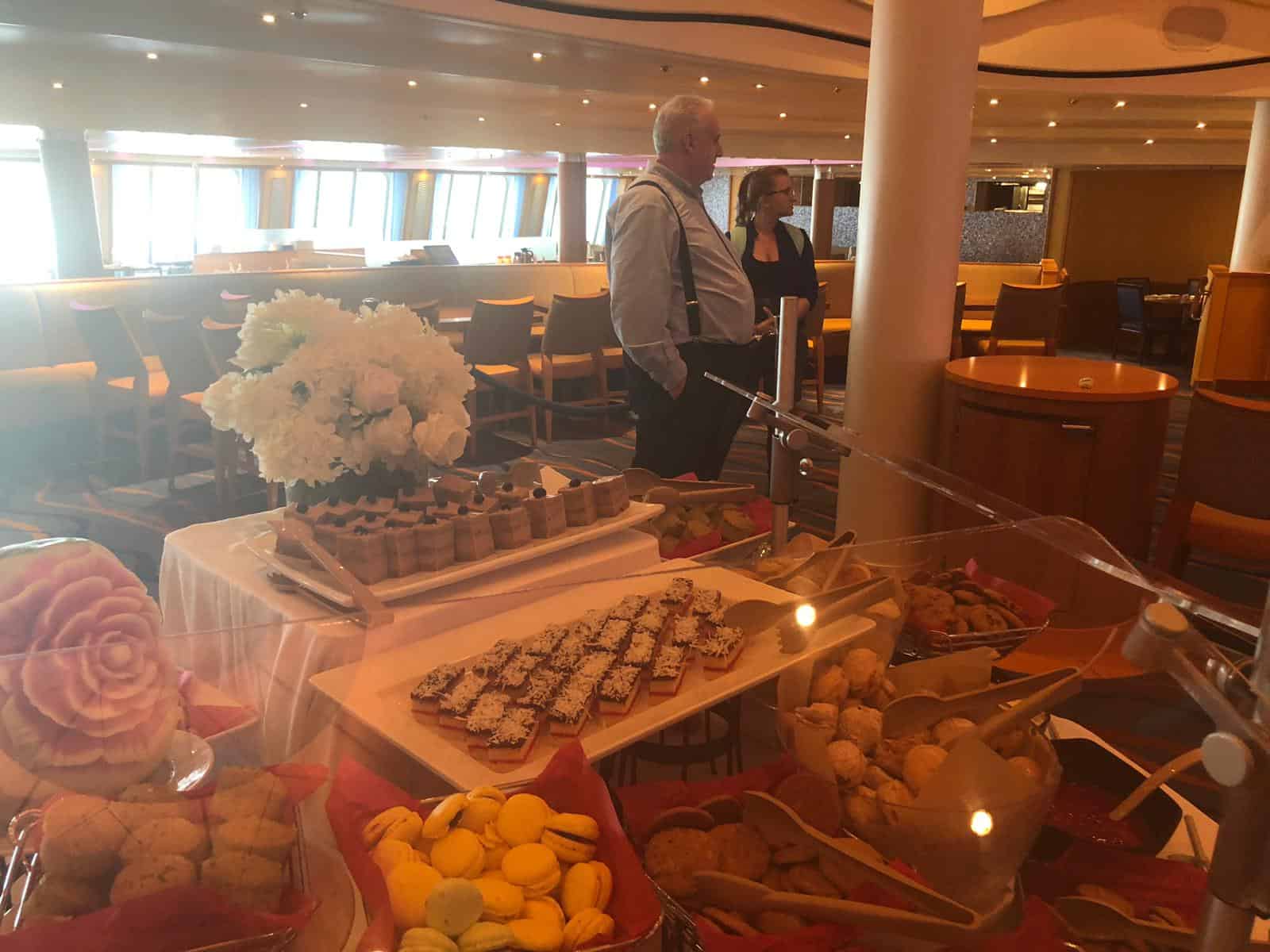 People were greeting each other like old friends and asking each other how their brother or cousin was doing and if their health had improved. I felt like I was at church when they serve breakfast after the service and everyone gathers together to catch up on what's going on in each others' lives.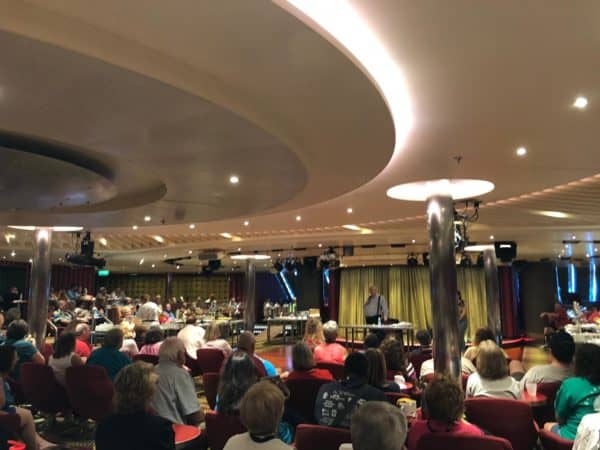 There was a distinct sense of community and comradery here. Sure, they were here to see John, but they were here to see each other, too. Though they all live in different parts of the world, they use this bloggers cruise to catch up with each other.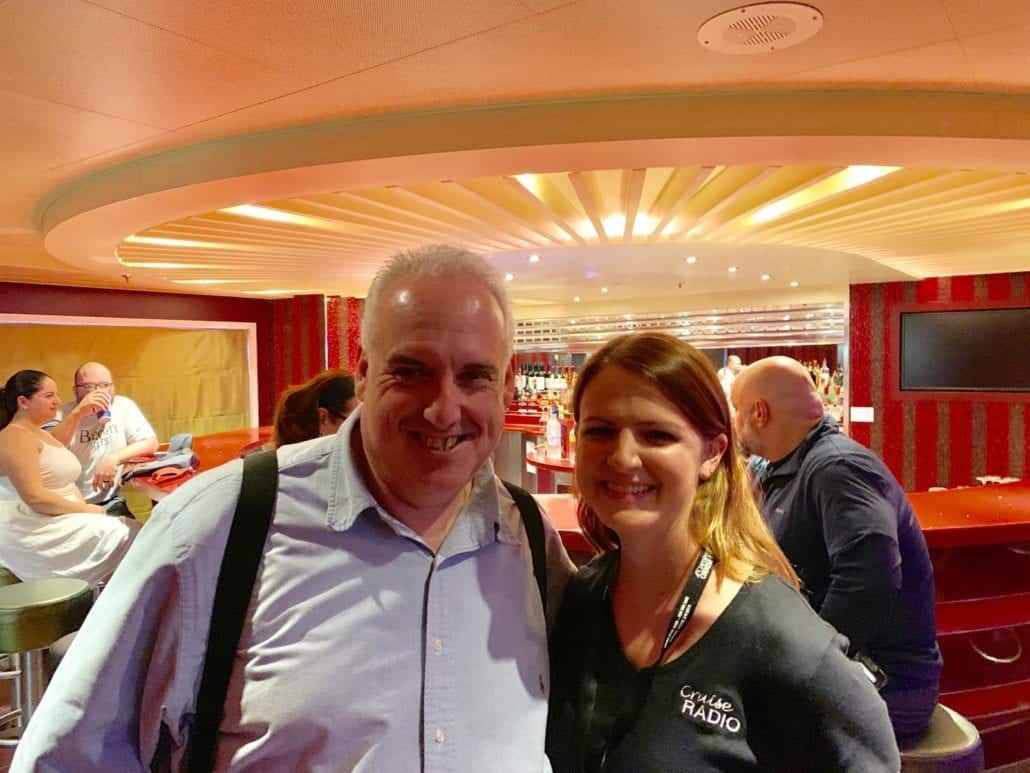 Some people would even use their time on the mic during the Q&A just to say "sorry everyone, so-and-so couldn't be here, her husband's not in great health," and there would be a collective sigh of concern from the crowd.
Read More: John Heald Reveals News At Q&A Session
These people are here for the community. And not in the way like people join online cruise forums and host meetups on ships. These people have really, truly formed something that is real.
And to be fair, a lot of the credit for that does go back to John Heald himself. He accrues such a following thanks to his down-to-earth nature, approachability, and humility.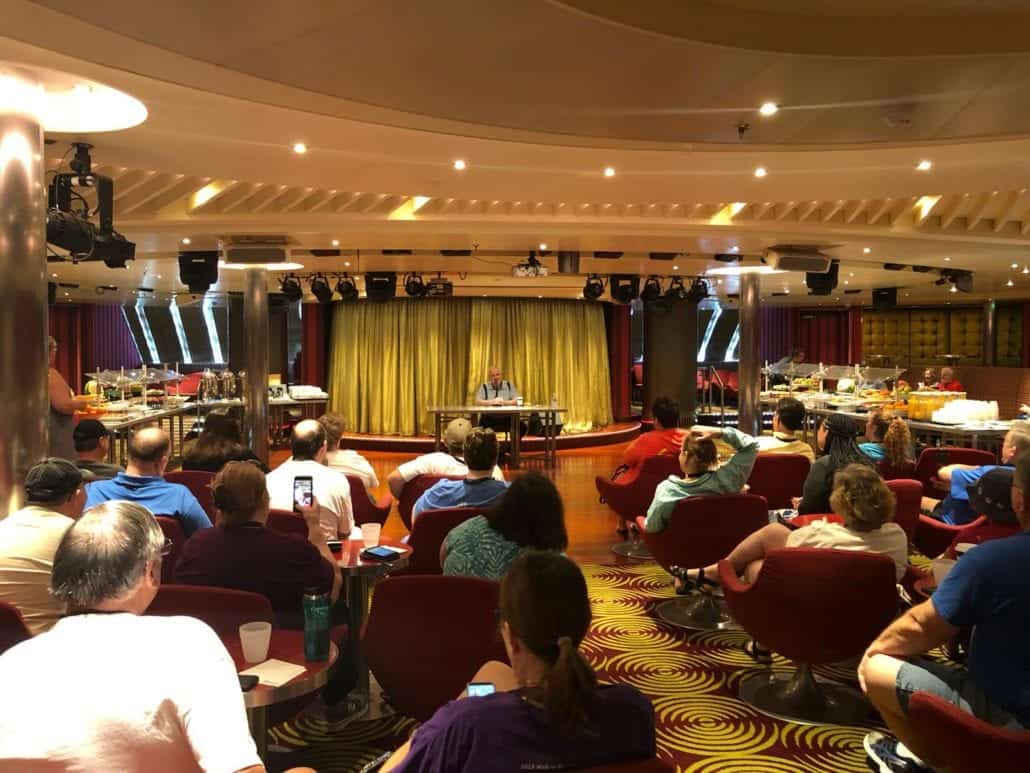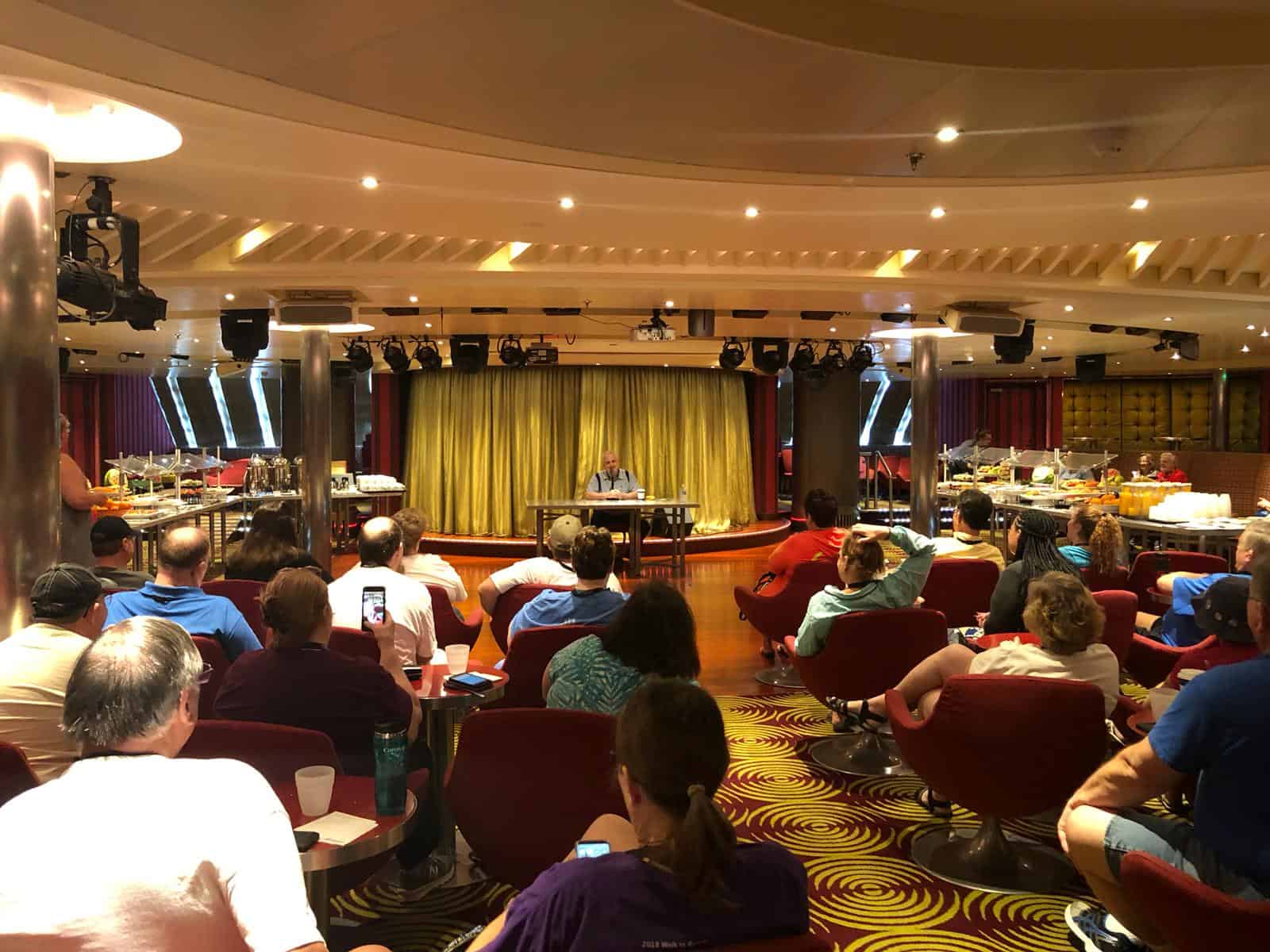 It's what sets Carnival apart: to have someone, a person in the flesh, to make new company announcements and to take the heat for unpopular new policies. But, love him or hate him, his genuine nature cuts through the noise and resonates with many folks – particularly those who've saved up all year to take the only cruise they're able to, the one with John.
And because of that, he's indirectly formed a community of people who have fortified lifetime friendships that cross state lines and international borders.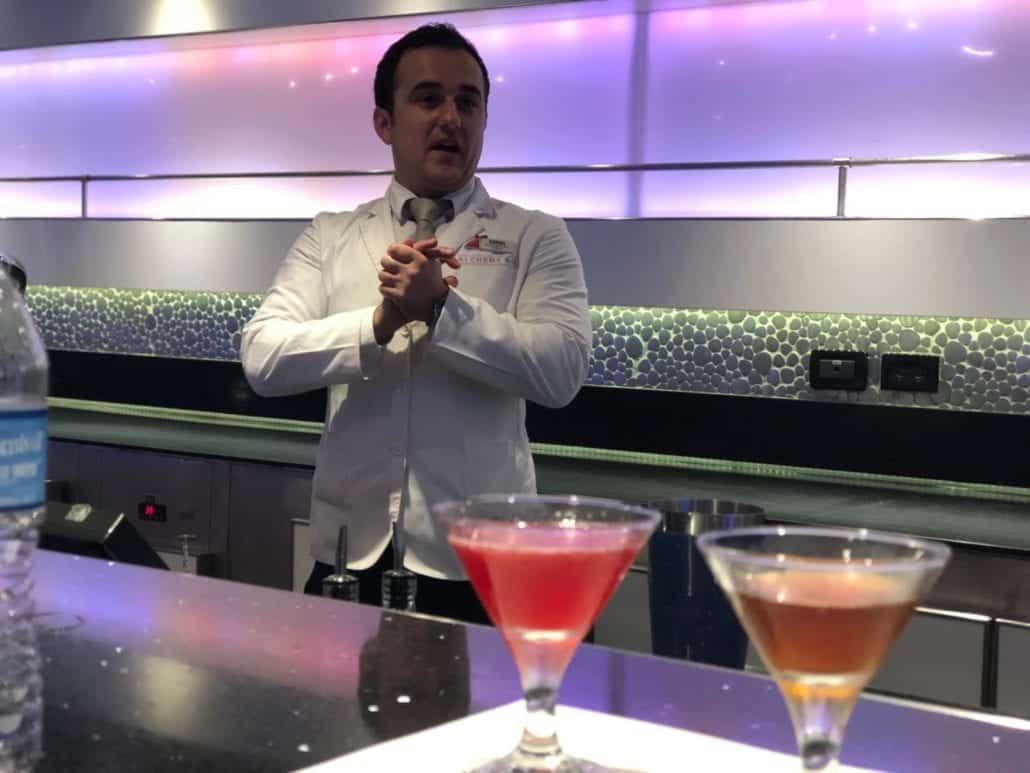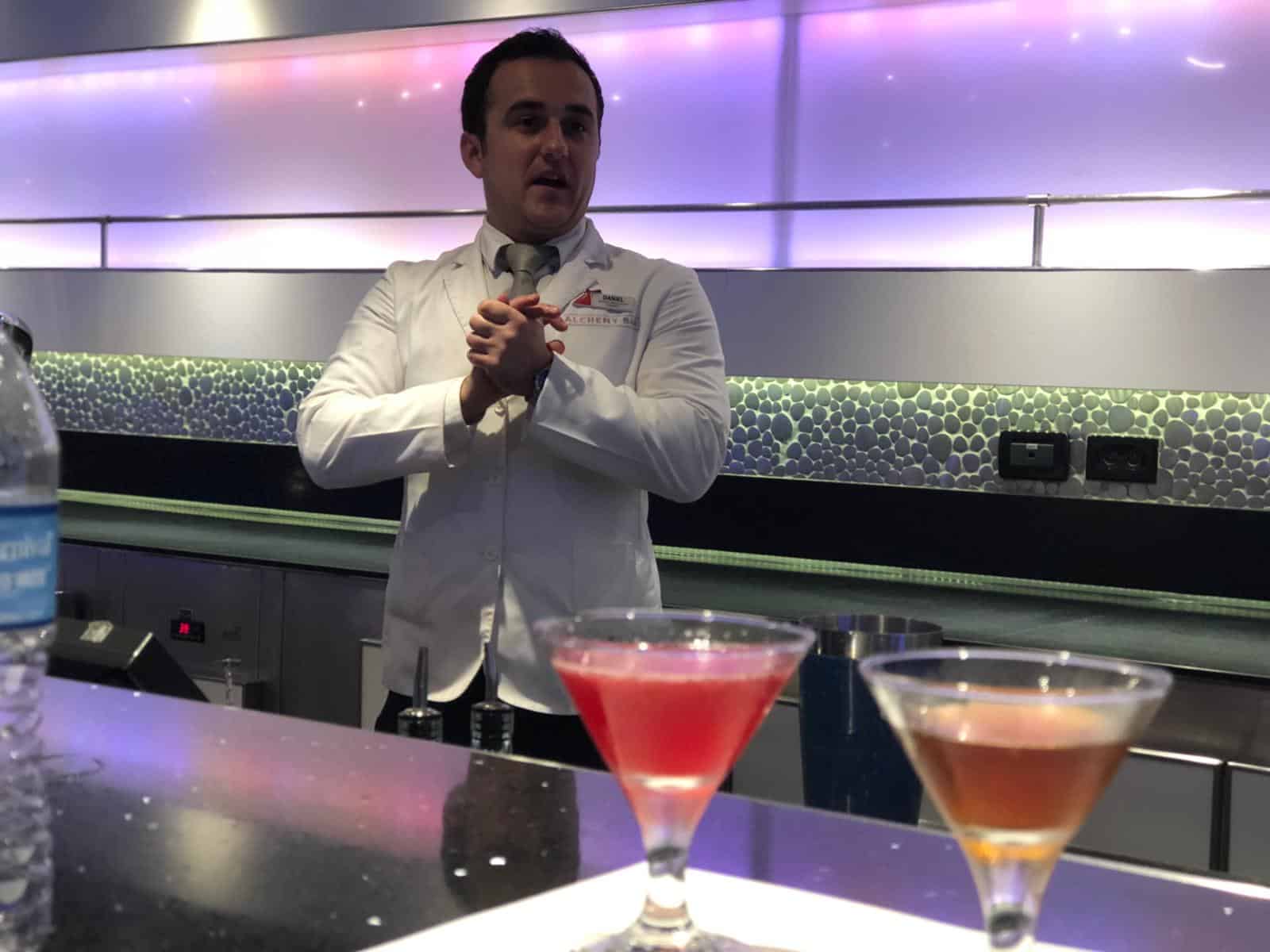 This is so true, in fact, that I met a couple at the Alchemy Bar, Paul and Sharon Rayner, who booked this cruise but didn't sign up for the bloggers part of it (and ironically live in the same small city as me in Sugar Land, Texas… what a small world!).
They like and follow John, but even more so, they wanted to reconnect with old friends in person and "build deeper connections" than what they achieve by keeping up with each other on Facebook.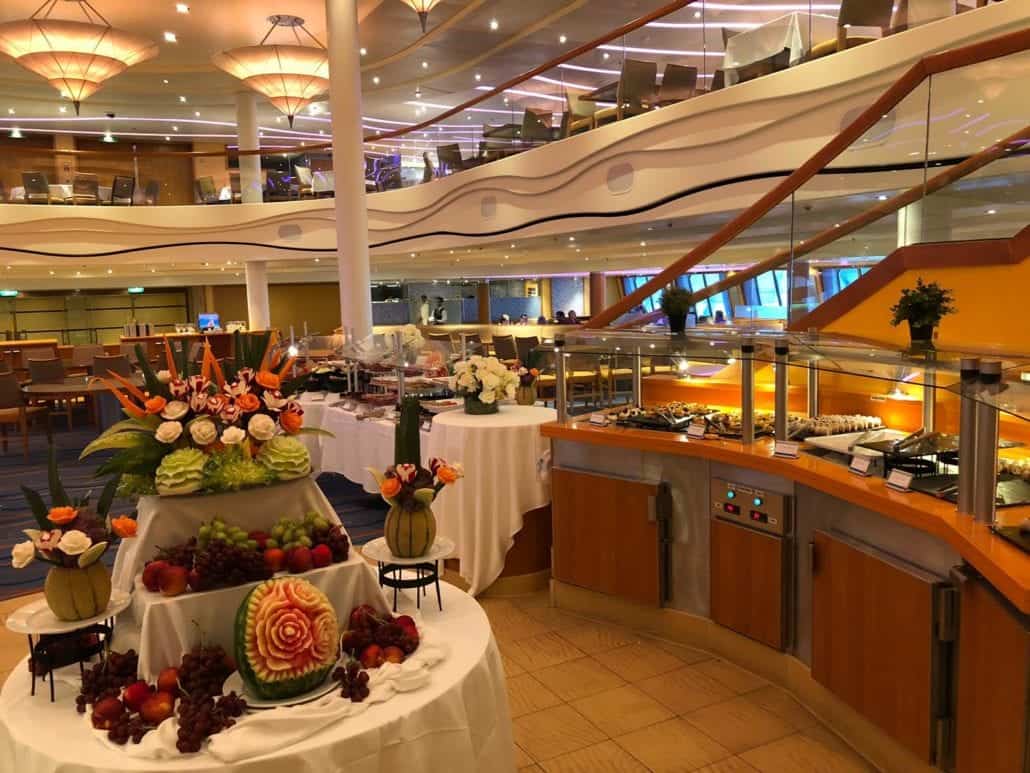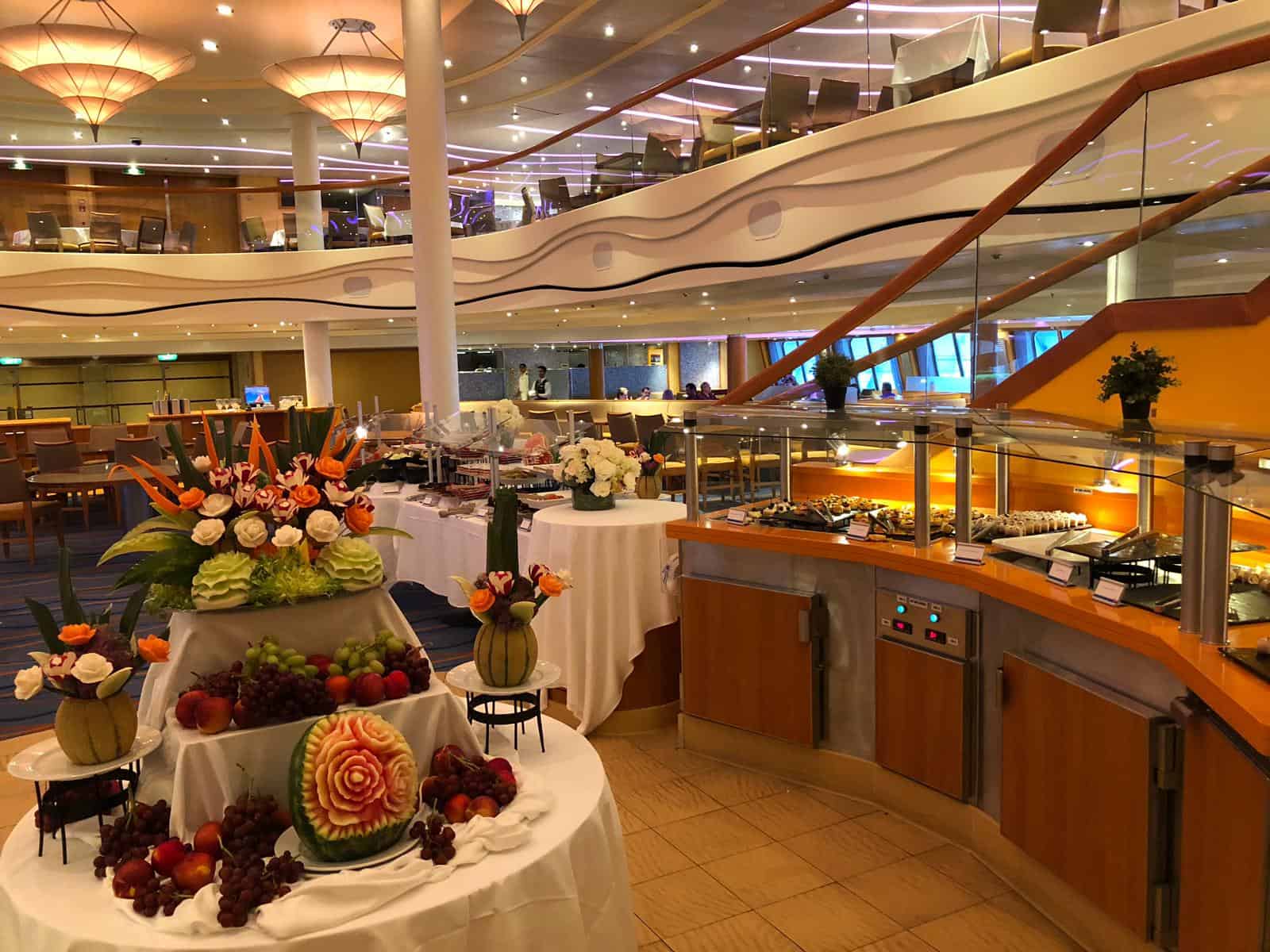 Later in the afternoon, we had "Tea Time with John," though John was only really there to say hello, welcome everyone, and then leave.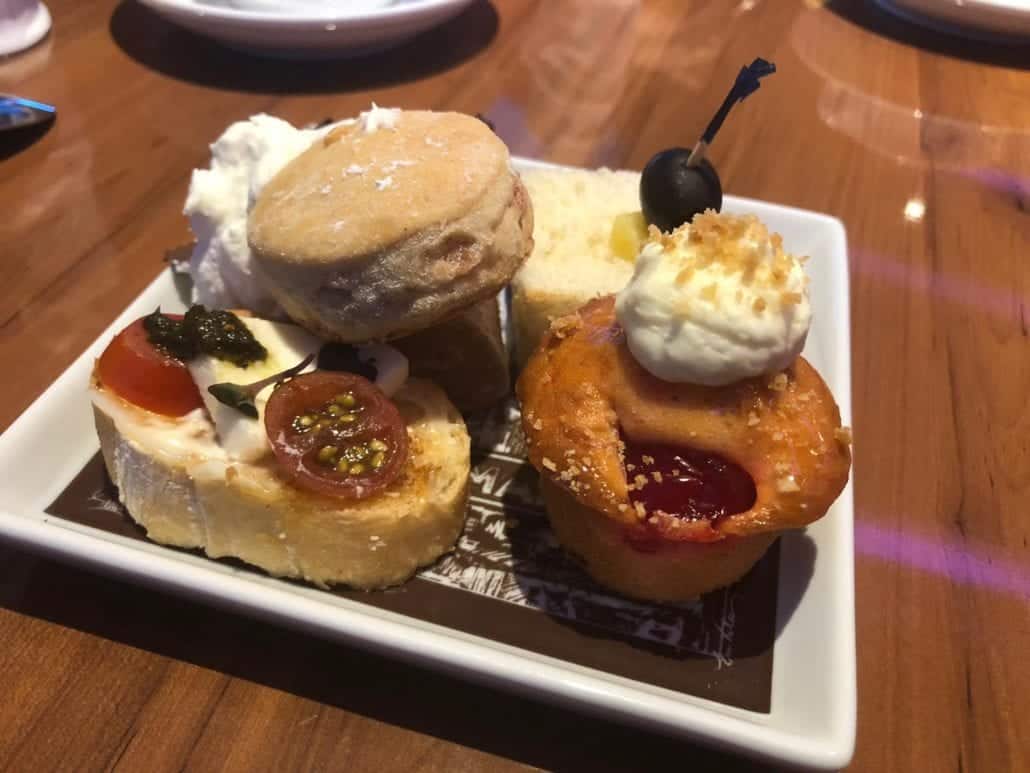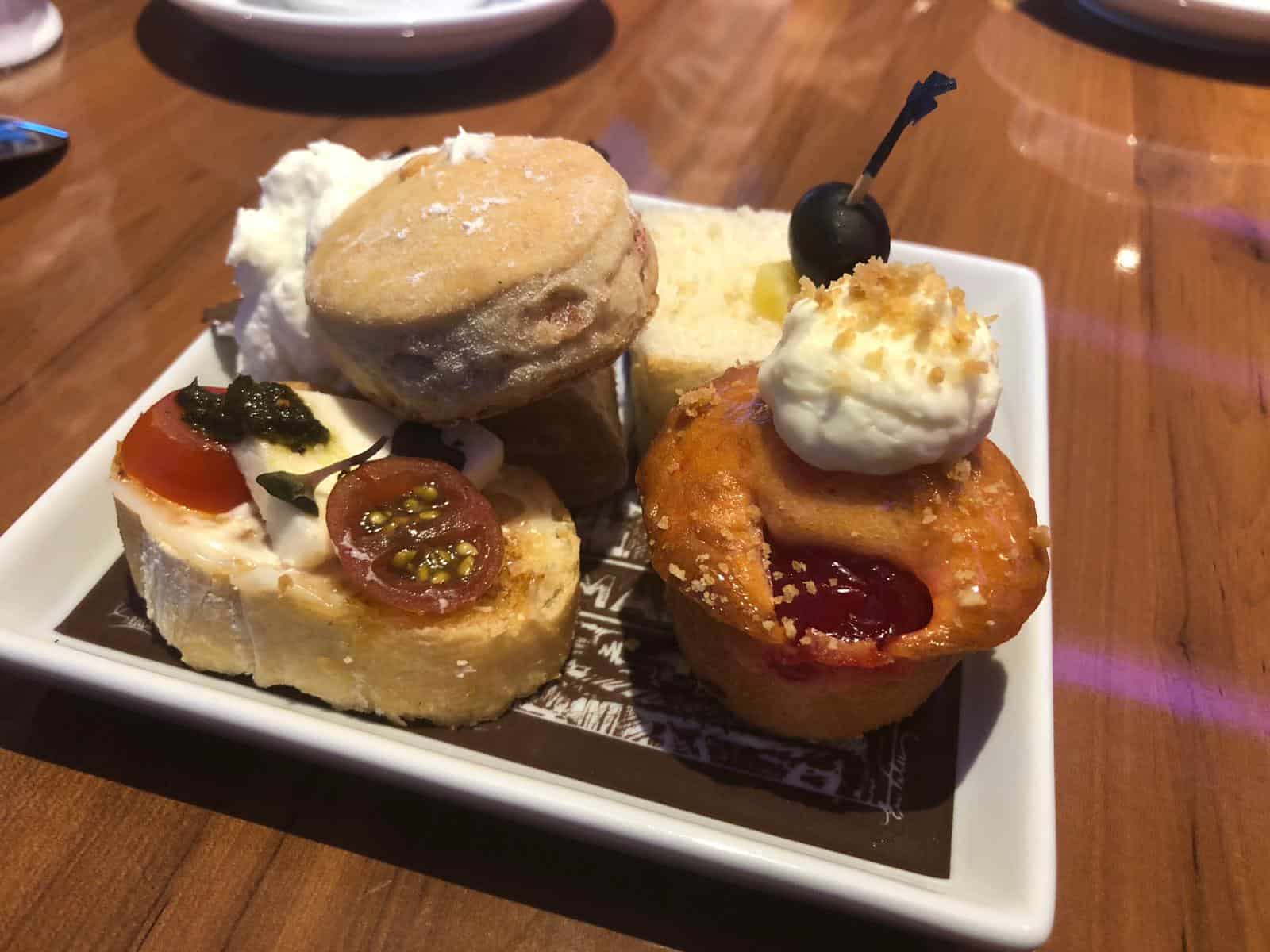 The event itself seemed like more of an excuse for the participants to get together because John didn't stay behind to answer questions or anything. But it was another perfect excuse to gather everyone together in a secluded, private area.
Formal night and live entertainment
We then hit the RedFrog Pub for a while until it was time to get dressed for formal night. We were treated to a private photo opportunity with John, which we took advantage of before making our way to the atrium bar.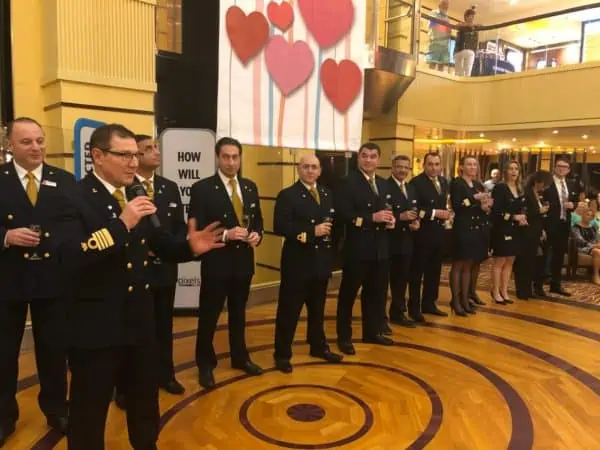 We had a drink there while waiting for the Captain's Toast, and in the meantime we watched the line for Your Time Dining grow and grow. At one point, the line just to get a pager was about one hour long, and then it was another 45 minutes to get a table after that.
Pro tip: If you don't mind it, skip the dining room on formal night unless you have a set dining time!
We ended the night at the Alchemy Bar and then the Piano Bar. The live music both in the Ocean Plaza and then at Piano Bar 88 was so fantastic that some friends we were with decided to stay to hear it.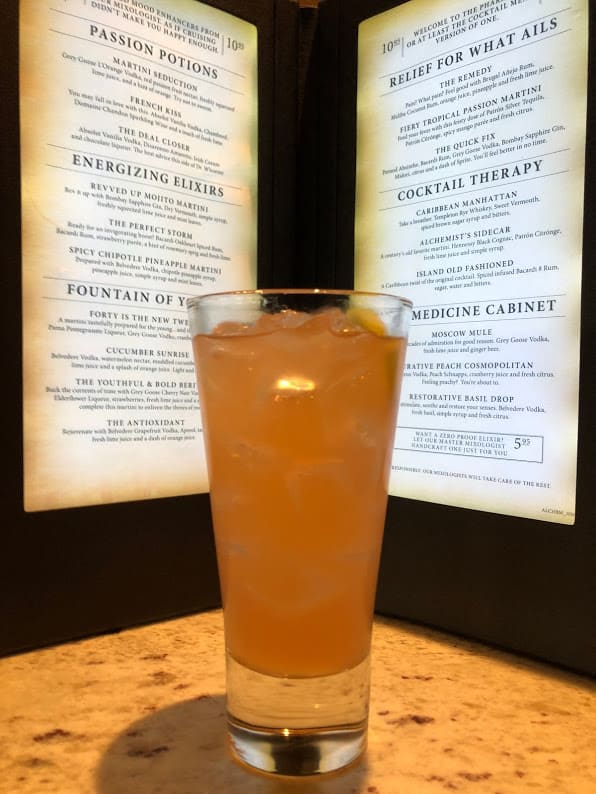 They were planning to go to the Motown show in the theater, but that has pre-recorded music that just couldn't compete with the talent of the singers of the band on the promenade.
Tomorrow is our first port day. First stop: Amber Cove, Dominican Republic.
If you missed Day 1, you can catch up here.