On Day five, we arrived in San Juan, Puerto Rico, and docked next to Norwegian Epic. However, it wasn't until later in the day that I would find out Epic wasn't actually supposed to be there — mechanical issues forced it to skip two ports and limp to San Juan.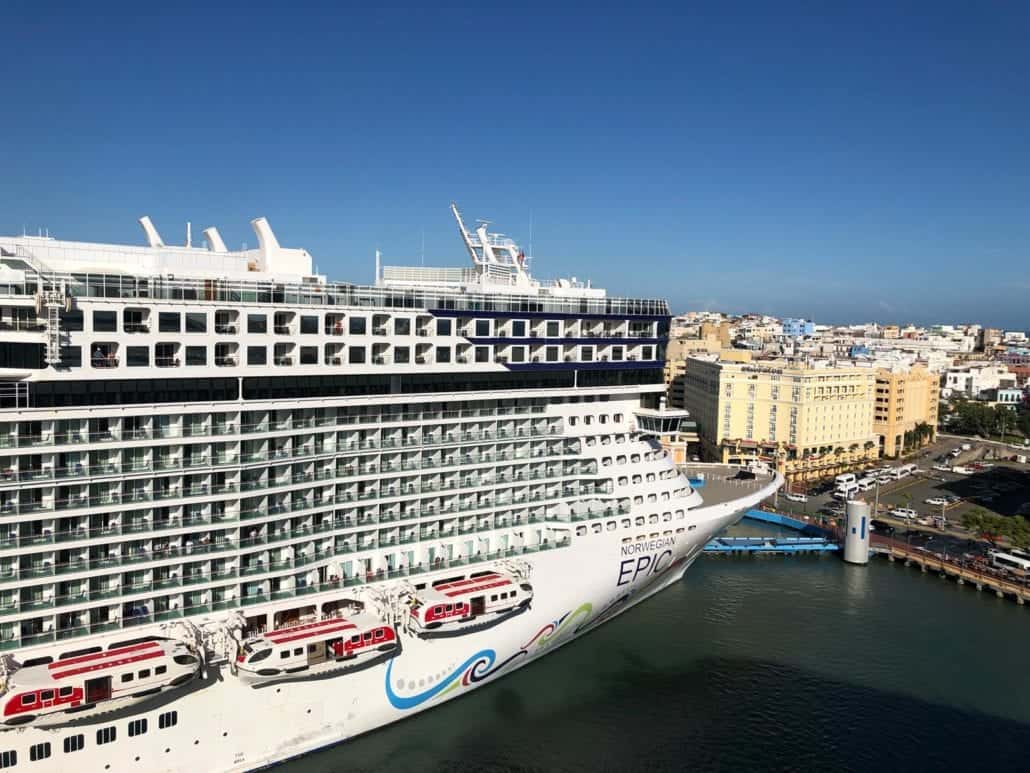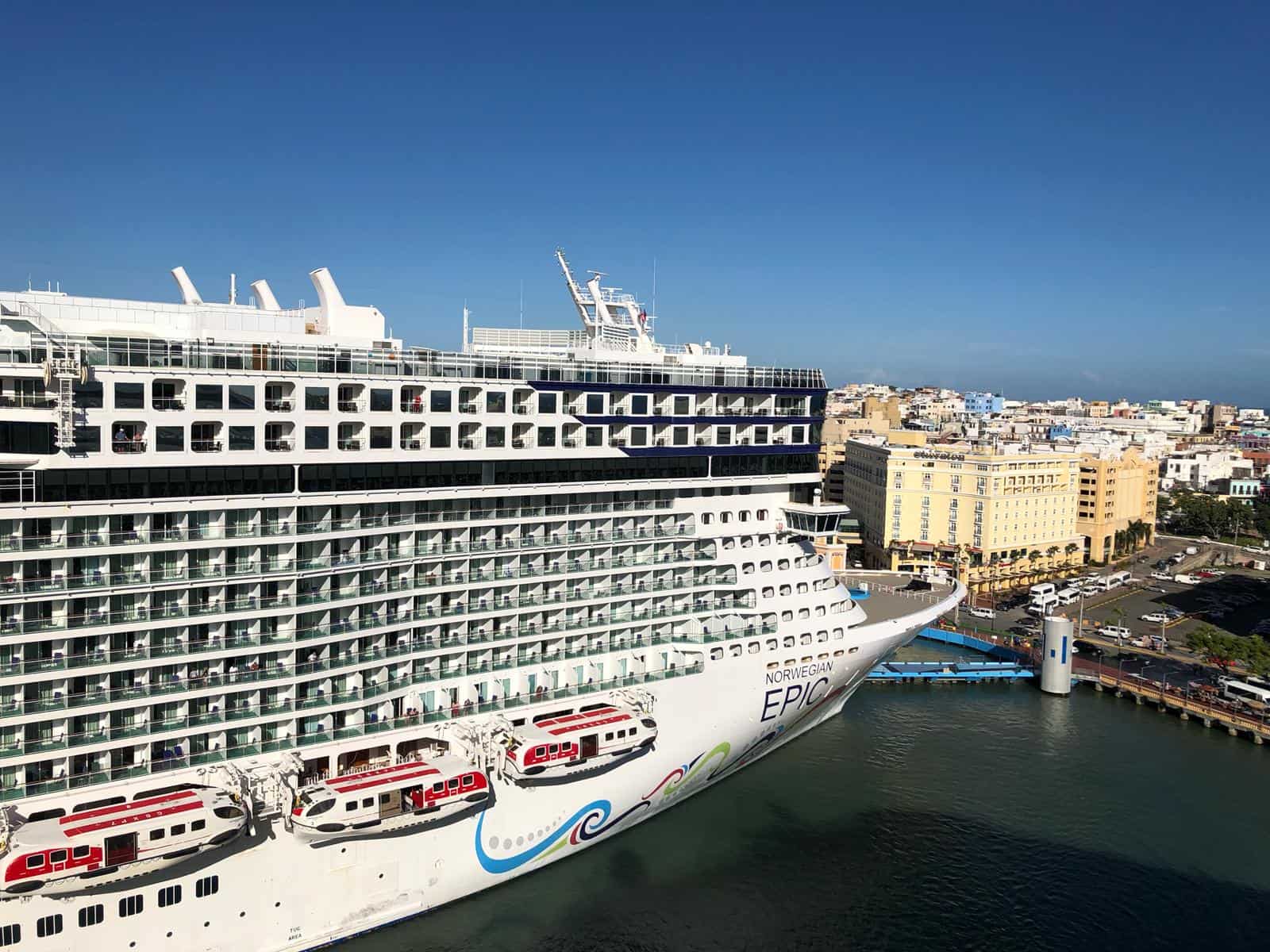 We didn't have any excursions planned for the day. We just had some places we wanted to visit and planned to walk around the city. So, we hit the main dining room for the port-day express breakfast. "Express" is maybe a generous word, as it still took 30 minutes to get our food and another 15-20 for us to eat, but thankfully we weren't in a rush so we didn't mind.
Walking through San Juan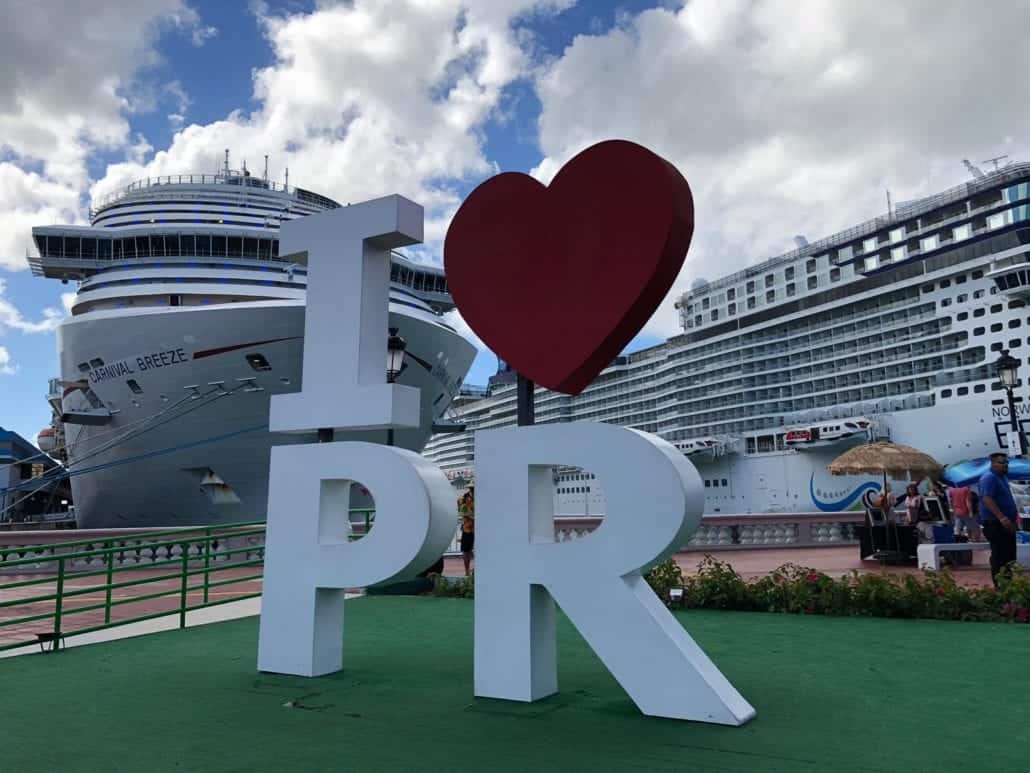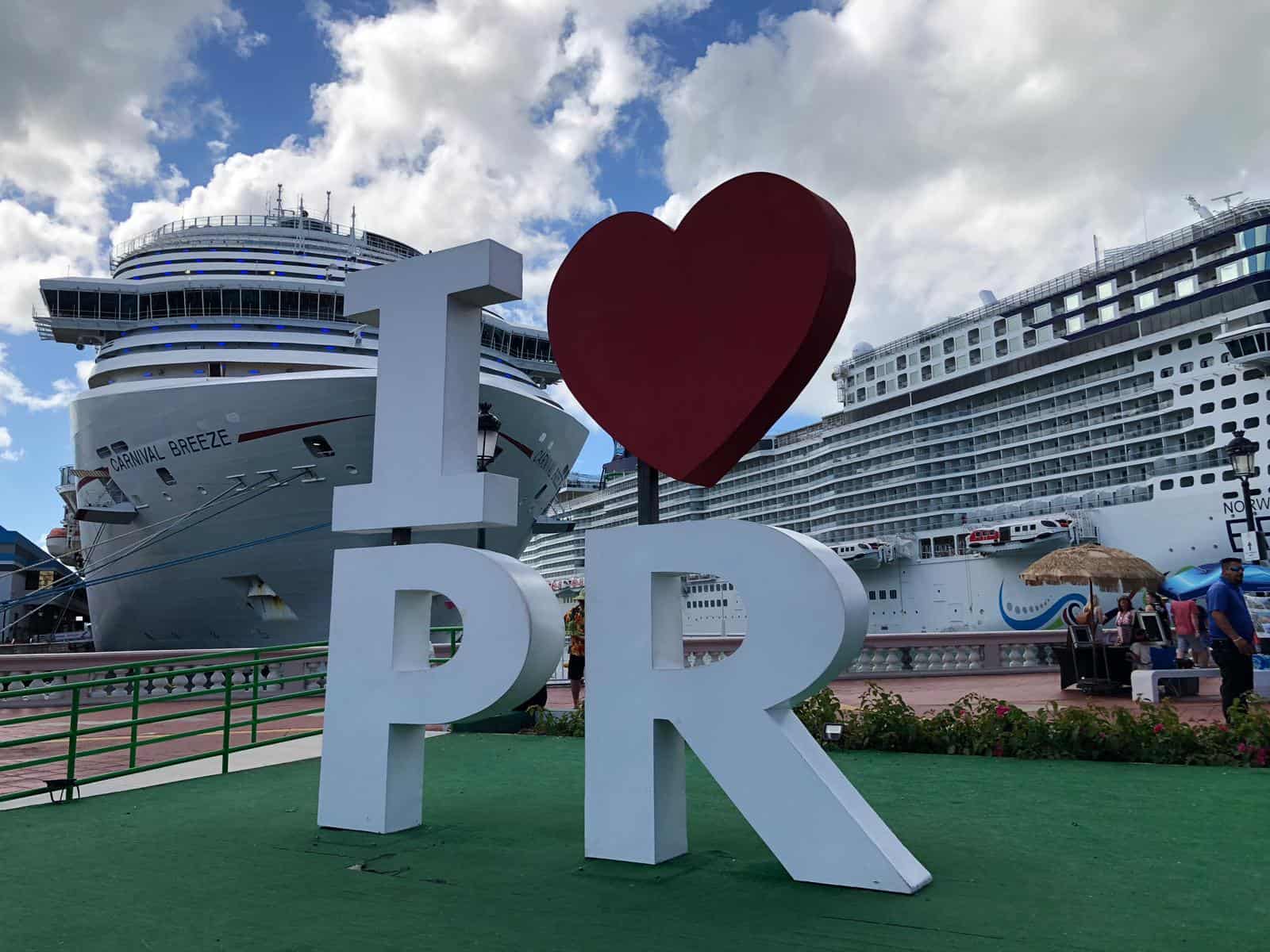 Once off the ship, we navigated through the front of the pier, where it's swarming with tour guides trying to sell you on their day tours and running around saying "my bus is leaving now!"
We kept walking past them and the souvenir vendors until we made our way to Calle Fortaleza, which is a popular street running east to west featuring some of the best of San Juan's shopping.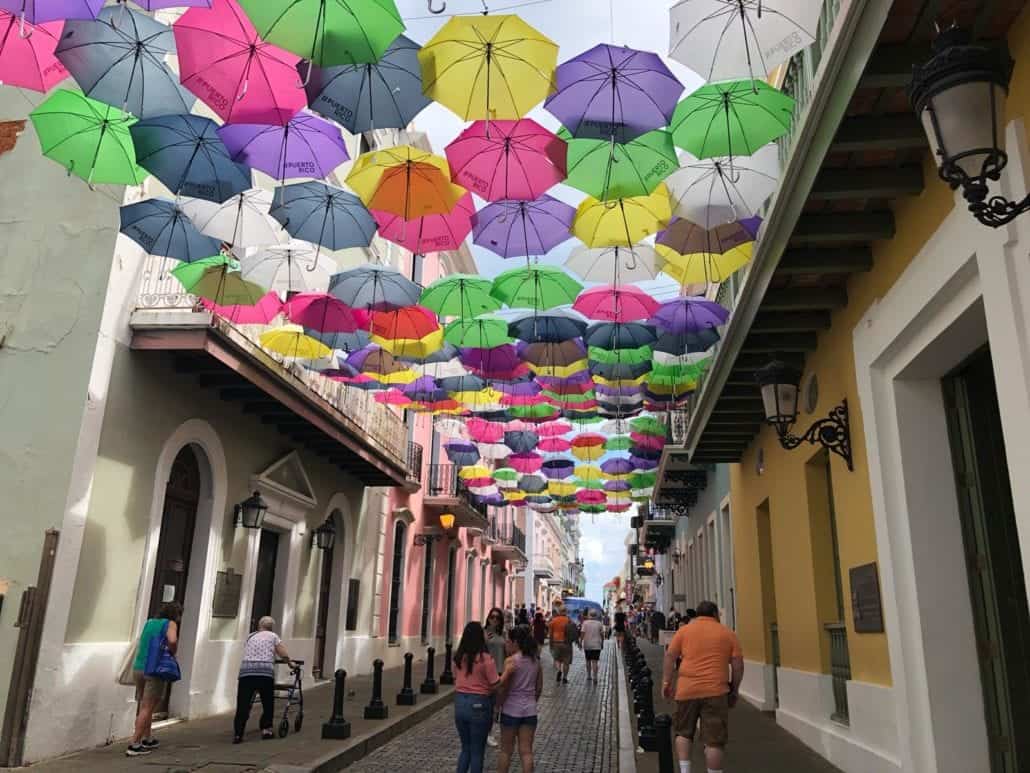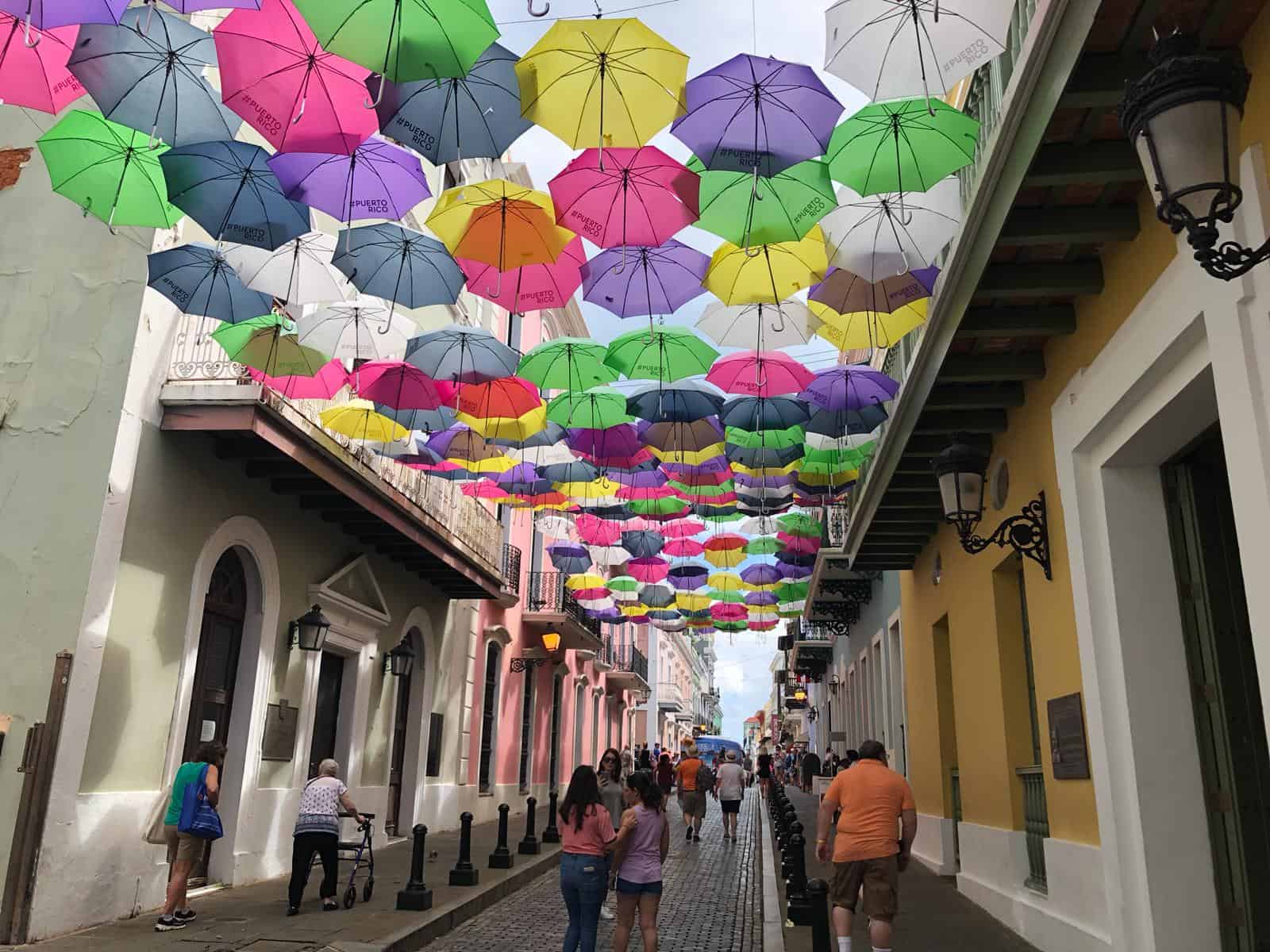 The most popular spot, however, is the most western end of the street that ends at the Governor's Mansion. There, for about a quarter mile, there are colorful umbrellas strung between the buildings to cover the streets below. It's not really for protection – it's really more for fun and for an Instagrammable picture.
We then made our way to Paseo de la Princesa, which is a pathway that wraps around the island outside the old city wall and follows along the waterline. Eventually, this turns into Paseo del Morro, which continues along the waterline for about 1.5 miles to the Castillo San Felipe del Morro. We walked along the path, with the trade winds blowing off the ocean from one side, and the aged, struggling city walls towering above us on the other side. After about an hour and a half of our leisurely stroll, we finally arrived at the base of the Castillo (the old fort), facing the north side of San Juan's shorelines and receiving the full effect of those Atlantic trade winds.
Castillo San Felipe del Morro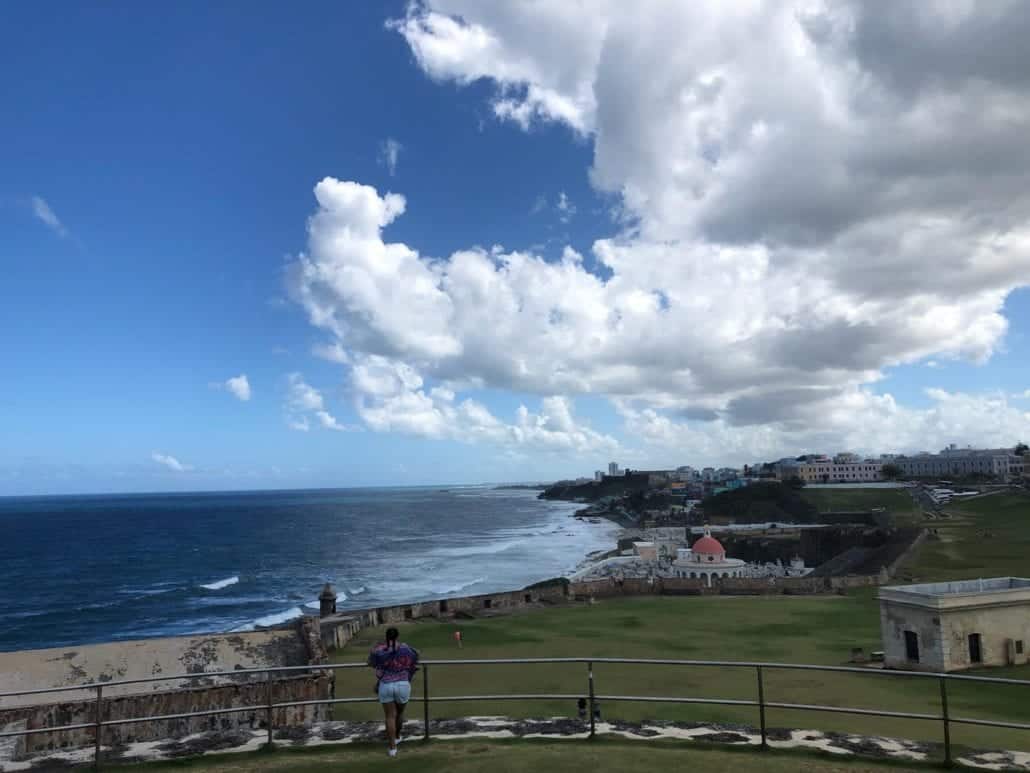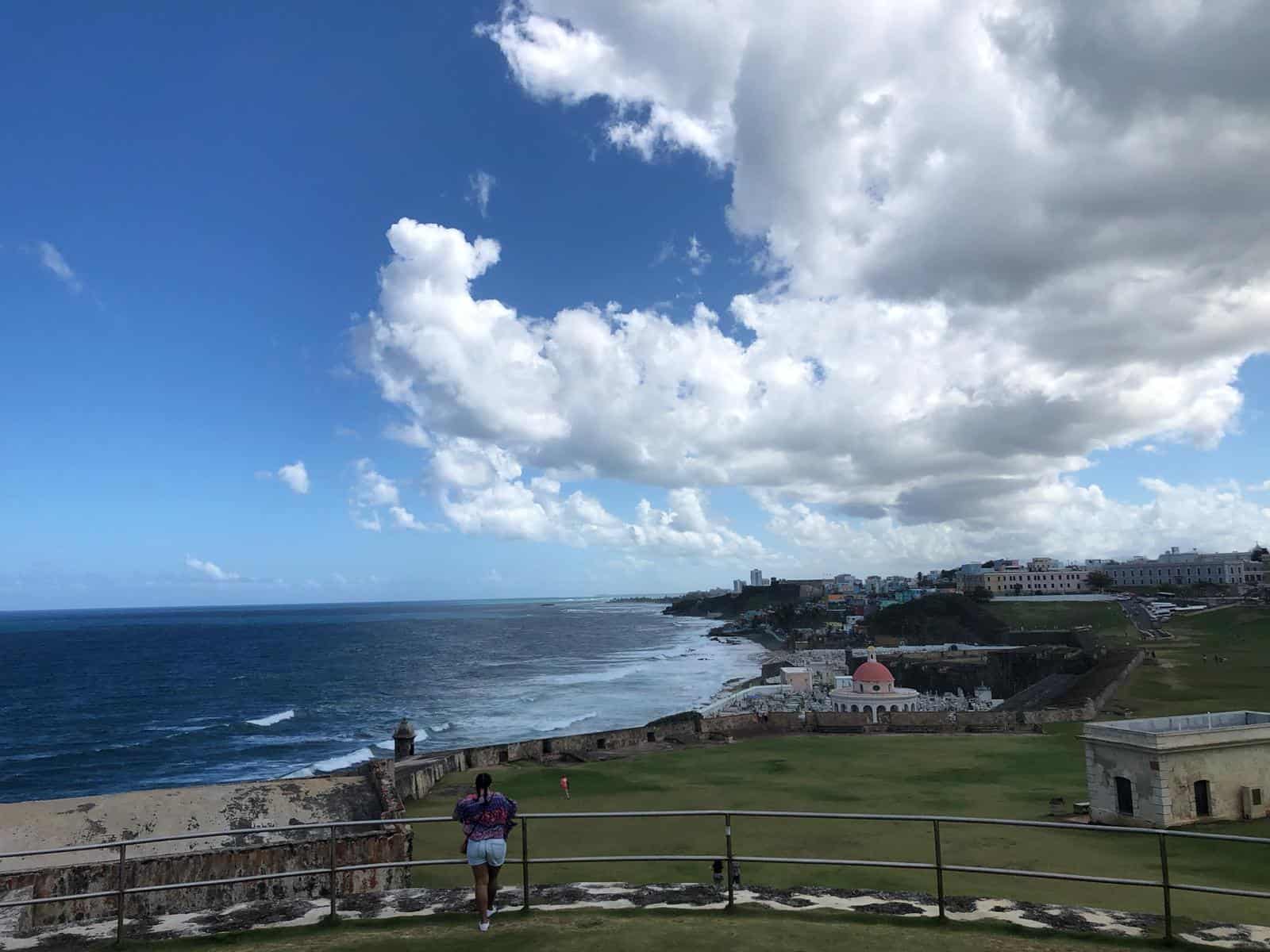 We ventured up a staggered staircase until we reached nearly the top of the Castillo. We then took a few steps more up a short staircase — and the view hit us like a sack of bricks. Suddenly, we had a full, panoramic view of the entire city of San Juan, the fort itself, the harbor, and the horizon as far as we could see. It was breathtaking. We couldn't help but linger.
After a while, we made our way downhill over to the front of the Castillo, where people normally enter. We decided to pay the $7 each to walk around the museum portion of the grounds. While the fort is free to wander around and enjoy the views, the museum portion is what you pay for. I enjoyed it and appreciated the history learned from the plaques about Spain's conquest of the island and later defeat by America.
But I admit, I'm one of those people who loves to stroll museums and read every word, so if you're not one of those people, then maybe pocket your money and just enjoy the views, because there wasn't much beyond the plaques.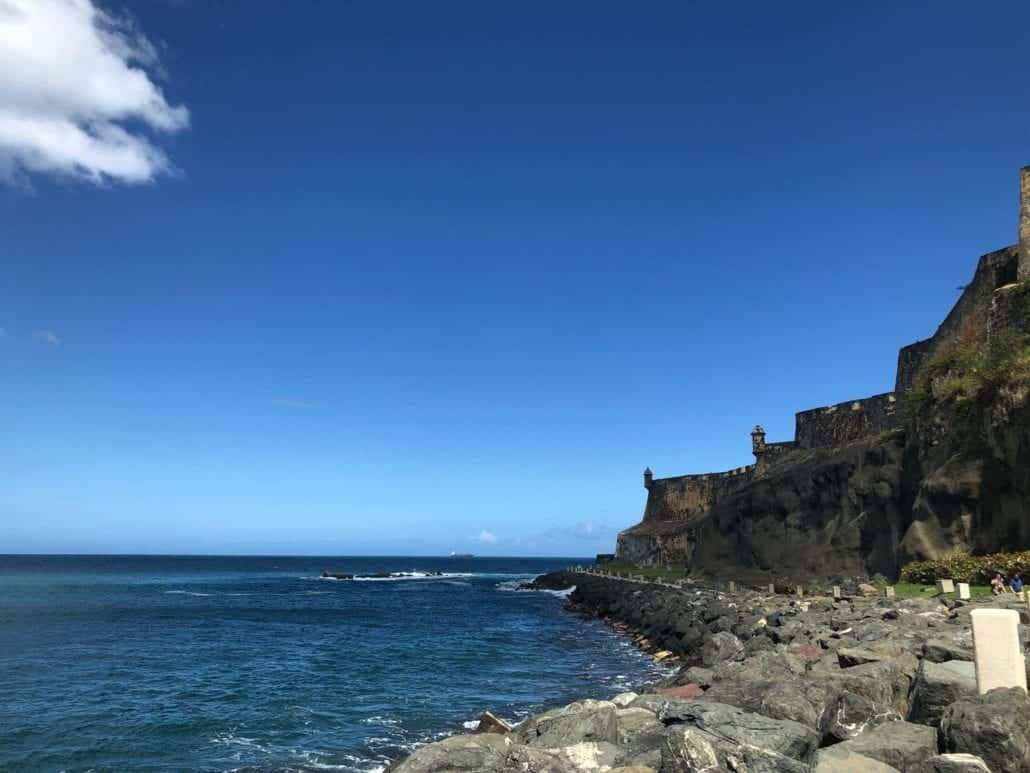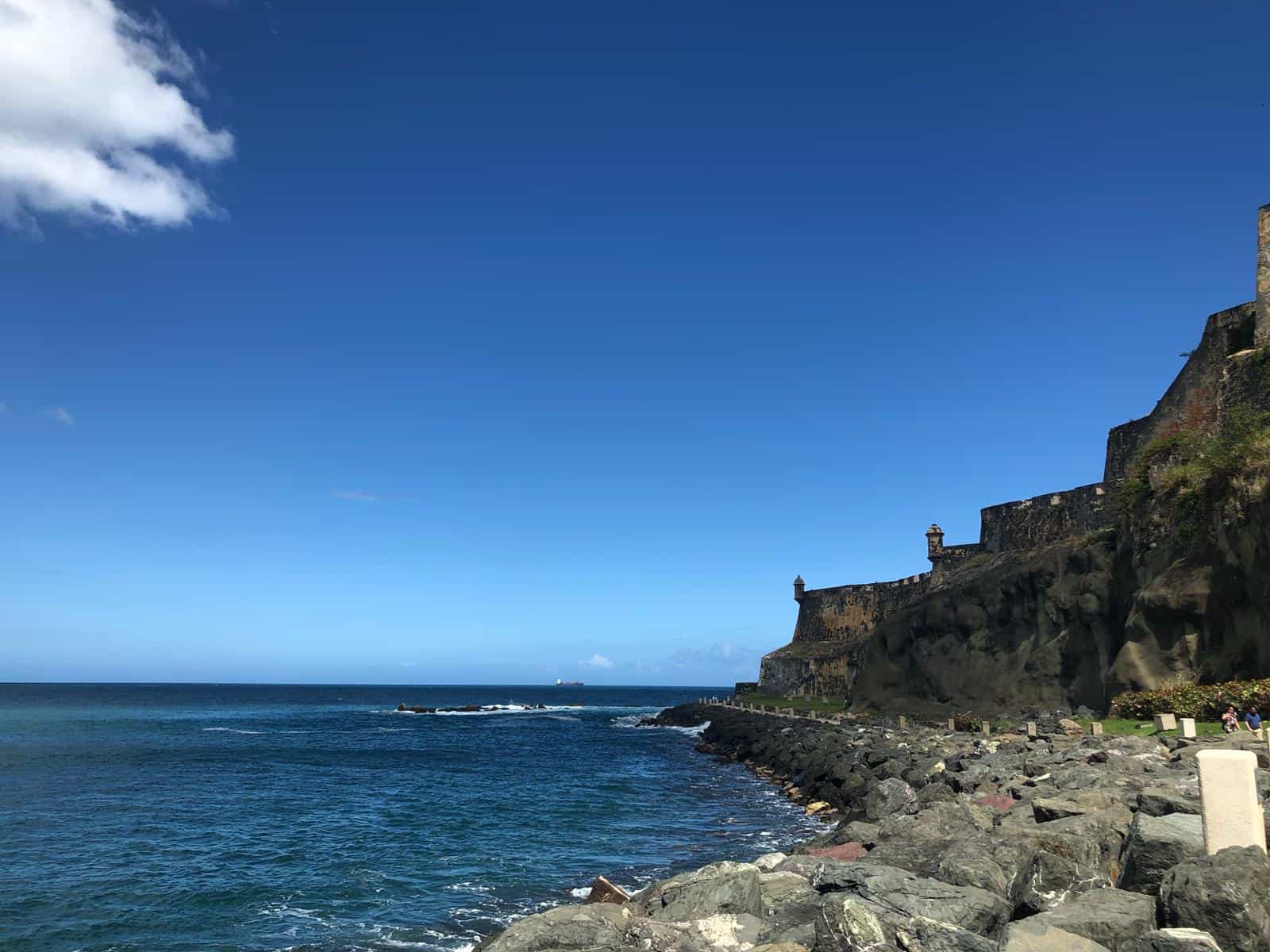 At this point, we'd been walking for nearly three hours straight and our feet were killing us. (I'd also like to point out that there were no bathrooms along either paseo, and the only bathrooms at the fort were inside the paid museum area.) So, although the $7 ticket also enables access to the second fort on the island — Castillo San Cristóbal — our feet weren't up to the task, and we decided to head back to the ship.
I bought a snowcone, a "piragua," just outside the fort, and we sat down to rest our feet for a minute before journeying back. We then used Google Maps to find our way back to Calle Fortaleza, and from there it was an easy return.
Food, food, and more food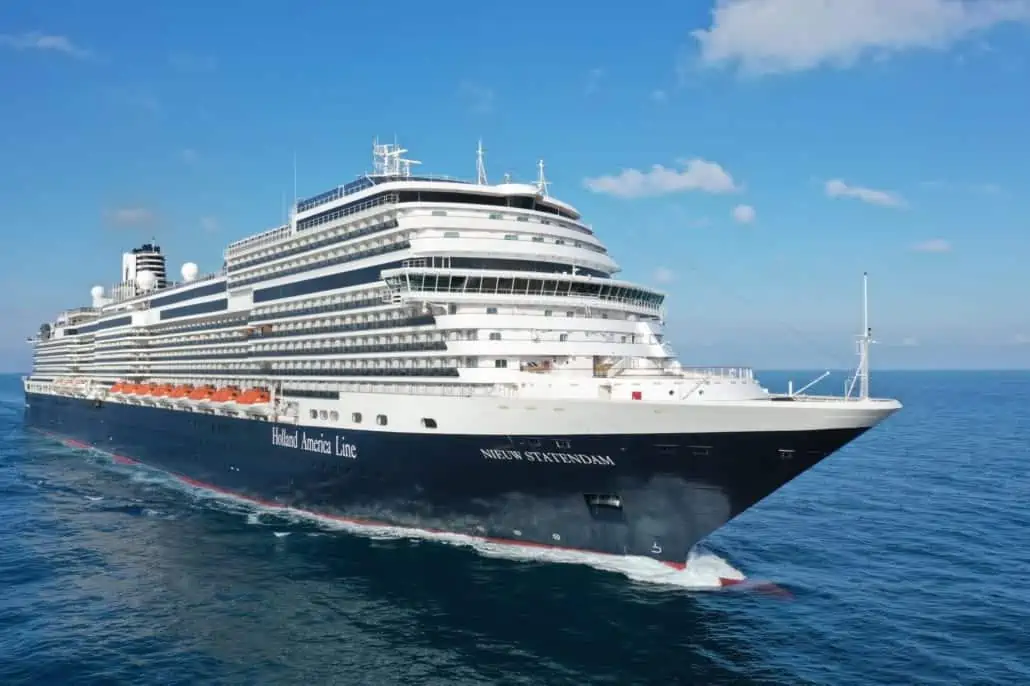 We noticed a new neighbor: Holland America Line's newest ship, Nieuw Statendam. She looked gorgeous and we wished there was a way we could hop on board really quickly.
Feet throbbing, we stumbled back to our room, which we were eternally grateful was on Deck one. For a cruise with four port days, it's been amazing having a room on Deck one because you're getting on and off the ship only one deck below — we never have to wait for the elevators like everyone else.
Almost immediately, hunger kicked in due to all that walking. We decided on tacos at Blue Iguana Cantina. I got one of each — one chicken, one pork, and one fried fish — and they hit the spot.
As a Texan, I eat tacos probably five times a week, and I have to say Blue Iguana's are on point. What really sets them apart is the fresh-made tortillas, the grated Monterey jack cheese, and the fresh salsas like the watermelon salsa and tomatillo.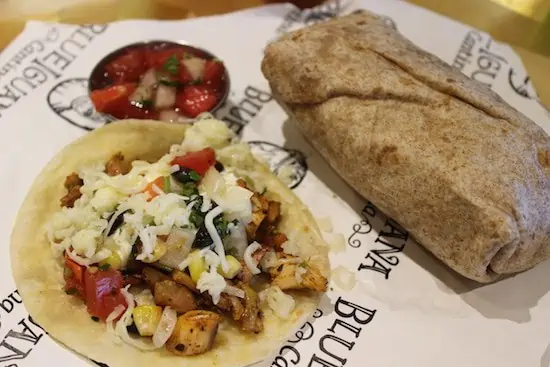 After that, we cleaned up and then watched one of the best sailaways I've ever witnessed, passing right by the fort that we had just walked through and over. With the sun setting behind the fort as we sailed by, it was a really humbling moment.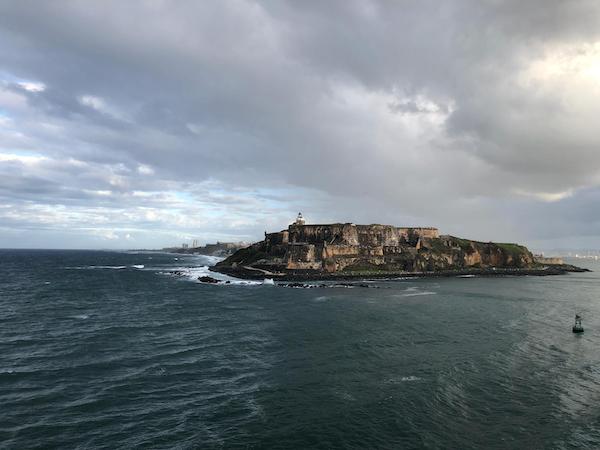 We skipped a karaoke event with John Heald's group for the second formal night. And while the first formal night had a line wrapping around the atrium to get a table for Your Time Dining, there was no wait at all tonight. We walked right in and got a table.
Our food was great. I ordered the stuffed mushrooms for an appetizer and a mushroom pasta dish for my entree, and while I still think the pasta at Cucina was better, I definitely devoured as much as I could without bursting out of my clothes.
Cigars Under the Stars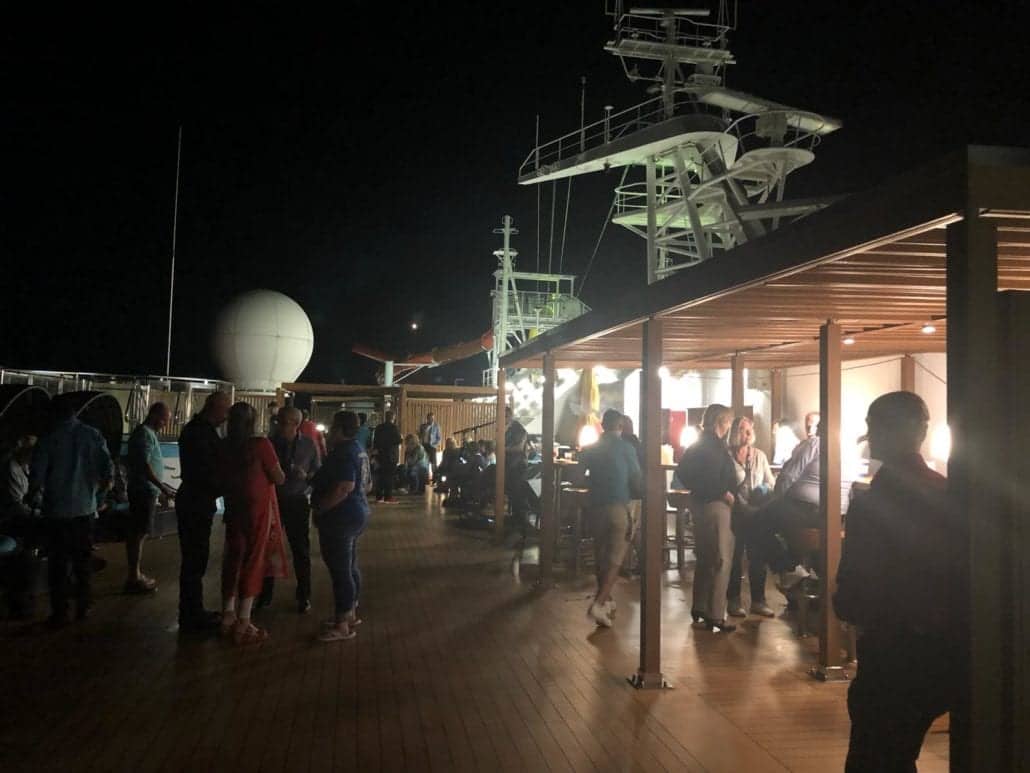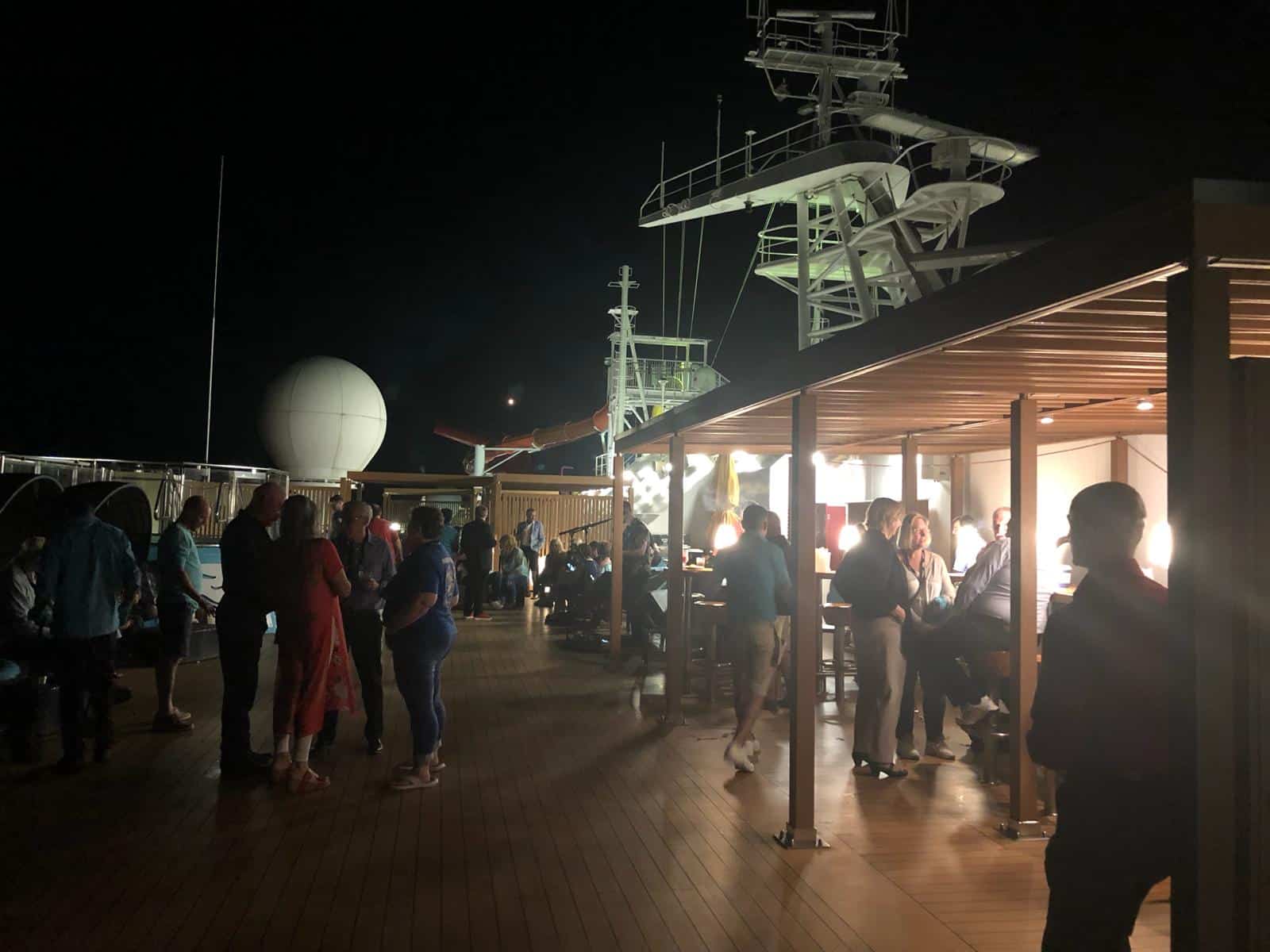 We finished off the night by attending a private event with John Heald's blogger's group called "Cigars Under the Stars." It was located up on Serenity Deck and Carnival had trays of food out, a table selling cigars, a live band, and the bar was open. John himself didn't stay long, though, so we never got the chance to say hello that night. We ended up leaving shortly after he did and calling it a night.
Tomorrow is our last port day in Grand Turk. We're headed to the infamous Jack's Shack.
If you missed Day four, you can read it here.