Everything You Need To Know About Carnival's Drink Package
"Is the CHEERS! package worth it?" might be the most commonly asked question among first-time cruisers aboard Carnival Cruise Line.
While what inevitably follows is a discussion of the "break-even point" (which is generally agreed to be around five or six alcoholic beverages a day), that conversation doesn't really provide a full picture of what the package offers.
To help decide whether it's right for you, we're going to look at what Carnival's drink package costs, what it covers, what it doesn't cover and more. All of the information you'll find here is accurate as of July 1, 2019.
How Much Does the CHEERS! Package Cost?
Carnival's drink package runs $51.95 per person, per day, plus an 18 percent gratuity which is added at the time of purchase(The grand total: $61.30 per person, per day). This price is in effect if you pre-purchase the package, and it's 10 percent cheaper than if you buy CHEERS! onboard. The program can be pre-purchased up until 10 p.m. on the night before you're set to board the ship.
READ MORE: Pros and Cons of Carnival's Drink Package
Carnival also offers a non-alcoholic program called Bottomless Bubbles which covers unlimited sodas and juices. This program runs $8.50 per person, per day for adults, and $5.95 per person, per day for kids, with an 18 percent gratuity automatically added at the time of purchase.
What Does the Drink Package Cover?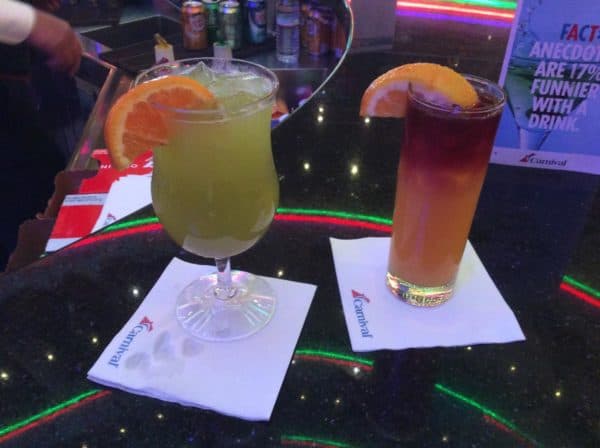 Carnival's CHEERS! is probably the most inclusive drink package offered by a mainstream cruise line. Whenever people on message boards talk about the package, they seem to focus on the fact that it allows for "only" 15 drinks per 24-hour period.
What's often not mentioned is all of the other things which are covered. So let's break it down to give you a full picture, which might help you decide whether or not the package is right for you.
According to Carnival's website, the following beverages are covered, or discounted under the package:
All spirits (including cocktails), as well as beer and wine by the glass with a $20.00 or lower menu price
Sodas, Zero-Proof frozen cocktails, energy drinks, specialty coffee, hot tea, 500ml bottled water, and other non-alcoholic bottled beverages
Milkshakes(where available)
Large format water bottles in the Dining Room and Specialty Restaurants
25% discount off the menu price for any spirit or wine by the glass above $20.00
25% discount off the menu price for wine and champagne by the bottle
25% discount off beverage seminars and classes
What Isn't Covered By The CHEERS! Package?
While the package does cover a whole lot, there are exceptions. For example, if you order room service or help yourself to the mini-bar in your room, that won't be covered. Want a bucket of beer while you're hanging out at the pool? That's also not going to be covered by the package either.
Interestingly, the Carnival website also lists "food items" as something not covered… because apparently, some people don't know the meaning of the word "beverage"!
READ MORE: 9 Carnival Drink Package Misconceptions
There are actually a few things on the "not-covered" list that we had to look up. For example, "tubes." These tubes of beer contain around 100 ounces of beer and allow you to serve it up, draft style, wherever you like.
For the record, here's what Carnival lists as excluded from the beverage package:
Beverages promoted and sold in souvenir glasses
Bottles of liquor
Beverages offered at gangway
Beverages offered through room service, minibars and/or in-stateroom beverage programs
Sharing cocktails, floaters, pitchers, tubes, and buckets
Beverages offered through enomatic wine machines
Freshly squeezed orange juice from the Havana Bar
All other beverage-related programs including merchandise, cigars, and cigarettes
Food items
How Do I Activate The Program?
While some companies (such as Norwegian Cruise Line) apply a sticker to your key card at check-in to indicate that you've purchased a drink package, Carnival handles things slightly differently. Guests who have pre-purchased the CHEERS! package find a card in their stateroom which indicates where they should go in order to activate the program(in most cases, it's the casino bar).
READ MORE: Meet The Man Behind the CHEERS! Program
It's worth noting that while the program kicks in immediately in most cases, cruises sailing out of Galveston and New York City are slightly different. You'll notice that if you purchase a package from those ports, the length of the package is one day shorter than the length of your cruise.
That's because the CHEERS! program doesn't kick in until 6 a.m. on the second day of your voyage out of those two ports. So if you're departing out of Galveston or New York City, any beverages you have on that first day will be charged to your Sail & Sign account.
Do I Still Need to Tip The Bartender?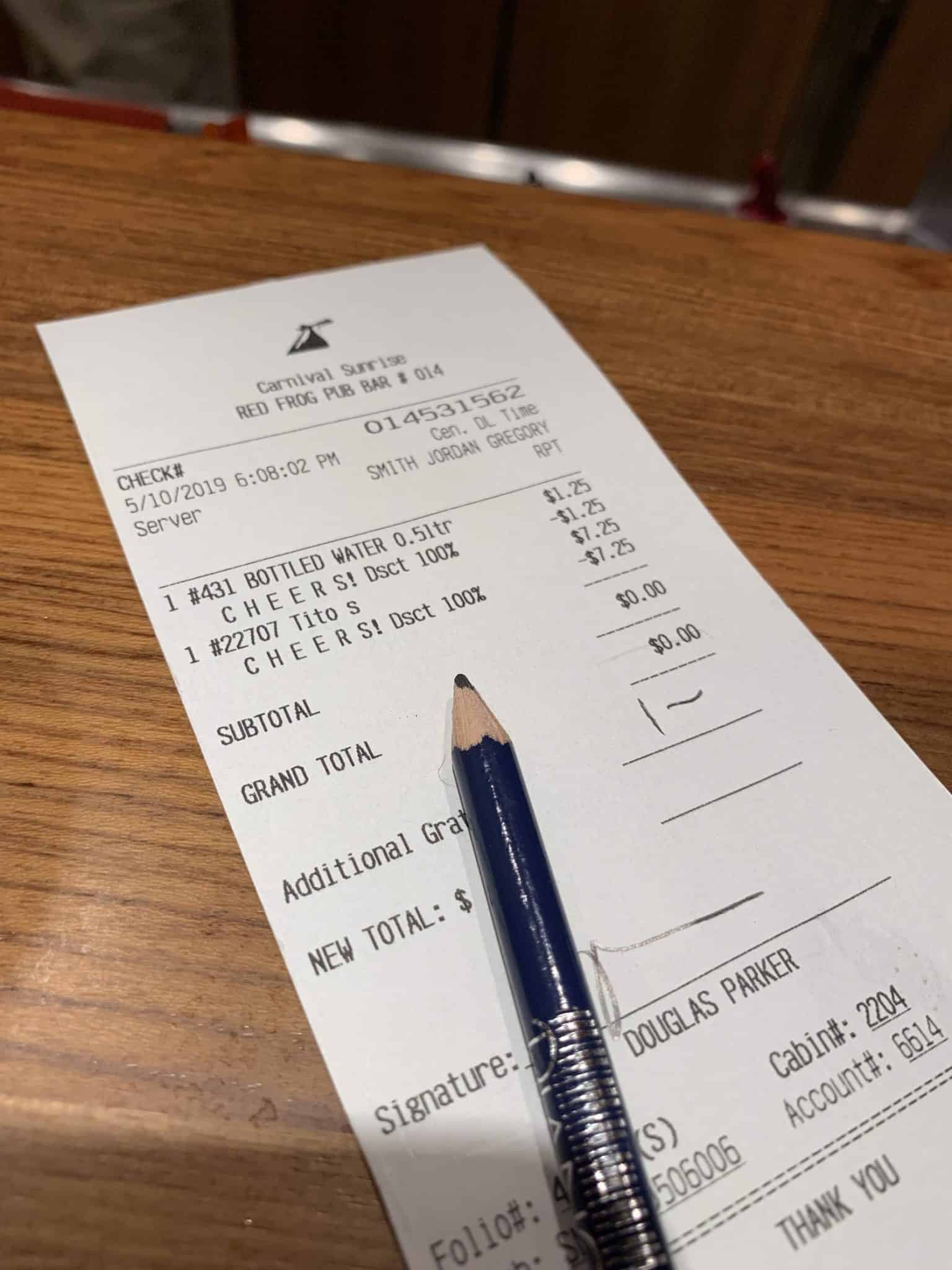 Technically, no, as you've already paid a gratuity as part of the price of the beverage package. That said, we're big believers in the power of tipping. If there's a bar we know we'll be spending time at, we tend to tip the bartender. Will you still get great service if you don't? Of course. But unless you've never set foot in a bar before, we probably don't have to tell you that a little extra cash(not to mention a friendly attitude) can help make sure you stand out from the crowd.
Does the CHEERS! Package Include Drinks On The Private Island?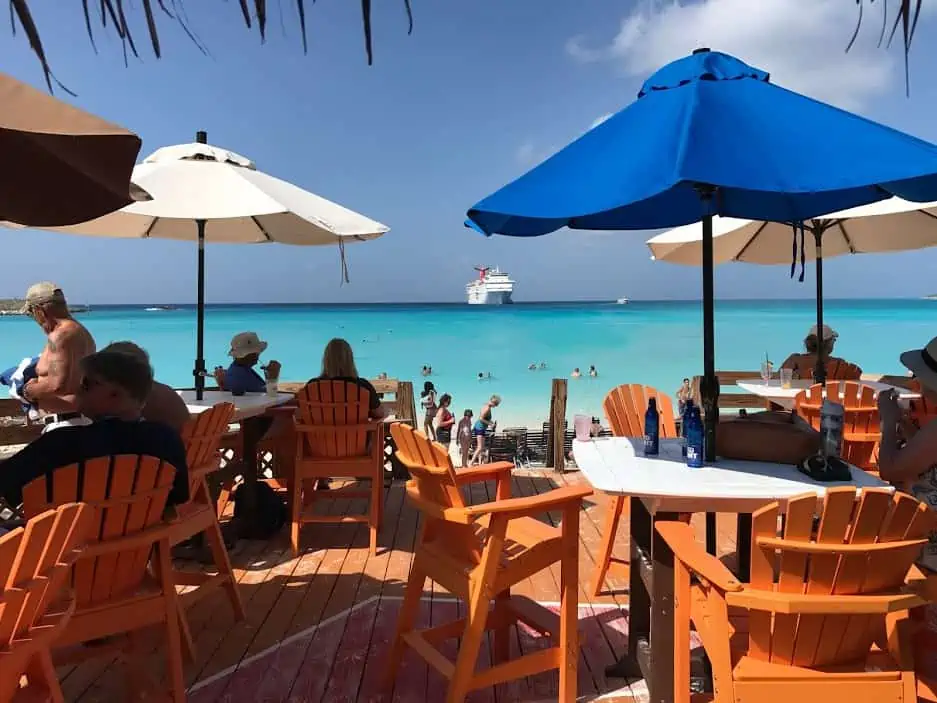 Unfortunately, Carnival's drink package does not cover any beverages purchased off the ship… including on Half Moon Cay or Princess Cays. So any drinks purchased there will be charged to your Sail & Sign card.
Can I Buy a Round Of Drinks For My Friends?
Yes, but only your own drink will be covered by the CHEERS! package. The others will be charged to your Sail & Sign account.
What Other Restrictions Is It Important To Know?
As you'd probably expect, CHEERS! is only available to those 21 and over. Also, if one passenger in a stateroom wants to purchase the package, any other guests over the age of 21 who are sharing the same cabin must buy it as well. You can't buy the package for a single day or a portion of the cruise; it is only available for the entire length of the cruise. The program is refundable, but only up until 10 p.m. on the day before your cruise is scheduled to set sail.
Finally, CHEERS! is not available on European itineraries, two-day voyages or charter cruises.