With so much to remember about what's included and what's not included, there can be a lot of misinformation out there about Carnival's all-inclusive drink package, CHEERS!
This list should help clear up some common misconceptions.
Carnival Drink Package Misconceptions
1. You have to drink 15 drinks per day to get your value.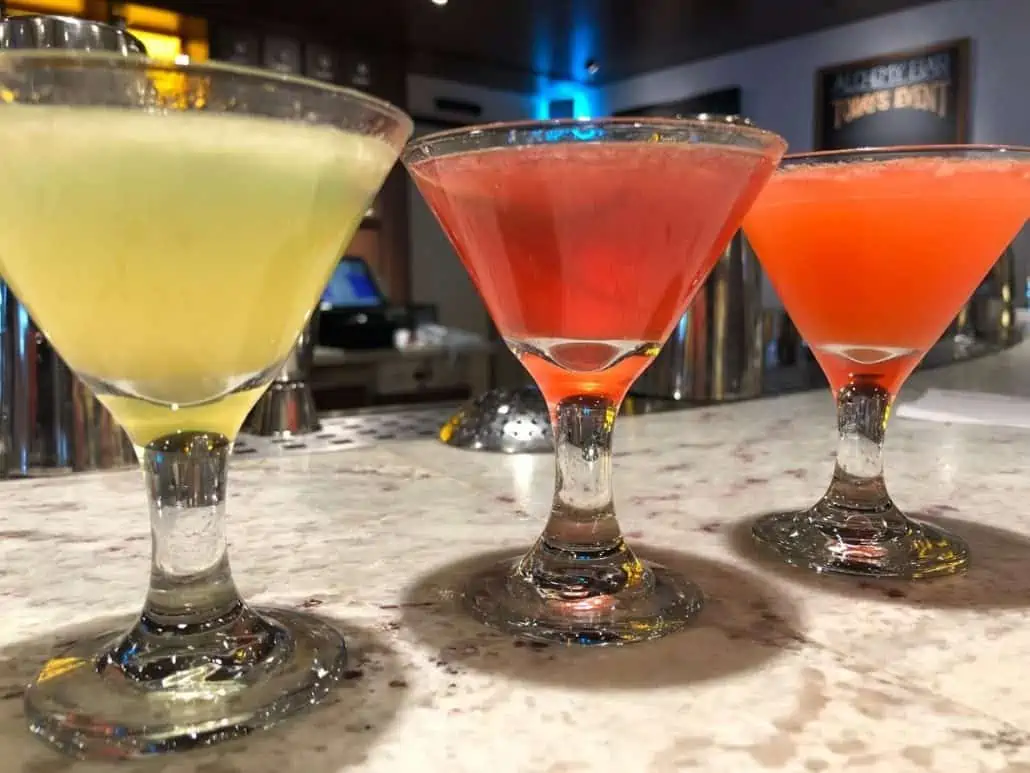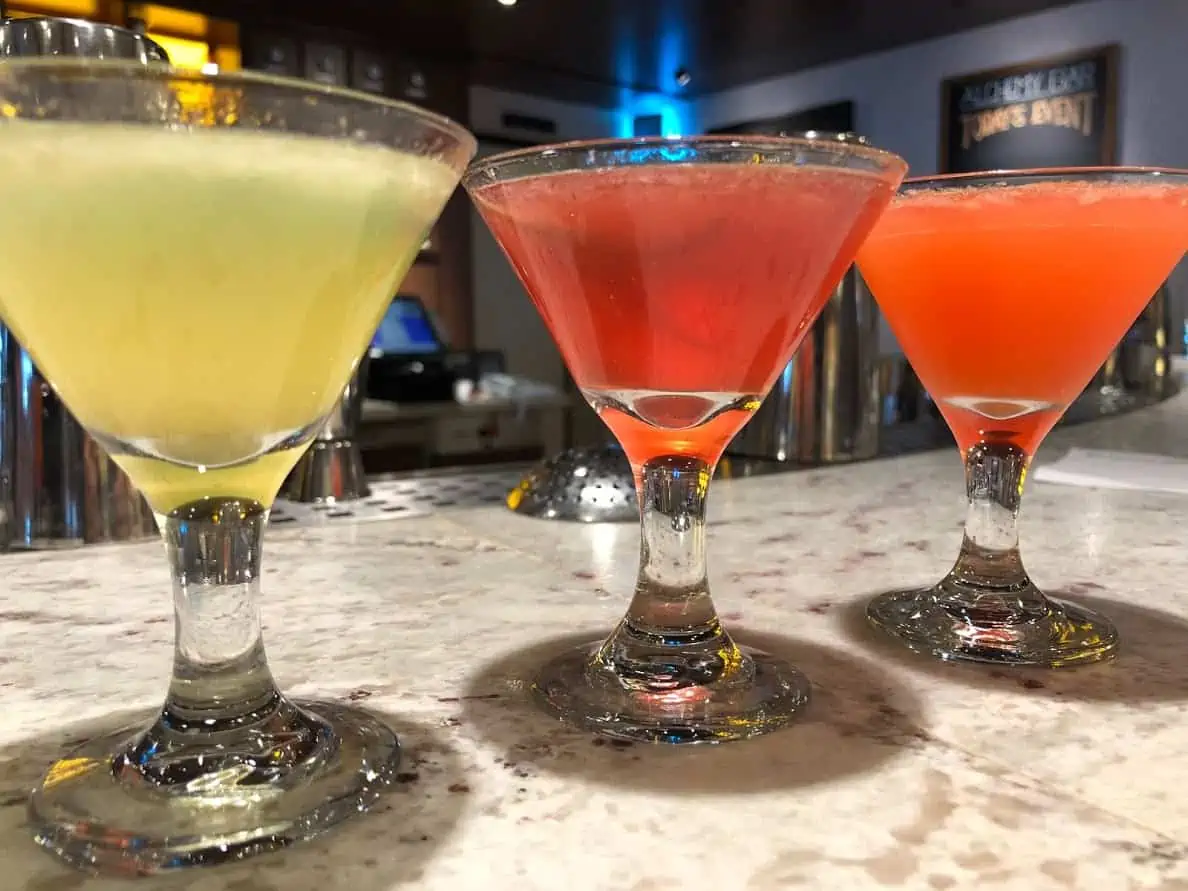 Fifteen drinks is your limit, not your break-even. As far as alcoholic drinks go, it only takes about five or six cocktails per day to "break even" on the cost of the Carnival drink package. And that's not even considering all the non-alcoholic beverages that are included, meaning you can actually get more than your money's worth without hitting the booze too hard.
2. It's unlimited.
While you may drink unlimited non-alcoholic drinks on the CHEERS package, your consumption of alcoholic drinks is capped at 15 per day. For many people, there's no way they'll ever drink 15 drinks in one day. But there's also many people who can drink 15 in one day and still go for more. For those cruisers, this cap is rather frustrating, as Carnival will not even allow you to purchase extra drinks in addition to what you paid for the CHEERS package. You are cut off at 15 drinks, no matter what. And for those wondering, the 24-hour period resets at 6:00 a.m. every day.
3. Non-alcoholic drinks count against your limit.
This is simply untrue. Unlike some other cruise lines, Carnival includes non-alcoholic beverages in its all-inclusive CHEERS package, and you can order as many of these as you can possibly drink. Plus, if you want to order a daiquiri and a bottle of water at the same time, that's allowed – unlike not being allowed to order two alcoholic drinks at once. For an idea of what non-alcoholic beverages are offered, these include sodas, bottled water, milkshakes, smoothies, juices, specialty coffees, hot teas, energy drinks, sports drinks, coconut water, any non-alcoholic bottled beverages, and zero-proof cocktails.
4. Everything is included.
While the overwhelming majority of the ship's beverages are included in the CHEERS package, there are a few items that are not. For example, while glasses of wine are covered, bottles of wine come at an extra expense, though with a 25 percent discount. Other drinks not covered include those in souvenir glasses, bottles of liquor (delivered to your stateroom), drinks offered at the gangway, drinks offered through room service, mini-bar and other in-stateroom beverage programs, sharing cocktails, floaters, pitchers, tubes, buckets, and beverages offered through Enomatic wine machines and self-serve beer stations.
5. It's the same price onboard.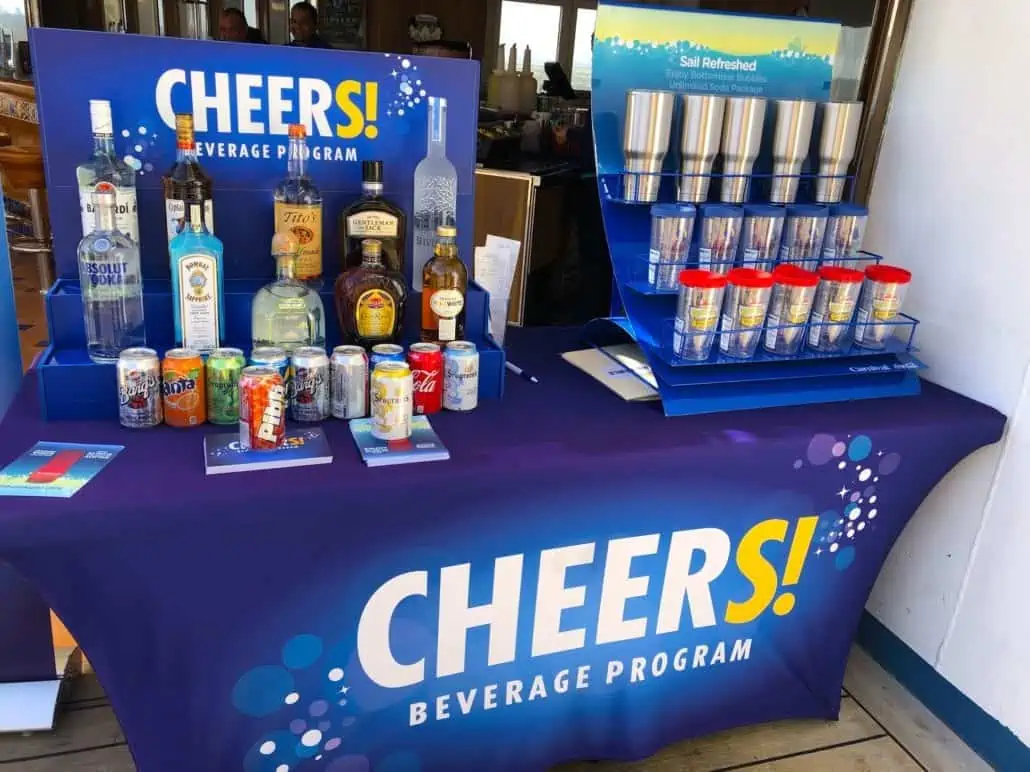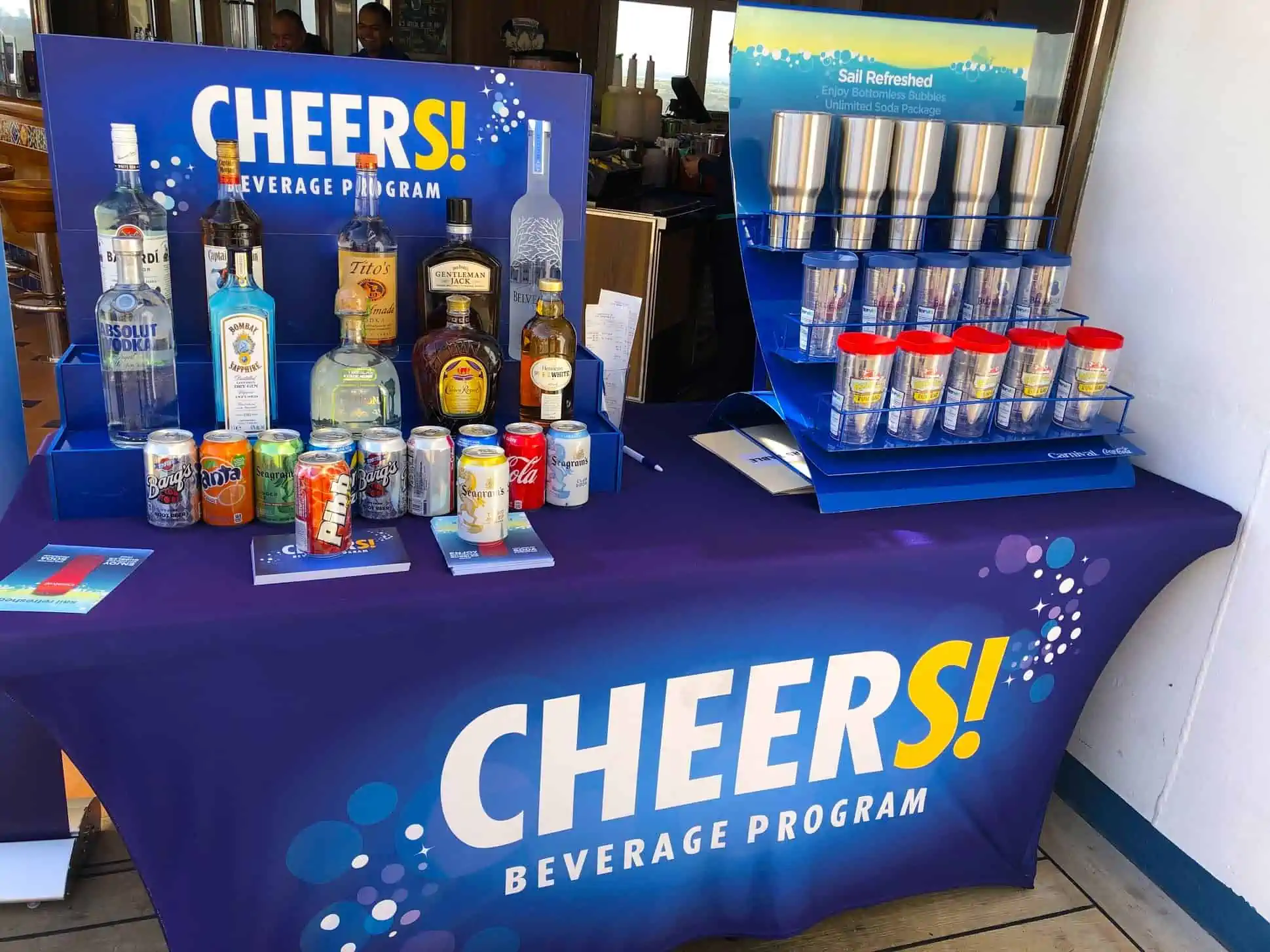 Want to save 10 percent? If you plan ahead and pre-purchase the CHEERS package online, the price is $59.95 per person per day plus 18 percent gratuity. Once onboard, the price jumps to $64.95. You have until 10 pm EST the night before embarkation to purchase the package. Once onboard, CHEERS will be activated immediately when you order your first drink (except for cruises departing from Texas or New York, where the CHEERS package does not activate until 6 am on the second day of your cruise).
6. You can share.
Unfortunately, you cannot order drinks with your CHEERS package and then turn around to hand them to your buddy. That's not to say it hasn't been done by some sneaky cruisers, given there's only a 5-minute wait time imposed between ordering alcoholic drinks. But getting caught doing so could land you in big trouble, including losing your onboard drinking privileges altogether. And no, you would not get a refund for the days you wouldn't be allowed to use it. Consider yourself warned.
READ MORE: Pros and Cons of Carnival's CHEERS Package
7. You can buy it on a per-day basis.
It's understandable: you are unsure about whether to purchase the CHEERS package. You see the value in it, but maybe your cruise is port-intensive and you're concerned you won't get the value from it on those days. Unfortunately, you cannot purchase the CHEERS package on a per-day basis (for example, only for sea days). You must pay for the package for the entire length of the cruise. With that being said, if you have a port-intensive itinerary and don't think you will get your money's worth on those days, it may be worth looking into skipping the package and buying each of your drinks individually.
8. You can purchase the Carnival drink package individually.
Sorry folks, but just like other cruise lines, every person 21 and older in the same stateroom must purchase the CHEERS package. So if you and your roommate are at odds over whether or not to get it, one of you will have to concede this battle.
9. It works on the private islands.
Several cruise lines extended the benefits of their drink packages to their private islands. That way, when cruisers get off the ship there, their drink package still applies. However, Carnival and its private islands Half Moon Cay and Princess Cays are not included on that list. While you can certainly order drinks on these islands, your CHEERS package will not apply. This is quite a turnoff for many cruisers, considering it's the same company who owns the island and your drink package is charged at a per-day cost.
Photo: Flickr Creative Commons/Madonovan
This article was updated in July 2022 to reflect the most recent drink package prices.
Do you order the Carnival drink package when you cruise?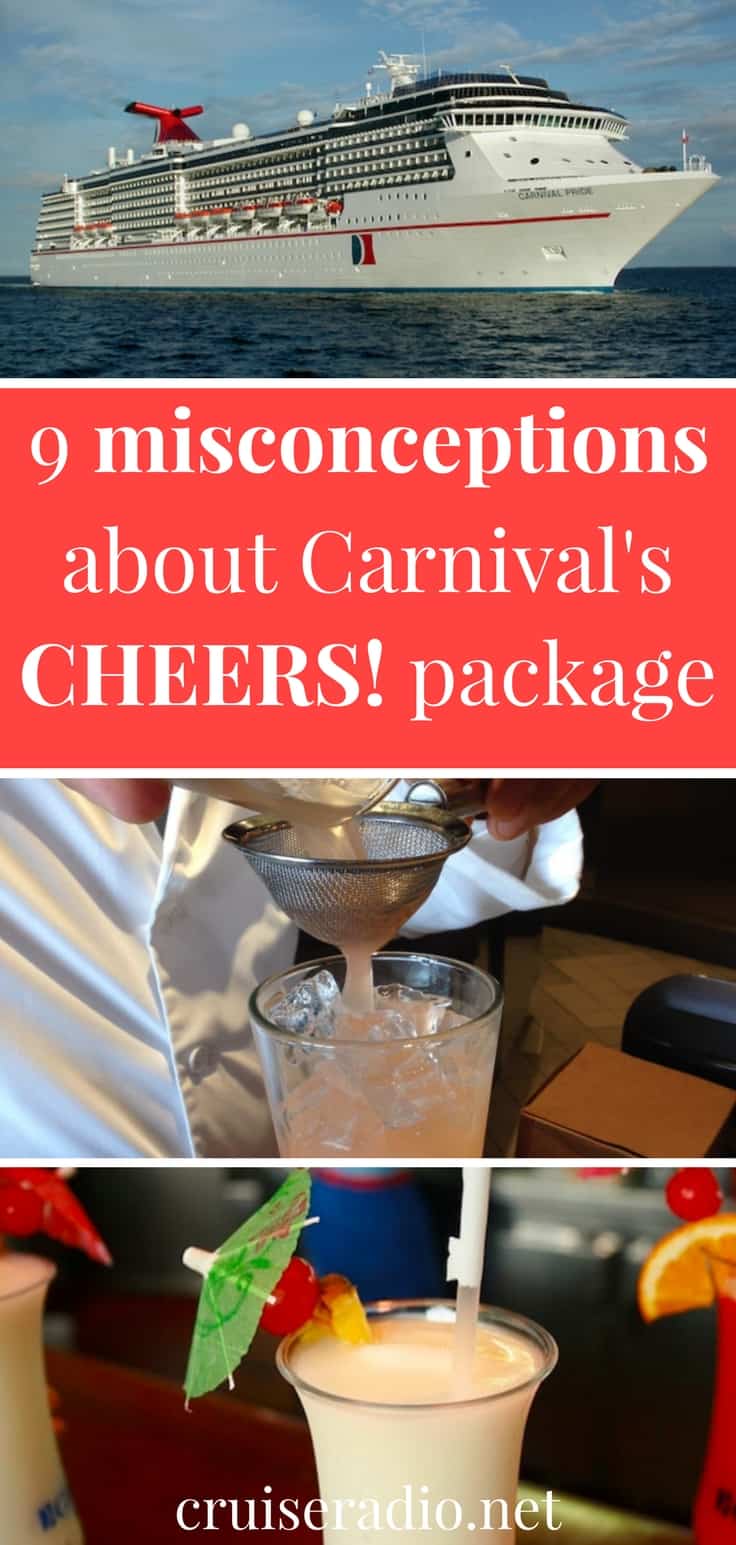 SaveSave