Everything You Need To Know About MSC Cruises
If MSC Cruises has its way, it'll eventually be as well known in North America as brands like Carnival, Norwegian and Royal Caribbean.
Although MSC is far better known in European markets, they have slowly but surely been grabbing the attention of American cruisers, especially since the splashy arrival of MSC Seaside back in 2017.
With prices that are often considerably lower than the competition and ships which have significantly raised the company's profile, MSC is definitely making a splash with North American cruisers.
It's worth noting, however, that the Italian line has encountered a few growing pains along the way, especially in regard to the differing needs of an American audience.  
A Basic Introduction To MSC Cruises
Before we take a closer look at why MSC Cruises might — or might not — be right for you, let's take a quick look at the history of the company. Founded in Italy in 1989 as a part of the Mediterranean Shipping Company, MSC Cruises has since become the fourth largest cruise company (and the largest privately held cruise operator) in the world.
Until relatively recently, their primary target was European cruisers, with minor forays into the North American market.
It was the aforementioned MSC Seaside that really changed things where the company's efforts to penetrate the North American market were concerned. The ship — which sails year-round out of Miami — was specifically designed for North America, with the company heavily promoting Seaside to both American and Canadian cruisers. 
Two ships currently homeport in Florida: the MSC Armonia, which is expected to sail year-round from Tampa beginning in November 2020, and the Miami-based MSC Seaside. Seasonally, the MSC Merivaglia and the MSC Divina also operate from Miami.
In addition to the ships which ply the waters of the Caribbean, MSC Cruises recently invested heavily in the construction and opening of their own private Bahamian island called Ocean Cay Marine Reserve.
The island, which differs from the private islands of other lines because of its focus on the environment, includes a dock for one ship, pristine beaches, and many activities for guests to enjoy.
Is This the Right Cruise Line For You? 
While MSC Cruises offers similar amenities to its rivals, it tends to be priced lower (sometimes significantly so). As for the experience itself, there is a definite European influence and international flavor to MSC sailings, with announcements being made in several languages (English, Italian, Spanish, French) to accommodate the many guests from outside North America, and food with a distinctive European flair. 
Guests who sail MSC Cruises routinely comment on the European-inspired art and decor, thoughtful design of the ships, and connection to the sea the vessels offer.
On the other hand, a complaint which is sometimes heard is that that the crew is not as "friendly" as other lines, but this is probably related to the European ethos of the company which stresses the quality of service over what might be called a "feel good" approach to customer appreciation.
Consider the difference between a waiter at a casual American restaurant and a fine dining establishment in Rome, and you have an idea of what to expect. 
What MSC's Ships Have To Offer
During the busy winter season, MSC Cruises might have four or five ships sailing the turquoise Caribbean waters. Larger, newer ships such as the MSC Meraviglia and  MSC Seaside offer tons of onboard activities, easily comparable to the flashiest Royal Caribbean, Norwegian or Carnival ships.
It's worth noting that many of these activities come with an additional fee. This is one of the reasons we often say that when booking a cruise, make sure not only to look at the base fare, but any expenses you'll encounter along the way. 
Slightly older vessels like the MSC Armonia and MSC Divina have been kept up well thanks to recent refurbishments; the Armonia in late 2019 and the Divina in 2016.
While smaller than the newest MSC ships, both the Armonia and Divina have a classic, European feel and are generally well regarded among those who prefer a smaller ship experience. 
READ MORE: MSC Meraviglia Ship Review
Additionally, the MSC Splendida sails seasonally from Martinique and Guadeloupe, perfect for those who might want to extend their vacation on either of those islands. 
Onboard entertainment varies by ship. On the MSC Merivaglia, the options include a Cirque de Soleil show (reserve ahead!), a ropes course, and more bars than you could hope to drink from in a week.
MSC Armonia and MSC Divina offer classic review shows and the type of musical acts that will be familiar to cruisers of other lines, along with a good mix of bars and restaurants. For kids, every MSC ship offers a splash pad and pool section along with age-appropriate kids clubs featuring a partnership with Lego.

Regarding where the ships go, MSC Cruises has done their homework when it comes to creating interesting itineraries for travelers. A full slate of Western Caribbean, Eastern Caribbean, and Bahamas sailings are offered, with most of the popular ports represented.
Sailings range from two-night Nassau getaways to two-week adventures. 
What You Need To Know About MSC's "Experiences"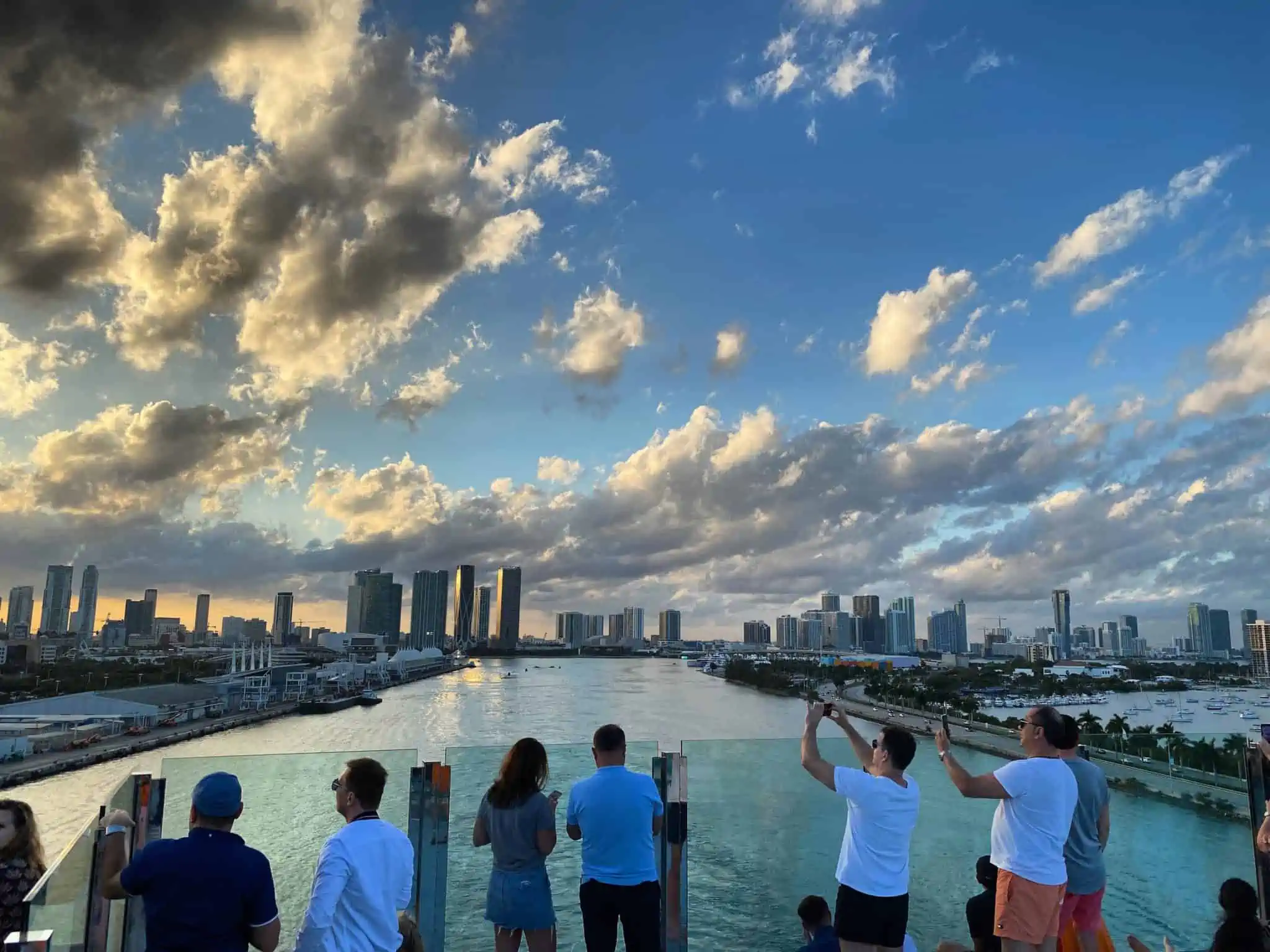 When it comes to booking on an MSC ship, things are handled differently than on any other line sailing out of North America. MSC offers a variety of packages which they call "experiences."
Each of the three levels — Bella, Fantastica and Aurea — offer both different perks and price points. So what is the difference between them? 
Bella: This is the basic package, which includes your cruise fare and taxes, tap water, tea (tap) and coffee in the dining rooms, access to kids programs and most onboard activities. Rooms tend to be on the lower decks, but some interior rooms on upper decks can also be booked with this package.
Fantastica: This package is offered in cabins located on higher decks, including some ocean views and balconies, and features some extra amenities, including room service.
Aurea: The highest-end category usually includes spa treatments and other wellness-based options, not to mention cabins in the most desirable locations.
Fantastica and Aurea also offer priority dinner reservations and access to a dining area specifically reserved for those classes. On most ships, Aurea guests have a dedicated outside space that is restricted to only guests at this level.
Occasionally, MSC Cruises offers specials in conjunction with the various levels, such as drink packages, WIFI access or other perks.
Because booking an "experience" is foreign to non-MSC cruisers, it's definitely worth consulting with a rep from the line or your travel professional to make sure you understand exactly what you're getting and how much it will cost. 
It should be mentioned that MSC Cruises has done a great job with its Super Family Cabin, which is a way for larger groups to sail together at an affordable price. 
Offered on the MSC Meraviglia and the MSC Seaside, these staterooms include a set of bunk beds, a king or two twins, and also a separate room with a fold-out couch, along with two bathrooms! Some also offer additional features such as bathtubs (as opposed to a simple shower) and balconies. 
What is the MSC Yacht Club?
The MSC Yacht club is a ship within a ship concept that allows guests to have access to their own secure area. This entitles guests their own restaurant, pool, bar, lounge (with drink package included), their own elevators, and priority embarkation.
MSC ships that have the Yacht Club are MSC Grandiosa, MSC Bellissima, MSC Divina, MSC Fantasia, MSC Meraviglia, MSC Preziosa, MSC Seaside, MSC Seaview and MSC Splendida.
Should you Consider MSC Cruises?
While they are still considered "the new kid" in the North American market, MSC Cruises is quickly gaining market share and mindshare among cruisers, thanks in no small part to fares that are often hundreds of dollars per person less than comparable sailings on their big-name competitors.

READ MORE: Photo Tour of MSC Divina
If you are ready for something a little different and willing to sacrifice some of the mass market appeals that come with other lines, then MSC Cruises is certainly something to consider.
Ocean Cay is a testament to their commitment to sustainability and offers unique experiences that simply can't be found on any other cruise line's private island. 
For families, MSC should be a top contender, not only due to those exciting Family Super cabins, but also for their frequent Kids Under 11 Sail Free promotions, the Lego partnership, range of on-deck activities and commitment to helping families connect in new and exciting ways.
MSC Meraviglia Video Tour