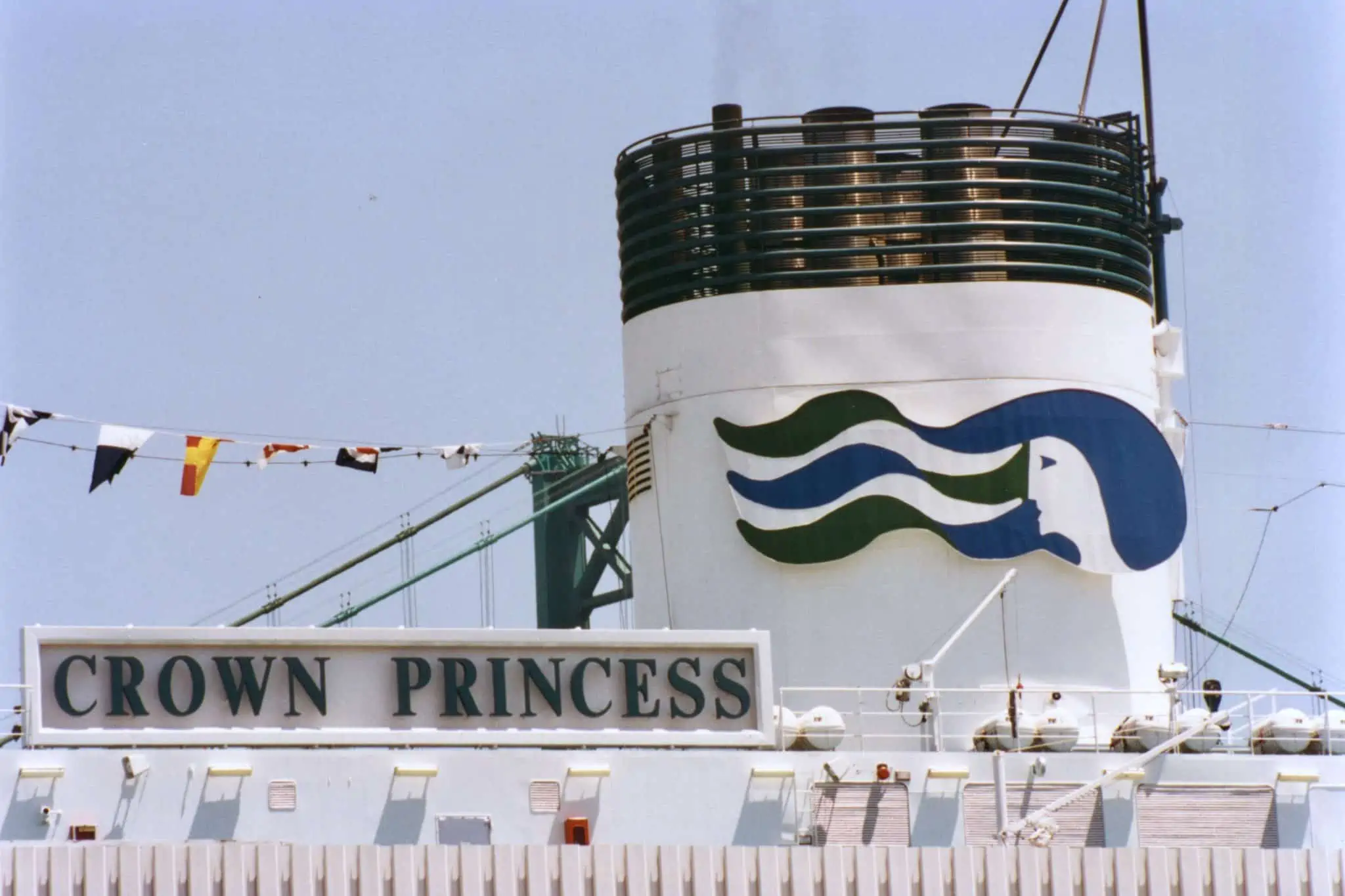 In human terms, 1990 really doesn't seem that long ago. But for cruise ships in the COVID era, that thirty year milestone has marked an ominous rite of passage. One of the latest and most striking casualties of the ongoing pandemic is the Karnika, which recently beached at Alang, India, for scrapping. If this unique ship looks familiar, that's because she began her career as the rather revolutionary first Crown Princess for Princess Cruises.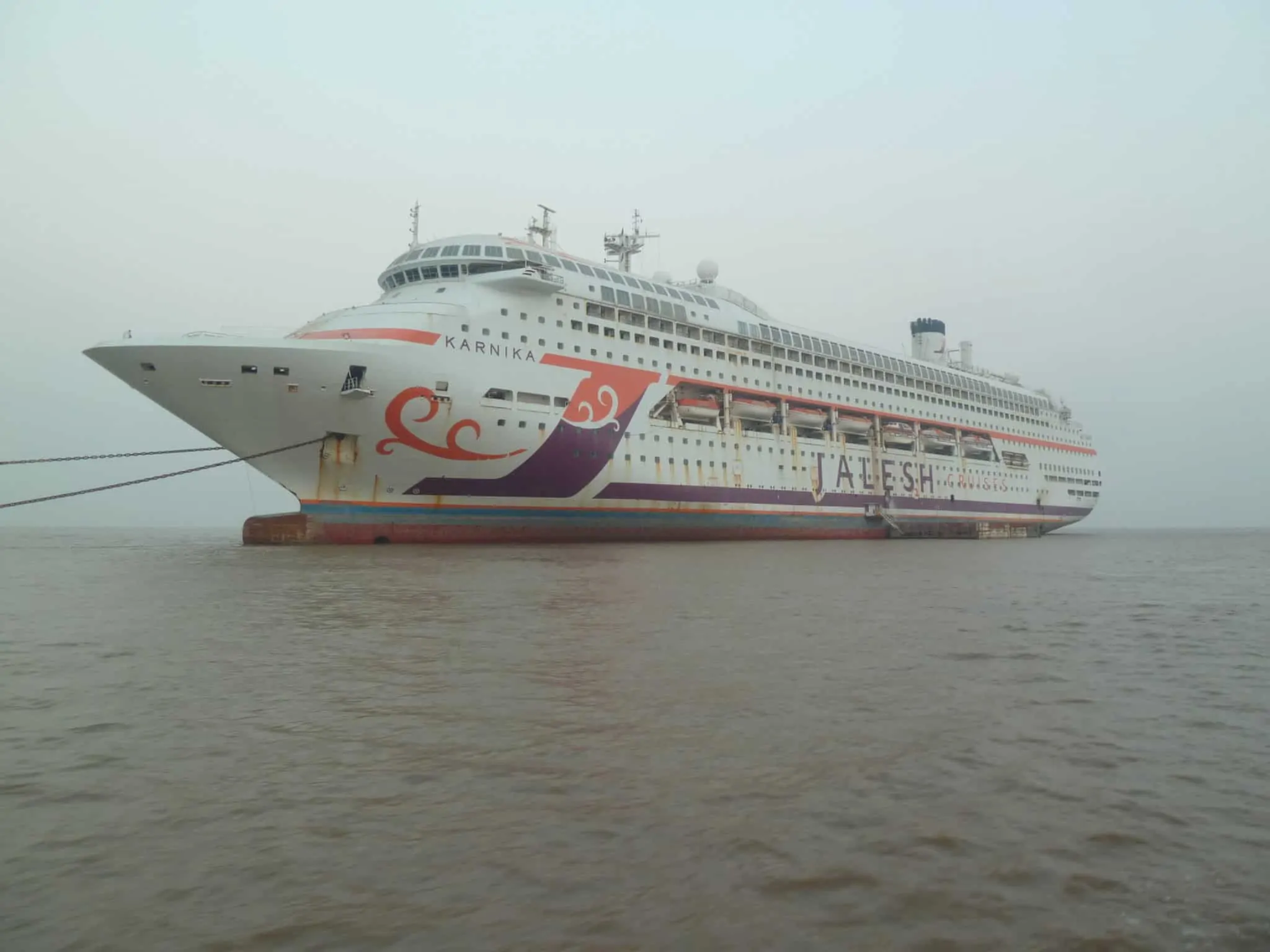 At nearly 70,000 gross tons, Karnika is the largest passenger vessel to date to meet her fate on the notorious ten mile stretch of beach in India's Gujarat Province. Like thousands of ships over the years, she was run aground off the coast of Alang and will gradually be winched closer to shore as her innards are removed and sold off and her hull systematically cut down over the next five or six months.
Specifications:
69,845 gross tons
811 by 105 feet
1,590 double passenger occupancy
1,910 max passenger occupancy
In the late 1930s, American architect Norman Bel Geddes came up with a futuristic design for an ocean liner that was inspired by a whale. The mostly "enclosed," dome-topped, three funneled liner never made it past the drawing boards, although a model of her "in action" can be seen in the WC Fields movie, "The Big Broadcast of 1938." In that film, she is portrayed as the Gigantic, a futuristic greyhound that races with a Normandie-esque Colossal across the Atlantic.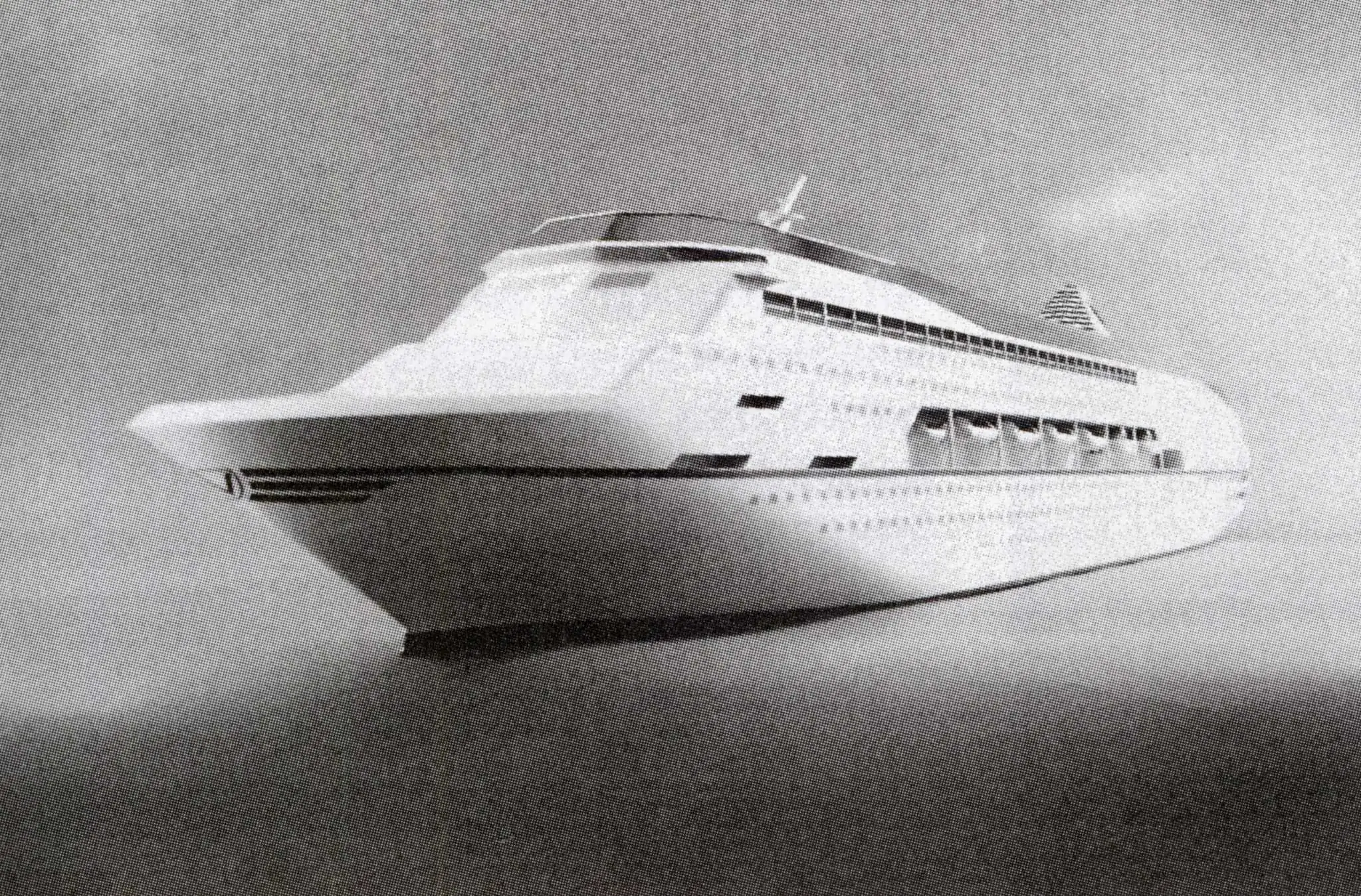 Now, let's flash forward nearly fifty years later, when the managers of now much-lamented Sitmar Line were drawing up plans for a pair of 70,000 gross ton cruise ships that were to be built in Italy at the Fincantieri shipyard in Monfalcone. These two ships would represent a renaissance for the yard, which was formerly known as Cantieri Riuniti dell Adriatico and built some of the great Italian ocean liners of the twentieth century. The initial drawings promised a typically angular, modern ship of the time that was similar in overall appearance to the Sitmar Fairmajesty, a 65,000 gross ton cruise ship that was under construction in France.


Those design dynamics changed radically in 1988, when Sitmar's longtime competitor Princess Cruises stepped in and bought the Sitmar fleet, including its newly built ship (which was completed as the first Star Princess) and the as-yet-unnamed, future Italian-built twins.
Since the Princess new builds were to be the first major passenger ships to be constructed at Monfalcone since Costa Line's Eugenio C of 1966, the Italian government enlisted Starchitect Renzo Piano to create ships that would turn eyes, drop jaws, and help return Italy to the forefront of passenger ship construction.
Piano took the Sitmar specifications and rendered a dome-topped ship with sweeping lines that were inspired by a dolphin's profile. In many respects, his vision borrowed from the unrealized Bel Geddes liner envisioned fifty years prior. Piano's initial drawings were eventually toned down for practical purposes but even so, for better or worse, his pair of ships would look like nothing else afloat at the time.
READ MORE: 9 Cruise Ships Scrapped in 2020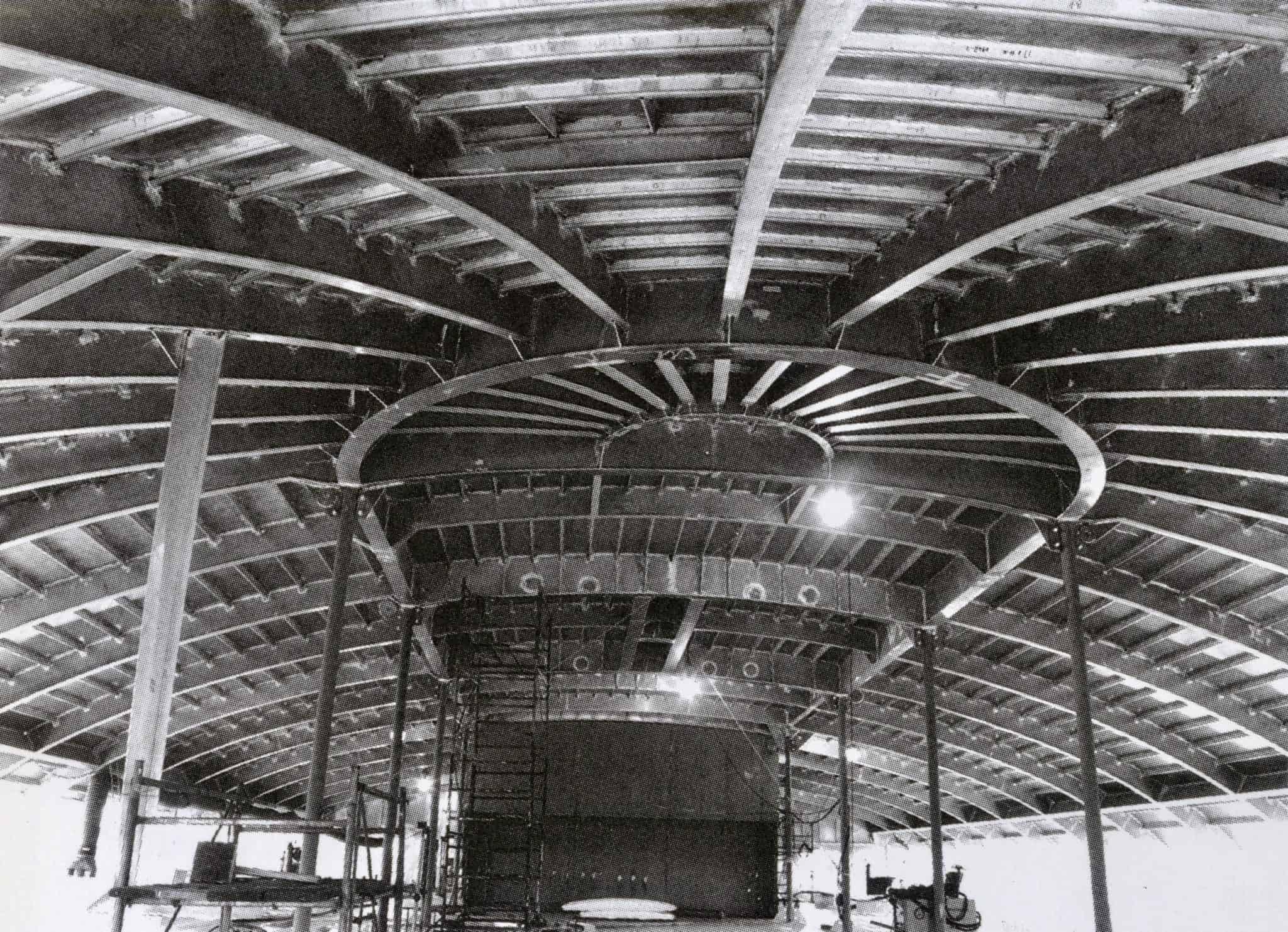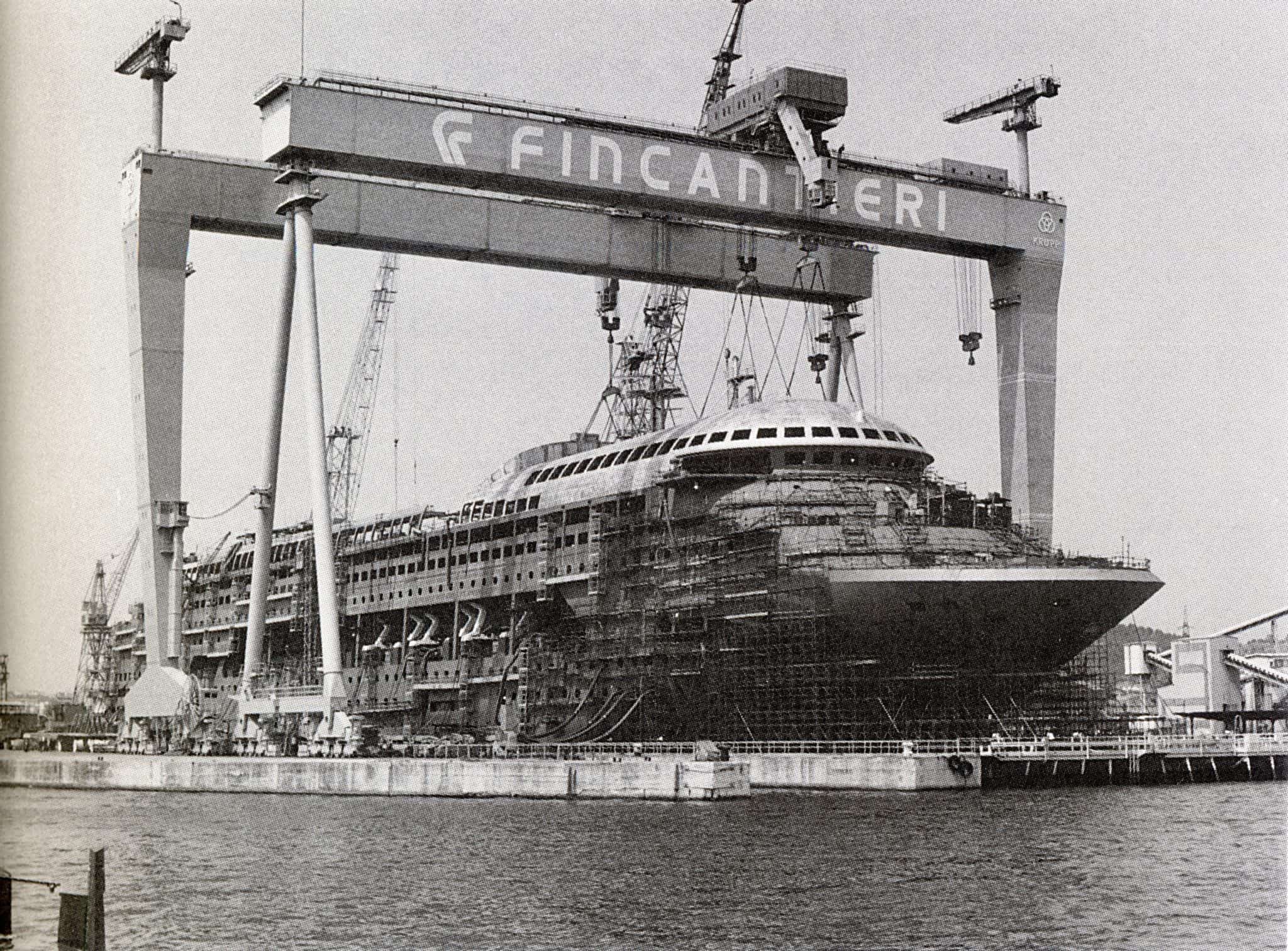 Construction on the new Princess ship, hull number 5839, to be named Crown Princess, was completed in May of 1990 when the ship was handed over to Princess.
Long before she became the serial godmother for MSC Cruises, Sophia Loren did the ship's godmother honors in a gala ceremony in Brooklyn on September 25, 1990.
Here is a top-to-bottom look at the Crown Princess when she was in service for Princess Cruises.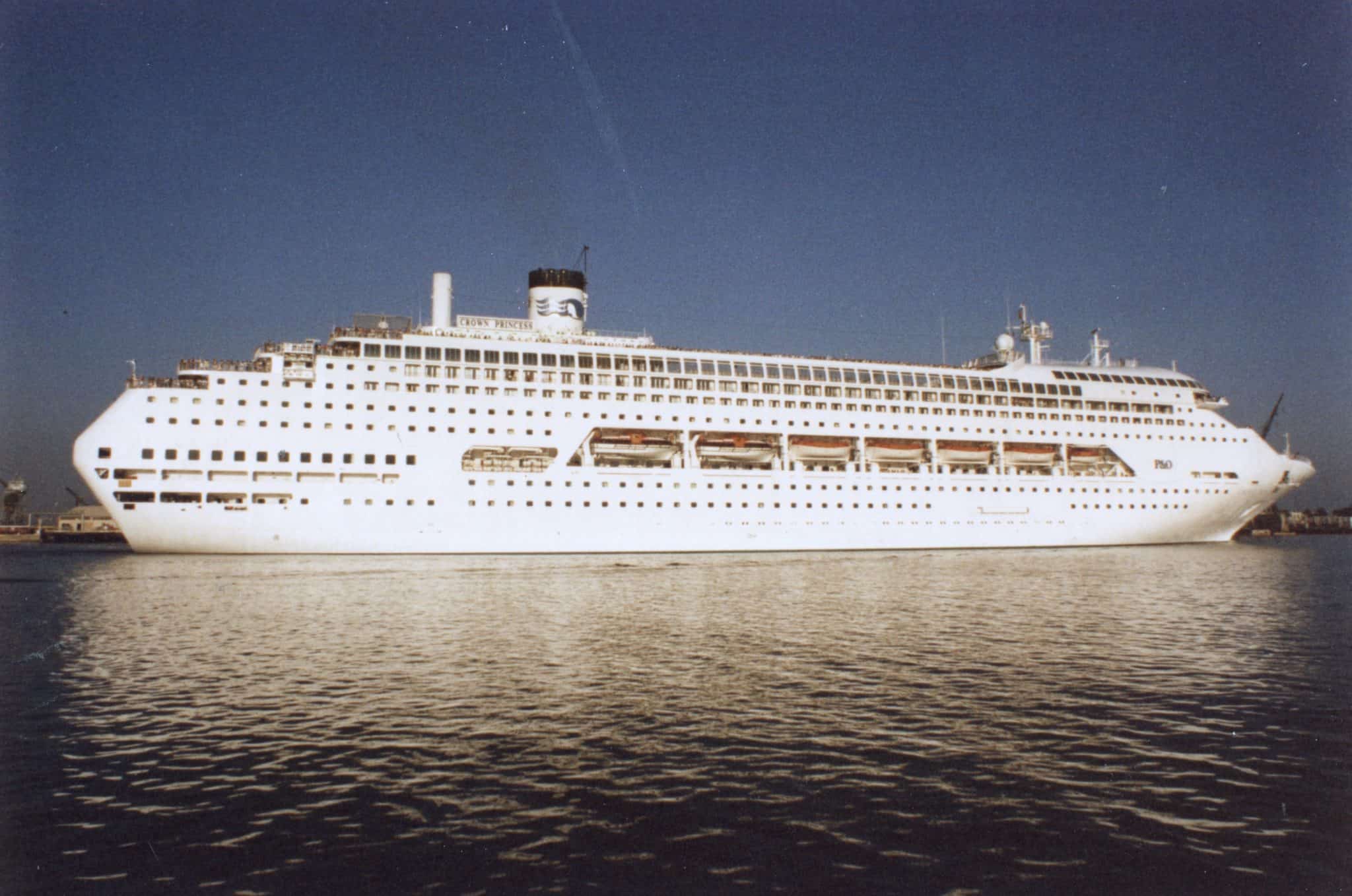 Crown Princess had eleven passenger decks, beginning at the top with Sun Deck. The interior portion of Sun Deck housed The Dome, a fascinating space that appeared to have been beamed out of a Star Trek episode with its curvaceous ceiling supported by white ribs.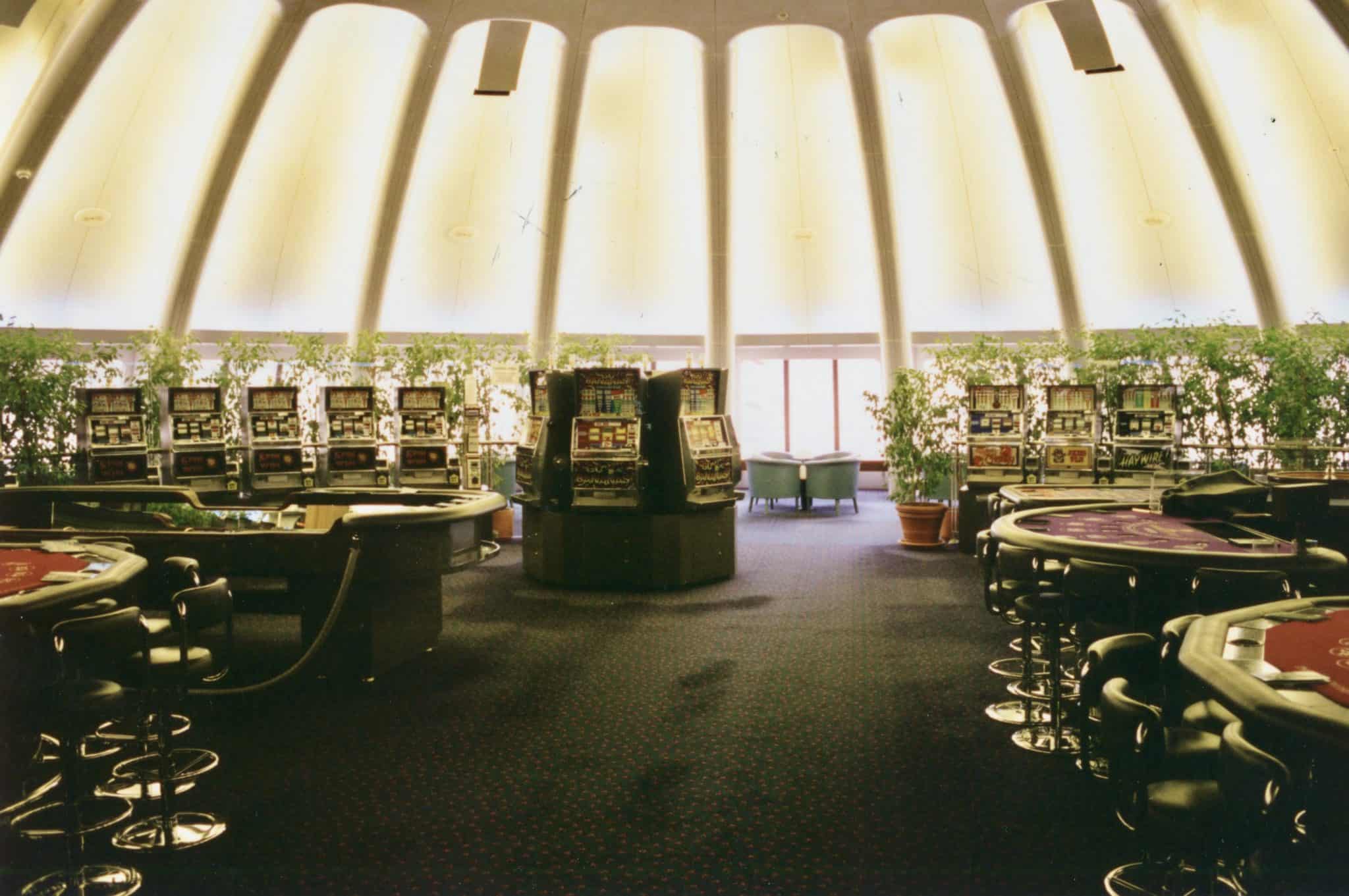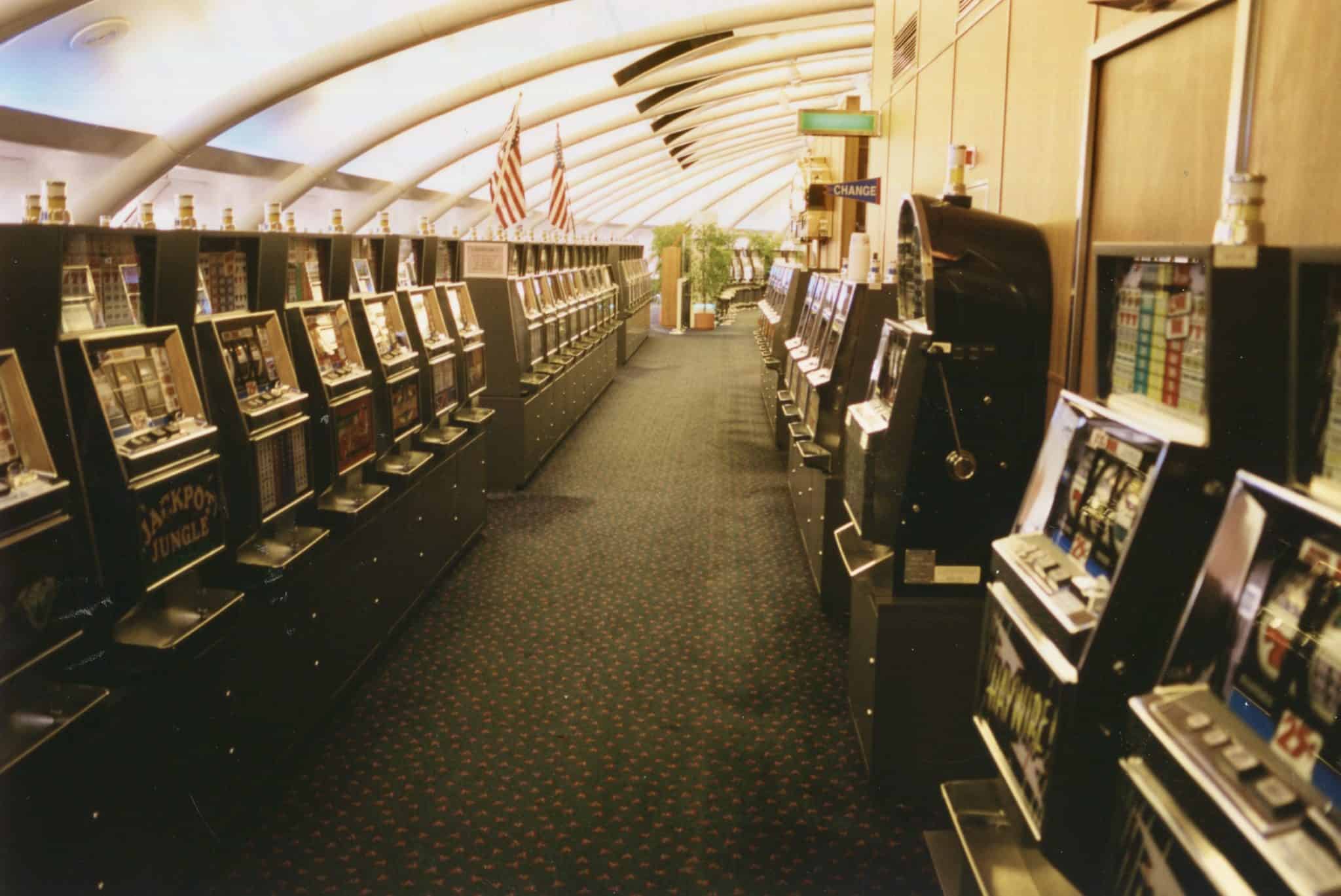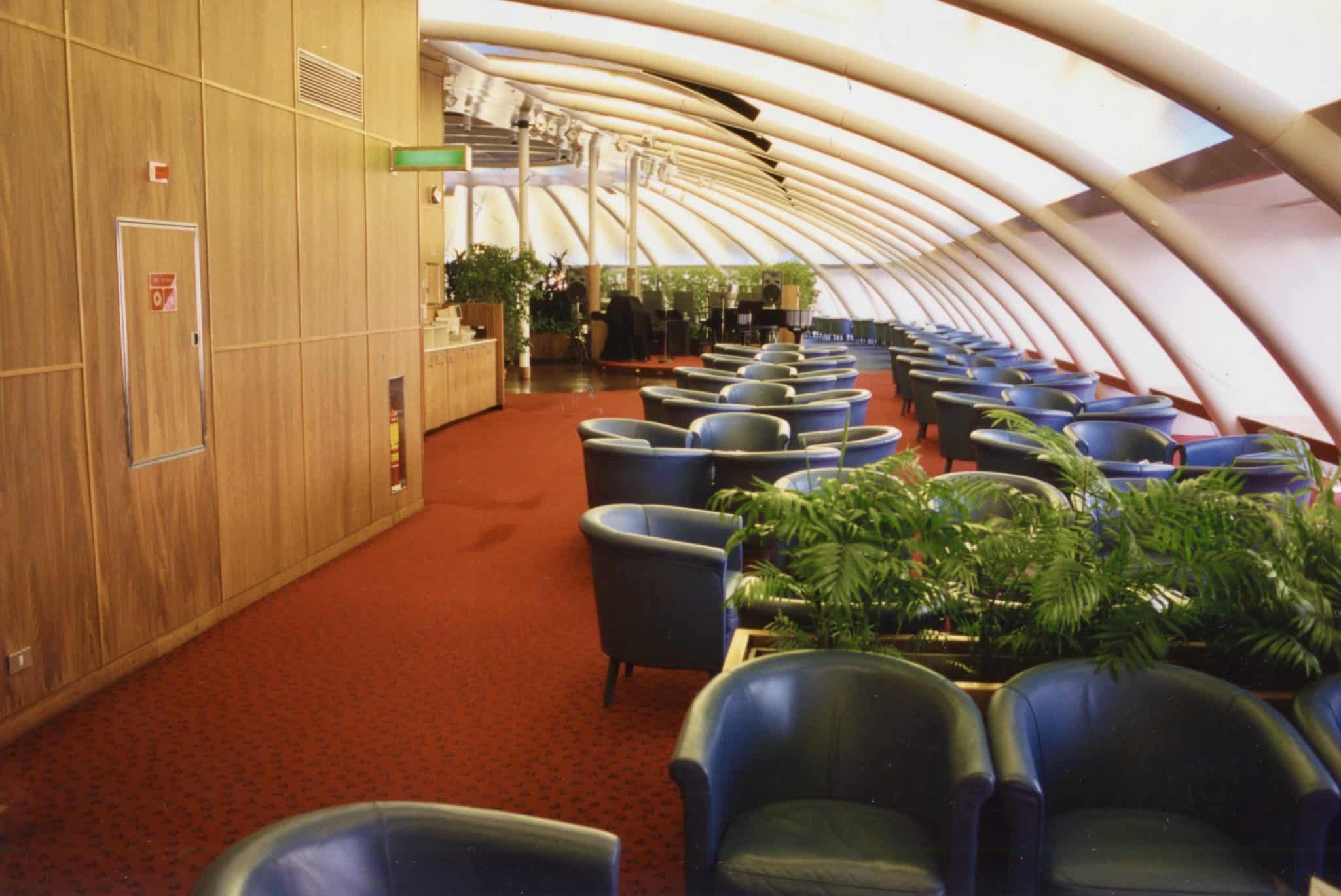 This potentially wonderful room would have been an excellent observation lounge, bar, and late night hideaway, were it not for its dual role as the ship's casino, which resulted in the port side and forward center portion of the room being crammed with slots and gaming tables.
Frustratingly, the clutter and clang of slot machines and the odor of cigarettes perpetually wafted through the only space on the ship offering a forward facing view (and a lofty one at that, from just above the wheelhouse).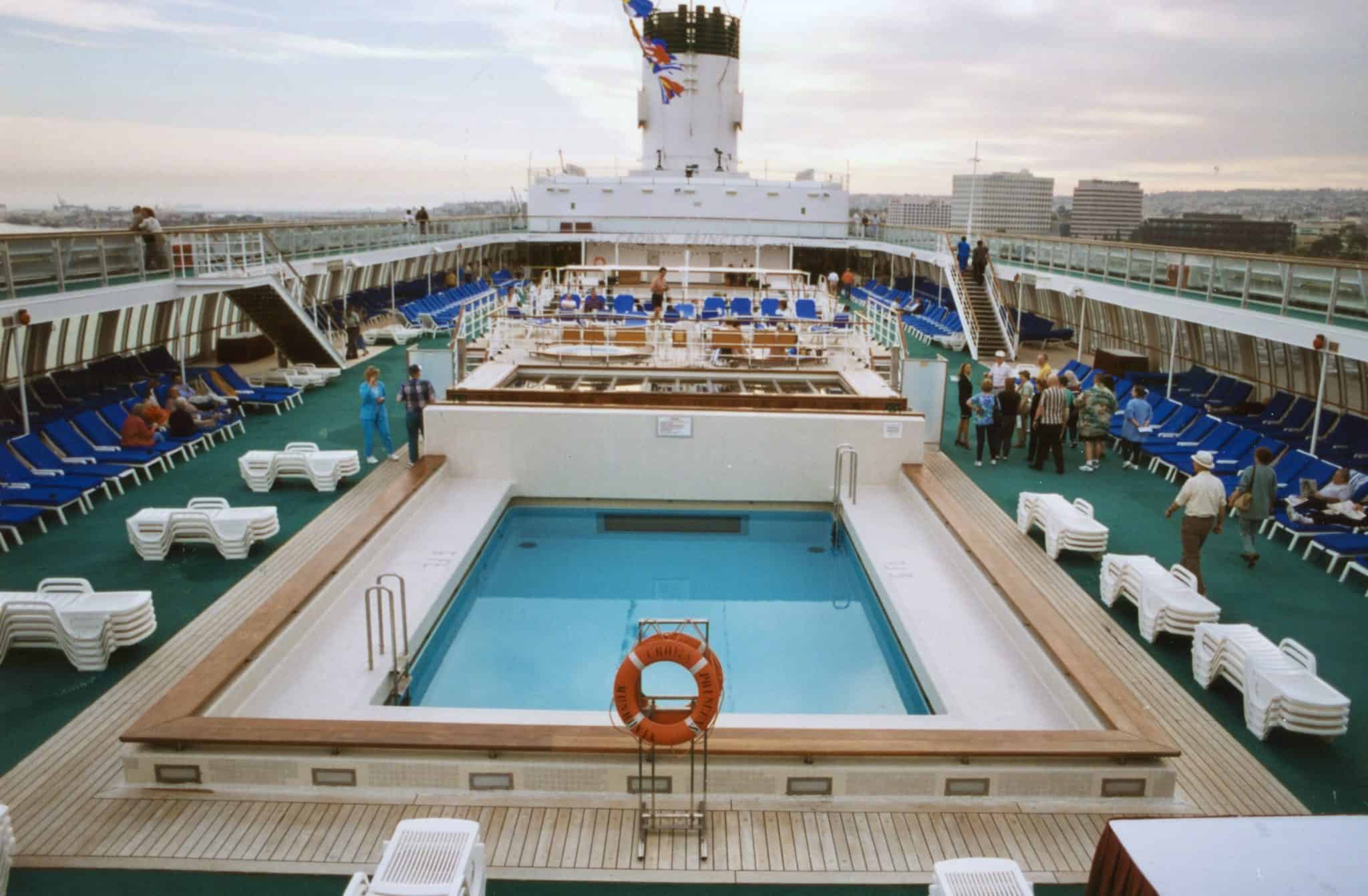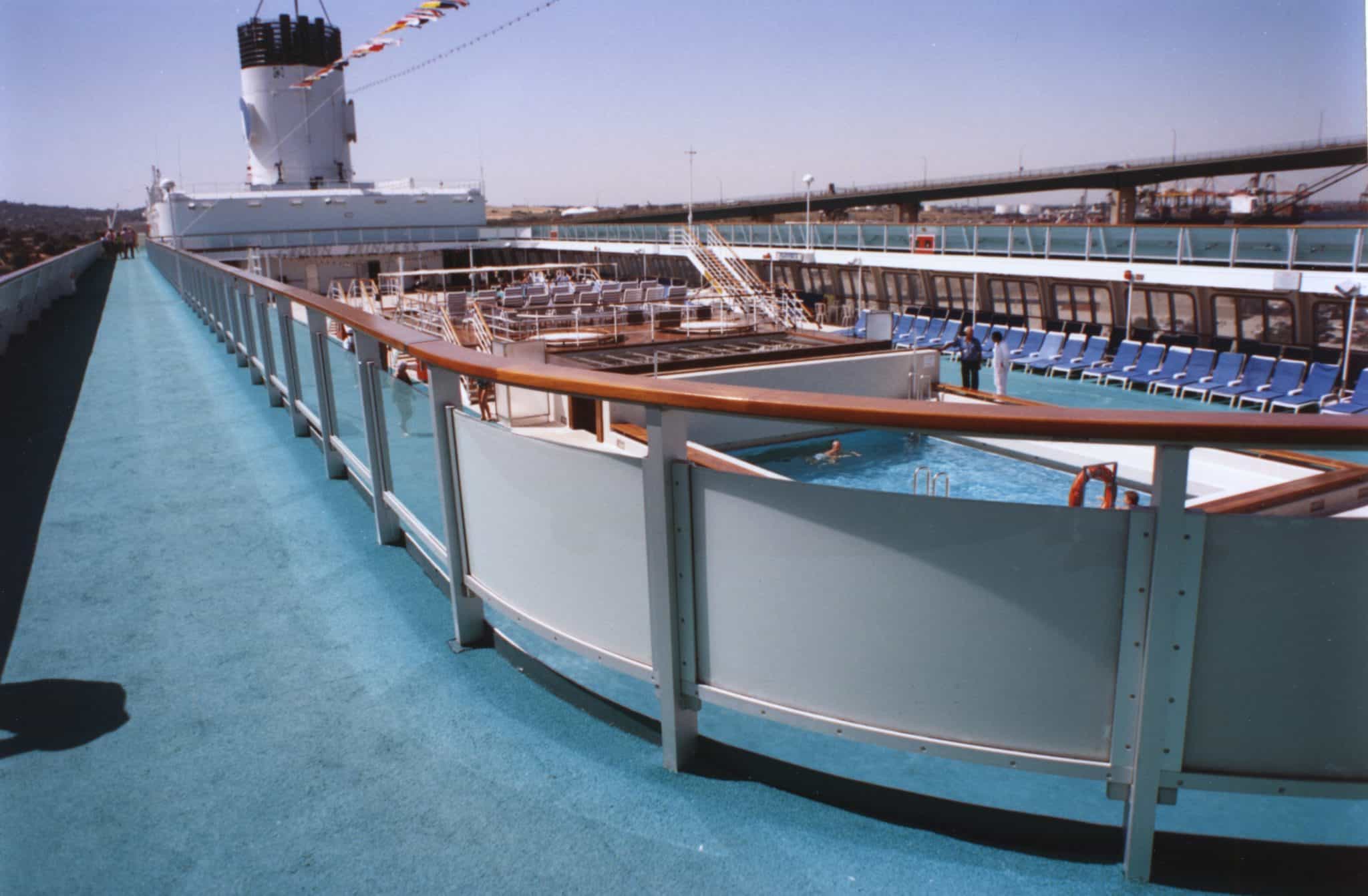 Sun Deck continued beyond The Dome with narrow terraces overlooking the pool area, leading aft to a games court at the stern.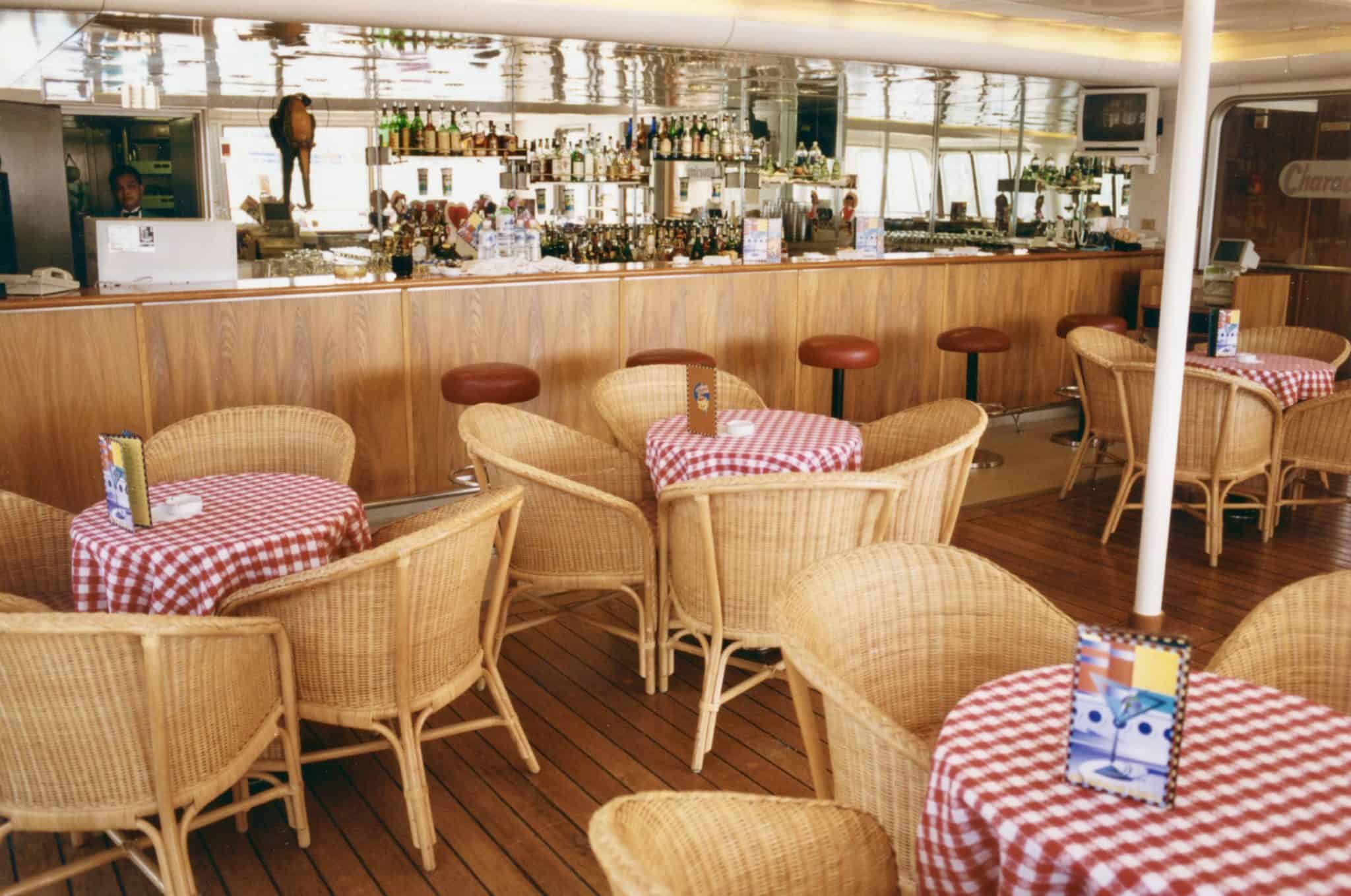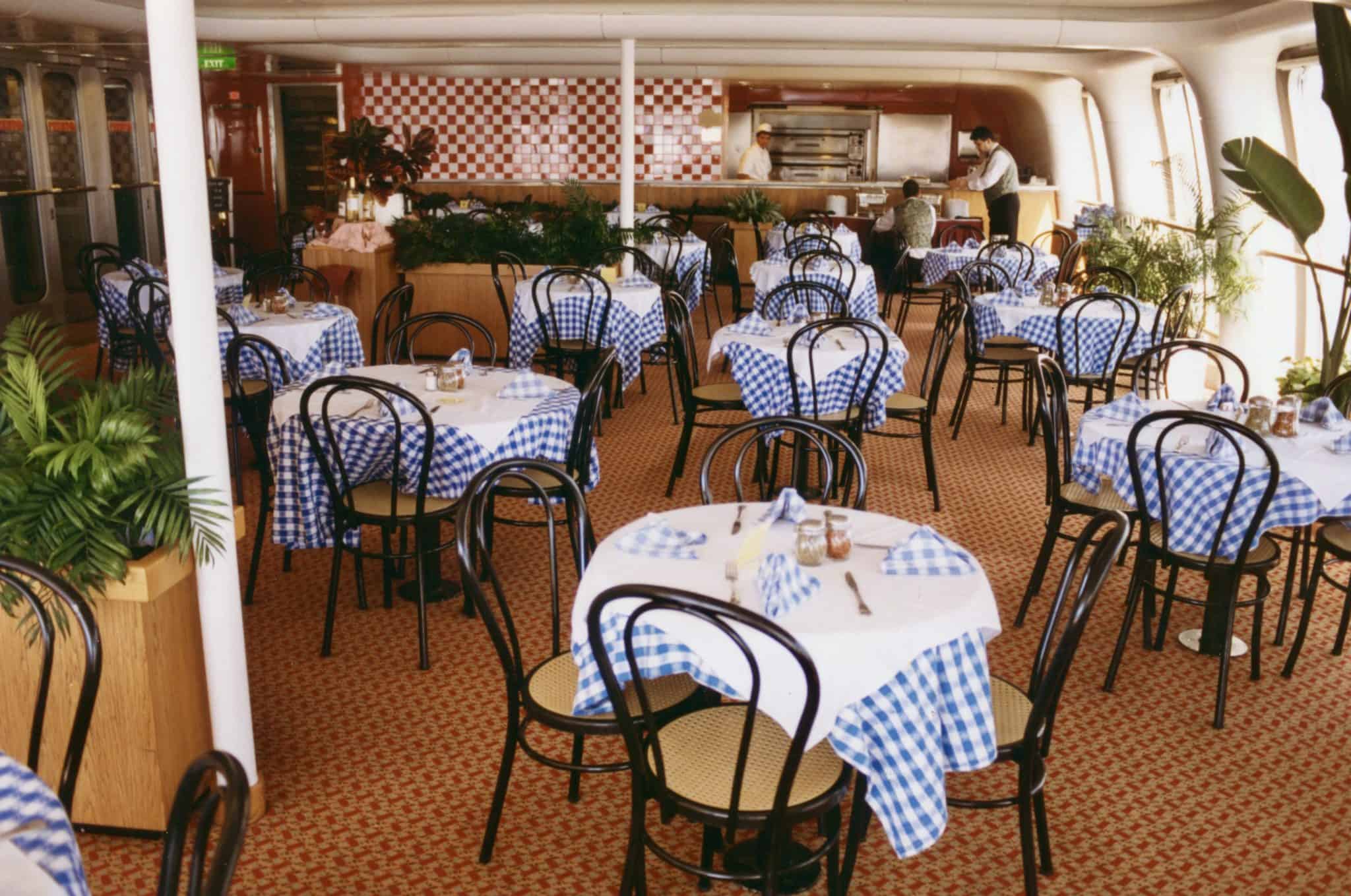 The next level, Lido Deck, began with the wheelhouse and officer's quarters. Guest areas started with Character's Specialty Bar on the port side and the Presto Pizzeria starboard.
Sheltered and open space followed, surrounding two pools and a pair of jacuzzis. Had the ship's dome not taken away from potential outdoor deck space, this would have been fine. However, it was just not enough on its own to handle the demand for sunning space.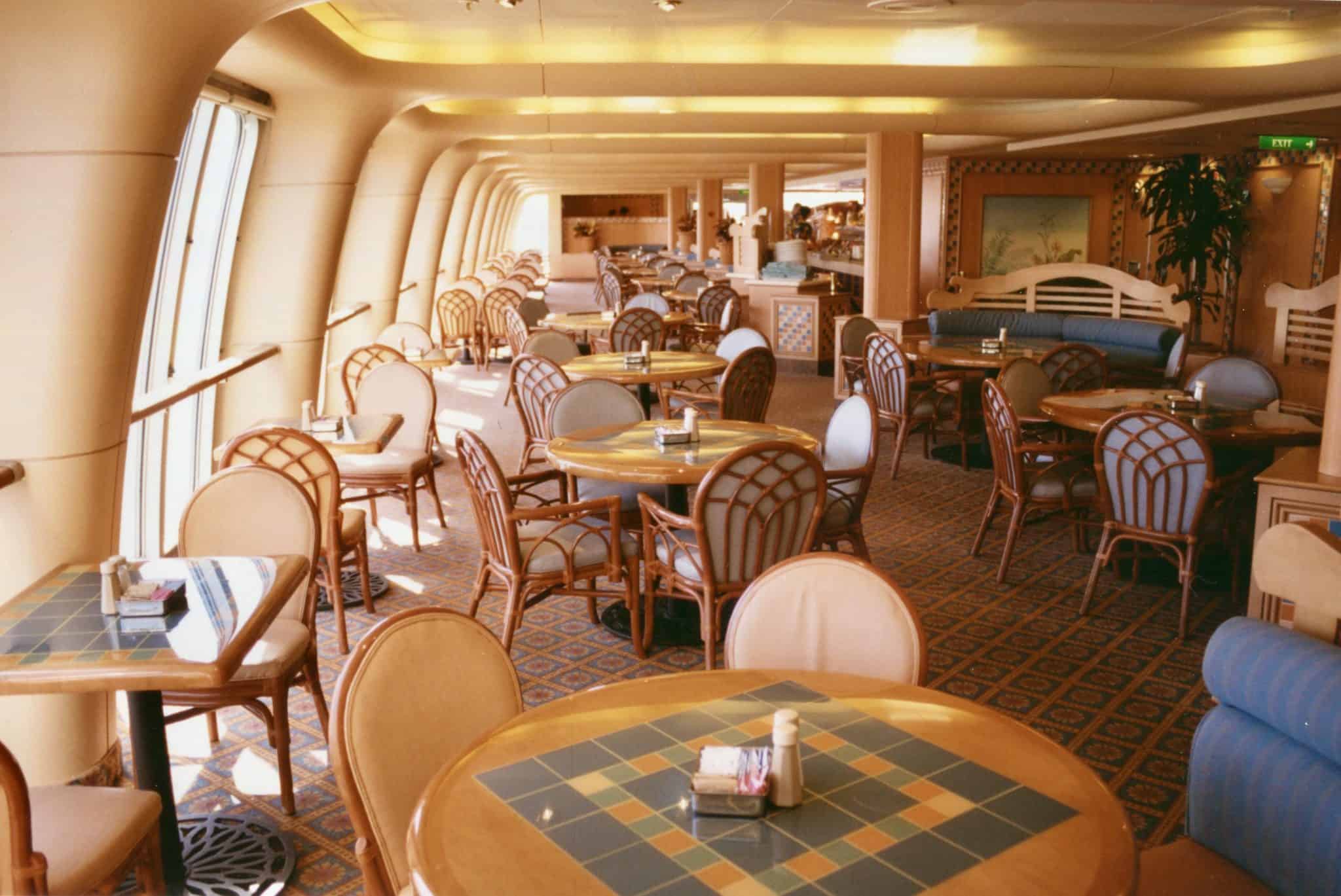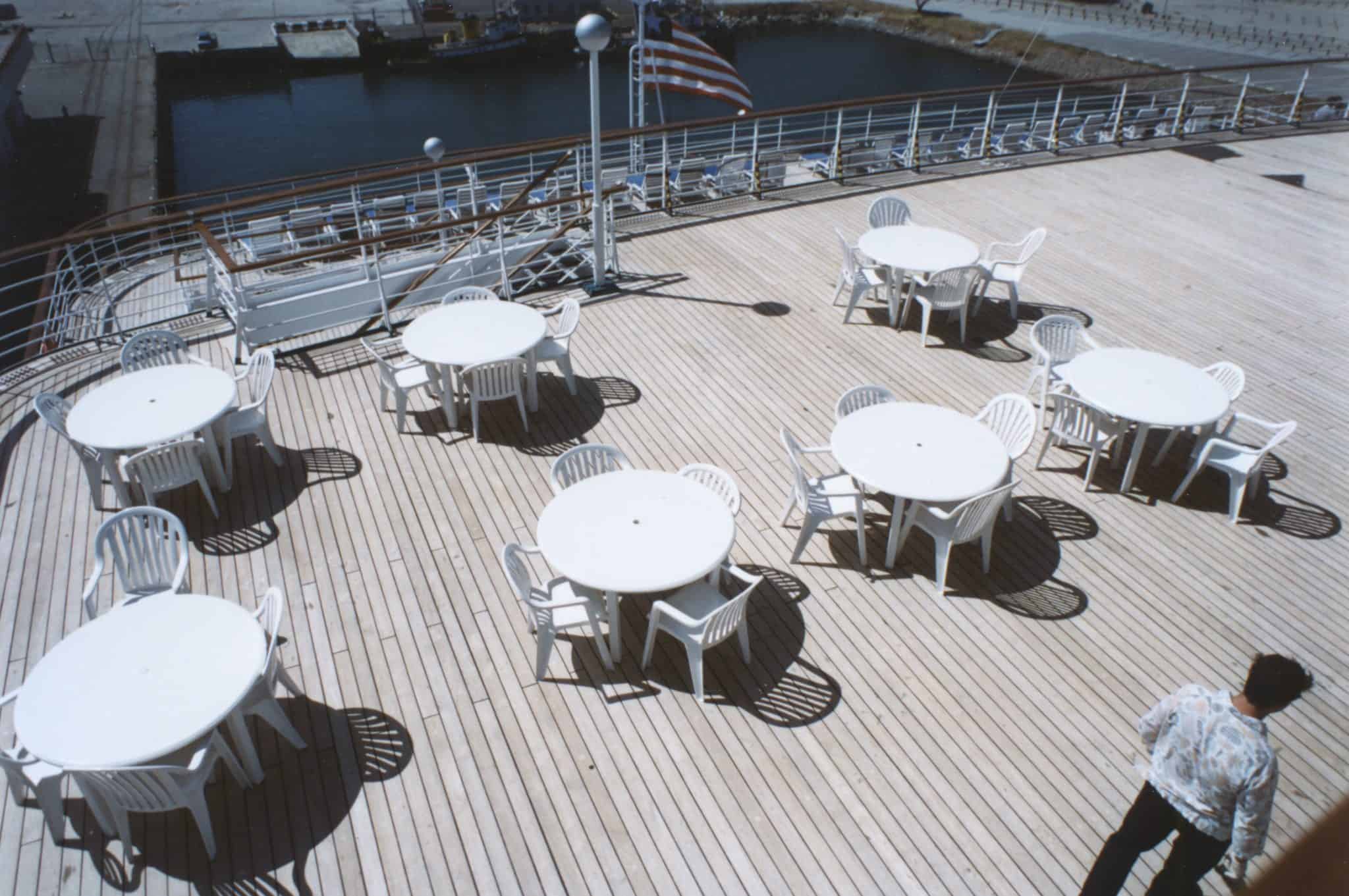 Aft of the pools, the Cafe Cabana buffet dining venue also proved a bit small for the ship's capacity. Beyond that, an open terrace overlooked the stern.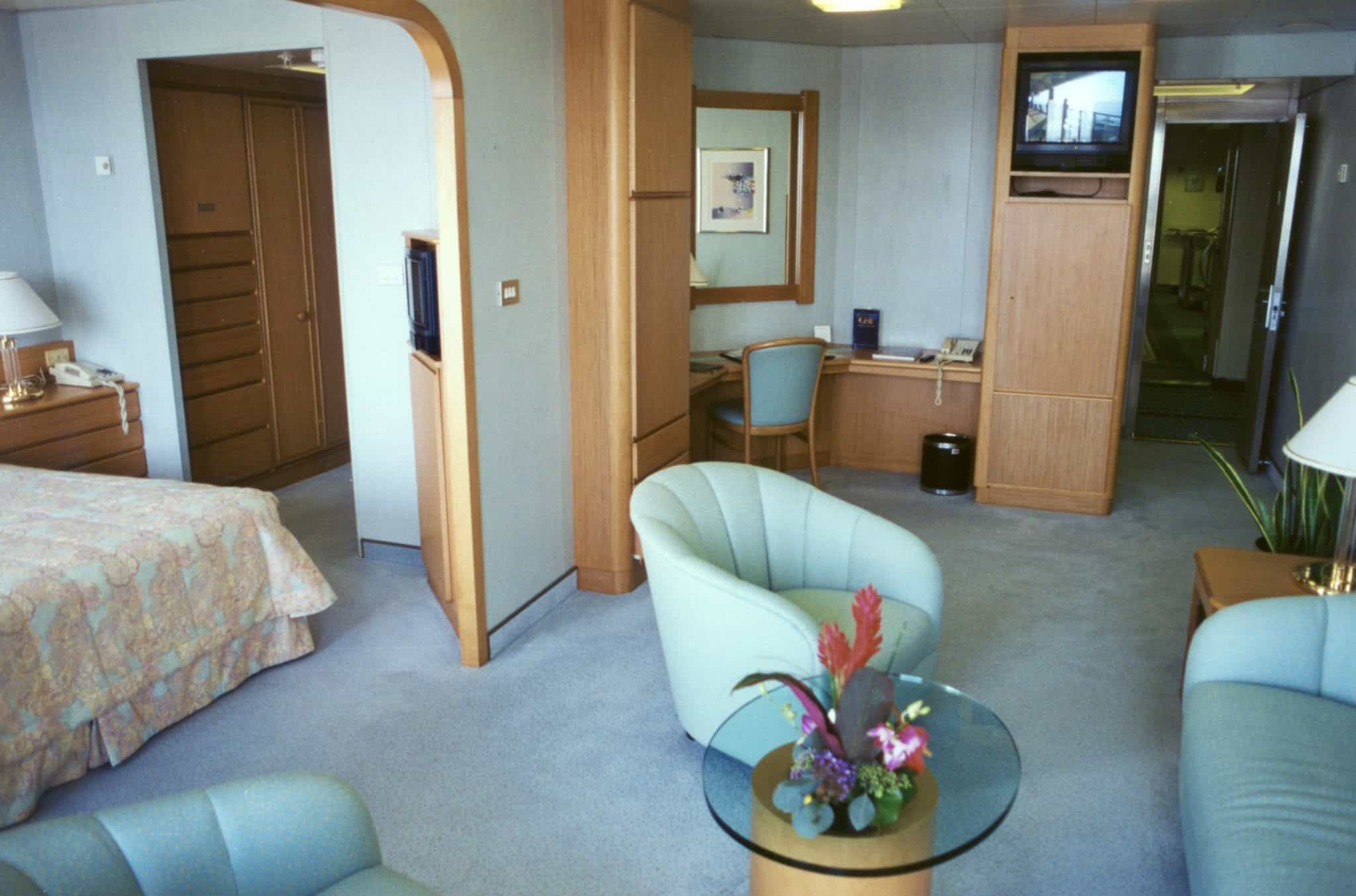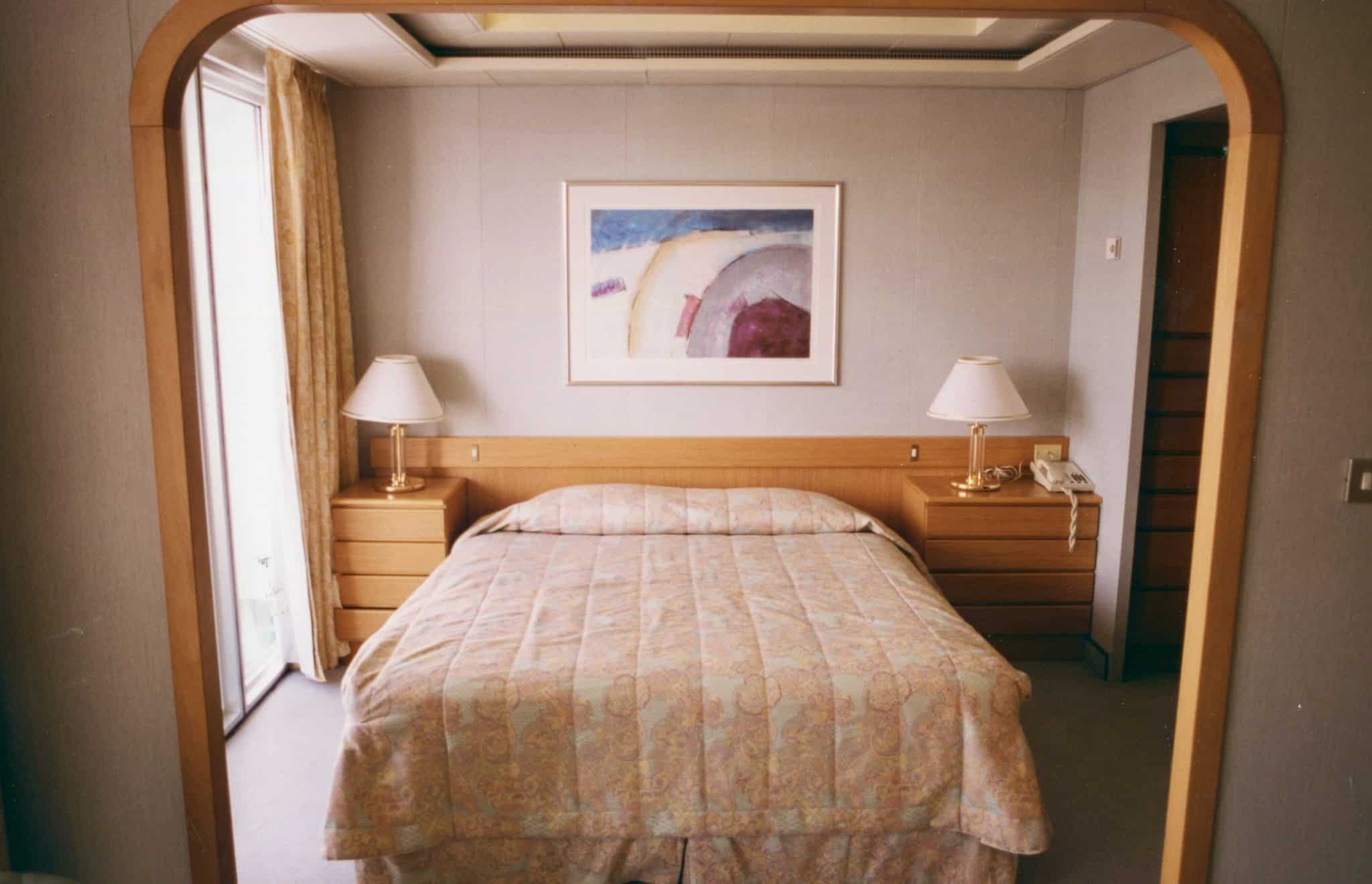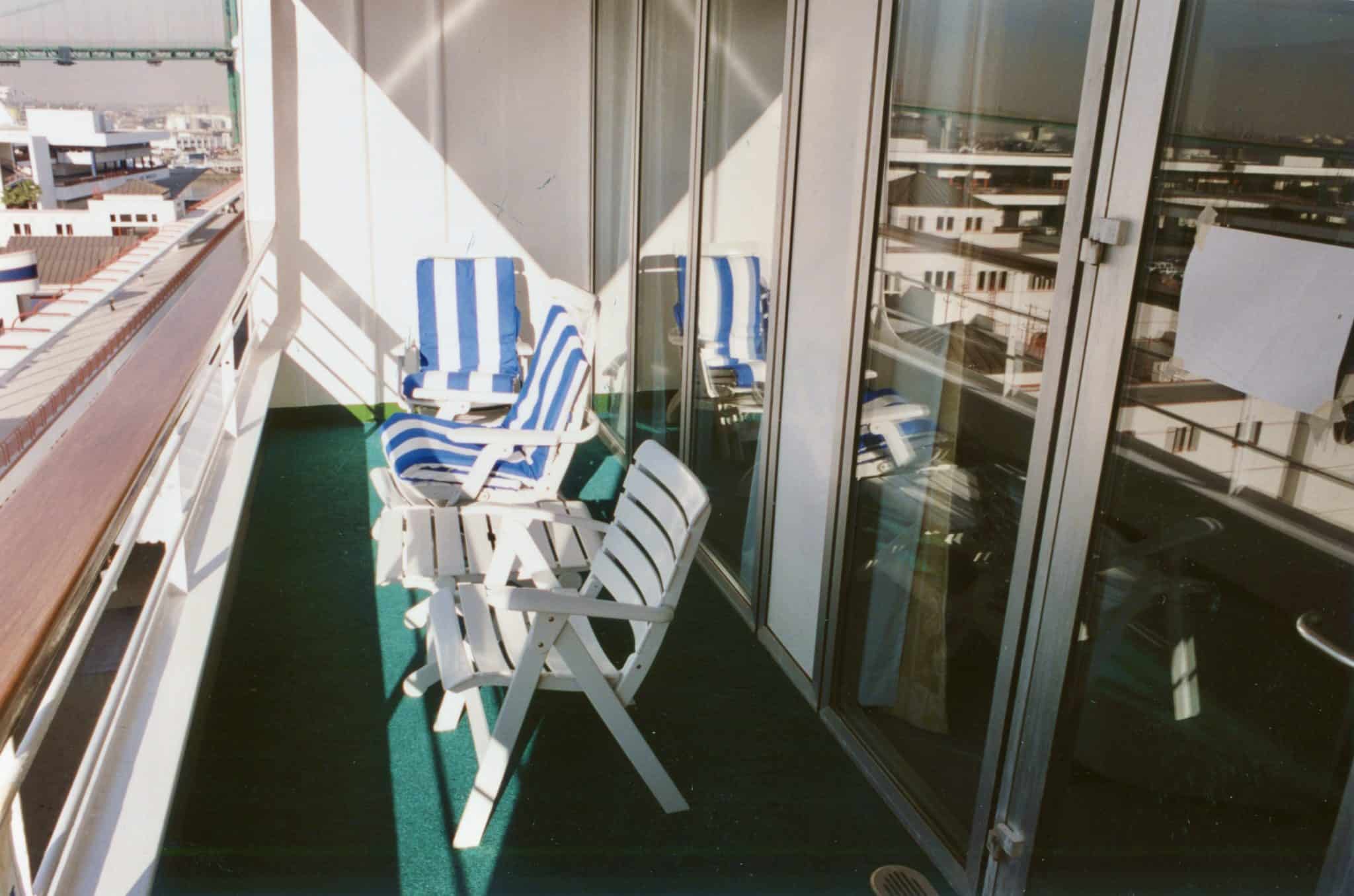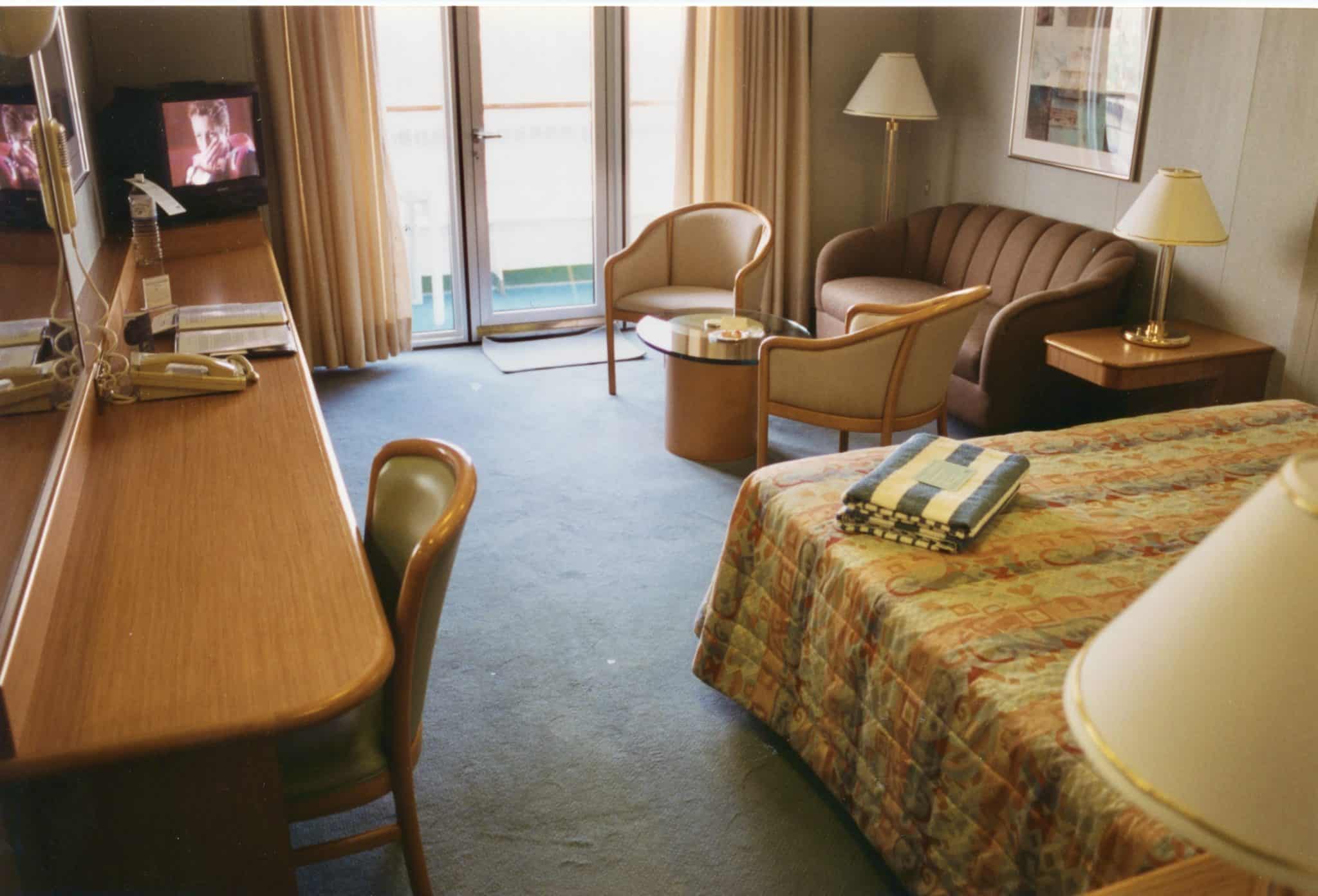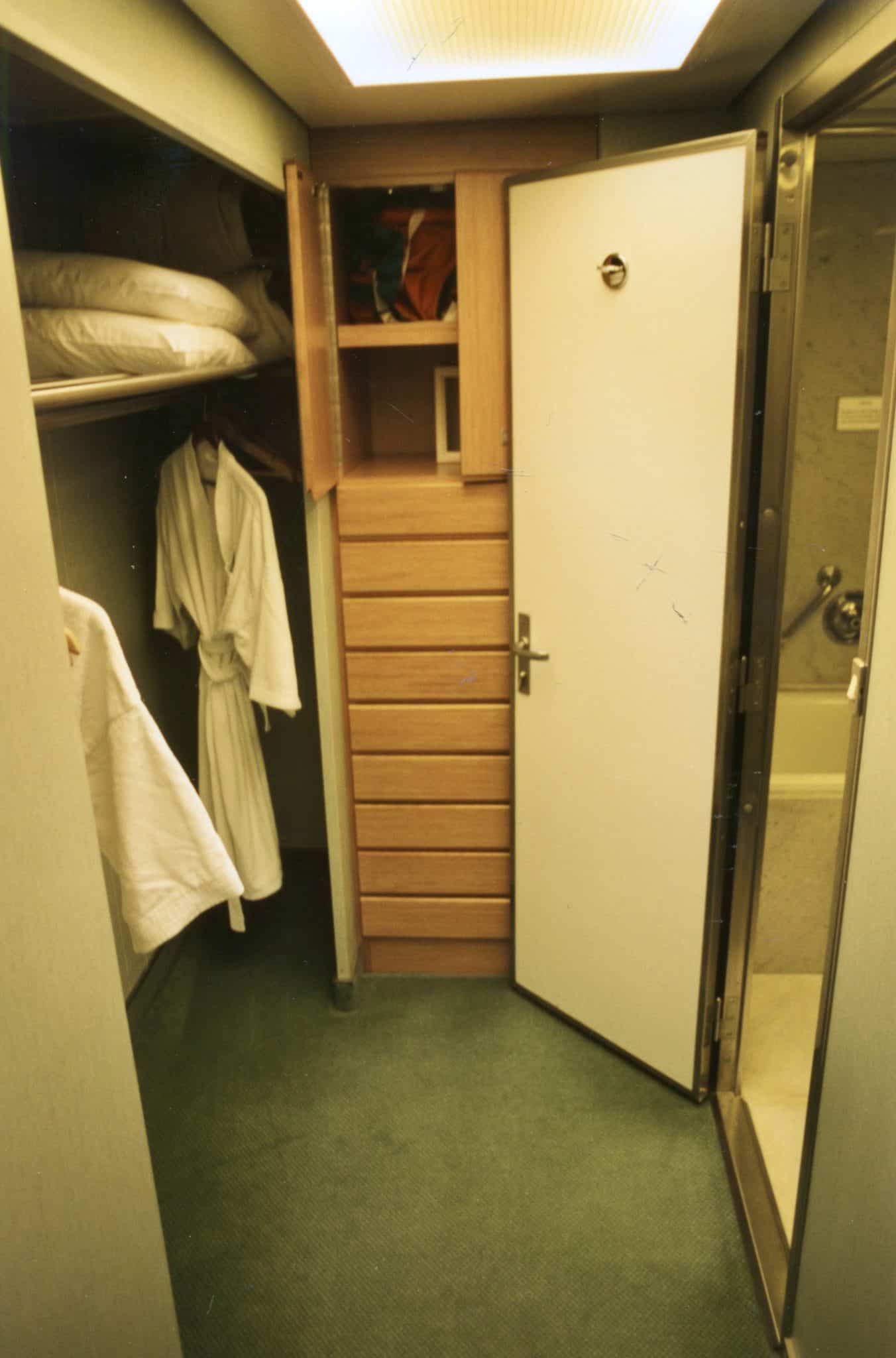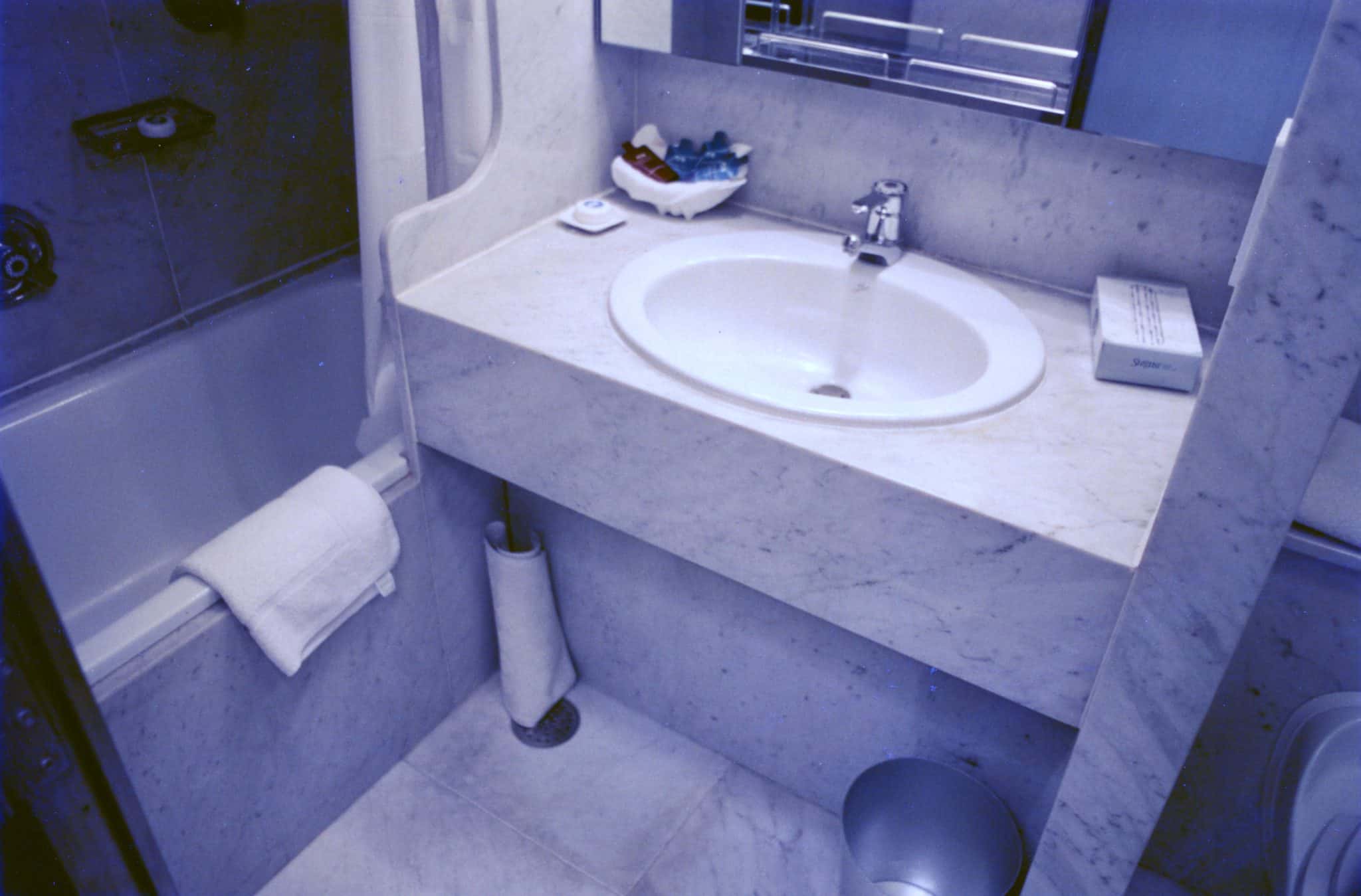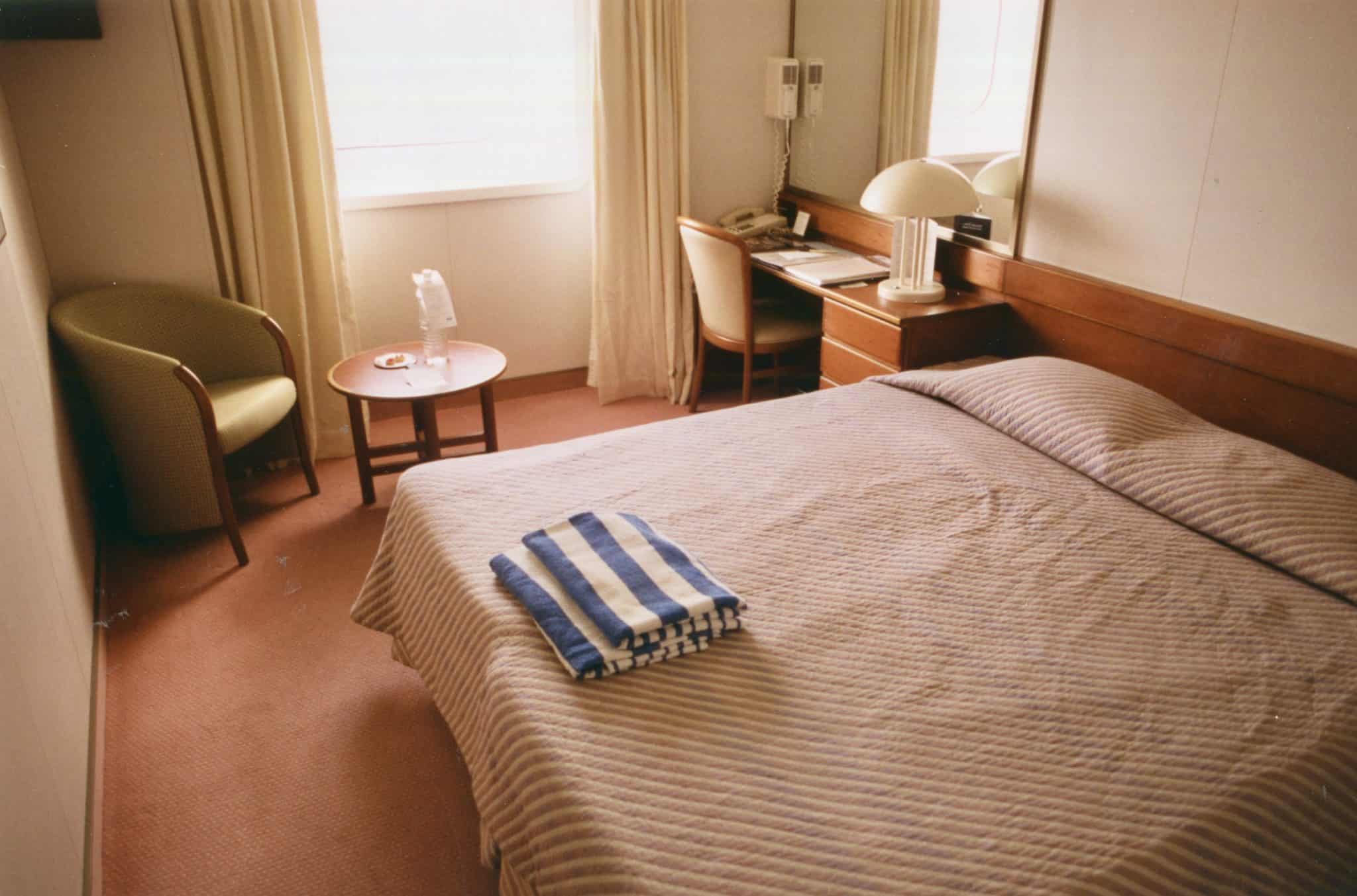 Aloha Deck began with more officer's accommodation and guest suites (twelve suites and thirty-six mini suites) that led to less posh staterooms with and without balconies.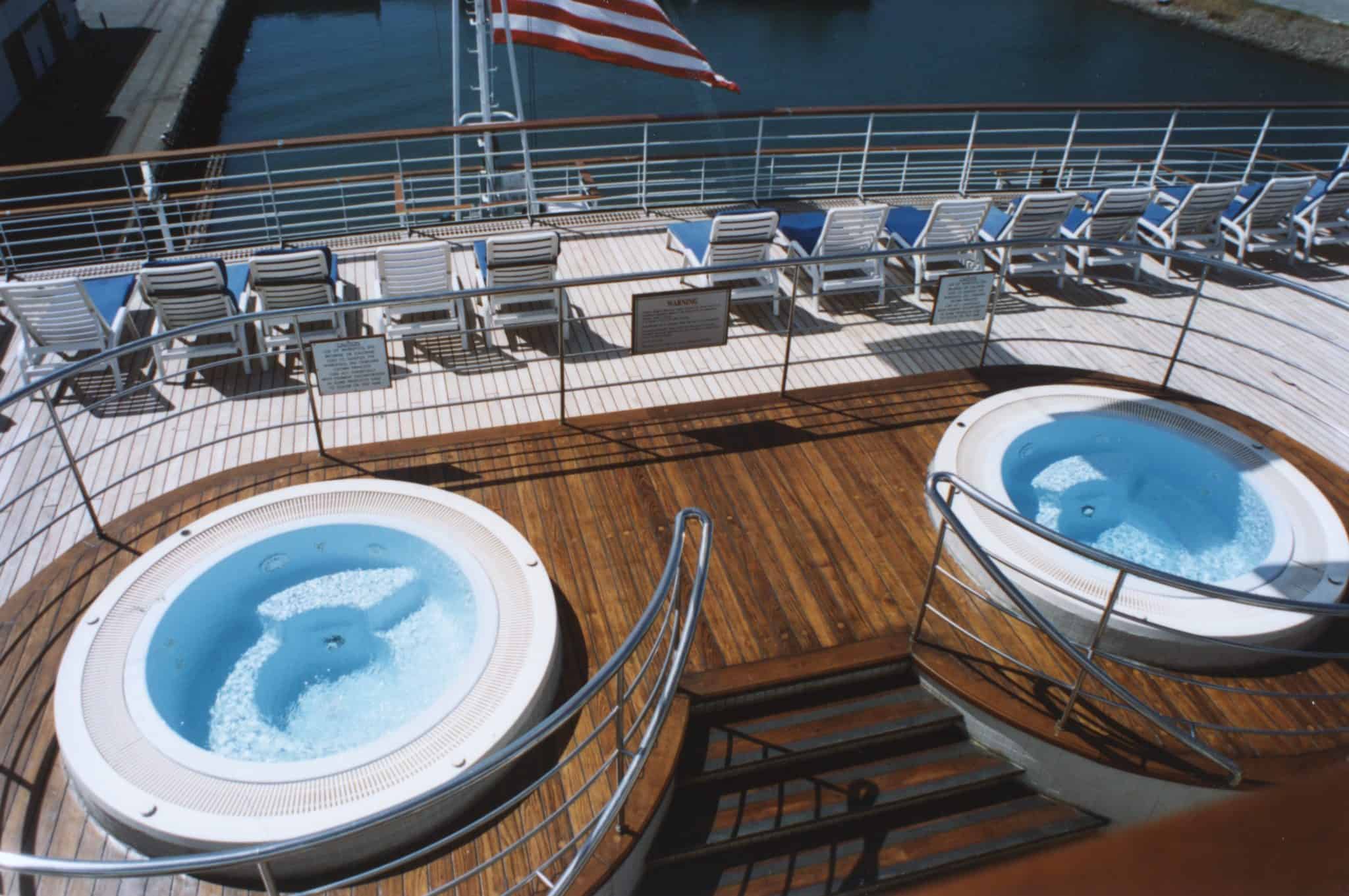 An open terrace with a pair of Jacuzzis overlooked the stern on this level.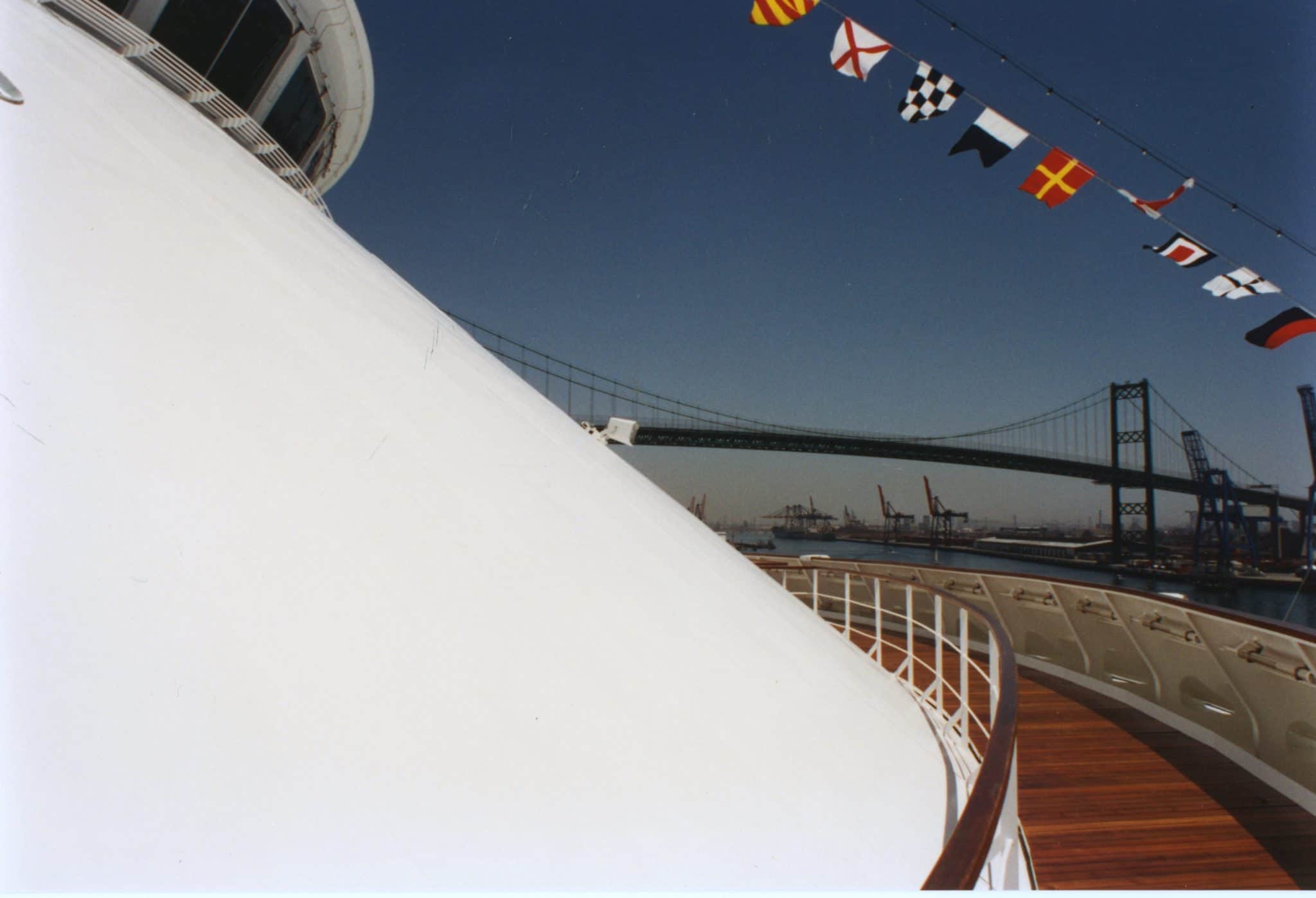 Baja Deck began with the only forward-facing open deck, a pithy sliver of a terrace reached only by those willing to navigate long corridors of guest accommodations to get there. At the aft end of another level of mostly balconied staterooms, there was another open stern terrace.
Caribe Deck was also dedicated to accommodations, although only the two decks above were fitted with balconies.
READ MORE: Explained: The CDC 'Conditional Sailing' Order for Cruise Ships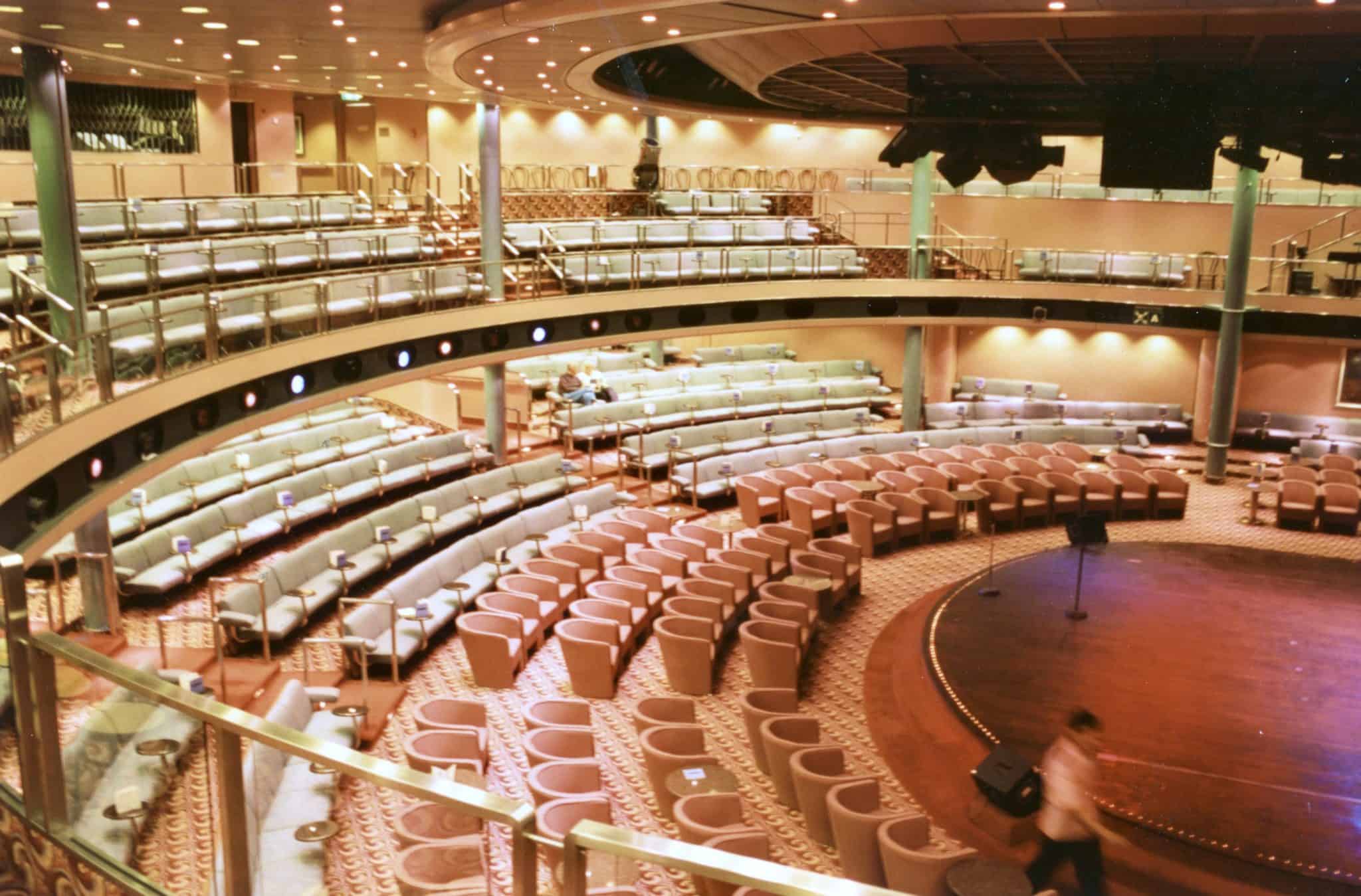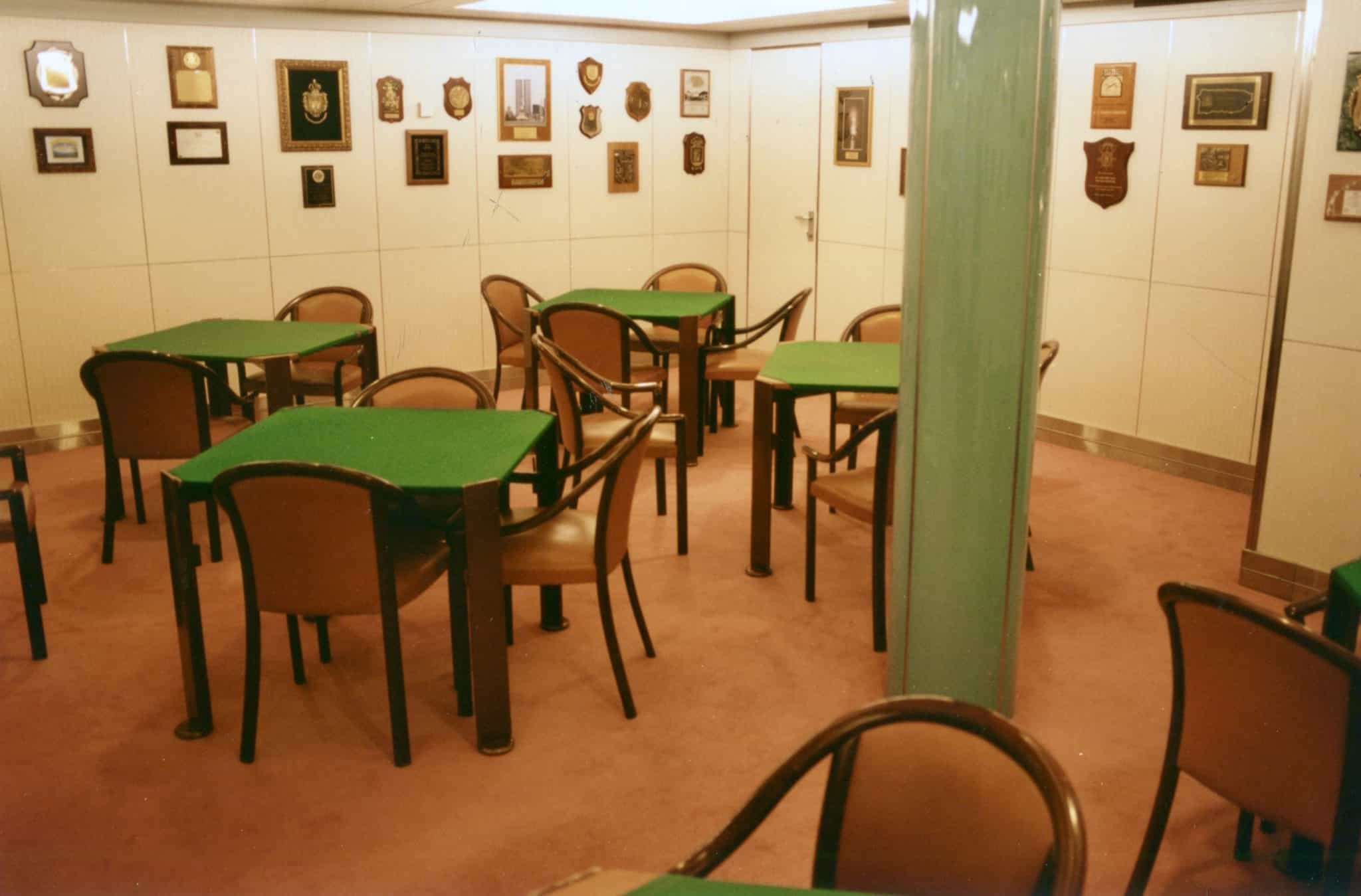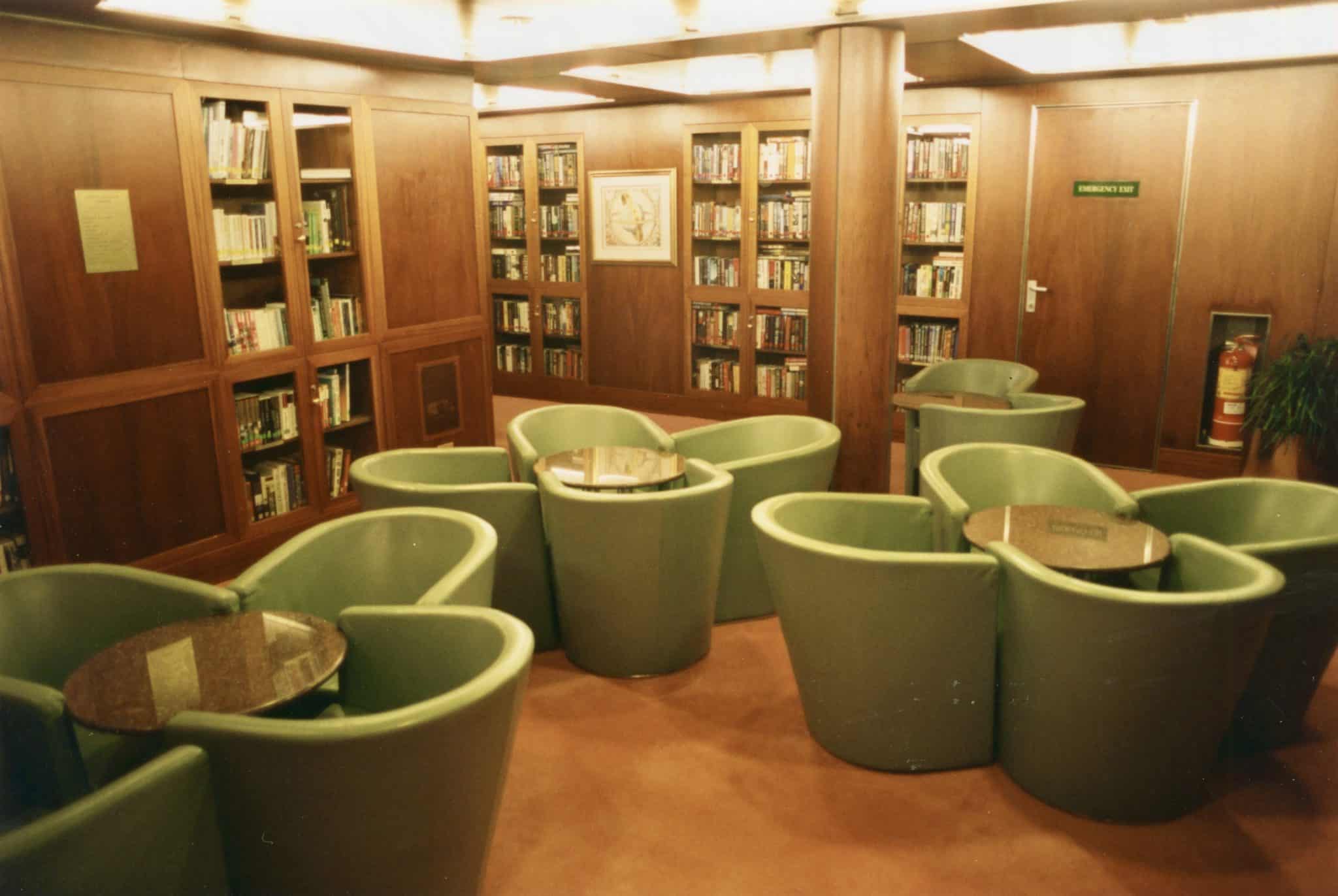 Dolphin Deck began with the upper level of the International Showroom, followed by a Card Room on the port side and the Library on the starboard side.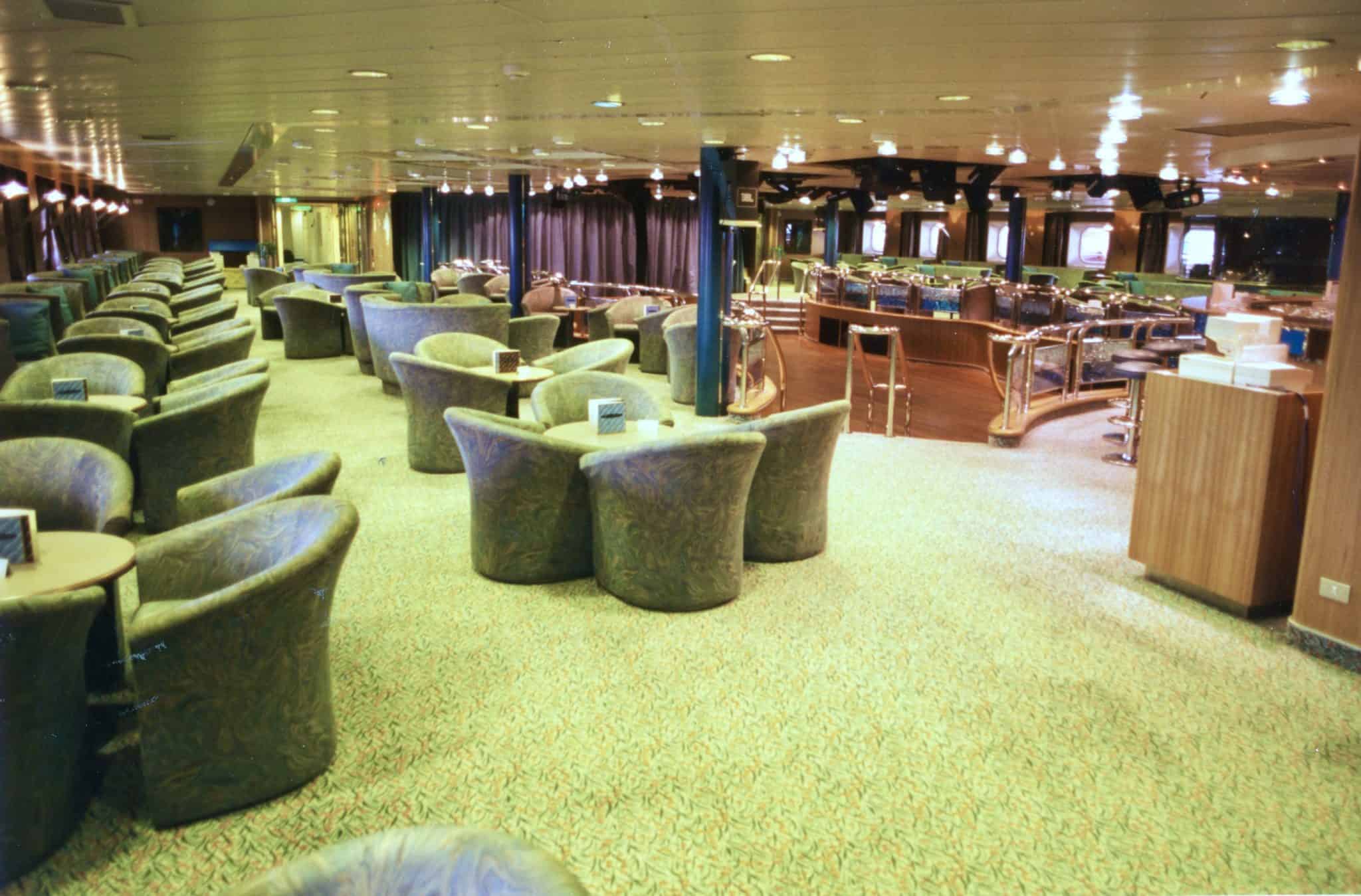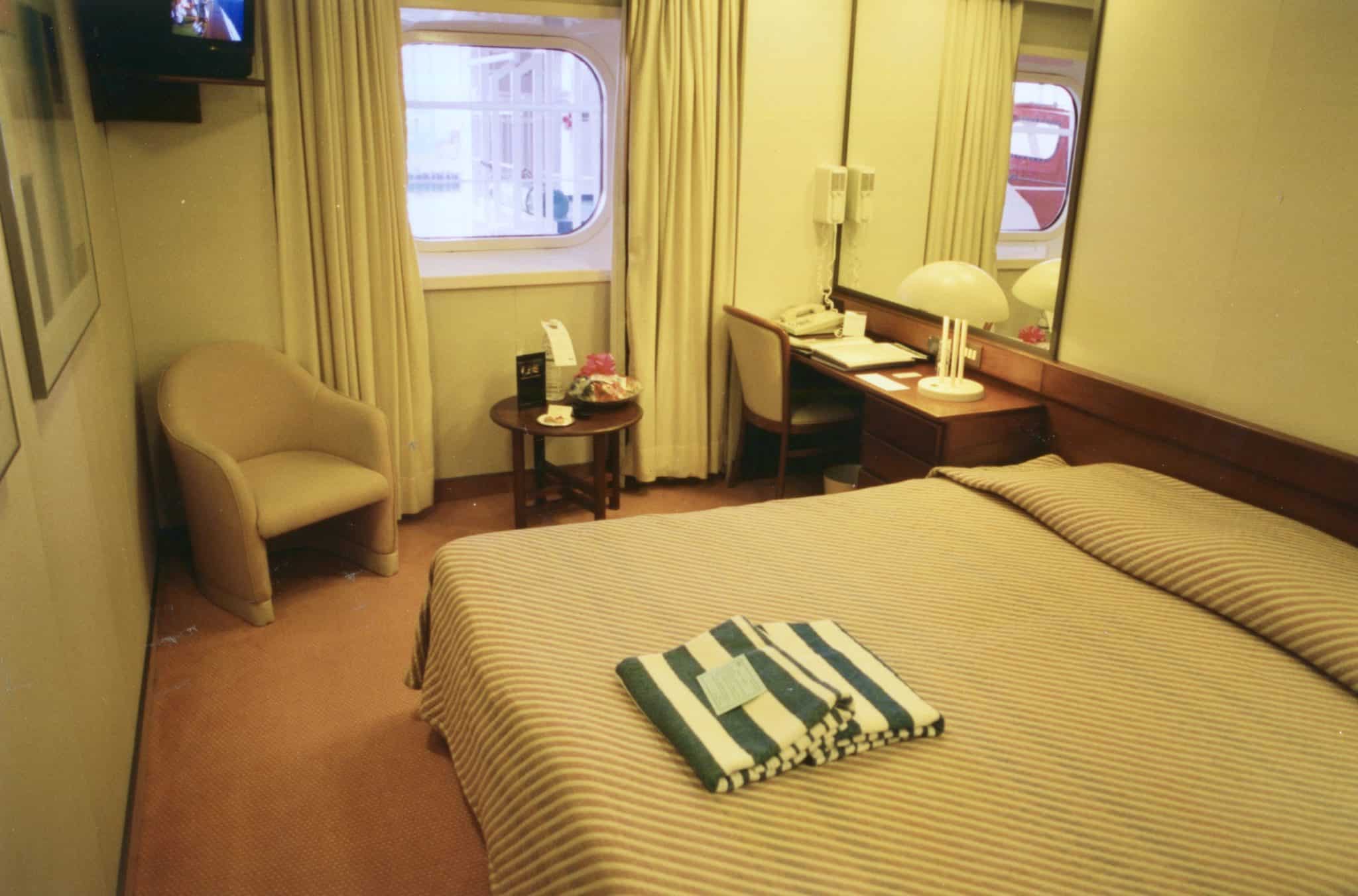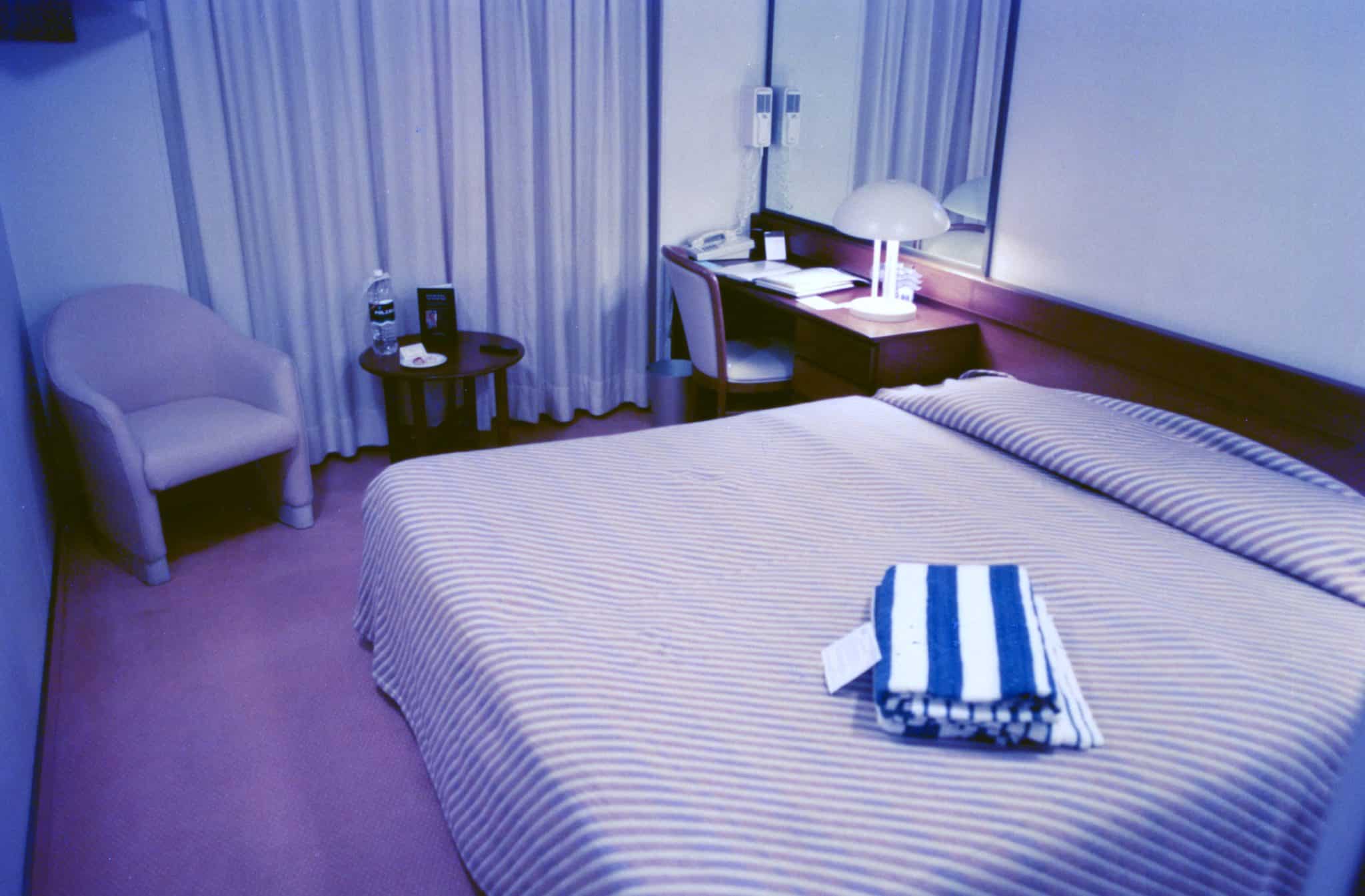 The Stage Door — an attractive cabaret lounge with a sunken dance floor — followed the forward vestibule, leading to more accommodations that stretched from midship all the way aft.
Promenade Deck began with a pair of finite, sheltered, teak-lined promenades on either side.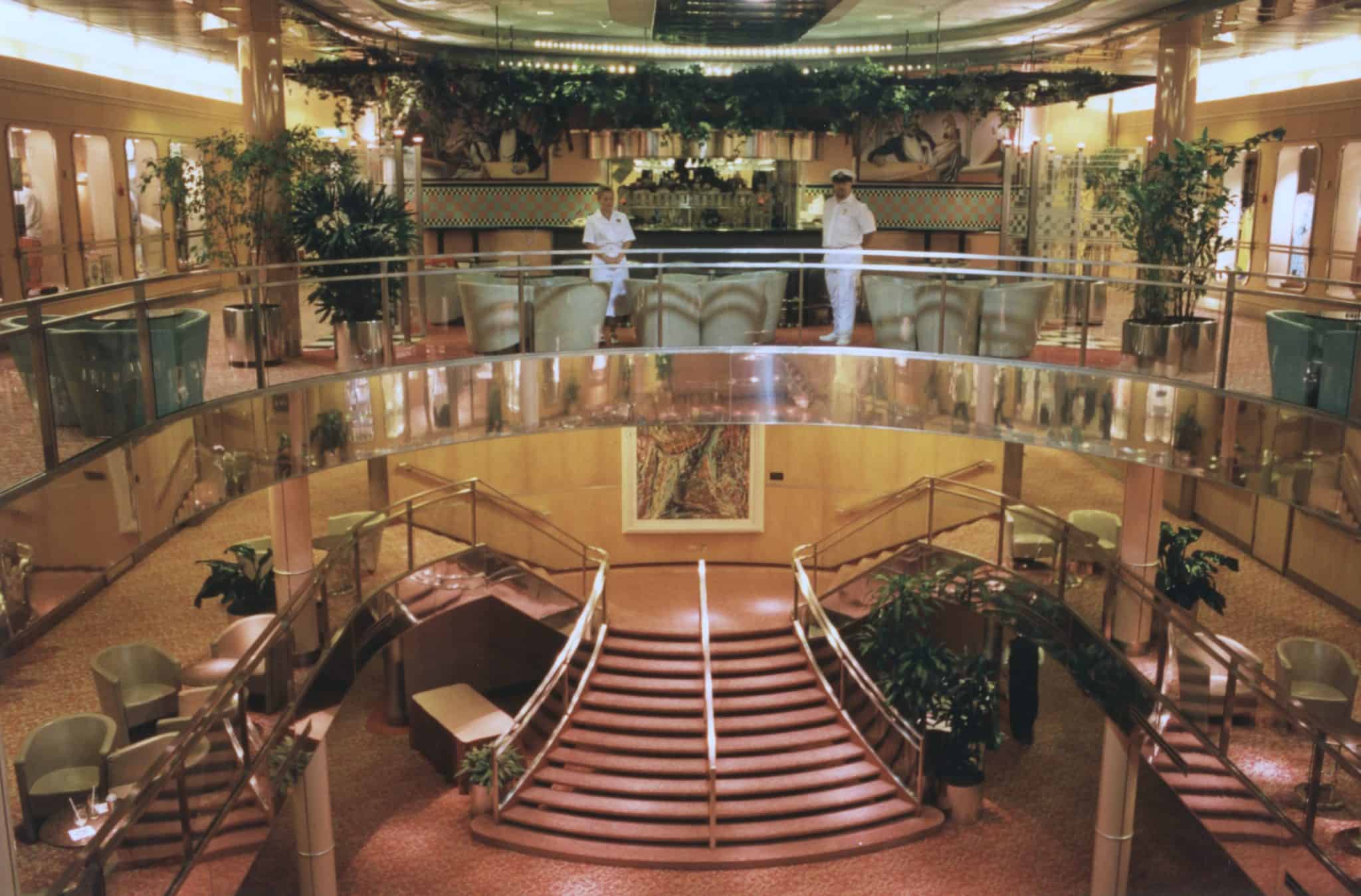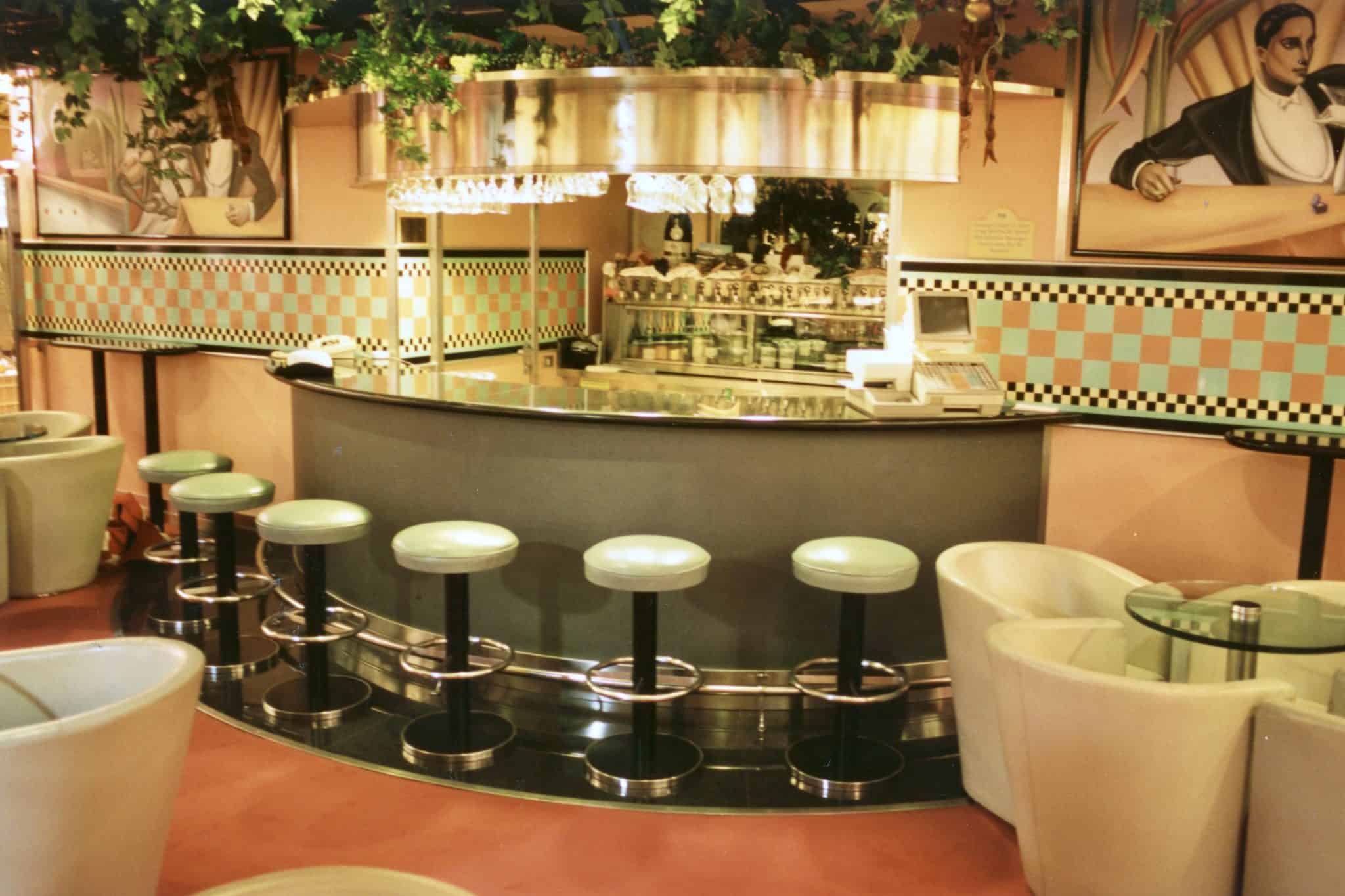 The interior portion of this level featured the lower portion of the International Showroom. Following the forward vestibule, a pair of shops and the Chianti Bar overlooked the ship's oval-shaped Plaza atrium.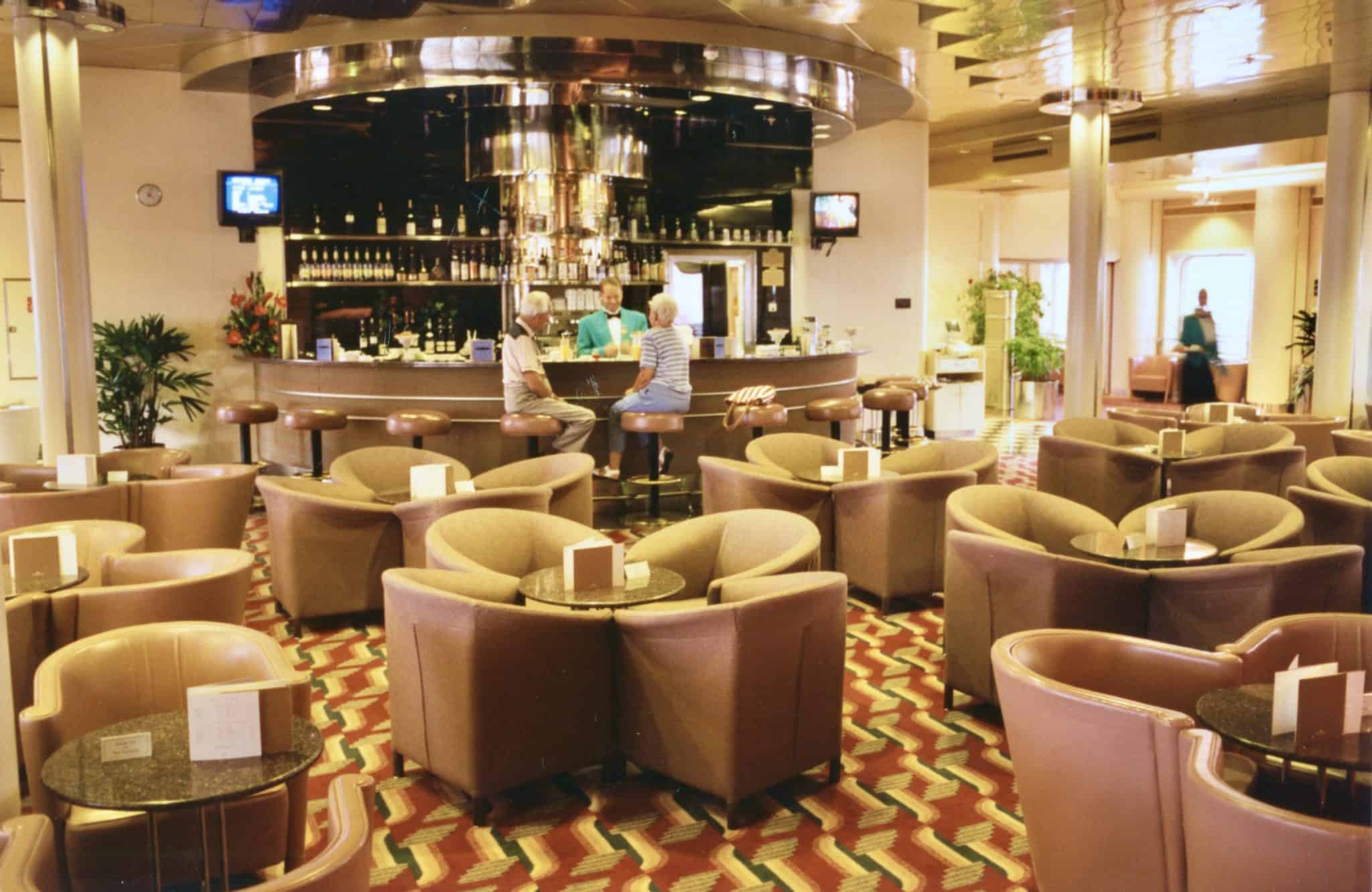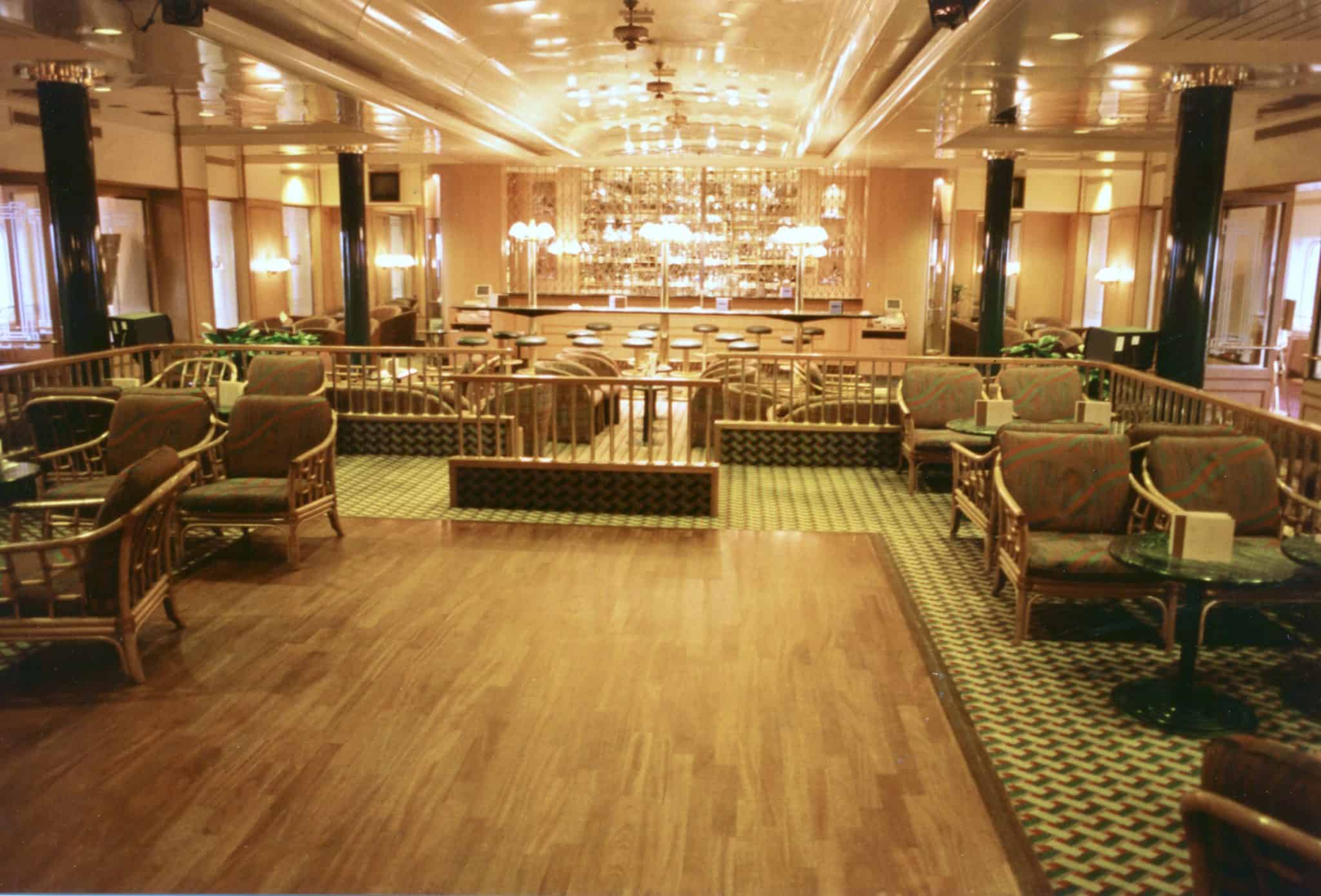 Two smaller bar/lounges — Kiplings and Intermezzo — followed, leading ultimately to the Crown Court, the ship's main dining room, situated in the stern.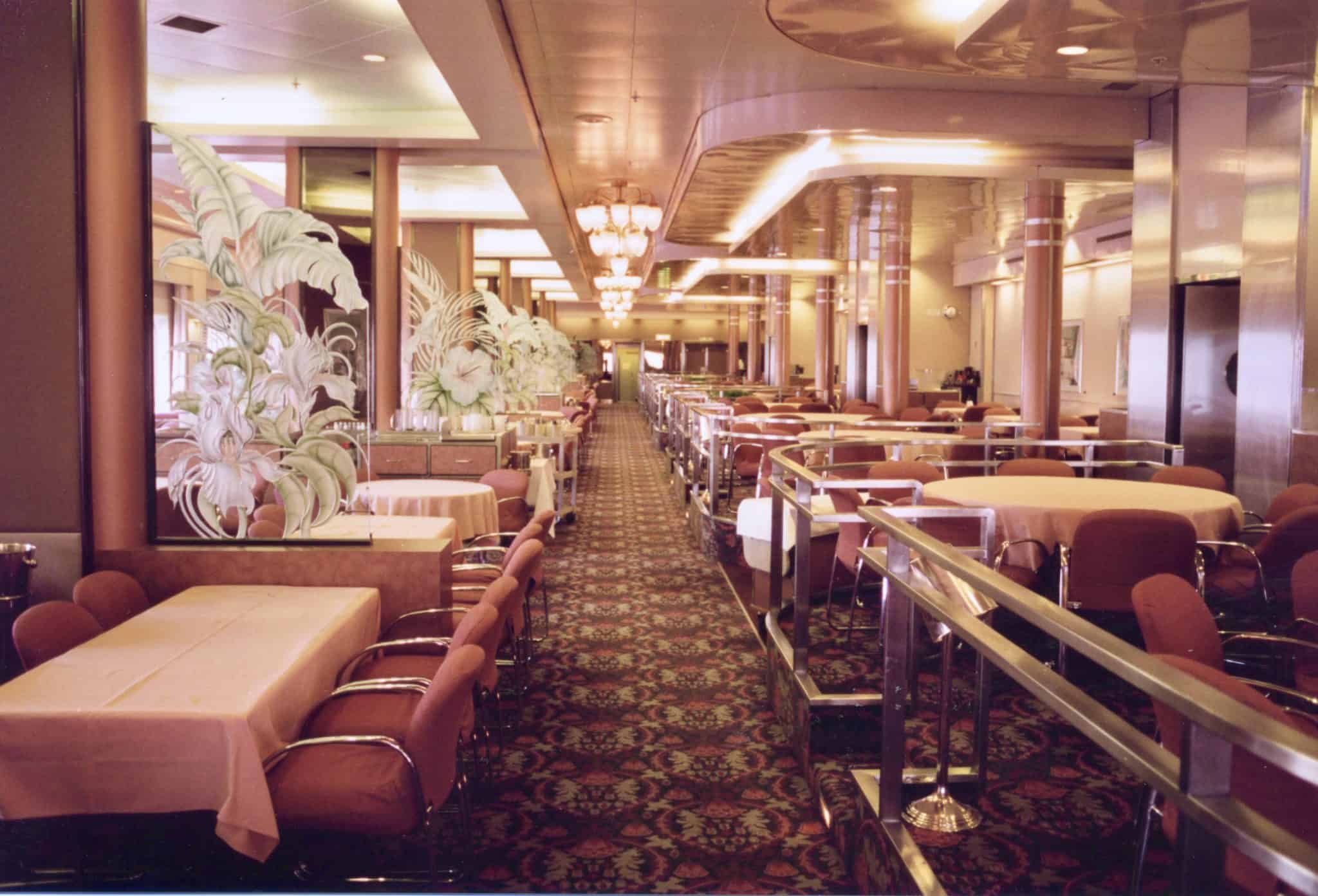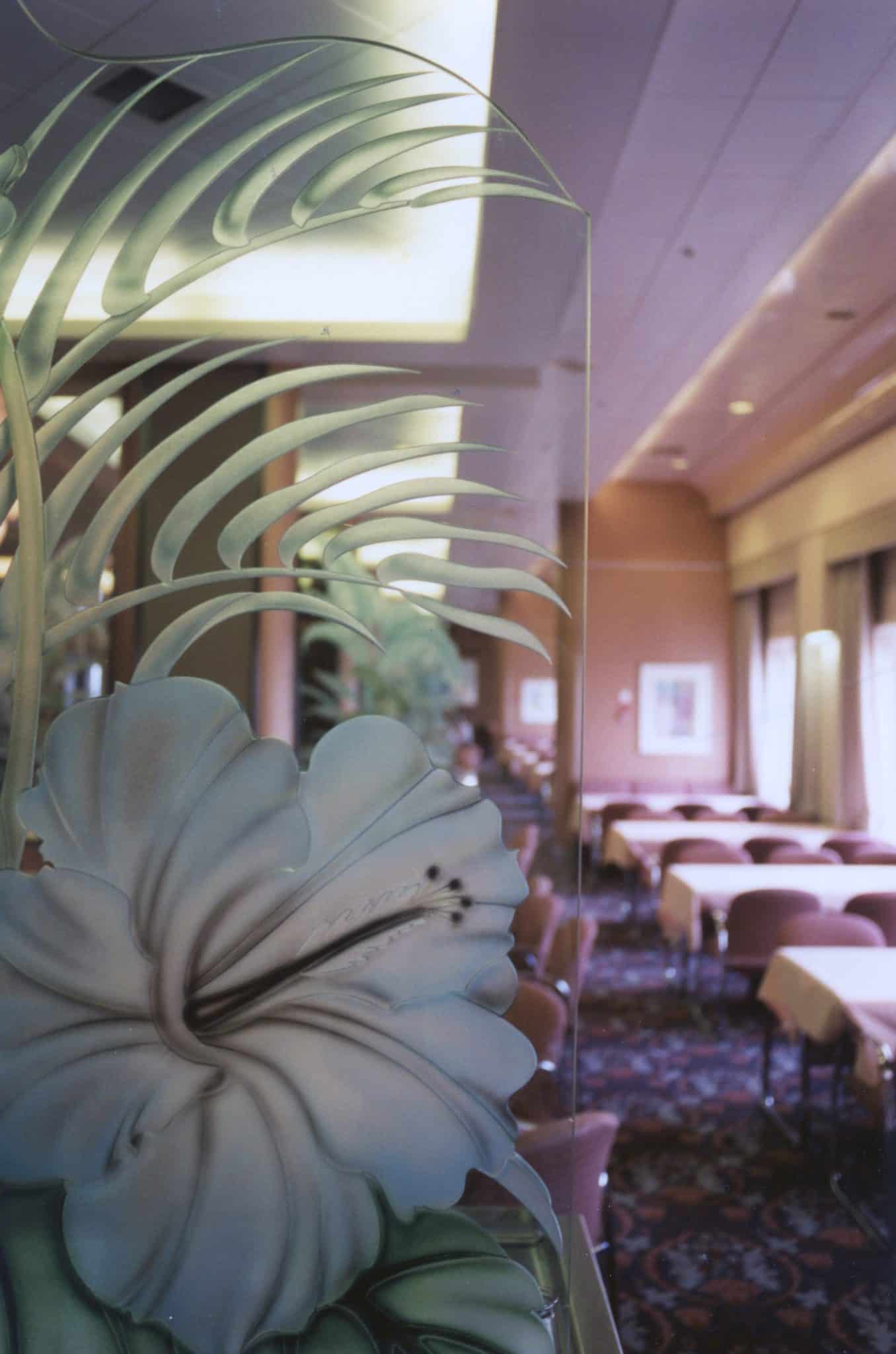 The Crown Court was a relatively elegant space with tall ceilings, multiple pillars, and floral patterned, frosted glass partitions.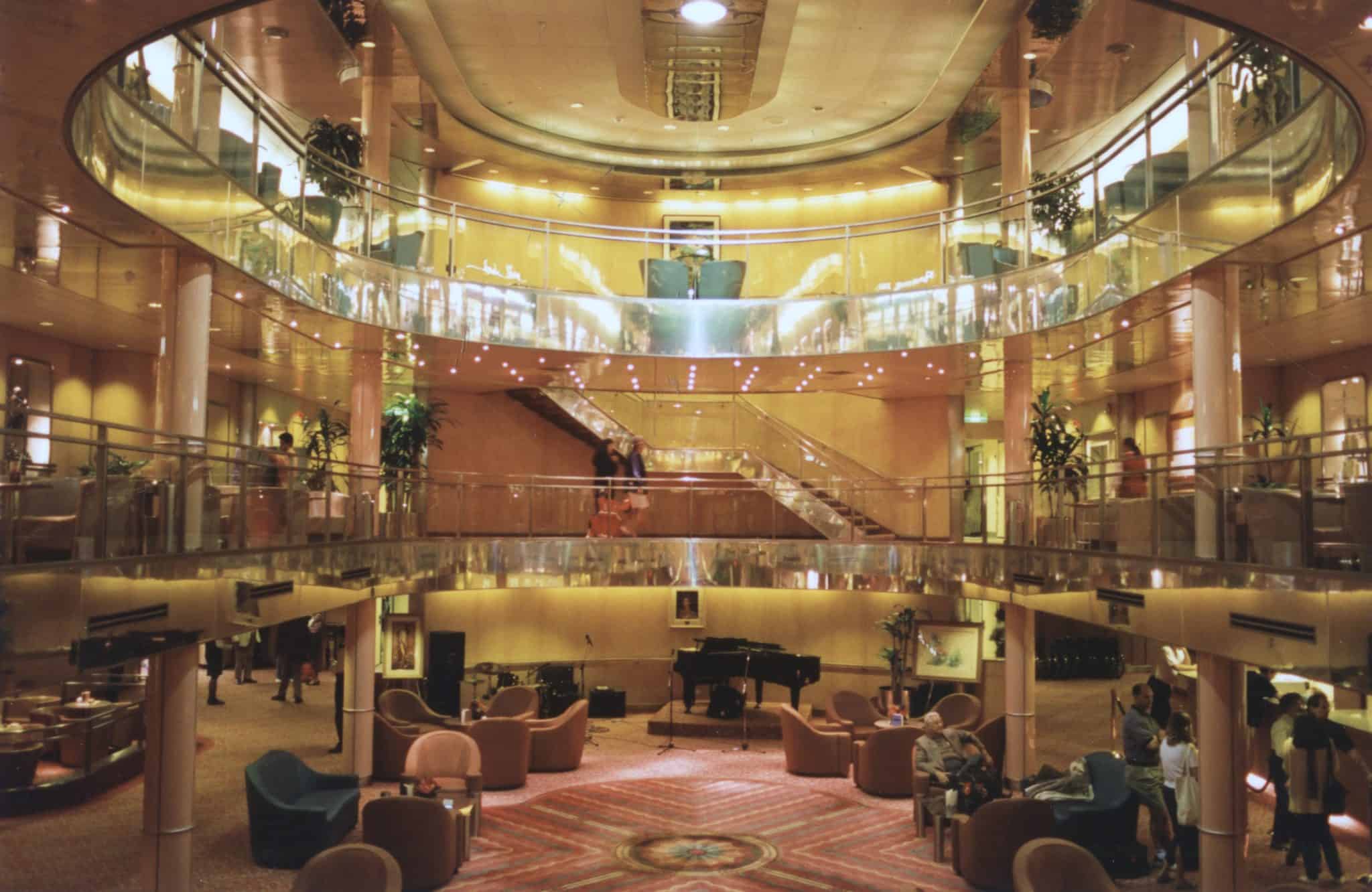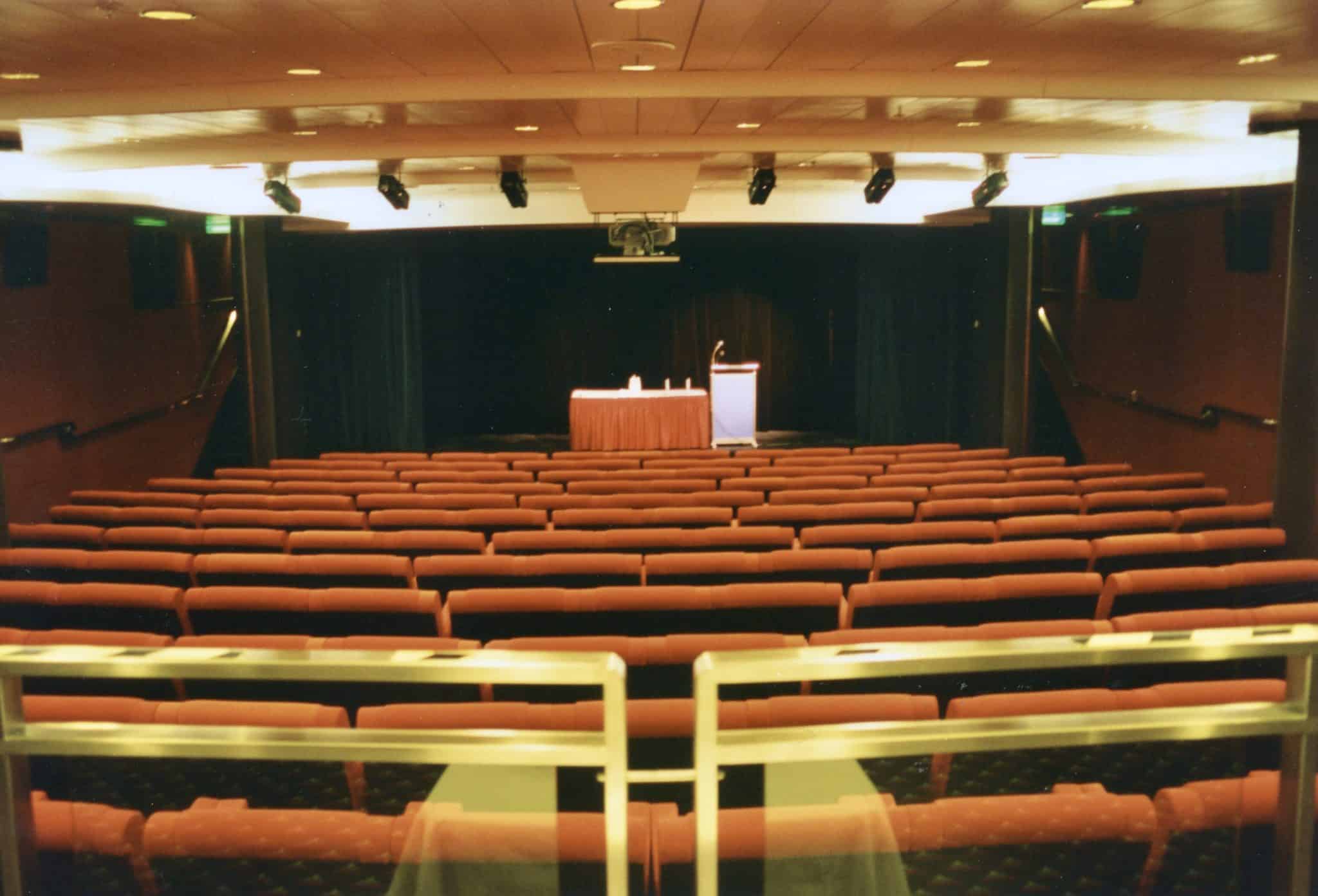 On Emerald Deck, there were more accommodations, the mid level of the Plaza, which was flanked with shops, and further aft, there was the Princess Theater, a 169-seat cinema and meeting room.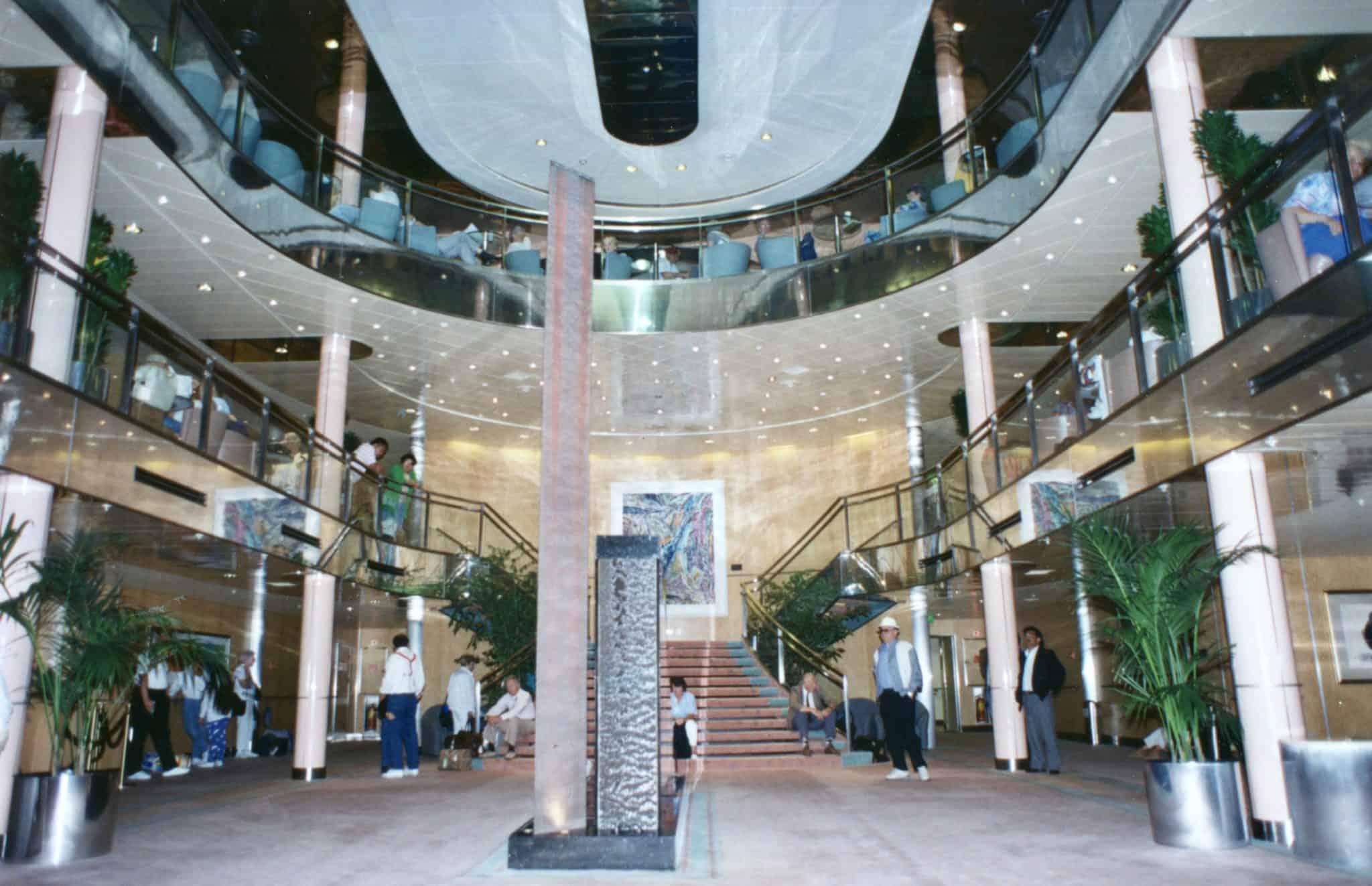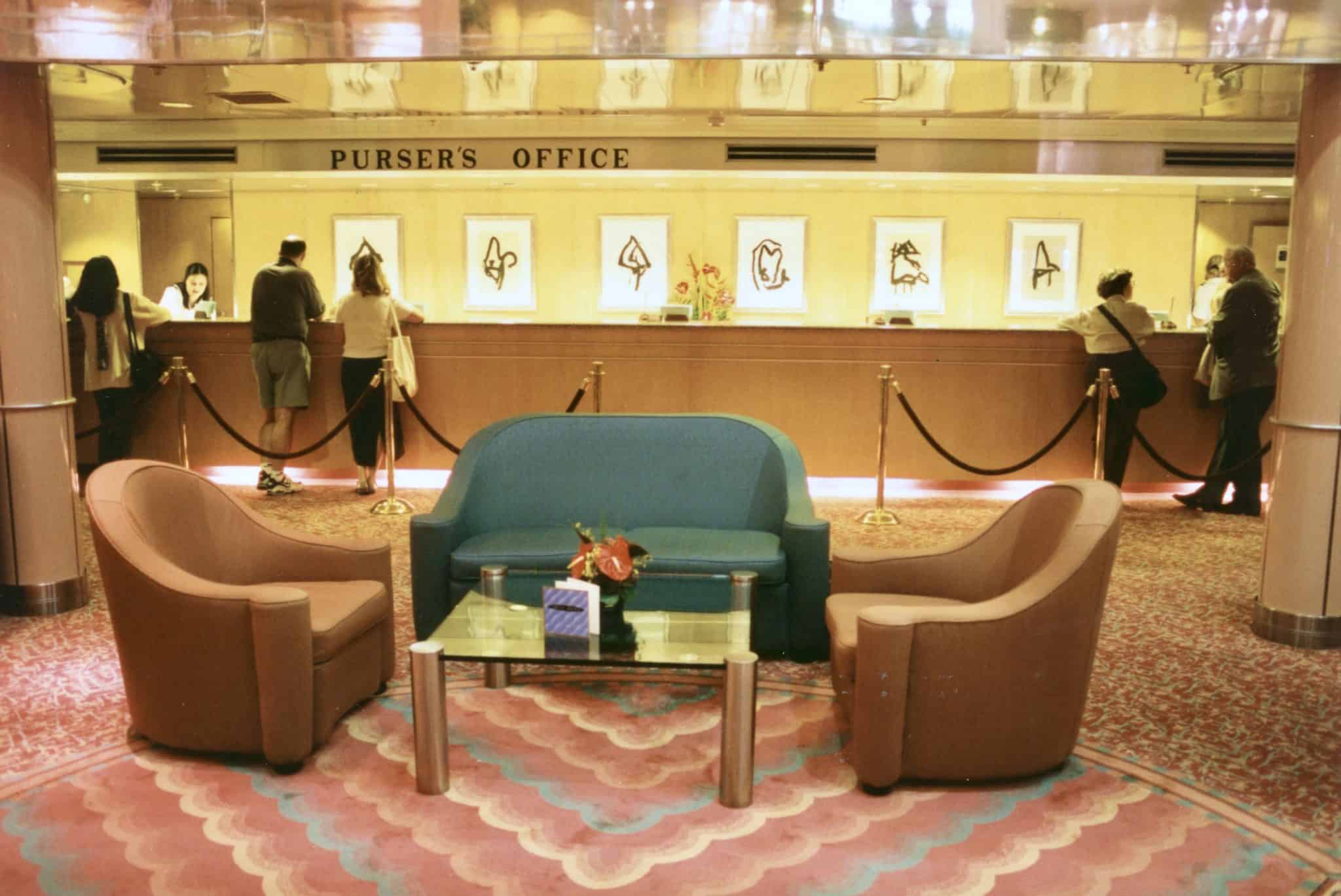 Plaza Deck was where most guests entered the ship — at the bottom of the Plaza itself, where a fountain sculpture, the Purser's Office, and La Patisserie snack specialty coffee bar beckoned between blocks of accommodations. The understated Plaza was a precursor to the more fussy, Italianate Piazzas that would be featured on future Princess ships.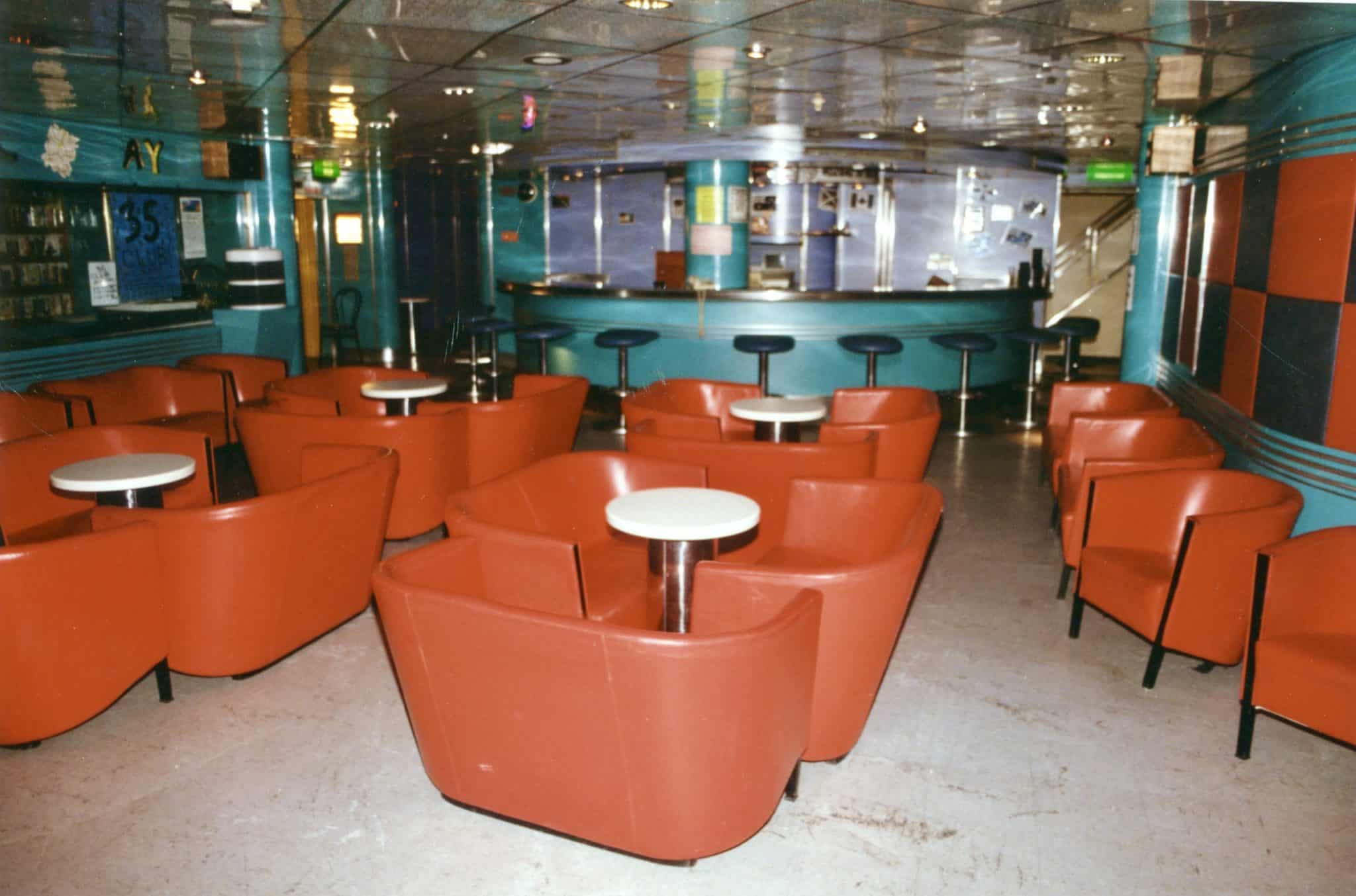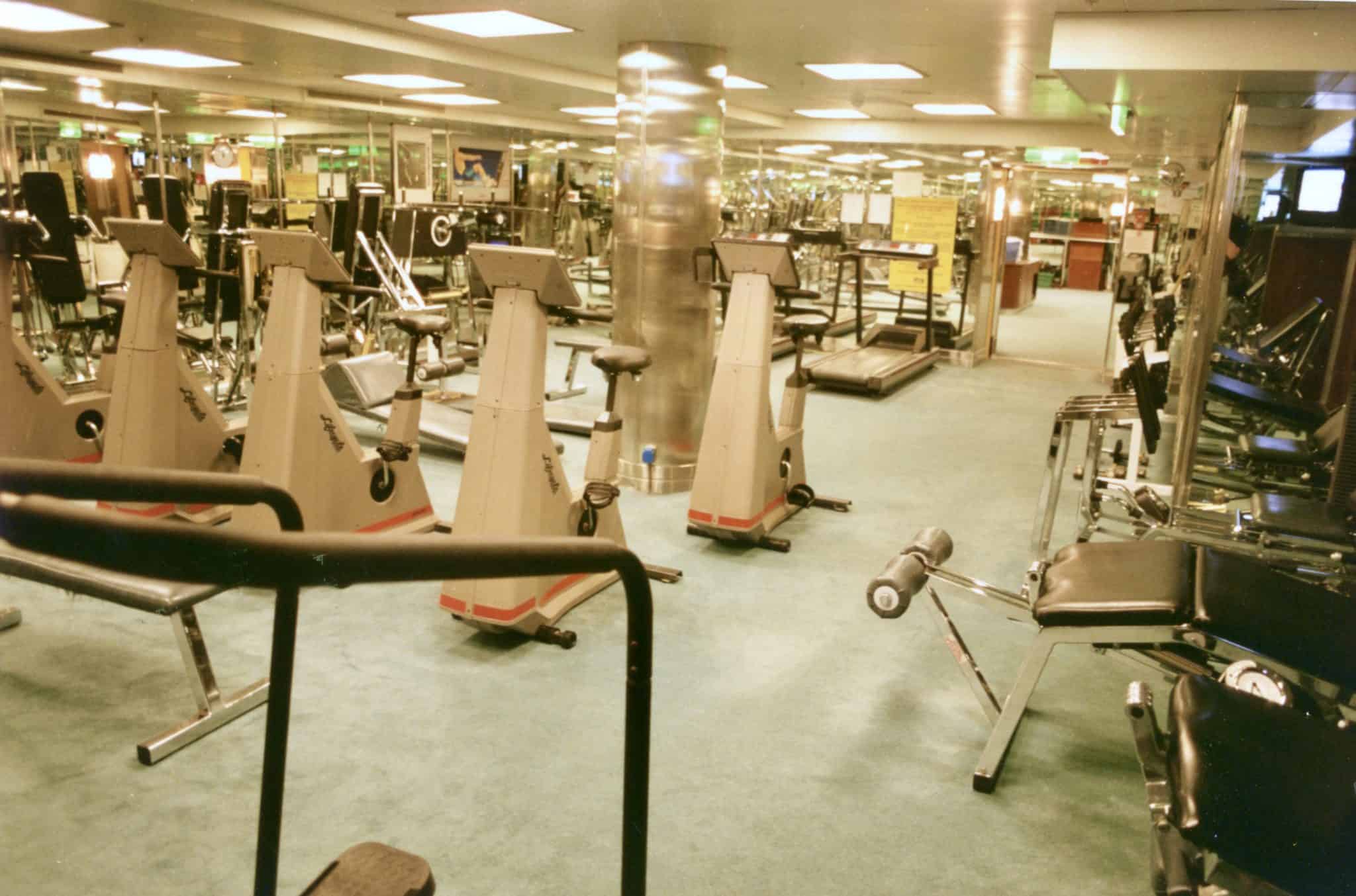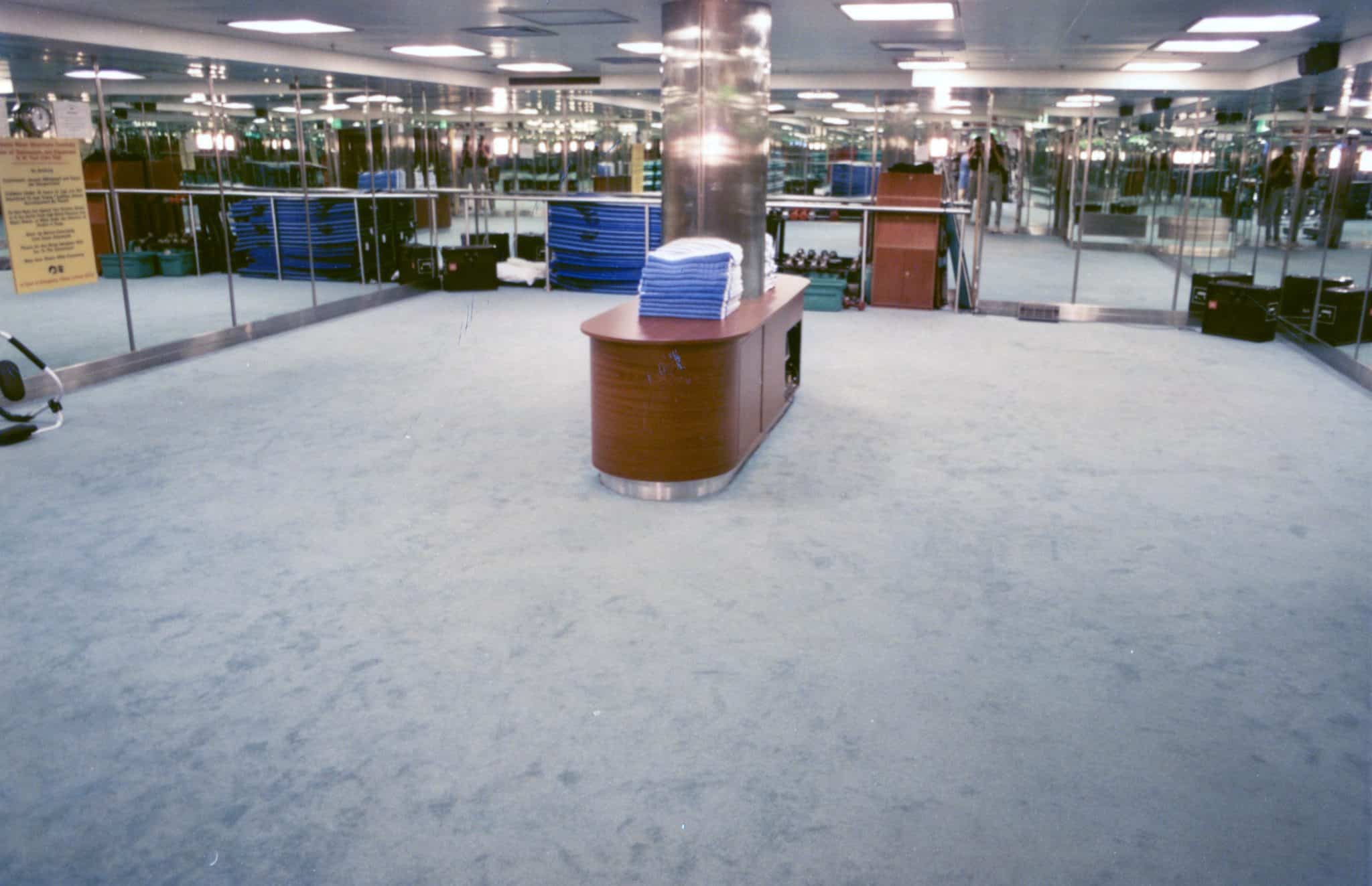 Fiesta Deck had some cabins on its port side, as well as the Medical Center. Down at the very bottom Holiday Deck level, there was a disco, gym, aerobics room, and small spa.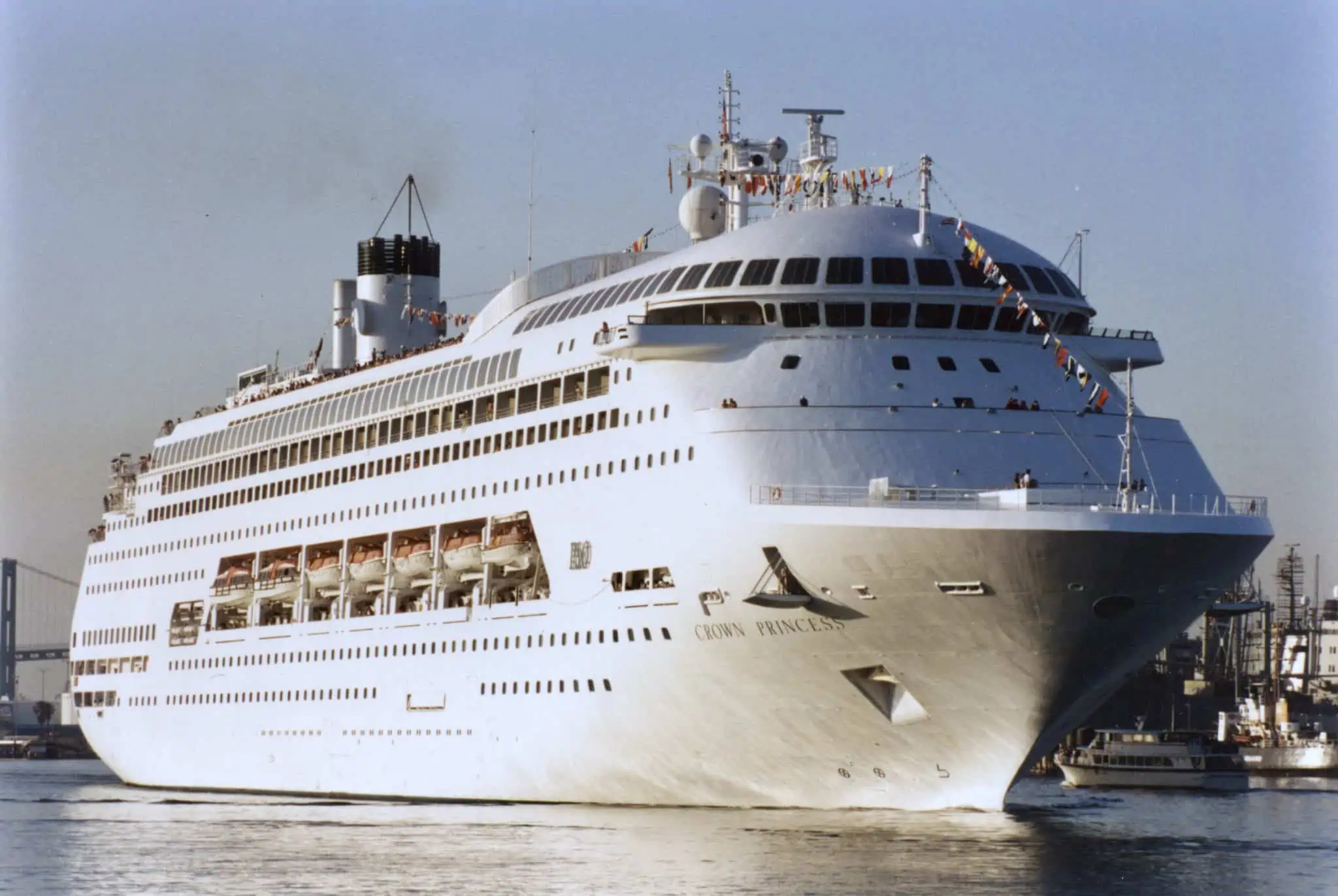 "Functionality should never be an excuse for ugly things." was the motto of the celebrated Italian marine architect Nicolo Costanzi, who was known for designing some of the most beautiful liners of the 20th Century.
With the Crown Princess, that maxim could have been modified to "Striking aesthetics should never be an excuse for a lack of functionality." This may have been exacerbated by enlisting an architect that was not necessarily schooled in maritime design.
History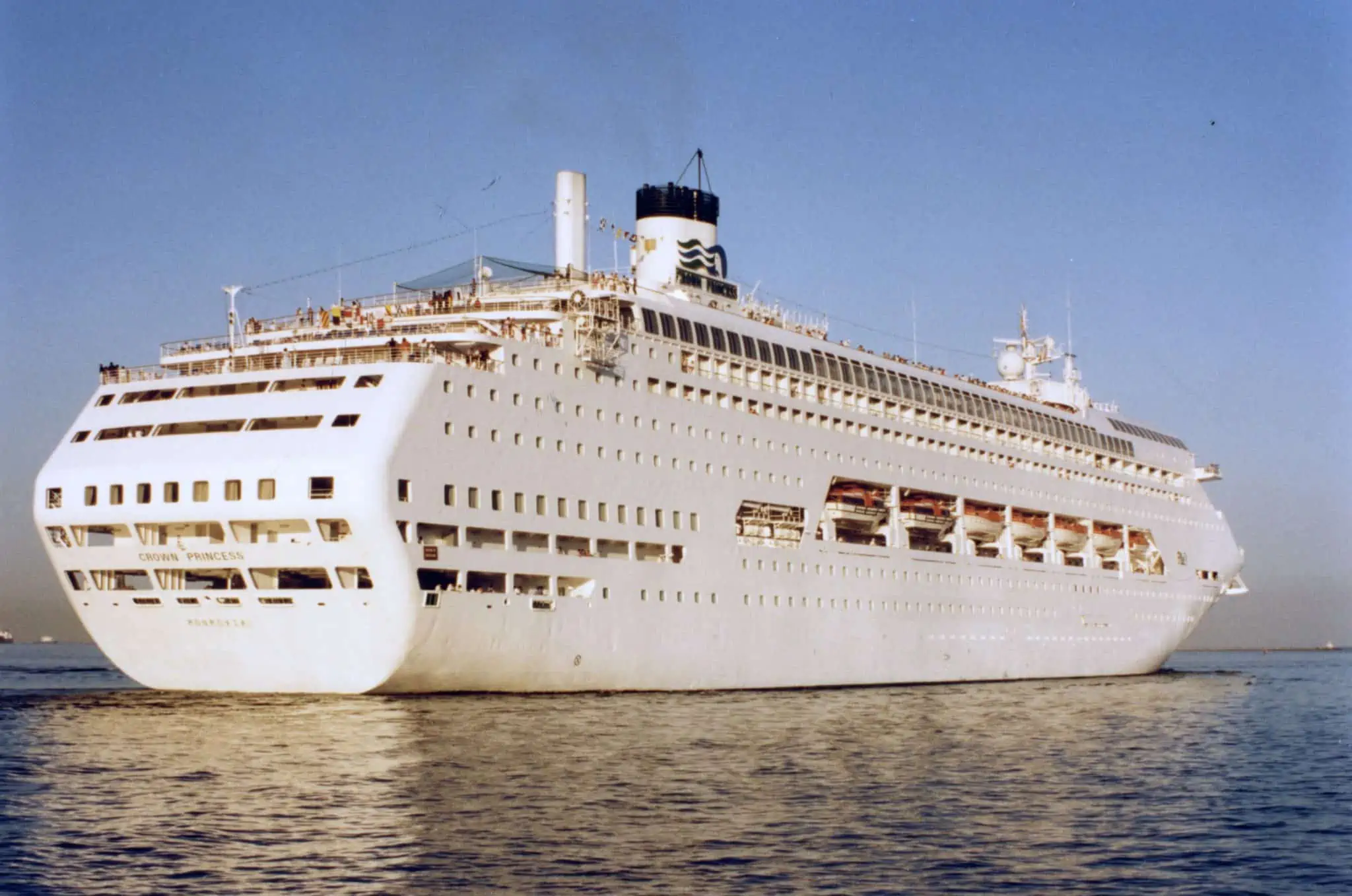 Within a few short years of the Crown Princess' debut, balconies had become a standard feature in the mainstream cruise market. The ship's relatively limited inventory of verandah staterooms, combined with her shortage of ample deck space and almost complete lack of forward observation worked against her.
With Princess' rapidly expanding fleet and the introduction of two new, larger platforms (Sun and Grand) of more technically advanced and profitable ships, the Crown Princess and her 1991-built sister Regal Princess found themselves quickly outmoded. The Crown lasted under the Princess banner for a mere 12 years before embarking on the first of several new incarnations.
In July 2001, Carnival-owned P&O Princess created A'Rosa Cruises, a new German-based brand that would utilize the Crown Princess as its first ship. The ship was sent to Bremerhaven for a make-over, emerging as their A'Rosa Blu in the summer of 2002. After a shaky debut, the startup line was reorganized as AIDA Cruises and the A'Rosa Blu's name was changed to AIDAblu.
In 2007, the AIDAblu was transferred to yet another Carnival subsidiary, the U.K.-based Ocean Village brand. After another refit, she was renamed Ocean Village Two but by October of that year, Carnival decided to shut the new operation down.
In 2009, the Ocean Village Two was sent to Singapore for another refit, emerging late that year as the P&O Cruises Australia vessel Pacific Jewel.
In 2018, P&O Cruises Australia announced the ship's replacement with the former Princess Cruises Star Princess (ii). In February of 2019, Pacific Jewel was sold to Zen Cruises, who renamed her Karnika for Mumbai-based Indian Ocean cruising under the Jalesh Cruises brand. Alas, this venture would be the latest of many such Indian-based operations to fail, with its demise accelerated by the COVID-19 cruise industry shutdown.
The ship was sold for scrap in November of 2019 and arrived at Alang late that month.
Fun Facts
When the ship was Pacific Jewel, she was featured in the Australian soap opera "Neighbours" in 2010.
Past Incidents: In October of 2019, as Karnika, the ship suffered mechanical issues, forcing the cancellation of three cruises.
Refurbishments: 1995, 2002, 2007, 2009, 2019
Sister Ships: The 1991-built Regal Princess was nearly identical to the Crown Princess. Ironically, after the failed attempt to bring the former Regal Princess to Panama to house tech workers as the Satoshi, that ship was sold for scrap and is now en route to join her former sister at Alang.
Final Days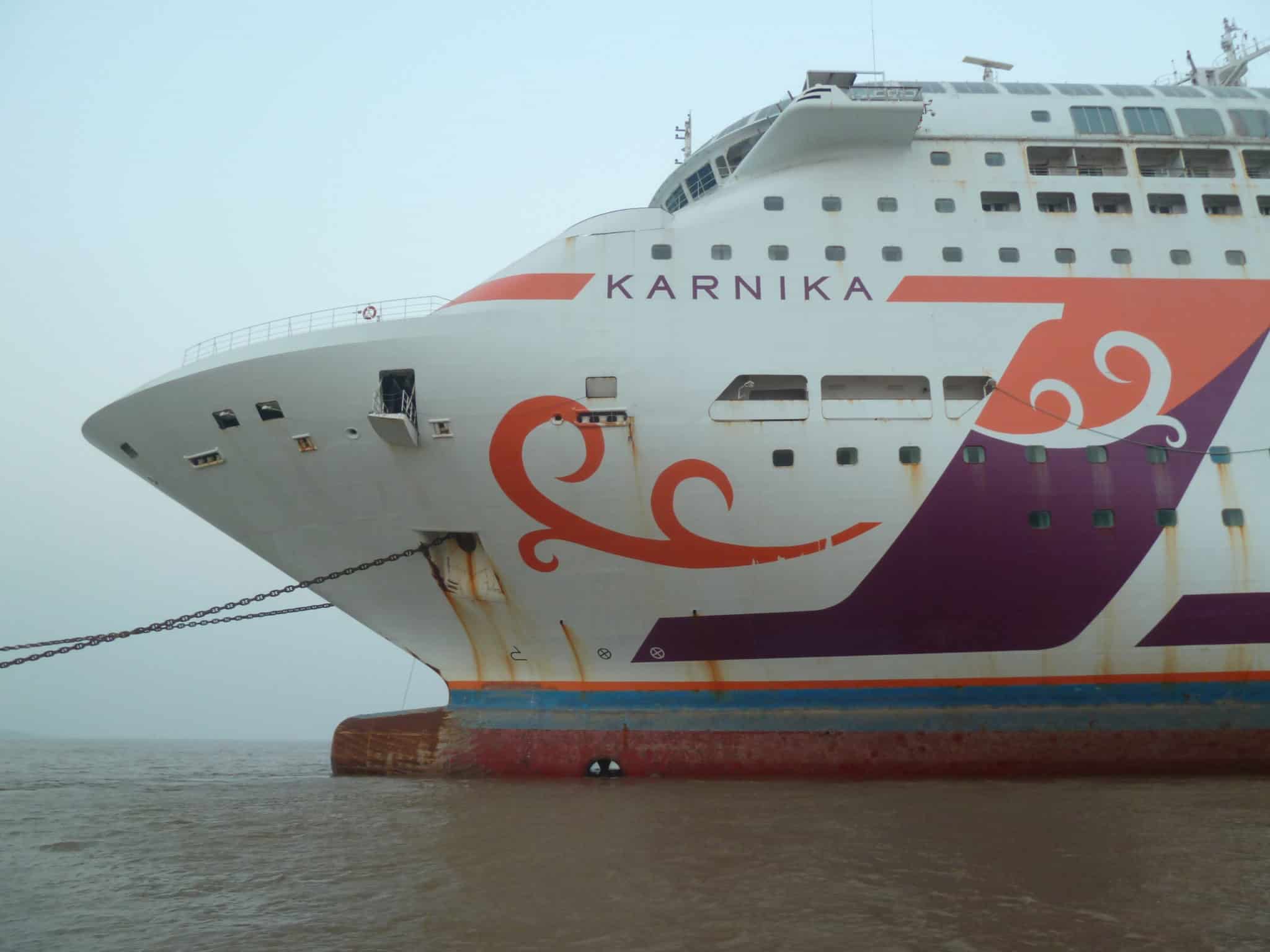 Like almost every cruise ship afloat, Karnika was forced into layup as the COVID-19 pandemic spread. She sat idle in Mumbai, and despite plans for a return to service in 2021, she was sold for scrap and sailed off to Alang, where she was beached in November of 2020.
Sadly, Karnika will be just one of many cruise ships consigned to the scrap heap in 2021.
Other ships in our Last Look series:
All photos by and copyright Peter Knego unless otherwise noted.
Pin it!