The pilot and all five passengers were killed when a sightseeing floatplane crashed in southeast Alaska on Thursday. The five passengers were all guests aboard Holland America Line's Nieuw Amsterdam.
"We can confirm that a float plane carrying five guests from Nieuw Amsterdam was involved in an accident in Ketchikan, and there are no survivors," Holland America Line said on Twitter.
"It was an independent tour not sold by Holland America Line. Our thoughts and prayers are with the family and friends of the victims."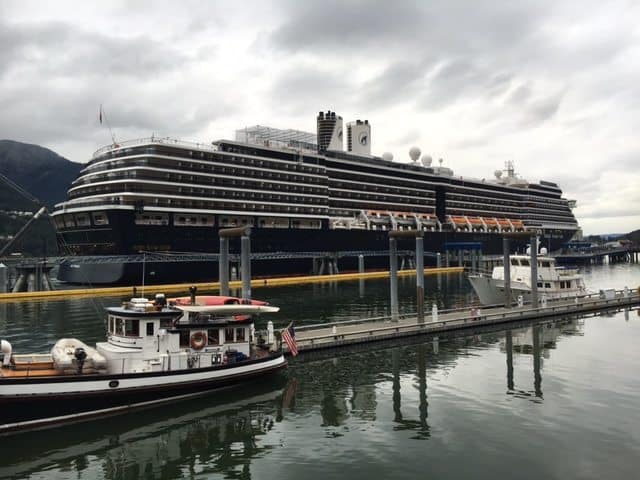 As CNN reports, Alaska State Troopers and the Coast Guard began a search when the floatplane went missing Thursday morning. An emergency radio beacon led first responders to the crash site, near Ketchikan in the vicinity of Misty Fjords National Monument, a popular attraction for flightseeing tours.
"An MH-60 Jayhawk helicopter crew from Coast Guard Air Station Sitka located the wreckage at 2:37 p.m. and lowered two rescue swimmers who reported no survivors," the Coast Guard said in a statement.
READ MORE: Holland America & Princess Cruises Update Testing, Face Mask Policies
Officials said the de Havilland Beaver floatplane was operated by sightseeing company Southeast Aviation. The Coast Guard said the plane was operating in mist and light rain at the time, with moderate winds and two-mile visibility.
The identities of those killed in the crash were not immediately released. 
Guests aboard Nieuw Amsterdam expressed their sorrow through social media. "I am on this sailing too," wrote a Twitter user named Belle. "The Captain handled the announcements very well. It's tragic and I'm so sad about the loss."
On Facebook, Maile Nero Reynon wrote the following: "My husband and I are currently on this cruise and our hearts are heavy. We don't know the people who lost their lives today but it felt like we left/lost part of our family behind in Ketchikan… May their families and friends be blessed with love, strength and peace during this difficult time."
Hundreds of other cruise fans left comments of condolence on social media sites. On the Holland America Line Fans Facebook group, Miriam Criens wrote: 
"Condolences for the families and friends of the cruisers that died during their excursion on the 5th of August. Also, lots of strength for the other cruisers and crew on board the Nieuw Amsterdam."
The tragic incident occurred during just the second Holland America Line Alaska cruise following the pandemic shutdown.