If there's one cuisine that makes sense on a cruise ship, it's seafood. You're literally floating on top of the source of dishes like lobster tail, roasted branzino, clam chowder, mussels, seafood linguini, oysters, crab cakes, fish and chips, and pan-seared halibut.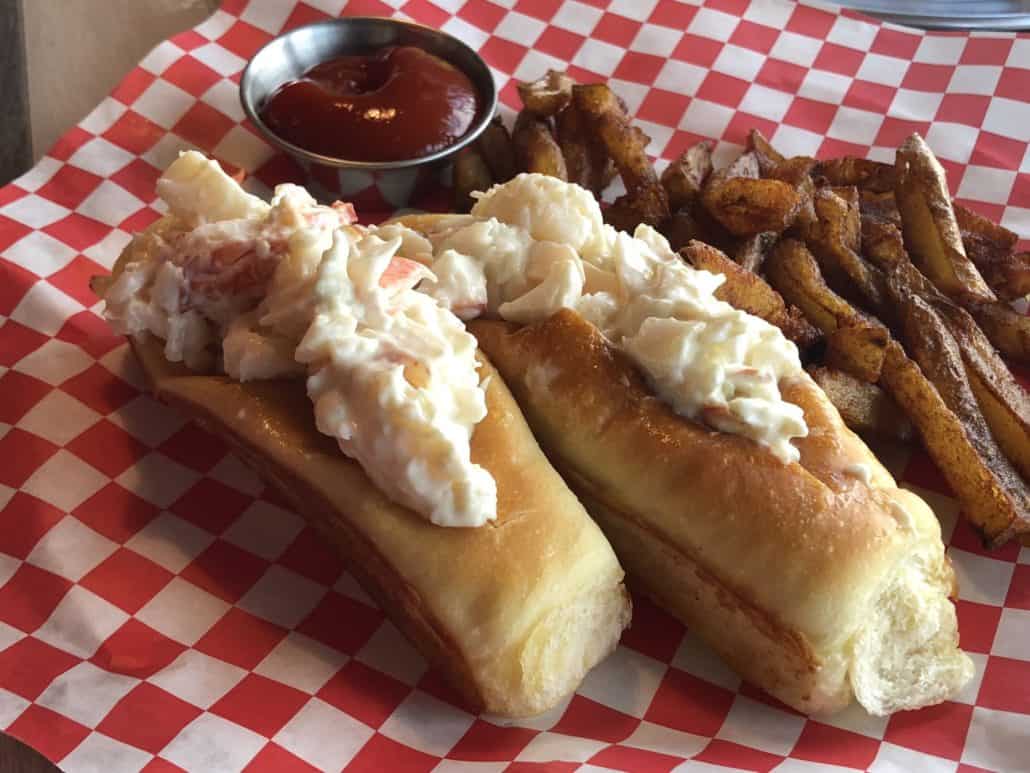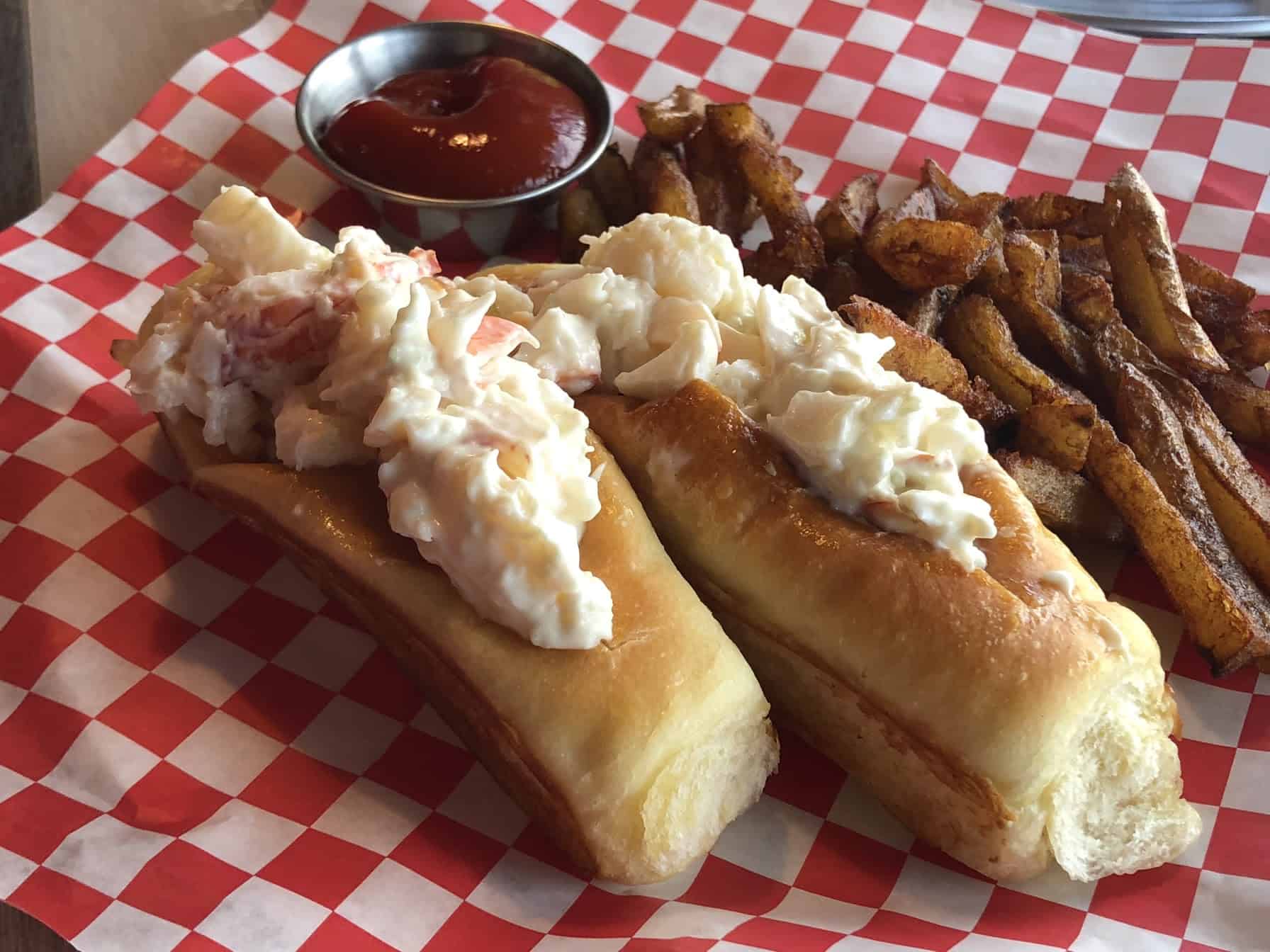 Here, we've put together a rundown of eight popular seafood cruise restaurants — ranging from counter-service spots to elegant sit-down venues.
1. Hooked Seafood – Royal Caribbean International
Ships: Navigator, Symphony, and Wonder of the Seas
Hooked Seafood first debuted on Symphony of the Seas in 2018, and was added to Navigator during her massive 2019 renovation. It was also included aboard Royal Caribbean's newest ship, Wonder of the Seas.
Hooked Seafood has a New England coastal, modern, casual vibe, serving traditional seafood dishes mixed with more casual options such as the Messy Fish Sandwich (which I personally love and recommend). Other menu items include the Whole Maine Lobster, Royal Seafood Platter, Surf & Turf, Drunken Mussels, Alaskan Salmon, and a Maine Lobster Roll.
Sides and desserts are comprised of things like coleslaw, corn on the cob, lobster mac & cheese, cherry pie, a chocolate brownie, and a lemon tart.
Dinner costs $43 per person, and lunch is significantly cheaper. If you want to try the food but save even more money, keep an eye out for the Happy Hour specials.
Each day of the cruise will have a different special you can order at the bar in Hooked from 5 to 7 pm. Some examples: the Messy Fish Sandwich and a pint of beer, a crab cake and an oyster shooter, or a lobster roll and pint of beer — all for $10 each. (Pricing may vary.)
See the dinner menu for Hooked.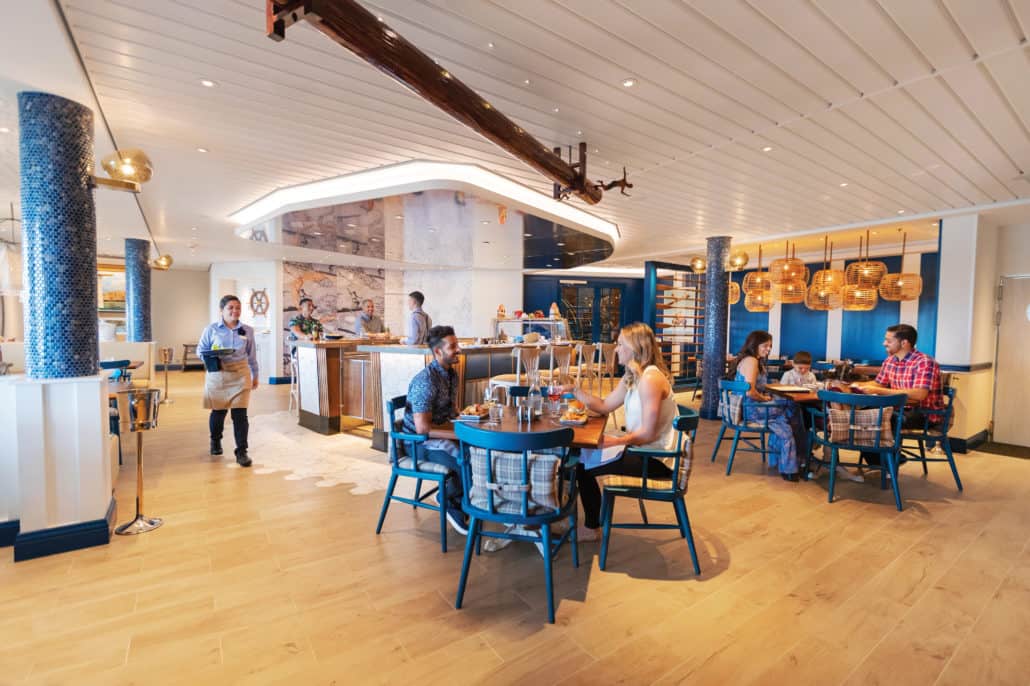 2. Rudi's Sel de Mer – Holland America Line
Ships: Koningsdam, Nieuw Statendam, and Rotterdam
Chef Rudi Sodamin is Holland America's longtime Master Chef Consultant, and is considered the "culinary authority of the oceans of the world." It only makes sense, then, that he created a namesake specialty restaurant on some of the line's newest cruise ships.
Rudi's Sel de Mer is an upscale, intimate seafood brasserie that serves classic French dishes with a contemporary twist. Menu items include whole Dover sole meunière with shaved pink Himalayan sea salt, oysters on the half shell, the Grilled Seafood Platter, Maine lobster tail, and salt-crust baked branzino (European bass), as well as favorites such as steak frites, duck cassoulet, and coq au vin.
On ships that do not have a dedicated venue for Sel de Mer, some menu items from the restaurant can be found on select evenings in the Pinnacle Grill steakhouse.
Rudi's Sel de Mer is open for dinner, and costs $40 per person if reserved ahead of the cruise or $49 per person if booked once on board. Kids cost half if ordering from the regular menu, but may eat off the kids' menu for free.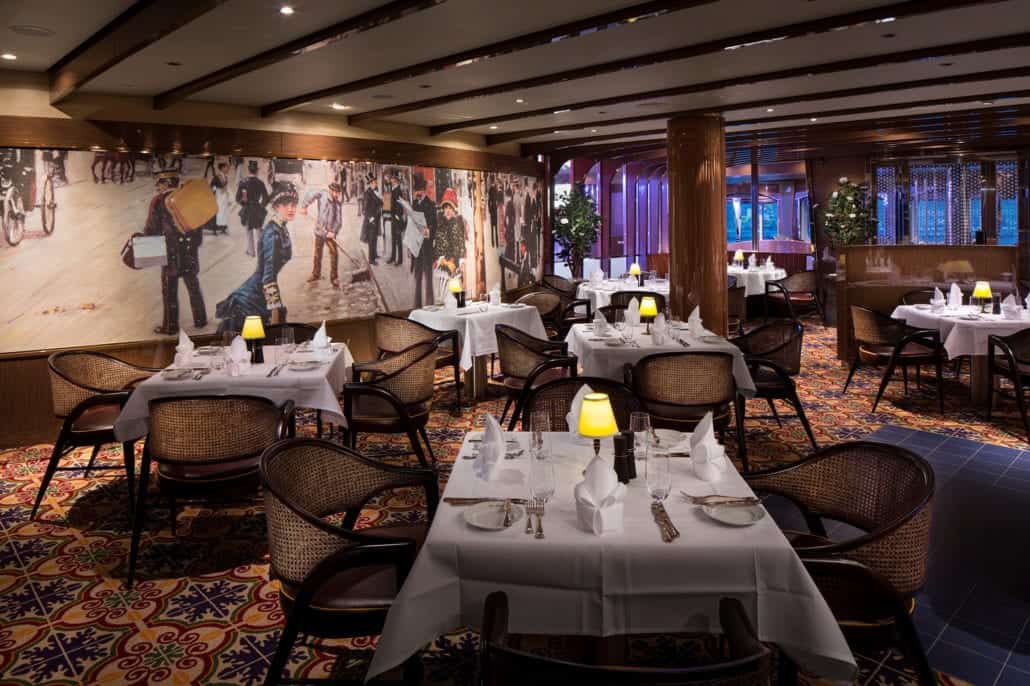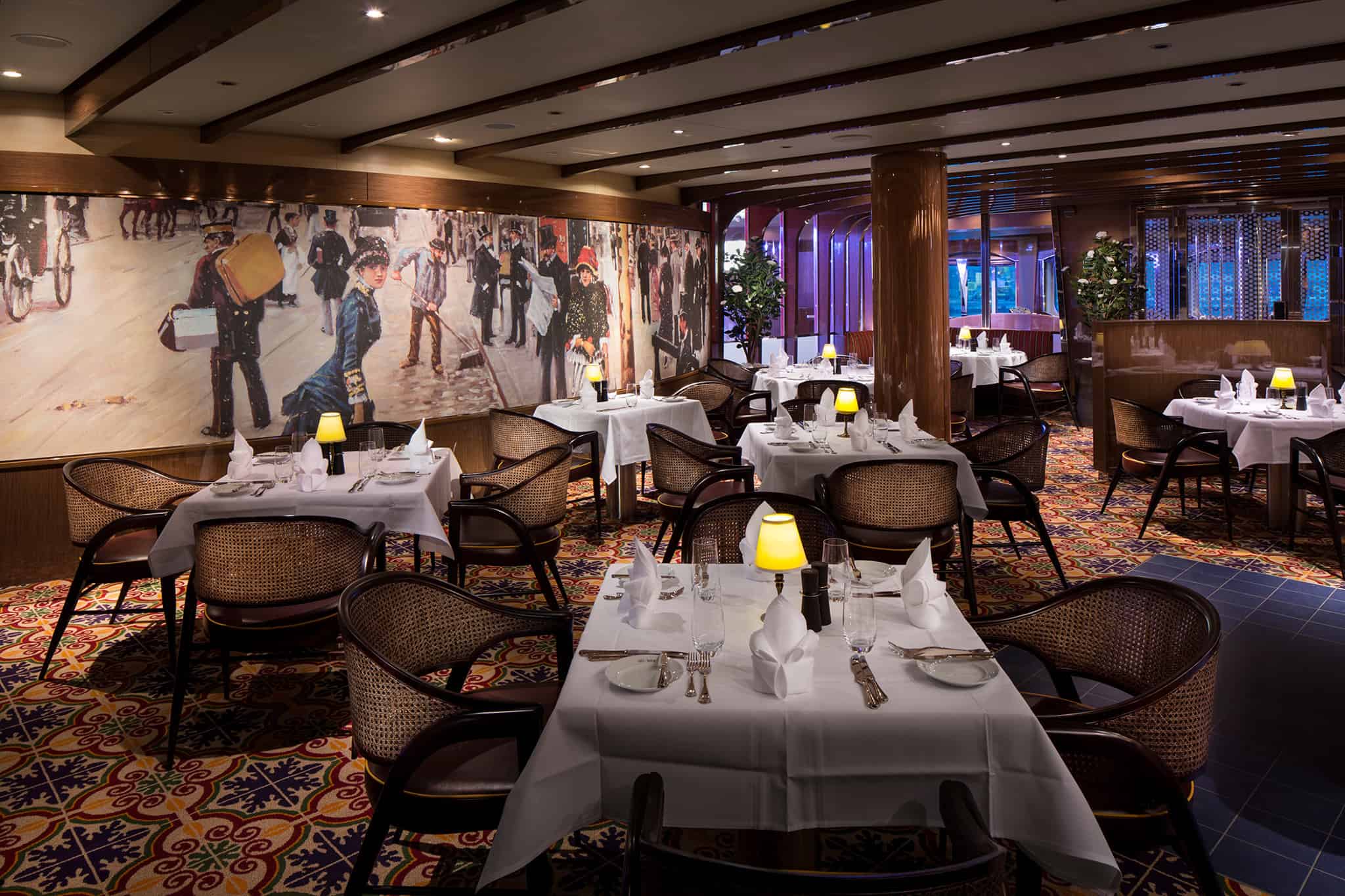 3. Seafood Shack – Carnival Cruise Line
Ships: Carnival Breeze, Conquest, Dream, Freedom, Glory, Horizon, Liberty, Magic, Panorama, Radiance, Sunrise, Valor, Vista, Splendor, Celebration, Jubilee, and Mardi Gras
Seafood Shack is basically what it sounds like, except the "shack" is just a counter-service venue carved into the ship. The open-air, New England-inspired venue serves a la carte seafood options throughout the day such as a lobster roll ($12), New England clam chowder in a bread bowl ($4), fish and chips ($6), and crab cake sliders ($8).
Guests can order buckets of fried buffalo shrimp, clam strips, or a combo of both. There's also seafood by the pound available at market price, including steamed lobster and snow crab.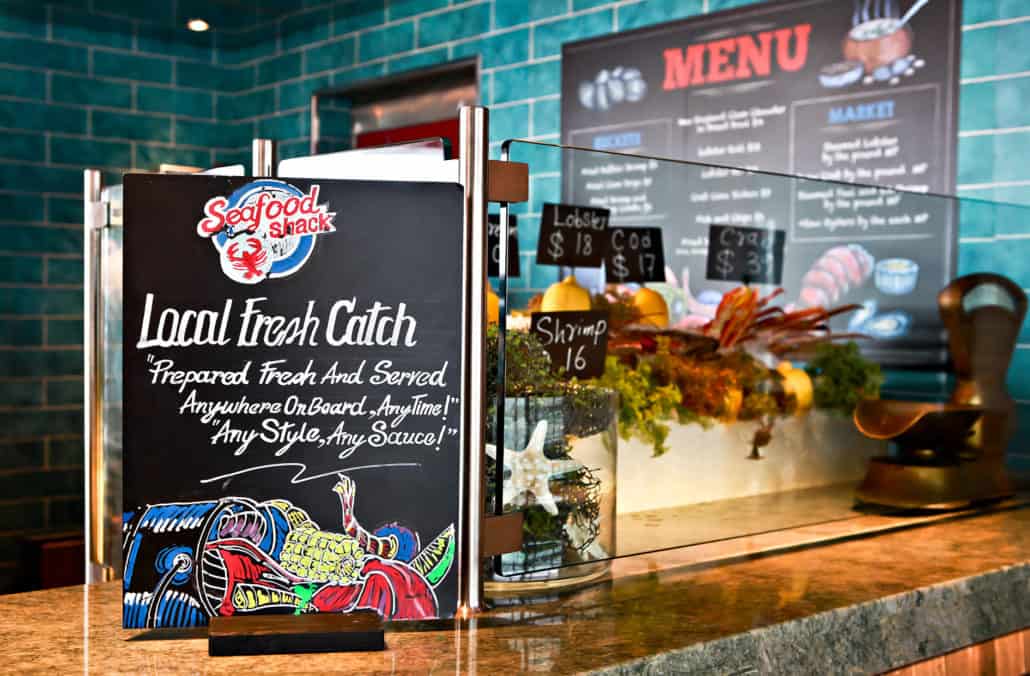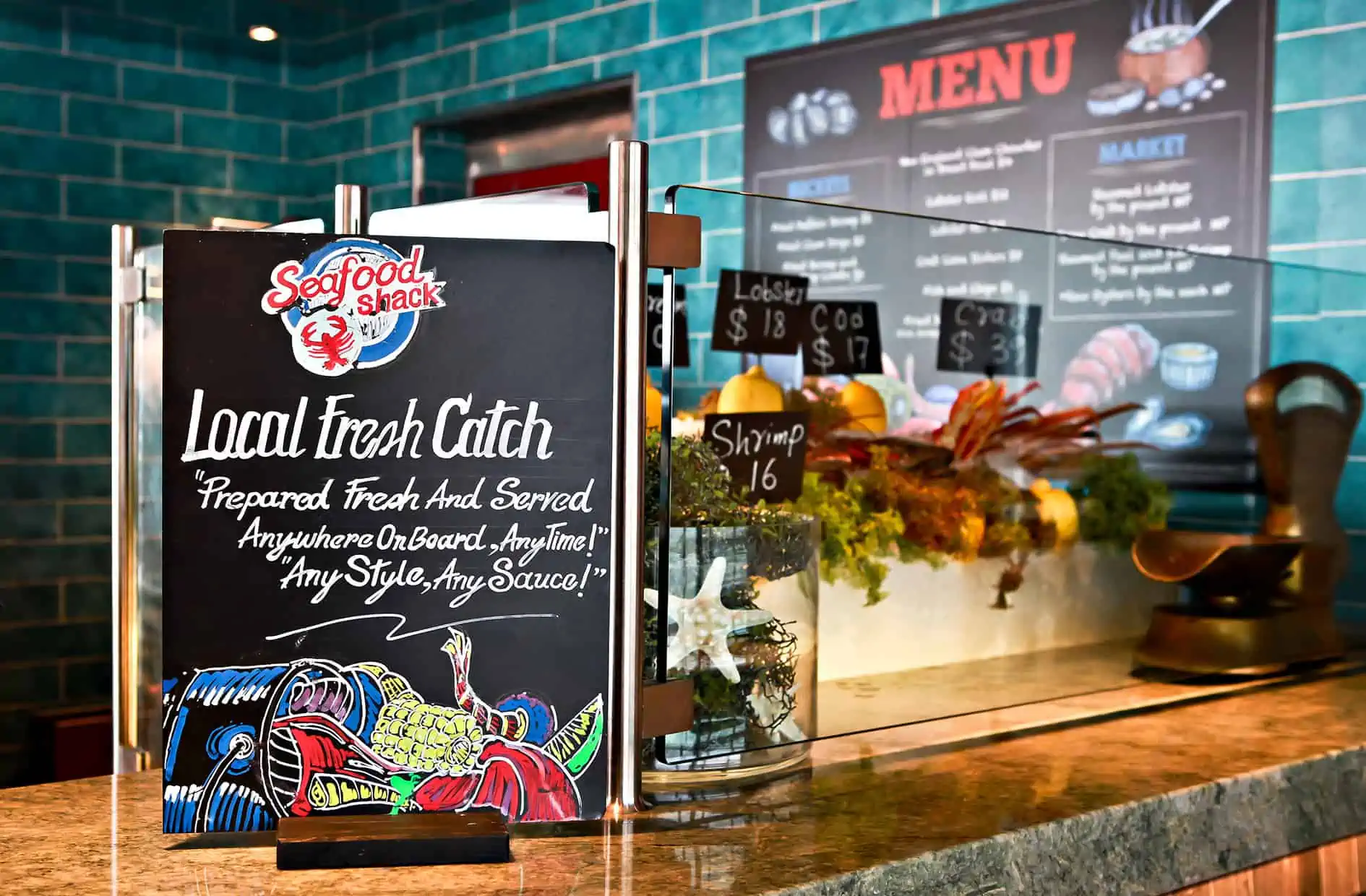 4. Ocean Blue – Norwegian Cruise Line
Ships: Norwegian Bliss, Breakaway, Encore, Getaway, and Joy. A version of Ocean Blue, called Bayamo by Ocean Blue, is available on Norwegian Escape.
Ocean Blue is Norwegian Cruise Line's sophisticated seafood restaurant, which offers indoor and outdoor seating. The venue is open for dinner and has a la carte pricing, with dishes including cold water lobster, mussels bianco, Hong Kong style snapper, seafood linguini, and surf and turf. Those who don't like seafood can choose from entrées like filet mignon, chicken breast cordon bleu, and NY strip steak. Wine and champagne lists complement the offerings.
At lunchtime on sea days, Ocean Blue offers casual a la carte options on the outdoor Waterfront promenade, such as lobster rolls, crispy calamari, and crab tostadas.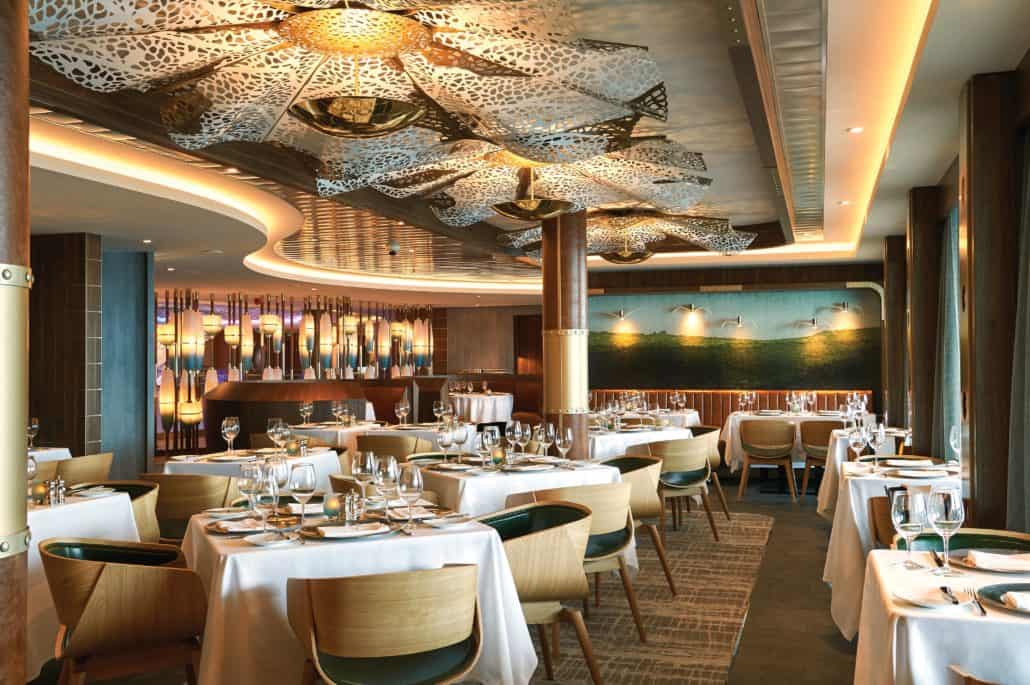 5. Fish & Ships – Royal Caribbean International
Ships: Independence and Ovation of the Seas
Fish & Ships is essentially Royal Caribbean's answer to Carnival's Seafood Shack. You'll find that the a la carte pricing is similar, and several items can be found on both menus.
Fish & Ships, though, doubles as a seafood counter-service venue and a bar, serving cocktails and beers alongside the food. It's on the main pool deck amongst all the action, and is perfect for grabbing a quick bite between dips in the water. Menu items include fish & chips for $7, a lobster roll for $10, fried shrimp for $5, and fried calamari for $5. Those who don't like seafood can try the battered sausage with chips ($4) or the Chip Butty ($3), which is apparently a sandwich comprised of bread and fries.
For dessert there's only one option, and it's a fun throwback to childhood days at the county fair: a deep-fried candy bar.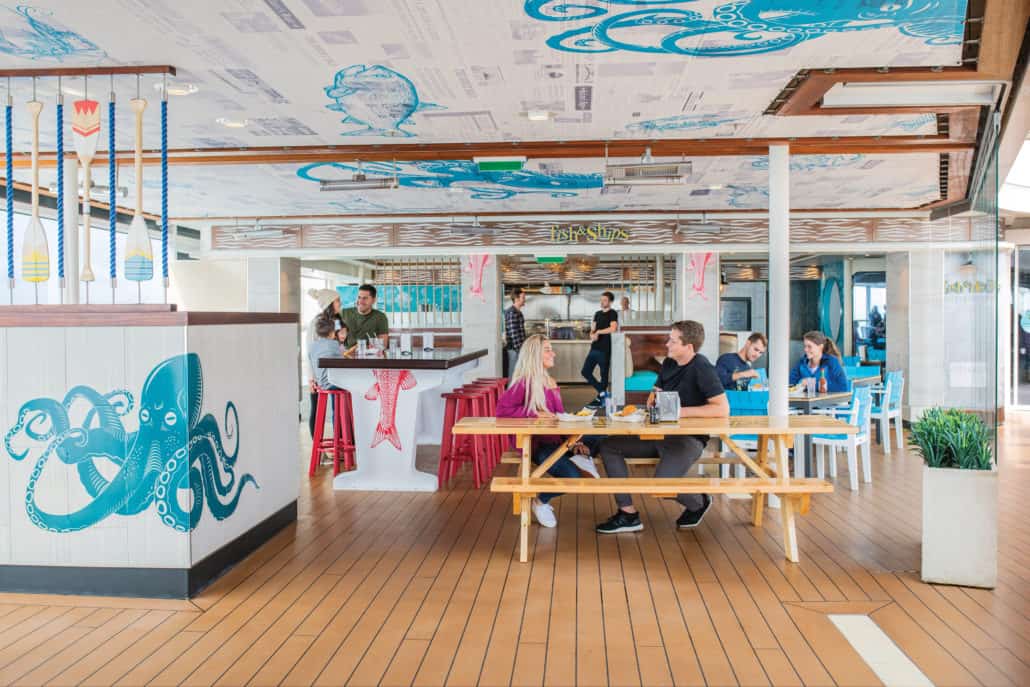 6. Ocean Cay – MSC Cruises
Ships: MSC Seaside, Seaview, Seashore, Seascape, and Meraviglia
Ocean Cay, which is also the name of MSC's private Bahamian island, is an intimate 32-seat seafood restaurant found on MSC's Seaside class ships as well as MSC Meraviglia.
The venue serves Mediterranean-style fish and seafood dishes made with fresh ingredients. Appetizers include things like Boston lobster, oysters, caviar, smoked salmon, lump crab cake, and king crab. Entrées include tuna, lobster tail, black cod, and sea bass. An extensive wine list is also available to complement the various seafood options.
Guests can pay a cover charge for a "dining experience" at Ocean Cay which includes an appetizer, entrée, and dessert, or they can pay for menu items individually like they would at a normal restaurant.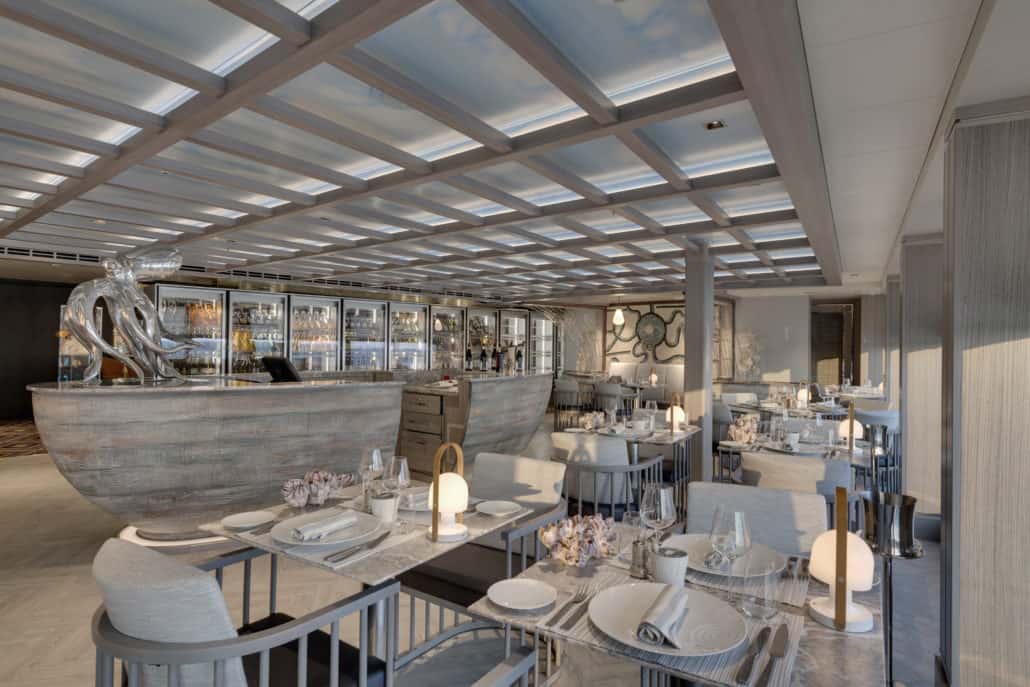 7. Rudi's Seagrill – Carnival Cruise Line
Ships: Mardi Gras, Carnival Celebration, and Carnival Jubilee
Rudi's Seagrill is a new specialty restaurant debuting on Mardi Gras last year. As with Sel de Mer mentioned above, you may have noticed that this restaurant also bears Chef Rudi Sodamin's name. Indeed, Holland America shared its Master Chef Consultant and seafood expert with sister line Carnival for another specialty restaurant at sea.
The space is light-filled, modern, and fun, featuring accents and furniture that are various oceanic shades of blue. Plates include Chef Rudi's "food face" artwork, and the restaurant uses fun fish-shaped "gurgle pots" that make funny gurgling sounds when poured. Some dishes are even arranged when served as Sodamin's famous food faces.
Menu items include crab stuffed lobster tail, roasted halibut, blue mussels, seafood bisque, crab cake, and lobster mac n' cheese. Non-seafood eaters will enjoy free range chicken, New York strip steak, and Berkshire pork chops. The restaurant also offers a cocktail menu and an extensive wine list.
Rudi's Seagrill is open for dinner, with a charge of $42 per adult and $13 per child.
See the menu for Rudi's Seagrill.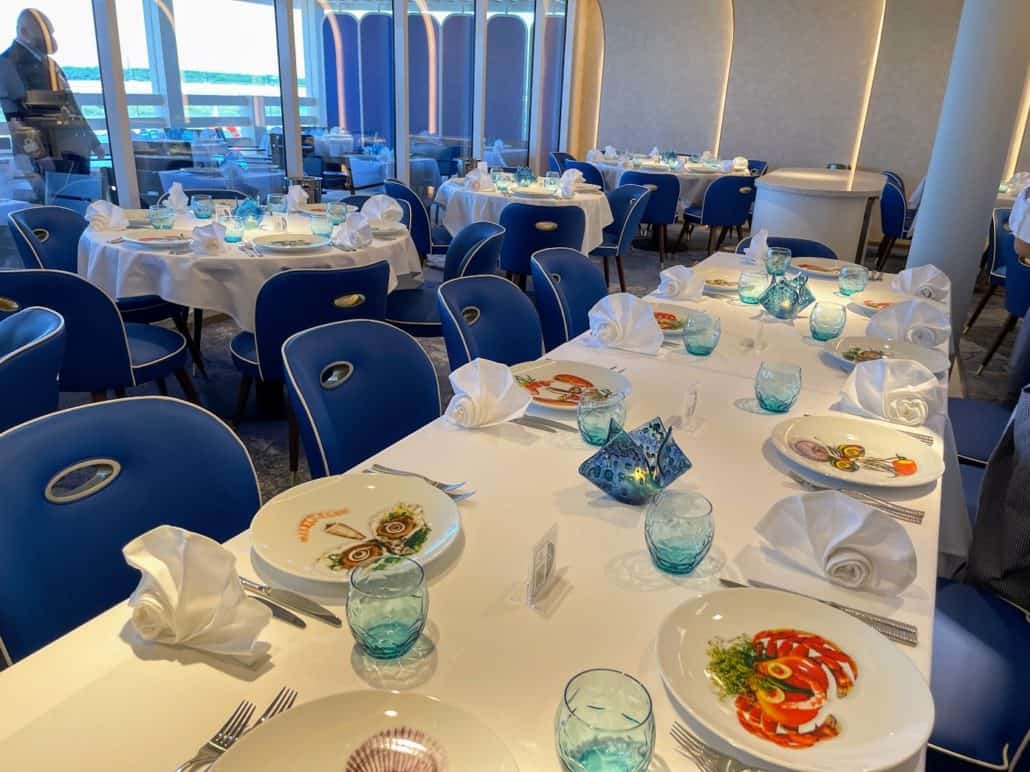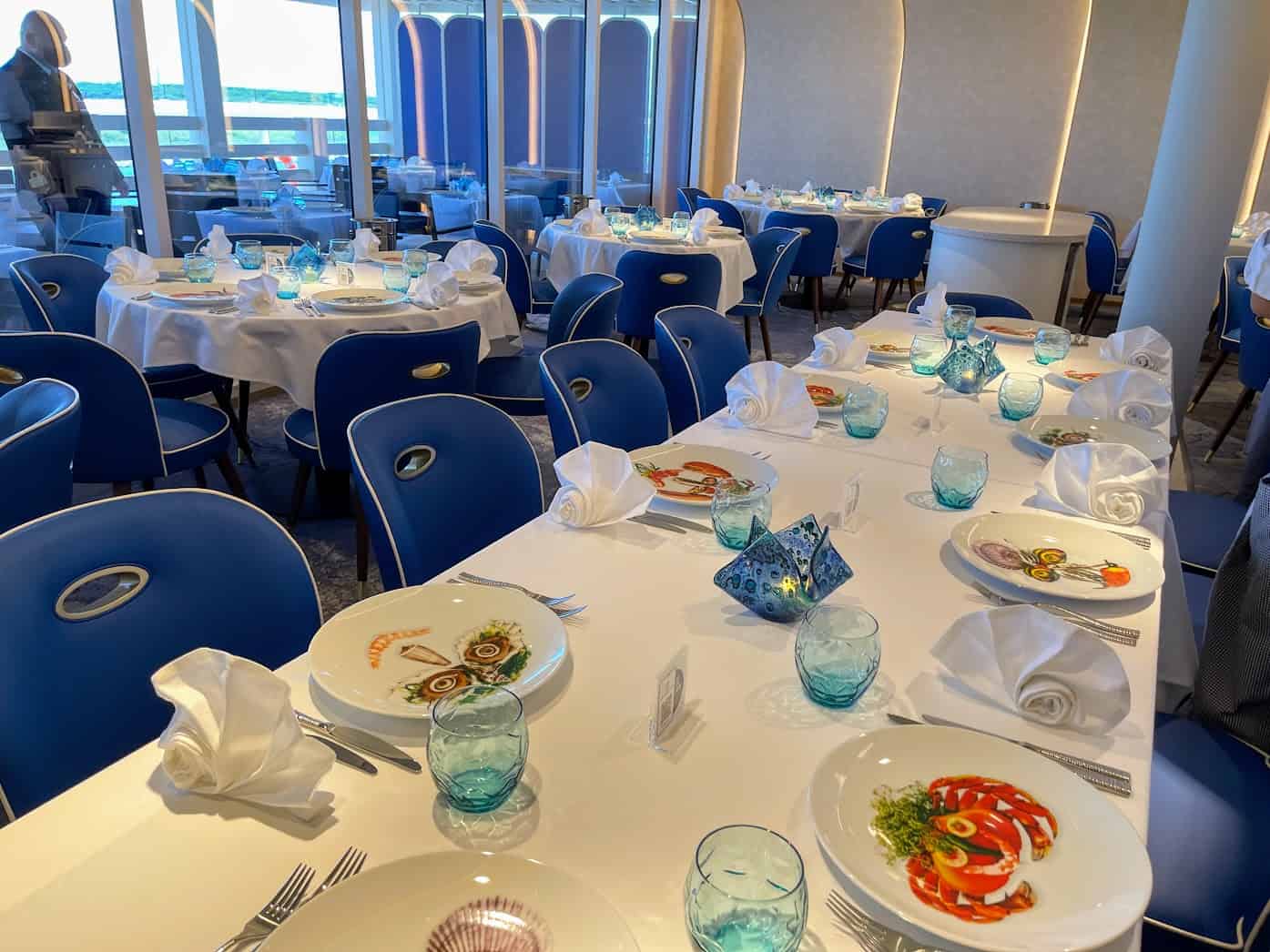 8. Steamers Seafood – Princess Cruises
Ships: Caribbean and Emerald Princess
I'm including Steamers last on the list because it isn't a standalone restaurant, it's a pop-up specialty dining experience in a section of the World Fresh Marketplace buffet area. Steamers Seafood is available every other night of the cruise, alternating with a specialty barbecue concept called Planks BBQ. Both have a cover charge of $12 per person.
Reservations are required, but cannot be made ahead of the cruise. If you want to guarantee a spot for either one of these dining experiences, book as soon as you can on boarding day.
The menu for Steamers is simple, with — of course — steamed seafood combos as the star of the show. Guests can choose the Black & Blue Mussels Steamer or the Classic Clams Steamer with one of three sauces. Each comes with red potatoes, corn on the cob, green beans, and seasoned fries. Those who don't want one of the steamed specialties can opt for the Princess Fried Seafood Platter, which is served with carrot & raisin salad and seasoned fries. Guests can add lobster tail and crab to any of the three options for an additional $10.
Appetizers are chopped caesar salad and clam & smoked ham chowder, and dessert offerings are strawberry shortcake and key lime pie in a jar. For an additional charge, Steamers also features specialty cocktails, beer, and wine.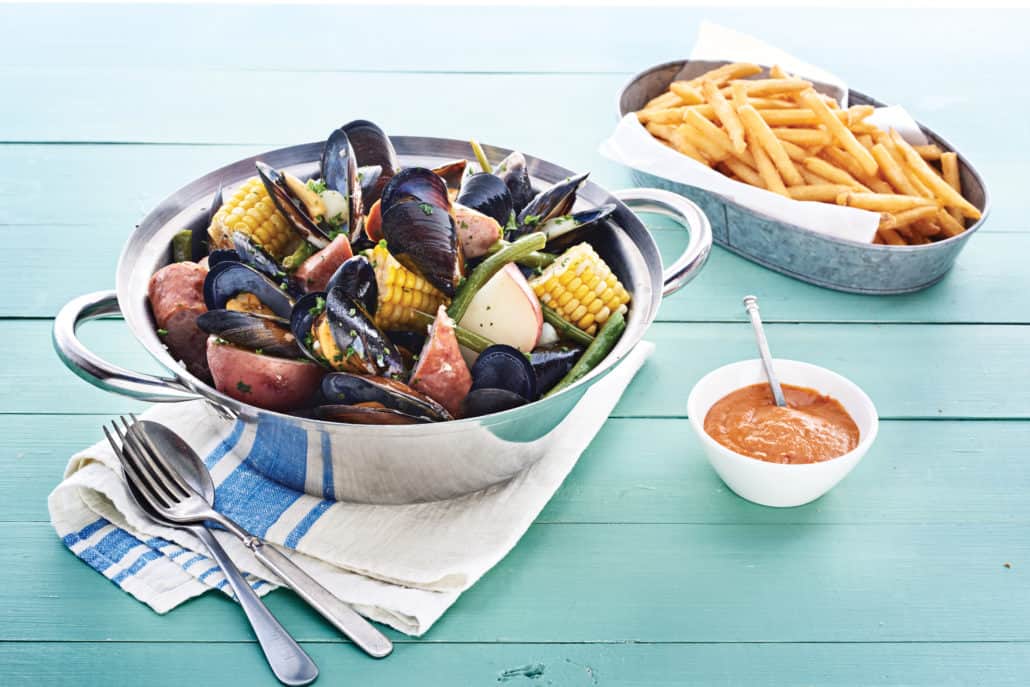 Out of the eight venues listed, which one of the seafood cruise restaurants is your favorite? Let us know.
READ NEXT: Mardi Gras Dining Guide: Which Restaurants Are Complimentary?
Pin it!