If you're like us, you love the thought of getting in a workout on a cruise, but hate the thought of missing out on the refreshing ocean breeze — or other fun around the ship — while you do it.
With that in mind, we've gathered six unique ways you can get moving on different cruise ships that will ensure your workout is part of the fun and not a bore, and some will even get you some fresh air at the same time.
1. SkyFitness — Carnival Cruise Line

Though most modern cruise ship gyms have floor-to-ceiling windows, they still just don't compare to actually being outside. Luckily, Carnival has solved that problem by bringing exercise equipment out onto the upper top deck.
A handful of the line's ships feature SkyFitness, which is an open-air workout area that's part of the SportSquare. It includes things like punching bags, stationary bikes, elliptical and rowing machines, a weight training area, and a Vita exercise course.
Each ship's specific equipment varies. And if you still want to head to the regular indoor fitness center, don't worry — each of the ships that have SkyFitness also has a regular gym with cardio equipment such as treadmills, as well as muscle-building equipment like free weights.
Ships: Vista-class and Excel-class vessels, plus Carnival Breeze, Magic, and Sunshine
2. "Surfing" — Royal Caribbean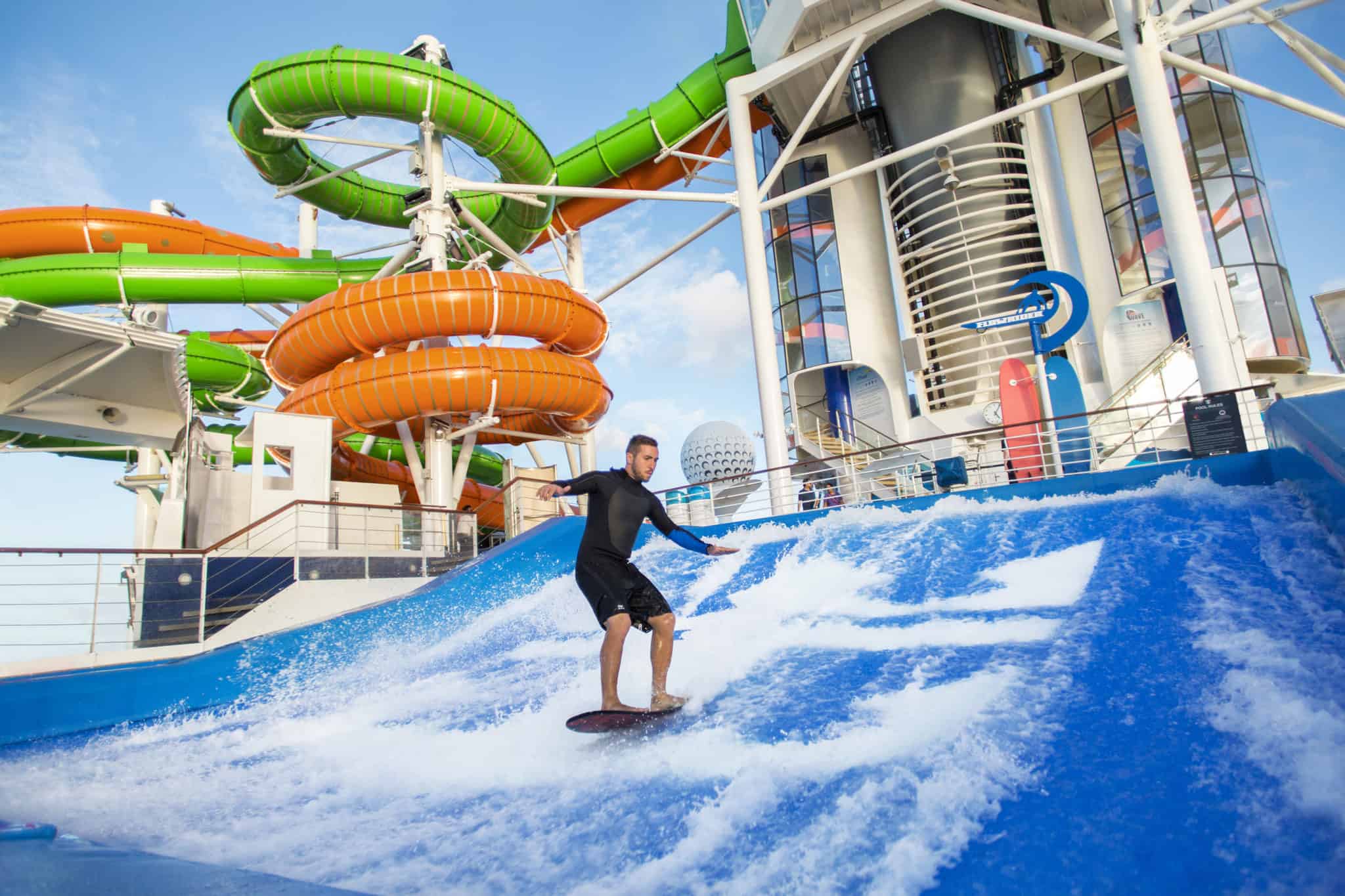 FlowRider surfing simulators have been around since the early 1990s, but gained more mainstream popularity — especially among cruisers — when Royal Caribbean debuted its first FlowRider on Freedom of the Seas in 2006.
Since then, the cruise line has added these fun surfing machines to 17 additional ships — with its massive Oasis-class vessels featuring two FlowRiders each.
Like with real surfing, there is a learning curve and nobody is an expert when they try catching some waves on a FlowRider for the first time.
But whether you're a pro or not, taking advantage of the FlowRider is a great way to do something fun and unique during your Royal Caribbean cruise and get some full-body exercise in at the same time. 
Ships: Voyager-class, Freedom-class, Quantum/Quantum Ultra-class, and Oasis-class vessels
3. F45 Classes — Celebrity Cruises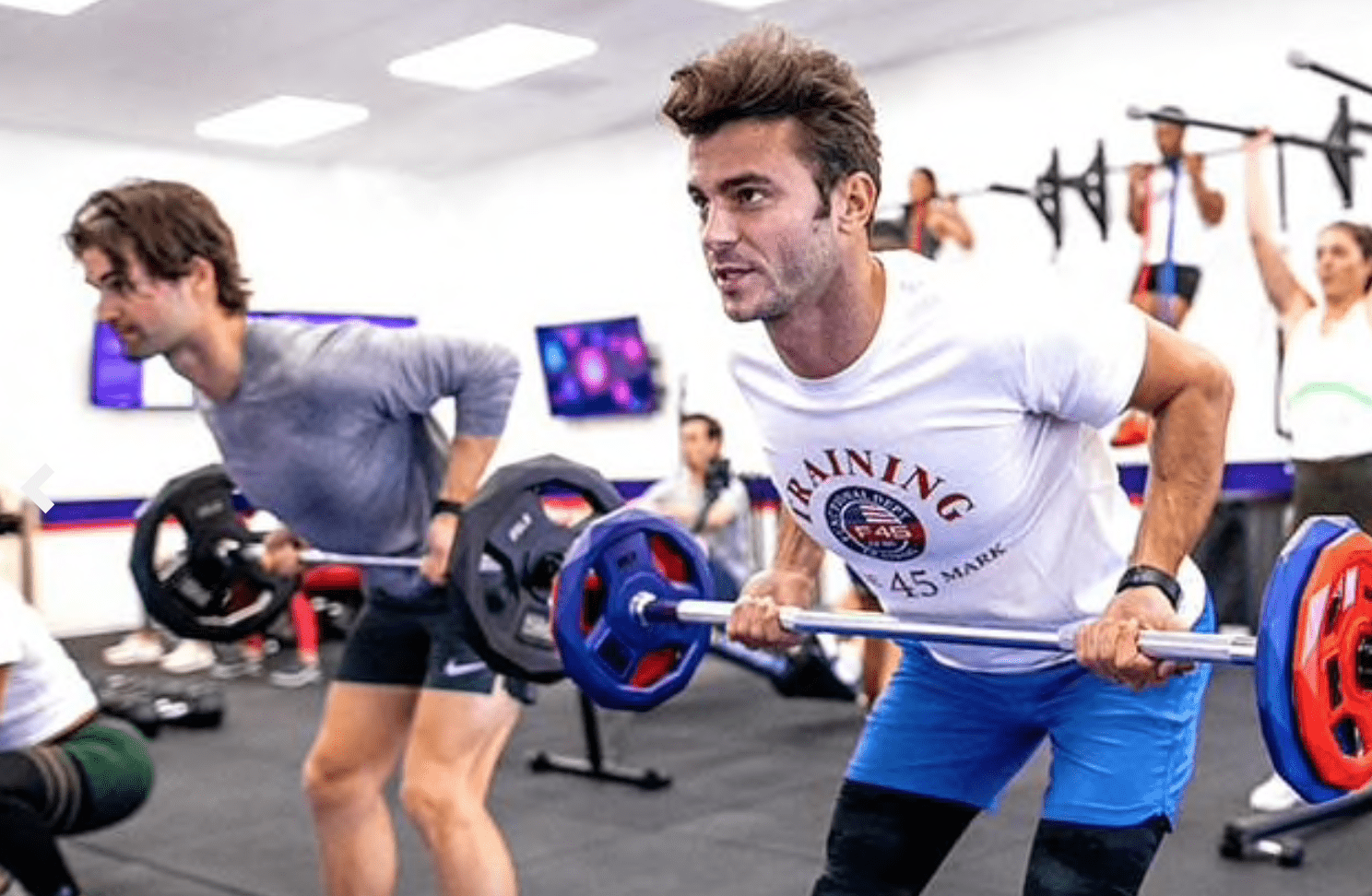 Celebrity Cruises' newest ships feature group workouts from a fast-growing fitness network called F45. The F45 website says that it is "specifically designed to provide a functional full-body workout while improving energy levels, metabolic rate, strength, and endurance."
Exercise classes are high-intensity, and Celebrity guests can choose training sessions for everything from cardio to resistance and recovery.
Examples of classes include surf-inspired cardio workout Athletica; a strength session called Romans; a hybrid, super-circuit workout and an F45 original called Hollywood; and a stretching session, Mondrian 30, to improve mobility and flexibility.
Ships: Celebrity Apex and Beyond
4. The Athletic Club — Virgin Voyages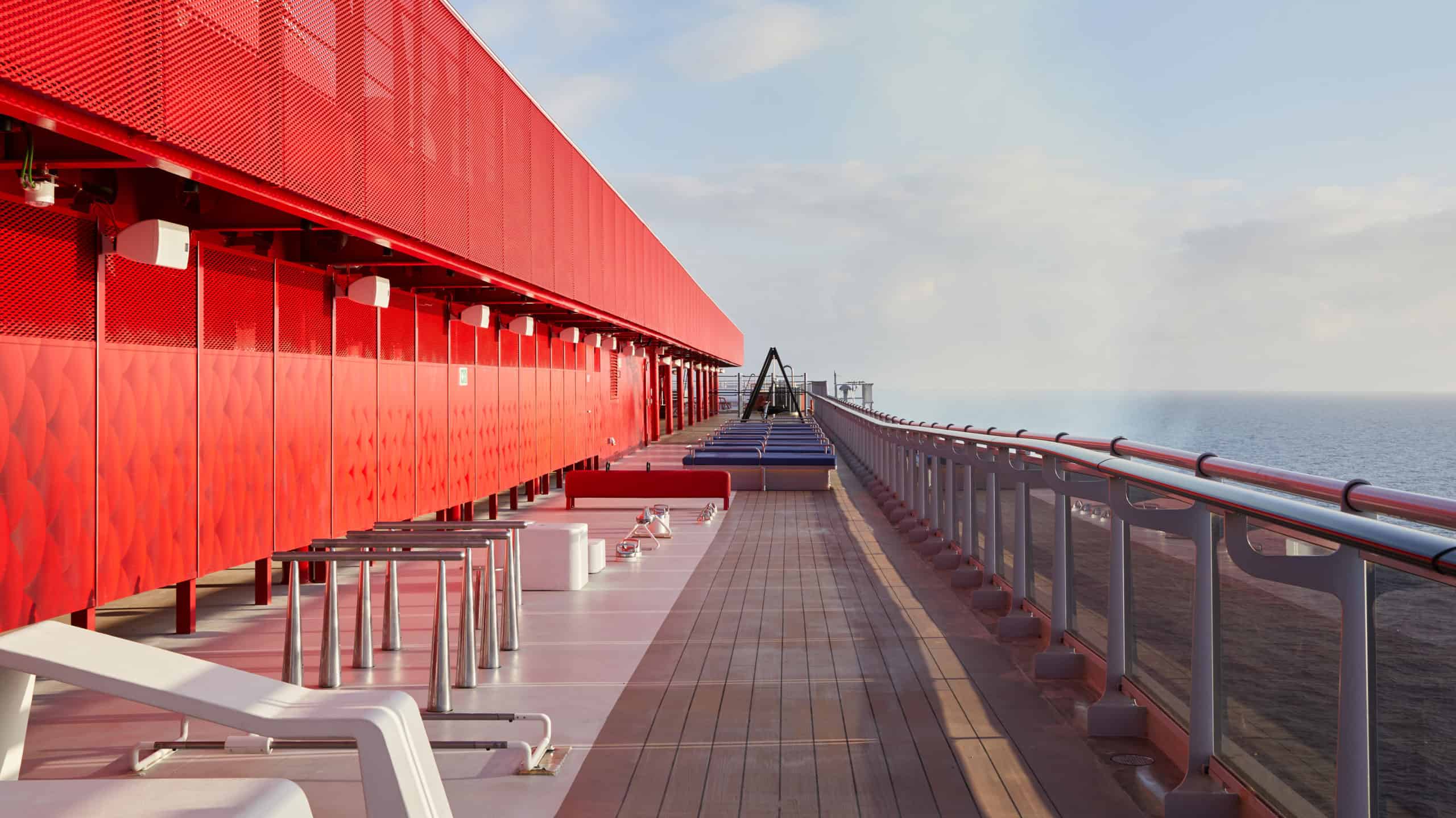 Virgin Voyages' ships have a number of fitness facilities for a whole variety of activities, including an area called B-Complex with studios for weight training, yoga, cycling, and more. The ships also have a jogging track that can be used for rollerblading.
But what we want to focus on is what Virgin calls an adult playground — The Athletic Club. This outdoor space includes punching bags, boxing rings, a basketball court, an obstacle course, and adult-sized seesaws. This area also includes the Training Camp — a space for fitness classes such as spin class, TRX, yoga, and pilates, which are all included in the cruise fare.
When it's time to relax, guests can lay back on one of The Athletic Club's many hammock-type loungers or daybeds, including a massive, continuous one that wraps around the back of the space, as well as a catamaran-style lounging net.
Ships: Scarlet Lady and Valiant Lady
MORE: 10 Tips to Avoid Cruise Weight Gain
5. Rock Climbing Walls — Norwegian & Royal Caribbean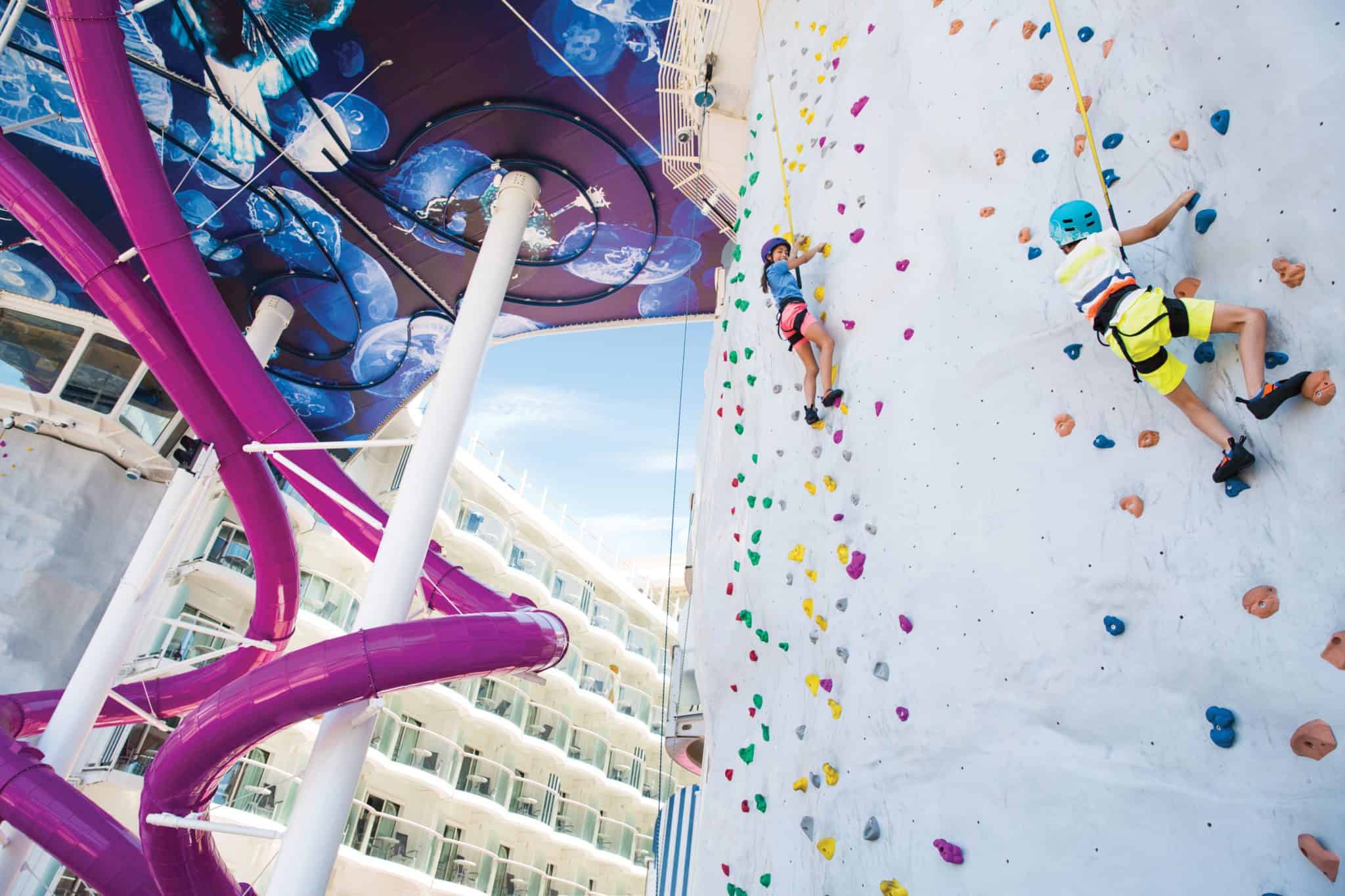 Royal Caribbean introduced the first rock climbing wall at sea when Voyager of the Seas debuted in 1999. Since then, the line has added the fun activity across many of its ships, and some Norwegian Cruise Line vessels also feature rock-climbing walls.
Even though you hang onto the wall with the support of a belay line, scaling up a climbing wall is still a healthy dose of exercise — especially for your upper body. And if you're going to spend some time on a climbing wall, what better place to do it than the middle of the ocean with the best views?
Ships: Royal Caribbean's Voyager-class, Radiance-class, Freedom-class, Quantum/Quantum Ultra-class, and Oasis-class vessels, as well as Norwegian Cruise Line's Norwegian Epic, Pearl, Gem, Breakaway, and Getaway
6. Ice Skating — Royal Caribbean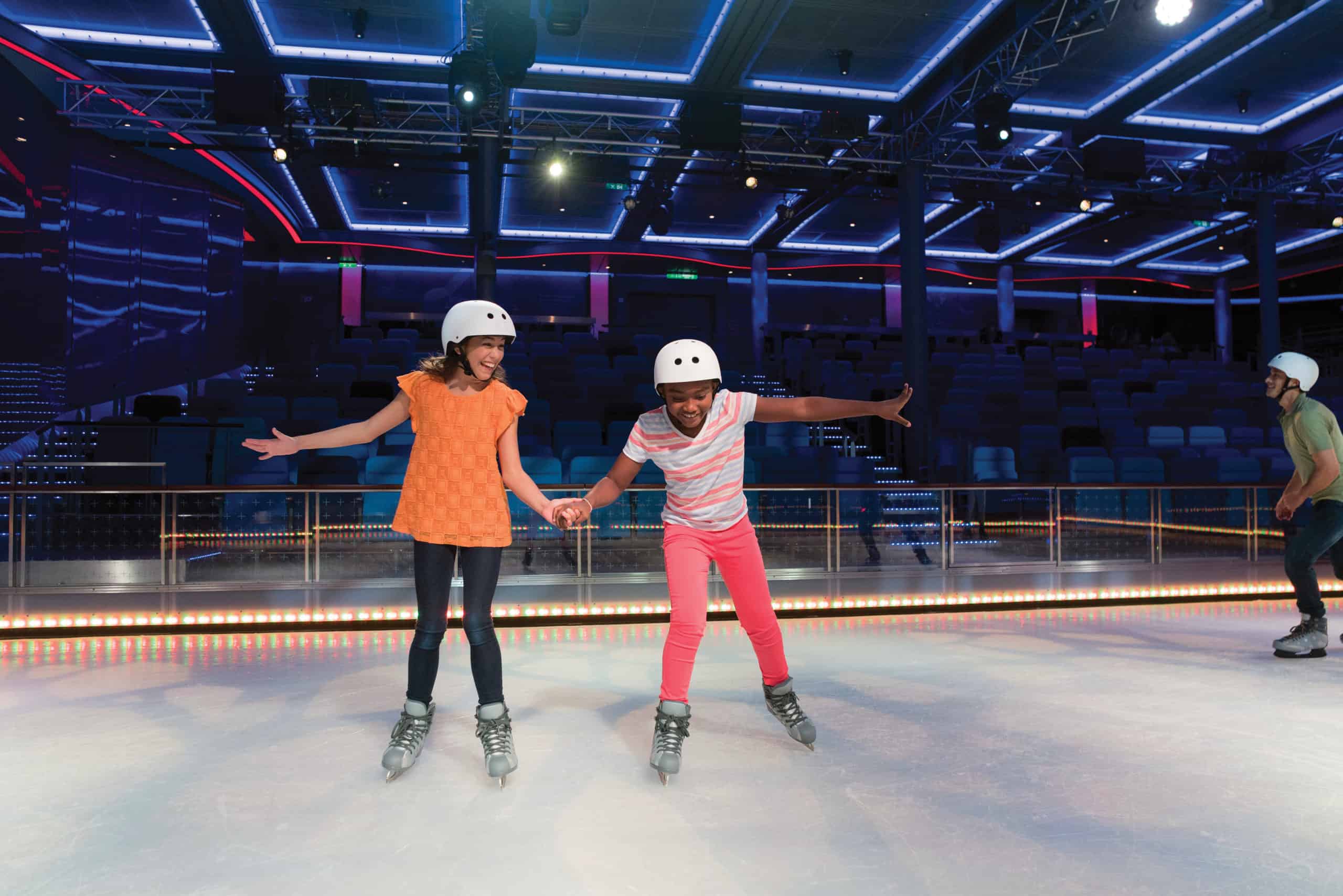 When Voyager of the Seas debuted with the first rock climbing wall at sea, it debuted with another cruise industry first: an ice skating rink. That ship, along with fellow Voyager-class ships Mariner, Adventure, Navigator, and Explorer of the Seas — were the first to include an onboard ice rink. Since then, the line has also included the feature on its Freedom and Oasis-class vessels.
Passengers can don a pair of skates and head out on the ice during open skate sessions — and who doesn't want to say they've gone ice skating while simultaneously plying the waters of the Caribbean or Mediterranean?
On top of passenger skating times, the rink also hosts ice skating shows involving music, lighting, and special effects.
Ships: Voyager-class, Freedom-class, and Oasis-class vessels
BONUS: Dance Parties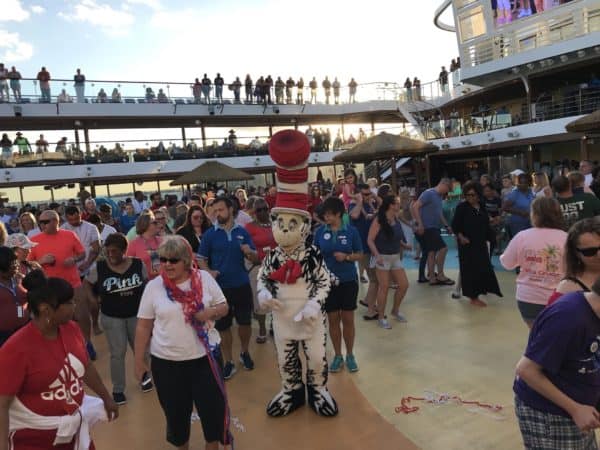 This isn't technically considered a fitness activity, but if you love to get your groove on during cruise dance parties you'll definitely burn some calories!
Most people will think of the sail away party and themed dance parties throughout the cruise, but look for other places to practice your moves, too.
Your ship might have dancing in various lounges and clubs throughout the evening and night, a silent disco event (which we highly recommend attending!), and maybe even a dance class or two on sea days.
If you want to dance on your cruise, you'll be able to find lots of opportunities to do so.
READ NEXT: Is a Short Cruise Right For You? 5 Reasons to Consider Booking One
Pin it!