As Holland America Line celebrates the 10 year anniversary of their game-changing Culinary Council, cruisers are the ones getting the present.
To mark the occasion, they've had Master Chef and Culinary Council Chairman Rudi Sodamin create a video in which he teaches viewers how to make one of his famous recipes.
"Let's Get Cooking, Good Looking!"
Like us, Holland America Line clearly understands that it just isn't a party without a cake. With that in mind, Sodamin's video walks viewers through how to make the only kind of cake appropriate when celebrating something related to the sea — crab cakes.
With his big smile and winning ways (Who doesn't love being called good looking before diving into their culinary prep work?), the chef reminds us that the most important ingredients are "a positive attitude, fun and a passion for whatever you like to do."
What follows is a quick walk-through in which the chef reveals some of the secrets to great crab cakes (including Old Bay seasoning and bright, colorful veggies). Watch carefully enough, and you'll even spot a glimpse of a very cute four-legged guest star!
Eight Chefs, Hundreds of Recipes
The Culinary Council has long been something that has helped to make Holland America Line popular among foodies. Last year, the group added to their numbers when Edouardo Jordan became the latest chef to join their ranks.
The line's then-president Orlando Jones sought the young, rising culinary star out after hearing about the line lines which would form at his restaurant, Junebaby. "I couldn't get a reservation," Jones said at the time. "I told myself, 'If I can't get to the chicken, I'll just hire the guy!'"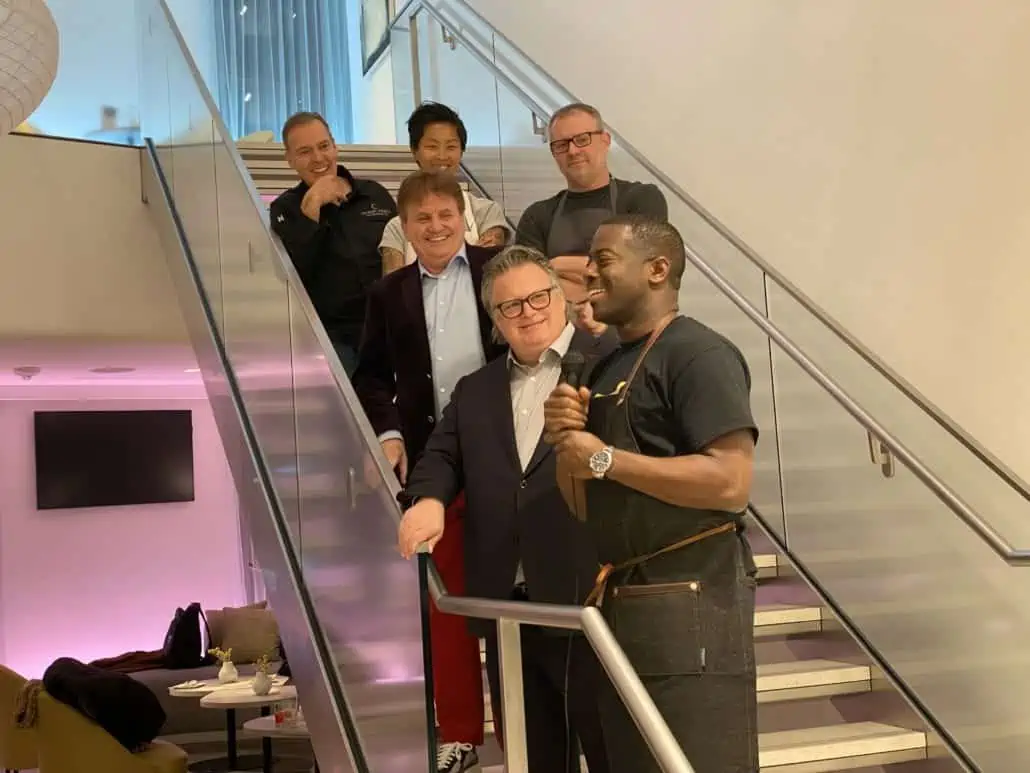 The Council has evolved over time, as have its menus. As more and more passengers moved toward eating healthier, the Council added more vegetarian options which were, in fact, developed by Sodamin. And the addition of Jordan was driven, in part, by a need to add a bit of Southern, homestyle cooking to the offerings.
Other chefs on the council include Kristen Kish (aka the winner of Top Chef's 10th season), David Burke, Ethan Stowell, Jonnie Boer, Andy Matsuda, and chocolatier Jacques Torres.