As Hurricane Harvey has now strengthened to a Category 4 hurricane and the Texas coast braces for impact, Carnival Cruise Line has had to make further adjustments to the already affected itineraries of Carnival Valor and Carnival Freedom.
In response to the Port of Galveston closing to all marine traffic until "a post-storm assessment of the port has been completed," it seemed to look less and less likely that Carnival Valor and Carnival Freedom had any chance of docking in Galveston on Saturday, with little to no certainty on Sunday's outlook either.
Hurricane Makes Changes To The Itinerary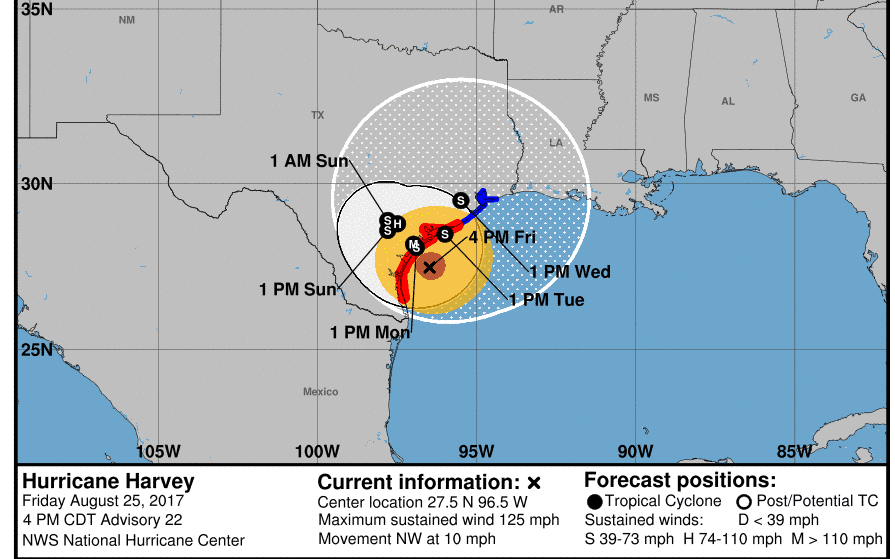 That's when Carnival decided to have these two ships stop briefly in the Port of New Orleans on Saturday to restock and refuel. There, passengers will have the option to "terminate their cruise and disembark" or to stay on until the ship returns to Galveston. "However," Carnival advised in a statement, "given the severity and projected path of the storm along with potential challenges guests may encounter attempting to travel back to Galveston independently, we are strongly encouraging them to remain on board as we intend to return the ships to Galveston as soon as feasible."
Meanwhile, Carnival Breeze, which is currently in Cozumel, will stay there overnight before making its way back to Galveston on Saturday. As of now, it is set to stay on schedule. However, that could easily change given the unpredictability of the storm and its effects.
As of yet, Royal Caribbean has not released any updates other than that they are continuing to monitor the storm.
Port Remains Closed
The hurricane, which is set to make landfall near Corpus Christi on Friday evening, has already caused flooding issues along Galveston Island's Harborside Drive, the street along which the cruise terminal is located. No doubt cruisers currently on all four cruise ships – Carnival Valor, Freedom, and Breeze and Royal Caribbean's Liberty of the Seas – will be worried about any cars left behind in the parking lots and parking garages, as the island will be susceptible to severe flooding and heavy winds.
As of noon, the Captain of the Port of Galveston set the port condition to "Zulu," which means gale force winds are expected within the next 12 hours.