As Hurricane Harvey was updated to a Category 2 storm early Friday morning, the Port of Galveston remained closed in preparation for the heavy rains and winds — with gusts possibly reaching over 100 miles per hour — the storm is expected to bring with it once it hits the shore. And as expected, several of the ships which sail in and out of the Lone Star state will see their itineraries impacted… in some cases fairly drastically.
Ships That Are Being Impacted By Hurricane Harvey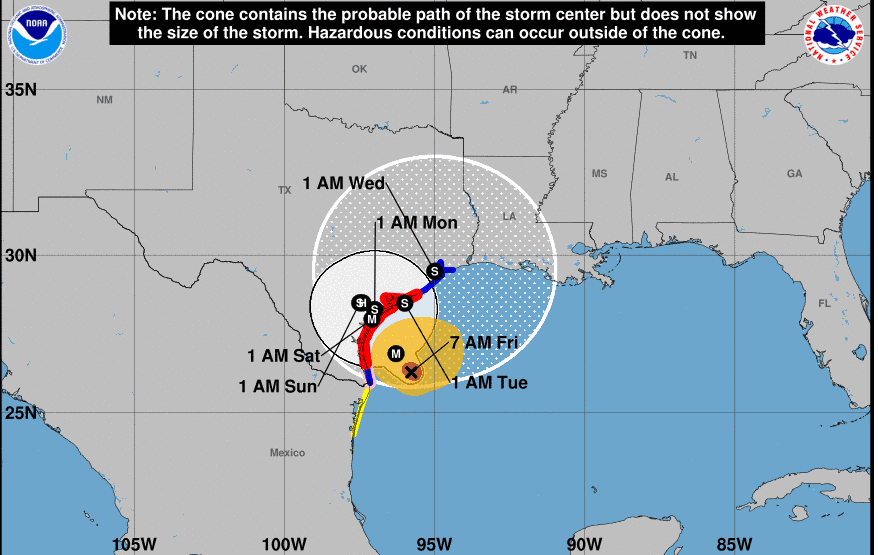 The fleet most heavily impacted is that of Carnival Cruise Lines. The Carnival Freedom and Carnival Valor were both set to depart on Saturday, August 26, with the Carnival Breeze slated to set sail on Sunday, August 27. According to a release from the line, "the Carnival Freedom and Carnival Valor are at sea and will remain a safe distance from the storm. Both ships will make a brief stop in New Orleans on Saturday to replenish fuel, fresh water and food supplies. Guests who wish to terminate their cruise at that point and disembark in New Orleans may do so. However, given the severity and projected path of the storm along with potential challenges guests may encounter attempting to travel back to Galveston independently, we are strongly encouraging them to remain on board as we intend to return the ships to Galveston as soon as feasible."
The release went on to say, "The next scheduled voyages for Carnival Freedom and Carnival Valor will be shortened with itineraries to be determined. Guests who sail on modified voyages will receive a pro-rated refund equal to the number of cruise days they missed. Those who wish to cancel may do so without penalty and receive a future cruise credit."
As for the Breeze, which was originally scheduled to turn around in Galveston on Sunday, Carnival indicated that information would be added soon.
On his Facebook page, Carnival Senior Cruise Director and brand ambassador elaborated that there would be a "refund of any pre-purchased Carnival Adventures for canceled ports. Additionally, guests who pre-purchased any of our beverage packages will receive a pro-rated refund. Gratuities will also be adjusted to reflect the shortened duration."
How To Stay Updated

Those deciding to cancel their cruises can receive a future cruise credit by calling 1-800-CARNIVAL or contacting their Personal Vacation Planner or travel agent. With the situation continuing to develop, Heald concluded by saying that Carnival will "update you [Saturday] at 3 p.m. CDT." Guests can also get up-to-the-minute information by signing up for text alerts by texting the following codes to CRUISE (278473):
• For info on the Carnival Freedom's sailing, text CCL1
• For info on the Carnival Valor's sailing, text CCL2
• For info on the Carnival Breeze's sailing, text CCL3
Read More: 5 Reasons Hurricane Changes are Good 
Royal Caribbean's Status

As of Friday afternoon, Royal Caribbean had yet to make a decision on how Hurricane Harvey would impact the Liberty Of The Seas. Although a post on the Port of Galveston's Facebook page on Thursday indicated that Royal "will provide an update [Friday] by 12 p.m. EST," none had been provided by 1:30 p.m. In response to a guest inquiry, the line's Twitter feed said that they were "monitoring the storm closely, but there are no changes at this time. You'll be receiving an update soon."
Already, residents living west of Galveston's sea wall are under what's being called a "voluntary evacuation" alert, with warnings that the area could be hit by a storm surge of up to 8 feet and rainfall measuring up to 20 inches. According to the local ABC affiliate, several historical sites in the Galveston area — including the Tall Ship Elissa — have closed and plan to remain shuttered until at least Sunday.
To date, the 2017 hurricane season has had a minimal impact on the cruise industry. This year's hurricane season runs from June 1, 2017 to November 30, 2017.