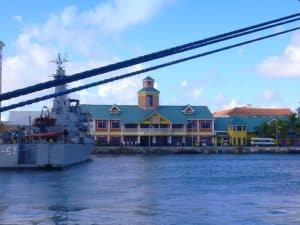 First reported by the a local  paper on Thursday, seven cruise ships were brought into the port of Nassau to seek refuge from Hurricane Rina on Wednesday.
We had a chance to speak to Carla Stuart, Director of Cruise Development in Nassau, Bahamas, and asked if this was the first time Nassau had seen seven cruise ships in one day and how'd it work logistically?
"In previous years, the Port has been able to berth 5 ships of a length of 800 feet.   We were quite pleased, that with the Government's recent improvements to the harbour, that we were able to accommodate 7 ships which were larger than  800 feet.  We were also extremely greatly to our local harbour pilots who brought the ships in and maximized the space usage," she told us.
As for the passenger count, she told us, "A total of 17,762 passengers and 6,935 crew arrived.  We have come close to these numbers on a few occasions, particularly with 5 berths filled and at least 2 or 3 of the newer vessels in port at the same time- Oasis class ship, the Carnival's large ship, etc."
The surge in passengers was needed after Hurricane Irene shut cruise ship traffic down for a few days this past August.
The seven ships that were in Nassau included four Carnival ships, Royal Caribbean, Celebrity Cruises, and Norwegian Cruise Line. The estimated tourism revenue has not yet been released.
Be sure to sign up for our daily news alerts here.
Photo credit:  Flickr/Rasberrycremebrule