Interior vs. balcony cabins, is one better than another? It depends on your cruising style.
When planning a cruise, one of the most important decisions you'll make, besides the itinerary and the cruise line, is what type of cabin to book.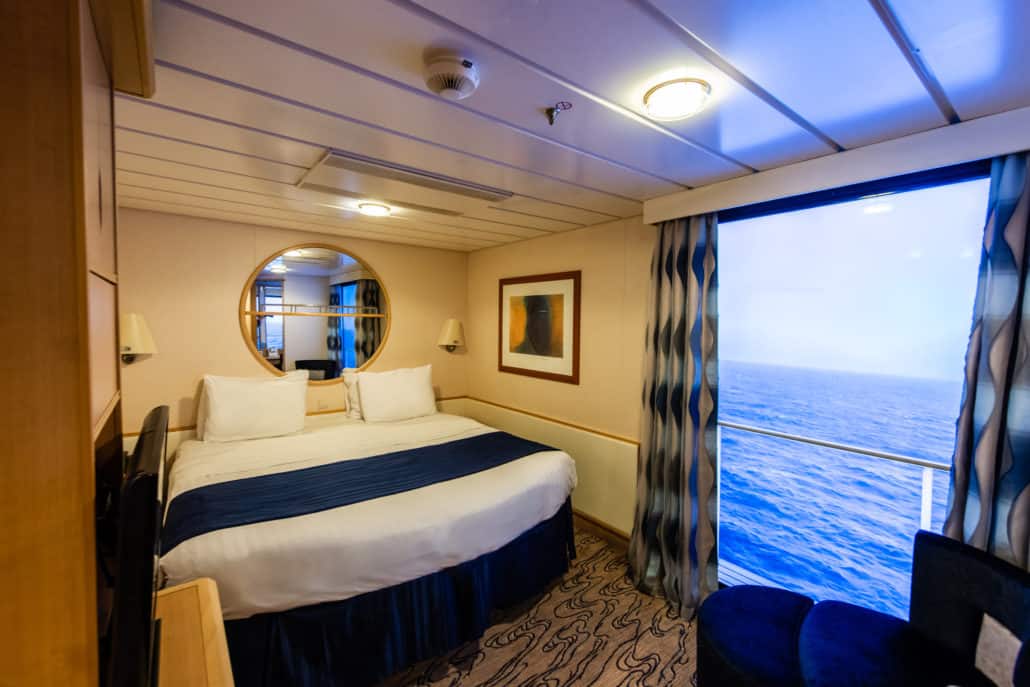 Today's cruise ships offer endless accommodation options for all travelers – from innovative solo staterooms to massive, two-deck family suites. But when it comes to the basics, there are two main types to choose from: inside and outside.
Inside cabins are windowless rooms located in the ship's interior. On the other hand, outside, specifically balcony cabins, feature a private balcony that opens onto the ocean.
So, which is right for you? It depends on your individual needs and preferences, but here are the pros and cons of each so that you can make the best decision for your next cruise vacation.
Balcony Cabins: The Pros and Cons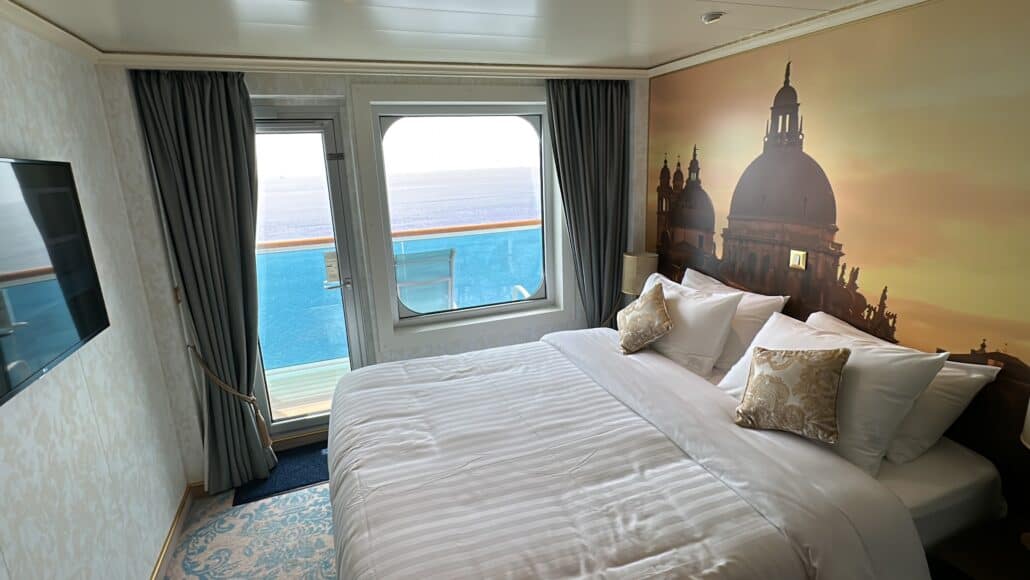 Pros of Balcony Cabins
Great Views: The biggest selling point of a balcony cabin is the view. You cannot put a price on picture-perfect vistas.
Privacy: This is your space to relax, read a book, or enjoy a quiet meal. Fighting for a deck chair on a crowded pool deck is unnecessary.
Natural Light: Nothing beats the sun's natural light that floods into a balcony cabin throughout the day.
Pro tip: If you're a photography enthusiast, a balcony cabin can be a game-changer. Imagine capturing breathtaking seascapes without even leaving your cabin.
Cons of Balcony Cabins
Price: Balcony cabins come at a price and can cost significantly more than interior or outside cabins without a balcony.
Poor Use of Space: A balcony cuts into the limited cabin space, so you might have to compromise room size.
Weather Dependent: Your balcony might only be usable in good weather conditions. So, if Mother Nature isn't cooperative, you might be paying for a feature you can't use.
Interior Cabins: The Pros and Cons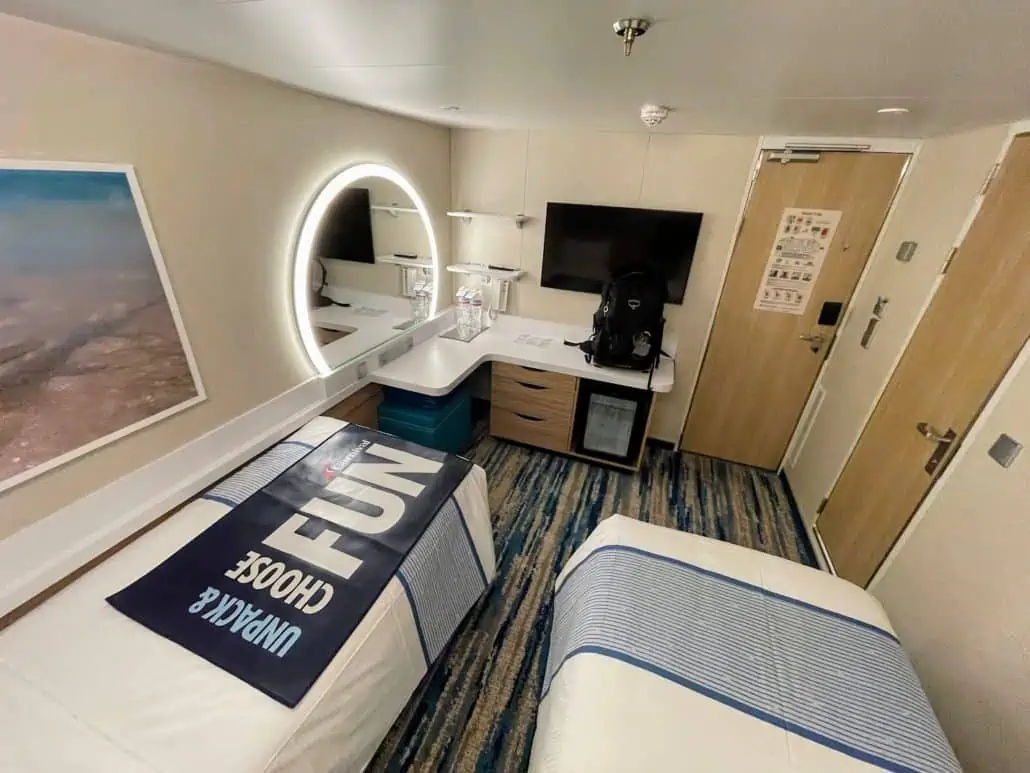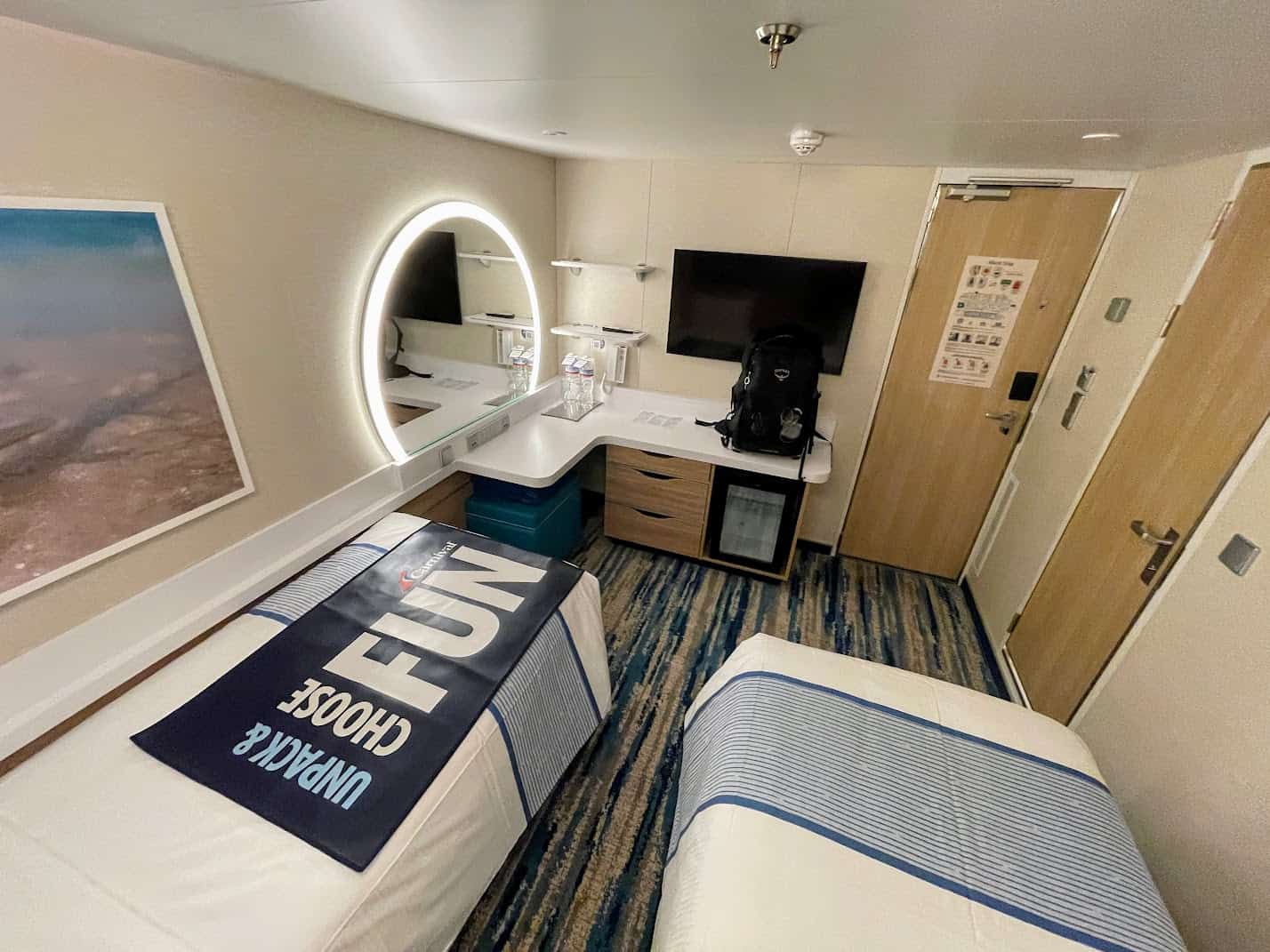 Pros of Interior Cabins
Budget-Friendly: Consider opting for an interior cabin instead of a balcony to save instead for a specialty restaurant or spa day.
Perfect for Introverts: Some of us are just not into socializing every moment of every day. An interior cabin can be your sanctuary.
Darkness for Sound Sleep: With no window to let in the early-morning sun, it's pitch-black heaven for sleep enthusiasts.
Less Motion: One overlooked advantage is that interior cabins closer to the ship's center can help minimize the rocking motion that triggers seasickness.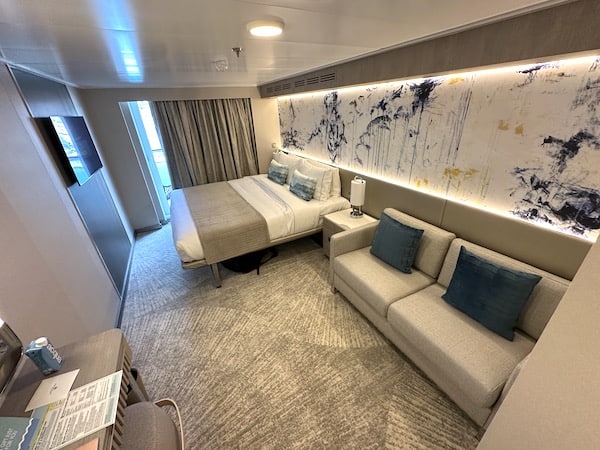 Cons of Interior Cabins
No Natural Light: While the darkness is a blessing for some, for others, it can wreak havoc on their internal clocks.
Size Matters: Interior cabins are often smaller than balcony cabins, so brace yourself for a little less wiggle room than you might be used to.
No Private Outdoor Space: The obvious disadvantage is that you don't get your slice of the great outdoors.
While they're cozy and economical, they lack those sought-after views that come with cruising.
Interior vs. Balcony Cabin: Deciding Factors
| | | | |
| --- | --- | --- | --- |
| Cruise Line | Interior | Balcony | Suite |
| Carnival | 185 sq ft | 225 sq ft | 345 sq ft |
| Royal Caribbean | 160 sq ft | 230 sq ft | 523 sq ft |
| Norwegian Cruise Line | 160 sq ft | 230 sq ft | 546 sq ft |
| MSC Cruises | 151 sq ft | 205 sq ft | 377 sq ft |
| Disney Cruise Line | 170 sq ft | 205 sq ft | 622 sq ft |
Based on cruise line data, and will vary by cruise ship and class.
Choosing the Right Cabin for Your Cruise Itinerary
There are certain cases when a balcony cabin will be worth the cost.
For example, suppose you're planning a bucket-list trip like Hawaii, Alaska, or Northern Europe or simply can't resist the allure of waking up to the sun rising over the ocean. In that case, a balcony cabin is the only way to go.
Rooms with a View (or Not)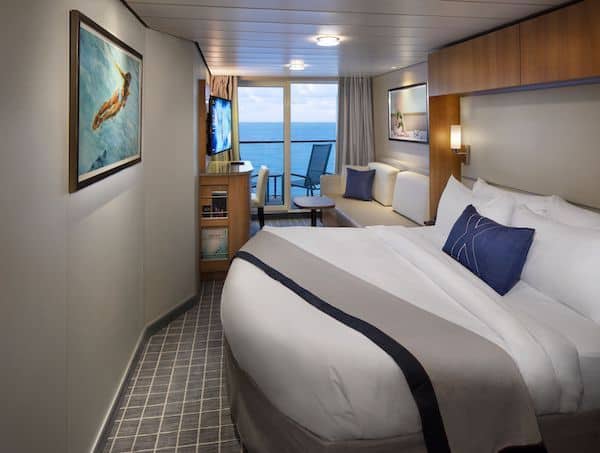 Balcony cabins are like your private box seat to the most spectacular vistas, whether it's performances by Mother Nature or up-close views of picturesque ports.
There's nothing quite like waking up to towering Alaskan glaciers or seeing a breaching whale from your balcony.
Imagine sipping your morning coffee while watching the sun rise over the dramatic cliffs of the Norwegian fjords or with the tropical Hawaiian landscape as your backdrop. These are the moments you'll remember for a lifetime.
RELATED: Pros and Cons of an Aft-Facing Balcony
While balcony cabins have the best views, interior cabins have advantages.
If you're more of a budget-conscious traveler willing to sacrifice the idea or plan to spend most of your time exploring the ship and onshore, an interior cabin might be your best bet.
Plus, they're ideal for those who prefer a pitch-black room for a good night's sleep. (Yes, the sun does rise at 3 a.m. during Scandinavian summers!)
Cabin Amenities
Whether in a cozy interior cabin or a breezy balcony cabin, you'll find the modern amenities you'd expect, from comfortable beds and private baths to TVs and entertainment systems.
However, specific in-room amenities can vary depending on the cabin type you choose, and balcony staterooms often come with added or upgraded perks such as a mini-fridge, additional living space (which may include a sitting area), premium bath products, or complimentary services.
RELATED: 7 Types of Cruise Cabins You May Want to Skip
In addition, while balcony staterooms are typically more expensive, the perks of having your own private outdoor space are another amenity that can make the price difference worthwhile.
Remember, at the end of the day, choosing between a balcony cabin and an interior cabin depends on your preferences, itinerary, and budget. So, weigh your options carefully and select the one that best suits your cruising style. 
Choosing a Cabin Based on Itinerary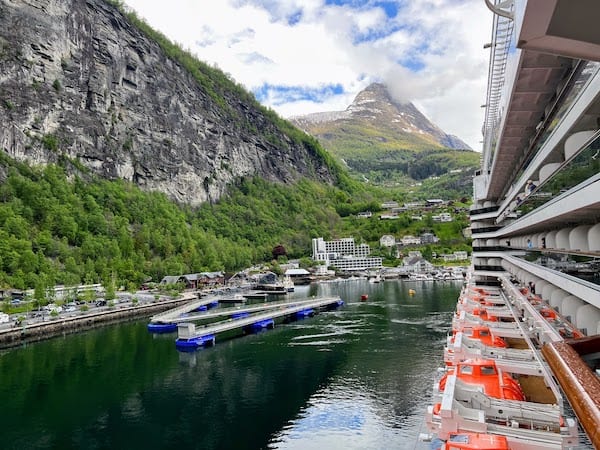 The cruise's itinerary is an important factor to consider when deciding between an interior vs. balcony cabin. Different destinations and ports of call may make one type of cabin more appealing than the other.
Here are some things to keep in mind when choosing based on itinerary:
Caribbean Cruises
Caribbean cruises typically feature sunny destinations with beautiful beaches and warm waters. Because of this, many passengers may prefer a balcony cabin to enjoy the ocean views and fresh air.
Some ports of call in the Caribbean may not offer much to see from the ship so an interior cabin may be a more budget-friendly option.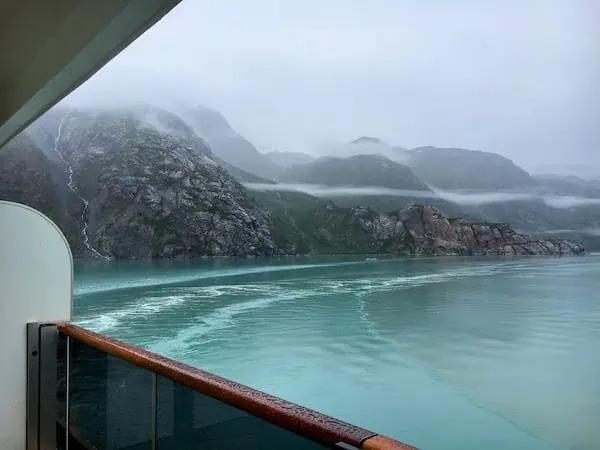 Alaska Cruises
Alaska cruises often feature stunning scenery, including glaciers, mountains, and wildlife. For this reason, many passengers may prefer a balcony cabin to take in the views.
However, the weather in Alaska can be unpredictable, and some sailing days may be too cold or rainy to spend time on the balcony. In these cases, an interior cabin may be a more practical choice.
Mediterranean Cruises
Mediterranean cruises offer a mix of beautiful coastal cities and historic ports of call.
While a balcony cabin may provide stunning views of the ocean and ports, some cities in the Mediterranean may have limited docking space, making it difficult to see much from the ship. In this case, an interior cabin may be a more budget-friendly option.
Travel Party Considerations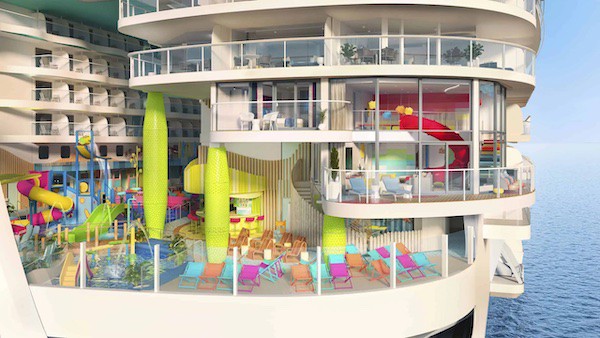 When choosing between an interior and balcony cabin, it is important to consider the needs and preferences of your travel party.
Here are some factors to remember when traveling with kids, as a couple, or solo.
Traveling with Kids
Families with children may want to opt for a balcony cabin to provide more space and a better view. However, interior cabins can be more affordable and a better choice for families on a budget.
It is important to note that some cruise lines offer family-friendly amenities, such as connecting cabins and kid-friendly activities, which can help make the trip more enjoyable for everyone.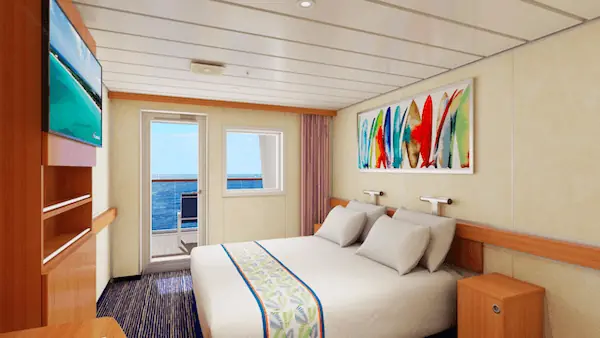 Traveling as a Couple
Couples may prefer a balcony cabin for the added privacy and romantic atmosphere. However, interior cabins can be just as comfortable and maybe a better choice for those on a budget.
It is important to note that some cruise lines offer couples-only areas and activities, which can help enhance the romantic experience.
Solo Traveling
Solo travelers may want to consider an interior cabin to save on costs. However, some cruise lines offer solo traveler cabins and social events, which can help solo travelers meet new people and have a more enjoyable experience.
When choosing between an interior and balcony cabin based on itinerary, it is important to consider the specific ports of call and sailing days.
While a balcony cabin may be preferred for some destinations, it may not always be the most practical or budget-friendly choice.
What You Should Know
Interior cabins are less expensive but do not offer a view or balcony.
Balcony cabins provide a private balcony with a view and more space but at a higher cost.
When choosing between interior and balcony cabins, consider cost, amenities, public areas vs. cabin space, and travel party considerations.
Frequently Asked Questions
What are the advantages of a balcony cabin on a cruise?
Balcony cabins provide passengers with a private outdoor space to enjoy the ocean views and fresh air in the comfort of their own room. They also tend to have more natural light, making the cabin feel brighter and more spacious.
What are the disadvantages of an interior cabin on a cruise?
Interior cabins lack natural light and ocean views, making them cramped and claustrophobic. They also tend to be located in the ship's interior, which can result in more noise from public areas and other cabins.
Is it worth it to upgrade from an interior cabin to a balcony cabin?
Consider your preferences and budget when choosing a cabin. Balcony cabins offer privacy and ocean views, while interior cabins are suitable for those who prioritize ship activities.
What is the typical price difference between an interior and a balcony cabin?
The price difference can vary greatly depending on the cruise line, itinerary, and time of year. On average, balcony cabins cost 20-30% more than interior ones.
Which cruise ships have the best balcony cabins?
This is subjective and can vary depending on individual preferences. However, some cruise lines that are known for their balcony cabins include Royal Caribbean, Norwegian Cruise Line, and Princess Cruises.
Are balcony cabins more spacious than interior cabins?
Not necessarily. While some balcony cabins may be larger than interior cabins, this is not always the case. It's important to check the cabin size and layout before booking to ensure it meets your needs.
This article was updated in 2023.