This is a port guide to Juneau, Alaska. Juneau is the most unusual state capital. You can't drive there — located at the northern end of Alaska's Inside Passage, with its back to a steep set of mountains and vast tracts of roadless wilderness, Juneau is accessible only by air or sea.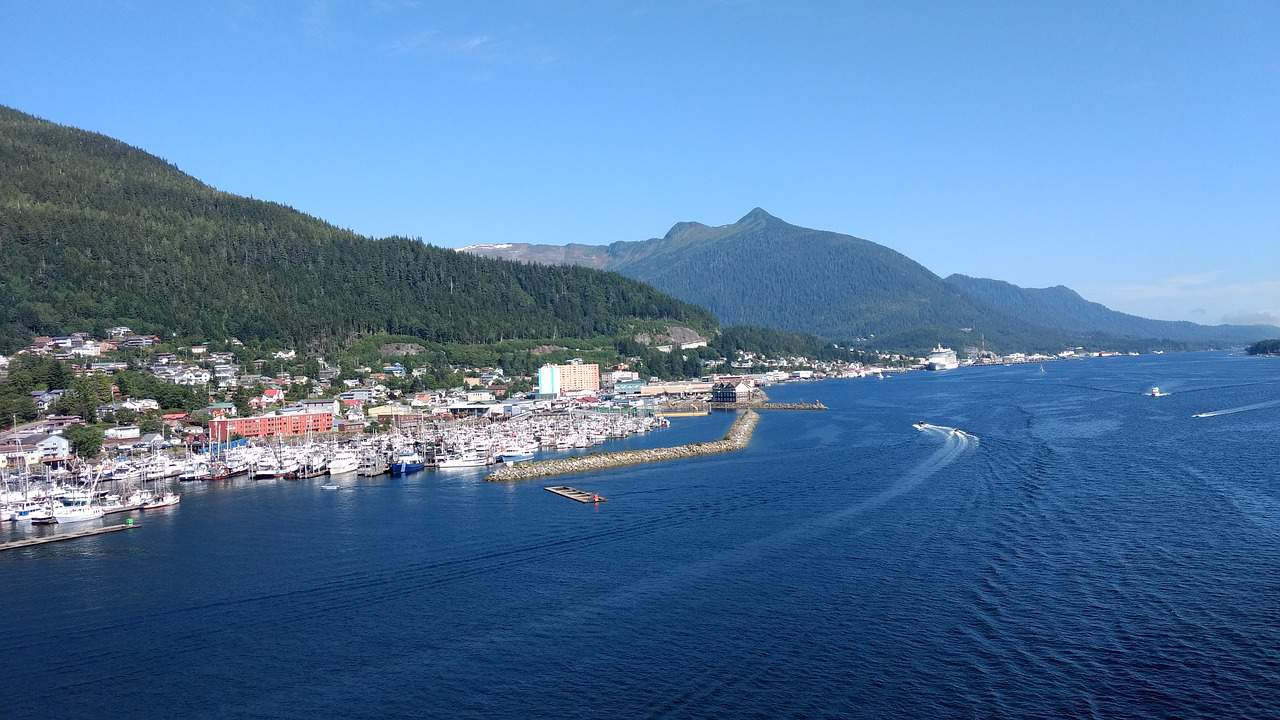 A gold strike in the (now) aptly named Gold Creek led to the town's formation — and the creek is still there, running straight along the fringe of downtown. During August you can still see salmon swimming up the creek to spawn, with great blue herons and bald eagles and maybe even the occasional black bear coming down to partake of the mobile feast. But that's still only a fraction of what Juneau has to offer to savvy cruise visitors.
Pier location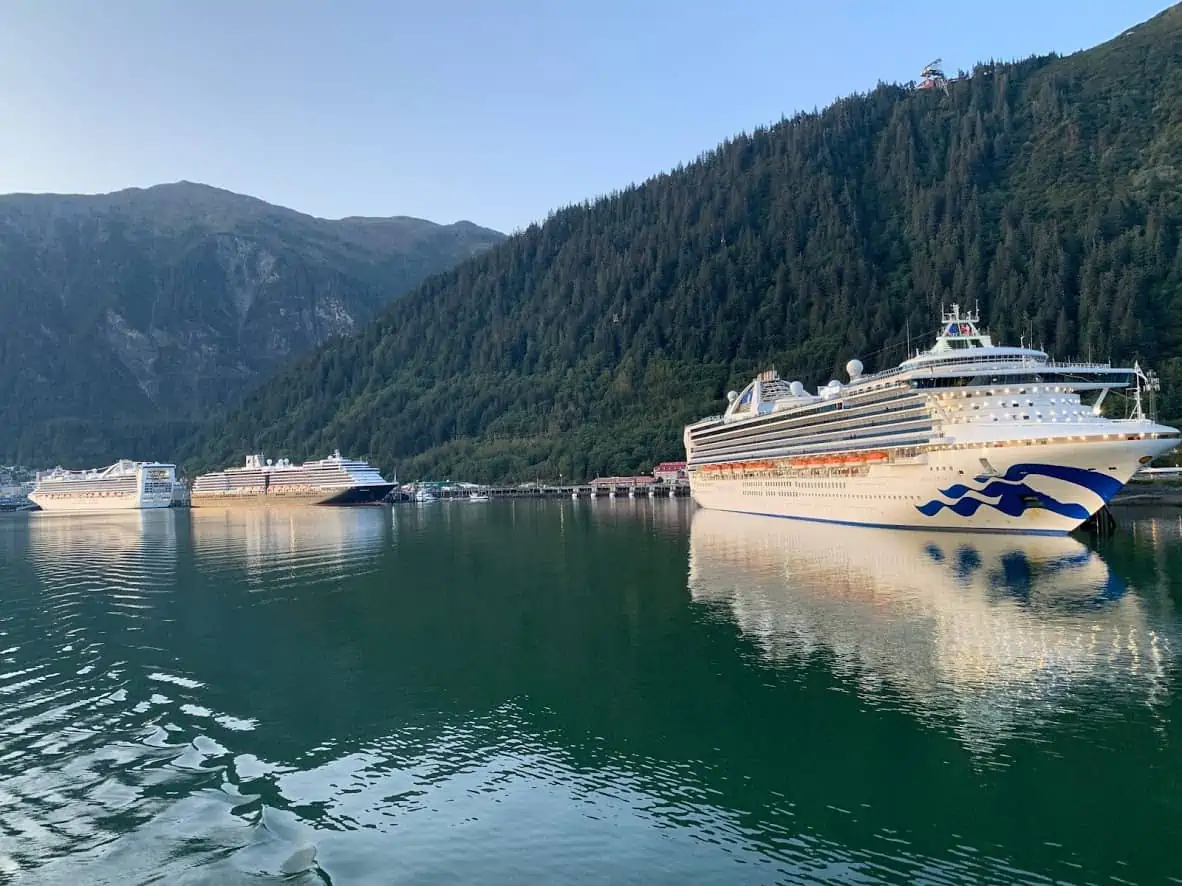 Juneau's cruise docks are located at the south end of the downtown area. With multiple berths that can accommodate large ships, all connected by a broad boardwalk, you're perfectly poised for access to most of the visitor-oriented shops and activities in town.
The heart of the cruise area consists of a visitor information center, a pretty seaside park with a few food trucks in it, and the aerial cable cars of the Mount Roberts Tramway.
The most important street in town for cruisers is Franklin Street — the main street that links the cruise ship docks to downtown Juneau proper. As you might expect, Franklin Street is designed to catch, and hold, your attention. But if you're willing to walk just another couple of blocks along Franklin Street and into downtown, you'll find a world of locally owned shops and one-of-a-kind souvenirs.
Local flavor (food and beverage)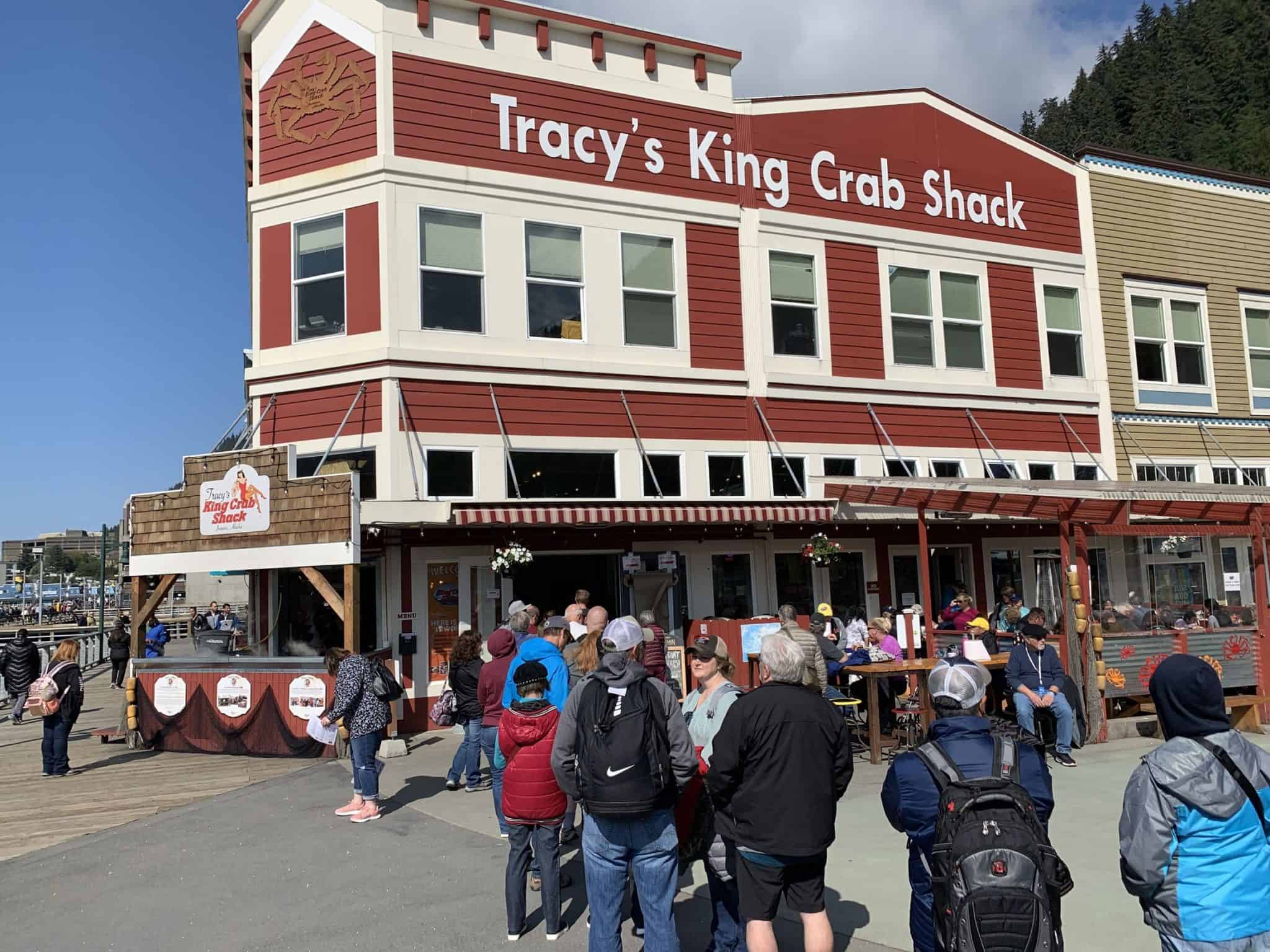 Perhaps it's Juneau's status as state capital or the cosmopolitan nature of its visitors; but for whatever reason, it's one of the foodie-friendliest places in Alaska. All of the following eateries are located within just a few blocks of the cruise docks:
Case in point, V's Cellar Door offers a creative Mexican fusion menu, with most of the"fusion" ingredients coming from Korean cuisine. Their Taco Tuesday makes for good cheap eats, and the vinegar-infused shrubs are divine. 
READ MORE: Where to Eat in Juneau, Alaska
Just down the street, the Rookery Cafe focuses on creative, made-from-scratch cooking. They're part coffee shop, part restaurant, and the restaurant part is so good it's won the local paper's "#1 restaurant" title for several years. 
The atmosphere doesn't get much more Alaskan than the old-timey Red Dog Saloon in the heart of the cruise district, where you can enjoy robust pub food with a serving of live music and Alaska-brewed beer.
You can't come all the way to Alaska, home of The Deadliest Catch, without sampling the crustacean that sends fishermen out to brave the wild seas. We're talking about crab, of course, and Tracy's King Crab Shack is the place to get it.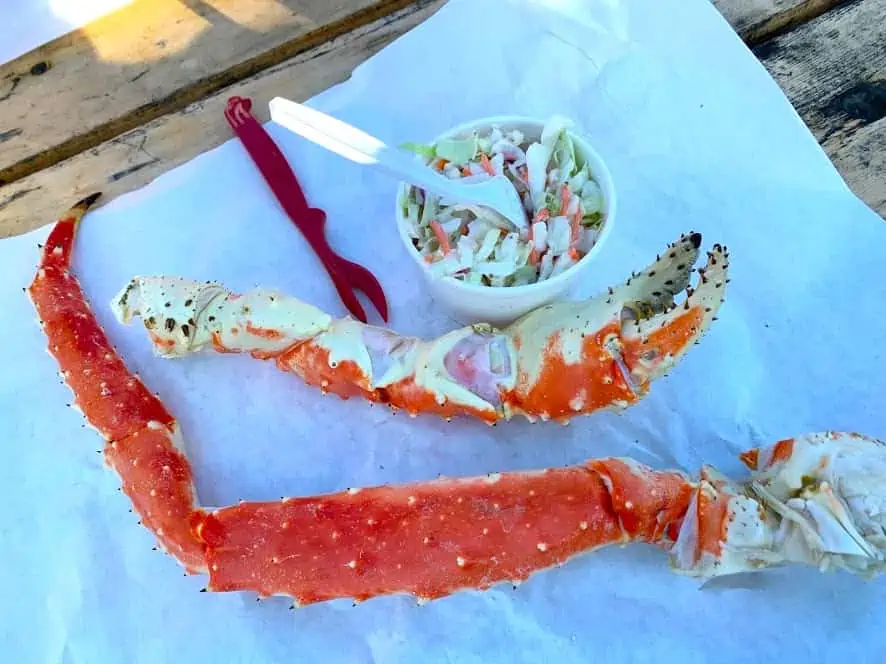 The cuisine at Salt is so world-class, you might feel inspired to dress up. That's saying a lot in always-relaxed Alaska! They offer modern, casual cuisine accompanied by an extensive selection of wine and cocktails.
Deckhand Dave's is a modest little food stand that serves only fresh, locally caught seafood. There's a reason the locals love it so much.
Speaking of local love, if you enjoy ice cream don't miss a chance to visit the much-loved Coppa Cafe. It's a bit of a walk from downtown but if you're not looking for coffee or a salad, you can visit their ice cream cart off Franklin Street.
Most of the tour bus operators will tell you the Salmon Spot, a little food shack just across the street from the cruise docks, offers great burgers. Well, guess what — they're right.
Every which way you look in Juneau, you'll find beautiful mountains or sea. But the best restaurant view in town goes to Hangar on the Wharf, an easygoing, seafood-oriented pub where you can watch seaplanes come and go from Gastineau Channel, the waters just offshore from Juneau.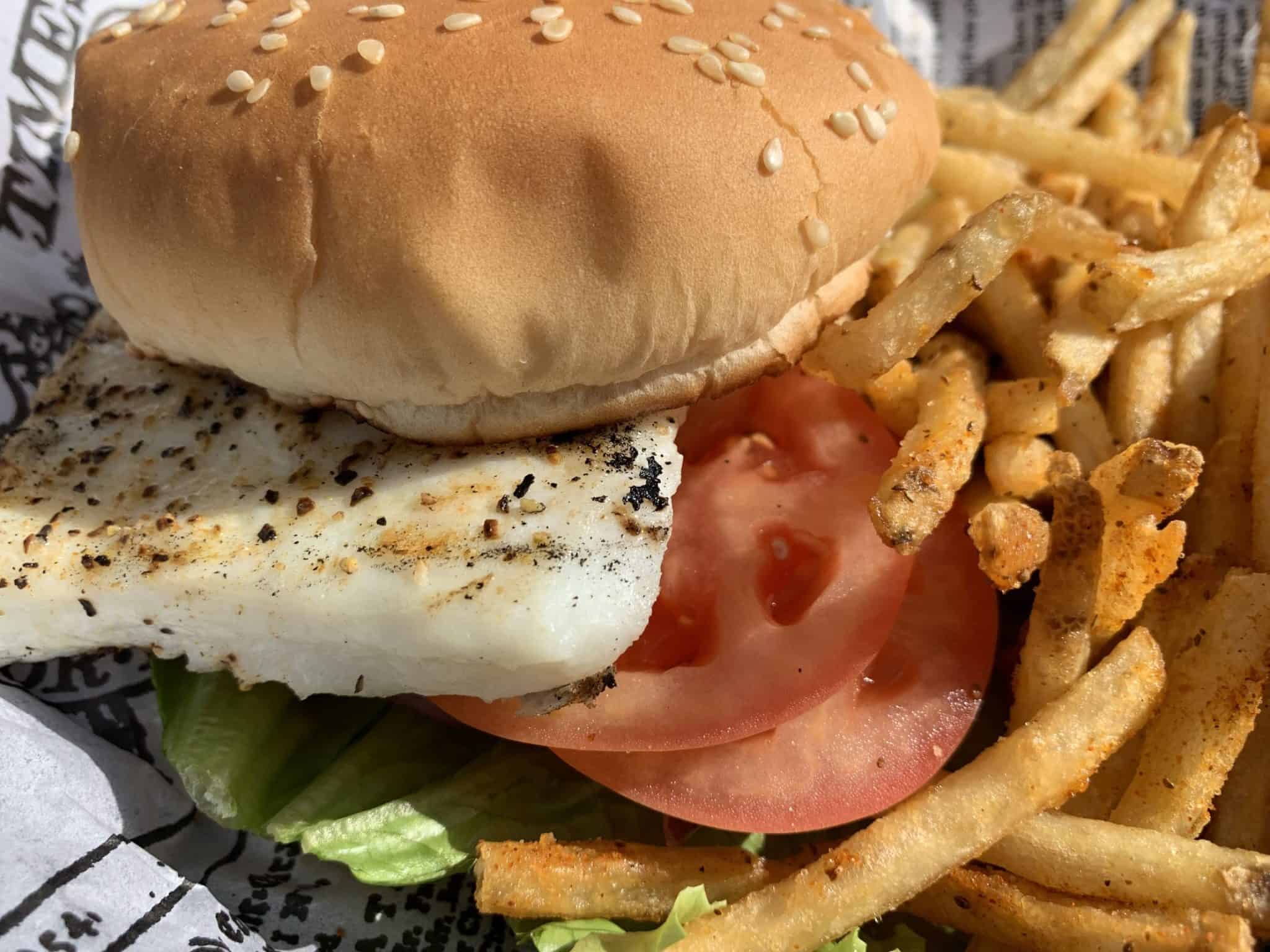 You'll find strong flavors of Russian culture throughout Southeast Alaska. One of the most delicious ways they manifest is in Pel'menis, located in the same building as Hangar on the Wharf. This low-key, hole-in-the-wall eatery is named for the Russian dumplings it offers. A serving costs $7 or $8, cash only.
Heritage Coffee is a low-key, locally-owned chain of coffee shops. Their downtown location is enormous and offers some of the best WiFi you'll find near the cruise docks, although they usually limit access by providing a short-term passcode with each purchase.
Shopping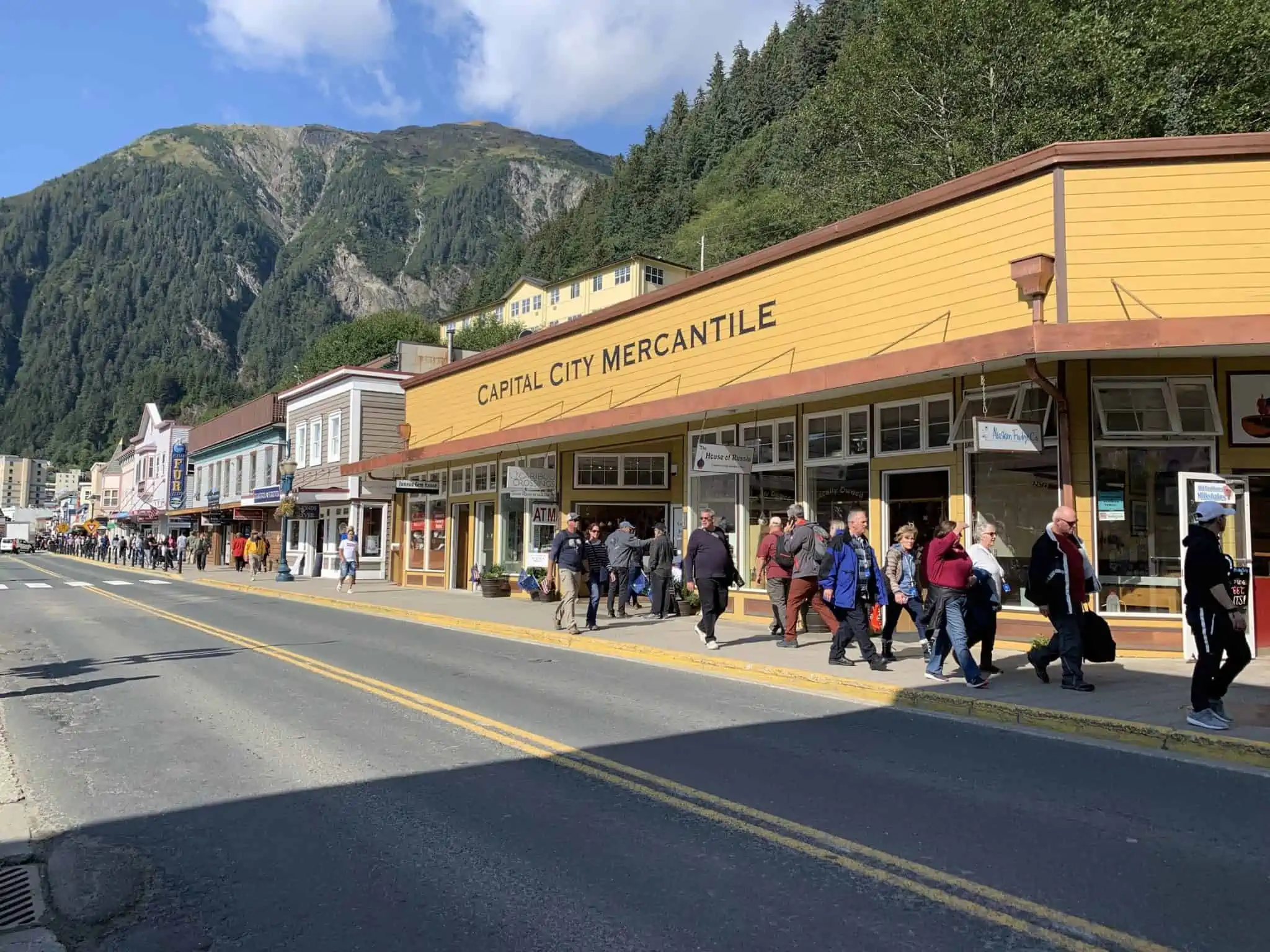 Juneau has its share of big box stores including Fred Meyer (the local version of Kroger), Safeway, and Walmart, but you'd need a taxi to reach them. The city bus does get you within easy reach of these locations, but service is infrequent.
But if you have a craving for snacks while downtown, all is not lost. A small grocery store, the Foodland IGA, is a short walk from downtown Juneau. And you can get almost any non-grocery essentials you need at Juneau Drug Co., just a couple of blocks from the cruise ship docks.
When it comes to souvenirs, you'll find the best authentic Alaska Native goods in the gift shop of the Sealaska Heritage Institute in the Walter Soboleff Building, a major downtown landmark. Also of note, Trickster Company is a hip, young-minded boutique owned by a Native formline artist. (The formline is the basis of the intricate, evocative shapes that are so characteristic of Southeast Alaska Native art.)
If you're interested in all local art, one of the best downtown galleries is the very eclectic Annie Kaill's. And for souvenirs of the Russian history that weaves through much of Southeast Alaska, make a trip to the House of Russia on Franklin Street.
Cultural attractions (museums, arts institutions, etc.)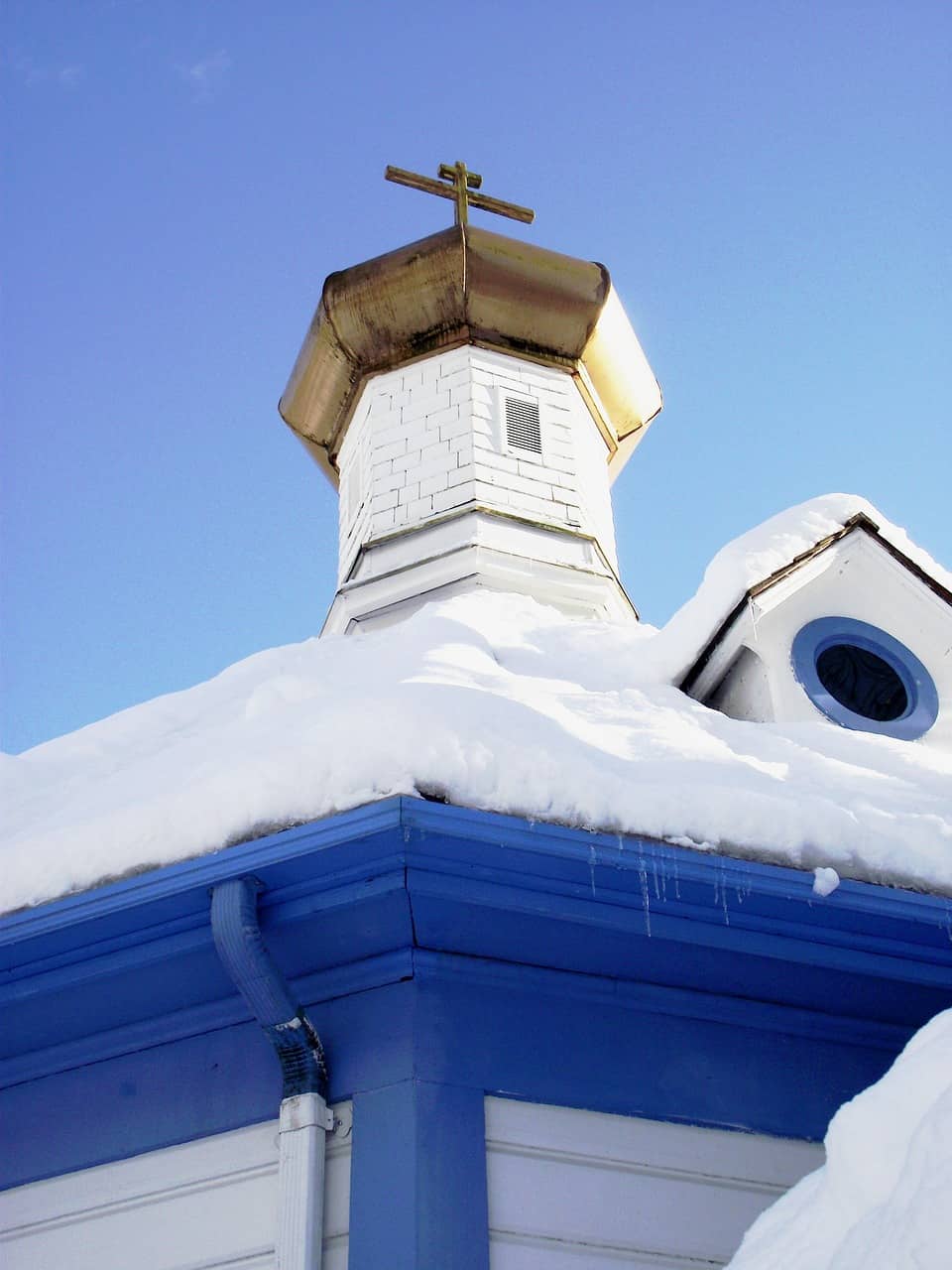 If you don't pay a visit to the Sealaska Heritage Institute's Walter Soboleff Building, located just a few short blocks from the cruise docks, you're really missing out. From the awe-inspiring carved panels on the outside of the building to the full-size clan house and interactive displays both located inside, this is the best opportunity in the world to learn about the Native peoples and lifeways of this region.
Another great repository of history in the state is Juneau's SLAM, or State Library, Archive and Museum, all housed in one building. They don't shy away from telling tough stories here, making this stately museum a one-stop-shop to learn the ins and outs of Alaska's sometimes conflicted history.
If you don't mind an uphill walk (or calling a cab), the Wickersham State Historic Site is a house that's been converted into a museum dedicated to its former owner, Judge James Wickersham. Wickersham was also an adventurous mountaineer, and his personal history offers a great glimpse into the intrepid spirit that characterized early settlers here.
One of the most conspicuous signs of Russian history in Juneau is the St. Nicholas Russian Orthodox Church. The exterior looks quite humble, but the interior is rife with the gilt icons and ornate paneling typical of this type of church.
If you stroll beside Juneau's downtown coastal highway, Egan Drive, you'll find the lovely Juneau Seawalk, an elevated boardwalk that showcases a rehabilitated stretch of coastline and ends at a life-size statue of a breaching humpback whale. Eventually, the plan is for the seawalk to connect all the way to the cruise boardwalks. 
Top Cruise Excursions
If you only have time for one shore excursion in Juneau, it's hard to beat the Mendenhall Glacier. Shuttle buses depart for the glacier from right beside the cruise docks, and the trip there and back again doubles as a short city tour.
READ MORE: Visit Mendenhall Glacier in Juneau, Alaska
Depending on your activity level you can view the massive glacier and its lake from an indoor visitor center, or head out on a hike. Your trail options range from the relatively easy one-mile trek to the base of Nugget Falls (also visible from the visitor center) or challenging loop trails into the nearby mountains. 
There's also a small elevated boardwalk over a creek that runs near the visitor center. If the salmon are running, you might get to see black bears catching fish here.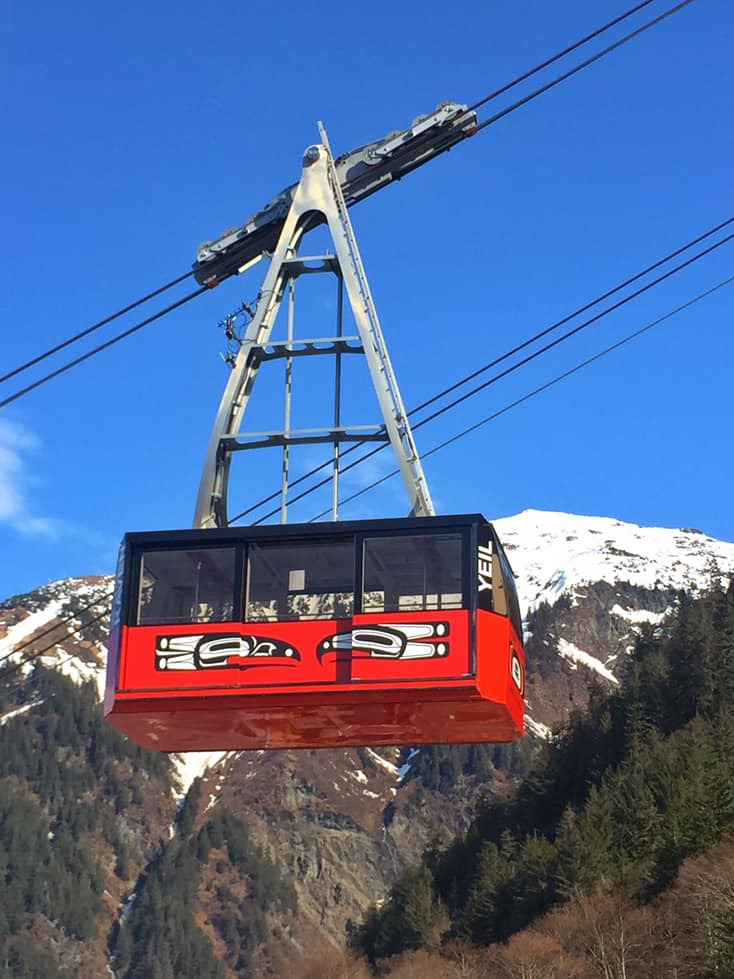 Mount Roberts is a marvel of a different sort, rearing almost 4,000 feet straight into the sky behind the cruise ship docks. An aerial tram goes about halfway up the mountain — you can see its cables from the docks. At the upper tram terminal, you'll find stunning views, a small cafe, a modest nature center that's especially great if you have kids along, and a theater that shows either a short film or live cultural performances, depending on your timing.
Yet another massive Alaskan marvel lives in the sea: Humpback whales, and taking a whale watching tour out of Juneau is a rare opportunity to see them engaging in bubble-net feeding, a cooperative, learned behavior in which they surround fish with a "net" of bubbles then, at the leader's signal, lunge up through the middle of the fish and gulp them down. Several tour operators specialize in getting you out to the whales, then back in good time to catch your ship again. 
A short cruise stopover isn't enough time for a full-on bear-viewing expedition — but if you're starting or ending your cruise in Juneau, leave yourself time for a day tour to nearby Admiralty Island, where the massive brown bears have the human population outnumbered.
And finally, for a thrill of a different sort, you can head out on a zip line tour or catch a fishing charter for your chance at some of the world's best seafood.
An insider's perspective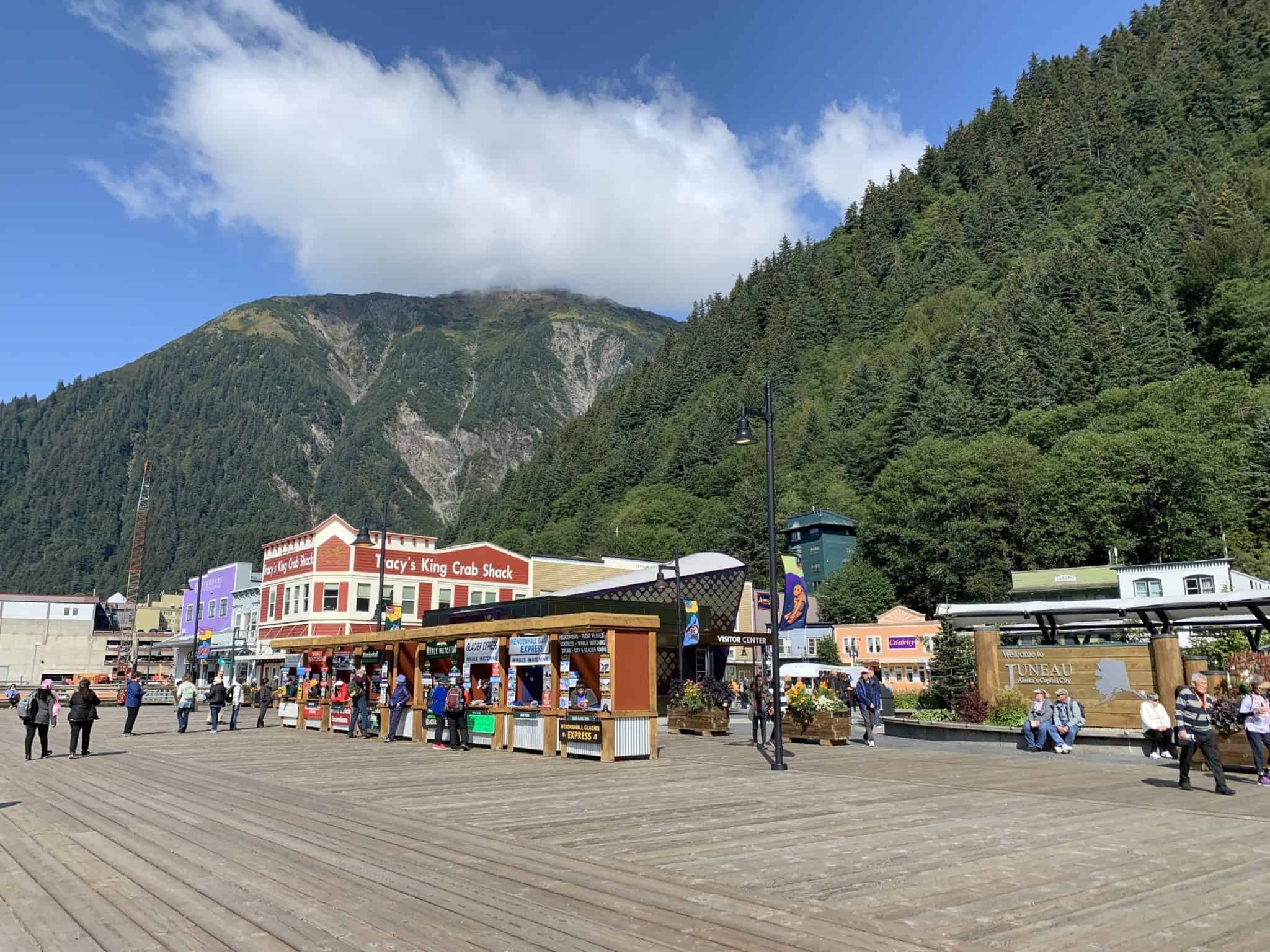 The cruise docks naturally funnel you onto Franklin Street. Although you'll find some great restaurants and a few locally-owned shops here, it's well worth your time to walk just a couple more blocks into the heart of downtown Juneau, where everything is locally owned and you'll have access to a much wider variety of souvenirs.
Downtown Juneau is built into the side of a mountain, so bring sturdy walking shoes and a "hillwalking" sense of adventure — you're going to need them.
WiFi is at a premium in Alaska, and that goes double in popular cruise ports like Juneau. Sometimes you can get access in coffee shops or bars with a purchase. But for the most reliable and free WiFi, head to the public library when it's open.
In Juneau, the library is on the top floor of a parking garage located right next to the cruise docks.