Monday is the last opportunity for cruisers to share their thoughts and comments with the U.S. Centers for Disease Control and Prevention.
On July 21, 2020, the CDC invited the general public to leave their comments on the cruise industry through Monday, September 21, 2020.
How To Leave A Public Comment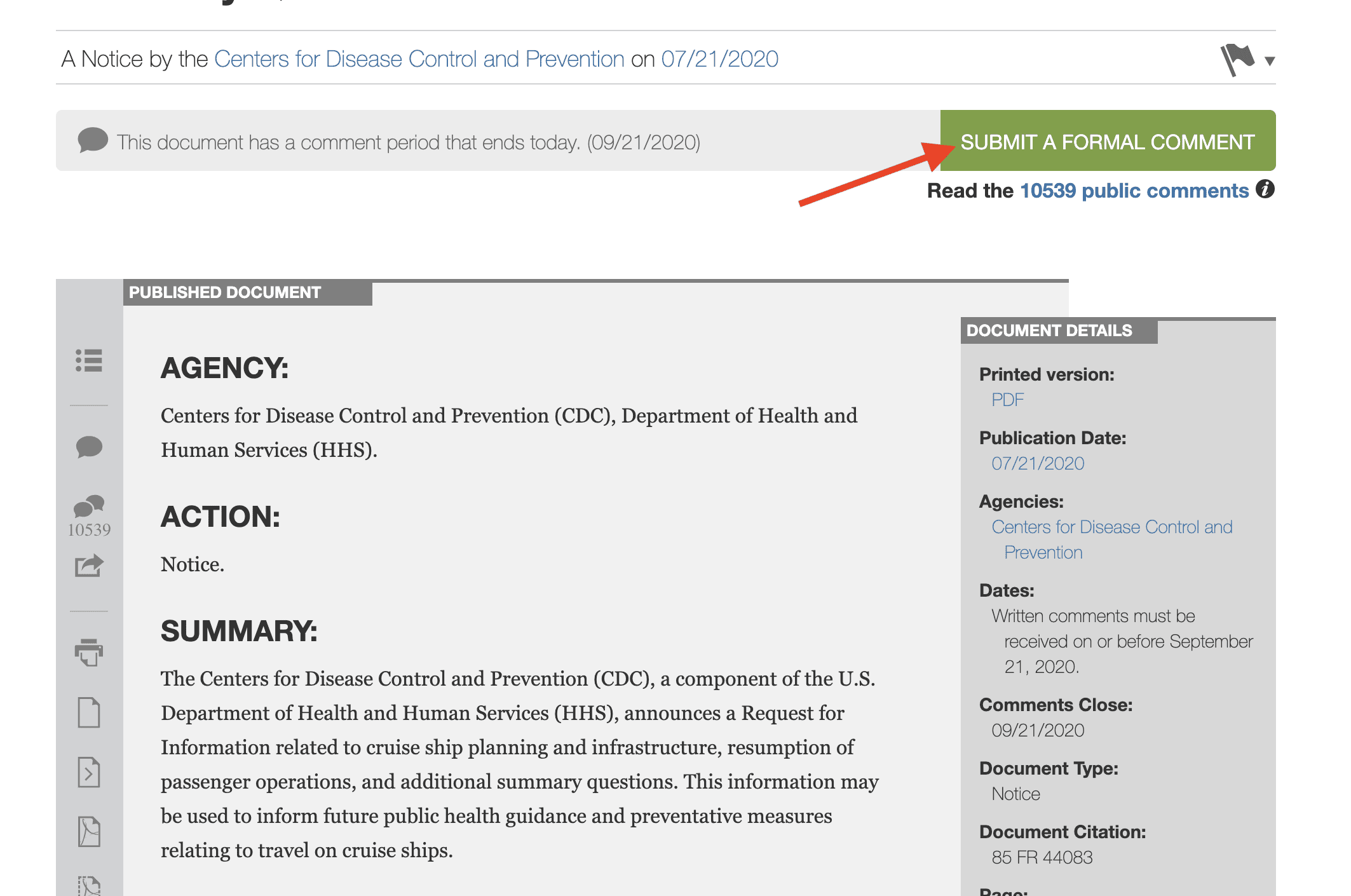 To leave commentary before it's closed to the general public, you can go to the Federal Register and follow the prompts. Once you get to the screen, click on the green box located in the upper-righthand corner.
All in all, there are 28 questions ranging from planning and infrastructure to the resumption of passenger operations, all surrounding the cruise industry.
This is a good time to weigh in on questions such as:
Should cruise ship operators limit shore excursions?
Should specimens be tested onboard or should specimens be collected onboard for commercial testing onshore?
How should cruise ship operators encourage medical personnel to report cases to CDC?
Should cruise ship operators plan to reduce passenger and crew loads to decrease the risk of transmission on board the ship?
Currently, there are over 10,500 public comments available to be read on the public register. Comments range from people fully supportive of the cruise industry's reopening to environmentalists leaving unrelated comments on their thoughts of cruising.
Starting To Move Forward
On Monday morning, two cruise companies — Royal Caribbean Group and Norwegian Cruise Line Holdings — submitted a 65-page Healthy Sail Plan document to the CDC for consideration.
The plan outlined 74 key points that the cruise companies would do and implement to reduce the spread of infections on board.
At the time of publication, the CDC has a no sail order imposed on cruise ships that sail from North American waters until September 30, 2020.
However, industry trade group CLIA (Cruise Line International Association) has voluntarily suspended cruises from US territorial waters until October 31, 2020.
You can leave your comment on the Federal Register by clicking here.