One of the new spaces on Carnival Celebration is the Latitudes Bar. The venue is located on deck six in the Gateway zone and is themed around travel. It features cocktails themed after different countries as well as wines and beers from around the world. Above the bar, you'll even find a flip departure board like you'd see at an old train station or airport.
If you've sailed on Mardi Gras, this space may look both familiar and new to you because this zone is the New Orleans-themed French Quarter on that ship. Latitudes Bar is in the same space as the Fortune Teller Bar is, except this venue has a lot more seating than Fortune Teller.
Here's the full Latitudes Bar menu on Carnival Celebration.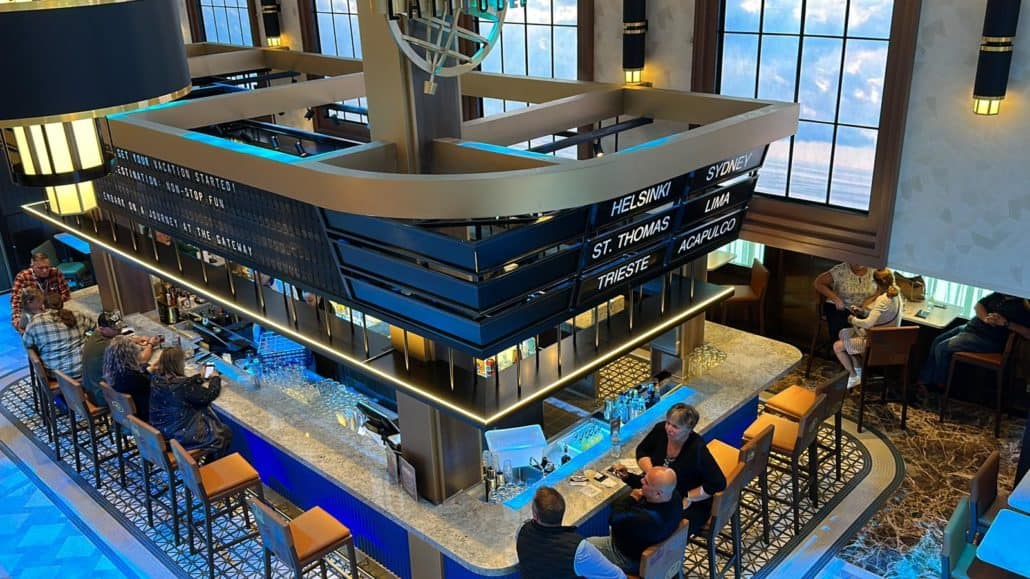 Latitudes Bar Menu
Cocktails
Tokyo Sangria: East meets west in bubbly, fruity and sweet deliciousness — Sake, Chinola passion fruit liqueur, pineapple, orange, Sierra Mist ($10.50)
Blue's Blue Margarita: Blue, our favorite Mexican iguana, is representing on Carnival Celebration with one of his signature margaritas — Patrón Silver Tequila, Blue Curaçao, lime, agave ($12)
Aperol Spritz: Light and refreshing, perfect for enjoying during Italian summers (or anytime on a cruise) — Aperol, Prosecco, club soda ($10.50)
Old Fashioned: The classiest American classic, name says it all — Woodford Reserve Bourbon, sugar, Regans' Orange Bitters No. 6 ($12)
Pisco Sour: A popular cocktail in Peru made with pisco, a type of brandy. It is characterized by a sweet and tart flavor balanced by a silky feel — Machu Pisco, lime, sugar, aquafaba, Angostura bitters ($10.50)
Paloma: Mexico's (other) favorite cocktail, a combination of grapefruit and tequila that's muy refrescante — 1800 Reposado Tequila, lime, sugar, grapefruit, soda ($10.50)
The Cosmopolitan: Born in Miami in the 80s, the Cosmo is a classic and lovely pink-hued libation — Stoli Citros Vodka, Blended Family Triple Sec, lime, cranberry ($11.50)
Green Tea Martini: With a traditional Chinese grain spirit at its heart this cocktail is accented by earthy green tea and sweet melon — Ming River Baijiu, melon liqueur, green tea, sugar, lime ($11.50)
Chilcano: Hailing from Peru, the chilcano combines pisco, lime, and ginger ale to create a snappy and tasty drink — Macchu Pisco, lime, ginger ale, bitters ($10.50)
The Sakura: Inspired by the beautiful and fleeting nature of Japanese cherry blossoms, topped with an aromatic bubble that bursts before your eyes — Snow Maiden Nigori Sake, Pama pomegranate liqueur, St. Germain, lemon, cherry bitters
Aviation: A unique, floral cocktail with a long history dating back to 1916 in New York City's Hotel Wallick — Bombay Sapphire Gin, Maraschino Liqueur, lemon, Crème de Violette ($11.50)
Caipiranha: Brazil's national drink made with cachaça, a rum-like spirit with a distinct flavor that makes for a decidedly tropical concoction — Soul Cachaça, lime, sugar ($10.50)
Bramble: Originating in London's Soho neighborhood, this modern and well-balanced classic is named after a blackberry bush — Bombay Sapphire Gin, lemon, blackberry ($11.50)
Molé: Smoky mezcal and vermouth provide a robust base with chocolate adding complexity of flavor and a touch of chili for Mexican spice — Creyente Mezcal, Nero Bottega dark chocolate liqueur, Vermouth, agave, chili, and chocolate
Pimm's Cup: Dating back to the 1840s, this British drink has also found a dedicated base across the pond in New Orleans — Pimm's No. 1 Cup, fresh lemonade, cucumber, Sierra Mist ($10.50)
Mezcal Negroni: A Mexican variation on the Italian classic, smoky mezcal adding earthy and savory flavors to the bitter and herbal cocktail — Creyente Mezcal, Vermouth, Campari ($11.50)
Goa Sour: With a smoky peated whisky hailing from the Goa region of India, this cocktail is accentuated with cardamom for a warm and pleasant spice quality — Paul John Peated Single Malt Indian Whiskey, cardamom, lime, sugar ($11.50)
Sazerac: The official cocktail of New Orleans! — Sazerac Rye Whiskey, Hardy VSOP Cognac, sugar, Peychaud's bitters, Herbsaint ($11.50)
Kir Royale: A popular French cocktail, bubbly and elegant with a hint of berry sweetness — Prosecco, Crème de Cassis ($10.50)
Brooklyn: Named after a New York City borough, this elegant classic is a cousin to the Manhattan, dating back to 1908 — Jameson Irish Whiskey, Lilet Blanc, Maraschino Liqueur, Ramazzotti Amaro ($10.50)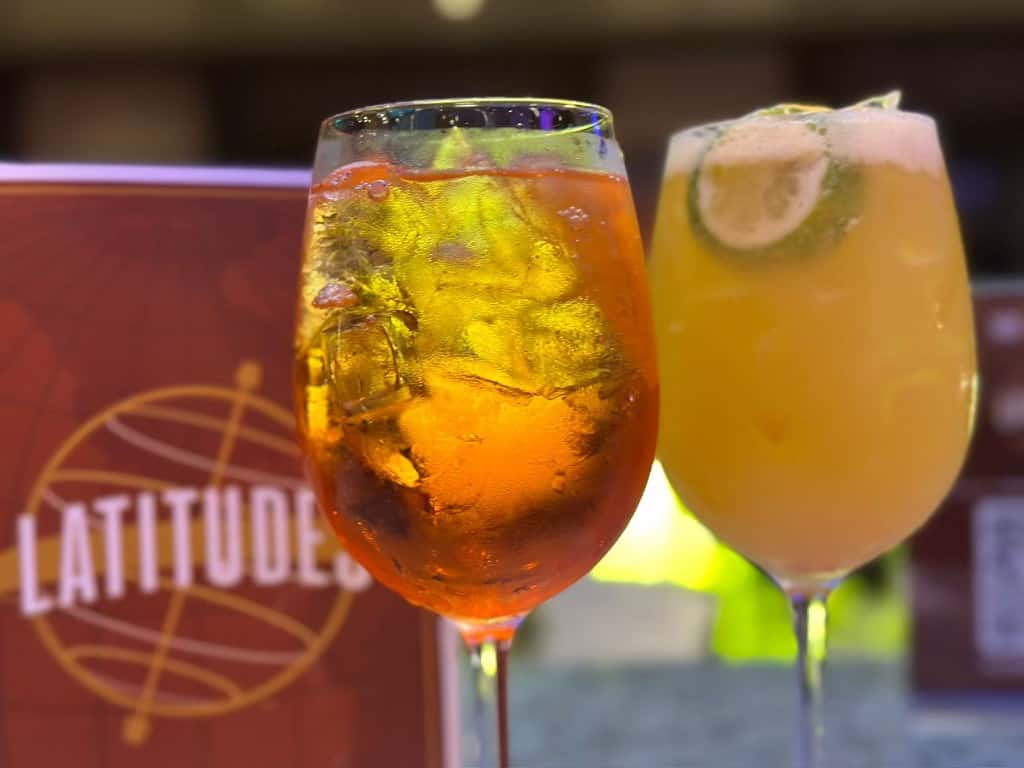 Beers
Beers are 16 oz. and $7.50 each.
Asahi (Japan)
Dos Equis (Mexico)
Peroni (Italy)
Stella Artois (Belgium)
ParchedPig Beach Lager (USA)
Paulaner Hefe-Weizen (Germany)
Sparkling Wine
Prosecco (Italy) — $9.50
Domaine Ste. Michelle (USA) — $12.50
Keush Origins (Armenia) — $13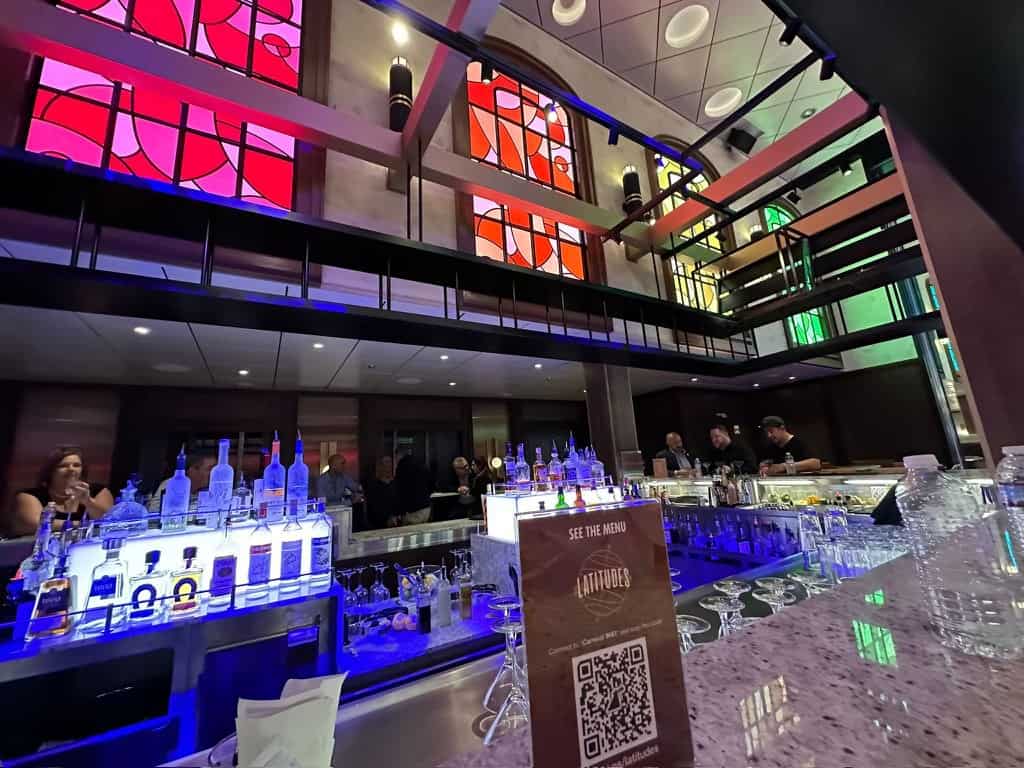 Red Wine
Lambrusco (Italy) — $10
Pinot Noir (USA) — $12.75
Shiraz (Australia) — $12
Malbec (Argentina) — $13.25
Tempranillo/Garnacha (Spain) — $12.50
Cabernet Sauvignon (France) — $10
White Wine
Pinot Gris (Italy) — $11.75
Côtes Du Rhône Blanc (France) — $10.50
Moscato (Italy) — $12
Riesling (Germany) — $12
Sauvignon Blanc (New Zealand) — $12
Chardonnay (USA) — $11.75
Rosé (Armenia) — $10
READ NEXT: Carnival Celebration Dining Guide: Which Restaurants Are Complimentary?
Pin it!