If you're engaged and looking to combine your love of travel with a stress-free wedding planning experience, look no further than a cruise wedding. It turned out to be the perfect option for my husband and I. Here's an account of what our perfect wedding day was like.
Planning the Wedding and Cruise
My husband Mike and I knew we wanted to get married on a cruise ship since we took our first cruise together on Carnival Magic. It was my third cruise and his first, and we instantly became cruise addicts and knew that it was something we would continue to do as we grew older together.
I had never given much thought to what I wanted my wedding to be, aside from knowing I wanted it to be as easy to plan as possible. I had no interest in spending hours calling florists or meeting with bakers to taste test cakes. (Cake is cake, am I right?). Once we looked into a cruise wedding, it became clear that it was what we wanted to do. Since the cruise line takes care of almost everything, we knew it would be stress-free, and an onboard wedding in Galveston would allow non-cruising friends and family to attend since we live nearby. It was a perfect compromise between a destination wedding and a more traditional one that could be attended by those who couldn't travel as far. Best of all, the wedding was shockingly budget friendly, with the total cost being only a small fraction of what most people spend on weddings. Combine all that with our biggest passion – cruising – and it was a no-brainer!
Originally we had our hearts set on getting married on Carnival Breeze, but when we discovered it was booked solid for the entire summer, we chose Carnival Freedom. We knew we wanted a July wedding because we had several graduations in May and June and then many guests who had to be back in school at the beginning of August. Carnival Freedom turned out to be the better option for us anyway, since we are big fans of both the Alchemy Bar and RedFrog Pub, the former of which is not found on Carnival Breeze. The Freedom is also the only ship other than the new Carnival Vista to have a Dr. Seuss Bookville, which proved to be a big bonus for the kids we had sailing with us.
So as soon as we verified a free date for the wedding – July 23, 2016 – with the wedding department, we booked our cruise and then called back to book the wedding. Thankfully, my mom is a travel agent with 35+ years of experience, so she set up a group booking for us to block out rooms and get us all discounted rates and onboard credit. (Thanks again, mom!)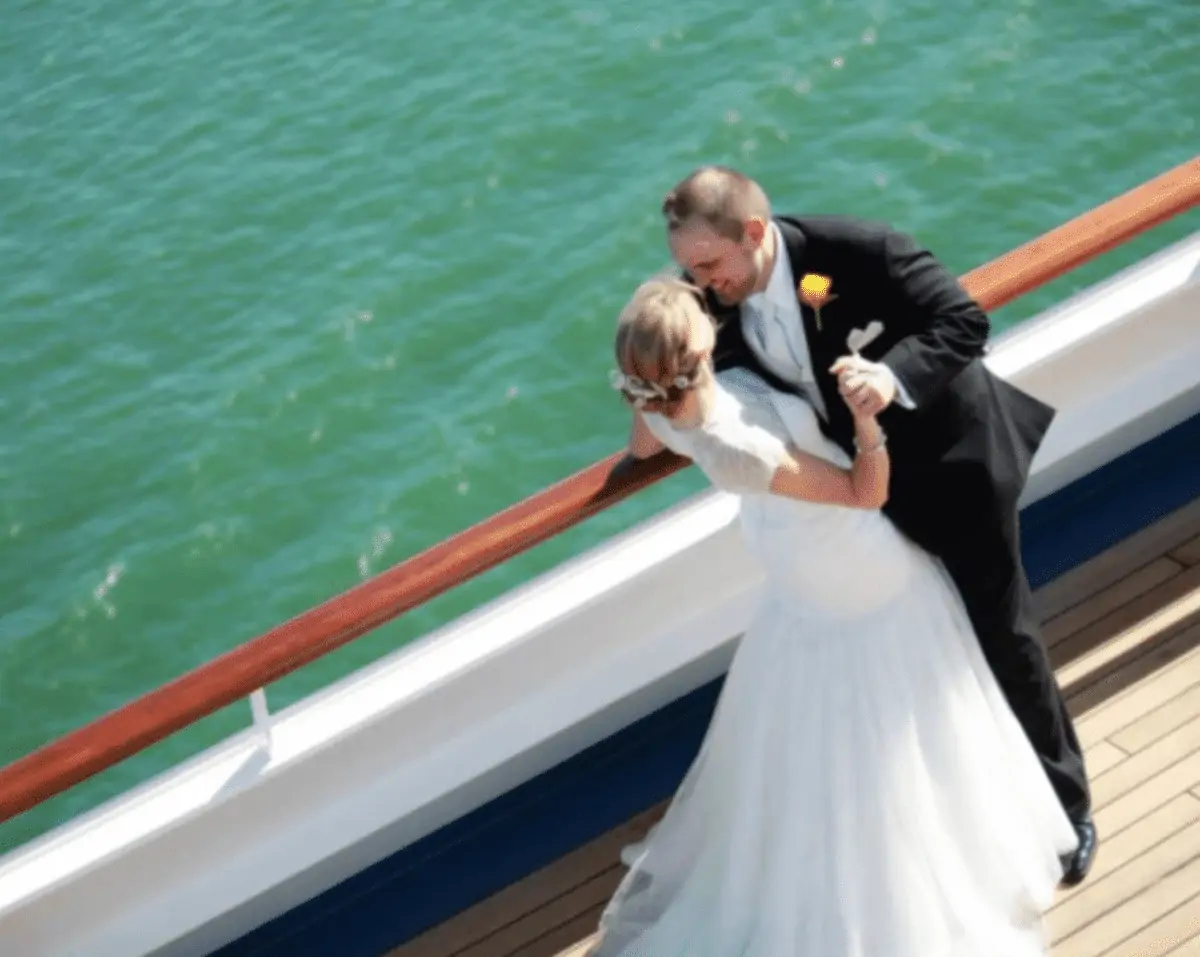 More Planning
Wedding planning was a breeze. I made a few phone calls to the Carnival wedding department to ask some questions, but other than that I didn't do much the entire time except sign some paperwork.
However, know that if you're considering a cruise wedding, you should be someone who is willing to surrender control. The cruise ship bakes your cake, cooks your food, provides the wait staff, and hosts the entertainment, and they use a third party company for flowers and officiating. If you insist on controlling every detail of your wedding, this may not be the right option for you. I myself am very "go with the flow," and I couldn't be bothered to care about whether or not I had centerpieces or the right shade of off-white napkins. I just wanted to marry my best friend and throw a good party for it!
Click here for parts two and three!