Here is part three and the final post in my cruise ship wedding series.  If you missed the first two posts, here's part one and two.
Reception
The reception was a complete whirlwind. After we were announced as Mr. and Mrs. Baxter and made our entrance, we went immediately into our first dance. Then we did the father/daughter dance followed by the mother/son dance. Our emcee, Kendall – a member of the Carnival Freedom entertainment staff – kept things moving along nicely the entire time. As soon as the dances were over, we cut our cake and toasted with champagne.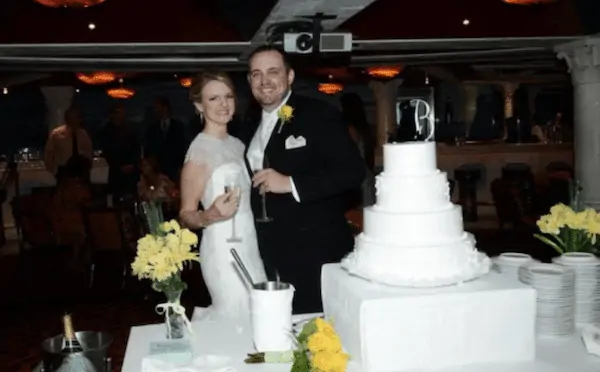 Then, it was time to dance!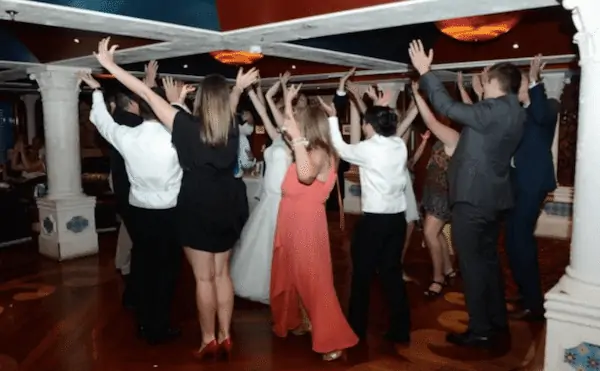 Later on, we did the bouquet and garter tosses.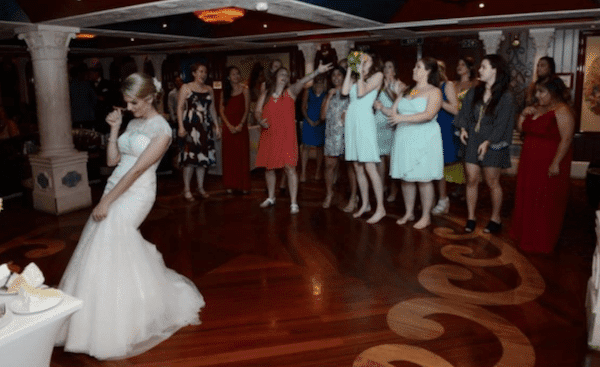 It seemed like I barely had enough time to get around to chat with everyone before they were announcing it was time for non-sailing guests to leave. All in all, the reception flew by, which we had anticipated since we knew it would only be an hour and a half. That being said, we had a blast and wouldn't have changed a thing. Our guests loved the open bar and the hors d'oeuvres, the wedding cake was just to die for, and the music kept people (or at least me) dancing the whole time. We couldn't have asked for more!
Photos
After the reception, our photographer Arsana took us to one of the dining rooms, where we sat through the muster drill for our own safety briefing with some others who were physically unable to attend. It was nice to finally sit, and I was happy to not have to stand outside in the sweltering Texas heat in a crowd of people while wearing my wedding dress.
Then, we took advantage of the practically empty atrium lobby to take some stunning photos.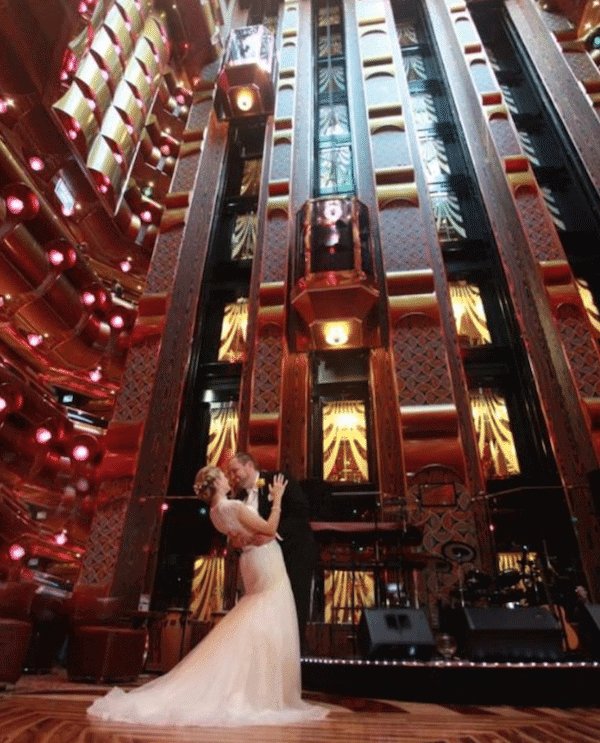 Arsana then led us to the Swingtime Jazz Bar, which is a quiet and elegantly decorated lounge across from the piano bar. We took a few more photos there before heading up to the lido deck for some shots with the water. Arsana was not shy about asking other cruisers to step out of the way so we could take our pictures, and people actually seemed to enjoy watching a bride and groom have photos taken, since many of them hung around to watch and say congrats to us.
After the lido deck photos, we were done with our pictures and free to go and enjoy our cruise.
By Tuesday – only three days later – we received a note to meet with Arsana to view our photos and video.
We purchased the "Pinnacle Collection" package, which includes sixty 8×10 Pro Portraits, forty 5×7 snapshots (candid photos), a 12×12 printed and bound wedding story book, two 20×30 canvas wall arts, two DVD slide shows with music (unless you book videography, which we did – then you just have your wedding video instead), and digital copies of all photos purchased. However, since Arsana could only print our story book in 10×10 instead of 12×12 as advertised, he let us pick ten extra 8×10 Pro Portraits and let us keep ALL the snapshots. We were more than happy about that, and the wedding photos and videos were all STUNNING!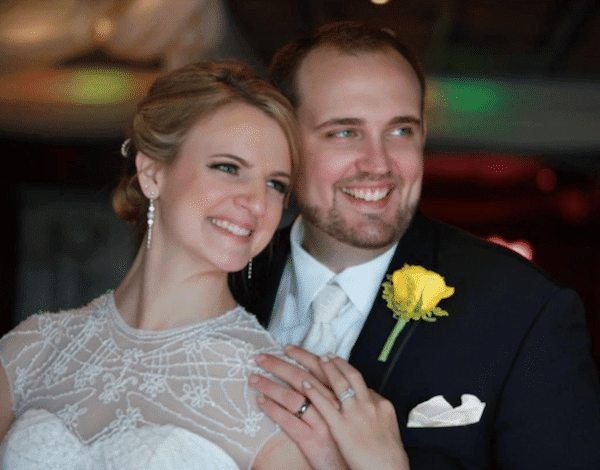 We picked up the photos and video the very next day. The only thing we had to wait for was our canvas prints, which we got the very last night of the cruise. I have never heard of such a quick turnaround for wedding photos and videos! It was definitely another perk of having a cruise wedding.
Then… Happy Cruising!
I had several family members who felt conflicted about joining the cruise because they thought it was our honeymoon. On the contrary, we encouraged everyone to join us and called it a 7-day wedding ceremony rather than our honeymoon (so we could use our lack of a true honeymoon as an excuse to book another cruise, of course!). We were so thrilled that so many friends and family (27, to be exact) decided to join us, because when else do you get the chance to gather that many people together for an entire week for vacation? Everyone had a blast, and it was perfect that everyone was able to do their own activities and excursions and enjoy their own vacation. We would meet up at dinner or at the bar at the end of the day to catch up and hang out together. That is the best thing about cruising – everyone can do their own thing!
When you combine our fun times with the perfect weather, amazingly ports of call, exceptional food, and exemplary service from the Carnival Freedom crew… Well, we couldn't have hoped for a more memorable and special week!