Ten years ago on January 13, 2012, Costa Concordia ran aground and capsized on the rocks of Giglio, Italy.
By sunrise the next morning, 32 passengers and crew had lost their lives, and the ship's master, Francesco Schettino, faced not only questions about what happened but accusations that he abandoned command of the ship while passengers were still in danger.
In the coming years, new safety procedures would be introduced across the cruise industry as a result of that night's tragedy.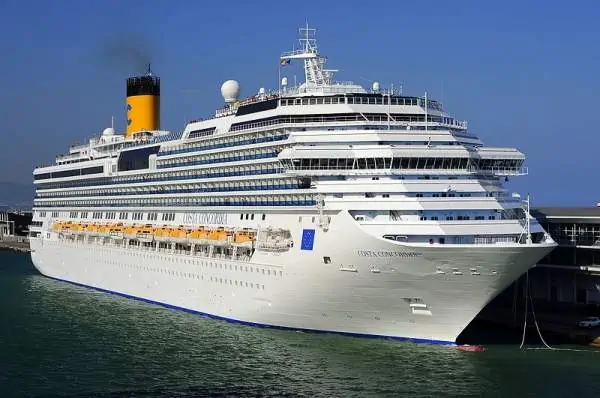 Let's look back at the events of that fateful and deadly Friday the 13th and their aftermath a decade later..
How did Costa Concordia Sink?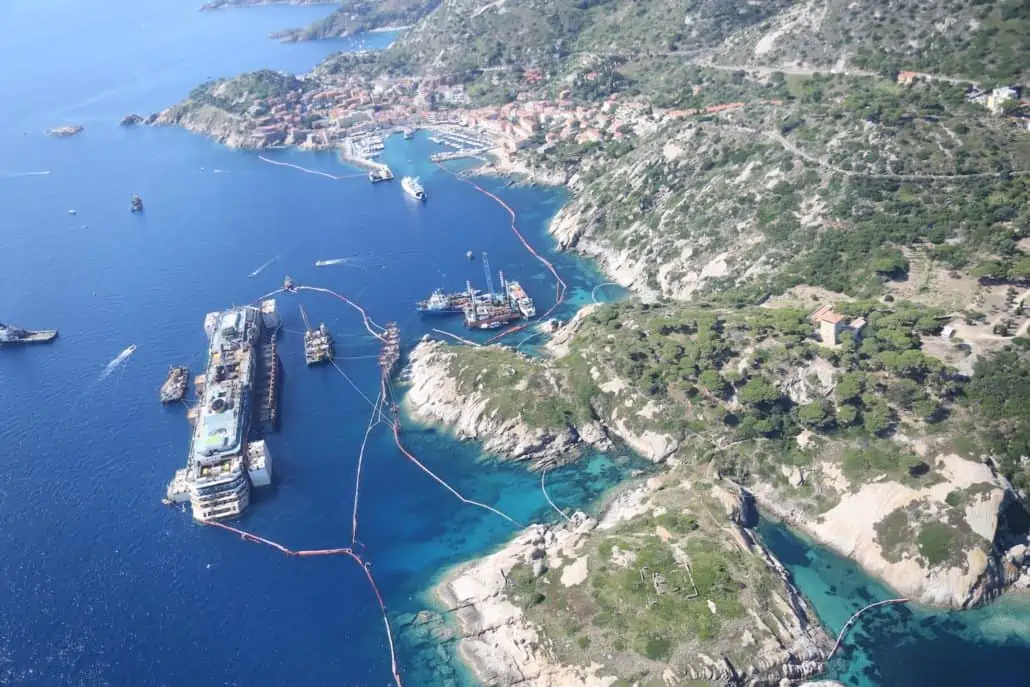 The Costa Concordia left Civitavecchia, Italy at 7 pm local time on a seven-night cruise bound for Savona. About two and a half hours into the voyage, the ship's Captain, Francesco Schettino, ordered the ship to leave its intended course and head toward the small island of Giglio, Italy to perform what's known as a "sail-by salute," a maneuver intended to impress both passengers and local residents by sailing very close to the island.
At 9:45 pm, as the ship sailed perilously close to Giglio, the port side of the ship scraped a rock, breaching the ship's hull and causing it to lurch violently and be plunged into darkness. The ship's officers initially only communicated news of the power outage to passengers and the Italian Coast Guard, and assured both that the situation was under control.
Meanwhile, on the bridge and below decks, chaos ensued as officers and crew members tried desperately to contain flooding that ultimately impacted the engine room. A 167-foot-long opening was torn in the hull, and three of the ship's watertight compartments were breached — a situation that would ultimately doom the vessel.
Over the ensuing hour, Concordia was free-floating, picked up the wind and tides. The ship was blown further north, and spun around, with the starboard side coming to rest against an underwater rock shelf, which caused the ship to lurch again and begin to roll over on its side.
At about 10:42 pm, Captain Schettino finally called a General Alarm, and a short while later, lifeboats were launched as passengers and crew started abandoning ship in what has been described as a chaotic process. The ship's increasing list led to difficulty launching lifeboats and placed a large number of the life craft inaccessible or already submerged and unable to be launched.
MORE: 9 Cruise Line Private Islands and Where They Are Located
Timeline of Costa Concordia Sinking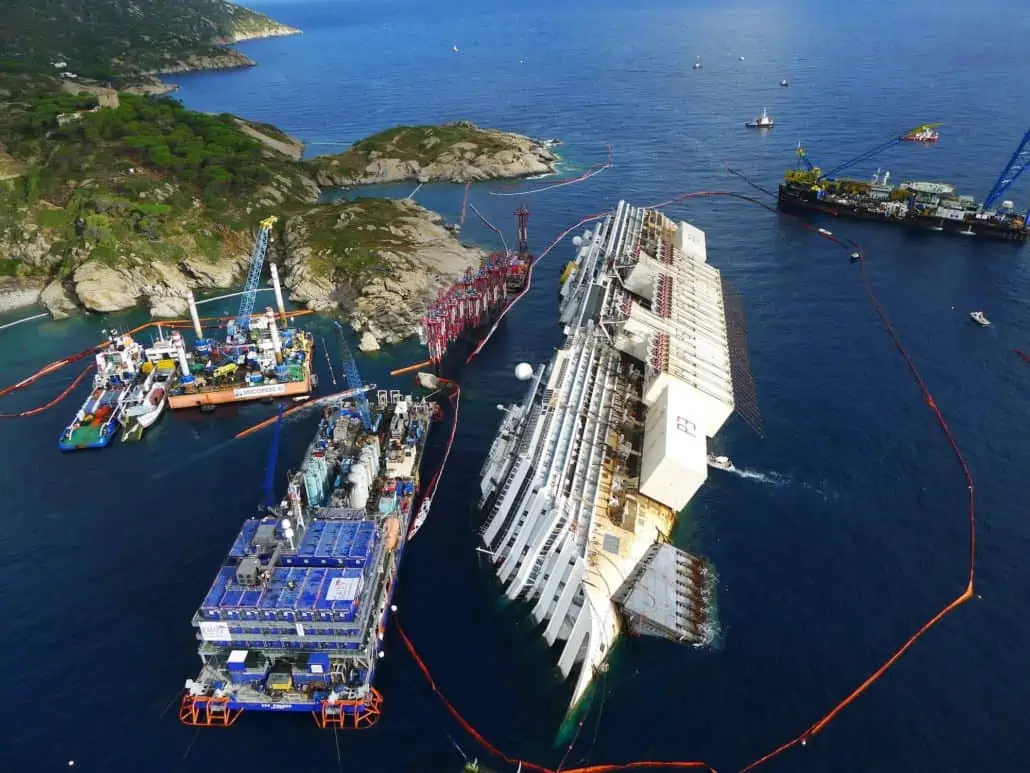 Over 90 minutes after the first impact with the rocky island shore, Italian Coast Guard rescue teams begin to arrive.
Frustrated by unsuccessful efforts to reach Captain Schettino by radio, Gregorio De Falco, commander of the Livorno coast guard fleet, calls Schettino on his cell phone and is shocked to hear the Captain is on a lifeboat.
Here's a partial transcript of one of their blistering conversations:
De Flaco: What are you doing Captain?
Schettino: I am here going with the lifeboat. I am here coordinating rescues.
DF: What are you coordinating from there? Schettino? Listen to me Schettino. There are people trapped on board. Now, you go with your lifeboat back on the ship… you tell me how many people there are. Is that clear? … You tell me if there are children, women, or people in need of assistance and tell me the number in each of these categories.
S: Commander, please.
DF: Are you refusing to go back on board, Captain? Tell me the reason why you are not going.
S: Do you realize it's dark here and we can't see anything
DF: What, do you want to go home, Schettino? It's dark so you want to go home? Go back on the ship through the ladder and tell me what we can do. How many people there are and what do they need? Now! Schettino you might have saved yourself from the sea, but this is really bad. I'll make you go through hell. Go the f –  – k on board!
The Captain defied the order.
By 1 am, the last functional lifeboat pulled away from the ship, leaving over 100 still on board to be rescued by Coast Guard divers and choppers, and, later, by walking down a ladder on the side of the ship, holding hands.
The port side of the ship was nearly horizontal at that point, with some passengers climbing and clinging to the hull awaiting evacuation. The Coast Guard knew that people were falling, jumping or being pushed into the frigid water, an all but certain death sentence for those not able to be rescued or reach shore quickly.
Those lucky enough to make it off the ship were welcomed with open arms by Giglio's residents who offered warn blankets, food and water, and accommodation in their homes.
As daylight broke, a massive search and rescue operation for about 100 missing passengers and crew grew larger. A week later, 20 people are still unaccounted for, with 12 confirmed to be dead, foreshadowing the final death toll of 32.
The body of one crew member was not recovered until after the ship was salvaged and being scrapped, over two and a half years later.
Schettino's Fate
In the days following the tragedy, Captain Schettino was placed under house arrest, charged with manslaughter, abandoning the ship, and causing a shipwreck.
Rumors that the married 51-year-old Captain was entertaining a young, alleged mistress on the bridge, Moldovan dancer Domnica Cemortan, when the ship ran aground, took over the tabloid newspapers and Twitter.
Reports indicated the young woman was sailing as a guest of the captain and was not on passenger manifests. When audiotapes of Schettino's conversation with De Falco of the Coast Guard were released, public sentiment in Italy turned further against the Captain.
In July 2013, Schettino's trial began and was under intense media scrutiny. A key question at trial was who ordered the ship to sail close to Giglio: was it Costa Cruises leadership, or did the 'rogue' Captain Schettino make the call?
During testimony, Schettino admitted he did not inform the company of the deviation from the ship's course, as it was not an official order.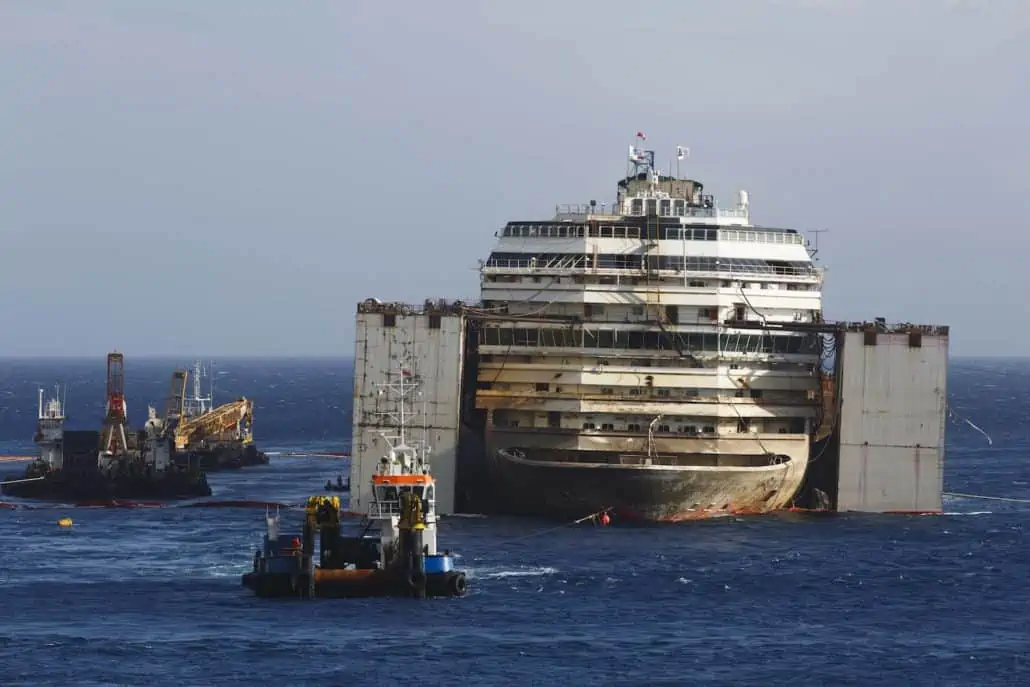 Facing charges of abandoning the ship, Schettino claimed during the trial that he tripped and fell into a lifeboat and was forced to leave the ship. Video of him entering the lifeboat leisurely contradicts his assertion.
Schettino's trial lasted 19 months, and he was ultimately sentenced to 16 years and one month of prison time. His appeal was not successful.
Five other crew members who had a role in the sail-by or who otherwise did not take appropriate action to prevent the tragedy took plea bargains for manslaughter but ultimately avoided prison time.
MORE: 18 New Cruise Ships Debuting in 2022
The Cruise Industry Refocuses on Safety
In the aftermath of Costa Concordia, both regulators and major players in the cruise industry revised safety guidelines within months, aiming to prevent a similar incident in the future.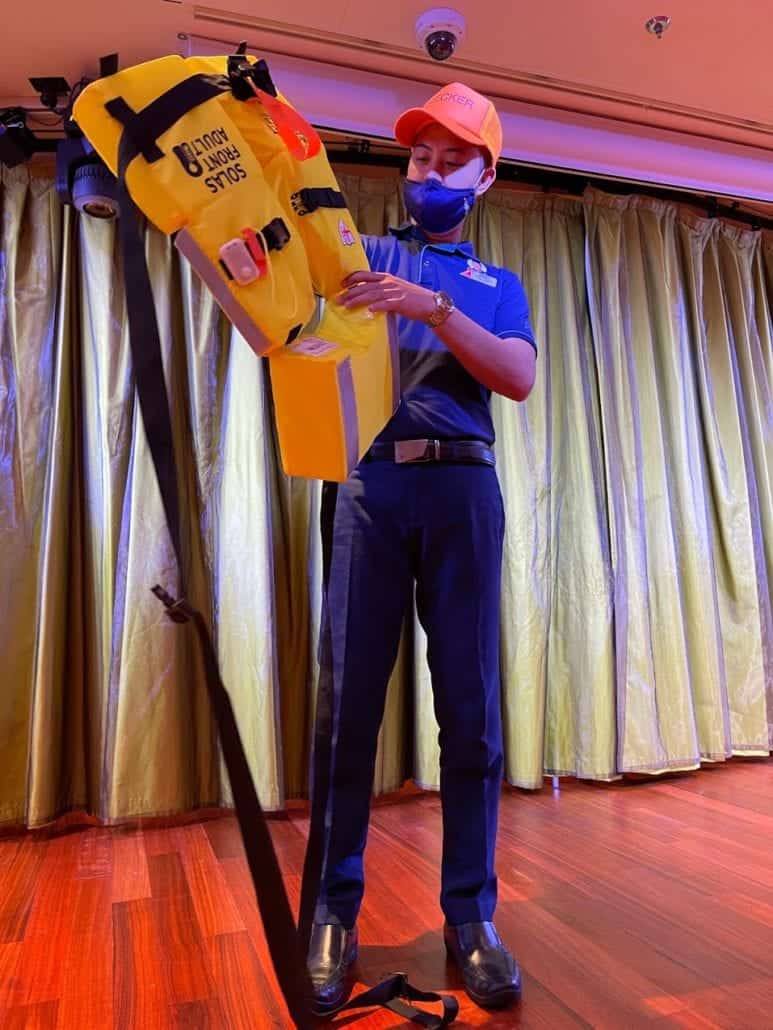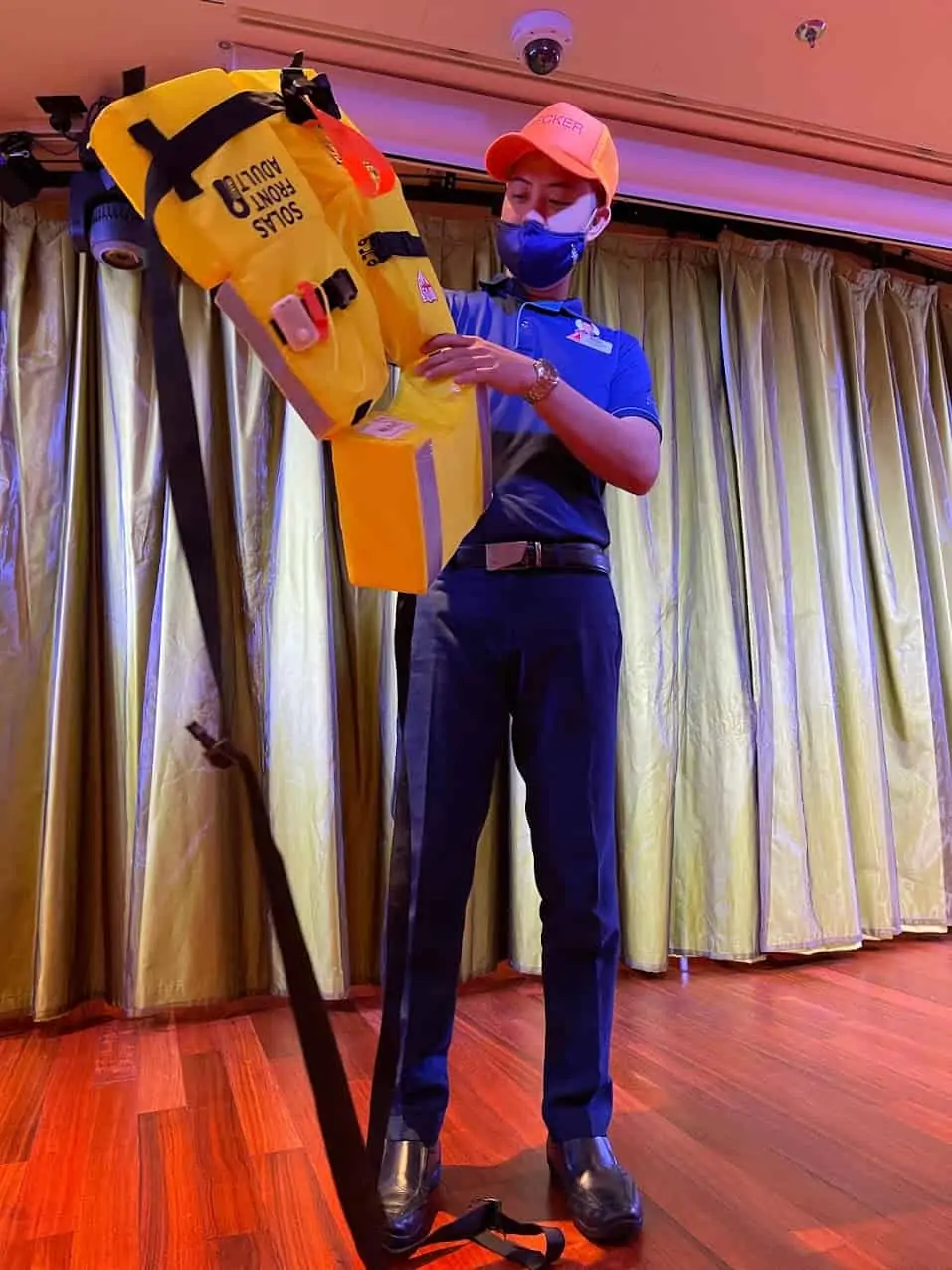 Among the first changes implemented was making the muster drill mandatory for all passengers prior to the ship setting sail. Previously, passengers could muster up to 24 hours after boarding, which means some passengers who boarded Concordia in Civitavecchia on January 13 may not have completed their drill, meaning they did not know what to do or where to report in the event of an emergency.
In Italy, government officials instituted a "no salute" decree shortly after the incident, impacting navigation procedures in and around Venice.
Shipbuilders and cruise lines have made changes in ship design and operation to better accommodate evacuations under different contingencies.
Around the world, ports have assessed their ability to respond to a large-scale, mass-casualty like the Costa Concordia grounding and are better prepared in the event of an emergency.
Though cruise bookings dropped in the immediate aftermath of the Costa Concordia tragedy, they quickly recovered as images of the grounded ship faded from TV screens and newspaper pages.
READ NEXT: 11 Former Carnival Ships – Where Are They Now?
Pin it!