Looking for a port less traveled? Perhaps one that won't have six ships in port on the same day? Your best bet is to book an itinerary that stops at a cruise line private island.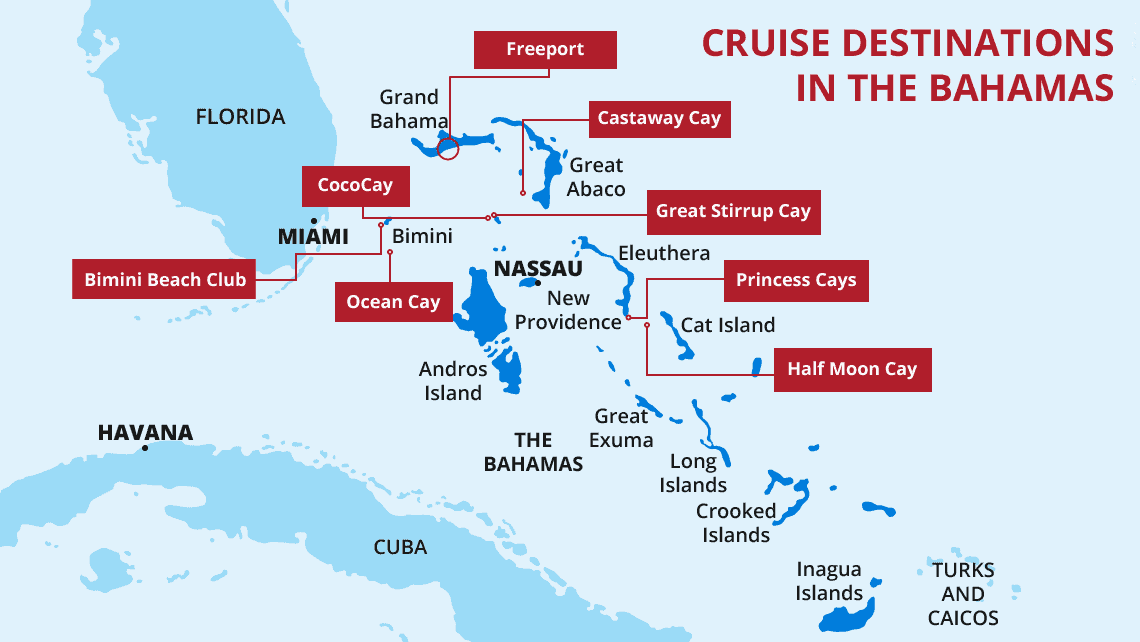 These private destination paradises offer the ultimate beach day with smaller crowds, no fights for a beach lounger, and meals included in your cruise fare.
Below are nine cruise line private islands.
1. Castaway Cay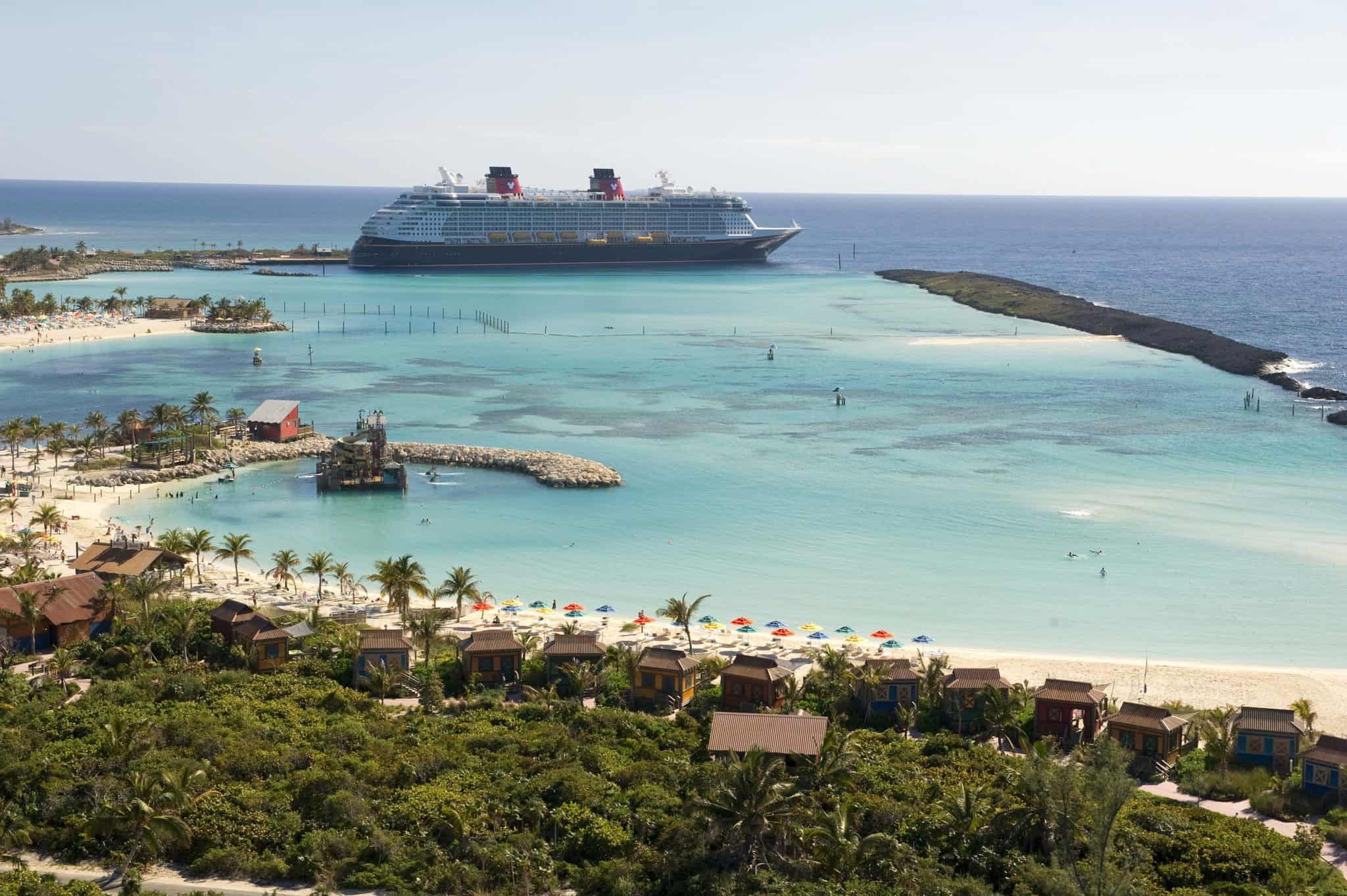 Location: Private island in the Bahamas
Cruise Line: Disney Cruise Line
Dock or Tender: Dock
This private Bahamian island is owned by and operated exclusively by Disney Cruise Line. It opened in 1998 after a $25 million renovation of Gorda Cay, previously an airstrip for bootleggers and drug runners.
Designed with a "castaway" theme, the island features food service, shops, three separate beaches (including an adults-only option), water sports, shore excursions, and even its own 5K race. Guests are able to use their room keys to charge on the island, and Disney even offers onshore child care.
Castaway Cay was the first cruise line private island to skip the tender ride since Disney dredged the harbor and built a pier.
Before you leave, don't forget to stop by the post office to mail a letter back home. The postmark is exclusive to the island and mentions Castaway Cay.

2. Half Moon Cay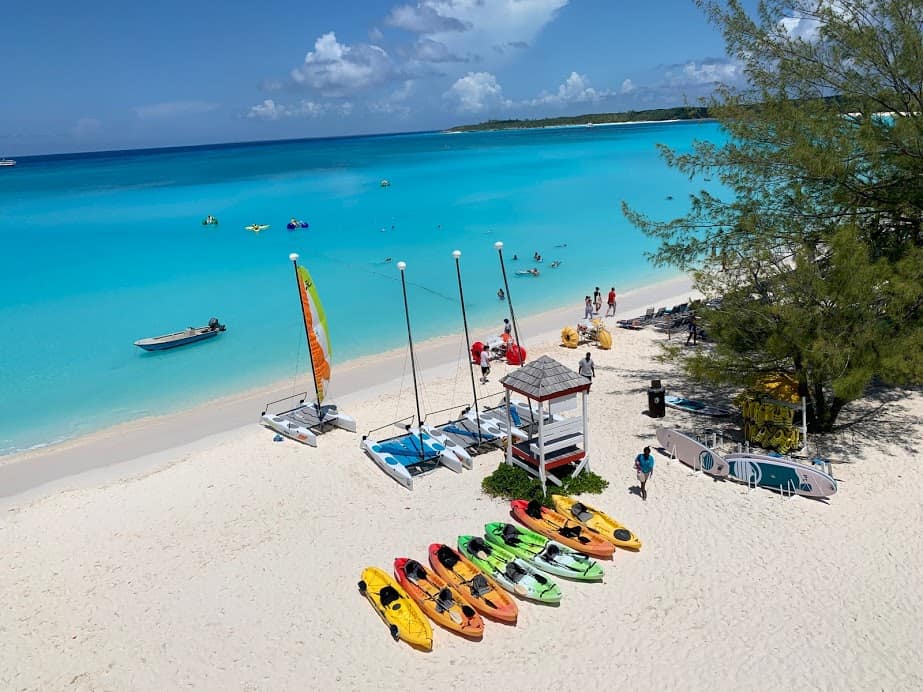 Location: Private island in the Bahamas
Cruise Lines: Carnival Cruise Line, Holland America Line
Dock or Tender: Tender
Officially owned by Holland America Line, this 2,400-acre island paradise is used primarily by Holland America and Carnival ships. The name Half Moon Cay comes from the island's 2.5-mile-long crescent-shaped beach.
MORE: How To Maximize Your Stay at Half Moon Cay [Photos]
Half Moon Cay is a tender port, but many of the amenities and offerings make up for that inconvenience. Free BBQ for lunch, horseback riding on the beach, a kid's water park area, and a chance to swim with stingrays are all on offer.
The island typically ranks second among private island destinations, only beaten by Castaway Cay.
3. Perfect Day at CocoCay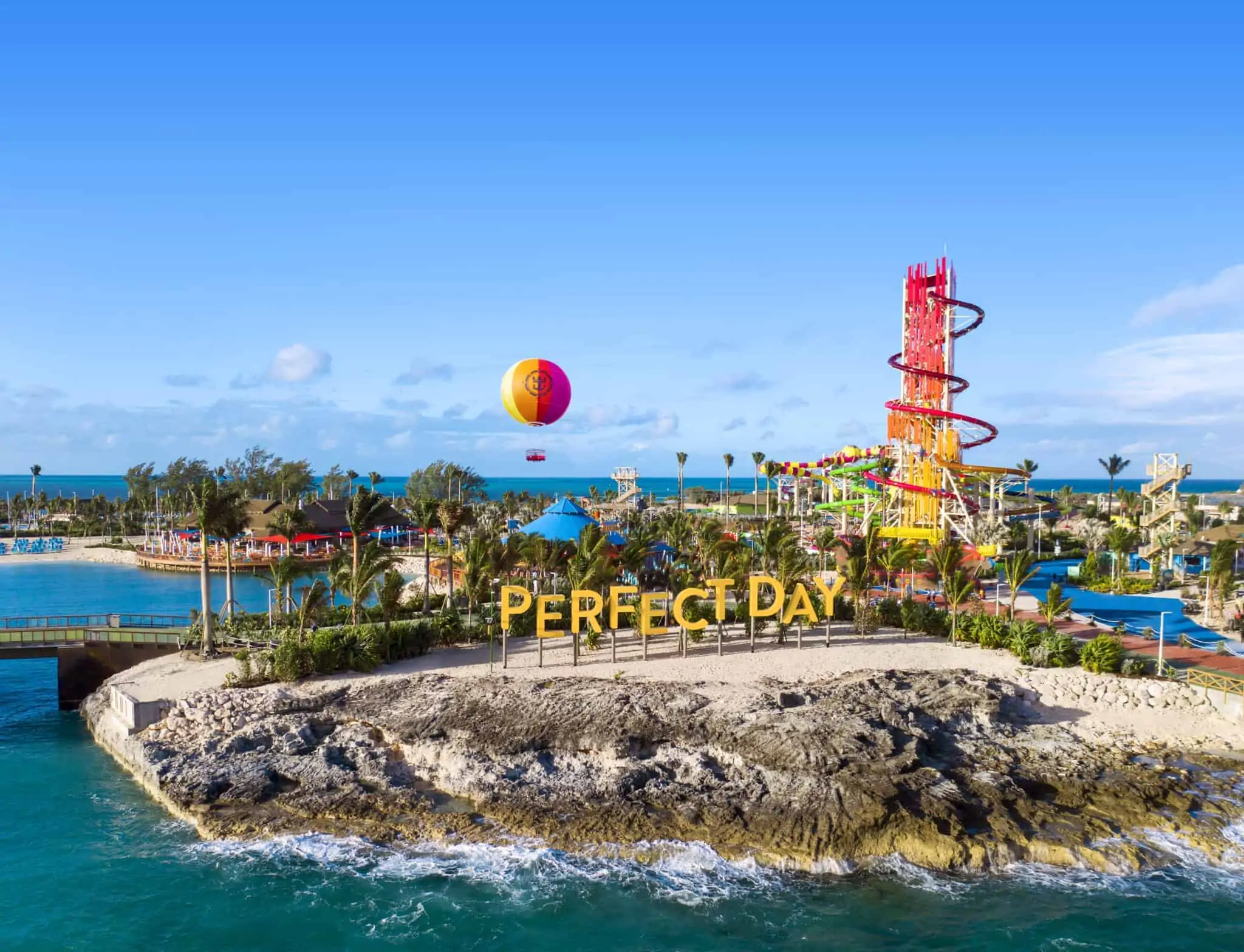 Location: Private island in the Bahamas
Cruise Line: Royal Caribbean
Dock or Tender: Dock
Originally envisioned as a private island destination by Admiral Cruises in the late 1980s, CocoCay opened to Royal Caribbean passengers in 1990 after the line acquired Admiral.
While always a popular tender port in the Bahamas, a day at CocoCay became perfect after a $250 million rehab that included the addition of a water park, pier, multiple pools, and more.
Perfect Day at CocoCay, the awkward name the island assumed after the renovations, is on par with Castaway Cay as a cruise draw for families.
The Thrill Waterpark (book early) carries an extra admission charge but features 13 water slides, including the largest in North America and the largest wave pool in the Bahamas.
However, a water park ticket isn't necessary to enjoy most of what the 140-acre island has to offer, including multiple beaches, a freshwater pool, and beach-side sports, including volleyball, basketball, and more.
There isn't an adults-only area here, but the extra-charge Coco Beach Club, with an infinity pool and sit-down restaurant, is likely to attract fewer kids than the rest of the island.

4. Great Stirrup Cay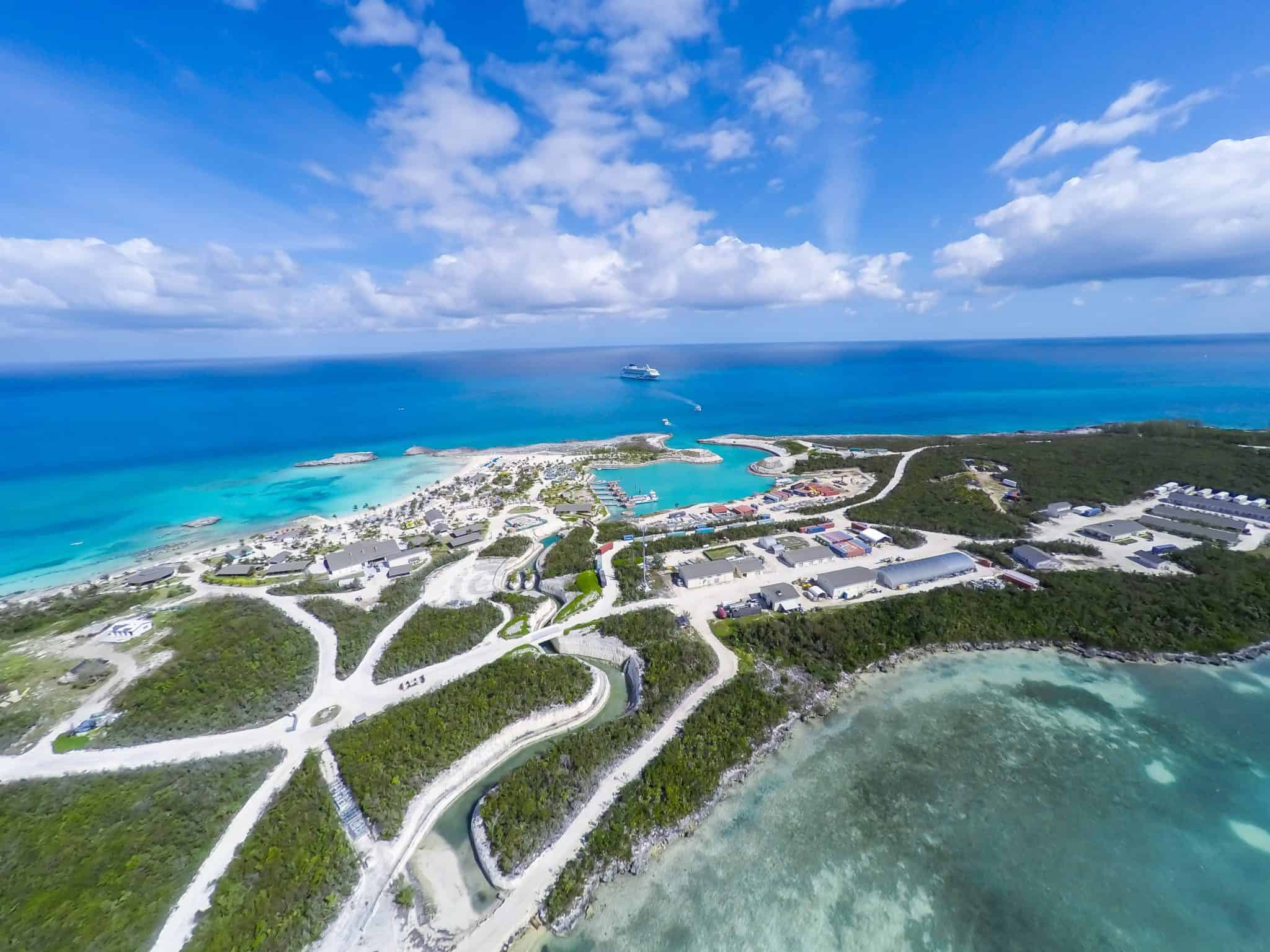 Location: Private island in the Bahamas
Cruise Line: Norwegian Cruise Line, Regent Seven Seas Cruises
Dock or Tender: Tender
The first private cruise line island destination, Great Stirrup Cay, opened to Norwegian Cruise Line guests in 1977. Once a hideout for pirates, Great Stirrup Cay is now a haven for sun-seekers thanks to its expansive beaches.
For those looking to be more active, parasailing, snorkeling, kayaking, and even driving a wave runner are all options here. Similar to other private islands, you'll get an island BBQ and the ability to purchase frosty drinks while sitting in your complimentary lounge chair.
PHOTOS: First Look at Great Stirrup Cay's Redevelopment
Kids will love this stop, as the island features the world's largest inflatable water slide, the Hippo, which stands 40 feet high and 175 feet long.
In the early days of the island, cruisers were brought ashore by tenders that landed on the beach, Normandy Invasion-style, but as part of upgrades in 2017, Norwegian Cruise Line built a harbor with tender docks, making for a much smoother arrival experience.

5. Princess Cays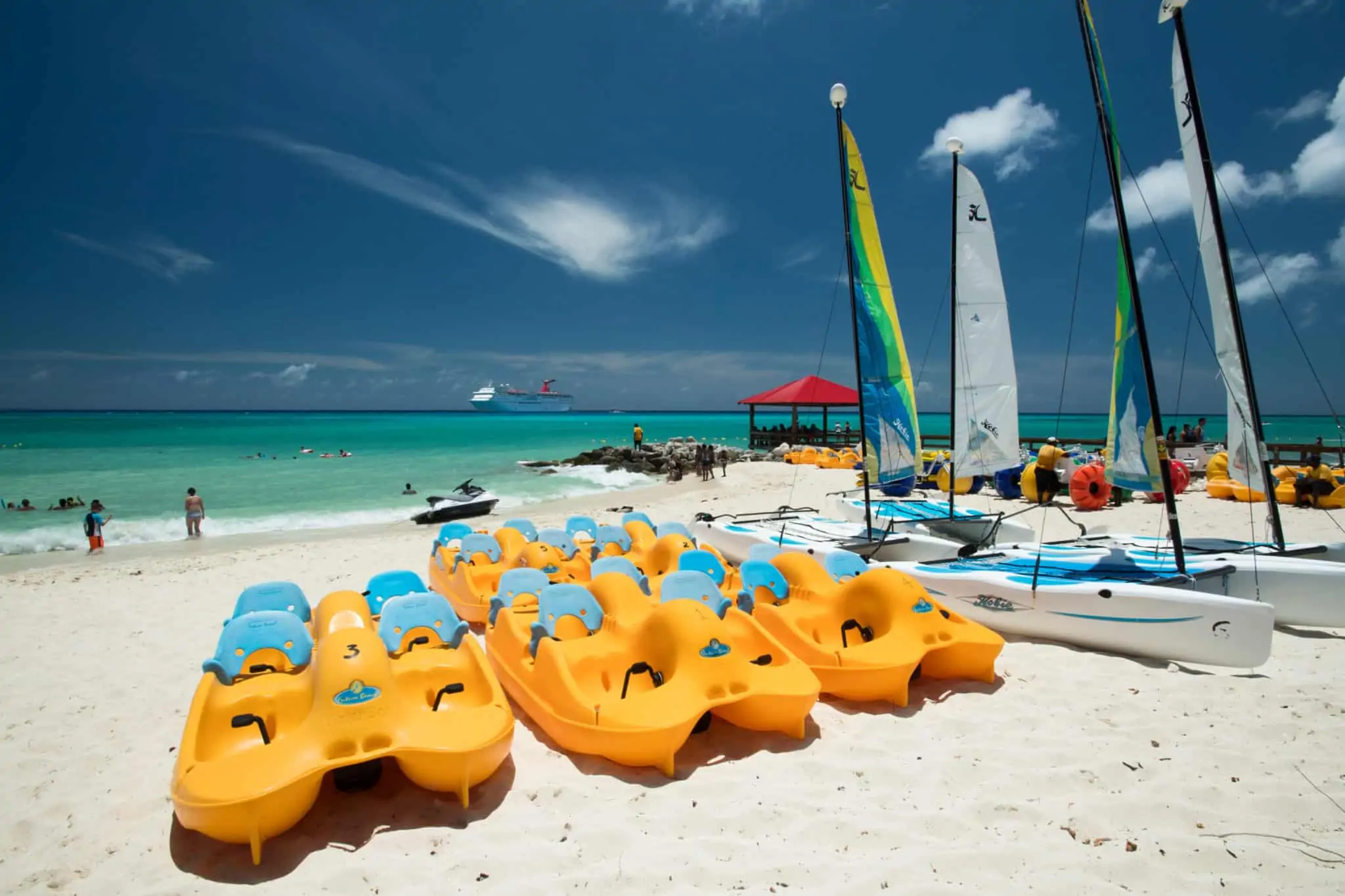 Location: Private destination on Eleuthera
Cruise Lines: Princess Cruises, Carnival Cruise Line
Dock or Tender: Tender
While not a stand-alone private island, Princess Cays rests on the southern tip of Eleuthera in the Bahamas, and most cruisers would never realize they're on a larger strip of land. Owned, as the name suggests, by Princess Cruises, Princess Cays is also a destination for Carnival Cruise Line.
Home to the standard amenities – several beaches, including a private adults-only area, water sports, a pool for kids, multiple bars, and wildlife excursions, it's easy and relaxing to spend a day here.
Check out the private cabana rentals for a bit of extra privacy and service. Princess Cays is a tender port, but the operation runs smoothly for the short ride from and to your ship.

6. Labadee
Location: Private destination in Haiti
Cruise Line: Royal Caribbean, Azamara Club Cruises
Dock or Tender: Dock
The second of Royal Caribbean Group's private destinations, Labadee is located in a lush, green forest on the northern coast of Haiti.
Opened in 1986, Labadee has changed a bit since those days – including a $55 million upgrade in 2009. No tender is necessary here, even for Oasis-class ships, thanks to upgrades to the pier.
An all-you-can-eat BBQ lunch is included in your visit to this port. As for the rest of the day, this is the port where you'll want to plan water activities – including snorkeling, jet skiing, parasailing, kayaking, and more.
But, the island's biggest claim to fame is the Dragon's Breath Flight Line: The world's longest zip-cable over water.
Further inland is the Dragon Coaster, a twisting and turning alpine slide. While it's necessary to leave the secured, private area to access these attractions, you're well looked after by Royal Caribbean staff.

7. Harvest Caye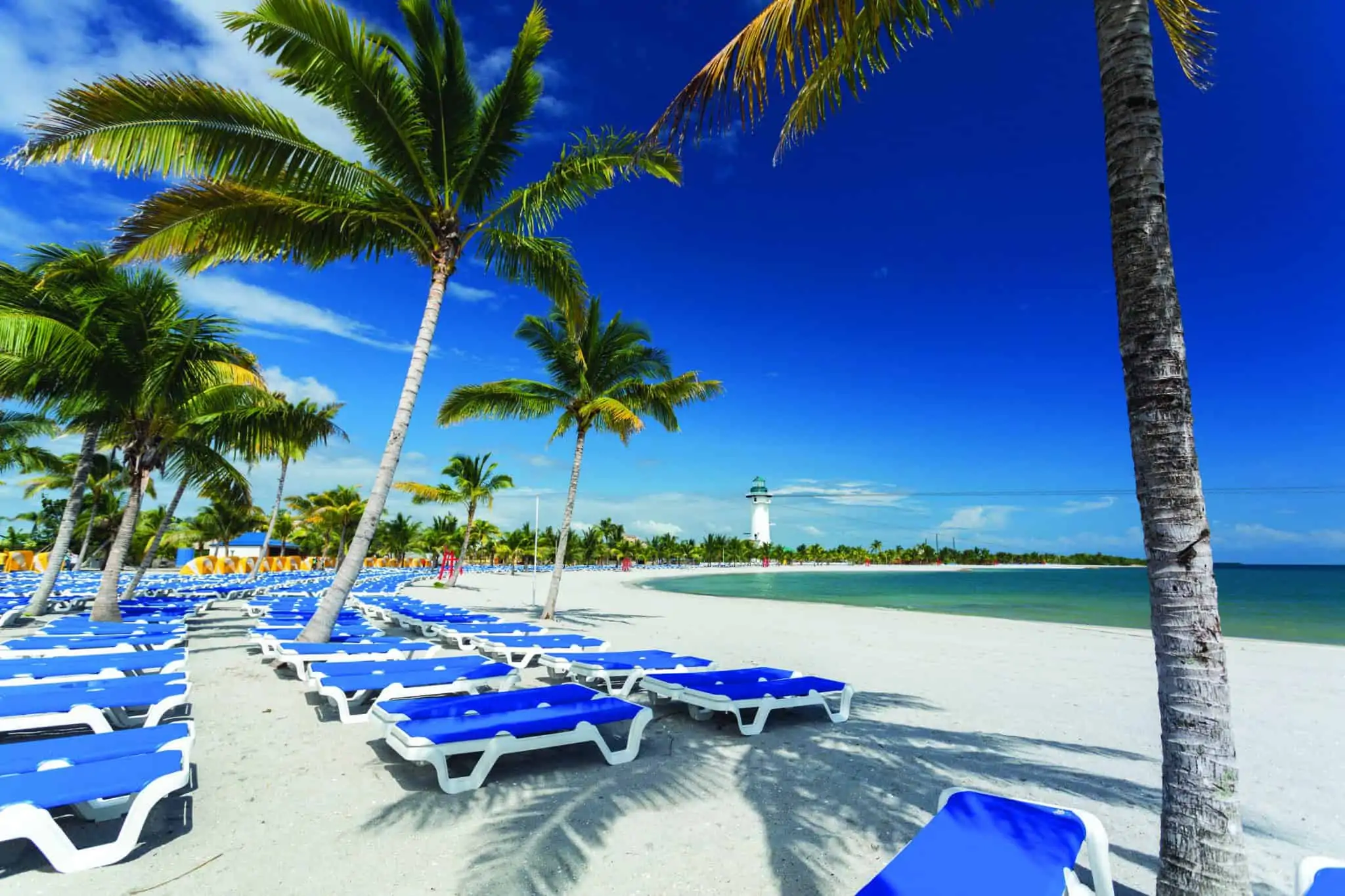 Location: Private Island in Belize
Cruise Line: Norwegian Cruise Line, Regent Seven Seas Cruises, Oceania Cruises
Dock or Tender: Dock
Harvest Caye welcomed its first guests in late 2016. Located just a mile off the coast of Belize, this private island offers Norwegian Cruise Line Holdings passengers a seven-acre beach, a 15,000 square-foot swimming pool, poolside cabanas, water activities in the private lagoon, shopping, and dining.
There are a number of nature and wildlife-focused activities on the island, making this a great stop for nature lovers.
At the saltwater lagoon, kayaking and paddleboarding will keep you busy for the afternoon. Belize's Great Barrier Reef surrounding the island makes for a first-class snorkeling and coral viewing experience.
If you want to explore further into Belize, an excursion to the Mayan archeological site of Nim Li Punit is the perfect opportunity.

8. Ocean Cay MSC Marine Reserve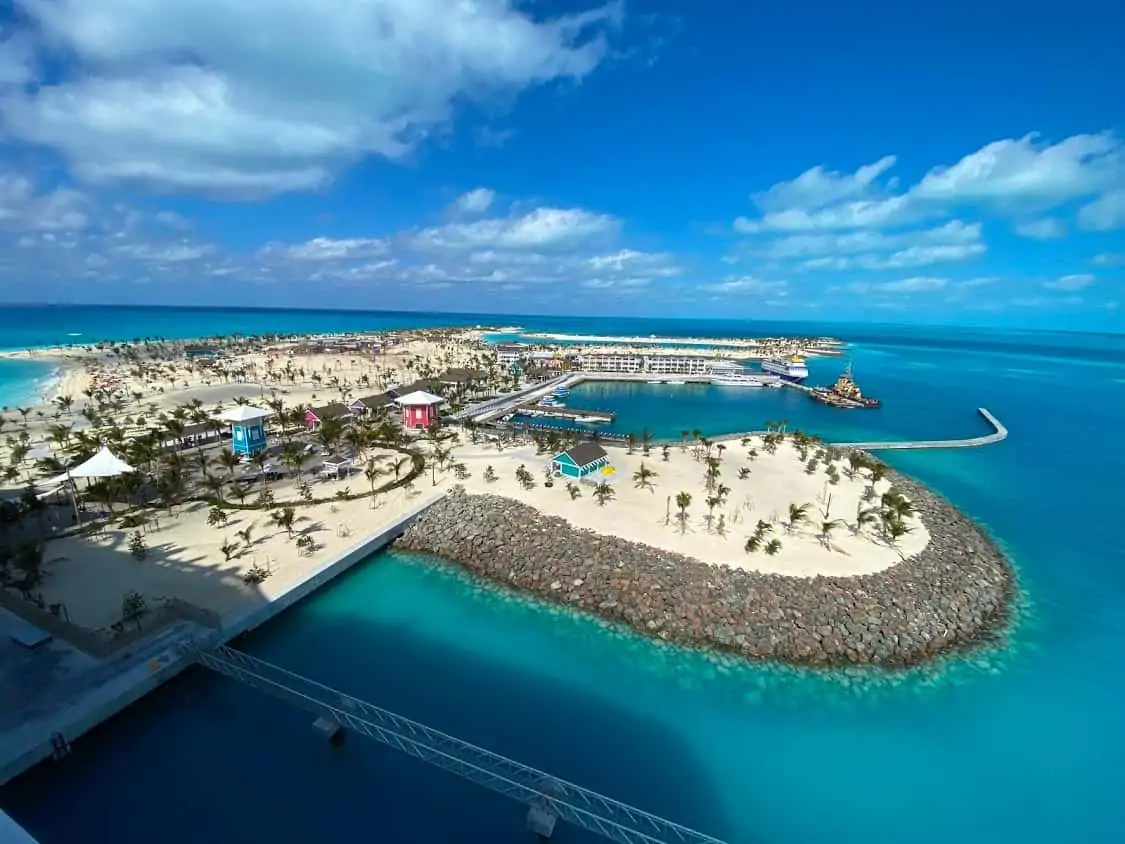 Location: Private island in the Bahamas
Cruise Line: MSC Cruises
Dock or Tender: Dock
Ocean Cay MSC Marine Reserve welcomed its first guests in December 2019. Located in the Bahamas, the private island destination is a stop on most of MSC Cruises' Caribbean itineraries.
Built as an industrial island and used primarily as an industrial scrapyard and sand excavation site in the 1960s and 1970s, MSC purchased the island in 2015 and has invested $200 million in creating a tropical paradise.
MORE: 15 Tips for Visiting Ocean Cay MSC Marine Reserve
The island offers an environmentally-focused experience, with the waters surrounding the cay serving as a protected space for coral and marine life to flourish.
Cruisers can enjoy eight beaches, a spa, nighttime Junkanoo parades and light shows, a zip line from the picturesque lighthouse, multiple bars, and several dining experiences — including food trucks. The island's shade canopy is still growing, so be sure to pack your sunscreen when going ashore.
9. The Beach Club at Bimini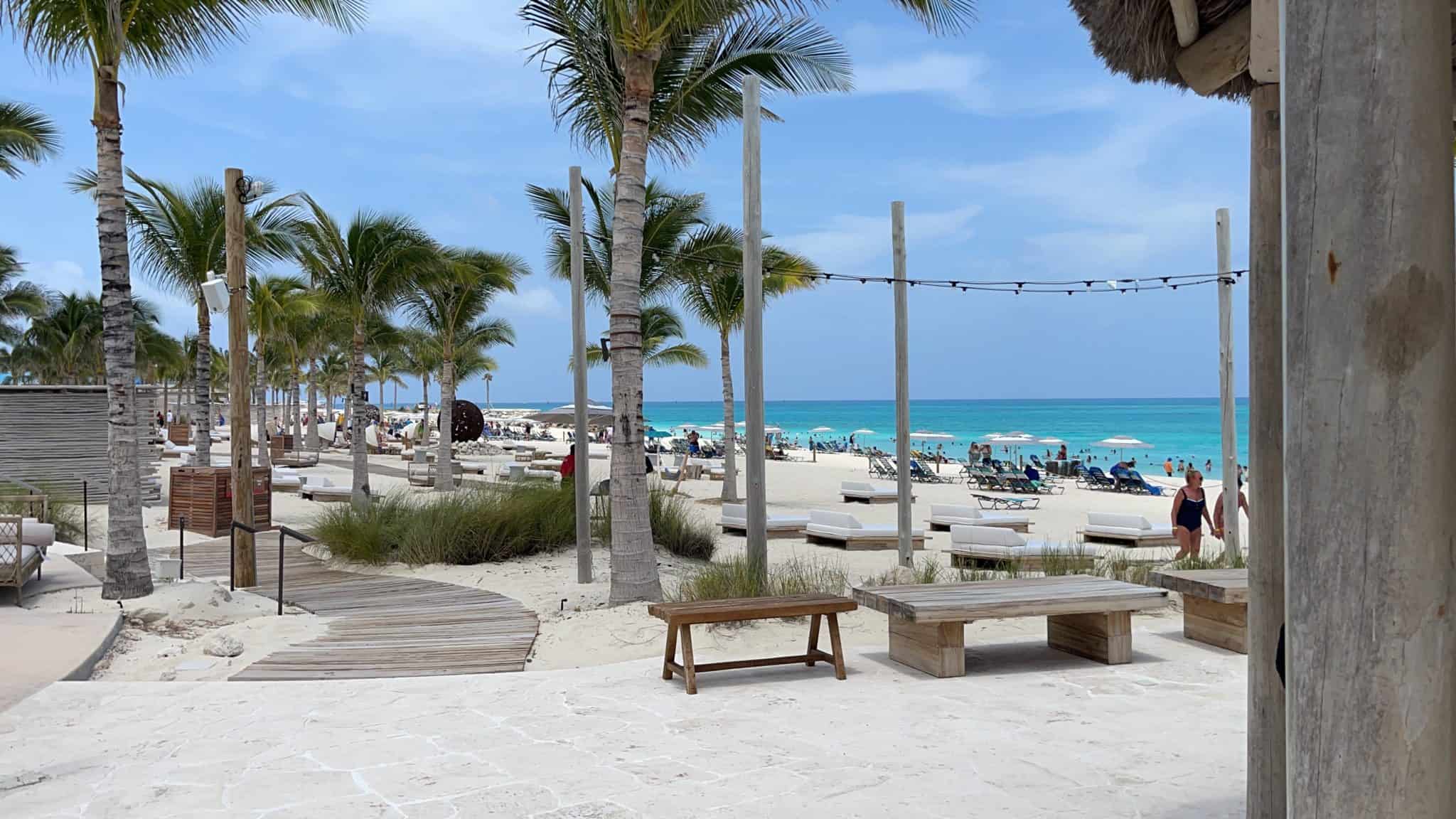 Location: Private destination on Bimini in the Bahamas
Cruise Line: Virgin Voyages
Dock or Tender: Dock, with a "short transfer" to The Beach Club
The Beach Club at Bimini has been developed in conjunction with Resorts World Bimini.
Previously set to debut when Virgin Voyages' Scarlet Lady made her inaugural sailing to the Bahamas in 2021, The Beach Club actually opened to other cruise ships before Virgin Voyages arrived. This is because Scarlet Lady was redeployed to the UK and debuted in the summer of 2021 there instead of from Miami.
Currently, other cruise passengers have been able to take excursions to The Beach Club, including those from Carnival. It is not known whether other lines will still be able to use the facilities once Virgin Voyages begins sailing in the Bahamas or if other lines will even continue to visit Bimini.
We do know that when a Virgin Voyages ship is in port, those passengers will have exclusive use of the facilities. On days when a ship is not scheduled to call, Resorts World guests will be able to access the club.
The Club promises sailors an adults-only beach, scuba diving, snorkeling, dolphin swims, and a hip, DJ-driven pool party that will be the place to see and be seen.
Each evening (at least on days when Virgin passengers are using it), a beachfront bonfire will cap off the ship's visit to the port on the Bahamian island of Bimini.
Have you visited any of these private ports? Which one is your favorite?
Pin it for later!