You probably clicked on this article because you just found out that your cruise is going to have some themed parties, and want ideas on how to do your makeup for the occasion! If that's the case, you have indeed arrived at the right place.
We go over several popular themed parties (some deck parties, some indoors) that you'll find on one or more cruise lines, and give you two makeup tutorials for each party that you can take inspiration from.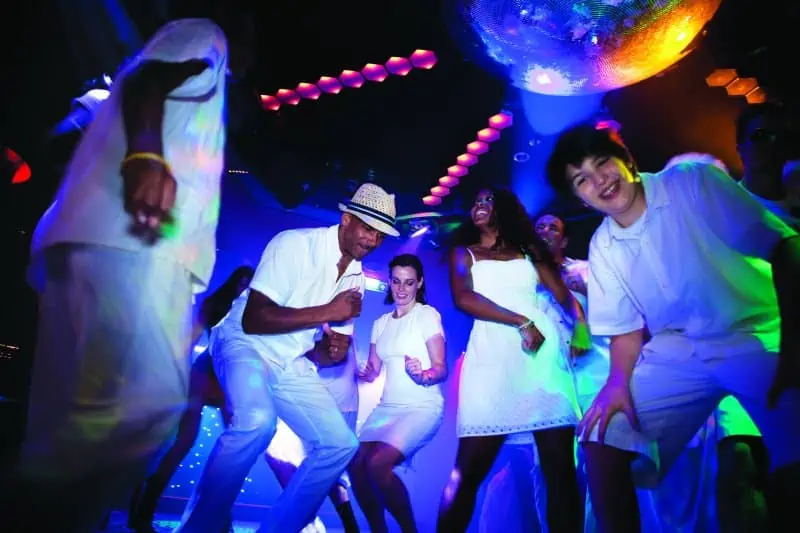 1. White Hot Party & H2GLOW Makeup
Norwegian Cruise Line is renowned for its White Hot deck party (known as H2GLOW on newer ships), where all the party people dress in white and/or neon and dance the night away. Other cruise lines do their own versions of a white night (sans neon), including MSC Cruises and Azamara.
Most of us probably don't do a lot of white or neon-themed makeup on an everyday basis, but these parties are the perfect excuse to try it out. (Check out the very end of this article for more white and neon tutorials.)
2. 70s Disco Party Makeup
Just as Norwegian is known for its White Hot Party, Royal Caribbean is known for its 70s Disco Party. Princess Cruises also does its own 70s-themed "Love Boat Disco Deck Party" — a tribute to the TV show that was filmed on its ships, and MSC has a Flower Party which is themed to the 60s and 70s as well.
3. 80s Night Makeup
Carnival Cruise Line is passionate about its 80s Night, which can be found on nearly half of the ships in its fleet. Royal Caribbean also hosts its own 80s themed party on Symphony of the Seas at the indoor Royal Promenade.
4. Pirates IN the Caribbean Party Makeup
Chances are if you've sailed Disney Cruise Line, you know about the infamous Pirates IN the Caribbean deck party. It's not available on every sailing (for example, some voyages have a Pixar or Frozen-themed party instead) but it's especially likely that if you're taking a cruise to the Bahamas or Caribbean, your sailing will include it.
People go all out for this event, probably more than for any other party on any other cruise line. Many passengers will be dressed in full pirate garb and Disney provides a pirate-y bandana to everyone for free so that even if you didn't bring a costume, you can join in on the dress-up fun.
Here are two (very different) tutorials to help you do your makeup to match the theme.
5. Italian/Mediterranean Night Makeup
MSC Cruises is known for having Italy or Mediterranean-themed nights on its voyages in the Caribbean. The dining room is decked out in red, green, and white for the Italian flag, and the menu is Italian themed.
Italian night isn't really a "party" in and of itself, because it usually takes place on the same night as the white party. So if you want to dress to celebrate both, we suggest doing your makeup in the Italian flag colors and wearing white clothes.
Even though this first tutorial was created for Christmas, the colors work just as well for Italian night.
6. Prohibition/20s Party Makeup
Royal Caribbean hosts a Great Gatsby-inspired Prohibition/20s themed party on some of its largest cruise ships. The late-night gathering isn't an outdoor deck party; it's a smaller event indoors and has a cover charge of $35 per person which includes food and drinks.
MSC Cruises also has a Great Gatsby/20s themed night on some voyages, which is a regular party with no cover charge.
7. Formal Night Makeup
Okay, we know that formal night is not really a "themed" event or party, per se. But we figured while you're here, you might want some makeup ideas for this special evening, too. Even though some people dislike formal night and elect to not participate, to us it's such a fun aspect of a cruise and a great reason to be able to dress up.
BONUS: More White Night & Glow Makeup
READ NEXT: 25 First Time Cruise Tips
Pin it!