Embarking on your first sailing can be overwhelming, but with our 27 helpful first time cruise tips, you can prepare properly and enjoy your vacation like a seasoned pro.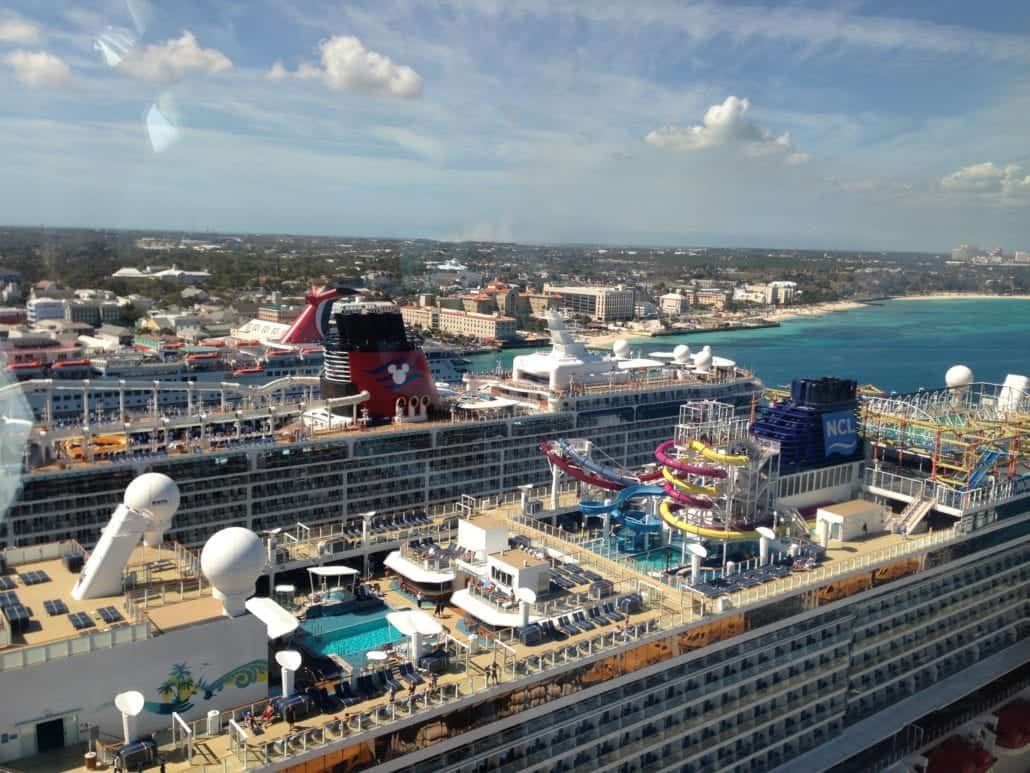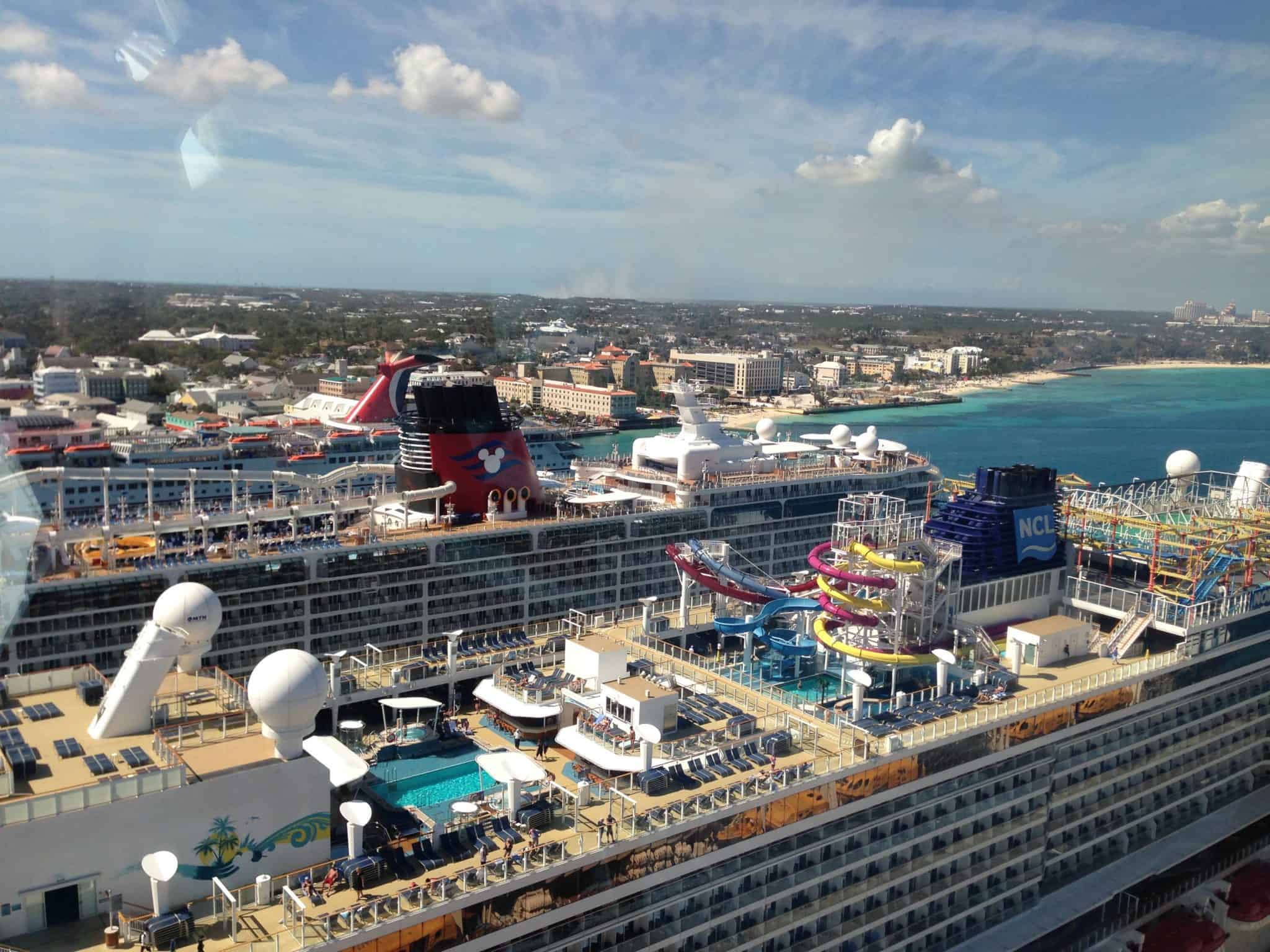 1. Pack swimsuits in your carry-on.
When you arrive at the cruise port, porters will whisk away your suitcases, so you don't have to lug them through the terminal and up the gangway. It's a great convenience, but you'll need to wait a few hours to see your belongings again.
To handle that, pack swimsuits and anything else you'll want for your first few hours onboard in your carry-on.
That way, you can hop in the pool, sunbathe, or hit the waterslides as soon as you board — and not waste any time having fun on your first cruise.
2. Your cruise card doesn't have to be a credit card.
Cruises are cashless societies. Most passengers pair their cruise card with a credit card and get billed for all purchases made onboard.
But you don't have to go this route. You can fund your cruise card with cash to ensure no one can go overboard at the casino without heading down to the front desk to put down more cash.
And if you're worried about kids running up huge bills in the video arcade and mocktail bar, you can turn off spending privileges on their cards completely — or set a limit even if you did pair theirs with your credit card.
3. Book a reservation at a specialty restaurant on the first night.
Everyone is eager to try out the main dining room on the first night of a cruise. Expect a crush of people waiting to be seated and slower-than-average service.
Instead, follow the pros and book a specialty restaurant for night one. Not only will you start your vacation with an intimate dinner, but you'll also find it easier to get a reservation at the time you prefer to eat.
Plus, some lines, such as Carnival, offer discounts or freebies to encourage first-night reservations at their extra-fee dining venues.
4. Make use of magnetic cabin walls.
Do you want to hear a secret? On most cruise ships, cabin walls are magnetic (since they're metal).
Pack some strong magnets or a magnetic whiteboard, and you can use the walls to leave messages or pin up important documents like cocktail party invites or shore excursion tickets.
5. Sign up for dining slots, spa treatments, and activities as early as possible.
It's hard to lock in your first-pick reservations when you and your 4,000 shipmates have only one week to see, do, and eat everything onboard.
Plus, suite guests and loyal past passengers will get priority over first-timers in regular cabins. The early bird gets the worm, so reserve shore excursions and dinner reservations online before your cruise if you can.
As soon as you board, run up to the spa to lock in your massage or to the kids club to book nursery hours or late-night group babysitting.
Also, head to the activities desk ASAP to book times for special activities (go-karts, laser tag) or limited-seating shows.
READ MORE: Five Tips to Save Money on a Cruise Vacation
6. Turn off your phone's cell service.
We're so used to depending on our phones we forget that once you're out to sea (literally), you're not in communication with land-based cell towers.
Satellite roaming charges are astronomical, and you don't want to come home to a huge phone bill. Once your cruise ship sets sail, set your phone to airplane mode. You can always turn on just the Wi-Fi if you wish to access the ship's internet.
7. Find alternative first-day lunch arrangements.
It's a cruise tradition to head to the buffet immediately upon boarding to get your first taste of all-you-can-eat gluttony.
Since cabins aren't open immediately, the buffet becomes a mob scene of people and luggage jockeying for tables and chairs.
Pro tip: Look for an alternative lunch option. No one will think you're a first-timer if you hop into a shorter line at a different casual eatery onboard — check around the pool or promenade area — and enjoy your first meal onboard in (relative) peace.
8. Book spa treatments on port days to save money.
A relaxing massage or facial is a decadent addition to your vacation. But cruise ship spa prices are not cheap. If you want to treat yourself and still have money left over for tours and souvenirs, book your treatment for a port day when prices are typically reduced.
First-day treatments and the package of multiple treatments also yield discounts. Or look for mini-treatment bundles promoted in your ship's daily newsletter.
9. Price out drinks and dining packages before you buy.
First-time cruisers might be surprised that soda isn't included in your cruise fare on most lines, and alcohol prices can run high.
Cruise lines offer tempting all-you-can-drink packages, so you don't have to worry about how much you spend each time you belly up to the bar. But do the math before you sign up.
For some, these packages will save you money; for others, you simply won't drink enough for it to be worth it. The same goes for dining packages, which often have more limitations than you'd like.
Don't be lured in by encouraging crew members on embarkation day — and don't make any purchase decisions after that first rum punch!
10. Store luggage under the bed.
Cruise cabins have little floor space, and the closets aren't deep. Where will you put your suitcase? Don't be a newbie and ask your room steward. Confidently slide your luggage under the bed where it belongs.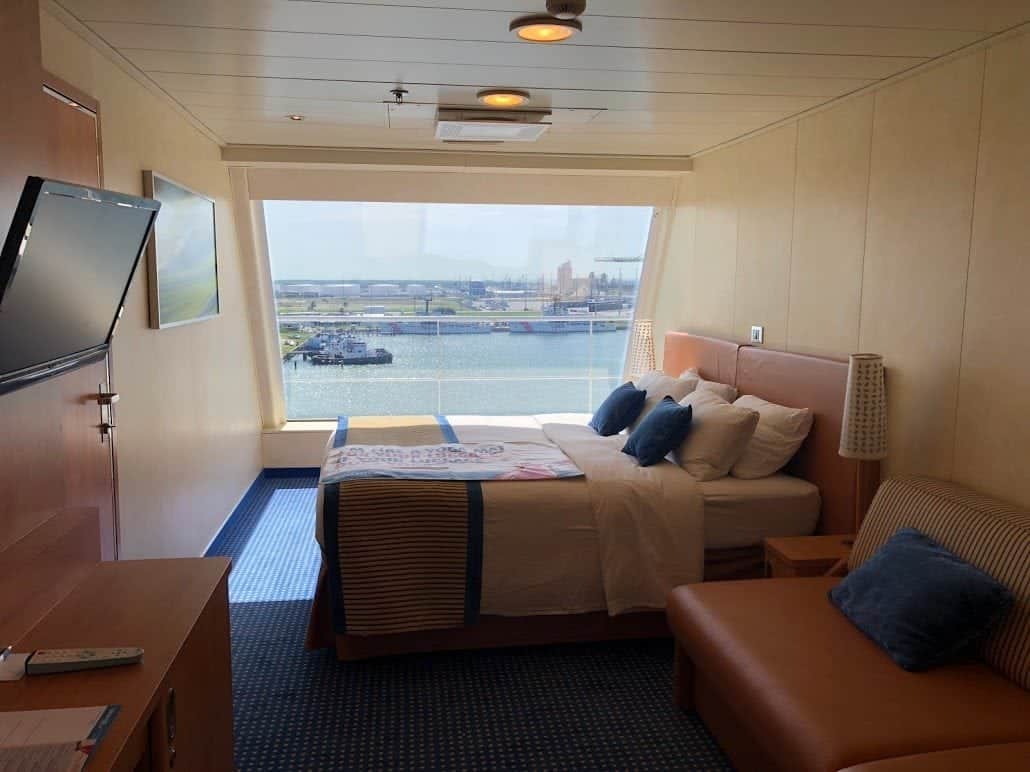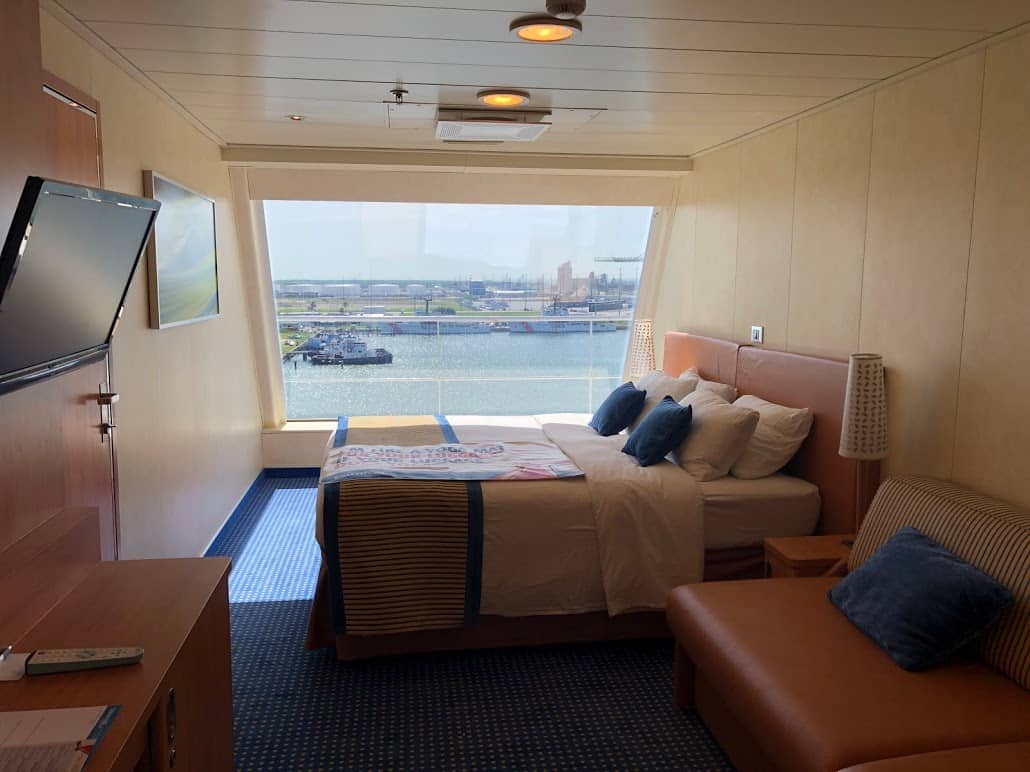 READ MORE: 12 Things to Know Before Sailing Norwegian Cruise Line
11. You don't have to take the ship's tours.
Some first-time cruisers think their only options are to purchase tours through the cruise ship or just wander in port. Not so! You can save money or tailor a tour to your preferences if you book through an independent operator or hire your own tour guide.
Get recommendations to ensure your outfitter is reputable, and arrange times so you run no risk of getting back to port late…and missing the ship!
12. Kids can eat for less at specialty restaurants.
You're dying to try your ship's upscale restaurant but don't want to pay upwards of $30 for your kids to declare their high-end meal "yucky."
Never fear. Many onboard restaurants charge discounted prices for kids 12 and under or will serve meals from the main dining room's kids' menu for free in the specialty venue.
You might want to pick an off-peak time (with kids, think early dinner) to avoid the crowds and disapproving looks of childless couples.
13. Wash your hands and use sanitizer.
Here's a great cruise tip for first-timers — and anyone, really. Wash your hands and use the publicly available hand sanitizer frequently while onboard.
If you're a bit nervous about catching norovirus or other illnesses, you will do the best job of protecting yourself if you practice good hygiene.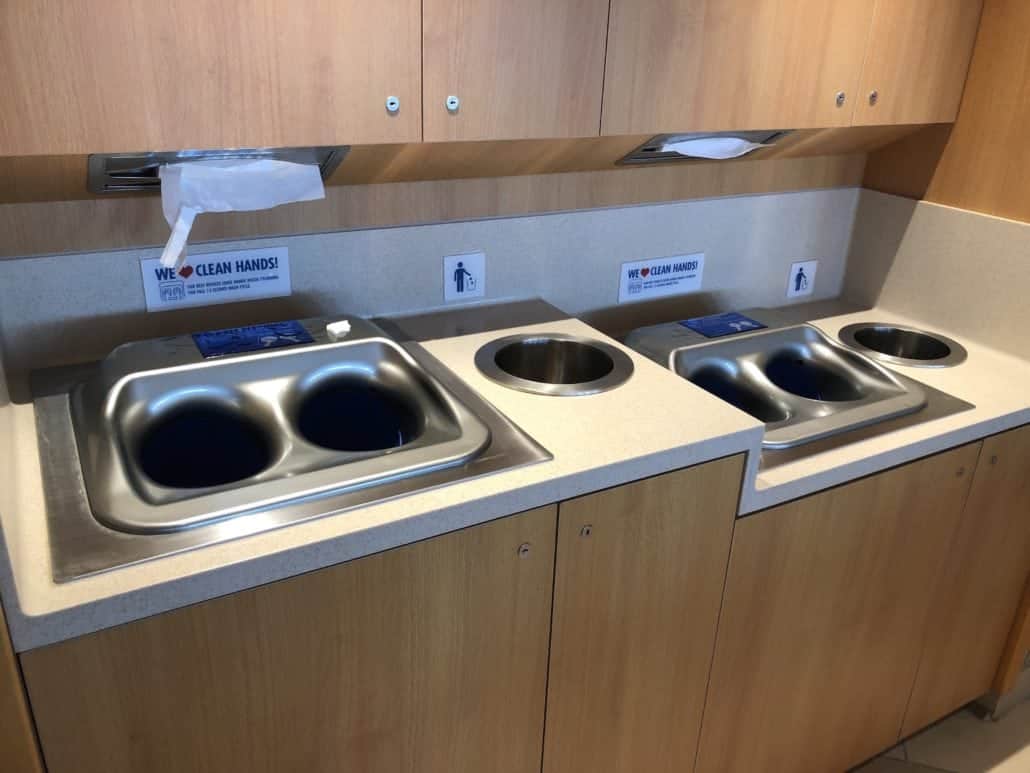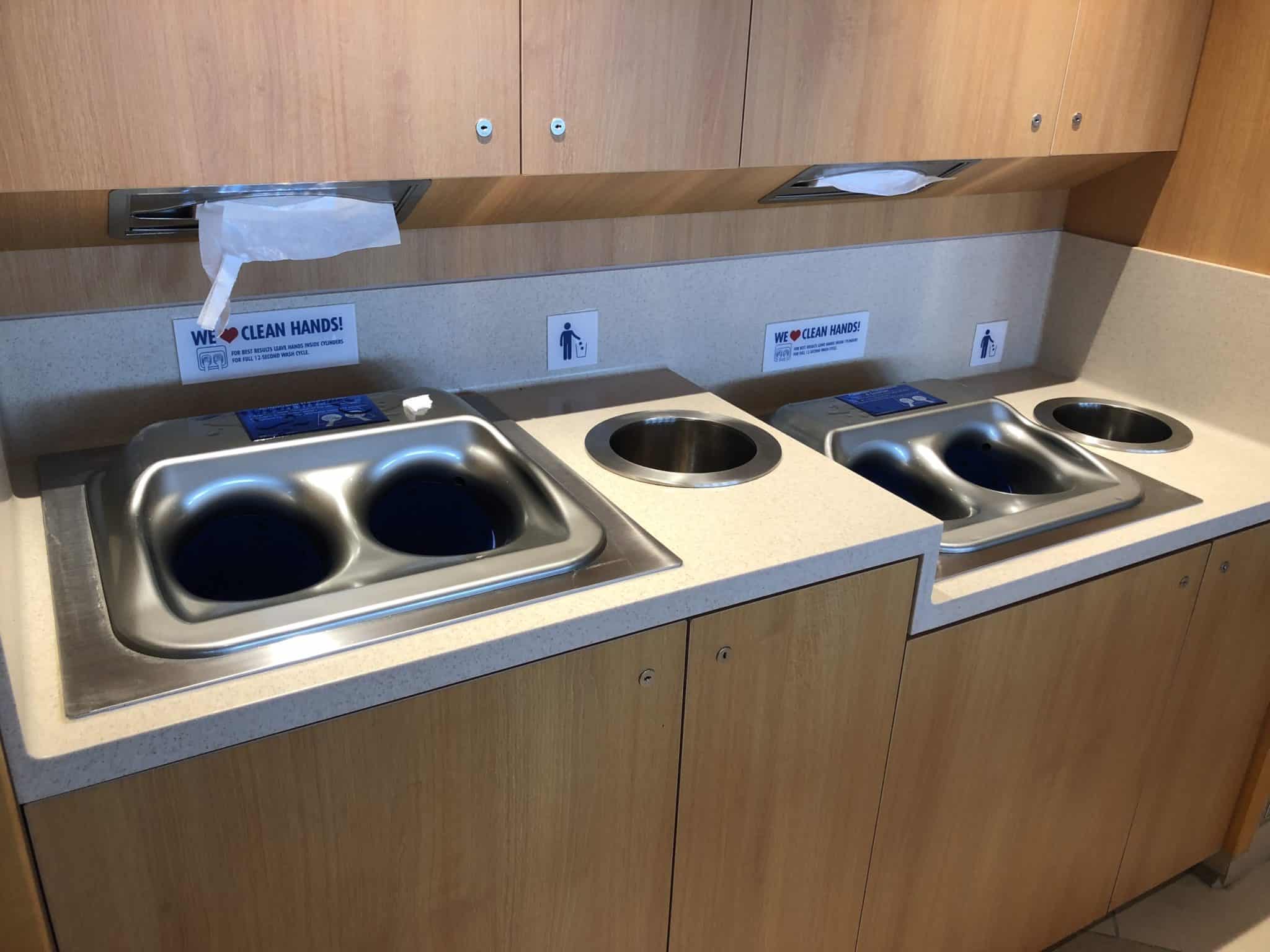 14. Dry wet things in your shower, not the balcony.
You're not winning the cruise vacation experience if you're not going through multiple bathing suits a day.
Newbies are tempted to dry their bikinis and trunks on the balcony, but this can lead to your swimwear diving into the ocean or getting blasted with salty sea spray. Instead, look for a little protrusion on your shower wall.
Pull, and it becomes a clothesline, perfect for drying bathing suits and hand-washing.
(Another pro cruise tip: Bring multiple swimsuits per person on a warm-weather cruise. No one likes to wear a wet bathing suit.)
15. Use the app.
You don't have to completely give up your cell phone on a cruise — not when all the major lines have developed proprietary apps.
Some have extra-fee onboard texting services, and nearly all offer free access to the daily schedule or port information.
Some will even allow you to order food and drinks to wherever you are onboard.
16. Take the stairs.
If you're physically able, take the stairs as much as possible on your cruise.
You avoid long waits at the elevators and work off all that dessert you're eating throughout the day.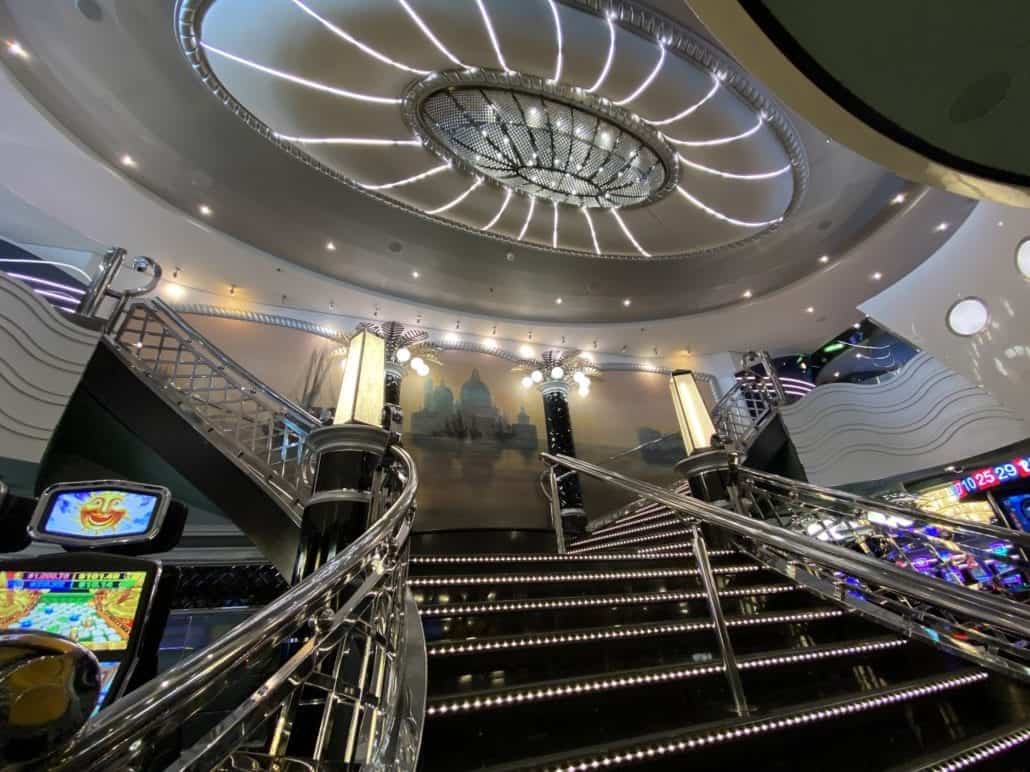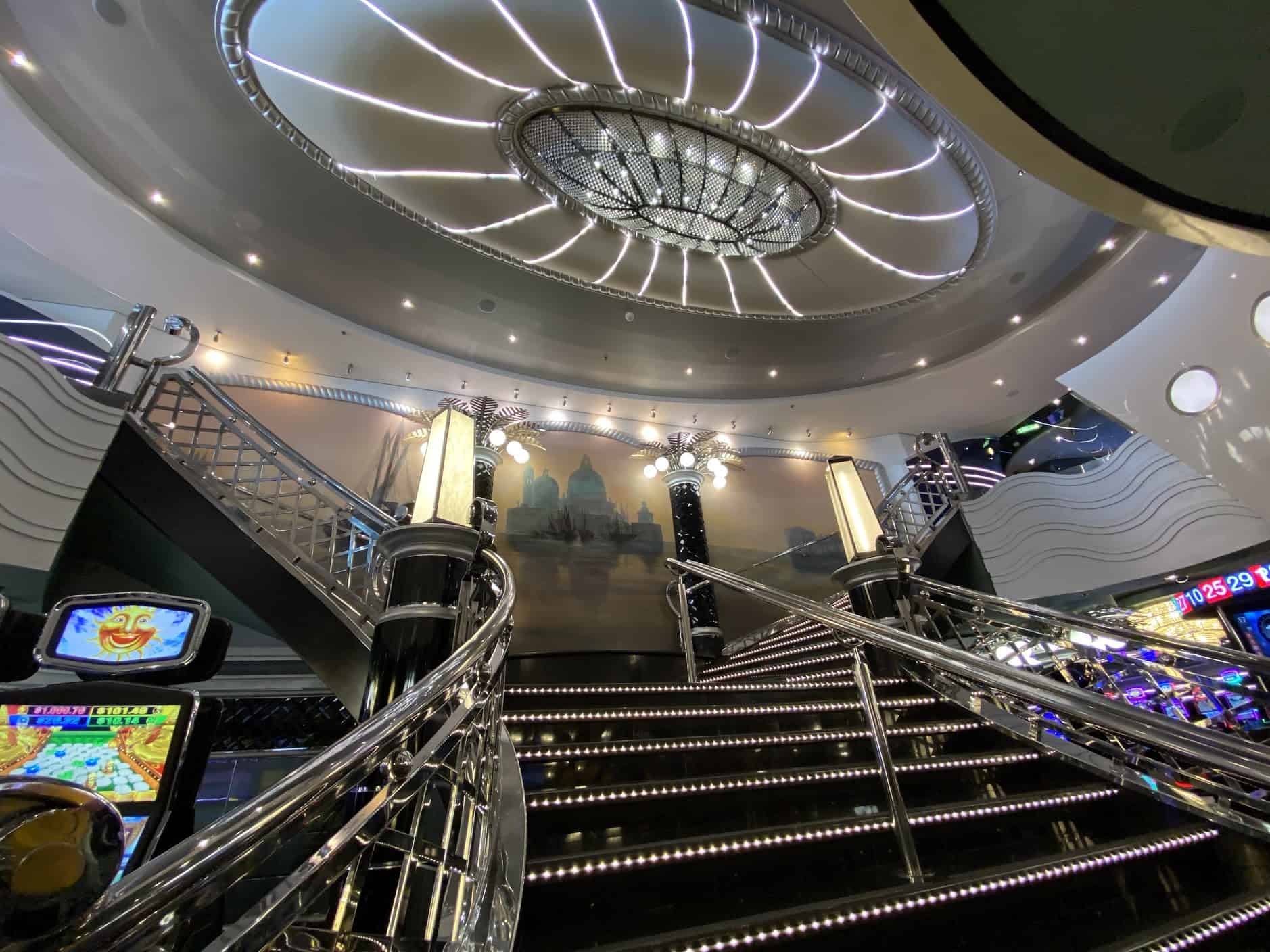 17. It sounds odd, but pack to-go snacks.
Here's a useful first-time cruise tip: Bring your own snacks. But cruise lines are 24/7 food fests, I hear you saying.
They are… but they don't offer much, if anything, in the way of packaged snack food, and many ports frown upon bringing food off the ship.
Especially if you've got kids or plan on longshore tours that don't include lunch, having your own stash of power bars or goldfish crackers will stave off the munchies when hunger strikes on a tour bus ride.
18. Stay onboard during a port day to enjoy onboard attractions without crowds.
First-timers are eager to experience all the ports, but no one says you have to.
If you're more excited about no wait times at the water slide or enjoying the spa's thermal suite, skip the sightseeing and stay onboard during a port day.
Crowds are drastically reduced onboard when everyone is out on tour. If you can't bear to miss a destination, consider a morning onboard and an afternoon off the ship.
READ MORE: 9 Cruise Line Private Islands and Where They Are Located
19. You're not required to dress up.
Most cruise lines have dedicated formal nights and dress codes in the dining room.
If you're not the tuxedo type, no worries. Most ships offer casual dining options every night, either at the buffet or in a shorts-friendly eatery.
And there's always room service if you can't bear formal wear after a day at the beach.
20. Get a workout while your shipmates dine.
It's a great idea to keep up your gym routine onboard, given the food you'll likely enjoy.
But cruise ship fitness centers are small, and mornings can be crowded with people trying to squeeze in a workout before going on an excursion.
For your pick of the cardio machines, schedule a later dinner and hit the gym in the late afternoon or early evening when most other passengers are getting ready for dinner.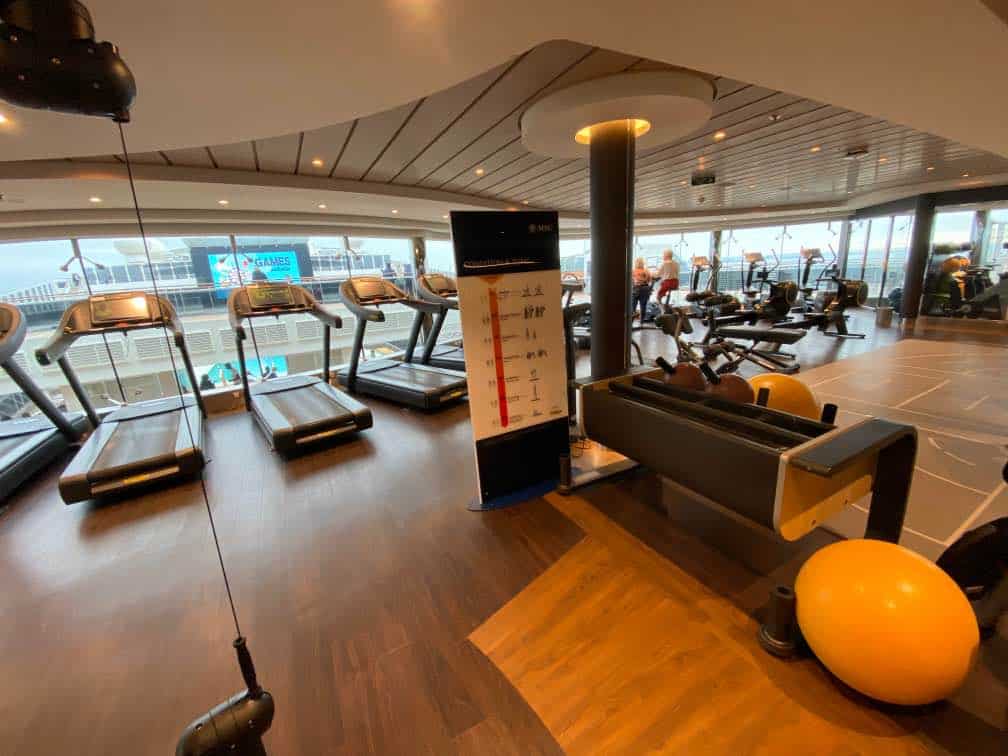 21. Hit the pool early for the best loungers, but don't be a chair hog.
First-time cruisers will quickly learn that cruise ship pool decks never have enough lounge chairs in the ideal locations near the pool, whether you're seeking sun or shade.
The best way to ensure VIP seating is to set up shop on the Lido or pool deck early. But don't think you can stick a towel and a book on a chair to claim it, then leave for a few hours.
That, my newbie friend, is called being a chair hog, and it's the ultimate in rude cruise ship behavior. If you want the primo spot, you best plan on staying there.
No one wants homework on vacation, but all the cruise pros know that the information you need can be found in the cruise ship's daily newsletter.
Whether you peruse the printed version before you go to bed or call up the deets on your app, you'll find the lowdown on onboard activities, drink specials, weather, time changes, spa discounts, and any other important information you need to know.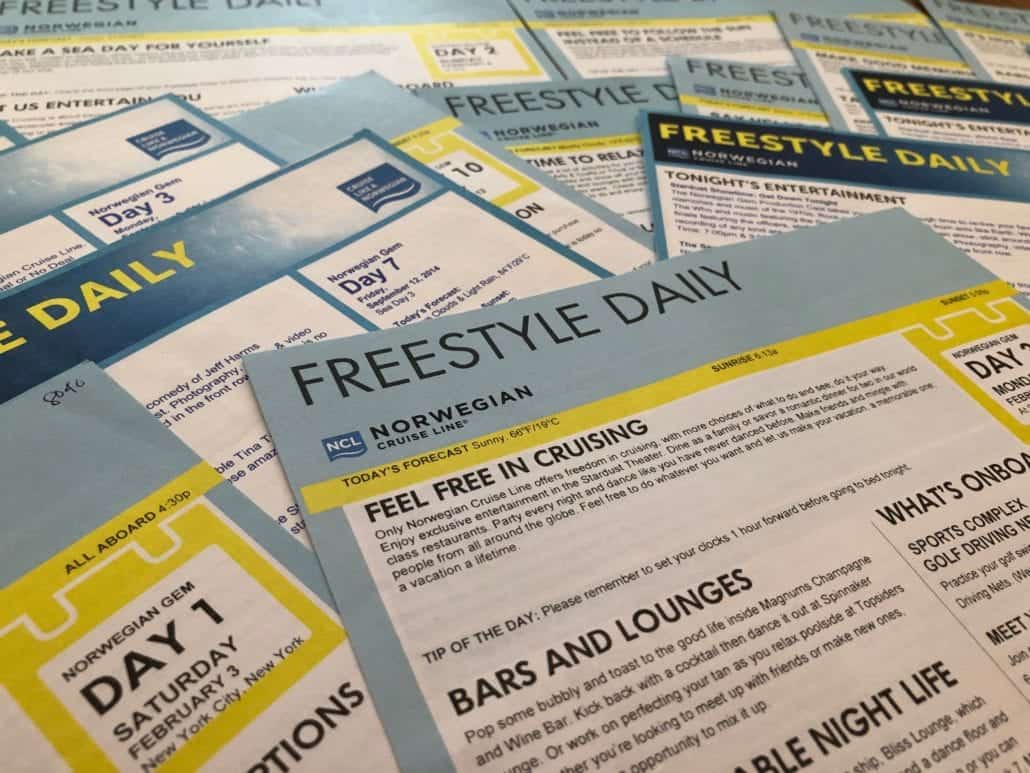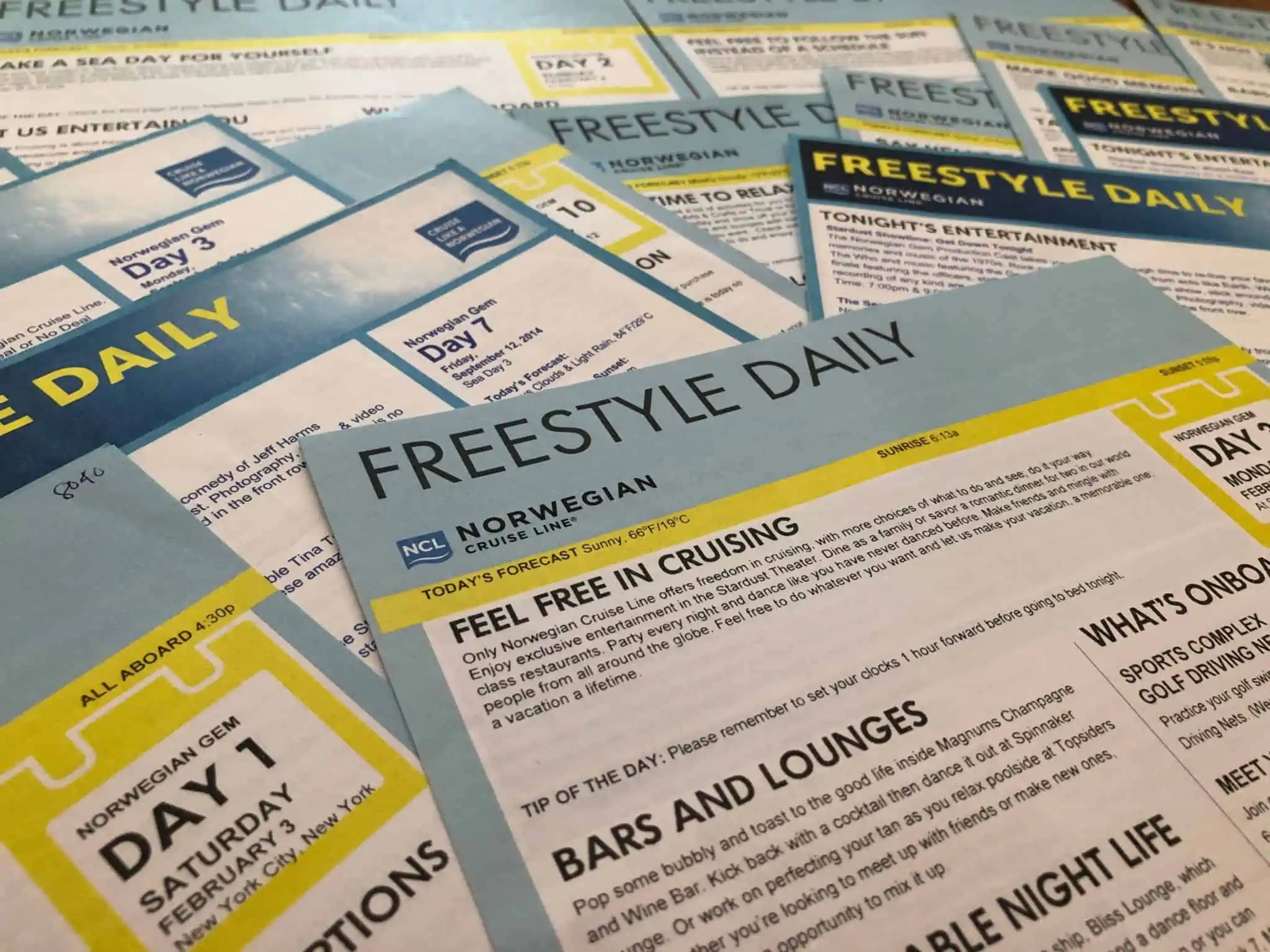 23. Ask your room steward.
Is your bed set up as two twins when you requested a queen?
Ask your room steward, and he can rearrange the furniture. Need ice? Your room steward can keep your ice bucket filled.
Run out of hangers for your formal wear? Your room steward can get you more. Hate your pillow? Your room steward can find an alternative.
While cabin attendants can't do everything, start with your steward if you have a question about your cabin or a request. They will try their best to make your cabin a comfortable home away from home.
24. You can order more than one entree at dinner.
Eyeing both the prime rib and the lobster on the dinner menu? You don't have to choose! You can order more than one entree, appetizer, or dessert.
While it might seem gluttonous, don't feel self-conscious. Cruise ship waiters are used to this and will happily oblige.
You also can usually request seconds of any food you enjoyed, and if an appetizer strikes your fancy, order an entree-size portion.
25. Drinks aren't free in the casino.
If you're a regular visitor to Las Vegas or most other casino destinations, you're probably used to enjoying a free cocktail — or three — while you play.
That's typically not the case on a cruise ship. Unless you're a high roller or a frequent guest invited by the casino, you'll pay for your drinks, even at a slot machine or table.
Consider this when determining whether the drink package is good for you.
26. Buy Travel Insurance
Traveling, especially cruising, can come with unexpected challenges. There might be situations where you need to cancel your cruise in advance due to sudden illness. You might need emergency medical attention if you fall ill during the cruise.
Additionally, if your flight to the ship gets canceled, you could miss the vessel's departure. These scenarios are potential risks for cruisers, making travel insurance a practical consideration.
A comparison of top travel insurance providers and information about 'Cancel for Any Reason' add-ons is available to help you make an informed choice.
27. Watch for Added Gratuities
Many cruise ships now include a gratuity of 18% to 20% on bar bills, and this practice is also extended to ship spas.
However, some first-time cruisers may not be aware of this and may add an extra tip on the "additional tip" line on their bills at cruise ship bars and spas. To avoid tipping twice, it's advisable to inquire if a gratuity has already been included before adding an extra 15% or 20% to the total.
Pin it for later!