Carnival Cruise Line's ships Mardi Gras and Carnival Celebration feature a new venue that mixes two delicious cuisines together into one restaurant: Chinese and Mexican food.
The restaurant is called Chibang! and it's open for lunch and dinner. If you're looking for the dinner menu, head over here. If you want the Chibang lunch menu, you're in the right place!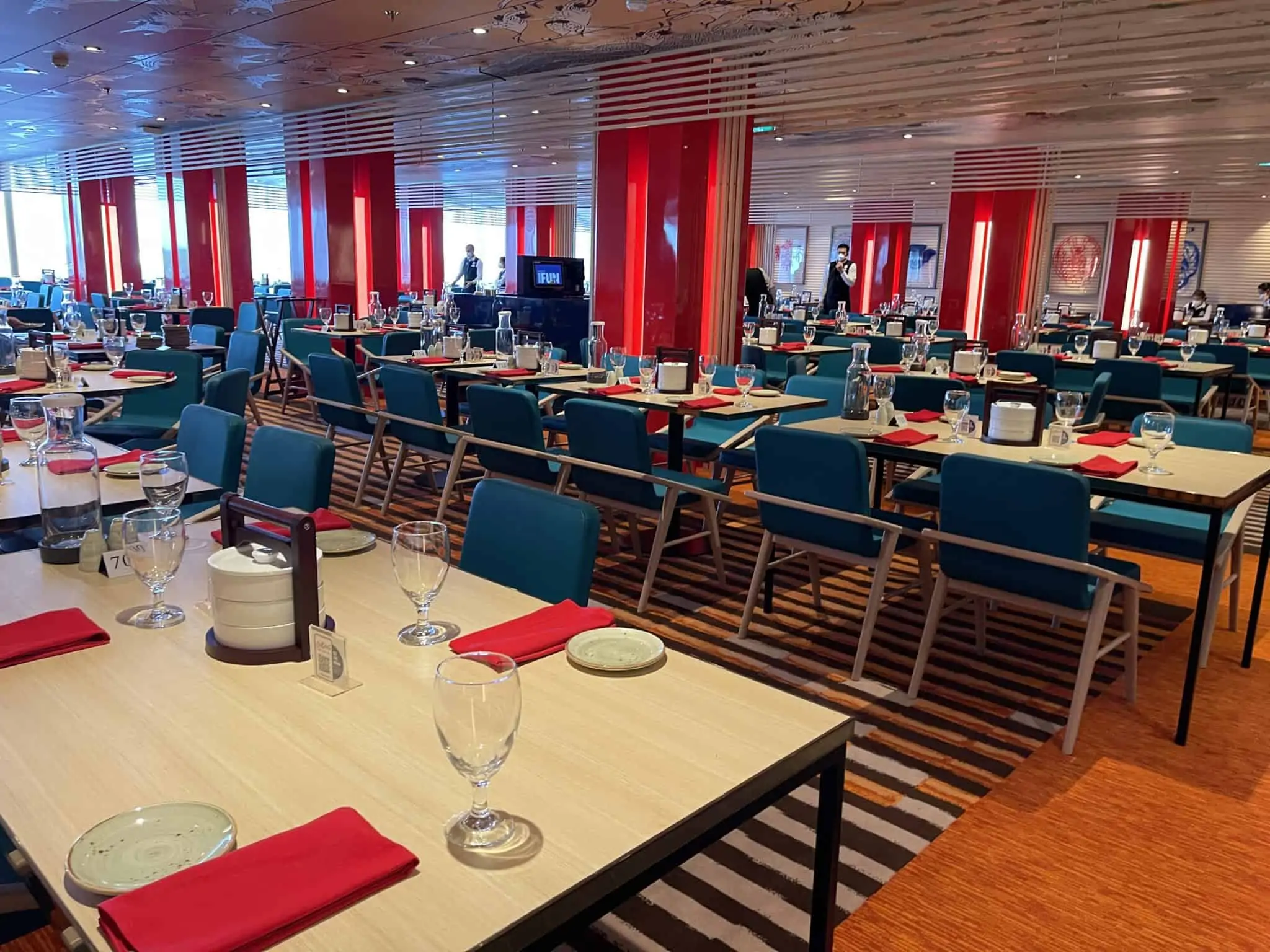 Here's the full lunch menu as of 2022, divided into Chinese, Mexican, and dessert sections:
Chinese Noodle Bowls
Steak: Thick noodles, stir-fried beef, Sichuan peppercorns, green onions, and Asian greens
Chicken: Medium egg noodles, shredded chicken, greens, five-spice bean sauce, and Asian greens
Shrimp: Rice noodles, peas, greens, garlic, chilies, crunchy peanuts, and basil
Chinese: Make It Your Own
In the "make it your own" section, you can pick your noodles, protein, veggies, and sauce to create your own custom bowl.
Noodles: Lo-mein, Cellophane, or Rice noodles
Protein: Chicken, beef, or pork
Vegetables: Onions, carrots, mushrooms, green & red peppers, cauliflower, Napa cabbage, corn, green beans, zucchini, and broccoli
Sauce: Sichuan, Thai BBQ, or Black bean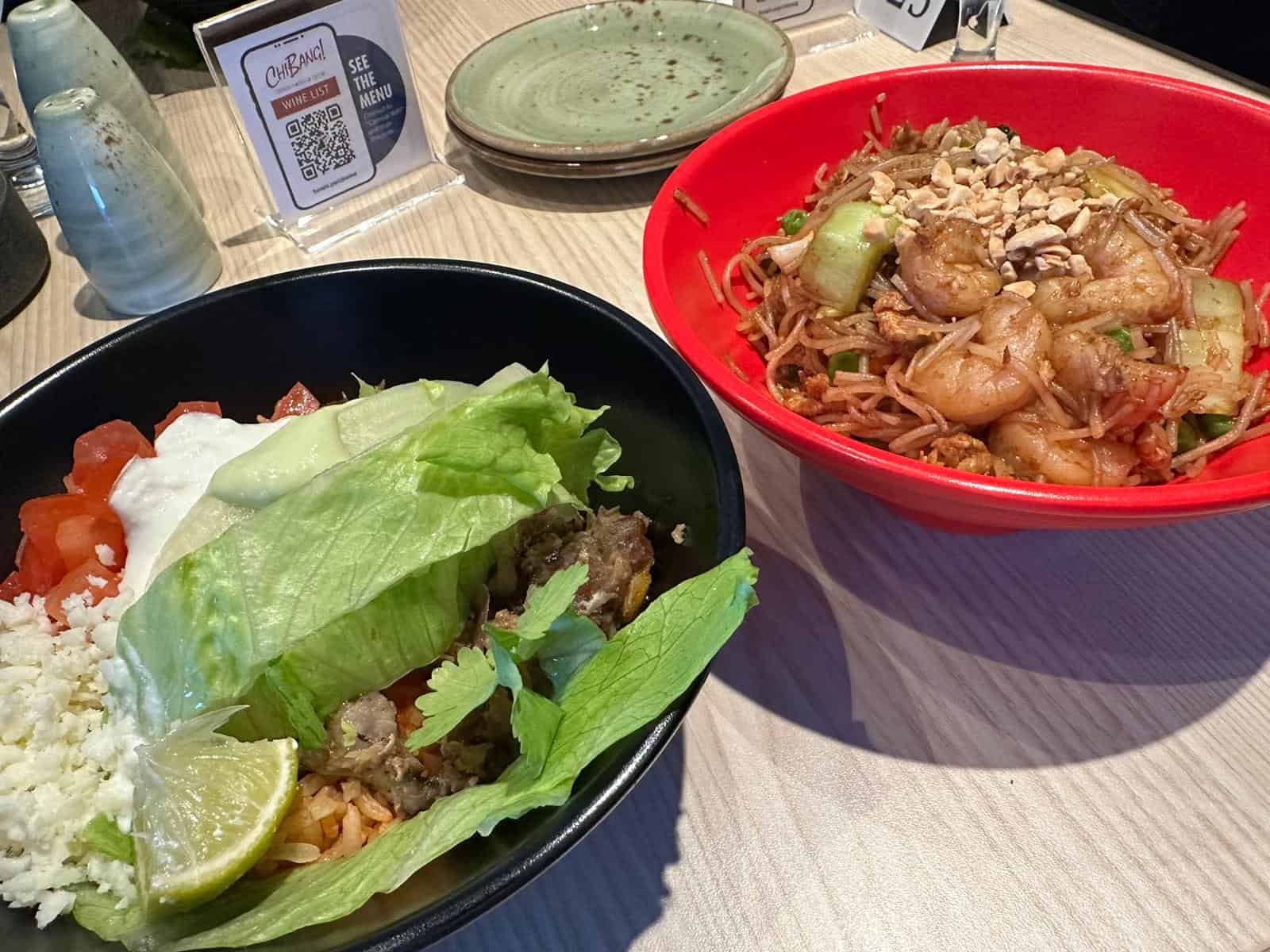 Mexican Burrito Bowls
Carnitas: Slow-cooked pulled pork, tomato cilantro rice, crisp lettuce, stewed black bean, red enchilada sauce, jack and cotija cheese, crisp onions
Pollo: Tangy chipotle chicken, roasted poblano, fried mushrooms, lettuce, avocado cream, red beans, tres quesos, and pico de gallo
Camarones: Shrimp cooked in lime sofrito, yellow rice, lettuce, peppers, onions, tomatoes, queso blanco, and mojo garlic sauce
Mexican: Make It Your Own
Similar to the Chinese "make it your own" noodle bowl, here you can customize a burrito bowl.
Rice: Yellow, Mexican, or brown
Protein: Carne (beef), pollo (chicken), or carnitas (pork)
Vegetables: Lettuce, tomato, fajita peppers, grilled onions, charbroiled corn, and cauliflower asada
Beans: Pinto, black, and refried
Cheese: Mild cheddar, queso blanco, and cotija
Salsa: Pico de gallo, green chili tomatillo salsa, red chili and tomato salsa, and garlic lime mojo
Desserts
Churro y Helado: Crispy, cinnamon churros with Mexican vanilla ice cream
Flan Caramel: Our double cream version of the Mexican classic with whipped cream and caramel sauce
Pin it!