The minute Carnival Cruise Line announced that they'd be introducing the Pig & Anchor barbecue joint on the Carnival Horizon, I knew I was in trouble. I do my best to not overindulge too much while cruising. I take the stairs whenever possible, occasionally skip dessert, and hit the gym or the running track at least a few times a week. But when it comes to barbecue, I'm weak.
One whiff of hickory in the air, and I'm salivating. Carnival made it even worse by revealing that their barbecue restaurant was going to be an extension of their partnership with Guy Fieri, whose Guy's Burger Joint might be my favorite complimentary Carnival restaurant ever. So the Pig & Anchor Bar-B-Que Smokehouse|Brewhouse was going to be right up my alley.
Where You'll Find It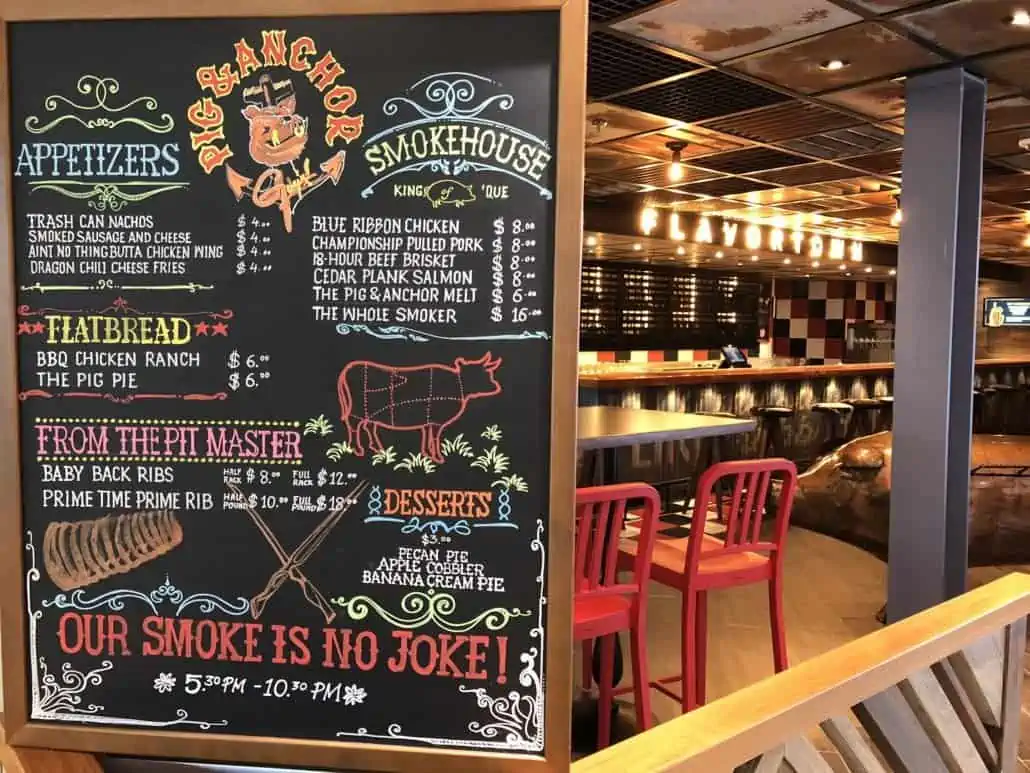 If you're used to the RedFrog Pub on Carnival's Dream-class and Carnival Vista, you won't have a hard time finding Guy's Pig & Anchor Smokehouse|Brewhouse on Carnival Horizon. Here, the space usually devoted to RedFrog has been morphed into Flavortown, where barbecue and beer collide to give you an authentic southern barbecue experience.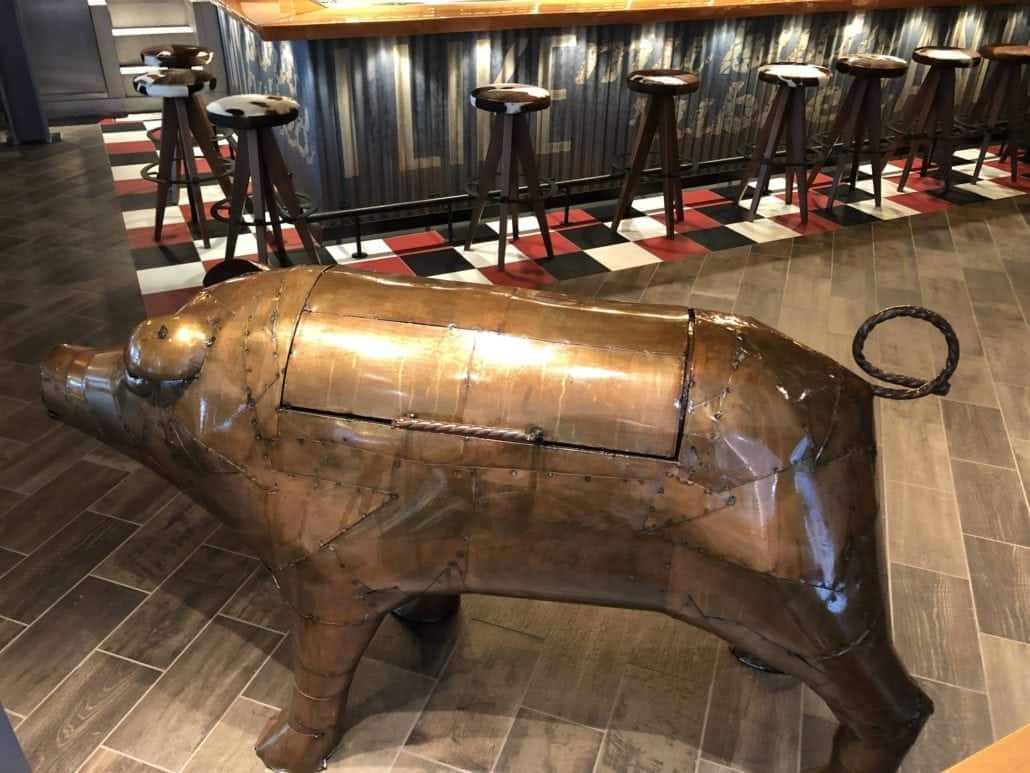 A large, pig-shaped smoker greets you as you enter the venue. (And yes, a whole lot of people pose with said pig, so nobody's going to look at you weird when you grab your own Instagram-worthy pic.) Located right off the main promenade, the space is somehow both expansive and intimate, perhaps because there are several distinct seating areas (including tables with umbrellas outside).
There's a full-service bar (this is, after all, a brewhouse as well as a smokehouse) with cowhide-covered barstools which, fun fact, were constructed from recycled materials. Thanks to dark wood and tin skirting, the bar actually has a barn-like feel. The overall décor of the space is reminiscent of Guy's Burger Joint, with red chairs and aluminum accents. If you're planning to eat and can snag a booth, do so… they're comfy as heck. 
The Lunch Menu is Free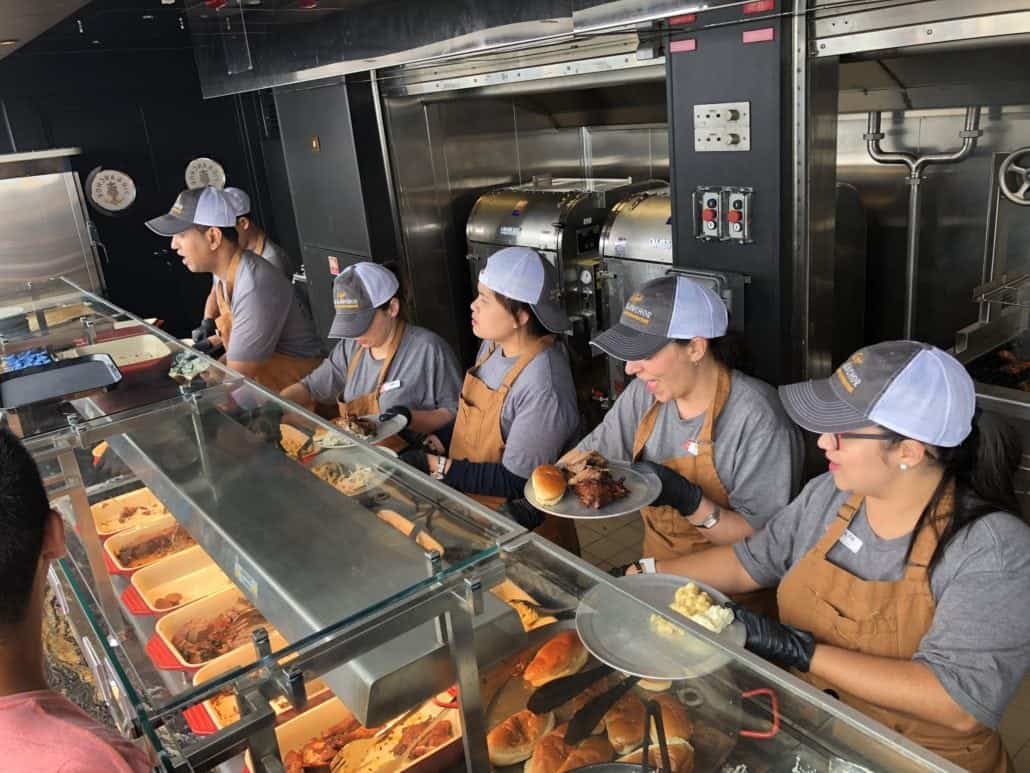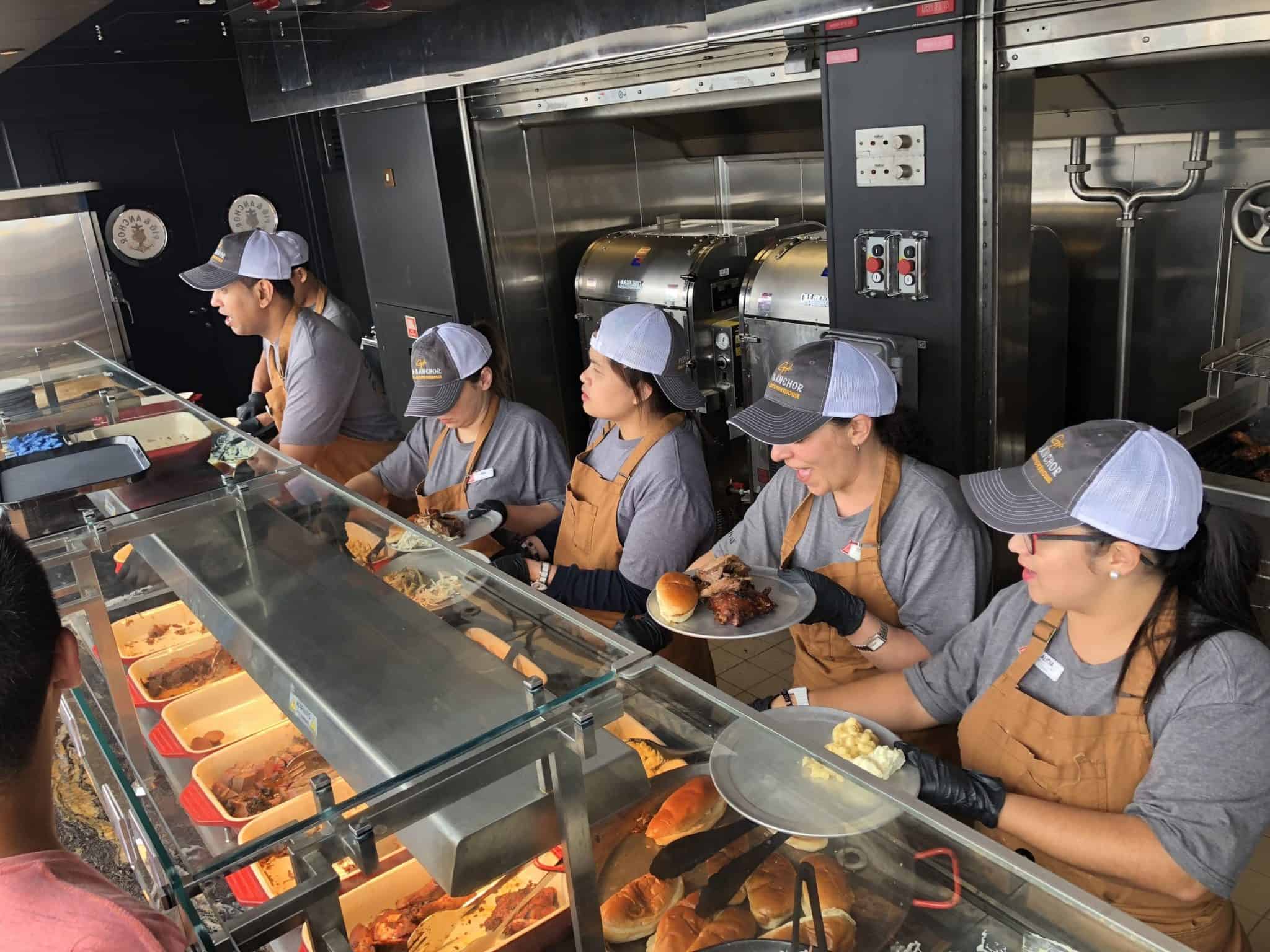 You know the old saying, "There's no such thing as a free lunch?" Well, that's not the case here. If you hit the Pig & Anchor between 12 and 2:30 p.m. on embarkation and sea days, you'll find a complimentary menu that features items like brisket, dry rubbed chicken, pulled pork, and sausage, as well as side dishes like mac and cheese, collard greens, coleslaw, and beans. (It's actually fairly similar, although not as extensive, as what you'll find on the a la carte dinner menu.)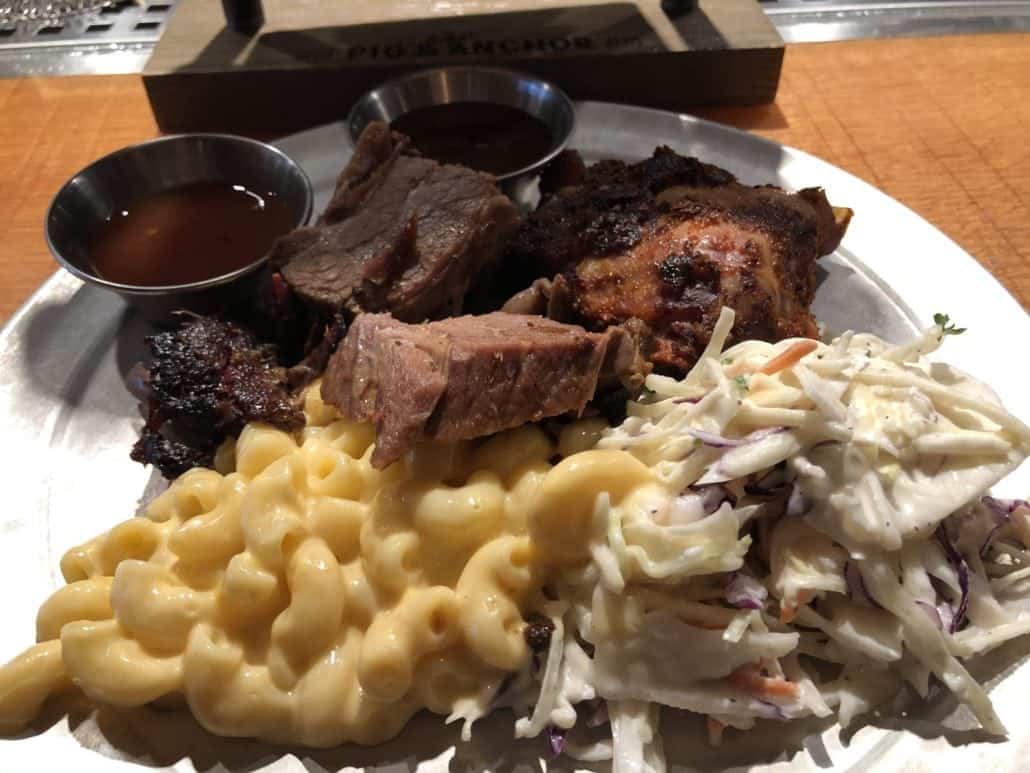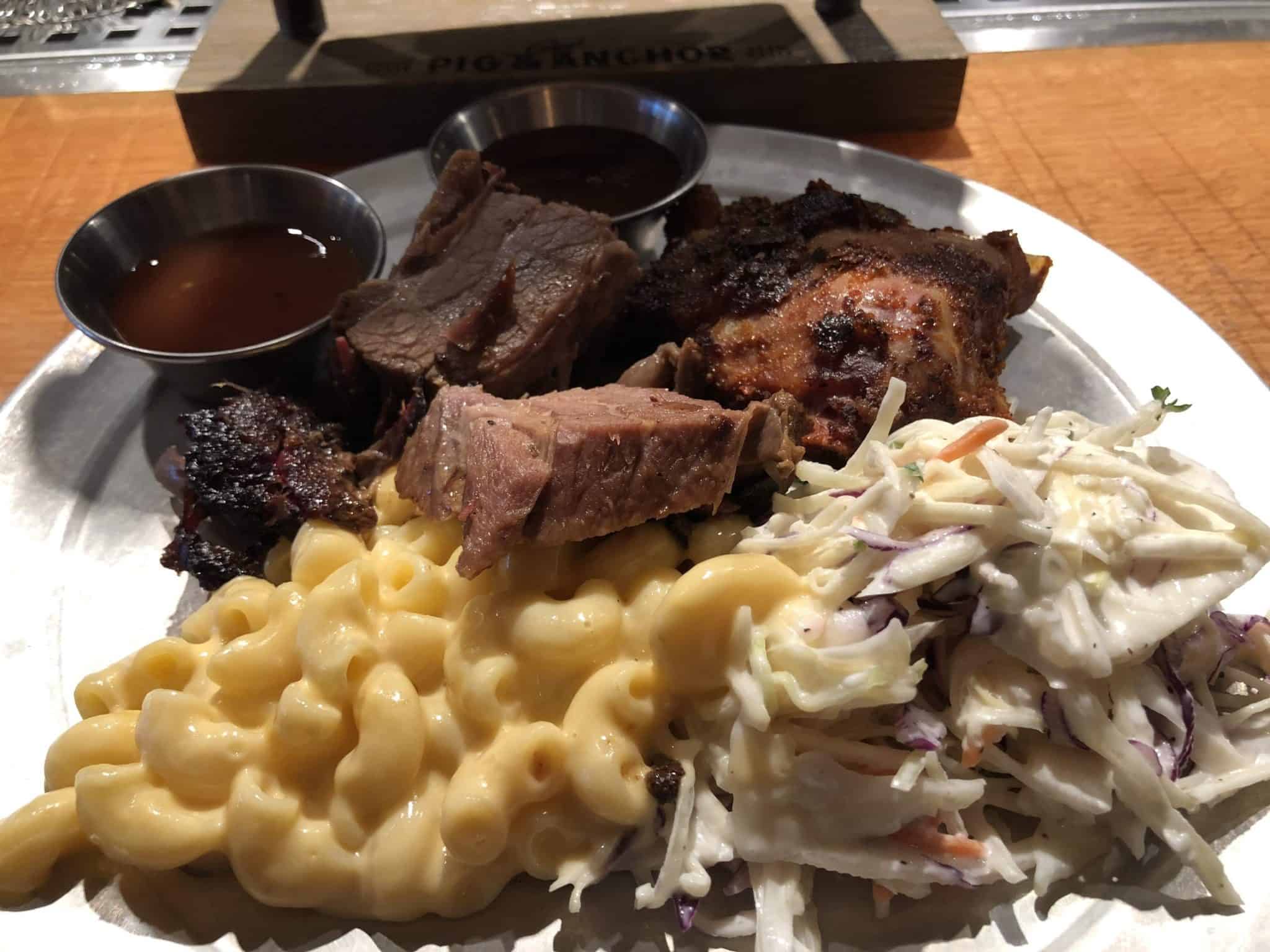 The lunchtime menu is served outside, where guests tell the folks working the smoker what meats and sides they'd like. Once served, you can sit inside or outside. There's table service for drinks during the lunch hour, but not for food, which has to be ordered at – and picked up from – the counter.
The Dinner Experience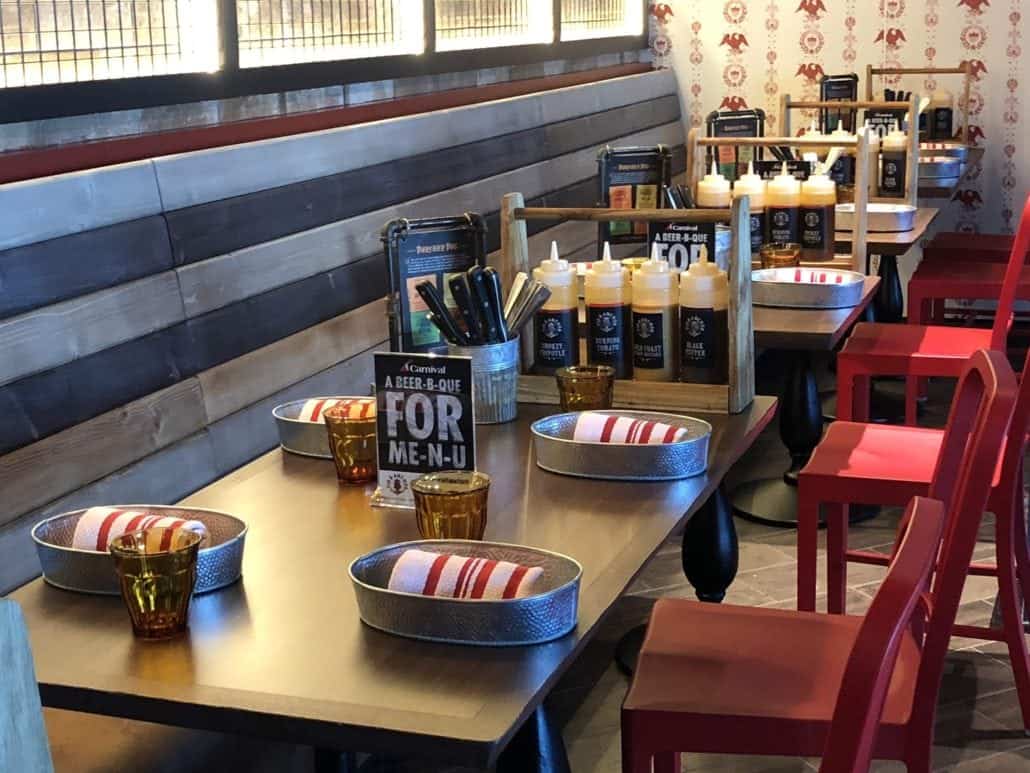 If you're looking for a place with live music, good food, and a full service bar with specialty cocktails and craft beers, this is the place to go. Unlike during the lunch service, during dinner hours you'll be greeted and seated by a hostess. The table setup reminded me of a southern restaurant, what with the red tablecloths, silverware in a little tin bucket, and the array of barbecue sauces waiting to be added to whatever you order.
The Food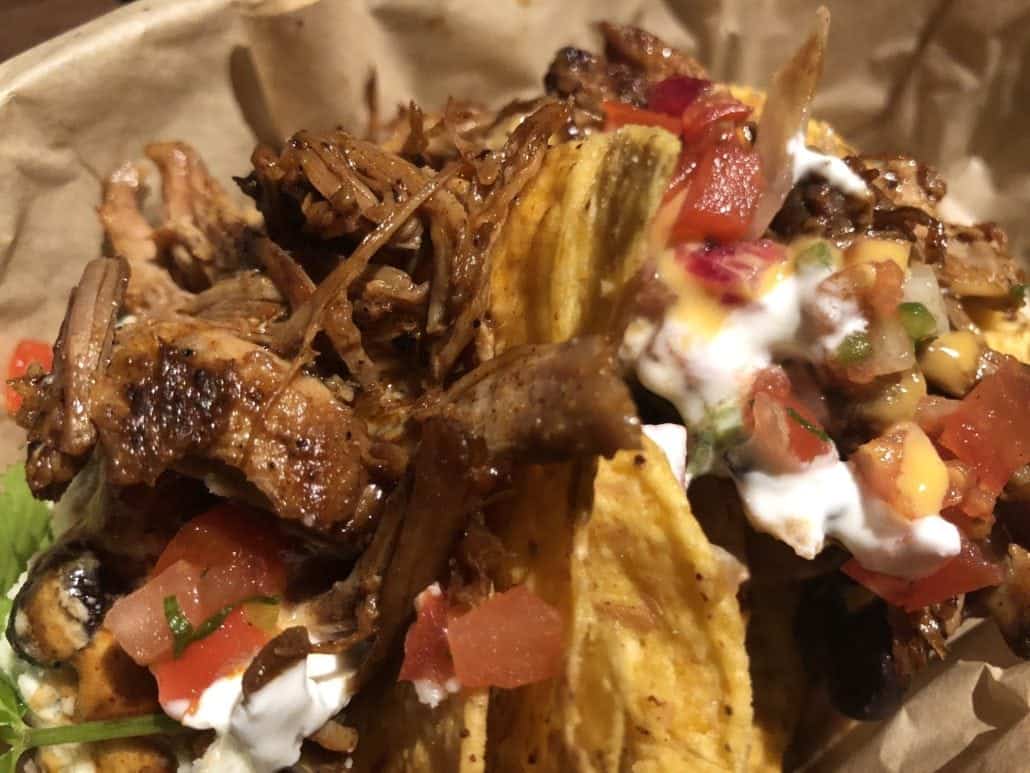 Starting at 5:30 p.m., the Pig & Anchor switches over to an a la carte menu with appetizers like Trash Can Nachos, Chicken Wings, Smoked Sausage and Cheese, and Dragon Chili Cheese Fries starting at $4 each.
Of the appetizers, my personal favorite was the Trash Can Nachos, topped with pork, melted cheese and black beans. The presentation is fun, too, with the server placing a full trash can on your plate before removing it to reveal a perfectly stacked pile of tasty treats. The chicken wings were also a hit, as were the dragon chili cheese fries.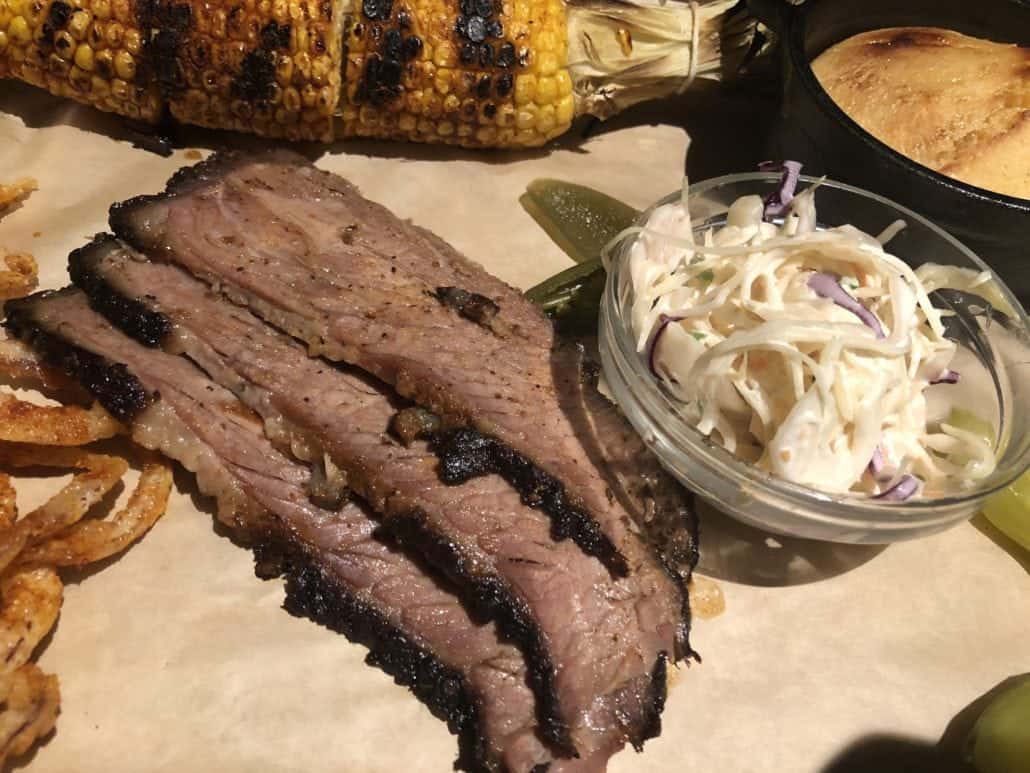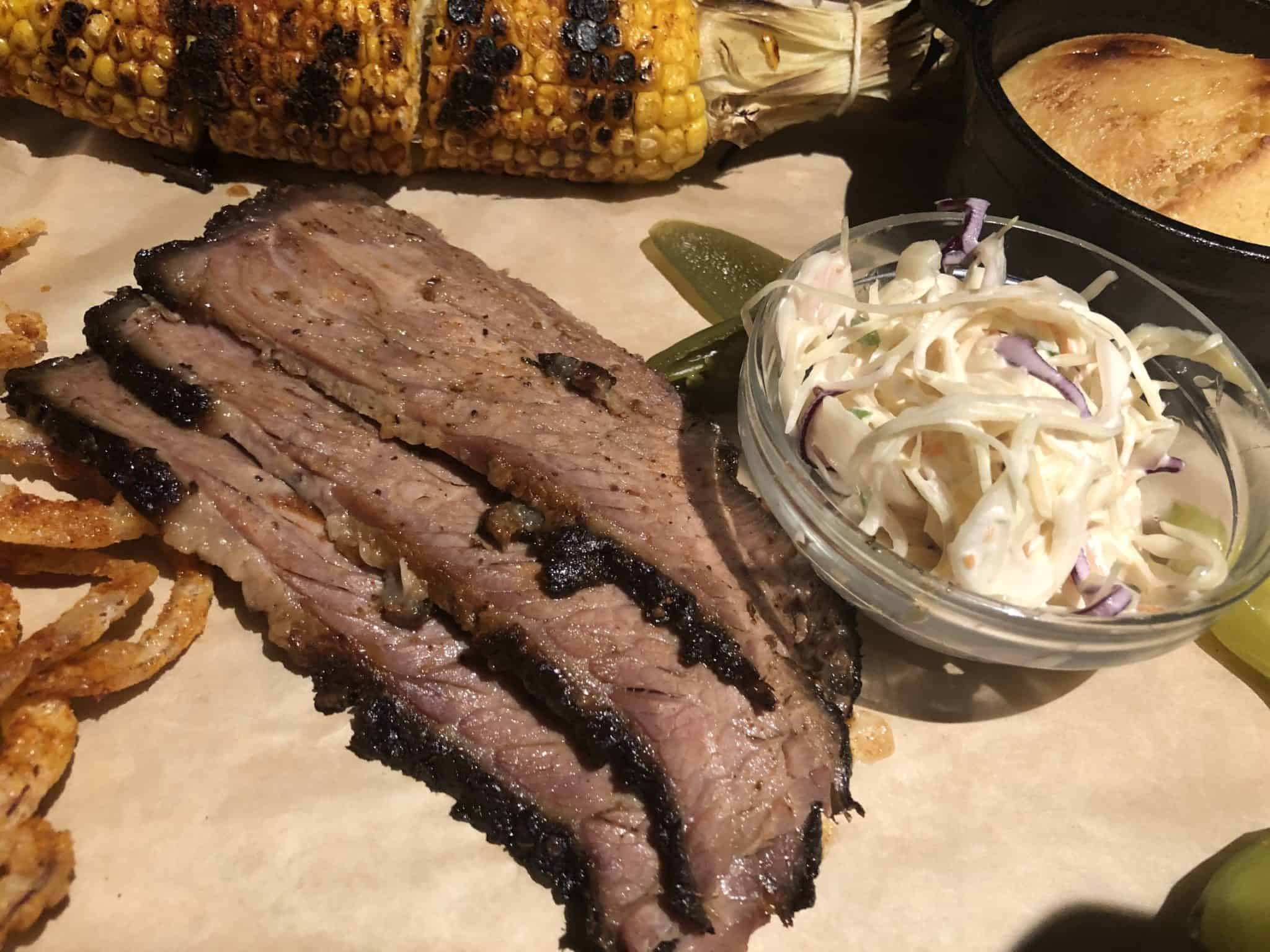 For the main course, you can go into a couple different directions. They have your staples like barbecued chicken, smoked brisket, pulled pork, sausage, and baby back ribs. If you're looking for something a little different, there are two varieties of flatbreads (topped with either chicken or pork), as well as the amazing Pig & Anchor Melt sandwich (which has pulled pork, sliced brisket, double pork belly bacon topped with smoked gouda, cheddar, homemade pickles and – of course – donkey sauce).  Reading the list of ingredients, I thought this might be one of those sandwiches which sounded better than it tasted, but the flavors came together beautifully and the combo of meats melted in your mouth.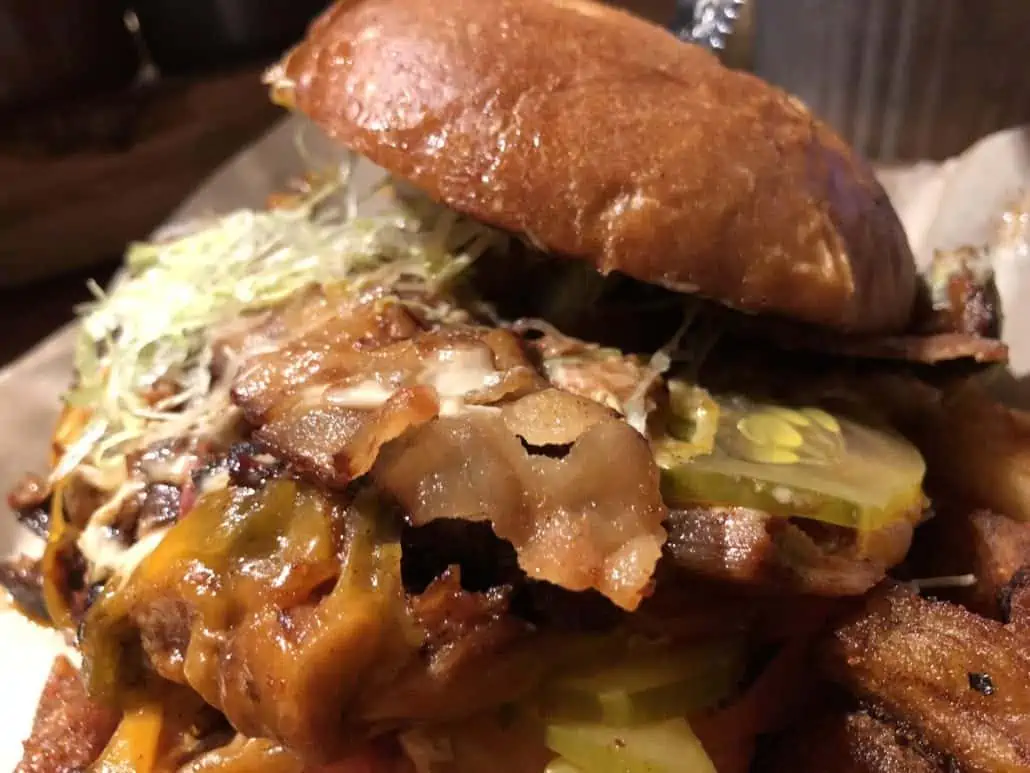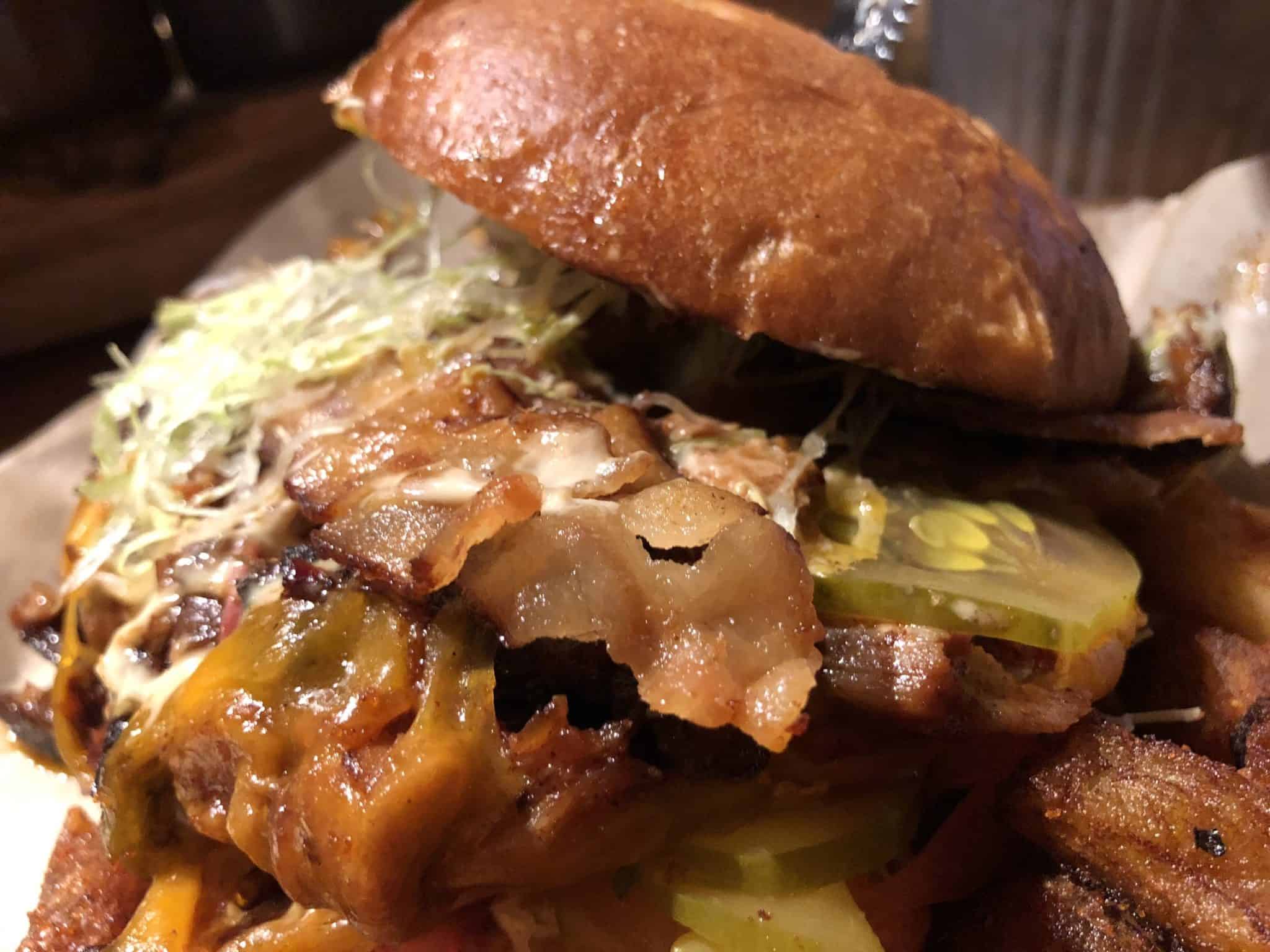 Want to try a little bit of all the meats available? I suggest going with The Whole Smoker for $16. You get a sampling of everything, and it's enough for two… unless you're really, really hungry and not big on sharing. 
Among the best of the sides would be the sweet potato and bourbon mash, mac daddy mac and cheese, and the buttermilk broccoli, bacon, and almond salad. It's easy to go crazy on the sides, seeing as they only run $2 each.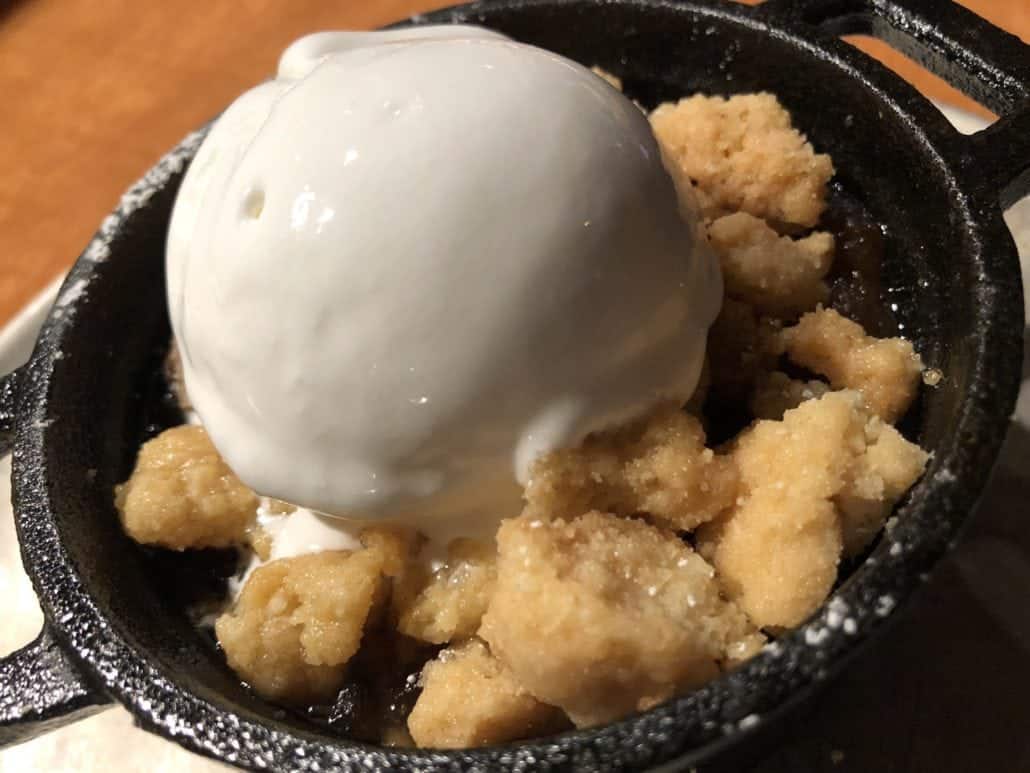 For dessert, they have pecan pie, apple cobbler and banana cream pie, each of which rings in at $3. In the name of research, I ordered all three. For me, the clear winner was the cobbler, although one of my dining companions declared (in an accent so genuine it made her the clear authority on such matters) the pecan pie to be the only dessert a southerner could truly consider a fitting end to a barbecue. For the record, the banana cream pie was fine, but nothing really distinguished it from something you could find among the desserts at the buffet.
You can view the whole menu here.
What Sets Pig & Anchor Apart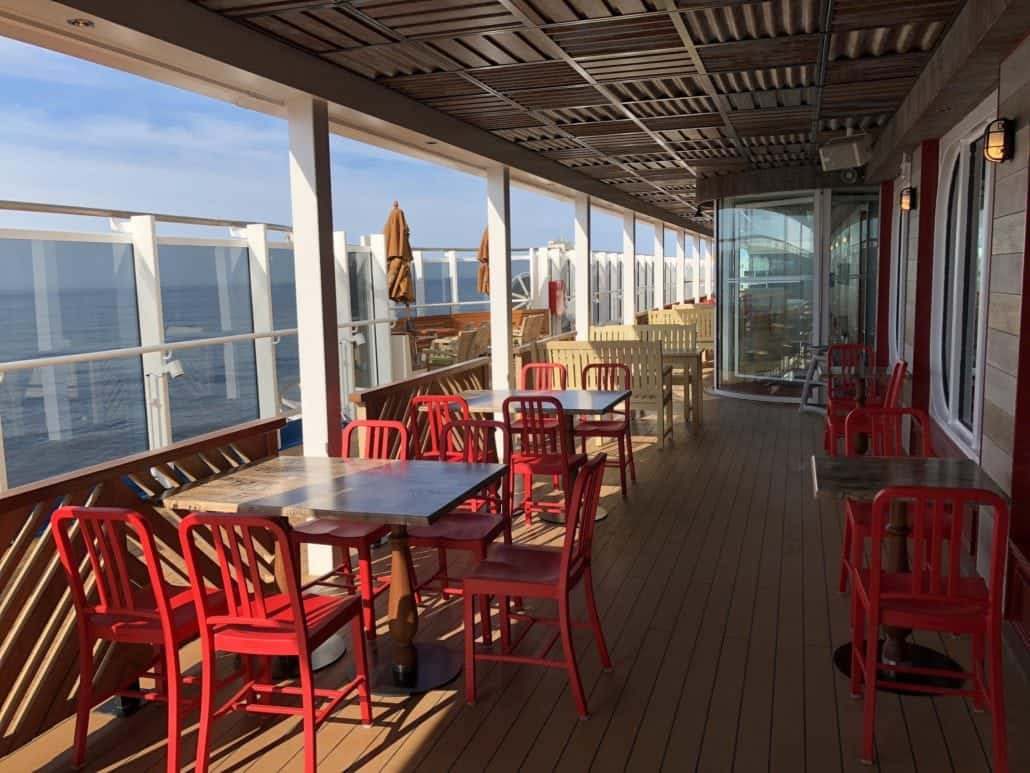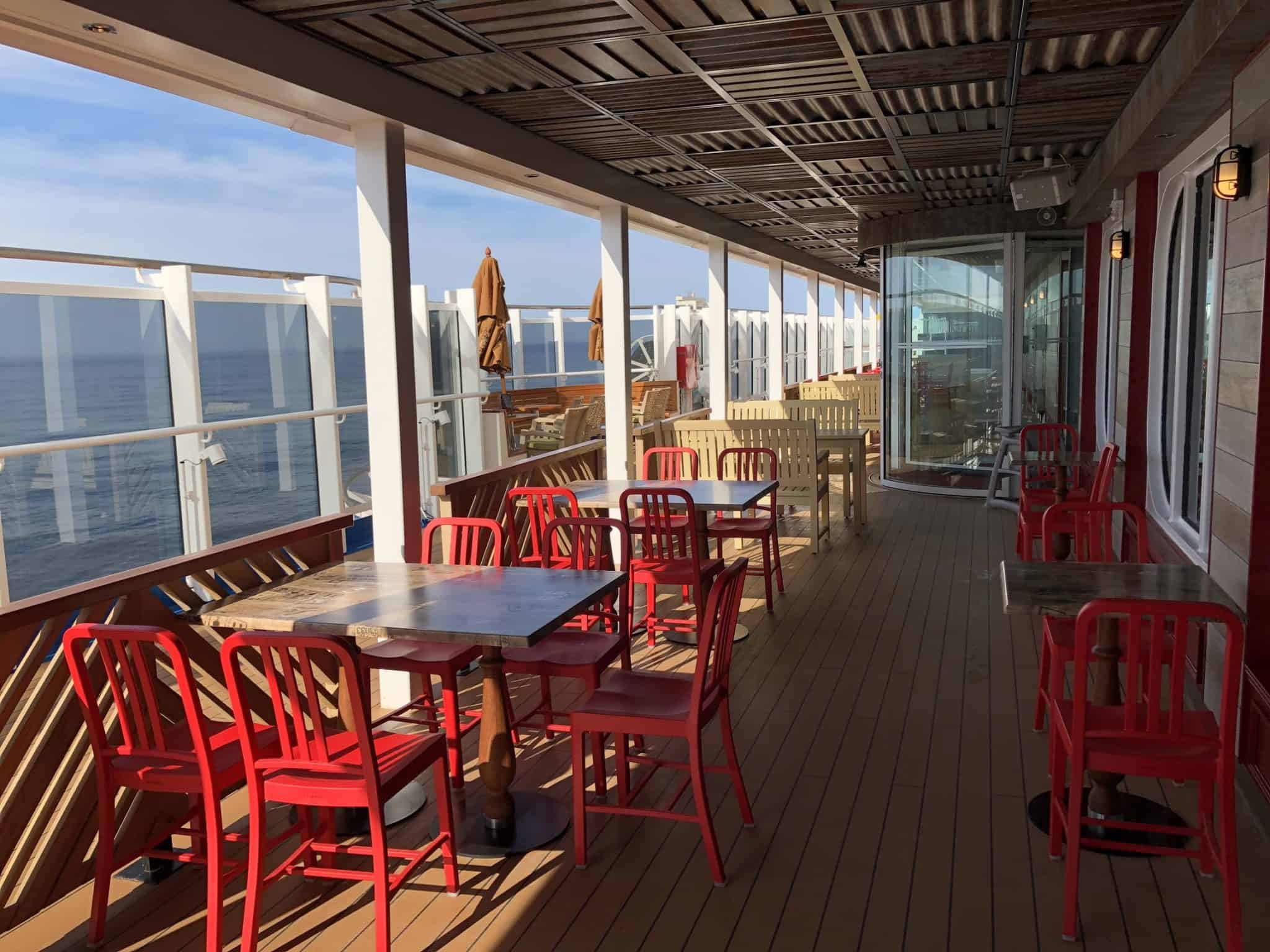 For one thing, there is a real smoker on board the ship, so those hickory and applewood flavors you're tasting are the real deal. This isn't pre-packaged, manufactured barbecue or something you'd find at a fast food joint. And you definitely could not get this quality (and quantity) of food at these prices on land… especially if you wander in for the free lunch.
And don't think that they've ignored the "brewhouse" part of the title in order to focus on the "smokehouse." There's a full-time brewmaster living on the Carnival Horizon, and they're constantly brewing four different Parched Pig beers: There's an IPA, a Porter, an Ale, and an Amber beer. Not sure which one might be to your liking? You can order a flight featuring samples of all four for $5.75. (My personal favorite was the Smoked Porter, although the Smokehouse Ale won raves among my fellow travelers.)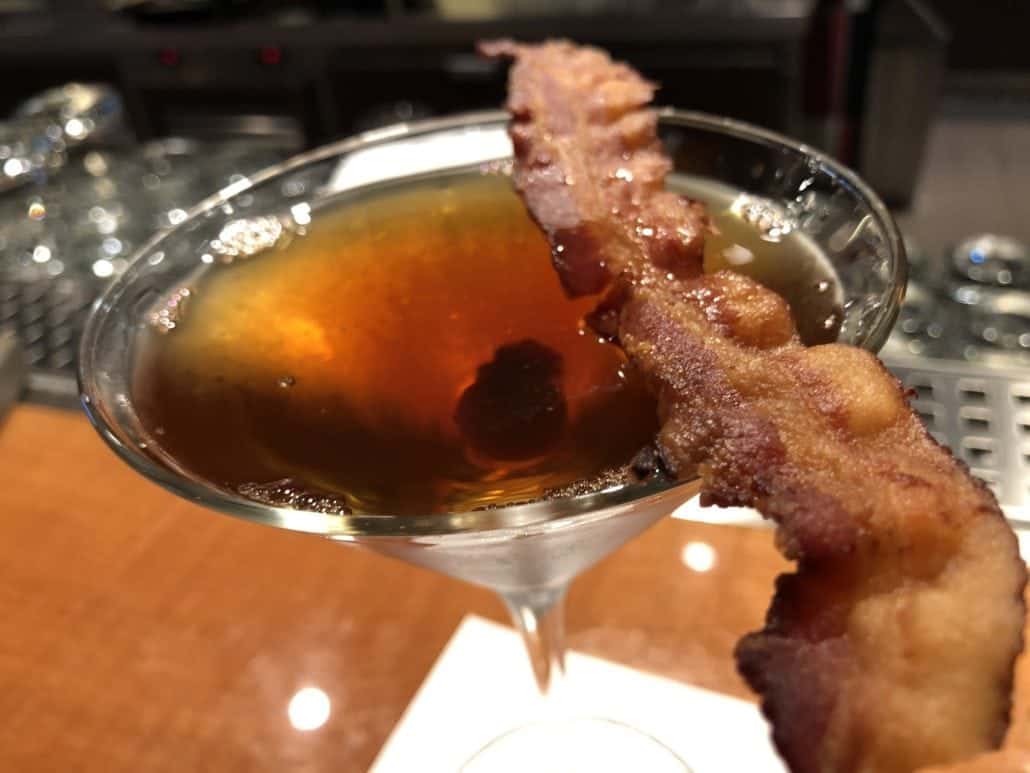 Of course, there are plenty of other beers available, not to mention cocktails. The two you'll hear everyone talking about are the Bacon Manhattan (which is tasty and comes with a crisp piece of bacon on top, but is also potent enough to knock you on your butt) and the Smoked Boulevardier (which is served under a glass dome that, when lifted, unleashes a fragrant burst of rosemary-scented smoke). Less talked about, but definitely worth considering is what I believe to be the best Bloody Mary you'll find on the ship, as well as the Kentucky Mule (which I'm told is a Moscow Mule made with bourbon instead of vodka). Oh, and you'll be happy to hear that the CHEERS! package covers all the drinks served in the Pig & Anchor.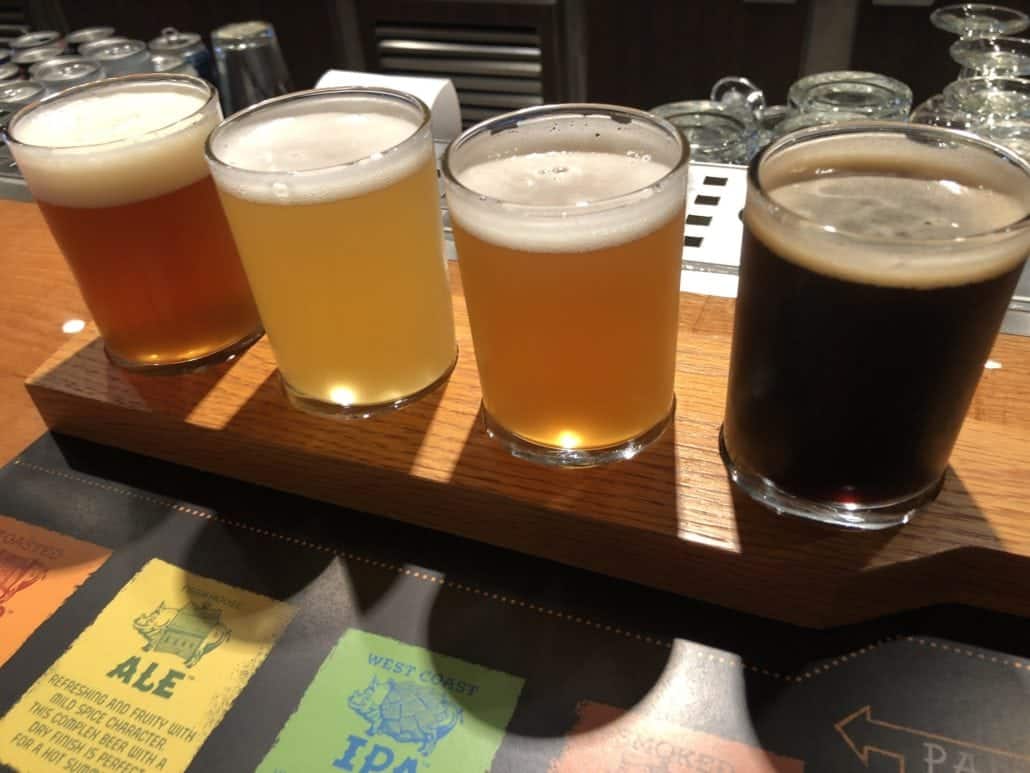 One of the things I especially liked about the Pig & Anchor was the ease with which it juggled being a restaurant, a bar, and an entertainment venue. Much of the night, there's live music here, making this yet another great option when you're looking for some entertainment to go with your drink of choice. Not surprisingly, the music here leans heavily toward country and, given the overall ambiance, you can almost forget you're at sea and pretend you're in a Nashville honky-tonk.
Final Thoughts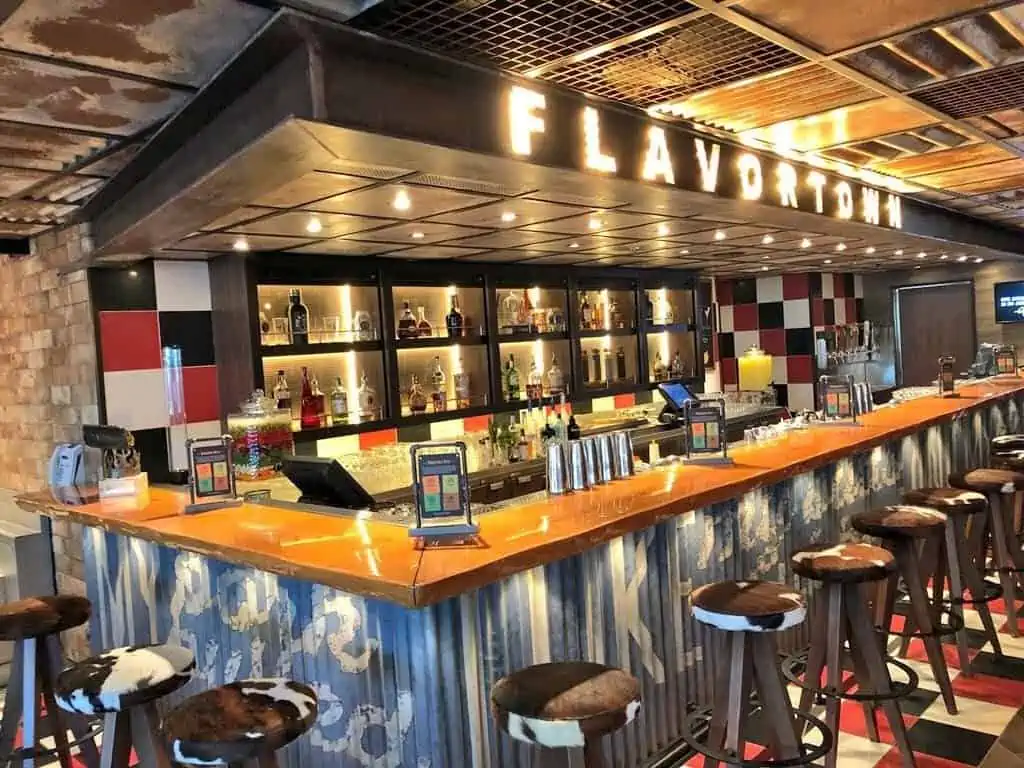 I said from the get-go this was likely going to be a winner for me, and the fact that I returned several times for dinner (and nearly every evening for the entertainment) proves that was definitely the case. That said, there were a couple things that would keep me from declaring it a grand-slam.
For one thing, it's borderline criminal to me that a barbecue joint doesn't serve fresh brewed iced tea. Ask any southerner or true barbecue fan, and they'll definitely take points away for that. And while the Pig & Anchor does sell hand-squeezed lemonades which can be flavored with syrups, the $5.95 price seems a little steep. (Especially considering you can get a beer for less.)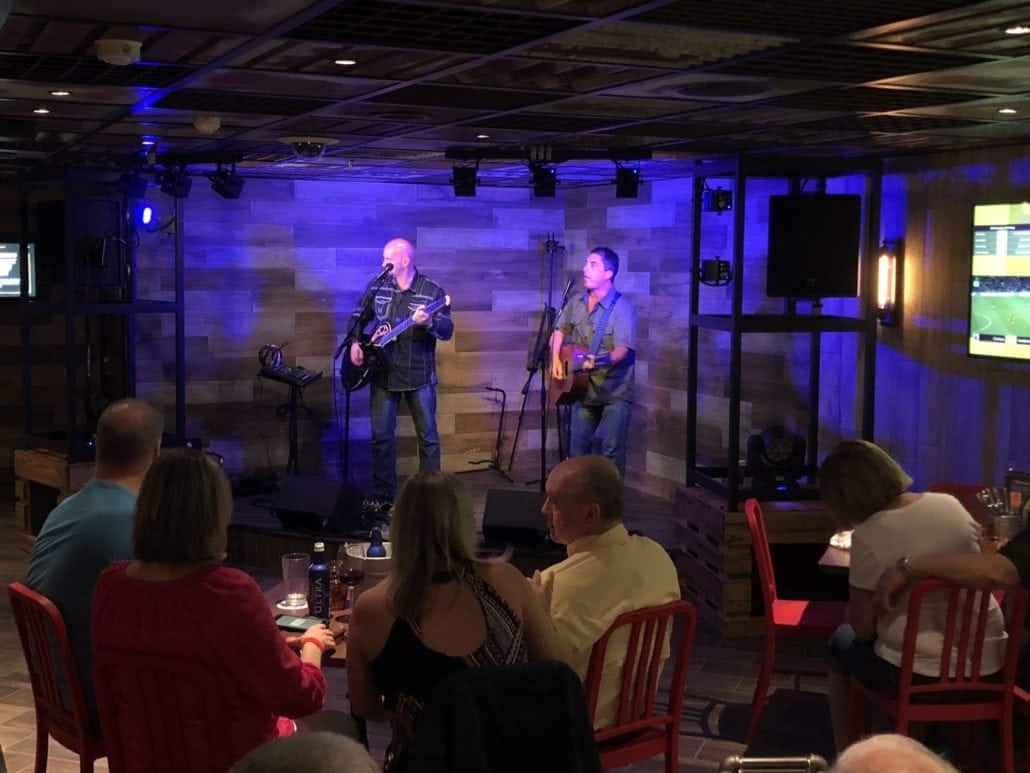 The live music is a great touch, but it started a little too early for me. I understand the music is scheduled around the flow of the ship, but the band was so loud during the dinner hour that we couldn't carry on a conversation. Despite that, the band was excellent, played great music and definitely kept the crowd entertained.
Do you plan to eat at the Pig & Anchor Smokehouse|Brewhouse? 
Pig and Anchor Video Tour: