After several weeks of fear and uncertainty, cruisers planning trips which include stops at some of the most popular Mexican itineraries can breath easier: The U.S. State Department has lifted the recent ban they had regarding travel in that part of the world.
Carnival Cruise Line Resumes Tulum Excursions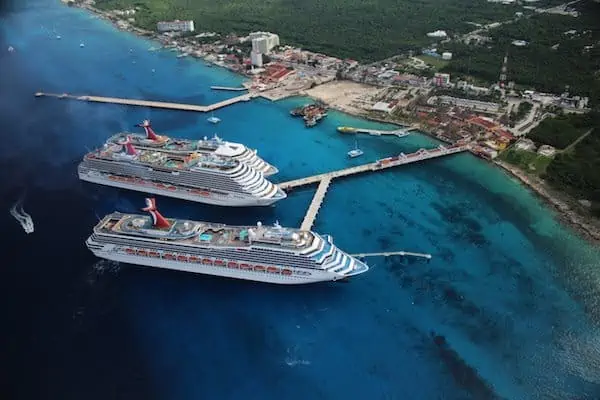 Following an explosion and the discovery of a second incendiary device on passenger-carrying ferries in recent weeks, the U.S. Embassy in Mexico City issued travel warning issued to visitors and a ban on travel for government employees. But a recently issued statement on the U.S Embassy website says, "U.S. government personnel are permitted to use ferry services between Playa del Carmen and Cozumel."
During the travel ban, most cruise lines had — for the safety of their guests — cancelled shore excursions, especially those involving travel to regions such as Playa del Carmen.  But now, things are slowly returning to normal. For example, Carnival Cruise Line Brand Ambassador John Heald announced on Facebook, "You will be pleased to know that the ban on the ferries between Cozumel and the mainland of Mexico has been lifted by the US Government."
He went on to say, "This means effective today we will be offering all those brilliant adventure excursions such as visits to the Mayan Ruins of Tulum."
New Security Procedures Are In Place
As a result of the recent explosion, state and federal agencies are enforcing new security procedures for guests in the Playa del Carmen, Quintana Roo, Mexico area.
The State Department warns that travelers should always exercise caution when visiting these areas, be aware of their surroundings, purchase travel insurance and contact the nearest U.S. Embassy or Consulate if they find themselves in need of assistance.
Travelers can also enroll in the STEP program. The Smart Traveler Enrollment Program (STEP) is a free service which allows U.S. citizens and nationals traveling and living abroad the opportunity to list their travel information with the U.S. Embassy or Consulate. This allows the agencies to contact a traveler if situations arise which they should be aware of, including emergencies such as a natural disaster or civil unrest. It also makes it easier for family and friends to get in touch with you should the need arise.
The Embassy telephone number for Mexico: (01-55) 5080-2000.
Read More: 7 Cruise Port Safety Tips