Princess Cruises has announced new details on features onboard their new upcoming ship, Sky Princess.
Sky Suites
The ship will feature the line's first-ever Sky Suites, a special category of staterooms that are centrally located on the top decks of the ship. The two suites will include the largest balconies ever offered by the line at 700 square feet. Guests will be able to sit in the privacy of their own balcony and also be able to see the large screen on the pool deck for Movies Under the Stars, making these cabins perfect for entertainment-lovers. They will also offer a 270-degree view and hold up to five guests.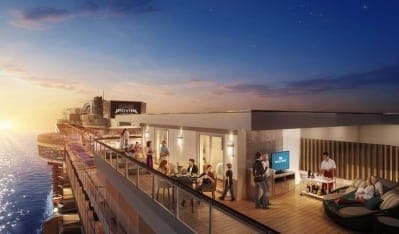 Wakeview Pool
The 143,700 ton Sky Princess will debut in the Mediterranean in October 2019, and include the best features found on its three sister ships, Royal, Regal, and Majestic Princess, as well as new offerings. One new feature will be the Wakeview pool on the vessel's aft decks. In addition to that will be two new deep-tank top deck pools, a Retreat Pool, and more hot tubs than previous Royal-class ships – two of which will be cantilevered over the deep-tank pools.
Other Offerings
Sky Princess will include a relaxing Sanctuary area with a new contemporary design and twice as many private cabanas as its sister ships. Guests will also enjoy the new look of the Vista Lounge, complete with a full bar. The Princess Live venue will offer a new café as well, serving barista-made coffee, tea, and nibbles.