MSC Cruises has announced new high-tech features that will be found aboard its next United States flagship, MSC Seascape.
ROBOTRON
ROBOTRON is MSC Cruises' first amusement park-esque top-deck attraction; a robotic arm with an attached gondola that seats three guests, flying them nearly 175 feet above the sea.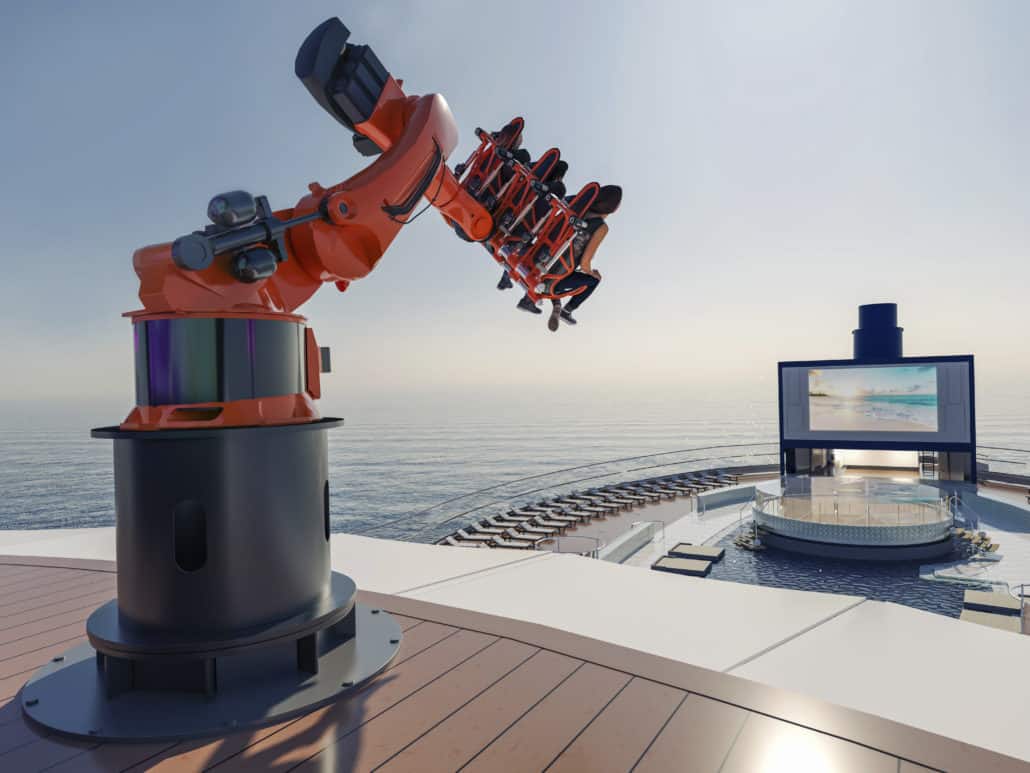 The experience will give riders a 360 degree view of the horizon as they hang over the edge of the deck, flip upside down, and move in all directions.
ROBOTRON riders will be able to select their desired thrill level, ranging from family-friendly to high-intensity. They can also set the mood with colored lights, music preferences, and more.
Coupled with the adjacent video screen, ROBOTRON acts as a moving DJ booth, with the rhythm and bass visualized as colorful patters and pulses of light while the robotic arm bounces and twists in tempo.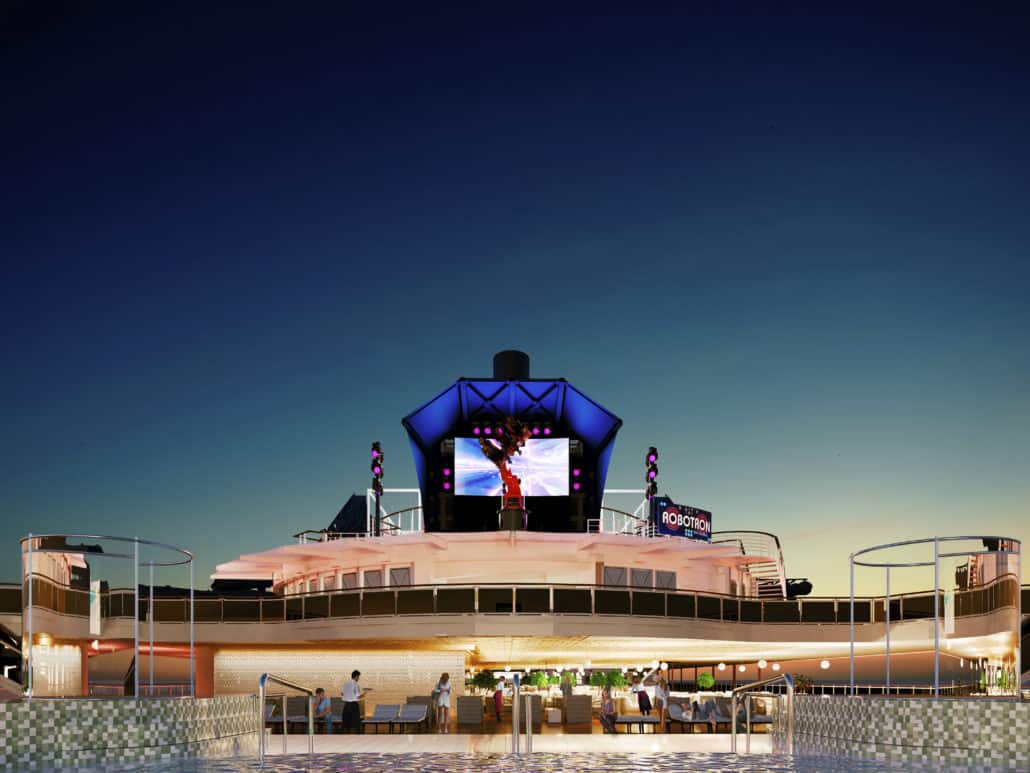 Other Tech-Focused Entertainment
VR 360 Degree Flight Simulator
This ride offers the ultimate virtual motion experience, complete with VR headsets and impressive special effects. Guests can choose from various worlds to dive into, offering a different experience each time.
VR Motorcycles
Passengers with a need for speed will love Seascape's new VR motorcycles, where players will be transported to the racetrack with wind and water effects to complete the experience.
MSC Formula Racer
Perfect for car racing enthusiasts wanting a high-speed fix, this activity puts guests in the driver's seat for a thrilling race simulation game with realistic effects that will get their hearts pounding.
Immersive XD Cinema
The minute passengers put on their 3D glasses, they dive into alternate worlds where they'll battle it out against zombies, skeletons, and more. Only one player can be crowned the victor, so guests will need to prove their sharp-shooting skills against each other for top bragging rights.
MORE: Royal Caribbean & Celebrity Cruises to Begin Using SpaceX Starlink Internet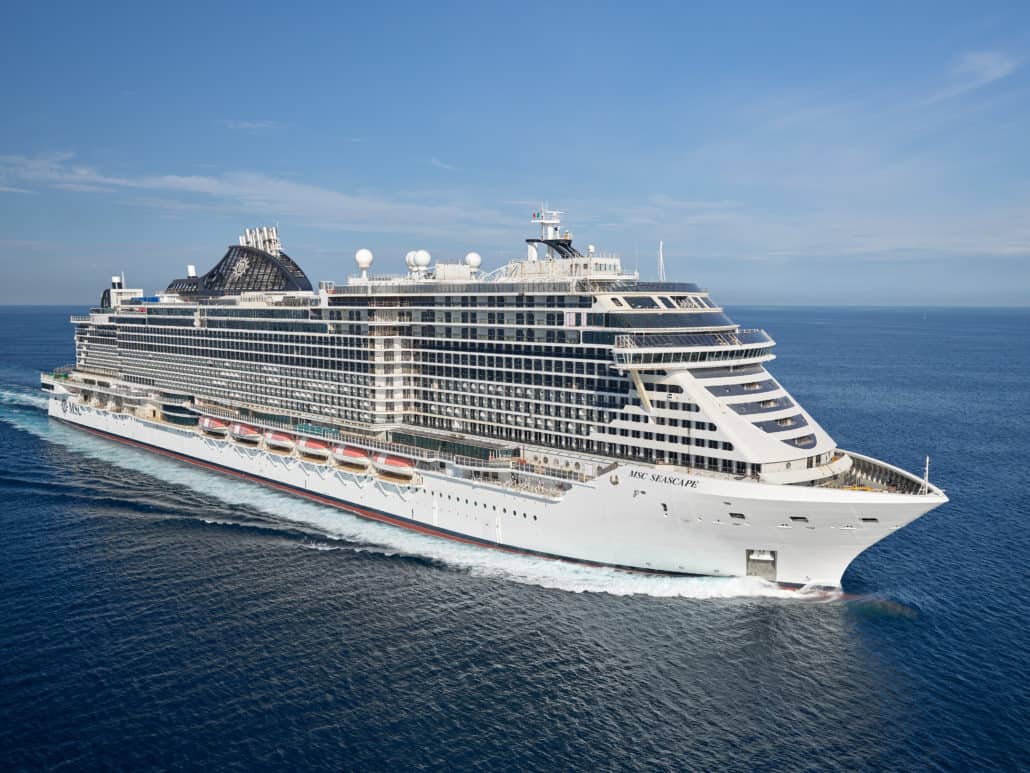 MSC Seascape Itineraries
MSC Seascape's first passenger voyage will be a 17-night journey across the Atlantic. The vessel will depart Civitavecchia (the port for Rome) on Saturday, November 19 and stop in Spain, Portugal, and Bermuda before arriving in New York City on Monday, December 5.
The ship will officially launch in New York at a naming ceremony on December 7, and then head down to Miami to begin offering year-round Caribbean itineraries. The eastern route will call on Ocean Cay, Nassau, San Juan, and Puerto Plata. The western itinerary will include stops at Ocean Cay, Cozumel, Grand Cayman, and Ocho Rios.
"We are excited to give our guests more access to cutting-edge experiences, which is why MSC Cruises' is committed to bringing our newest ships to the U.S. We're the first cruise line to offer something like ROBOTRON at sea, and we can't wait for thrill-seekers to discover the ride of their life surrounded by the beauty of the Caribbean," said Rubén A. Rodríguez, President of MSC Cruises USA.
"Our new virtual reality motorcycles and flight simulator – plus fan favorites like the MSC Formula Racer and XD Cinema – will also feature truly immersive experiences, providing the most exhilarating line-up of rides we've ever offered."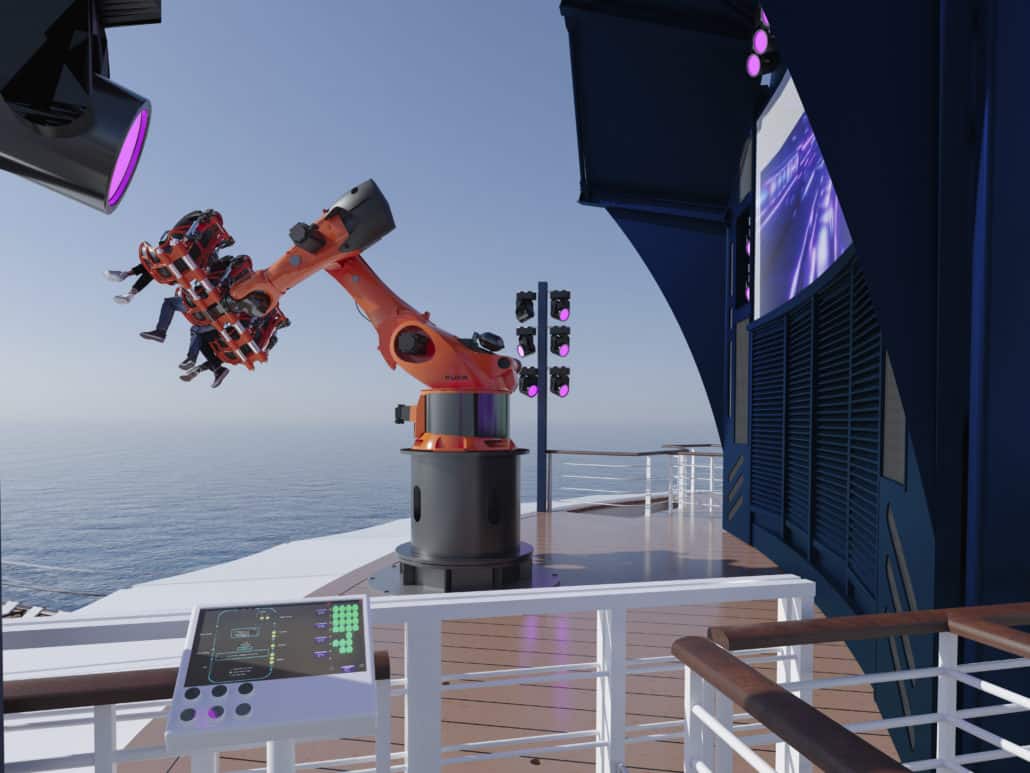 The ROBOTRON is the second theme park-like ride on a cruise ship, following the BOLT roller coaster that Carnival Cruise Line debuted on Mardi Gras last year.
READ NEXT: MSC Cruises Drops Vaccination Mandate For Voyages From The U.S.