Nassau is the capital city of The Bahamas, and one of the cruise industry's most-visited ports of call. Nassau welcomed more than 3.85 million cruise passengers in 2019, and that number was expected to increase last year.
Located on New Providence Island, one of the more than 700 islands and islets in the Bahamas archipelago, Nassau is a metropolitan city featuring amenity-rich hotels, white sand beaches, numerous attractions, and historic sites.
Nearby Paradise Island, connected to New Providence Island by two bridges crossing Nassau Harbour, is filled with resorts and is easily accessible from Nassau as well.
Key Facts
Entry Requirements: A valid passport is needed to travel to Nassau, Bahamas, for all travelers, regardless of age. In addition, travelers must have any visas required by their country of departure. Passport and entry requirements for Nassau, Bahamas, can be found here.
Health Testing Requirements for Entry: Everyone traveling to Nassau, Bahamas, must apply for a fee-based Bahamas Health Visa, which includes health insurance. As of May 1, 2021, inbound fully-vaccinated travelers are exempt from testing requirements, and non-vaccinated travelers must obtain a negative PCR test taken no more than five days prior to the date of arrival. Fully-vaccinated travelers must provide proof of vaccination.
Vaccination records and PCR test results must be uploaded as part of the Health Visa application for each person traveling. Children 10 and under are exempt from testing requirements. The online Health Visa application process can take up to 72 hours to complete. Current details on health testing requirements for entry into The Bahamas as well as health & safety requirements while in The Bahamas, can be found here.
Language: English is the official language in The Bahamas.
Time Zone: Nassau operates on Eastern Standard Time.
Currency: The Bahamian dollar is pegged as equivalent to the U.S. dollar, and both are generally accepted.
What Ships Are Sailing from Nassau
There are currently two options for a Nassau, Bahamas cruise in summer 2021:
Royal Caribbean's Adventure of the Seas: Adventure of the Seas sails seven-night roundtrip cruises from Nassau, Bahamas, with itineraries including two days at Perfect Day at CocoCay and visits to Cozumel and Grand Bahama Island.
Crystal Cruises Crystal Serenity: Crystal Serenity sails seven-night round-trip cruises from Nassau, Bahamas, with an all-Bahamian itinerary including visits to Harbour Island, Great Exuma, San Salvador Island, Long Island, and Bimini.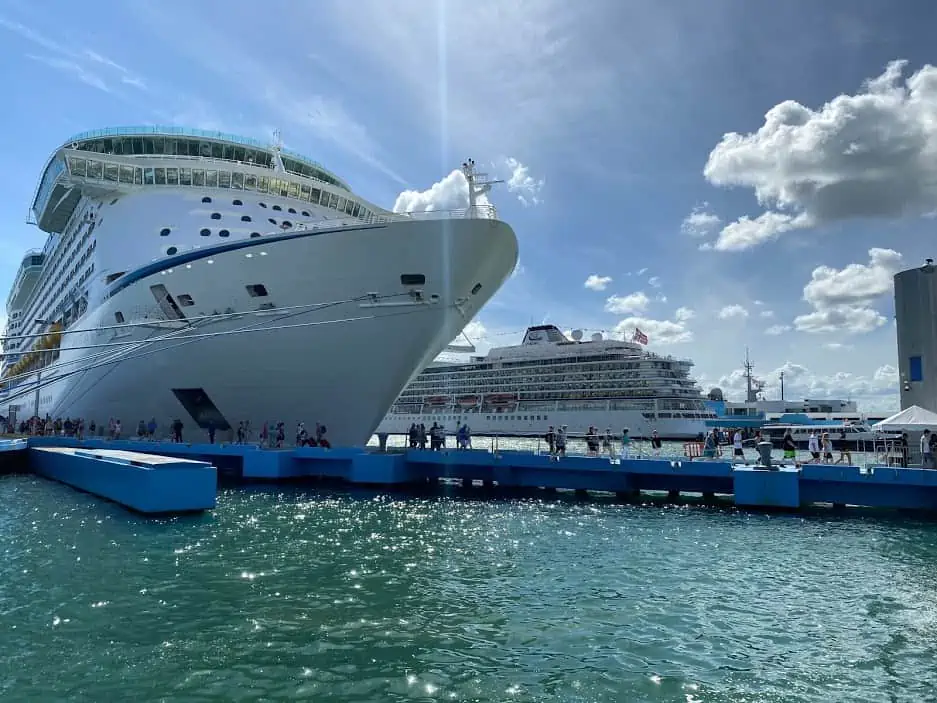 Flying to Nassau, Bahamas
The Nassau, Bahamas airport is Lynden Pindling International Airport. It is the largest airport in The Bahamas and is located about a 25-minute drive from downtown Nassau. The following major cities and airlines offer direct service to Nassau. More direct flights to Nassau, Bahamas, will likely be added this year. Check the airlines' websites for current schedules and information:
Atlanta (ATL) – Delta Airlines
Chicago (ORD) – American Airlines and United Airlines
Dallas (DFW) – American Airlines
Denver (DEN) – United Airlines
Fort Lauderdale (FLL): JetBlue Airways and Silver Airways
Houston (IAH): United Airlines
Miami (MIA): American Airlines
New York City (JFK): Delta Airlines and JetBlue Airways
New York City (LGA): American Airlines
Newark (EWR): United Airlines
Orlando (MCO): JetBlue Airways
Tampa (TPA): Silver Airways
Royal Caribbean provides guests with the option of booking flights through its Air2Sea program, which offers seats and subsidized fares on flights to Nassau, Bahamas, which means you could save money versus booking your flights independently.  Adventure of the Seas will be departing Nassau at 9 p.m., allowing more time for guests to arrive in Nassau, Bahamas, on embarkation day. Crystal Cruises offers Crystal Serenity guests the option of flights booked directly through the line as well.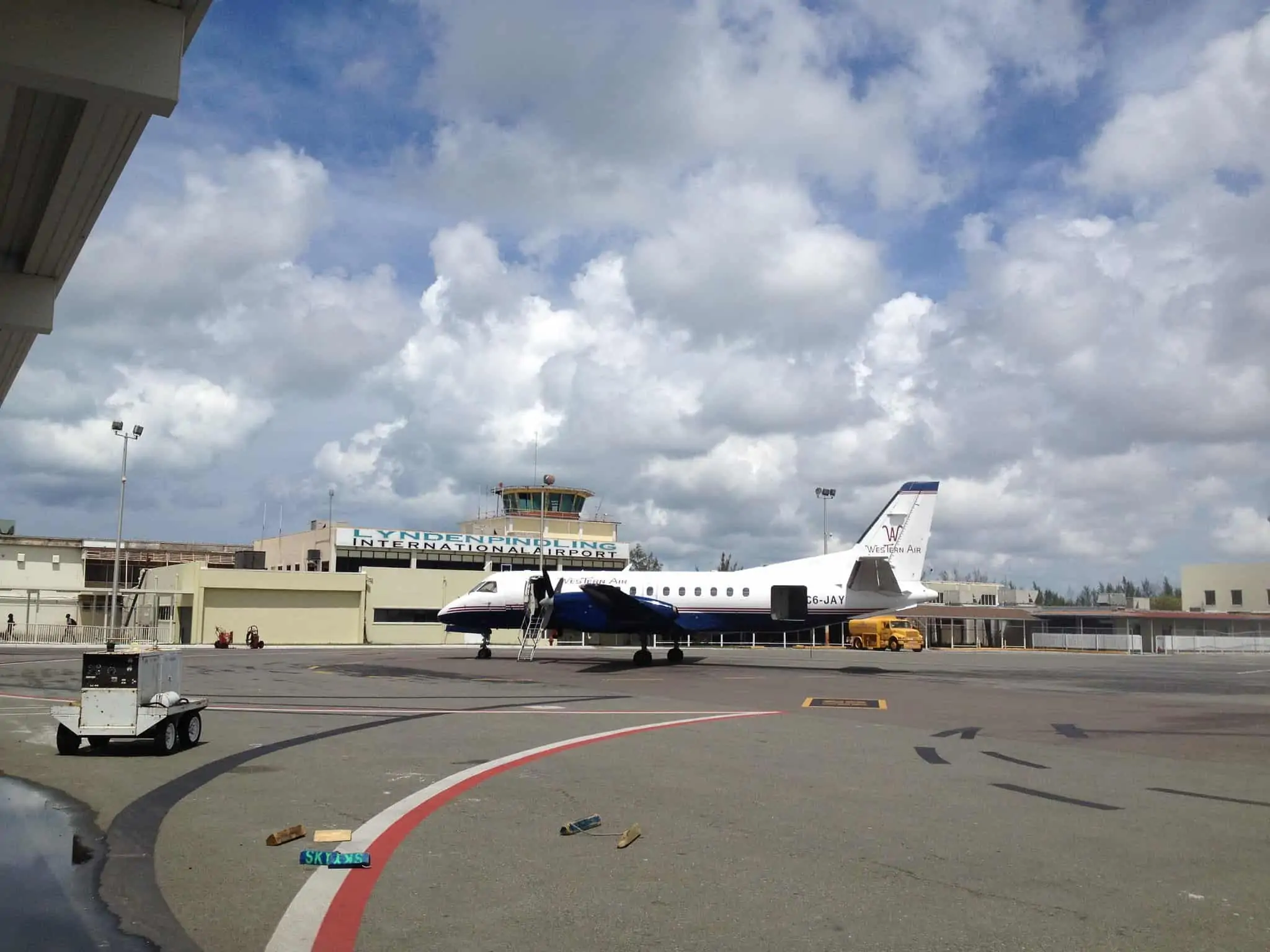 Transportation Options
Taxis are readily available outside the Nassau, Bahamas airport terminals. Taxis are not metered in Nassau, so make sure to confirm the fare before entering the cab. Uber and Lyft do not operate in The Bahamas. Public bus transportation is not available at the airport, but travelers can check with their hotel to see if a shuttle service to and from the airport is offered. Car rentals are available at the airport as well. Car rental companies at the Nassau, Bahamas airport include Avis, Budget, Dollar, and Hertz.
MORE: Miami Cruise Port Guide: What You Need To Know
Nassau, Bahamas Hotels
Travelers can choose from a wide variety of hotels, resorts, and all-inclusive properties in Nassau, Bahamas, and on Paradise Island. Given the current strong demand for vacation accommodations in Nassau and Paradise Island, it's wise to book far in advance with liberal cancellation options and continually check for deals and dropping prices. Top travel advisors can provide excellent insights and booking assistance.
Vacationers planning pre-and post-cruise stays should make sure to comply with all health and safety requirements for entry into and exit from The Bahamas, as well as all requirements for cruise embarkation.
During the summer months, prices for available Nassau and Paradise Island hotels and resorts range from around $150 to $1,500 per night or more. Rates generally drop somewhat during the fall. Given the current situation, it's wise to work with a travel advisor or contact the hotels and resorts directly to check on currently available amenities and facilities before booking.
Here's a variety of hotels and resorts to consider for a pre-or post-cruise stay in Nassau or on Paradise Island:
Atlantis Paradise Island: This iconic resort on Paradise Island is comprised of six different accommodation sections at a variety of price points: The Cove, The Royal, The Coral, The Reef, The Beach, and Harborside Resort.
Atlantis also includes miles of beaches, 21 restaurants, 19 bars, and lounges, the Atlantis Casino, a marina, marine habitats, and Aquaventure — a 141-acre waterpark featuring multiple water slides, a mile-long lazy river, 11 swimming pools, a children's pool play area, and more. Access to Aquaventure is included for guests staying at Atlantis. Depending on the season, lodging selection, and available promotions, rates at Atlantis can range from $$$ to $$$$$$.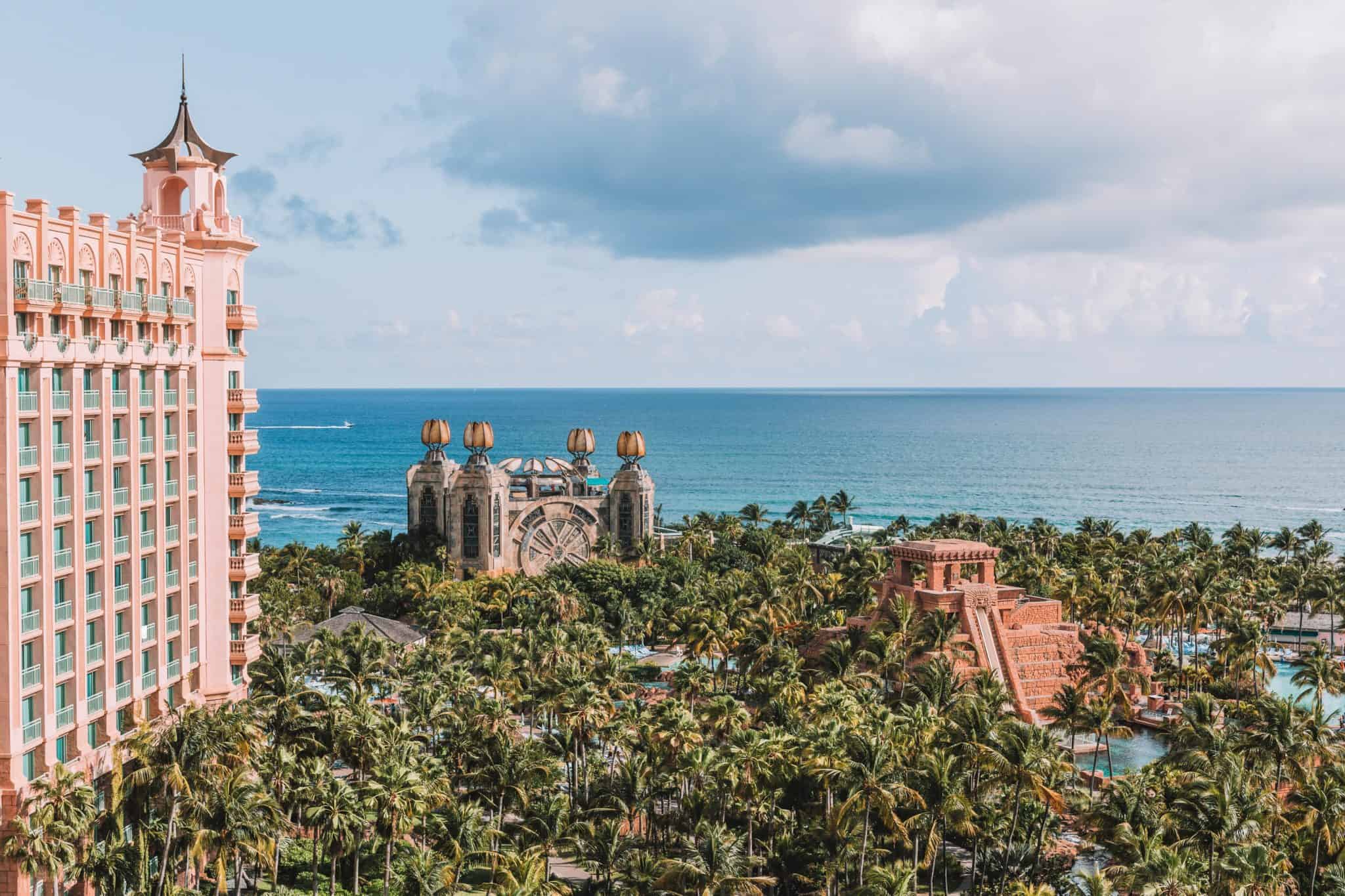 Breezes Resort & Spa Bahamas: This all-inclusive resort is situated directly on Nassau's Cable Beach and features 391 rooms and suites, an outdoor pool, a restaurant, spa, and fitness facilities, and a bar/lounge. Rates at Breezes include meals, snacks, beverages, Wi-Fi, parking, non-motorized water sports, gratuities, and taxes. $$$
Bay View Suites, Paradise Island: This affordable property is located on four acres on Paradise Island and features one- and two-bedroom suites, villas, and townhouses with full kitchens. Budget-friendly rates at the Bay View Suites include free high-speed Internet and access to three swimming pools in a garden setting. Restaurants, shops, beaches, and other attractions are nearby. $
Comfort Suites Paradise Island: Located adjacent to Atlantis Paradise Island, this all-suite hotel is an excellent choice for families and those wishing to enjoy the many perks of Atlantis. As part of the property's "Stay here, Play there" offer, guests staying at Comfort Suites have free access to all of the amenities at Atlantis Paradise Island, including its popular Aquaventure waterpark. Free breakfast, free Wi-Fi, and full signing privileges at all Atlantis restaurants and lounges are included as well. Special Kids Stay, Play, and Eat Free deals are typically offered, too. Depending on the season and available promotions, rates can range from $$-$$$.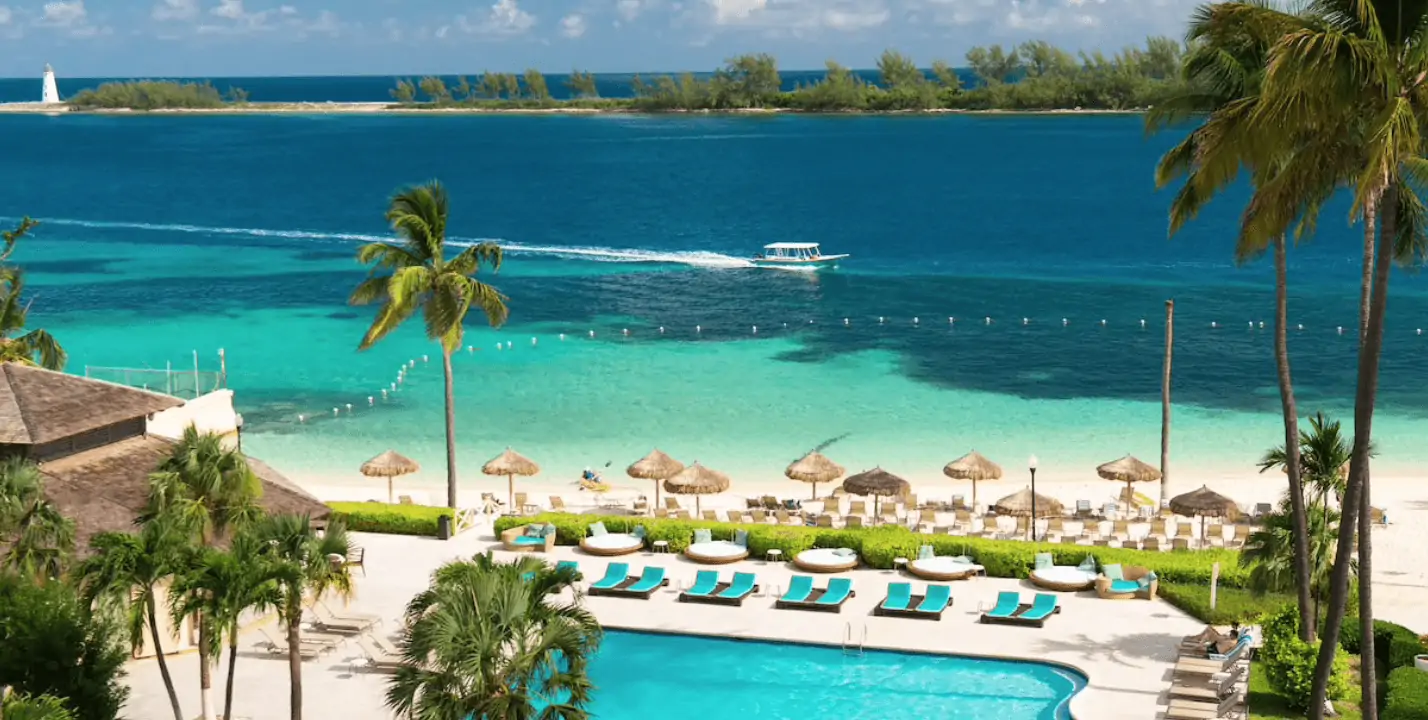 Courtyard Nassau Downtown Junkanoo Beach: This Marriott property is set on West Bay Street across from Junkanoo Beach in downtown Nassau, Bahamas. The location of the Courtyard Nassau Downtown Junkanoo Beach makes it convenient for shopping, dining at the city's restaurants, and heading to the beach. Guests can enjoy the restaurant, hotel's swimming pool, fitness center, free high-speed Internet access, and on-site parking. $$
Grand Hyatt Baha Mar: Overlooking Nassau's Cable Beach, the Grand Hyatt Baha Mar offers guests access to a private beach area, outdoor pools, a wide variety of restaurants and lounges, a Racquet Club with nine tennis courts, free Wi-Fi, a spa and fitness center, a casino, and much more. This beachfront property is part of Nassau's Baha Mar complex, with a wealth of amenities and attractions. Guests have free unlimited access to Baha Bay, a 15-acre beachfront waterpark with over 30 attractions opening on July 2, 2021. $$$
Graycliff Hotel & Restaurant: The luxurious AAA Four-Diamond Graycliff Hotel is a historically restored mansion in old Nassau next to the city's Government House. The property features 20 air-conditioned rooms and suites, the 5-star Graycliff Restaurant, a fitness center, pools and tropical gardens, free Wi-Fi, free private parking, the Graycliff Cigar Company, and its own chocolatier. The Graycliff's wine cellar is one of the largest in the world. $$$-$$$$
Holiday Inn Express & Suites: Travelers seeking affordable accommodations in Nassau can check out the Holiday Inn Express & Suites Nassau, located on West Bay Street in downtown Nassau, Bahamas. The hotel is located across the street from the beach and has rooms and suites with ocean views, a swimming pool, a fitness center, and free Wi-Fi for guests. $-$$
Margaritaville Beach Resort Nassau: The brand-new Margaritaville Beach Resort is located on the beach in the heart of Nassau. The property features a variety of ocean-view rooms and suites, restaurants, outdoor pools, free Wi-Fi, a spa and wellness center, a children's playground, and the fee-based Fins Up Water Park. Some of the resort's amenities are still closed and are expected to open this summer. Check the website for further details. $$$-$$$$
Riu Palace Paradise Island: Riu's 350-room all-inclusive resort is set on a beautiful stretch of white sand beach, next to Atlantis Paradise Island. Rates at this adults-only resort include all meals and snacks, select drinks, sports and activities, entertainment, and gratuities. Multiple restaurants and bars, pools, free Wi-Fi, a spa, and a fitness center are available for Riu Palace Paradise Island guests. Depending on the season and type of accommodations, all-inclusive rates can range from $$$-$$$$.
Sandyport Beach Resort: Sandyport Beach Resort is an RCI Gold Crown resort featuring 72 rooms, studios, and one, two, and three-bedroom suites with full kitchens. Guests can enjoy three lagoon-style pools, a tennis court, free Wi-Fi, and a private beach. The property's setting in Nassau's 144-acre Sandyport Marina Village area offers guests access to stores, seven restaurants, plus a gym and spa. Depending on the type of accommodations and number of guests, rates at Sandyport Beach Resort can range from $$$-$$$$$.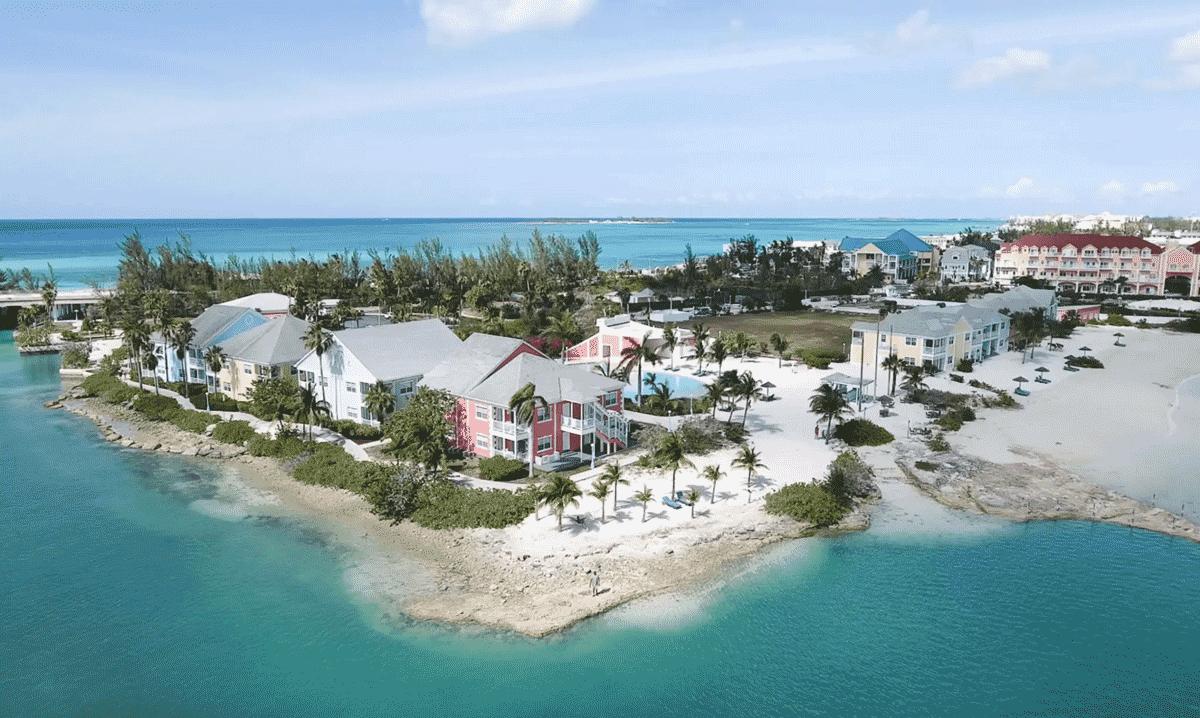 SLS Baha Mar: This luxury property in Nassau's Baha Mar complex is a member of SLS Hotels. The resort features 299 oceanfront rooms and suites, two outdoor pools, multiple restaurants and lounges, free Wi-Fi, access to Baha Mar's amenities, a casino, tennis court, spa, and fitness center, shops, and water sports. Guests have free unlimited access to Baha Bay, a 15-acre beachfront waterpark with over 30 attractions opening on July 2, 2021. The SLS Baha Mar is included as part of Crystal's Extended Land and Hotel Programs feature, which offers Crystal Serenity pre- and post-cruise hotel packages. Depending on the season and type of accommodations, rates at the SLS Baha Mar can range from $$$-$$$$$. 
The Ocean Club, A Four Seasons Resort: Set on a pristine five-mile stretch of white sand beach on Paradise Island, The Ocean Club has been a sought-after destination resort in the Bahamas since 1962. Guests can enjoy the luxury resort's five restaurants and bars, three swimming pools, six tennis courts, a spa and fitness center, and its 18-hole Ocean Club Golf Course. The adjoining Versailles Gardens are perfect for a peaceful stroll and picture-taking as well. $$$$$$
Warwick Paradise Island Bahamas: This all-inclusive adults-only resort on Paradise Island faces Nassau Harbour, with a massive 10,000 square foot terrace providing beautiful marina and water views. The Warwick Paradise Island Bahamas has 250 guest rooms and suites and welcomes guests ages 16 and older. All-inclusive rates include meals, snacks, beverages, nightly entertainment, activities, free Wi-Fi, and use of the pool and fitness center. Depending on the season and type of accommodations, all-inclusive rates can range from $$$-$$$$.
Short-term vacation rentals are also available for travelers seeking multi-night stays in Nassau, Bahamas or on Paradise Island. Check with booking sites such as Airbnb and Vrbo for more details.
Nassau, Bahamas Cruise Port Area
Nassau, Bahamas cruises will depart from Prince George Wharf, which is located within walking distance of Bay Street and downtown Nassau. Port facilities include the Festival Place Welcome Center which contains a number of small stores, Internet terminals, a tour desk, and more.
Private tour operators and a variety of other vendors tend to congregate in areas near the Nassau, Bahamas, cruise port. Taxis, inexpensive local buses, and other types of transportation are available in this area as well.
The water taxi pier, where cruise guests can access water taxis to Atlantis Paradise Island, is also located near the cruise terminal. Bay Street in downtown Nassau has plenty of shops and restaurants, museums, and the Straw Market are nearby as well. Cruise guests can walk to free beaches like Junkanoo Beach or taxi to the free, but slightly further, Cable Beach.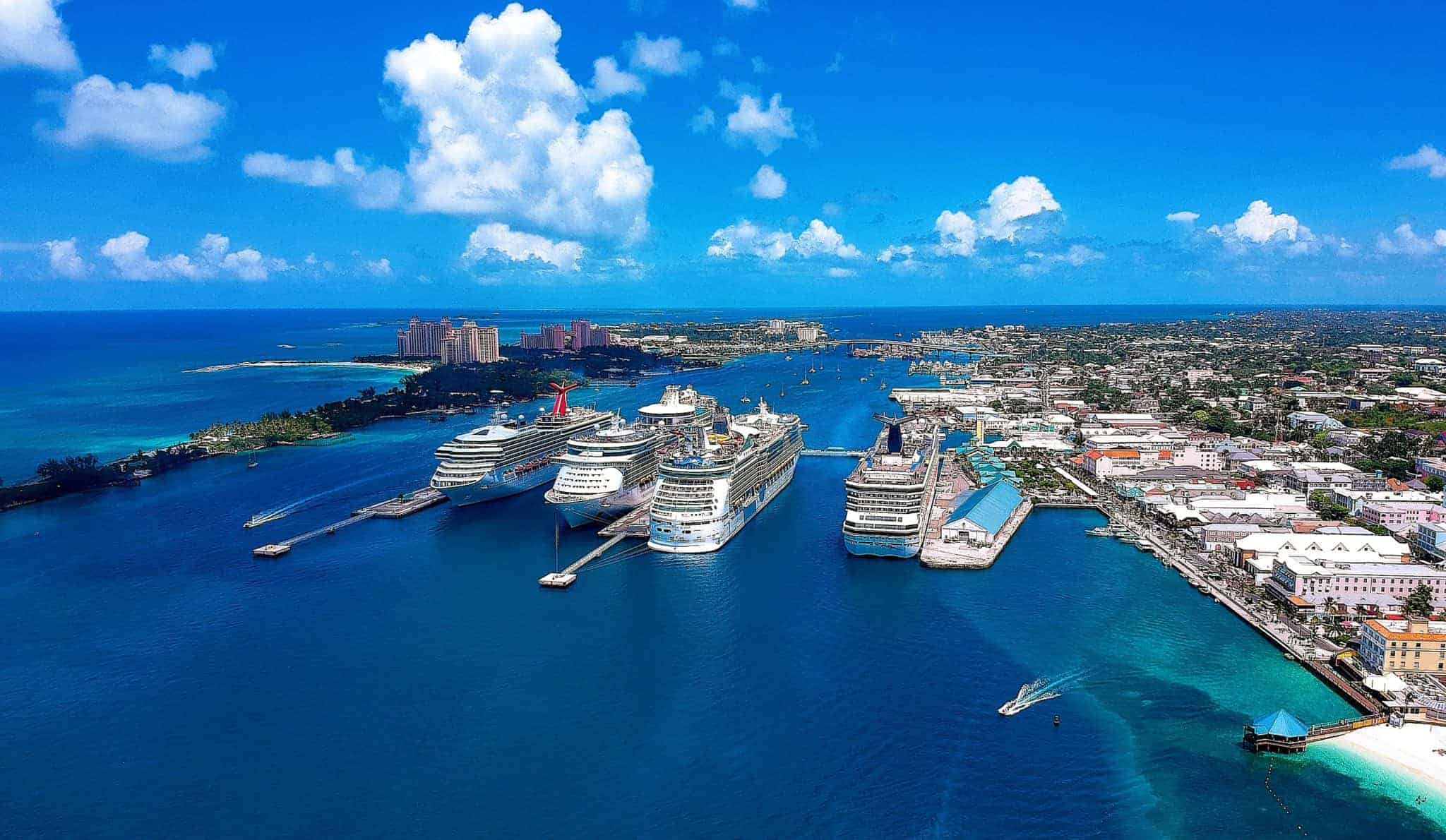 READ MORE: 9 Reasons To Cruise Crystal Serenity
Where To Eat and Drink in Nassau, Bahamas
Travelers have a wide selection of places to eat and drink while staying in Nassau, Bahamas, or nearby Paradise Island. Cuisines at restaurants in Nassau, Bahamas, range from local Bahamian fare and authentic Greek dishes to seafood and gourmet specialties from internationally acclaimed chefs.
In addition to Nassau's ever-popular Señor Frog's, there are a number of other great places for drinks as well. Given the current situation, it's wise to contact restaurants and other spots directly to check on capacity constraints, current offerings, and hours of operation before heading out.
Here are some restaurants, bars, and dining locations to consider while visiting Nassau and Paradise Island:
Arawak Cay, The Fish Fry: Located within walking distance of the cruise port, Arawak Cay has a number of small stands and restaurants serving authentic local Bahamian cuisine, including conch fritters, fried chicken, snapper, shrimp, conch salad, and more. Some popular dining choices include Curly's Restaurant, Goldie's Conch House, Oh Andros, Twin Brothers, and Frankie Gone Bananas.
Athena Café: This popular restaurant serving authentic Greek fare is located within easy walking distance of Nassau's cruise port. Menu items include gyros, grilled octopus, fried calamari, Athenian-style seafood, roast lamb, chicken souvlaki, and delicious Greek desserts.
Bahamian Cookin' Restaurant & Bar: Owned and operated by three generations of Bahamian women, this restaurant in downtown Nassau's Trinity Place specializes in authentic Bahamian cuisine. The menu includes traditional foods such as conch fritters, fried or stewed chicken, fresh seafood, baked macaroni and cheese, peas and rice, plantains, and more.
Café Matisse: Located in downtown Nassau within walking distance of the cruise port, this restaurant has a lovely garden patio and outdoor courtyard area perfect for dining and relaxing. The menu is primarily oriented towards Italian dishes and includes a wide variety of pasta, meats, seafood, and pizza options. Takeout items are available as well.
Crabs and Ting: Set on Nassau's Junkanoo Beach, this little beach stand is a great place for beachgoers to get drinks and enjoy Bahamian food like conch fritters, conch salad, fried snapper, shrimp, and crab when in season.
Daiquiri Shack: This spot within walking distance of Nassau's resorts gets rave reviews for its daiquiris, made-to-order with a variety of fresh fruits.
Dune: Located at the Ocean Club on Paradise Island, this acclaimed restaurant by international Michelin-starred chef Jean-Georges Vongerichten offers a selection of French-Asian dishes accompanied by spectacular ocean views. The restaurant is open for breakfast, lunch, dinner, and Sunday brunch.
Graycliff Restaurant: This iconic AAA Four-Diamond restaurant at Nassau's historic Graycliff Hotel has been a sought-after elegant dining experience for decades. Graycliff Restaurant features a Bahamian-influenced continental menu and an award-winning wine cellar with over 250,000 bottles from more than 5,000 vintners. The restaurant's piazza area is more casual and features the Humidor Churrascaria Brazilian Steakhouse and Giotto Pizzeria. Graycliff Restaurant's wine luncheons with a prix fixe menu are also popular. Graycliff's dress code is strictly enforced, and reservations for lunch and dinner should be made far in advance.
Nobu: Those craving the specialties of internationally acclaimed chef Nobu Matsuhisa can head to Nobu at Atlantis Paradise Island for sushi, sashimi, and outstanding gourmet Japanese dishes.
Pirate Republic Brewing: Pirate Republic has been rated as one of the top microbreweries in the Caribbean. Learn about pirates in The Bahamas while sampling flights and drafts from Pirate Republic's selection of beers as well as bar bites and sandwiches. Pirate Republic Brewing has a location opposite the Nassau, Bahamas cruise port and at Atlantis Paradise Island as well.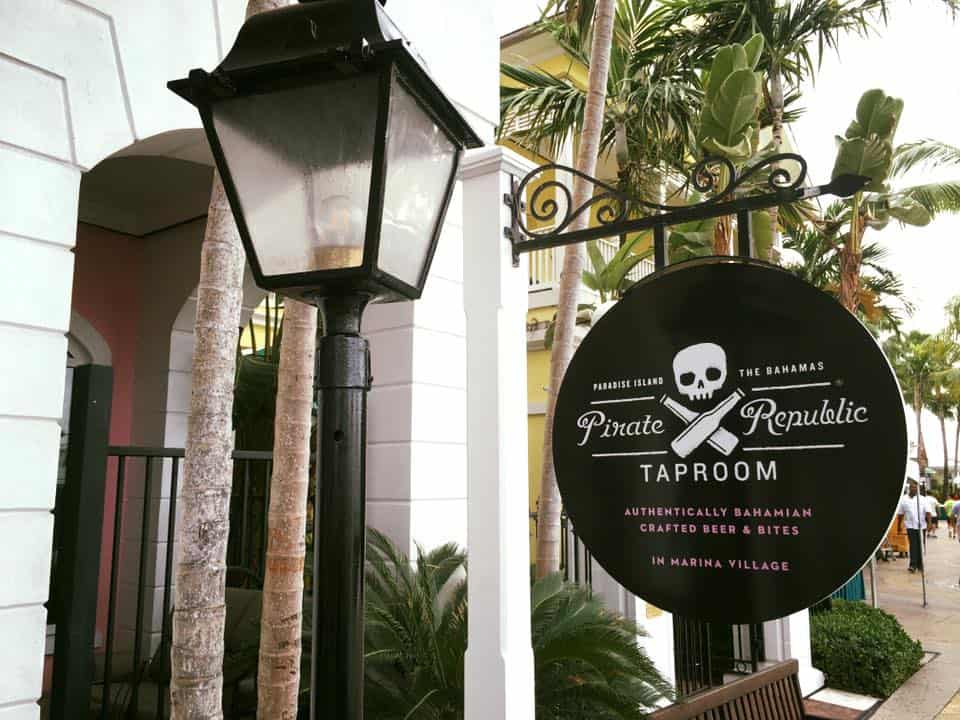 Ristorante Luciano's of Chicago: Set in an elegant waterside Nassau mansion that was the former home of The Bahamas' first Prime Minister, Luciano's serves traditional Italian dishes, roasted chicken, steaks, seafood, and delectable Italian desserts. Entrees on the lunch menu are similar to those at dinner but at lower prices.
Sapodilla: Enjoy a drink in the champagne lounge or the garden of this upscale restaurant set at Nassau's spectacular Sapodilla Estate, then head on to savor a delicious meal of local fresh fish, steaks, or lobster. Save room for the decadent desserts. Private dining options are also available.
Sip Sip at the Cove: Sip Sip's original location is on lovely Harbour Island in The Bahamas, but you can sample their starters, sandwiches, salads, and signature drinks at the Cove at Atlantis while staying in Nassau or on Paradise Island. Sip Sip Sky Juice is a favorite.
The Poop Deck: This is a great spot in Nassau to enjoy lovely harbor views, drinks, and fresh-caught seafood such as snapper, hogfish, grouper, and Bahamian spiny lobster. Other favorites include cracked conch, chicken, pasta, and grilled meats. The Poop Deck has a location in Sandyport as well.
Best Beaches in Nassau
Vacationers can choose from a wide variety of Nassau, Bahamas beaches. The Bahamas are known for stunning white sand beaches and clear turquoise waters. These free public beaches in Nassau and on Paradise Island are perfect spots for relaxing and having fun in the sun. Cabbage Beach, Cable Beach, and Junkanoo Beach are home to a number of hotels and major resort complexes as well:
Cabbage Beach: Located on Paradise Island, Cabbage Beach has been rated as one of the best beaches in the world. A number of major resorts on Paradise Island are set on Cabbage Beach, including Atlantis Paradise Island, Riu Palace Paradise Island, and The Ocean Club. The magnificent white sand beach features clear turquoise waters and a wide variety of watersports activities. Public access to Cabbage Beach can be found via Casino Drive next to the Riu Palace Paradise Island and on wooden stairways on Ocean Drive. No public restrooms or changing facilities are available.
READ: Free Beaches in Nassau
Cable Beach: Named for the telegraph cable to the U.S. that was buried here in the late 1800s and known for its white sand and generally calm waters, Nassau's famous Cable Beach is home to a number of large resorts, including Breezes Resort & Spa and the hotels in the Baha Mar resort development. Cable Beach is often considered to be one of the nicest beaches in the Bahamas. Many vacationers spend their days on Cable Beach, so it can be crowded at times.
Vendors at Cable Beach rent chairs, umbrellas, and watersports equipment, but bring your own towels with you when you come to the beach. Be aware that access to resort beaches at Cable Beach, such as those at Baha Mar, can often be restricted to hotel guests — but Cable Beach itself is public. Make sure to enter at public access points.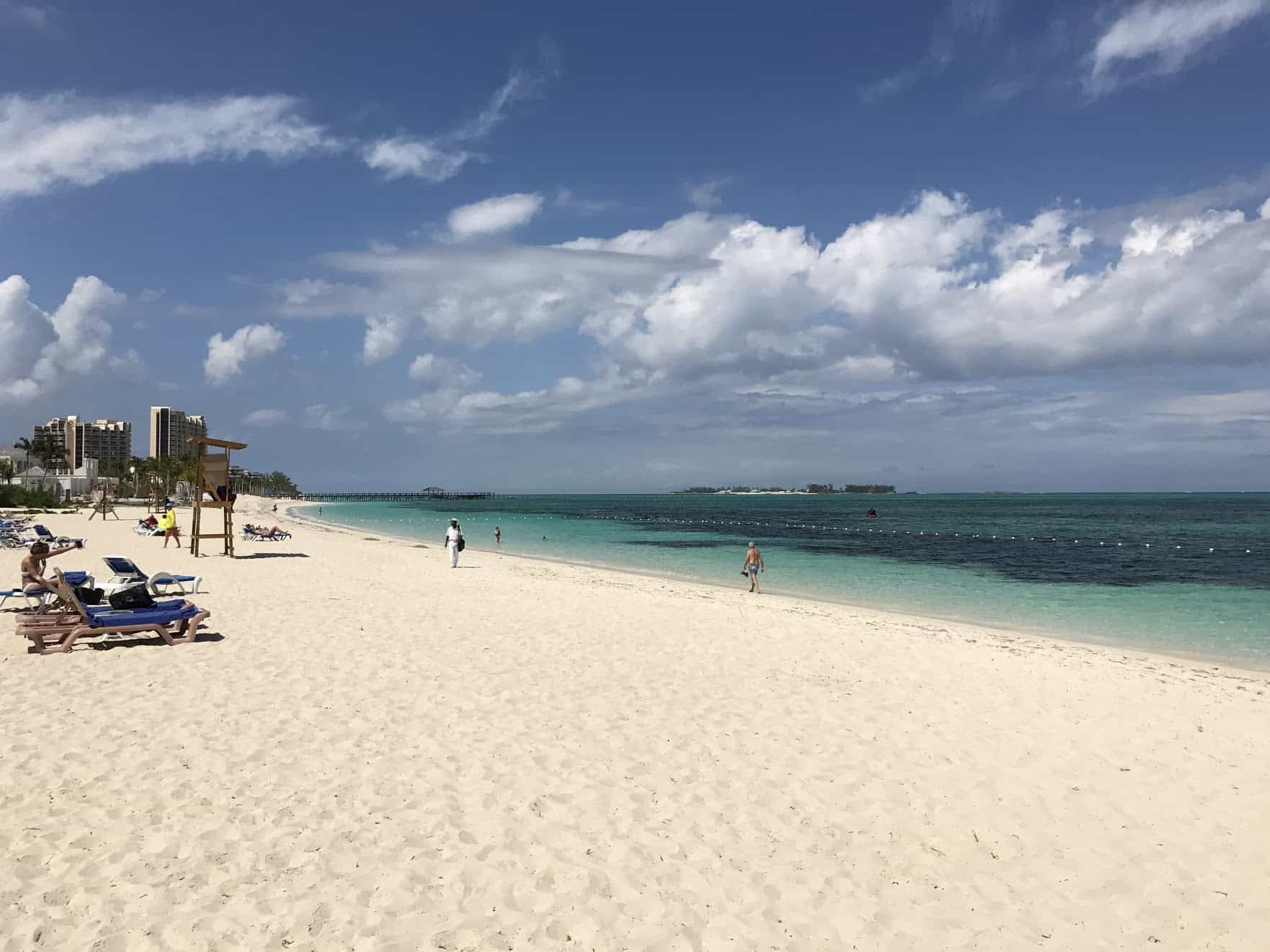 Junkanoo Beach: Junkanoo Beach is located near the British Colonial Hilton and the Courtyard Nassau Downtown Junkanoo Beach in downtown Nassau, about a 15-minute walk from the Nassau, Bahamas cruise port. There are small stands selling food and drinks on the beach and vendors selling buckets of beer as well. Bring your own towels when you come to the beach. Vendors offer chairs and umbrellas for rent, while others offer hair braiding and watersports equipment, too. Junkanoo Beach is a public beach with bathrooms and changing facilities.
Montagu Beach: Nassau's Montagu Beach is set next to historic Fort Montagu, built in 1741 and the oldest fort in Nassau, Bahamas. The beach offers beautiful views of Nassau Harbour and Paradise Island. There is a little children's playground here, and restrooms are available. Bring your own towels with you when you come to the beach.
Saunders Beach: Nassau's Saunders Beach can be a good choice for families, as the water is generally quite calm and the beach is less crowded. Water sports rentals are not available on this beach, which can be a good thing with little ones. Make sure to bring your own towels, as there are no vendors offering chair and umbrella rentals since Saunders Beach tends to attract more locals than tourists. There's a children's playground here, along with restrooms and changing facilities. Bring along some water shoes if you're planning to go for a swim.
Popular Things To Do In Nassau, Bahamas
There's a wide variety of things to do in Nassau, Bahamas. Those who are wondering what to do in Nassau for the day are sure to find activities and adventures to match their interests. Popular Nassau, Bahamas excursions include waterparks, food tours, visits to action-packed islands, walking tours of historic sites, water sports, shopping, and much more. Vacationers of all ages and interests will find the best tours in Nassau to fit their needs.
Here are some of the best places to go in Nassau and on Paradise Island:
Atlantis Paradise Island: Guests staying at Atlantis Paradise Island and Comfort Suites Paradise Island have access to the 141-acre Atlantis Aquaventure waterpark and other Atlantis attractions, but vacationers staying elsewhere may want to purchase an Atlantis Day Pass to experience all that Atlantis has to offer.
Aquaventure is the major draw here, although Atlantis Paradise Island has one of the world's largest marine habitats as well. Day passes can be purchased on the Atlantis Paradise Island website or through third-party vendors like DayPasses.com. Additional Atlantis experiences, such as marine animal interactions, are available for a fee as well. Make reservations as far in advance as possible for the best availability.
Ardastra Gardens, Zoo and Conservation Centre: Established in 1937, this Nassau center is best known for its gorgeous pink flamingos and daily flamingo parade. Visitors can also see more than 130 wildlife species and stroll through four acres of lush tropical gardens. Families will enjoy Ardastra Gardens' petting zoo, opportunities to hand-feed the lorikeets, and other attractions.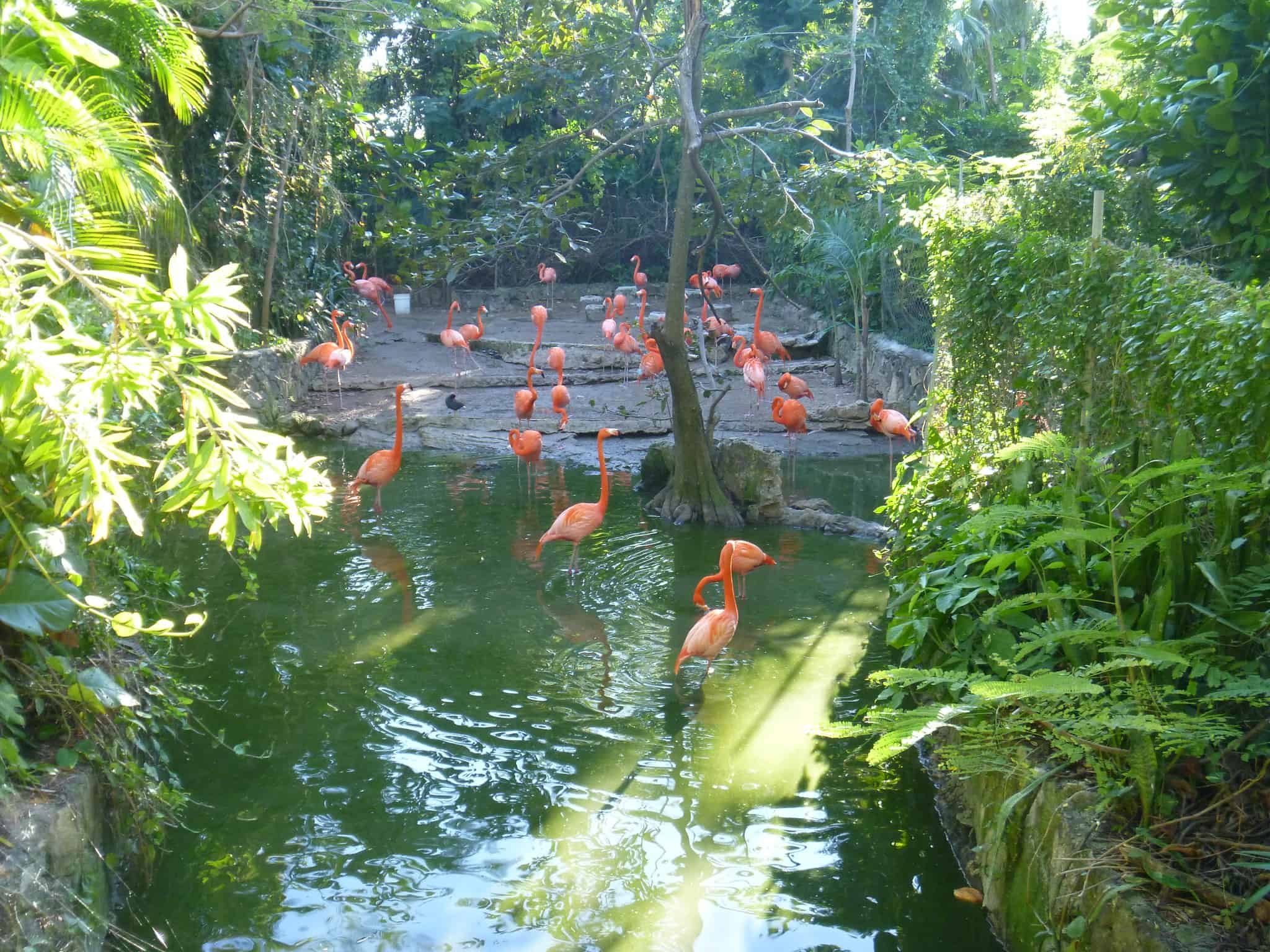 Bahamas Food Tours: Travelers can learn about the history, culture, and cuisine of the Bahamian islands on a multi-hour food and drink tour in Nassau with Tru Bahamian Food Tours and other companies. Several tour options, cooking classes, walking tours of Nassau Bahamas eateries, and private group tours are available.
Blue Lagoon Island: Salt Cay, otherwise known as Blue Lagoon Island, is a lovely private island located just three miles from Nassau, Bahamas. The tropical island offers beautiful white sand beaches, a calm lagoon, and a wide variety of watersports, marine animal encounters at the island's marine mammal facility, Segway and walking tours, and other activities. Transportation to Blue Lagoon Island is included and lunch and drinks are served.
READ: Nassau Rum and Food Tour Review
Clifton Heritage National Park: This 108-acre national park is located at the western end of New Providence Island and highlights the cultural and historic legacy of three key groups in The Bahamas — the Lucayans, the Loyalists, and the Africans. The park contains beautiful landscapes, hiking and walking trails, and historic buildings and structures. There's also an underwater snorkel trail and coral reef sculpture garden perfect for exploring. Generally deserted Jaws Beach, a filming site used for scenes in the "Jaws: The Revenge" movie, is also located here.
Exploring Nassau's Historic Sites: History buffs have plenty to see while visiting Nassau, which was once a pirate sanctuary until the early 1700's. The Queen's Staircase, also known as "66 Steps" is one of the most popular sites. The steep staircase leads to Fort Fincastle, offering panoramic views of the harbor, cruise port area, and downtown Nassau.
Fort Charlotte, Parliament Square, Christ Church Cathedral, and Government House are other interesting historic spots. The traditional Changing of the Guard Ceremony takes place every other Friday from 11:00-11:30 a.m. at Government House. Those interested in historic sites can take a walking tour of Nassau, Bahamas on their trip.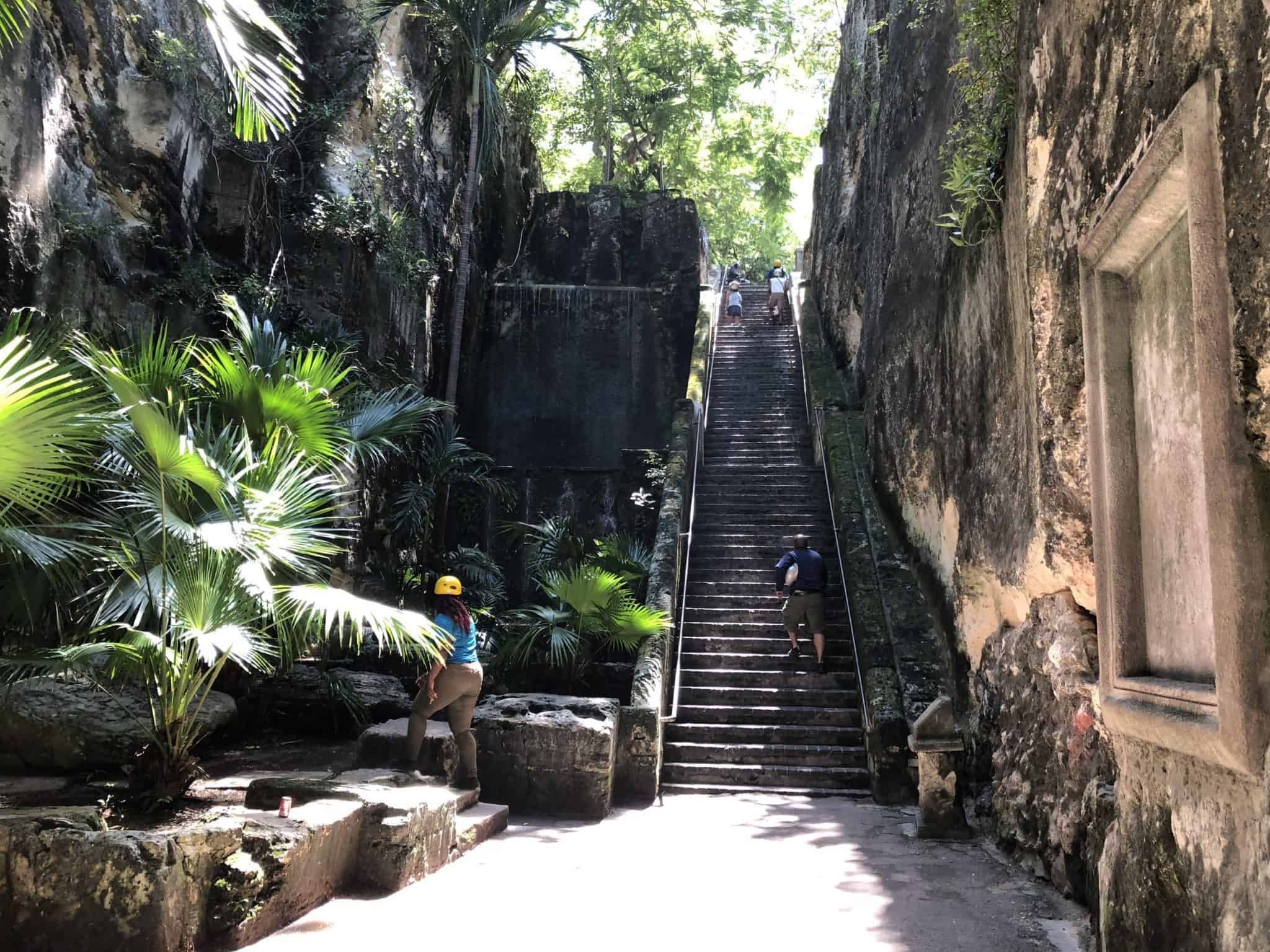 John Watling's Distillery: Visit the historic Buena Vista Estate in downtown Nassau for a free production and museum-type tour of Buena Vista Estate and the opportunity to sample Bahamian cocktails made with handcrafted John Watling's rum. Visitors can also purchase John Watling's small-batch rums here as well.
Nassau Museums: Nassau offers an appealing array of museums including the popular Pirates of Nassau Museum, which contains a replica of the pirate ship Revenge, historic displays, and interactive exhibits. The National Art Gallery of the Bahamas is set in the beautifully restored Villa Doyle and features a collection of paintings, sculpture, photography, ceramics, and other art from Bahamian artists. Other excellent museums include The Pompey Museum of Slavery & Emancipation and The Bahamas Historical Society Museum.
Resort Day Passes: Vacationers in Nassau for pre- or post-cruise stays will have their own accommodations, but those staying in short-term rentals may not have access to resort-style amenities. Day passes to select resorts including Atlantis Paradise Island, Breezes Resort & Spa, British Colonial Hilton, and Warwick Paradise Island Bahamas can be obtained directly from the resort properties or through sites like DayPasses.com.
Shopping: Nassau has been known for its local handicrafts, particularly those made from woven fibers. The Nassau Straw Market is home to stalls selling woven items such as hats and straw baskets, as well as wood carvings, textiles, t-shirts and jewelry of all types. Haggling is expected at the Straw Market, and savvy know the marked price is merely a starting point. Nassau's downtown area and stores along Bay Street offer duty-free shopping and a wide variety of goods including jewelry, apparel, cosmetics, fragrances, and more. The shops at Sandyport, the Bahama Craft Centre, and the Marina Village at Atlantis are also good places to check out.
Visiting The Bahamas' Swimming Pigs: Taking an excursion to visit The Bahamas' famous wild swimming pigs is often a sought-after tour choice for vacationers coming to Nassau and Paradise Island. Full-day excursions to the Exumas, the home of The Bahamas' wild swimming pigs, are available from tour operators such as Harbour Safaris, Exuma Escapes, and Powerboat Adventures.
Water Sports Excursions: Nassau and Paradise Island offer a wealth of water sports for vacationers to enjoy including snorkeling, sailing, scuba diving, SNUBA, deep-sea fishing, and glass-bottom boat excursions. Some excursions take guests to The Out Islands of The Bahamas and private boat charters are available, too.
READ MORE: Best Family-Friendly Things To Do In Nassau, Bahamas
Hidden Gems
The Versailles Gardens: These spectacular European-style Versailles Gardens adjoin The Ocean Club on Paradise Island. Filled with 12th-century stone statues and a lovely cloister, the multi-terraced gardens are a beautiful setting for taking pictures and enjoying the views. The Versailles Gardens are rarely crowded and this public park's entrance is free.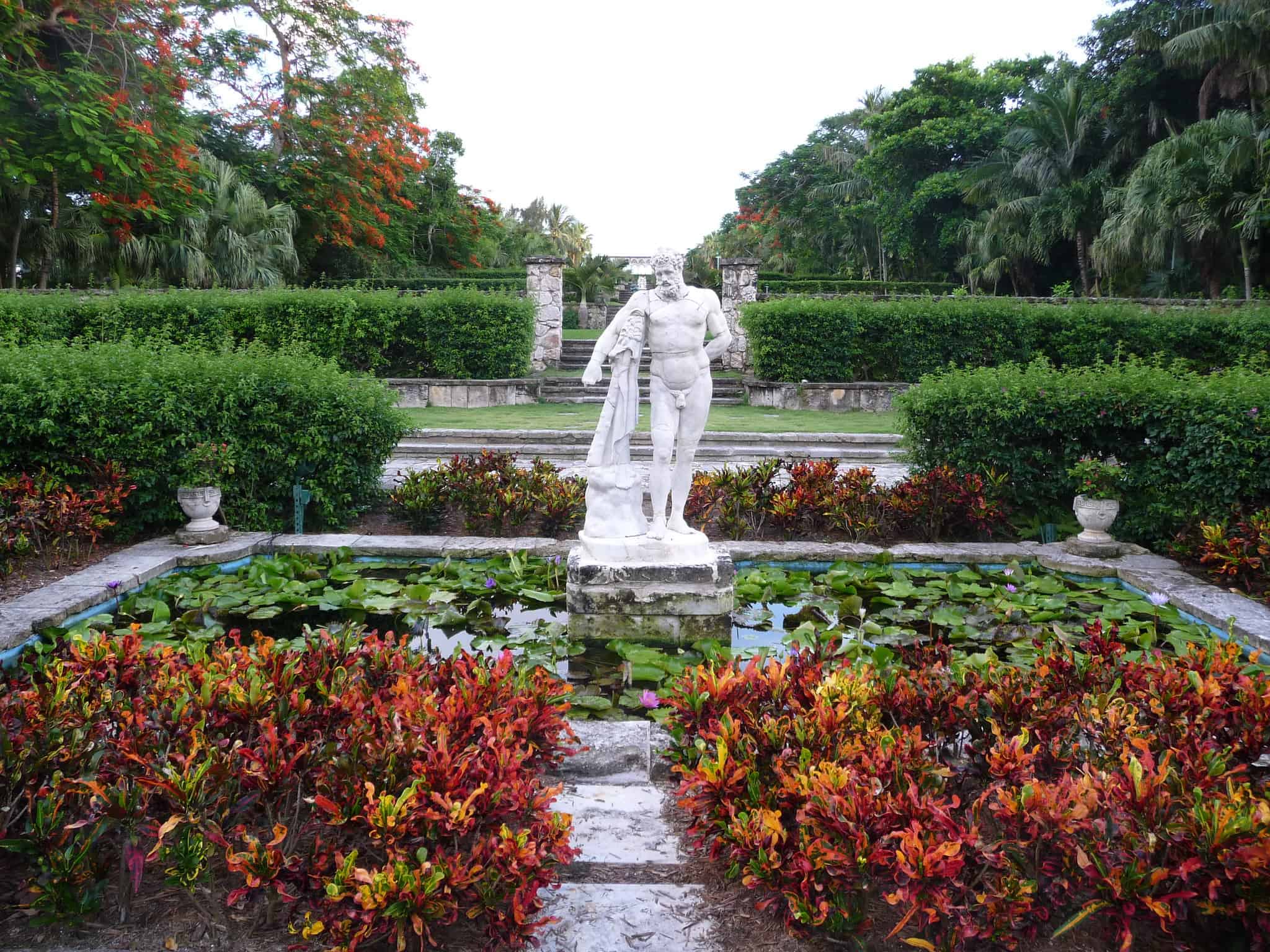 New Providence Island's More Remote Beaches: While Nassau and Paradise Island offer a number of beautiful beaches, it's often fun to explore more deserted and less-touristy strands on New Providence Island. Located some distance from Nassau, a few of these secluded spots include Love Beach, Coral Harbour Beach, Caves Beach, Yamacraw Hill Beach, and Adelaide Beach.
People-to-People Program: The Bahamas offers a variety of opportunities to connect with locals through their People-to-People program. The program allows travelers to meet like-minded locals for customized immersive experiences like culinary tours, guided history tours, shopping tours, and family-friendly activities with a local ambassador. Virtual experiences are available as well. Information on the People-to-People experiences can be found here.
First Time Travel Tips
Here are a few tips for first-time visitors to Nassau, Bahamas:
Bahamians drive on the left-hand side of the road. It's important to remember this and watch for cars when crossing the street.
Be aware of your surroundings and stay alert for your safety while walking in Nassau and Paradise Island, particularly at night. Like everywhere else in the world, it's important to keep valuables hidden and keep an eye on possessions while at the beach or elsewhere. Marijuana is illegal here, so beware of individuals on the street offering to hook you up with a "smoke."
It's wise to only use officially licensed taxis when visiting Nassau and Paradise Island. Taxis are not metered, so make sure to discuss the price for your trip before getting into the cab.
Inexpensive local buses, called "jitneys," operate in Nassau and New Providence Island. They can be a good option for affordable transportation.
Think twice about renting scooters in Nassau and Paradise Island. Traffic can be difficult to negotiate and numerous accidents involving vacationers have resulted. Taxis and local buses are safer choices.
If you're shopping in Nassau, particularly at the Straw Market or even for tours from local vendors, make sure to negotiate.
Bottled water and snacks can be very expensive at resorts such as Atlantis and Baha Mar properties. Grocery stores are a much better bet for lower prices.
READ NEXT: 25 First-Time Cruise Tips
Pin it!