Often overshadowed by its Floridian cousins, the Port of Galveston is actually the fourth busiest and fastest-growing cruise port in the country.
Carnival Cruise Line and Royal Caribbean both sail multiple ships from the port on a year-round basis, while Disney Cruise Line sails from Galveston on a seasonal basis.
Getting There
The Port of Galveston is accessible from Interstate 45 (aka the Gulf Freeway). Driving south on I-45, you will cross the bridge to Galveston Island and then take exit 1C toward Harborside Dr/Teichman Rd. At the light, take a left onto Harborside Drive (also marked SH 275). Continue on this road for 4.5 miles, and you'll soon see the cruise ships on your left. If dropping off or picking up cruisers, turn left on 22nd/Kempner St. and follow signs to the terminal.
From the Airport(s)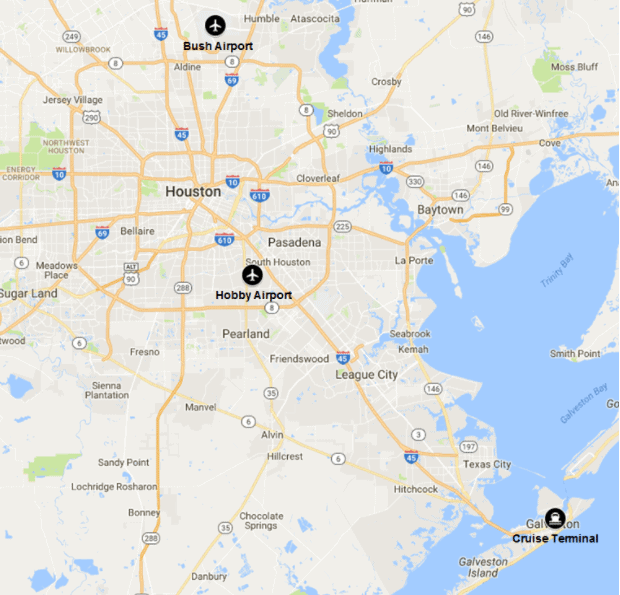 It's a common complaint for cruisers that Houston has two major airports yet neither is close to Galveston. If you can, plan to fly into William P. Hobby Airport, as this airport is much closer to Galveston than George Bush Intercontinental Airport.
It's about a 50 minute drive (42 miles) to the cruise terminal from Hobby, or a 1 hour and 15 minute drive (70 miles) from Bush. However, I-45, which is the only way onto Galveston Island, is under perpetual construction, so always give yourself extra time for getting to the port. (Seriously. The interstate has been under construction for over 60 years, and it's still not over.)
Cruise Line Transfers
Carnival's one-way fee for a transfer is $37 per person to/from Hobby or $47 per person to/from Bush.
Prices for Royal Caribbean and Disney Cruise Line transfers are not listed online. However, all cruise lines have rules surrounding that latest time at which your flight may arrive on embarkation day (usually 1:00 pm), so be careful of this when scheduling flights.
Uber/Taxi
The estimated cost of an Uber from Hobby to the cruise terminal is ~$55. Keep in mind that this could be a low estimate if a larger vehicle (UberXL) is needed for luggage, etc. However, $55 is much better than the $37 per person price of Carnival's transfer if you're traveling with others.
From Bush, the estimated cost of an Uber is ~$95. Again, this is subject to many factors but is generally still more cost effective than going through the cruise line.
Taxis are less economical but potentially still cheaper than the cruise transfers. A taxi from Hobby to the port is estimated at ~$95, while a taxi from Bush to the port could run ~$160.
Read More: 10 Tips for Cruising Out of Galveston
Parking Prices
Parking costs in Galveston are nearly half of what you'll find in Florida's cruise ports. Fees are not determined per day but rather by the length of your cruise. Below are the rates for the Port of Galveston's garages based on a vehicle occupying a single standard car parking space. It's important to note these prices are based on prepaying for your reservation, which gets you a $5 discount.
4-day cruise:

$40

5-day cruise:

$45

7-day cruise:

$65
However, there are a number of independent parking complexes near the cruise terminal that offer rates competitive to and even lower than these. These companies, such as EZ Cruise Parking and 81st Dolphin Parking, offer free shuttle services so you don't have to worry about how you'll manage the two blocks from the parking lot to the ship.
For more information, https://www.galveston.com/cruiseparking/ is a great resource for planning your parking. You can use the site's search feature to select your ship and sailing date and view the availability of various parking lots, their spaces (covered vs. uncovered), and the costs.
Hotels with Parking
There are a variety of hotels on Galveston Island that offer free parking if you book an overnight stay. The San Luis Resort, Holiday Inn Resort, and Hilton Galveston Island Resort all offer this as well as a complimentary roundtrip shuttle to/from the cruise terminal. While these hotels are all located on the other side of the island, this means they are beachfront; also, the cruise terminal is still less than 4 miles away, so the shuttle would only take 10-15 minutes.
For a more information on Galveston Island hotels, https://www.galveston.com/parkandcruise/ lists which ones charge fees and which ones don't.
Tips:
As mentioned, I-45 has been under construction for over 60 years. Don't underestimate the fact that you'll likely get stuck in traffic. Plan ahead and give yourself extra time on the road for getting to the port.

Prepaying or making an advanced parking reservation almost always saves you money, so book that ahead of time.

Book a pre-cruise stay in Galveston. You can leave your car at the hotel, and

there's so much to see and do on the island

!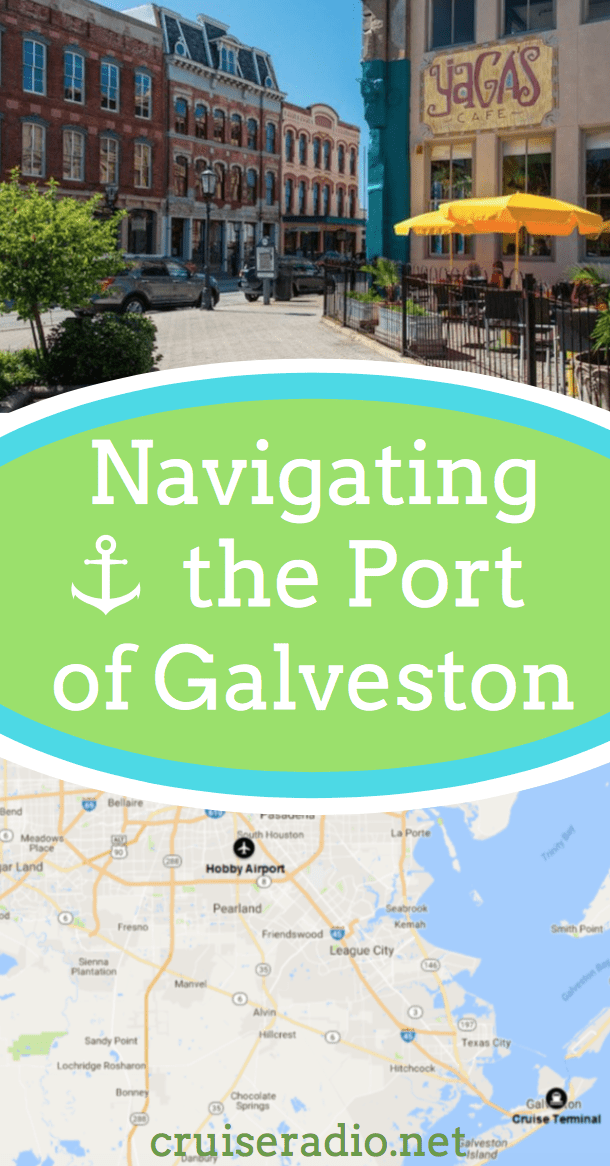 SaveSave
SaveSave