For many cruisers, food is one of the most important elements of a successful trip. So when menus change, we discuss, debate and critique. Well, get ready to do all three, because Carnival Cruise Line is in the process of changing the menus in several of their dining venues, including their branded steakhouses and, eventually, the main dining rooms across their fleet. The updated Carnival steakhouse menu, currently being tested on Magic and Vista, includes new options like an oyster appetizer and a farm-raised honey vinegar chicken entree. It would also appear that items such as escargot and creamed spinach — long a regular sidedish in most land-based steakhouses — have been removed from the revised menu.
New Carnival Steakhouse Menu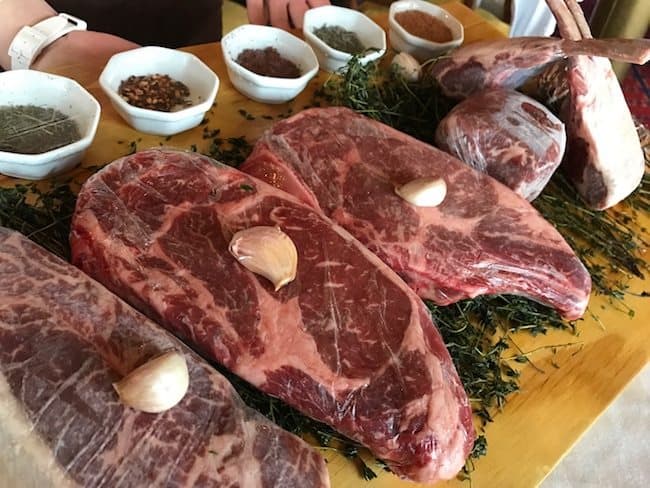 The currently-being-tested menu features:
Starters 
Smoke & Ice Fresh Oysters
Stuffed Mushroom Caps
Bone Marrow & Hand Cut Beef Tartare
Heritage Berkshire Pork Belly
Jumbo Shrimp Cocktail
Risotto (crab)
Maine Lobster Bisque
Baked Onion Soup
Salads 
Classic Caesar salad
Baby Leaf Spinach and Fresh Mushrooms
Young Lettuce
Entrees 
Broiled Prime New York Strip Loin Steak
Grilled Prime Cowboy Steak
Spiced Rubbed Prime Rib Eye Steak
Broiled Filet Mignon
A-5 Wagyu
Surf and Turf (lobster and filet)
Broiled Lobster Tail
Farm Chicken
Grilled Lamb Chops
Jumbo Shrimps
Dover Sole
Side Dishes 
Bake Potato with Trimmings
Sauteed Medley of Fresh Mushrooms
Yukon Gold Mash with Wasabi Horseradish
Onion Rings
Garlic Rapini
Mac N' Cheese
French Fries
Read More: 7 Reasons to Dine at Carnival's Steakhouse
The new Carnival steakhouse menu is expected to roll out to more ships in the coming months. The price is $35 per person to dine at the steakhouse once onboard. Reservations can be made prior to your voyage or once onboard by visiting the steakhouse. The steakhouse is currently available on 14 Carnival ships.
You can view the new menu here.
New Main Dining Room Menu "Coming Soon"
There are other menu changes in the works as well. On his popular Facebook page, senior cruise director and brand ambassador John Heald announced that a new deli menu had been introduced aboard the Vista, Breeze, Conquest and Glory, adding that more ships would be getting the update in the future. Heald also revealed that changes have recently been made to the menu of the line's popular Italian venue, Cucina Del Capitano. But perhaps the biggest news is yet to come: When a Facebook poster suggested the main dining room menus needed a makeover, Heald responded with two simple words: "Coming soon!"
What would you like to see changed on the Main Dining Room Menus aboard Carnival ships?