It's going to be large, in charge and more techie than ever – I'm talking about Royal Caribbean's new Oasis-class ship, Harmony of the Seas.
Just how big? 16 decks, 227,000 tons, 5,479 guests, 2,747 staterooms and seven neighborhoods on this upcoming Royal Caribbean ship. Making it the largest cruise ship in the world by 2,000 gross registered tons.
Here's a look into what we'll see:
Spoiler alert, a lot of the features are already found on Quantum of the Seas. Hear our review of Quantum of the Seas here.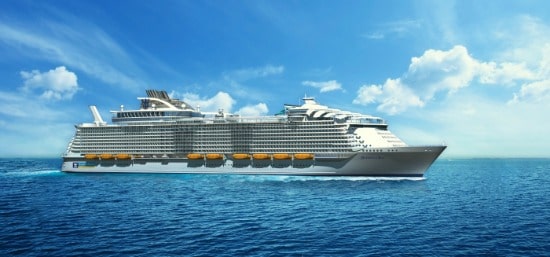 Food
Dynamic Dining will give guests a culinary experience as vast and varied as dining in the world's most cosmopolitan cities with more choice and flexibility than ever before. Those preferring a more traditional cruise dining style may select the "Classic" option which will offer two set seating times. Dynamic Dining's "Classic" option allows guests to rotate through each of the main complimentary restaurants at an early- or a late-seating time throughout their cruise with their dining group and the same assigned waiter each evening.
As well as some added specialities:
Izumi Hibachi & Sushi
Sabor Modern Mexican
Wonderland Imaginative Cuisine
Staterooms
Additional stateroom categories
Virtual balconies on interior staterooms
Sun Zone deck for suite guests only
Coastal Kitchen for suite guests only
Technology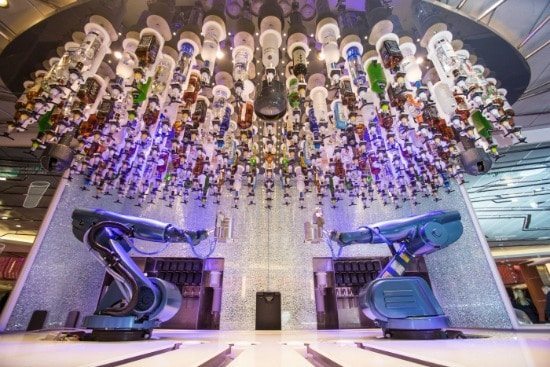 Bionic Bar complete with robotic bartenders
RFID Royal WOW bands to access staterooms and onboard spending
Entertainment
Three-story champagne bowl waterslide
New classic arcade in the Boardwalk area
Starbucks on Boardwalk
I'm sure that Royal Caribbean is just scratching the surface on what's to be revealed on this ship. If they are going to one up sister's Oasis of the Seas and Allure of the Seas, they are going to one up them in style.
Harmony of the Seas is going to be Royal Caribbean's third ship launch in 18 months. Anthem of the Seas (launching in April 2015 in Southampton, U.K.) and Ovation of the Seas (debuting in April 2016).
Itineraries haven't been released yet.
Photo credit: Royal Caribbean