Already riding high following their third-quarter earnings report, Norwegian Cruise Line today revealed details about their new ship, Norwegian Aqua. In fact, those looking to book the first ship in the company's new Prima-Plus class can do so immediately.
Why The Ship Is Named Norwegian Aqua
For weeks, rumors circulated about the name of the new ship, with Aqua clearly the front-runner… especially after the name prematurely showed up on the line's Latitudes page.
According to NCL president David J. Herrera, the name was selected "for both the beautiful shades of blue from the ocean and our connection to the sea."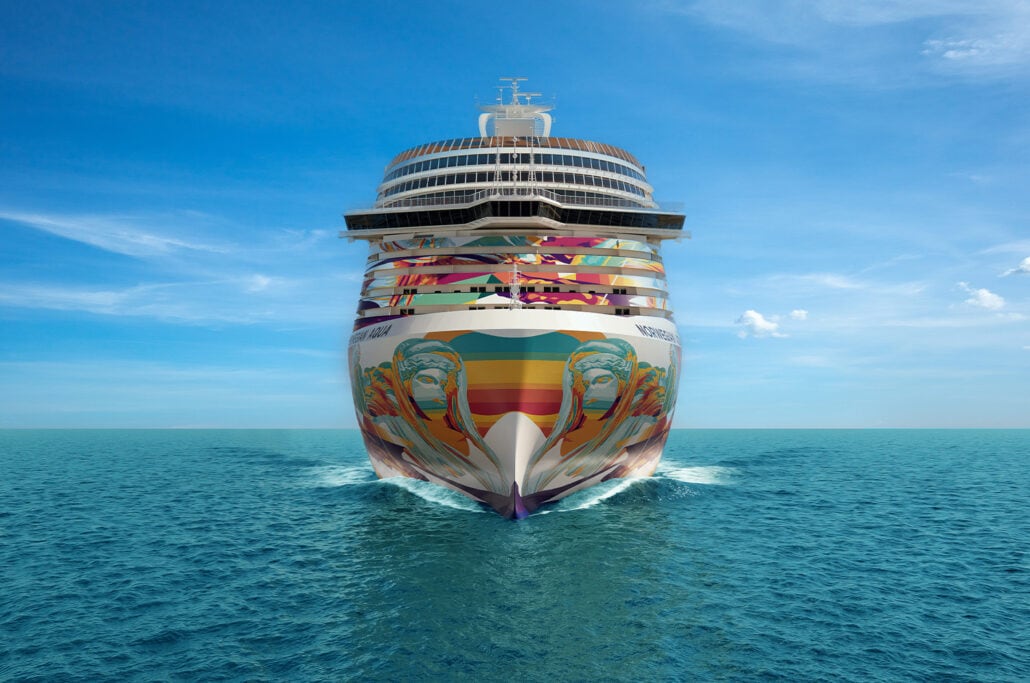 The new ship, Aqua, is similar to Norwegian Prima and Norwegian Viva in many ways. However, it offers more in terms of both size and capacity as it is about 10 percent larger than the previous ships.
Aqua will come in at 1,056 feet long and carry 3,571 guests at double occupancy. (That number is likely to go up, given that fleet-wide, the average cruise is setting sail at around 105 percent.)
Farewell, Go-Karts… Hello, Aqua Slidecoaster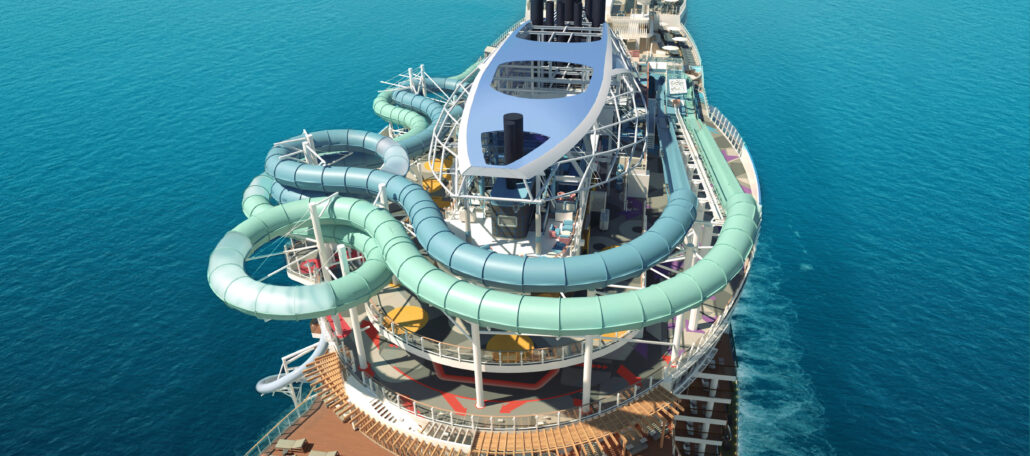 One of the first things you'll notice when looking at renderings of the new ship is that the top-deck go-karts have been replaced with what Norwegian calls the world's first hybrid of a roller coaster and a waterslide, the appropriately named Aqua Slidecoaster.
The attraction will feature dual slides and a magnetic lift that sends you through two courses over three levels, promising a series of thrilling twists around the ship's funnel. No word on whether this feature will, like the go-karts before it, come with an additional fee attached.
RELATED: Riding BOLT, the first Rollercoaster on a Cruise Ship
Nearby, passengers will find various activities, ranging from the thrilling 10-story freestyle slide known as The Drop to The Stadium, an expansive space with various fun, challenging, and complimentary games for the entire family.
Glow Sports Court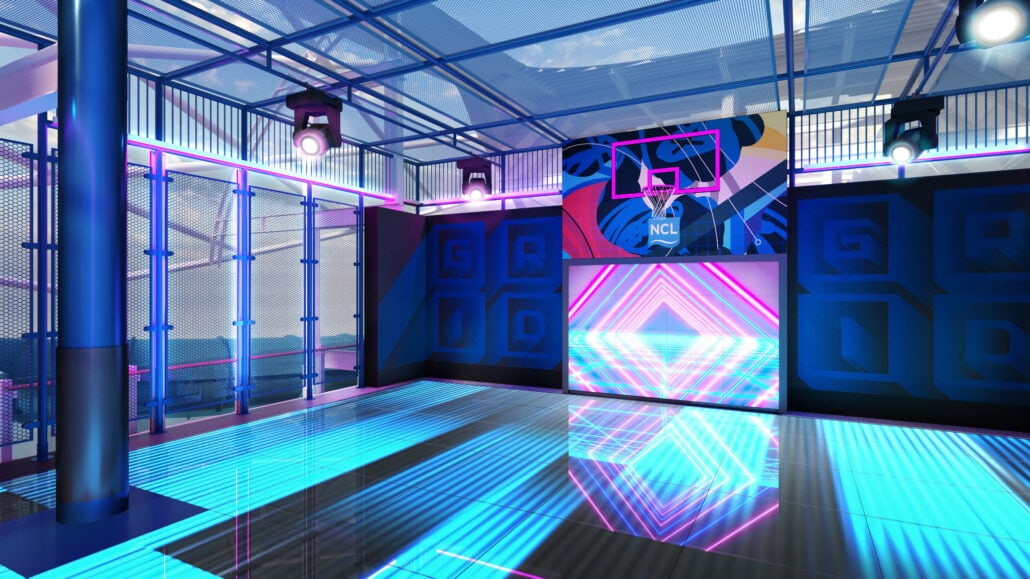 The sports court will be a multi-functional space that can be converted for different types of games. Think of it as having the ability to change from a basketball to a pickleball court with the flip of a switch. After dark, this space will morph into a nightclub, with the floor offering a trippy, multi-sensory experience.
Largest Haven at Sea
As with the Prima and Viva, the Haven experience featured on Aqua will redefine luxury while offering the largest suites ever to grace the ship-within-a-ship area. Everything about the Haven on Aqua will be bigger than what's come before.
Topping that list? Ultimately, in luxury, a three-bedroom, two-level duplex suite.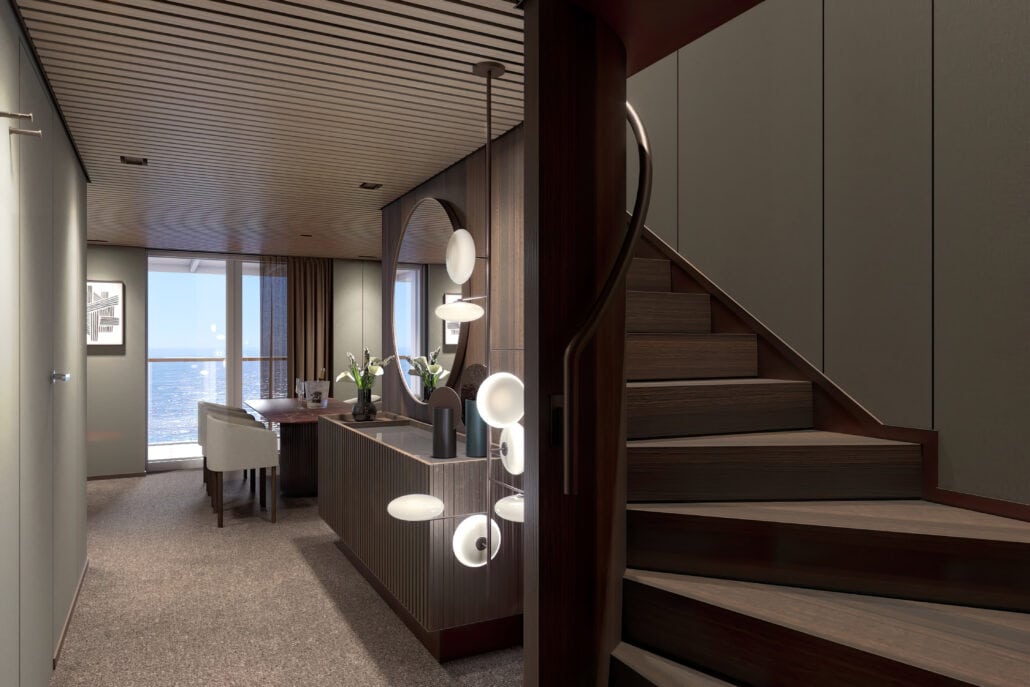 There will only be four of these duplexes available on the ship, with each separate living and dining room areas, three bedrooms, three bathrooms, a huge balcony, and — in the master bedroom — floor-to-ceiling windows offering incredible views without ever leaving the comfort of your kingsize bed.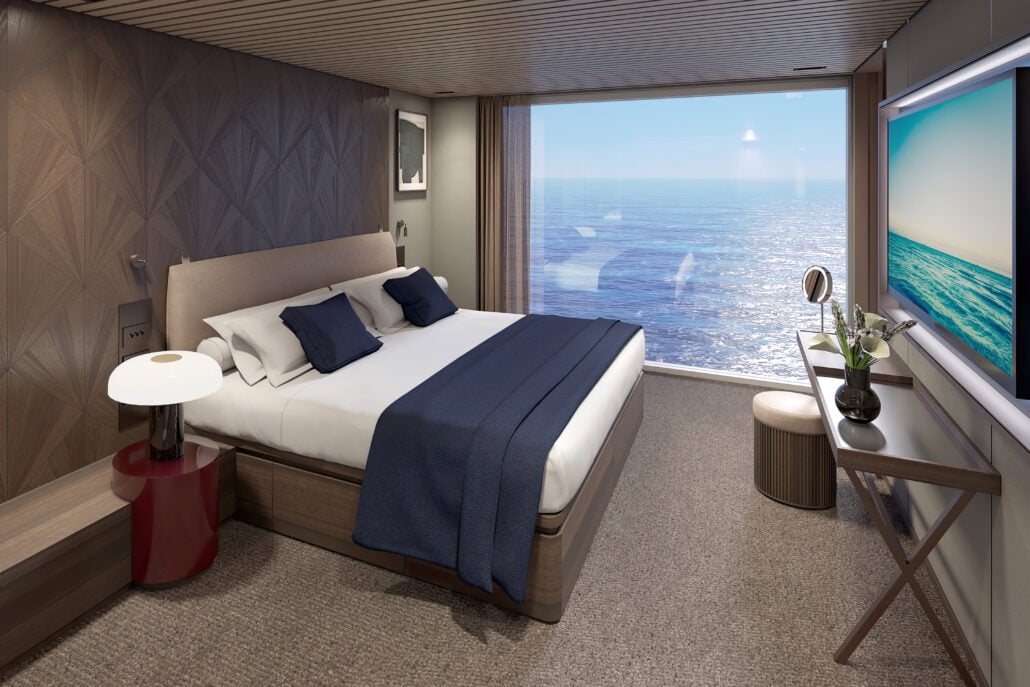 In total, The Haven will have 123 suites. Guests of the Haven will enjoy butler service, a private dining spot, an exclusive bar and sundeck, and an infinity pool offering great views of the wake.
Vibe Beach Club
Those who want exclusivity but are not ready to commit to The Haven will enjoy the ship's Vibe Beach Club, a spacious, adults-only sundeck offering limited access.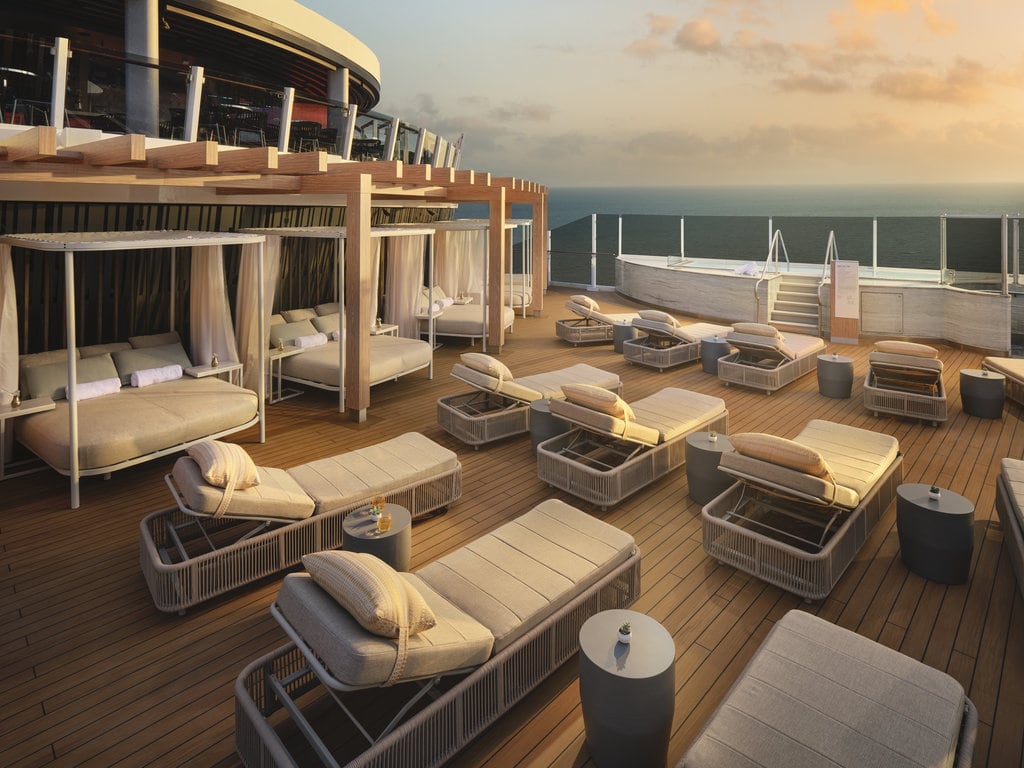 The ship will also continue expanding upon Norwegian's recently-announced solo offerings, allowing those choosing to travel on their own to book special inside, oceanview, and balcony staterooms with solo-friendly pricing in mind.
Solo guests booking one of these staterooms will also receive key-card access to the solo lounge.
Pools, Hot Spots, and More
Ocean Boulevard, the promenade-style deck that wraps around the entire ship, will be larger than the one found on her sister ships but continue to offer a similarly wide variety of seating areas, artwork, and Insta-friendly photo ops, including a glass bridge on either side of the ship.
And for the first time in the Norwegian Fleet, day beds can be found alongside the main pool area, perfect for lounging.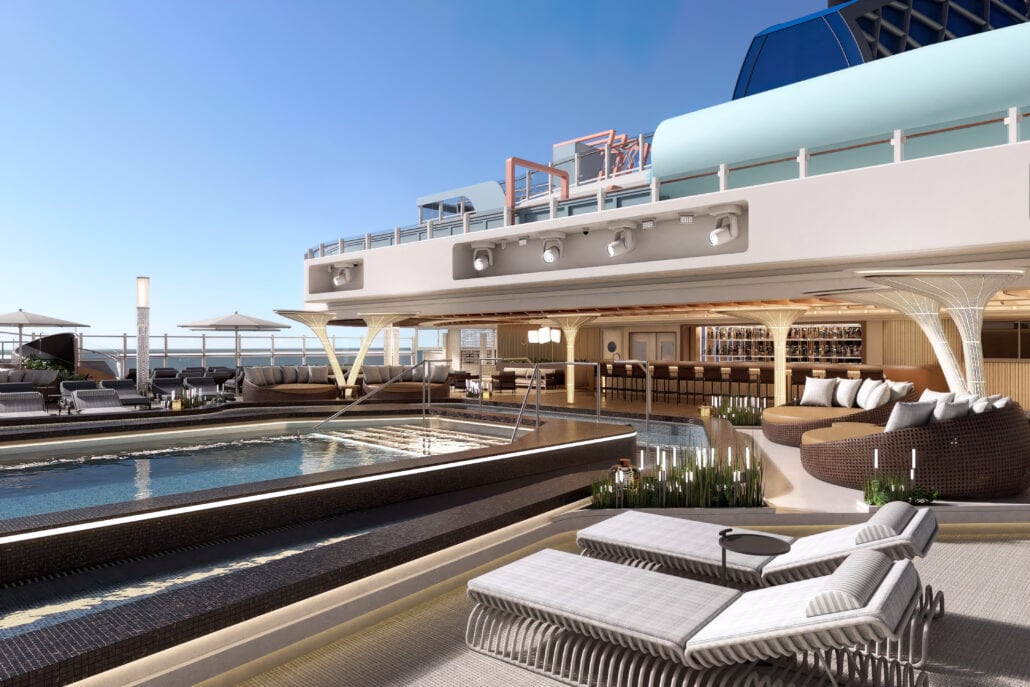 Another area introduced on Prima, which quickly became popular with Norwegian guests? La Terrazza, an open-air seating area with a variety of comfy furniture, perfect for large gatherings or smaller, more intimate moments, all surrounded by stunning views.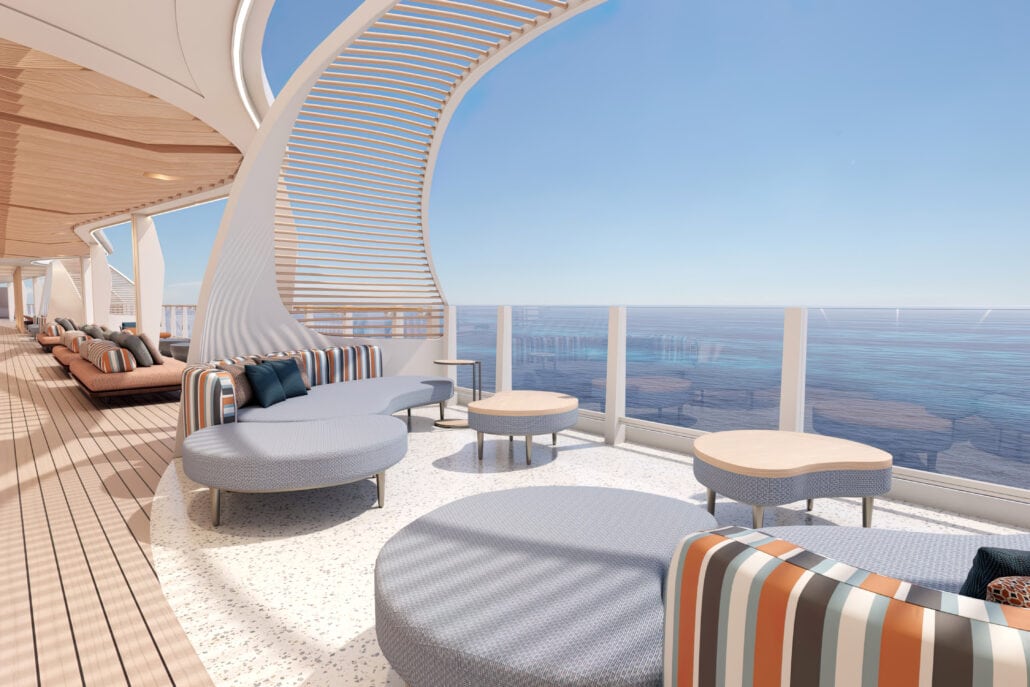 When and Where Will Aqua Sail?
Look for the ship to begin sailing out of Port Canaveral in April of 2025, with bookings open as of now for 7-day voyages to Puerto Plata, Dominical Republic; Tortola, British Virgin Islands; St. Thomas in the US Virgin Islands, and the company's private destination, Great Stirrup Cay.
From August through October of 2025, Aqua will sail from New York City to Bermuda before heading to Miami, where she'll do a series of five- and seven-night itineraries to the Eastern Caribbean between October 2025 and April 2026.
READ MORE: Best and Worst of Norwegian Prima