Unless you've been living under a rock, by now you've heard that Carnival Cruise Line's biggest, newest ship Mardi Gras features a roller coaster that zips along the top deck.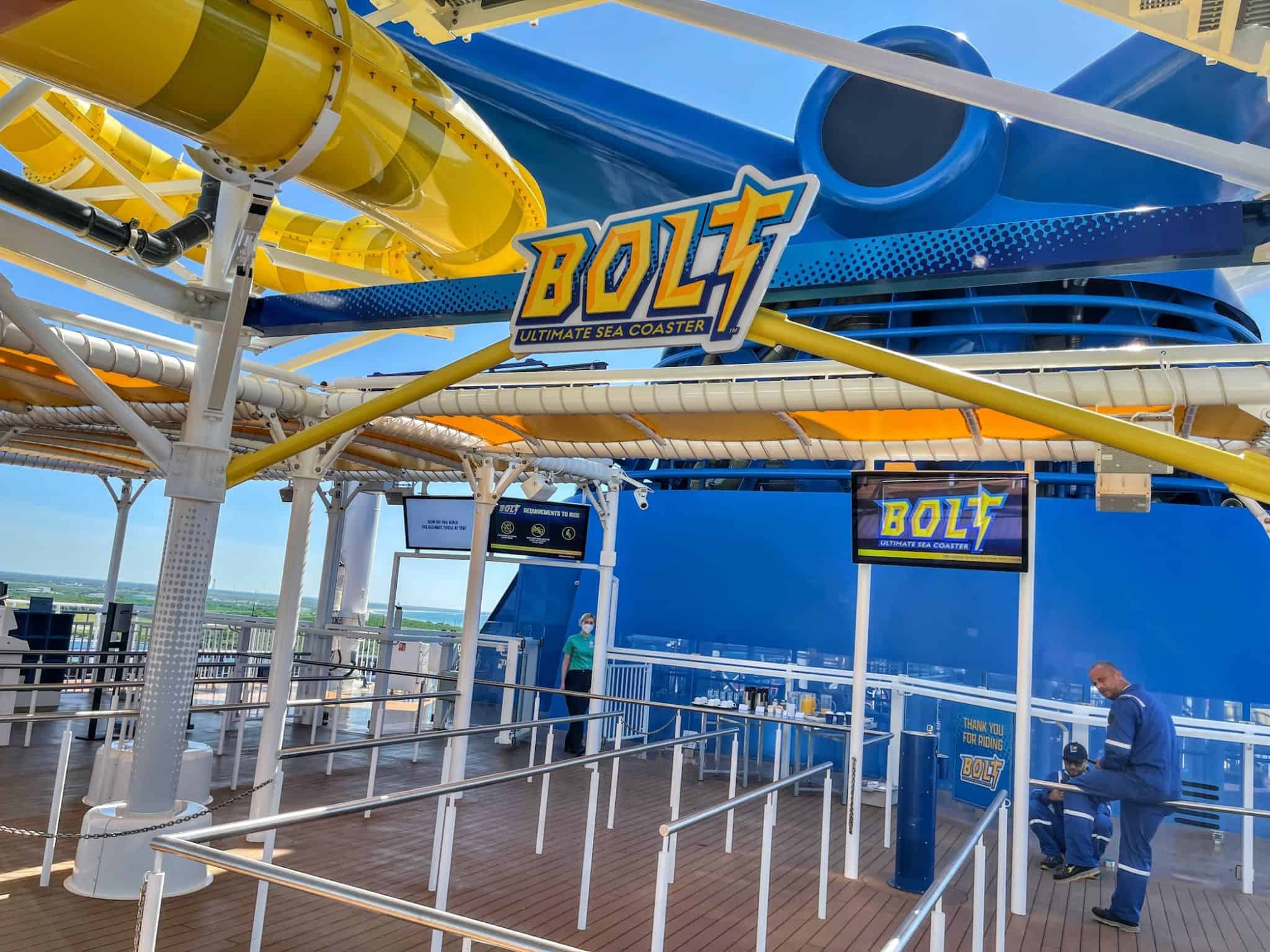 There was a whole lot of attention paid to the sea coaster before the ship's launch, but does it live up to the hype? Having recently returned from a sailing on Mardi Gras we're here to not only answer that question but tell you everything you need to know about Bolt!  
Making a Reservation
First, it's important to know that you can't just wander up to the top deck, get in line and jump on Bolt. Instead, you need to make a reservation in advance via the Carnival HUB app.
You will pick the day you want and then a 30-minute window that you wish to ride. You must check-in sometime during your 30-minute window or your reservation is forfeited. As soon as you make the reservation, you're charged $15 (as of September 2021). Guests are permitted to cancel for a refund if the cancellation is made two or more hours before your reservation's start time.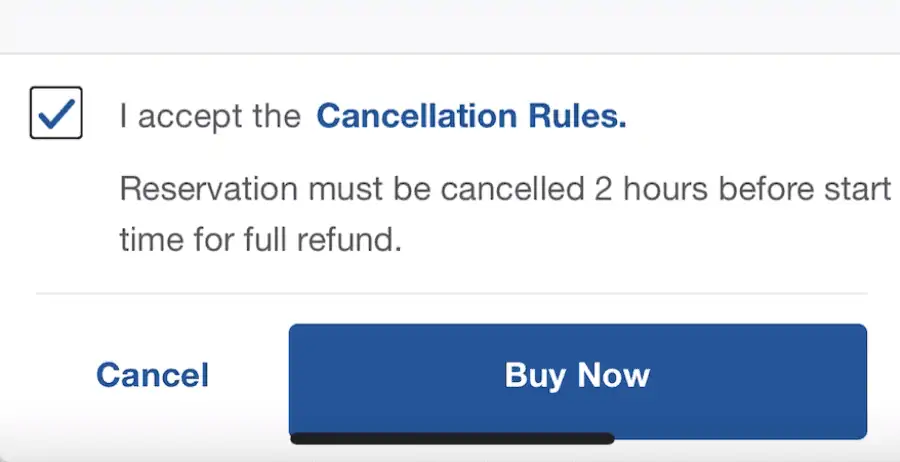 If I can offer you one very important piece of advice, it's to make your reservation for relatively early in your sailing. I say this for two reasons. First, you want to do it while there are plenty of reservations available so that you can find a time that fits into your schedule. 
But it's also important to remember that Bolt may not be able to operate if the weather is bad. We've heard from several passengers who made the mistake of waiting until the final day of their cruise to make a reservation only to find out that because of inclement weather, Bolt wasn't operating. They'd intended it to be the ultimate capper to their trip but instead wound up disappointed.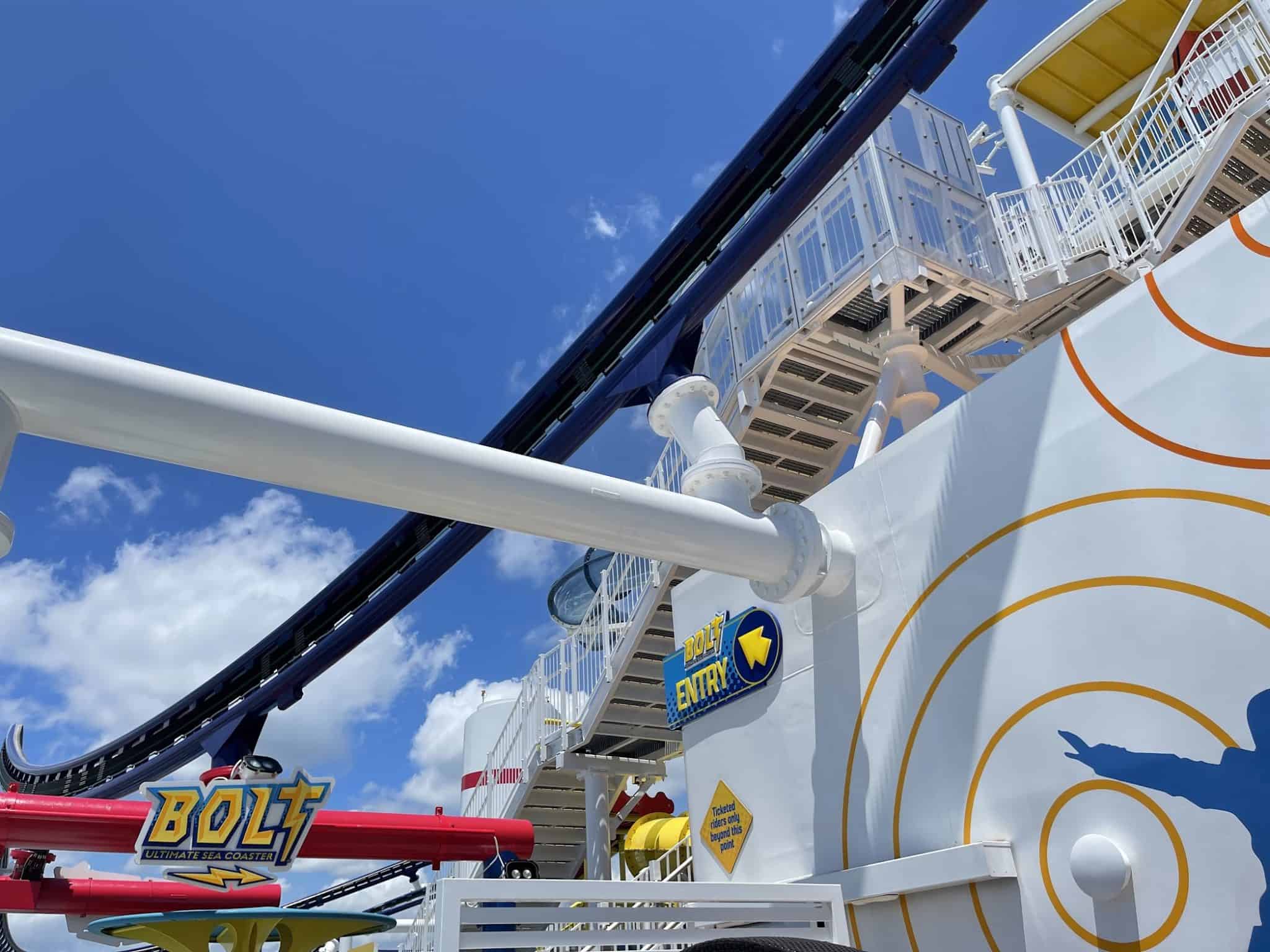 I had my reservation canceled twice due to weather, once due to maintenance (something I'm actually quite used to from Six Flags parks), and then finally rode it with my 4th reservation.
Annoyingly, the cancellation notices came through after the start time of my reservations. So if it's windy, do not assume it's canceled. Go up to deck 18 and ask the Carnival attendant who will still be there so that they can tell guests that it's too windy.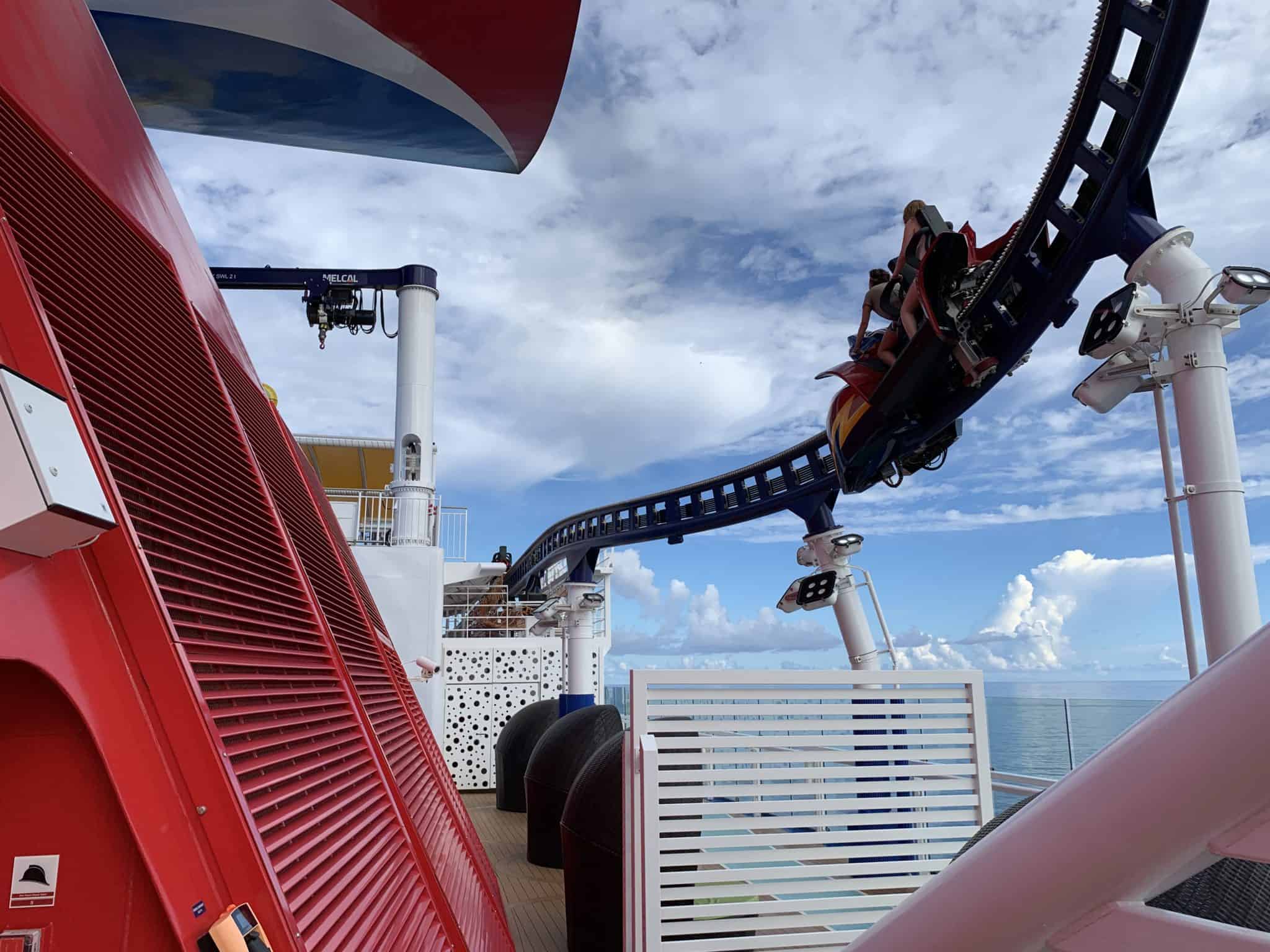 Things You Need To Know
When making your reservation, you will notice a slew of restrictions and requirements, similar to what you see posted outside a coaster like Space Mountain at Walt Disney World.
In this case, riders need to be at least 52 inches tall (that's four feet, three inches) and no taller than 77 inches (which equates to 6 feet, four inches). Weight-wise, you must be under 300 pounds. Yes, they have you step on a scale, but never fear: Your weight isn't actually displayed, only a light indicating that you're cleared to ride.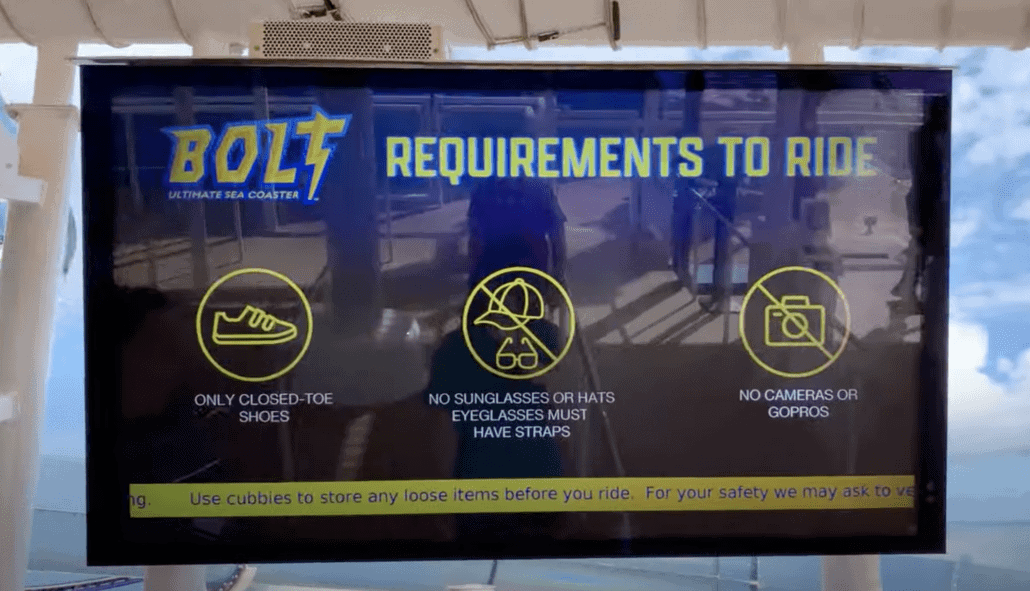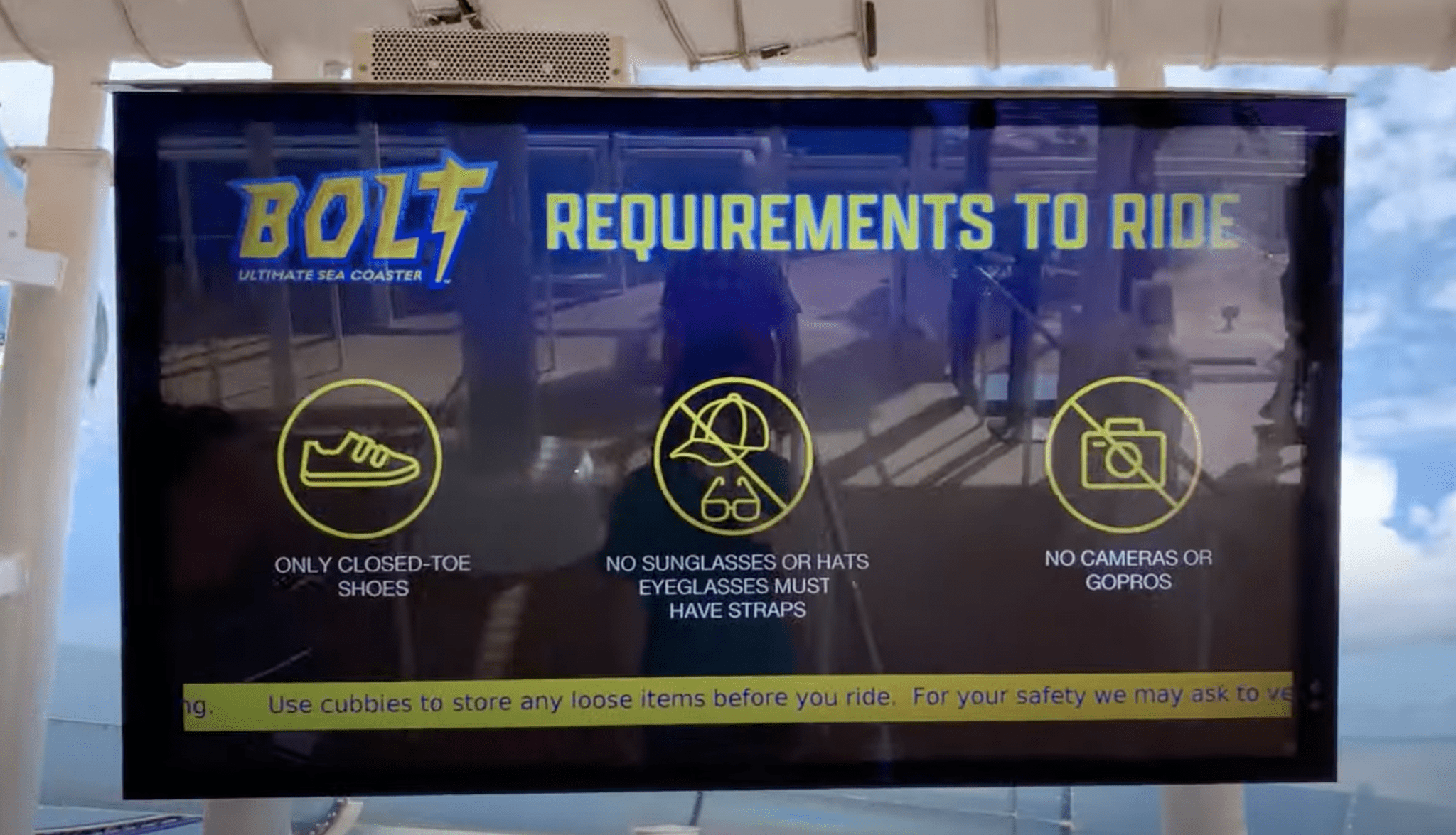 One thing that catches some people off guard is the fact that there's a bit of a dress code when it comes to riding Bolt. You need to be wearing closed-toe shoes and although they don't currently specifically refer to skirts, you're probably going to want to wear shorts or pants for the ride. If you're going to be wearing glasses, they need to be held in place with head straps. 
Oh, and if you're hoping to capture the experience on your GoPro or cell? Think again. The ride operators are instructed to keep a close eye open and refuse to let those attempting to sneak the items onto the ride from boarding.
MORE: 8 Tips For Preparing to Cruise in 2021
What's It Like To Ride Bolt?
Once you have your reservations in hand and your closed-toe shoes on your feet, you will go up to deck 18 and check in with one of the Carnival attendants who will be holding a tablet with the reservations.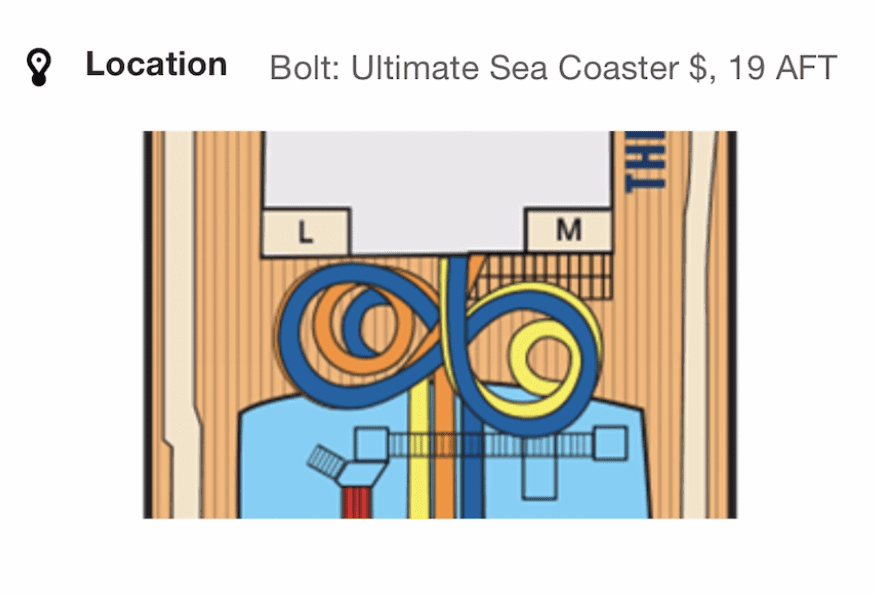 Once you check in, you finally get to go up the stairs to the roller coaster platform. There isn't an ADA option for this (nor for getting on the roller coaster), so you will want to access the stairs and the roller coaster car before making your reservation.
There is a demo car on deck 18 next to the stairs that can be used for photo-ops… I mean, for making sure you'll be able to get into the car.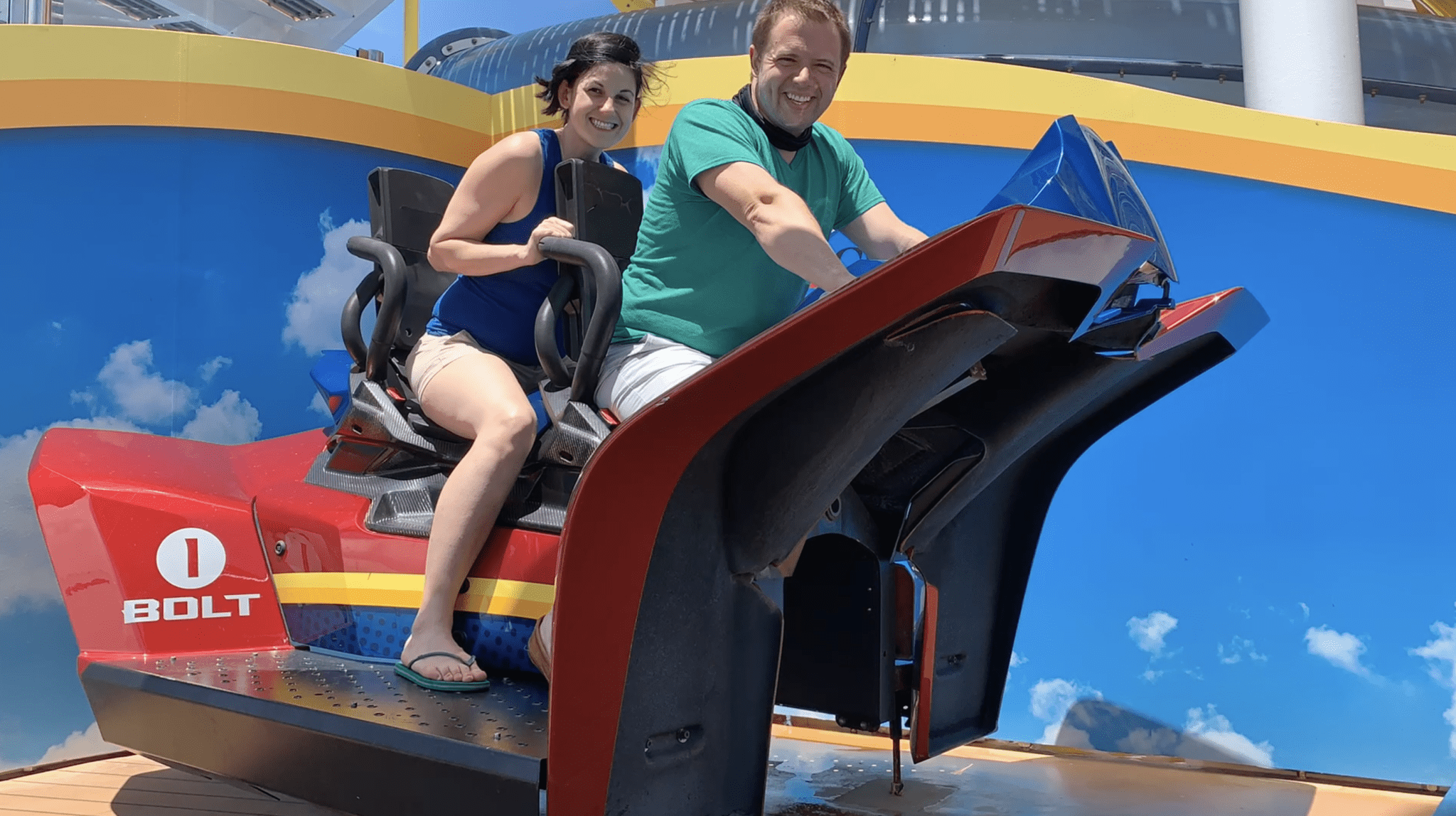 At the top of the stairs, there's an extremely large covered queue area. The reservation system really alleviates the need to use the entire area but it's possible that they're currently taking fewer reservations for social distancing purposes.
It's also possible that the queue area was designed and built in a pre-pandemic world and that, necessity being the mother of invention, they created the reservation system (and $15 fee) as a way to avoid having large numbers of people standing in line once social distancing became the norm. 
Regardless, as anyone who has ever endured the SkyRide lines aboard Carnival's Vista-class ships, the reservation is a vast improvement.
Next, you will come to the turnstiles. Here, you'll scan your cruise card to show that you have paid for your ride and, once approved, it will unlock and let you through. This is comparable to entering a theme park.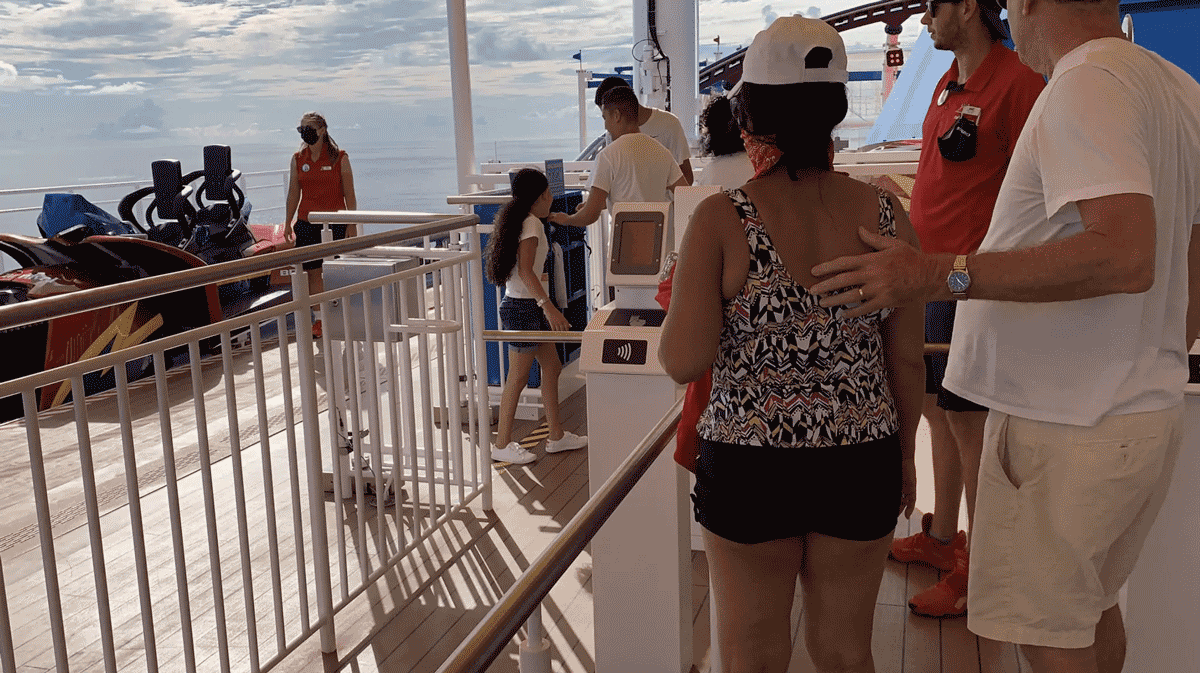 This is where you'll stand on the scale I mentioned before, which measures both your height and weight, and the Carnival attendants will confirm that you meet the requirements. This is done for every guest who rides so don't take it personally. They didn't spot you at the buffet and single you out for having that extra helping of bacon.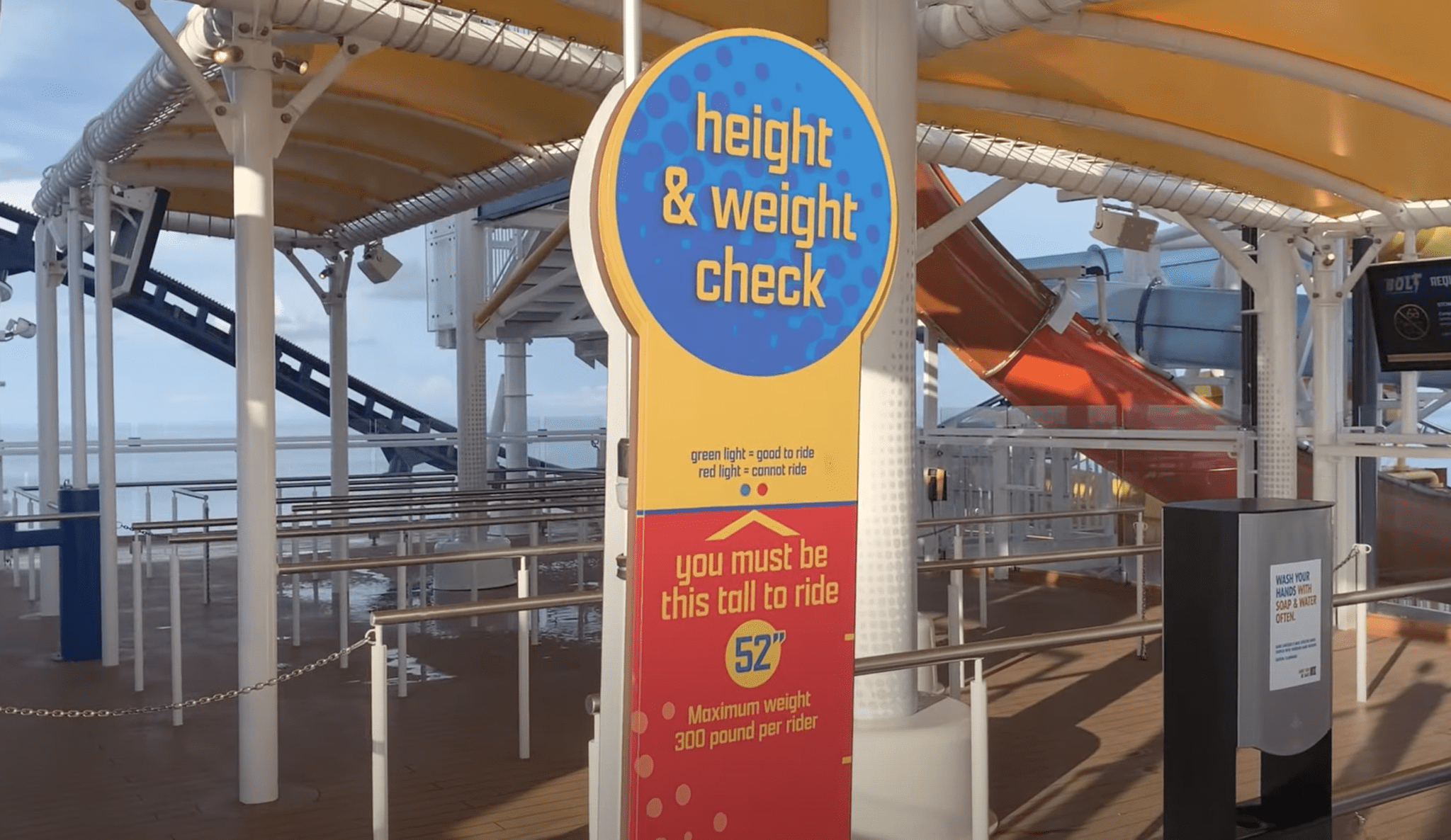 There are open cubbies to place all of your loose items, including the GoPro you were hoping to wear for the ride. Not kidding. One of the Safety Do's and Don'ts is that use of cameras is not permitted — including GoPros.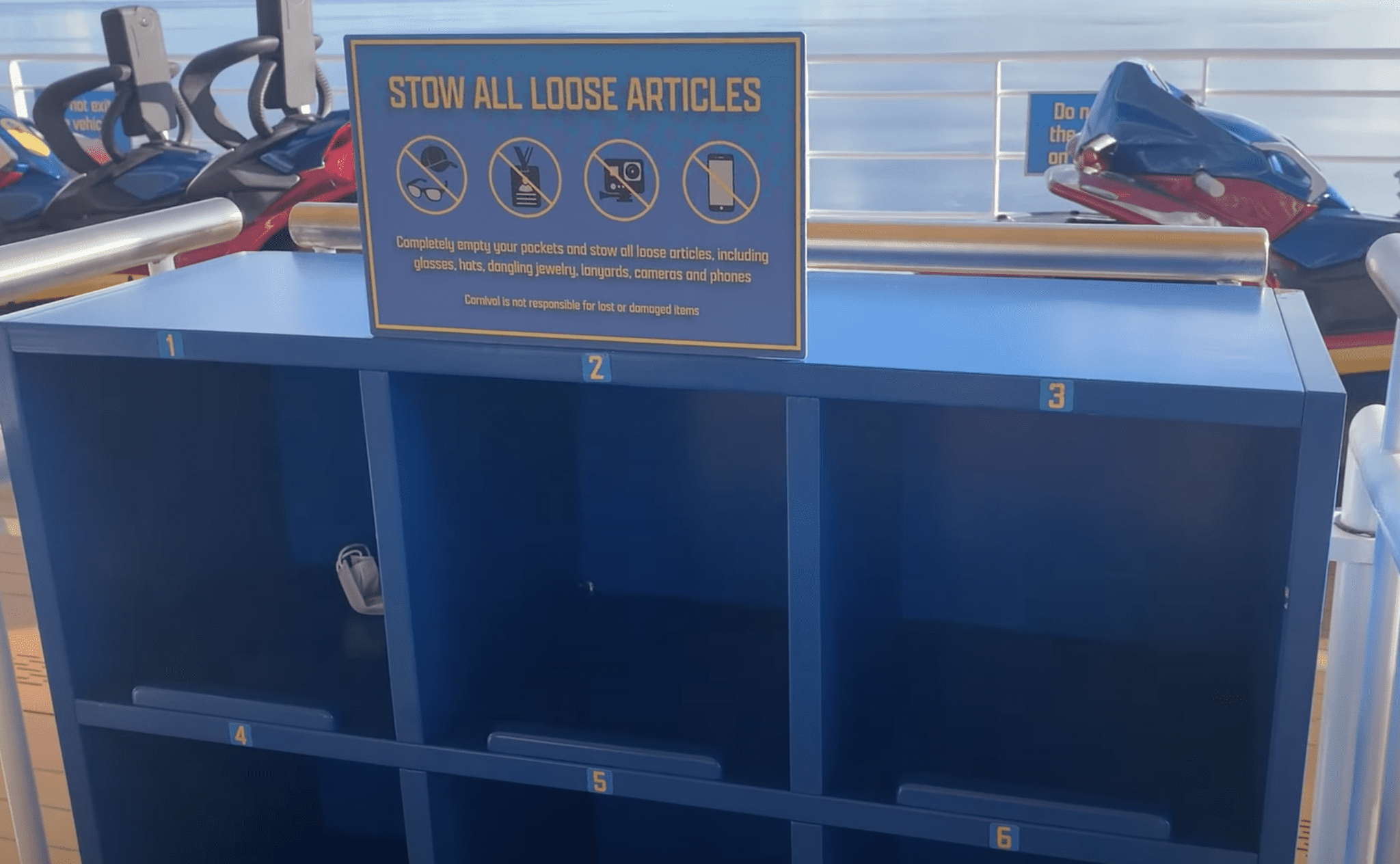 Finally, it's time to board the car, get strapped in, and begin your adventure. You'll want to decide in advance who's going to sit where, and this is a big decision: The guest in the front seat gets to control just how fast you go once the ride begins.
There's a minimum speed, but I'm pretty sure even that is fast… not to mention scary, given the height of the track. 
There's a throttle and a booster button which makes the ride faster. For the fastest ride possible, pull the throttle all the way back and hold down the booster!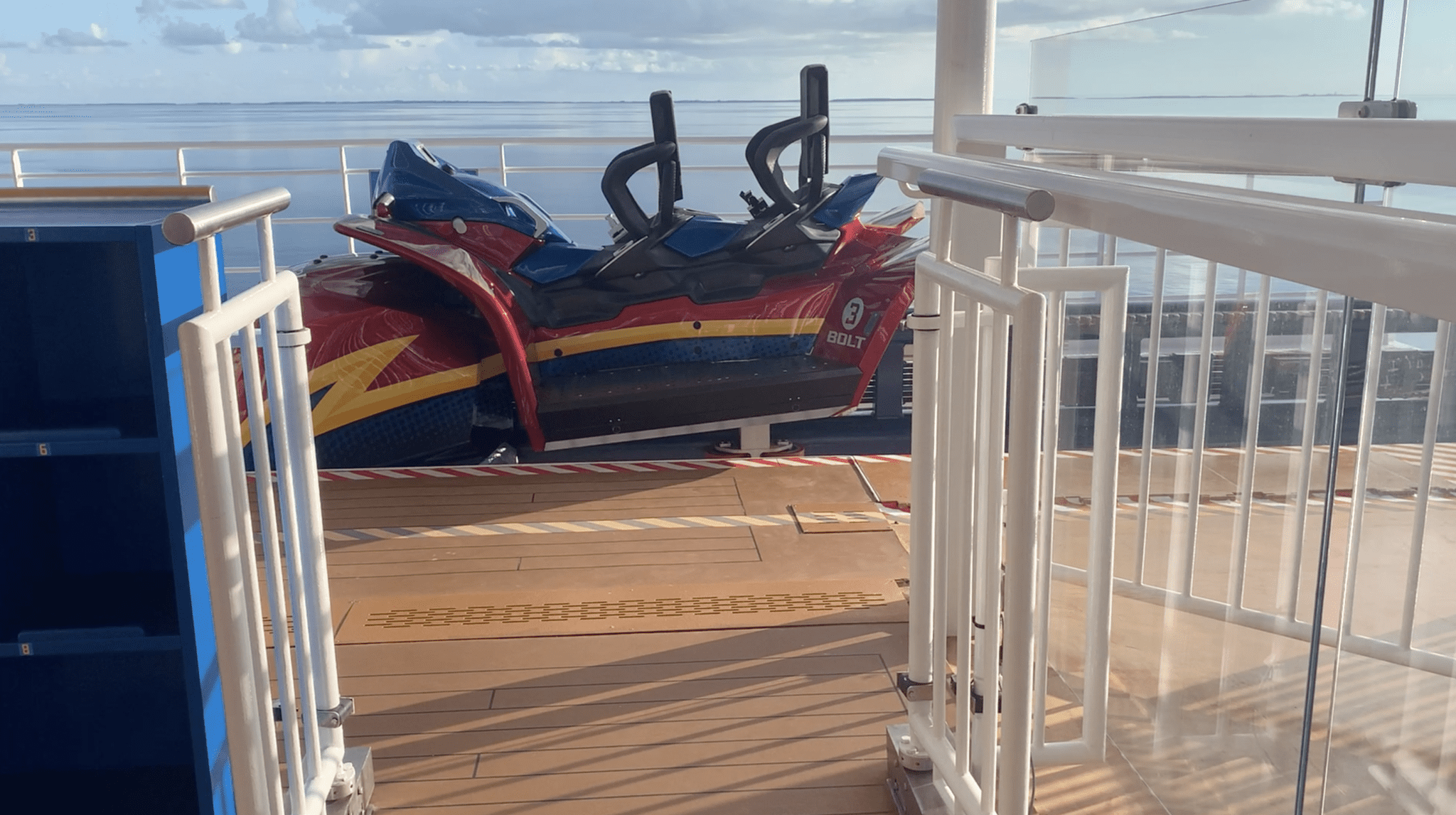 You'll be counted down by the race car lights and then zoom away. When you watch from the deck below, it really doesn't look that fast, but trust me: When you're on that sucker, it sure feels fast. It really is a lot of fun if you like rides that are speedy and twisty. From our experience, the passenger is the one who experiences the thrill, while the driver is too busy making sure they are going as fast as possible. 
If there's a downside, it's that the ride is over before you know it… not to mention before the driver really understands the controls! The other potential downside is that if you've got hair, there's a good chance you're going to look like a bit of a hot mess. But odds are the second you're off, you'll grab your phone to try and snag another reservation.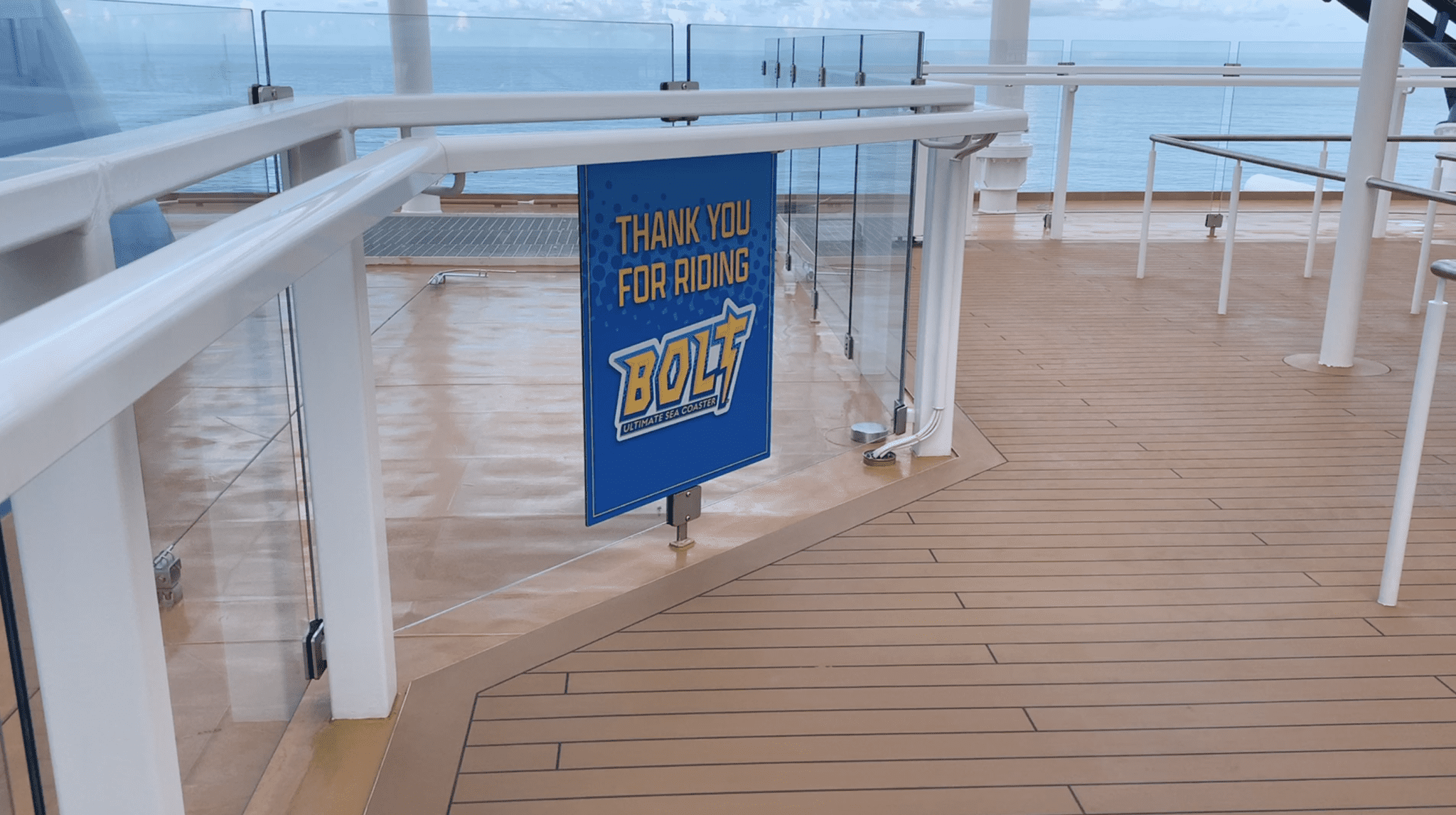 What's Bolt Going to Cost Me?
As of September, Bolt is priced at $15 per person for each one-lap ride. 
We thought that our $15 lap was exceedingly fun. If it was a bit more affordable, we would likely do it again, and again, every time we sailed on the Mardi Gras.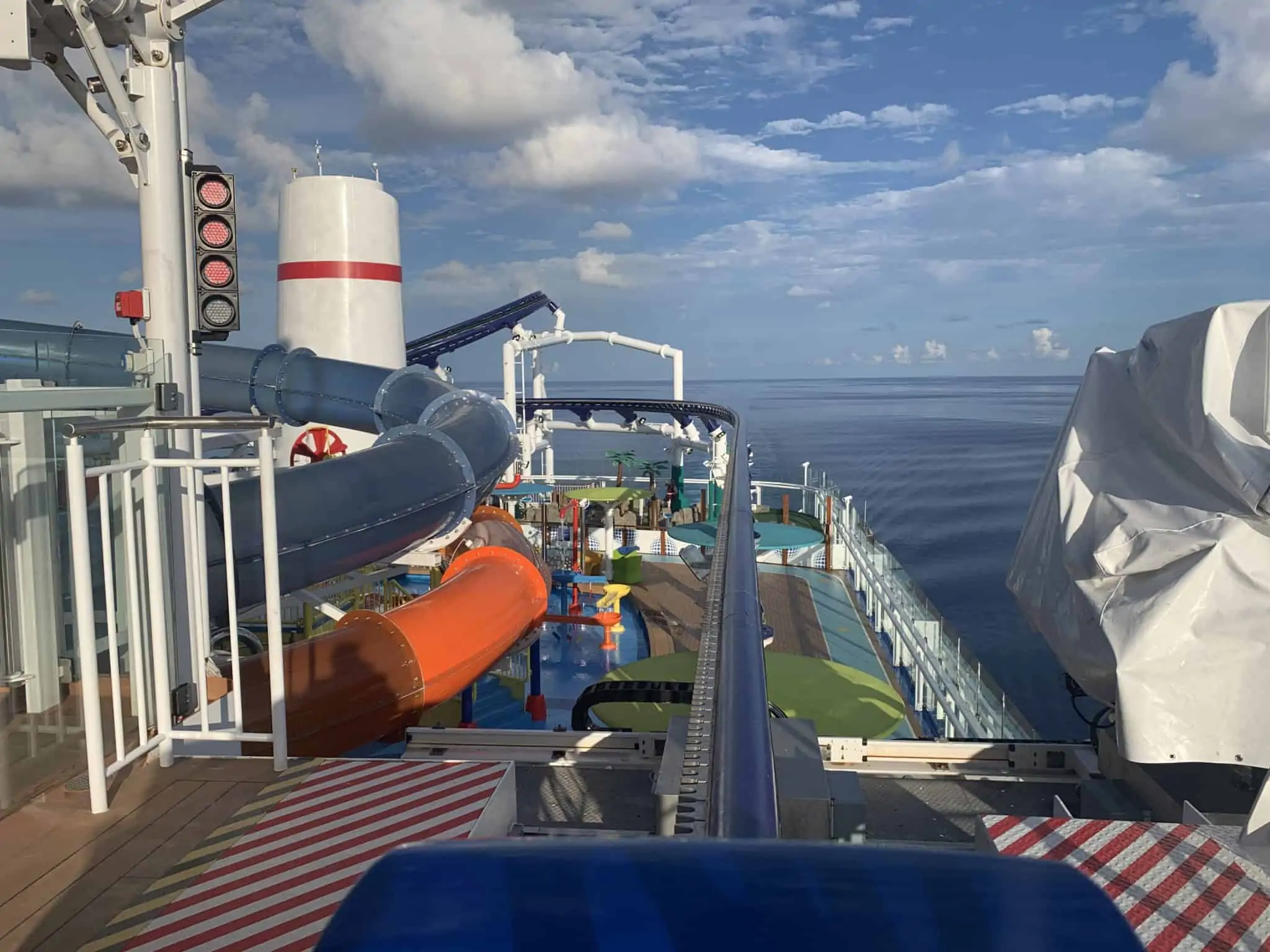 Is It Worth $15 for Just One Ride?
I recommend that you try it at least once — especially if you love roller coasters, as I do.  It really was a lot of fun and I'm glad I decided to go on it!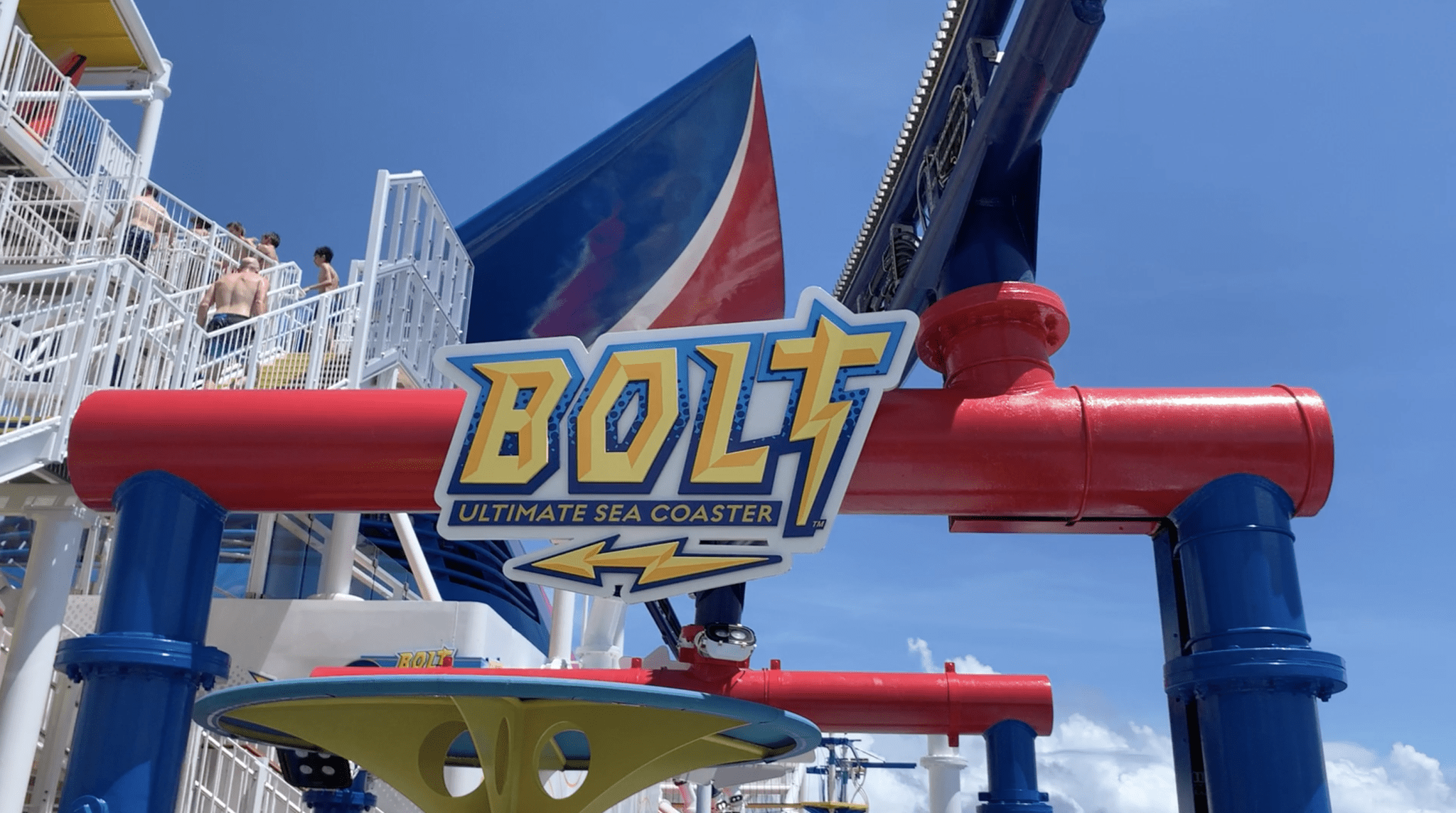 By Lauren Rodgers
READ NEXT: Mardi Gras Dining Guide: Which Restaurants Are Complimentary?
Pin it!