Having spent a little bit of time exploring Norwegian Cruise Line's newest ship, we've come back with a lot of thoughts. Here, we're going to tell you what we loved, what we liked, and what we weren't thrilled with. Ready for a Norwegian Prima review, featuring the best and worst of the ship? Then read on as we try and help you decide whether Prima is right for you.
Familiar, Yet Different
From the moment Norwegian Cruise Line started discussing Prima, we were told that this ship would be different from anything they had done in the past. Obviously there would be some carryovers from past ships, especially when it came to things that worked well. But even in those cases, the familiar venues would get a new look in keeping with Prima's more upscale feel.
Take, for example, Le Bistro. The for-fee French restaurant has been a staple on many NCL ships, and you'll find one on Prima, too. But whereas the previous incarnations tend toward an old-world romantic vibe, with dark woods and deep reds, the version you'll find on Prima is almost blindingly bright, thanks in part to three gorgeous floor-to-ceiling chandeliers. It's a truly stunning space.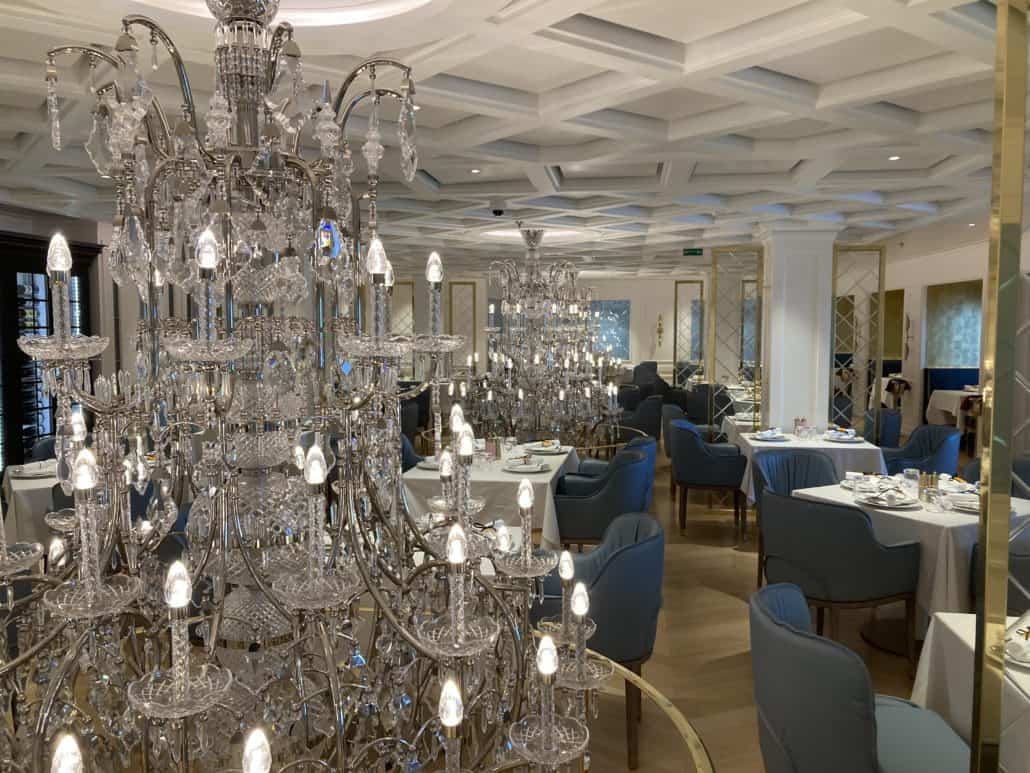 Things We Loved
You can read about our four days aboard Norwegian's newest ship with our trip report, Day 1 that can be found here. (Please note that while we were guests of Norwegian during the sailing, they in no way, shape, or form influenced our take on the ship.) Now, we're big believers that every vessel is different, and not everyone is looking for the same thing in a cruise. That makes us tough for us to say, "Yes, this ship is definitely right (or wrong) for you." However, we're about to share our thoughts on the things we really liked about the ship, the things we didn't, and some other random bits of info which might help you get a feel for Prima.
Because we were raised well, let's start with the things we really, really loved. Ready?
• Indulge Food Hall: What can we say? We're the kind of people who think about food when we think about cruising! And Indulge Food Hall is, in a word, brilliant. Numerous restaurants offering a wide variety of cuisine, all of which can be ordered from a tablet and then delivered to your table. Want something from three different venues? No problem! The one downside: The space can get crowded during peak meal times, leaving folks wandering around with dazed, hungry looks in their eyes, ready to pounce as soon as a table opens.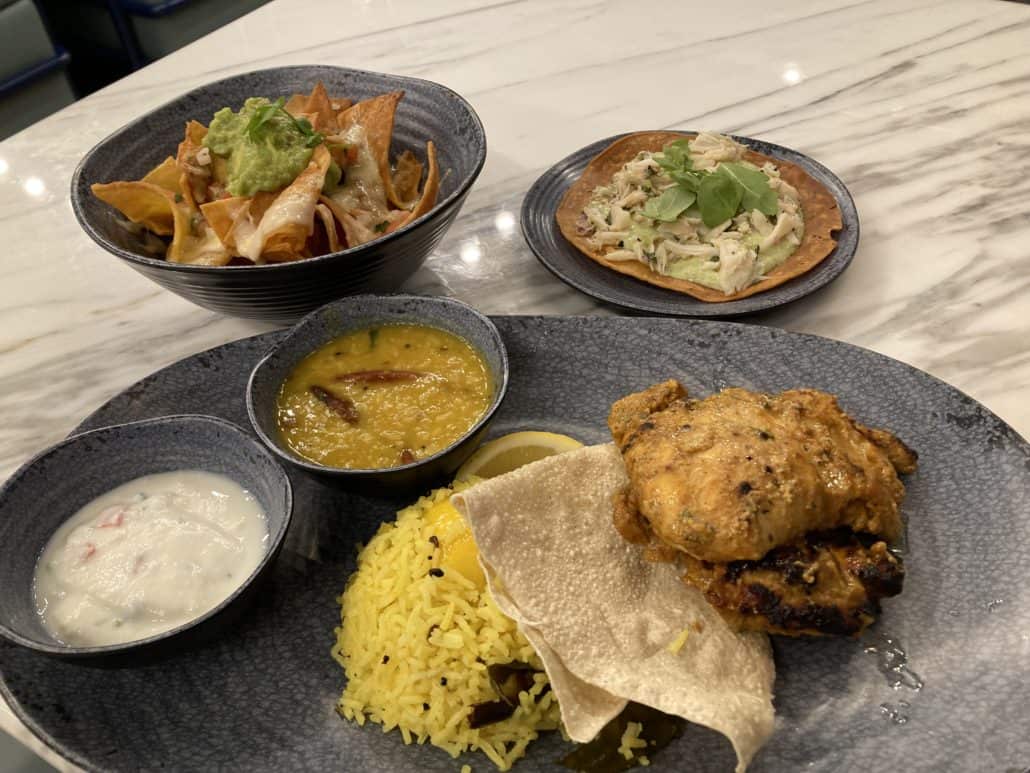 MORE: Everything You Need to Know About Indulge Food Hall on Norwegian Prima
• Ocean Boulevard: It's sort of weird that cruise ships have really only started focusing on their outdoor spaces and promenades in the past few years. After all, cruisers love little more than being out in the fresh air, looking at the ocean they so love. Yet until recently, most promenades were designed largely for walking, with a few seating areas scattered about. Thankfully, that's no longer true, and Ocean Boulevard is a great example of what a ship's promenade can be. Outdoor bars, dining, infinity pools (which, if we're being honest, are really more like hot tubs than actual pools) and even a very cool sculpture garden. But never fear, if you simply want to sit, the La Terrazza area offers lots of comfy areas in which to do that, some of which are perfect for group hangs.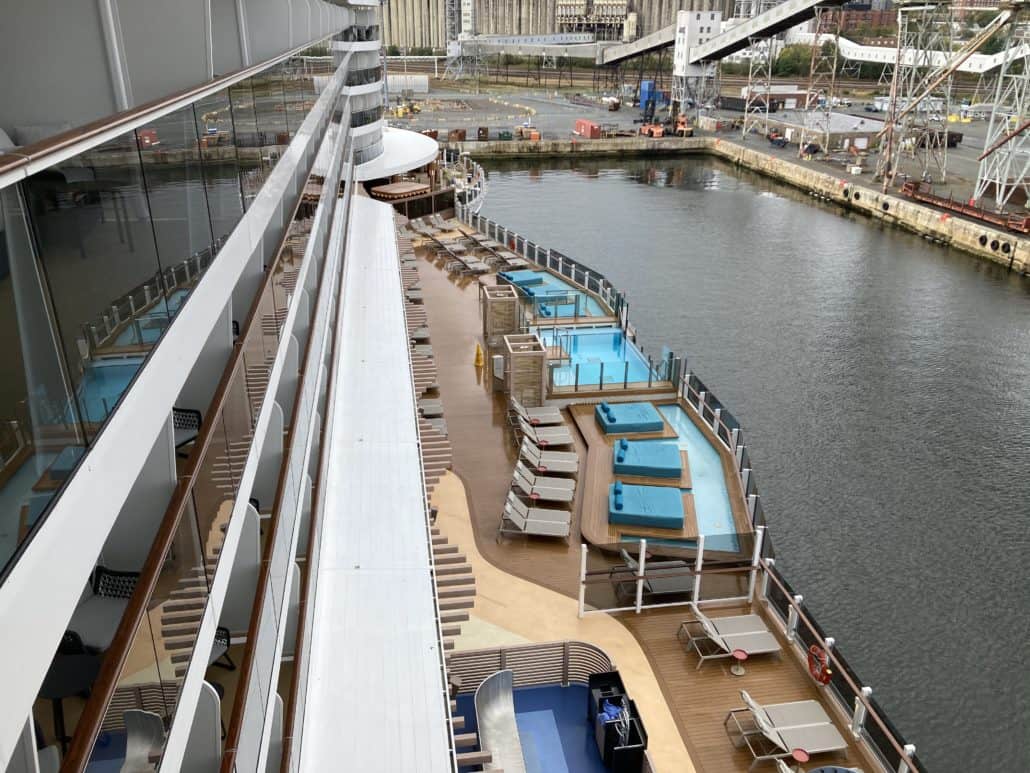 • Mandara Spa: If you're even thinking about getting a spa pass, go ahead and book it right now. Why? Because while we've long been fans of Norwegian's thermal spa, they've never had one that comes even close to what you'll find on Prima. There's a salon featuring ridiculously comfy oversized chairs, experiential saunas (including a salt room), and the hot stone loungers located just past several plunge pools and beside a relaxing two-story wall of water.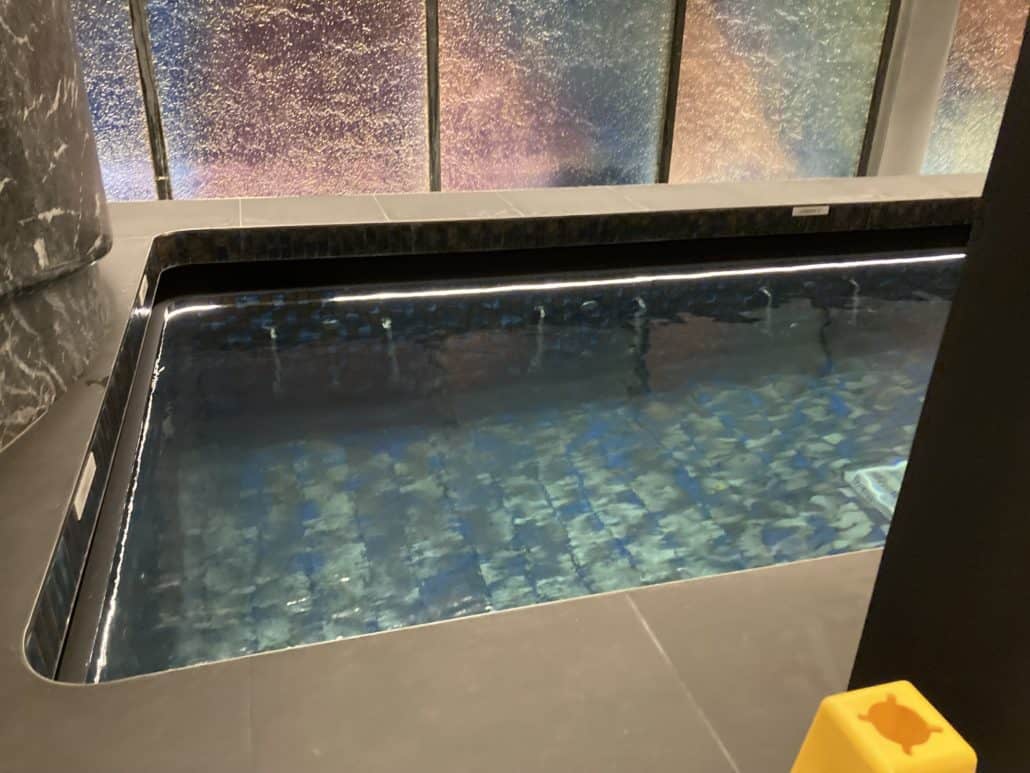 • The Haven: Given that we've talked repeatedly about this ship feeling a bit more lux than past NCL vessels, it should come as no surprise that The Haven area is above and beyond previous offerings in the category. Spanning three stories, it's the biggest in the fleet. But is bigger better? Definitely. The restaurant features a large outdoor space, and there's both an expanded indoor bar as well as a smaller outdoor drinking venue. Like pretty much everywhere else on Prima, there are also tons of different seating areas, with everything from poolside padded loungers to swanky areas to enjoy a romantic evening cocktail.
• The New Bars: We're big believers that while you can walk into any bar on a ship and have a lovely time, it's an awful lot of fun to have a wide variety of places, each with a distinct feel and menu. Two of the bars on Prima really stood out for us, one because of the location and the other thanks to its menu. The Soleil Bar, perched on the very back of deck 8, offers an absolutely perfect view of the wake. Plus, you can always grab a cocktail here and, after sitting for a bit, begin your journey around the Ocean Boulevard promenade. And when you've gone full circle? Well, grab another drink, of course! The other is the Metropolitan Bar, where the menu features "sustainable" cocktails. Basically, this means some of the ingredients in the drinks found on the menu here are repurposed. The peels from the bananas used to make a dessert being served in the main dining room are turned into a syrup used to make the drinks here. Our personal favorite? The watermelon twist, featuring tequila, lime juice, a jalapeño-infused liquor, and a syrup made from watermelon rinds.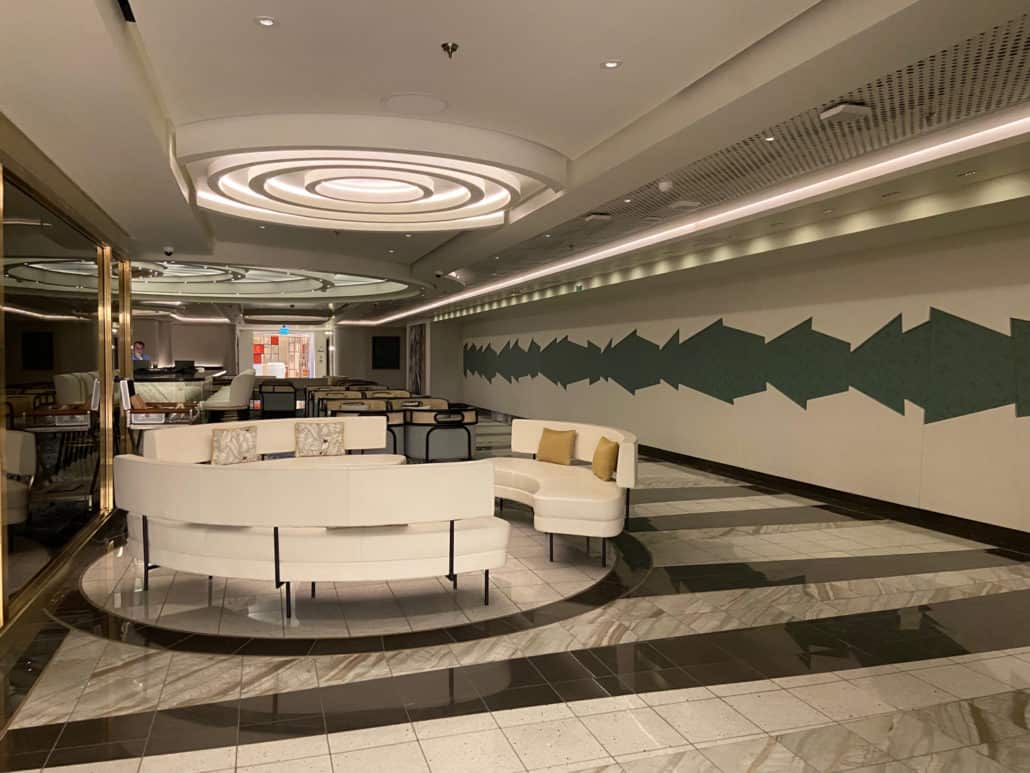 To be fair, not everyone loves the decor of this space, with some finding it a bit austere. But in the evening, with dim lighting, a musician playing, and Clarence "The Chocolate Cowboy" Bennett slinging drinks, you can't go wrong.
• The Stadium: Found on Deck 18, this top-of-the-ship area is a great place for adults and kids to burn off some energy. There's a pickleball court, foosball tables, even beer pong. This area is also where you'll find The Drop, The Rush, and The Wave. While the Wave is a ginormous water slide which sends tube-riding guests up a huge wall for a quick thrill, the other slides are dry. As its name implies, The Drop finds you stepping into what looks suspiciously like an unzipped body bag before being sealed in a tube, the bottom of which drops out sending you plunging 10 stories down. (As someone who's not great with heights, I can attest that this one isn't as bad as it sounds and is actually kinda awesome.) The Rush are dueling dry slides, meaning you and a friend can race to the bottom. All of the above mentioned attractions are free. (We'll talk about for-fee attractions in a moment… )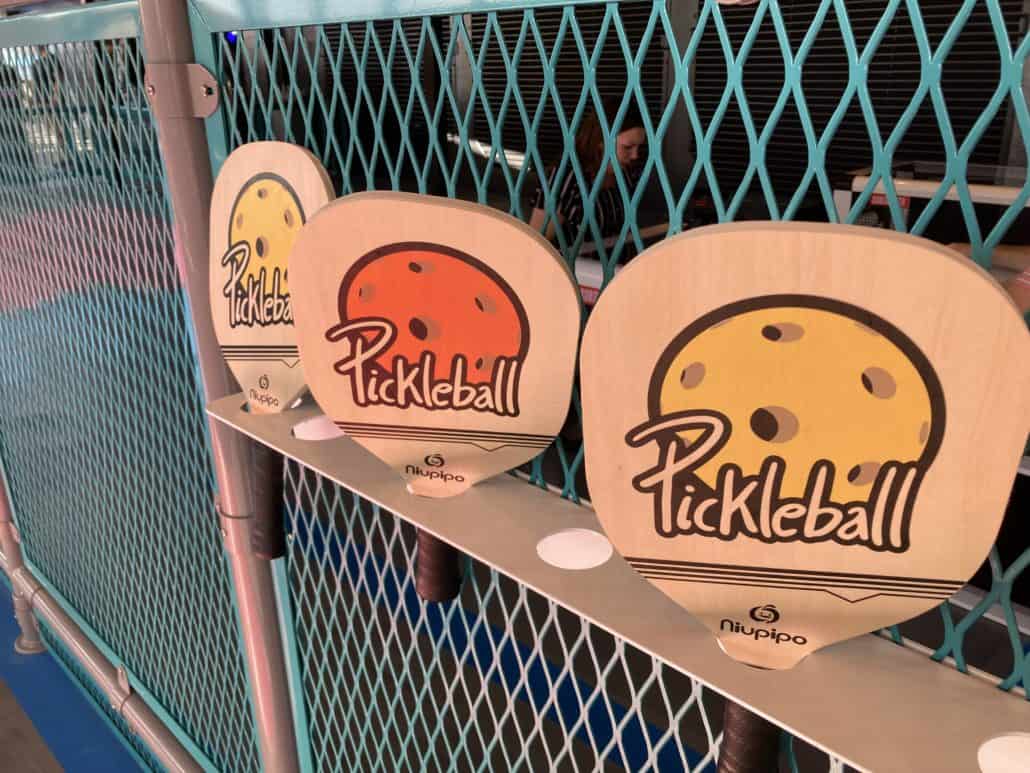 Things We Weren't Thrilled With
• The New Menus: As you've probably heard by now, Norwegian is using Prima to introduce their new main dining room menus, which will be rolled out across the fleet in the months to come. Unlike in the past, when each night offered a rotation of selections, the new menus remain the same during the entire voyage. It seems pretty obvious that the menus are intended to drive more people into the for-fee restaurants. The menu is fine, but it's hard to imagine not getting bored if one were looking to eat in the dining room every night for a week or more.
• The Prima Speedway: Given the upscale nature of the ship, this just does not feel like a good fit. The three-level track eats up a fair amount of top-deck space, especially for an attraction that most guests are likely to use once. We also didn't love that sections of the track are directly above Vibe Beach Club, where guests pay a pretty penny to enjoy a more relaxed, peaceful area.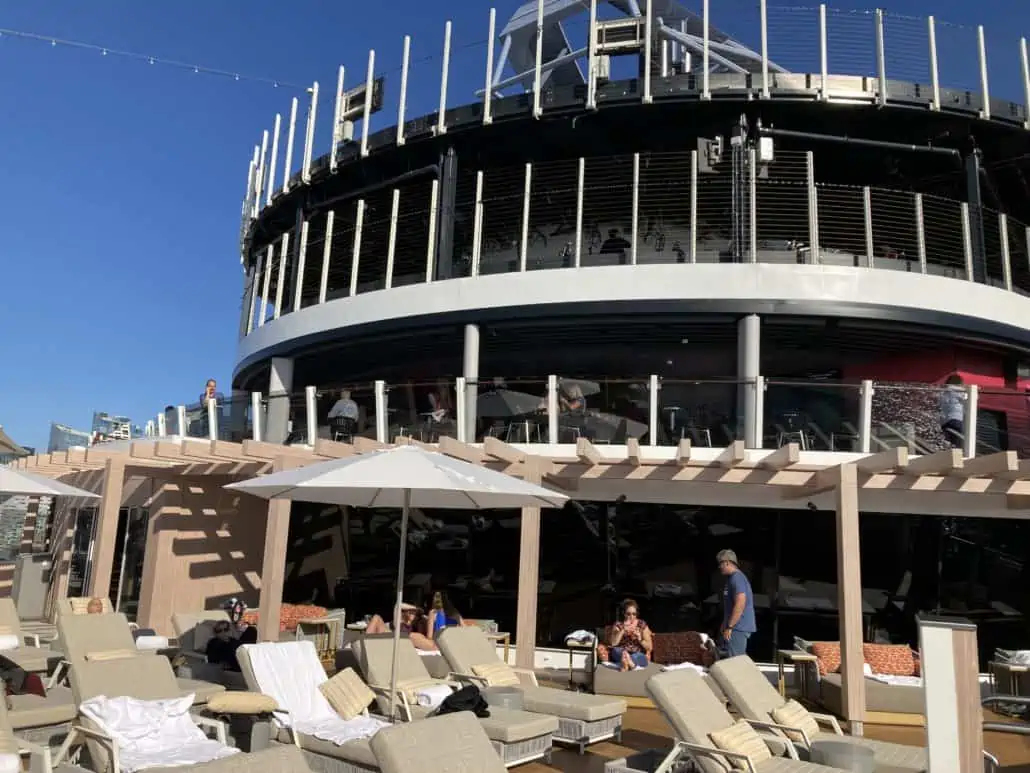 • Kid's Aqua Park: The folks responsible for designing this area have clearly never been kids. A perfect example of form over function, this looks and feels more like an art installation than a fun area in which kids can play.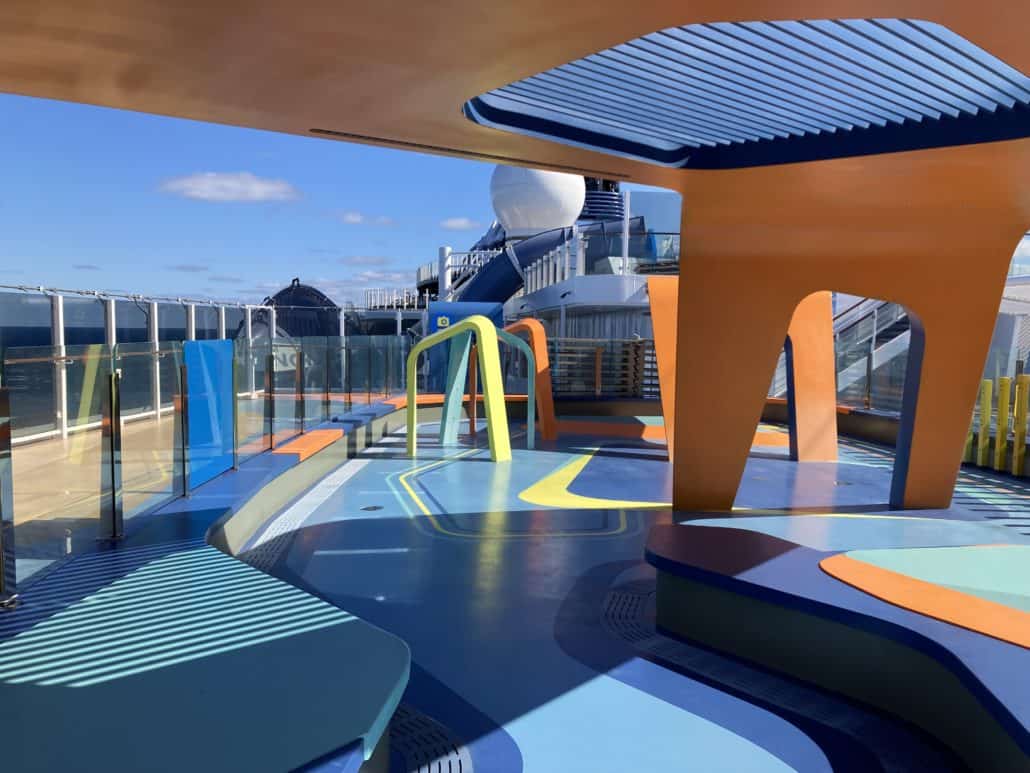 • Tee Time: Don't get us wrong… this is probably one of the funnest, most creative miniature golf courses you're going to find at sea. Which is a shame that it's also the first we've ever seen that charges $10 a head, meaning it'll cost a family of four $40 to play 9 holes. Bull's Eye, the interactive darts area located in the same area, is also a for-fee gaming area. But at $40 for up to six guests to hang out in the miniature living rooms and play darts, it's at least somewhat more reasonably priced.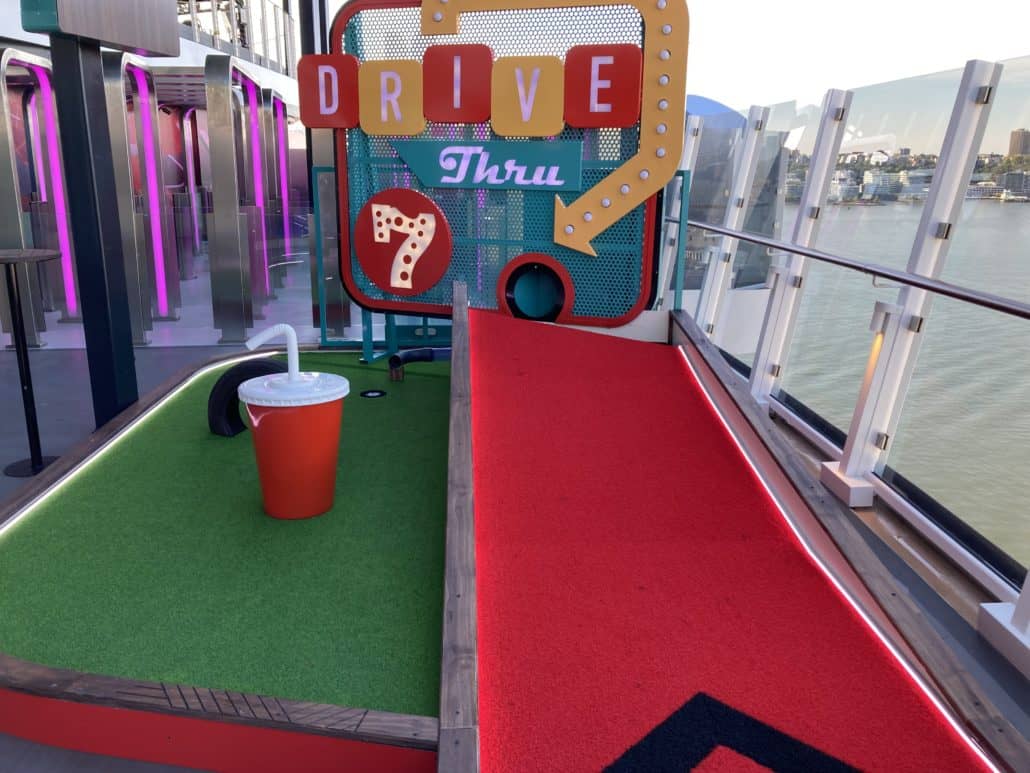 Prima has taken many of the things that Norwegian Cruise Line does well and spun them in new directions. Based on early reviews, it seems the risk has paid off. Hopefully, we've provided information which will help you decide whether or not the ship is right for you and your travel party!
READ NEXT: The Best of Norwegian Prima: Checking Out 5 New Hot Spots to Grab a Cool Drink
Pin it!