There are two types of cruisers in the world: Those who will take as many sea days as an itinerary wants to throw at them, and those who start getting itchy if they've been "trapped" on the ship for a day or two. I'm definitely the former: The more sea days, the better.
That said, if there's one downside to all these sea days, it's that they can make for a fairly dull trip report. So before we get to details of the day (Spoiler alert: It involved a lot of drinking and gambling), let's talk a little bit about the Norwegian Gem.
The last of the Jewel-class ships (which also includes the Norwegian Jewel, Jade and Pearl), the Gem first sailed in 2007. One of my favorite little "factoids" about this ship is that when it came time to pick a Godmother for the ship, Norwegian asked passengers who'd sailed with them before to submit videos… which is how Cindy Cardella of Fairfield, New Jersey wound up being picked! Remember the amazing Garden Villa we took a tour of yesterday? Well, Cardella and five of her friends got to enjoy a week long cruise livin' it up in that lux pad!
The ship underwent a pretty major refurbishment in November of 2015, and this was the first time I've been on board since she underwent the transformation. Now, I'll fully confess that there's one aspect of the modernization that I absolutely hate (but nearly everyone else on the planet loves), and that's where the Bliss Nightclub is concerned. When I originally sailed on the Gem, Bliss was — and there's really no other word for it — gaudy. There were giant beds and odd, metallic statues and the whole thing felt like some kind of weird bordello from a badly dubbed 70s horror movie.
In other words, it was unique and awesome.
Don't get me wrong: The new and "improved" Bliss is beautiful. It has lots of comfy couches (although I'm not sold on the weird chainmail supporting posts which dot the room) and a roomy dance floor… but dang, I really miss the gloriously tacky club that once existed in this space.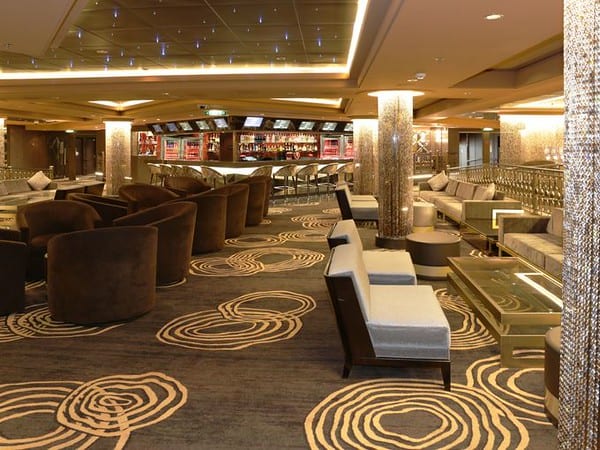 (It's worth noting that I'm not a fan of the version of Bliss they have on the Breakaway, either. That one lacks any personality whatsoever, being basically a big, box shaped room with uncomfortable tables and chairs. The Gem's take on Bliss is far more stylish and comfortable.)
And Now, Back To Our Regularly-Scheduled Day
After sleeping in, I wandered around the ship to enjoy this absolutely beautiful day. The music was thumping by the pool, sun worshippers were soaking up the rays and I was headed to my very favorite spot on the ship, the Great Outdoors bar.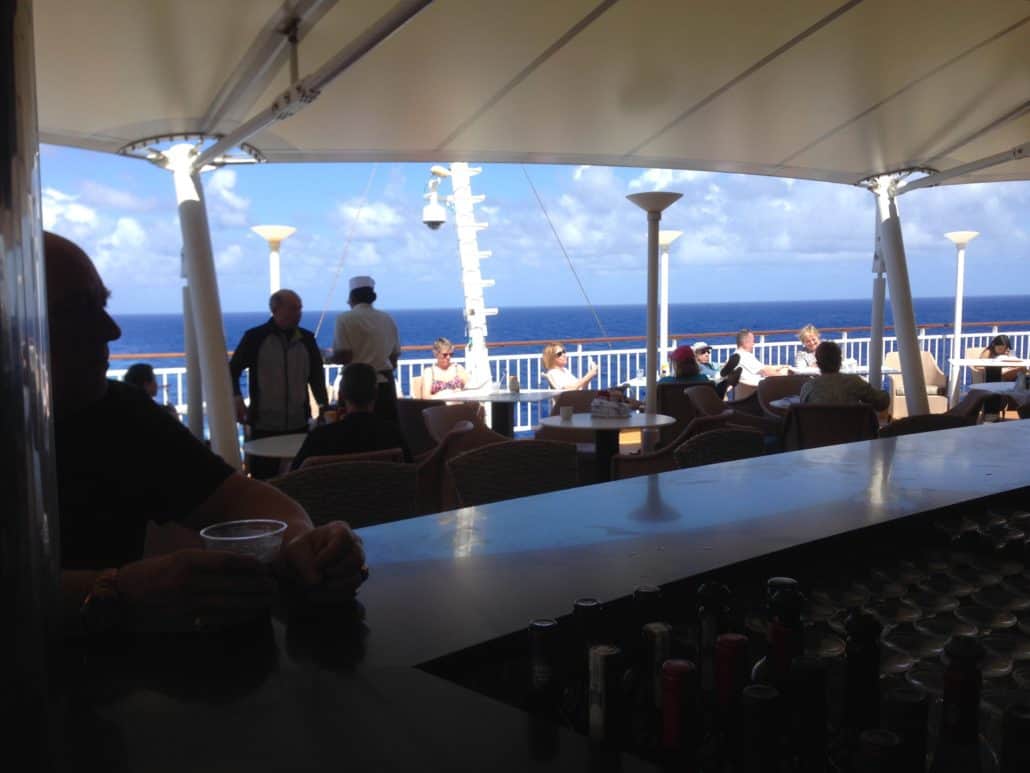 It was a picture-perfect day, the drinks were flowing far too easily, I met several interesting people who, like me, could think of no better way to spend a sea day than conversing with a stranger.
Translation: Life was good.
I eventually ducked into the buffet to pick up some nibbly bits before heading to La Cuchina for our daily game of Left, Right Center. After that, my friends Dianne, Aldo and I went down to Magnum's to play the card game Phase 10. Magnum's, located in what's called Bar City, is one of those spots on the ship that people gravitate during the day if they want a place to read or play cards or simply take a nap on one of the comfy couches.
After about an hour or so of play, the three of us went our separate ways. My intention was to take a nap before meeting them for dinner at Cagney's… but my intentions went right down the tube when I, still slightly buzzed from my afternoon at the bar, wandered into the casino. My rationale for skipping the nap? "I need to go to bed early, because tomorrow is our first port day, and we have big plans!"
I couldn't get on my beloved Lock & Link Diamond game, but I found a sort of standard real reels (as opposed to computer generated reels) slot and played for a couple hours. And by "a couple hours" I mean right through my scheduled dinner with Dianne and Aldo. Whoopsie. When finally I'd given all my money to the casino, as is tradition, I headed back up to the buffet for a bite to eat.
Let's talk about the buffet for a second: When I cruise, I tend to eat most of my meals in the specialty restaurants, especially on Norwegian. The package I'd purchased gave me four nights in specialty restaurants, plus — because I'm Platinum with the line — I got two additional nights, which meant that at least six out of the 10 nights I'd be eating in specialty restaurants. Even when not doing so, I tend to avoid the buffet as much as possible for one simple reason: I'm not the type of person for whom "all you can eat" is a good idea. In the restaurants, even if I order two appetizers, there's still some modicum of portion control. In the buffet? Not so much. Suddenly, mashed potatoes and French fries and fried fish and fried chicken and a slice of ham seems like a perfectly reasonable meal. And while there are plenty of healthy options at the buffet (including, on this particular ship, a really great selection of vegetarian options), I am self-actualized enough to know that my head isn't going to be turned by the lettuce when there's fried food crying out, "Eat me!"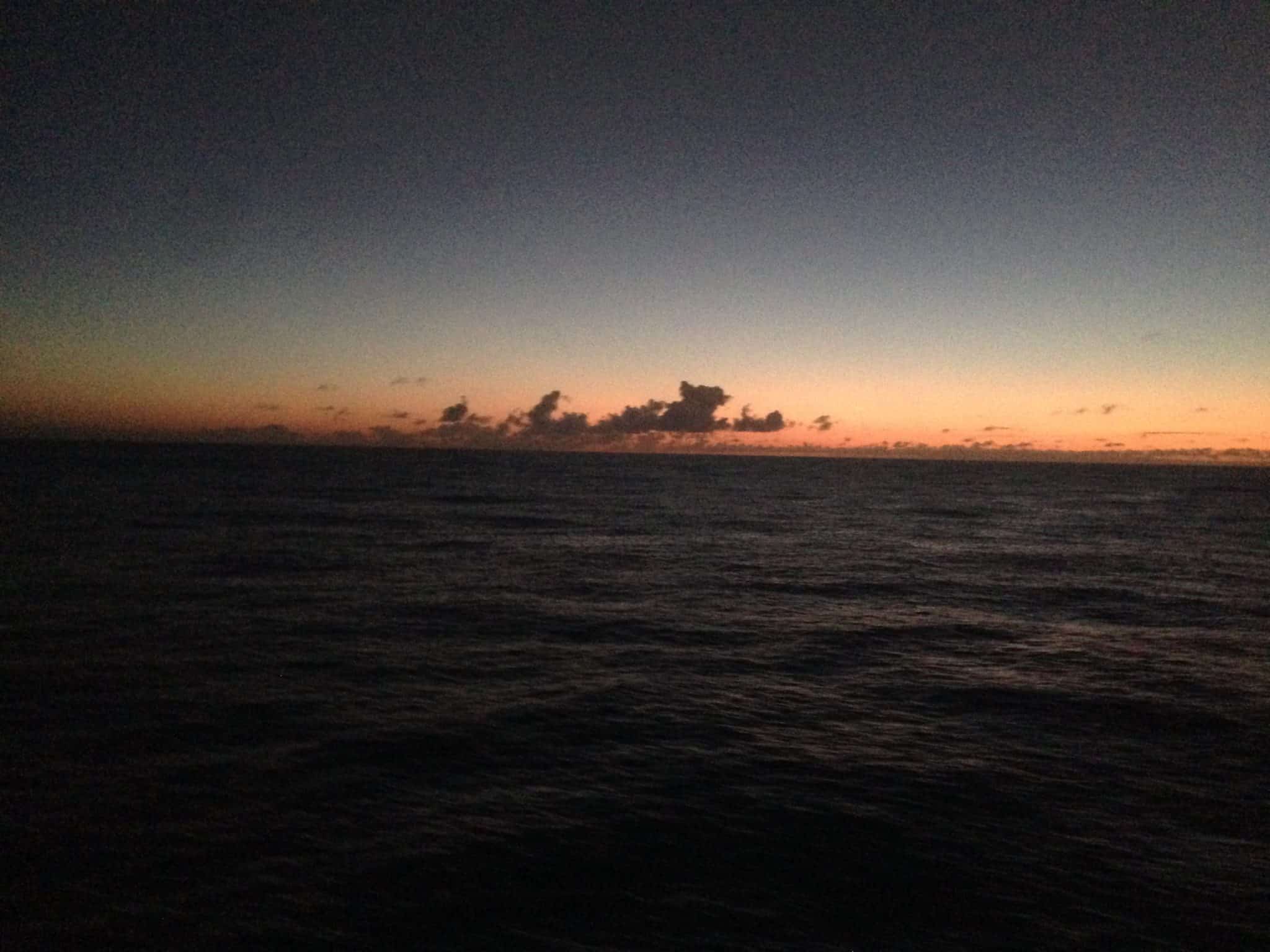 In any case, after doing a half-way decent job of eating relatively healthy, I headed back to my room. I'd skipped dessert at the buffet… only to have even that mild attempt at dieting derailed by the nightly treat left in my room, which happened to be a delicious array of chocolates courtesy of the hotel director.
I mean, it would be rude not to have eaten them…
And with that, I called it a night, realizing just before falling asleep that tomorrow would be the first time in five days that I'd set foot on dry land!
DRINK OF THE DAY: Painkiller. I have to imagine that after two of these, you're definitely feeling no pain. I took a one-and-done approach with this one!
HIGH POINT OF THE DAY: The casino finally gave me some play! I spent a good three or four hours gambling on a pretty small amount of money.
LOW POINT OF THE DAY: You know where this is going, right? I eventually — stupidly — gave all my winnings back. But hey, I don't mind losing (much) as long as I get some good play in!