As promised, I stayed out of the casino last night and was in bed at a decent hour so that I could get up early and watch as we sailed into St. Lucia on the Norwegian Gem. Like all the other ports on this itinerary — except St. Thomas — this was a place I've never visited before. And I was going to do something I've not only never done before, but kind of had a life-long fear of even attempting: ziplining!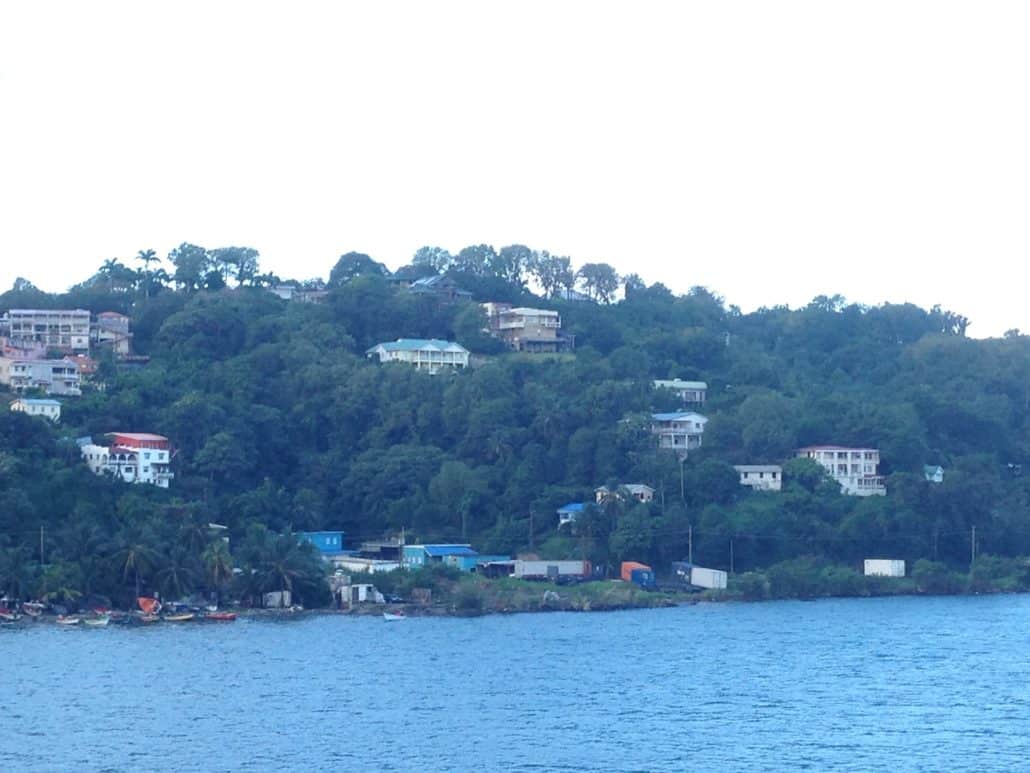 I was hoping to grab breakfast before heading off on my adventure, but I had to be in Moderno's (ironically, the very place where I would have been eating) at 8 a.m. for priority disembarkation, so… no food for me. Instead, I got off the ship and met with the rest of the crew who'd signed up for the early-morning excursion. (There was a later session as well, but my thinking was that it might get hot in the afternoon, and I didn't want to be hiking around in the heat.)
I'll write a full review soon, but for now, here's the basics: I booked the Rainforest Adventures Sky Canopy & Ziplining tour through the ship for $149. (Interestingly, the price was the same whether you did the ziplining or only took the sky-ride up and down the mountain). We were met by the ship and taken to a van for one of those terrifying rides up twisty, curvy, up-and-downy mountain roads that make the drive to your excursion practically part of the adventure.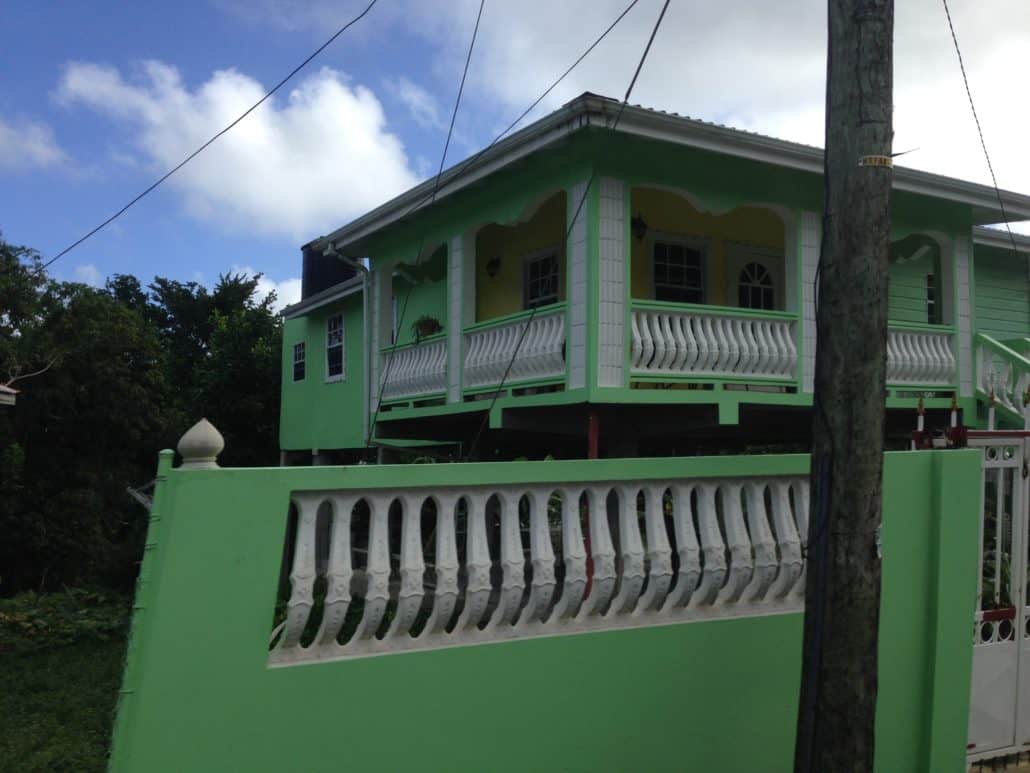 Upon arriving at our final destination, we were outfitted with helmets, harnesses and taken to what one of my fellow passengers referred to as "the bunny slope of ziplines" so we could be taught safety procedures and give it a try. Afterwards, we boarded the skytrams — which hold 7 people, plus our two guides) and began the slow ascent up the mountain. Our very funny guides — Jimmy and Junior — were as good at cracking jokes as they were dispensing information about the rain forest through which we were traveling.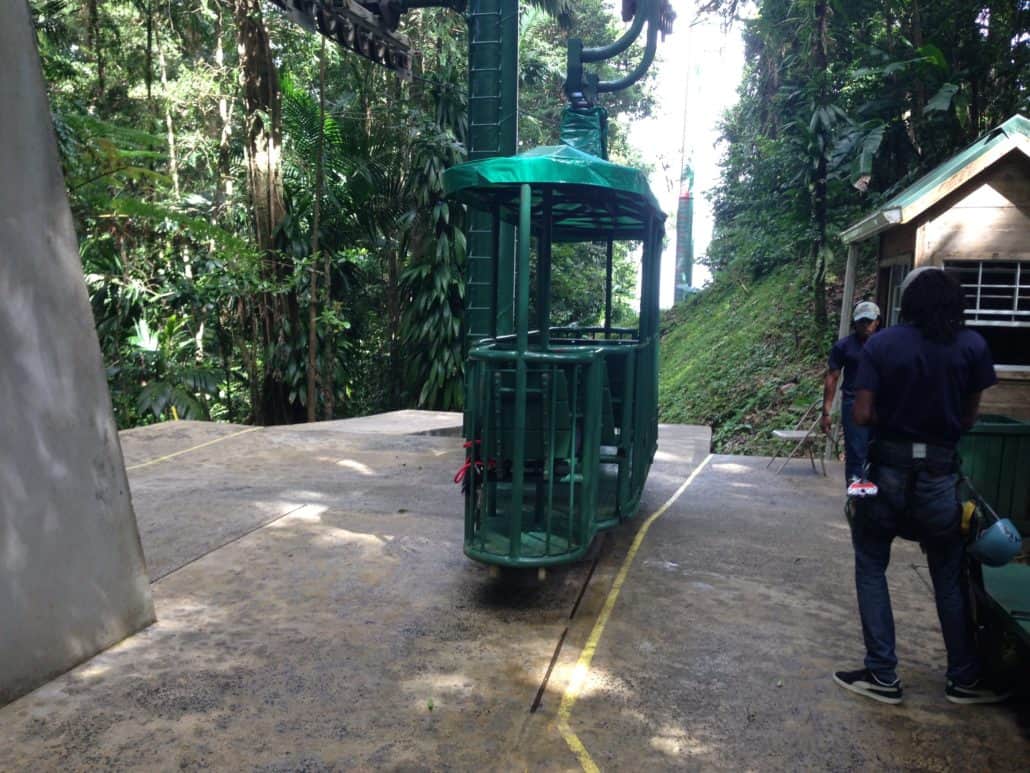 Once at the top, we went for a short hike to our first platform… and then the screaming started. Mostly mine, as I faced a lifelong fear of heights and reluctantly stepped off the first of 9 platforms to fling myself through the jungle. Now, I've seen the pictures and all I will say is: A fat man flying through the air suspended from a wire is not a pretty sight. But oh, man, was it an amazing experience.
Afterwards, we had to take a pretty vigorous hike back to the tram for the return trip down the mountain. The trip down is actually on a higher level than the trip up, and the views are stunning. At the bottom, we visited the obligatory gift shop (which you had to pass through to collect your complimentary "I didn't die on the zipline" punch drink before climbing in the van and making the trip back down the mountain.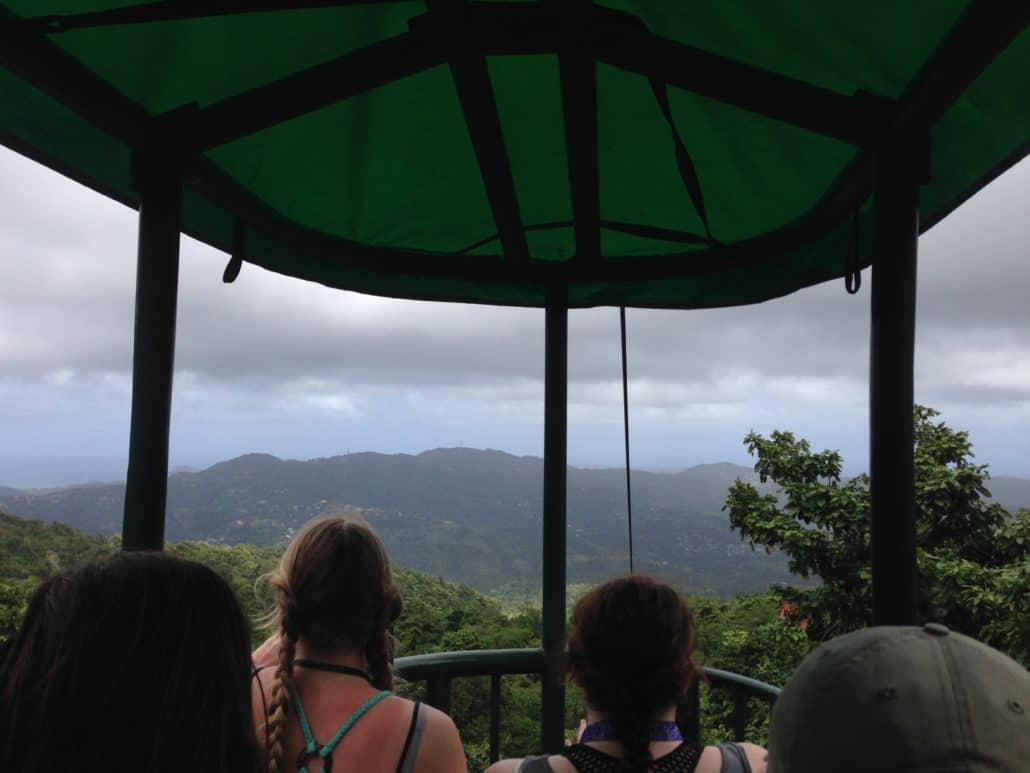 Once back at the main area of the port, I wandered around a bit, did a little browsing (as opposed to actual shopping) before getting back on the ship. Having not eaten yet (and it was around 2 p.m. by this point), I swung by O'Sheehan's (the 24-hour joint located on deck 8… just down the hallway from my room, for better or worse!). I ordered a half-dozen thai chili wings, a half-dozen Jamaican jerk wings… and, to balance out my health needs, a caesar salad with blackened chicken.
In the least surprising development ever, that rather gluttonous meal left me ready for a nap. I was supposed to meet friends at Cagney's for dinner but realized two things when I went to get ready: I wasn't at all hungry and, perhaps more important, I had no pants. A perk of platinum status is being able to have a bag of laundry done for free, so I'd stuffed one and sent it out earlier in the day… sending all of my jeans and dress pants, leaving me with nothing but shorts! I called and made my apologies to my dinner companions, admitting I'd be uncomfortable eating in the steakhouse in my shorts (even if it is allowed, which I'm not 100 percent sure of). I told them I'd instead meet them in the casino after they had dinner.
By the time they enjoyed their meal however, I'd pretty much figured out that this was going to be one of those nights where the casino was all take and no give, so I called it an early night. The next day, we'd be arriving in St. Kitts… and there would be plenty of time to gamble later in the week.
Drink Of The Day: The Moscow Mule
High Point Of The Day: I will never, ever forget flying through the rain forest. Would I do it again? I'm not sure… but I'm proud of myself for having done it at least once!
Low Point Of The Day: Seeing the photos of myself on the zipline. Let's just say that should help me skip dessert the next few nights!