There are many things that make traveling simpler and more accessible to us these days than in decades' past. From luggage and tech gear we can find with a quick Google search to an abundance of online articles on every possible destination, being prepared to travel has never been easier.
Another item that is abundantly helpful with travel is a smartphone, and specifically the applications that are available for it. Even being relatively in the loop with what's going on in tech, we still find lots of apps that surprise us — There's an app for THAT?!
Here, we're going over our favorite 10 free travel apps, in hopes that you'll find some new ones to help you along your adventures.
Our Favorite Free Travel Apps
1. TripIt
TripIt is by far my favorite travel app I've encountered thus far. There are many aspects to traveling that I don't want to plan to a T — I generally leave time for spontaneity and planning down to every hour would stress me out.
However, for big things like flights, hotels, cruises, and tickets to attractions, it can get confusing trying to keep track of it all. If you're a visual person, it helps to see everything you've reserved and are planning to do in a timeline format. This is where TripIt comes in. The app gives you the ability to add all of those things I mentioned above, plus car rentals, dining reservations, tours, and so much more — and it is all displayed in a tappable, vertical timeline so you can easily see your entire trip laid out from beginning to end.
You can even link your email address to your account and simply forward your confirmation emails for those things straight to TripIt, which will then add them into your itinerary automatically.
The app also helps with navigation, airport maps, adding documents to your travel plans, and sharing your plans with loved ones — and all that I've mentioned so far is included in the free version of the app!
TripIt Pro, which costs $49 per year, has additional functions like tracking airline points and monitoring airfare if there's a price drop, sending you real-time flight alerts, providing searchable airport maps, offering country-specific travel information, and more.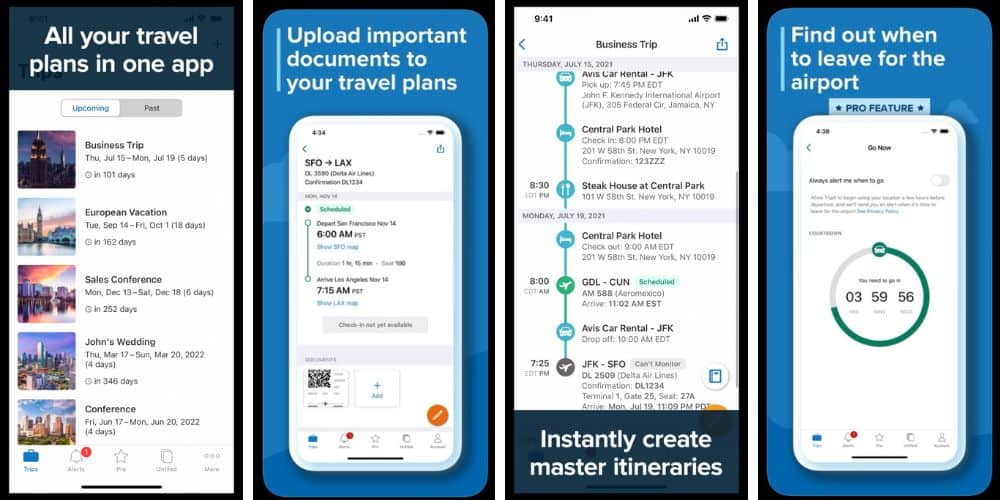 2. Hotel Tonight
If you need a hotel within 100 days, a great app to check is Hotel Tonight. This is great for those who may have an unexpected family visit come up, want to book a weekend away just a month out, or who snagged a last-minute cruise they just couldn't refuse.
Hotel Tonight is an easy-to-use app that allows you to search for hotel reservations that are 100 days out or sooner. You can search for multiple rooms at a time if you want, and favorite any hotels that catch your eye. Each property includes a rating percentage, indicating how many Hotel Tonight users would recommend the hotel.
Some hotels will be on a "deal," which shows you the current price and the previous price it was on Hotel Tonight. You might even come across a "daily drop," which is a deeply discounted deal on a hotel available for one day only.
The app has its own rewards program, called HT Perks. As you book, you unlock levels within the program (based on a spent dollar amount) that give you access to extra discounts. Best of all, your status never expires once you reach it.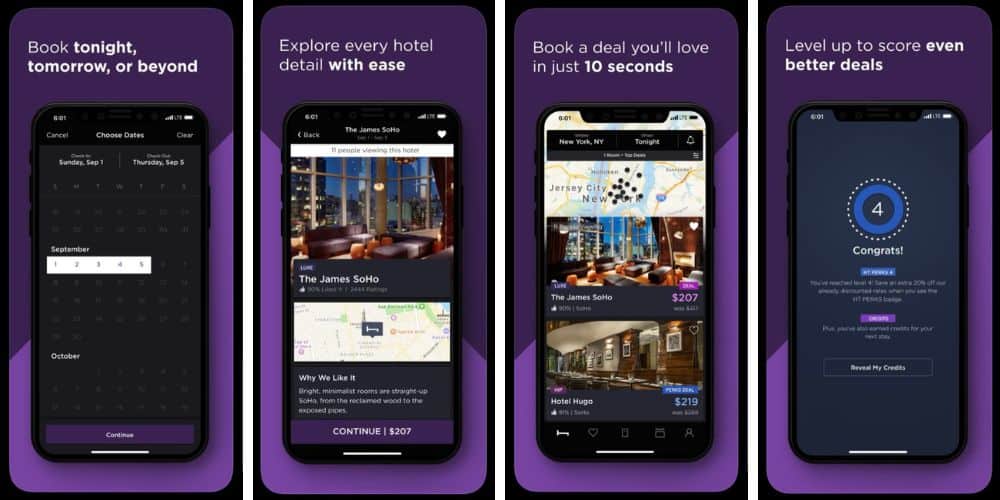 3. Waze
Waze is like a combination of a GPS app like Apple Maps or Google Maps and a social media platform. The app goes a step further than the others, providing real-time traffic information that has been crowdsourced by other Waze users who are on the road ahead of you. This includes reports of accidents, traffic jams, road obstructions, and speed traps.
In addition to general turn-by-turn directions, Waze users can add additional stops they want to make along their route, and includes a function that allows you to search for a gas station nearby down the road. You can also mark your parking spot on a map so you don't forget where your car is.
Waze's multiple modes are tailored for different types of drivers. The default is the driver of a regular vehicle like a car or minivan, but there are also modes tailored just for motorcycle riders and taxi drivers.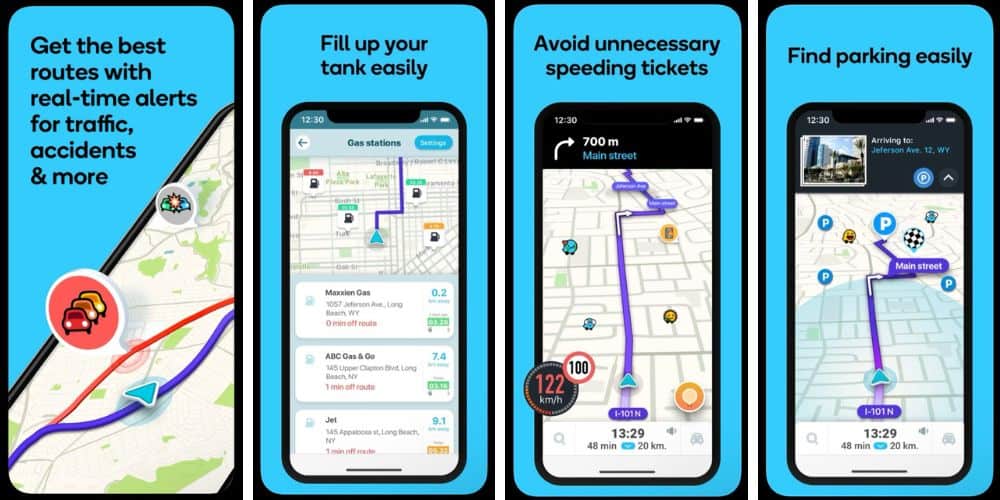 MORE: 26 Items Every Girl Should Pack For A Cruise
4. Google Translate
Google Translate is a straightforward app that allows you to translate things into your language — or the language of who you're speaking with — in multiple different ways. You can:
Type or paste text into the text box and the app translates the words in real-time as you type
Write text with a stylus or your finger and it translates it in text into your language of choice
Use the camera to point your phone at written text and it will translate it into your chosen language on-screen
Use the conversation function to translate words spoken aloud into your language as text on the screen as well as out loud
If you're looking at or are trying to talk with someone and you aren't sure what language it is, you can use Google Translate's "detect language" feature. While nothing is completely foolproof, it does a good job of detecting the input language and translating it into your language. Google Translate is great for a multitude of situations, but it's a must-have if you're going to be traveling to a country where you don't speak their primary language.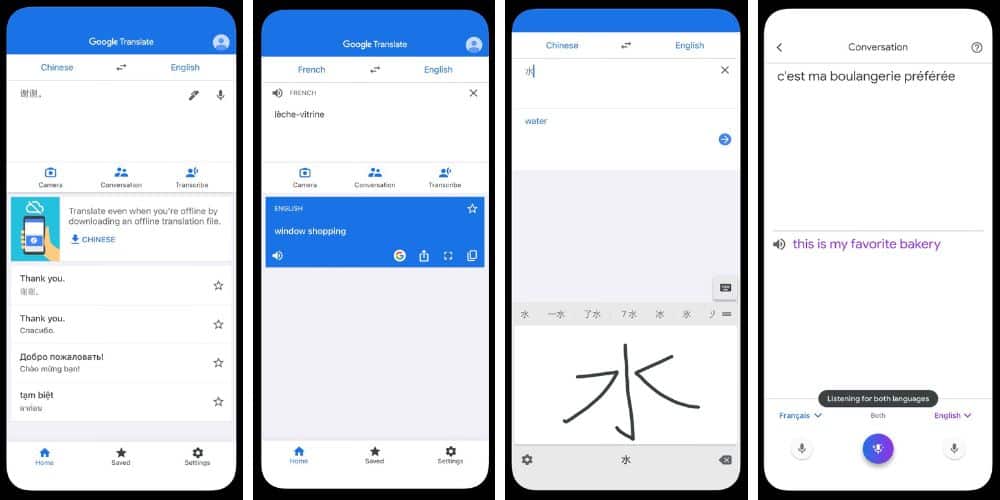 5. Uber & Lyft
While they are two separate apps from two separate companies, we're lumping Uber and Lyft together because they essentially do the same thing — provide ridesharing services.
On both apps, there are ride categories where you can choose the size of the vehicle, whether or not you're willing to share a ride with a stranger (and save some money), and other specifications. Recently, Uber even added an Uber Pet option so that you can get a ride for you and your furry family member.
Lyft has a rewards program that allows you to link your Lyft account with your account on travel companies like Delta Skymiles and Hilton Honors. When you do that, you'll earn points towards those programs when you ride with Lyft. Credit card companies like Chase and Mastercard also provide perks if you pay for your Lyft ride with that card.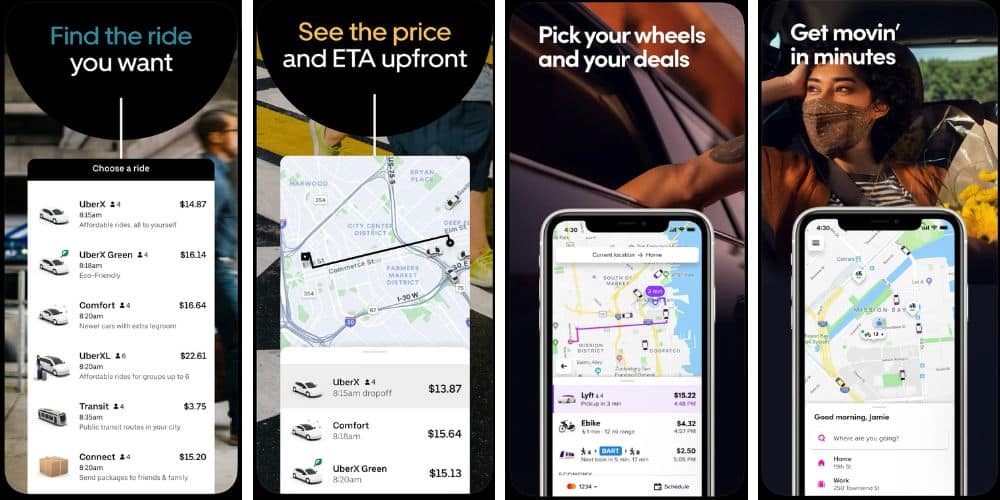 6. Roadtrippers
Roadtrippers is a great road trip app because you never know what's out there. If you're doing a long trip across multiple states, or even one state, you can put in your route and it will show you everything you need to know.
What separates this from Google or Apple Maps is that it's not turn-by-turn directions, it's a trip planner. Roadtrippers lets you know where hotels, gas stations, campgrounds, and roadside attractions are.
I first used this app during the shutdown when planning a trip out west, and came across some very unique stops along the way. It even gave me the option to drive Route 66 for a couple of hundred miles. Closer to home, I used the app to find a campground close to Port Canaveral, Florida, and figure out how long it would take me to get there.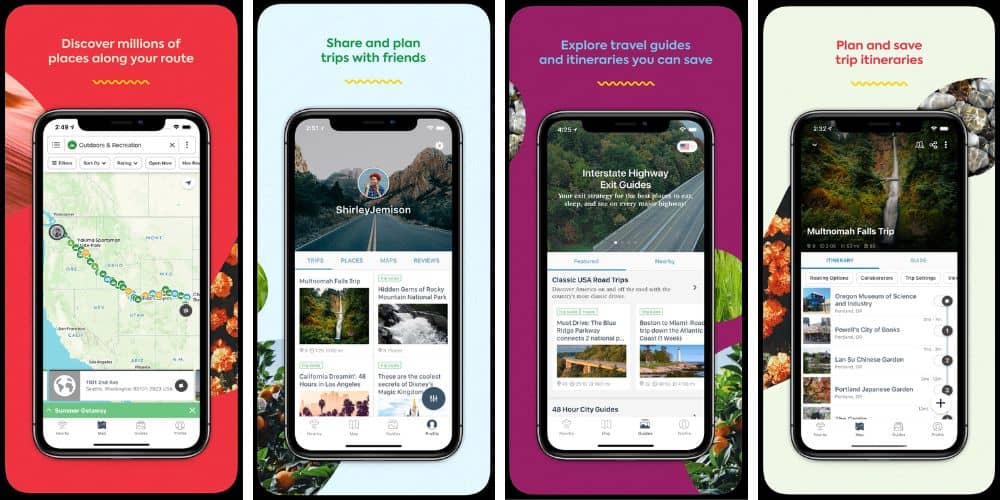 7. Dayuse.com
I first came across this app when I was stuck in Miami for 12 hours after a series of flight delays. I Googled day hotel rooms, and Dayuse.com popped up. After all, the last thing you want to do after getting off a cruise is wait all day in the airport because of flight delays.
The app is great if you have a late flight after your cruise and want a place to relax other than the airport. It works by brokering you a hotel room by a block of time, typically six, eight, or ten-hour blocks.
I booked a Hyatt House property for a few hours that day in Miami. For $55, I got a king bed hotel room with access to the pool and amenities on the property. It was a small price to pay for peace of mind and my sanity. I've since used Dayuse.com in Orlando, Fort Lauderdale, New York City, Seattle, Los Angeles, New Orleans, and Dallas.
Review: DayUse App in Miami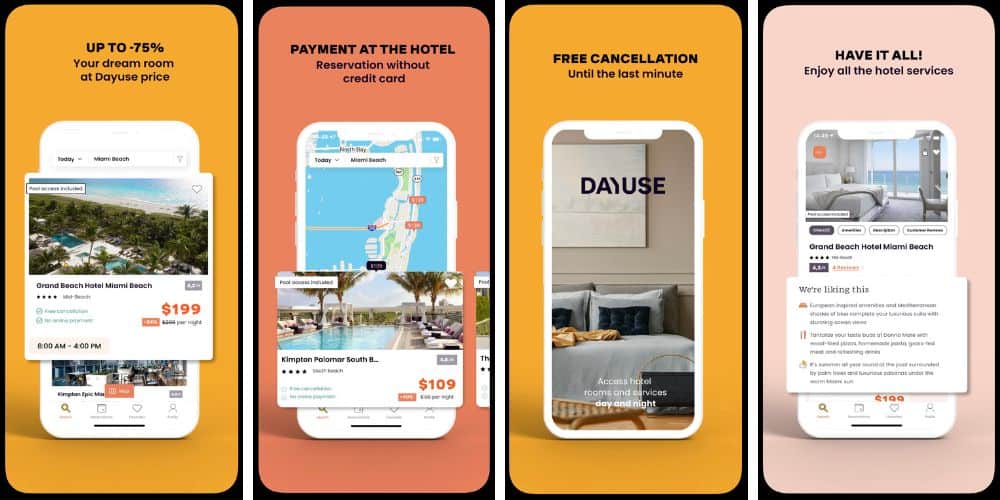 8. FlightAware Flight Tracker
In a time when airline delays and cancellations happen on a daily basis, FlightAware puts you in the know. You can check real-time flight status, see what airports are experiencing delays, and even look up technical things like the altitude and speed the pilot has planned for your flight.
There have been times I've used FlightAware because there wasn't an agent at the gate to find that there was a gate change or that the entire airport is on a ground delay and no planes are moving. Because it's in real-time, there are times that you can learn something before your fellow passengers do, or prior to the airline alerting you.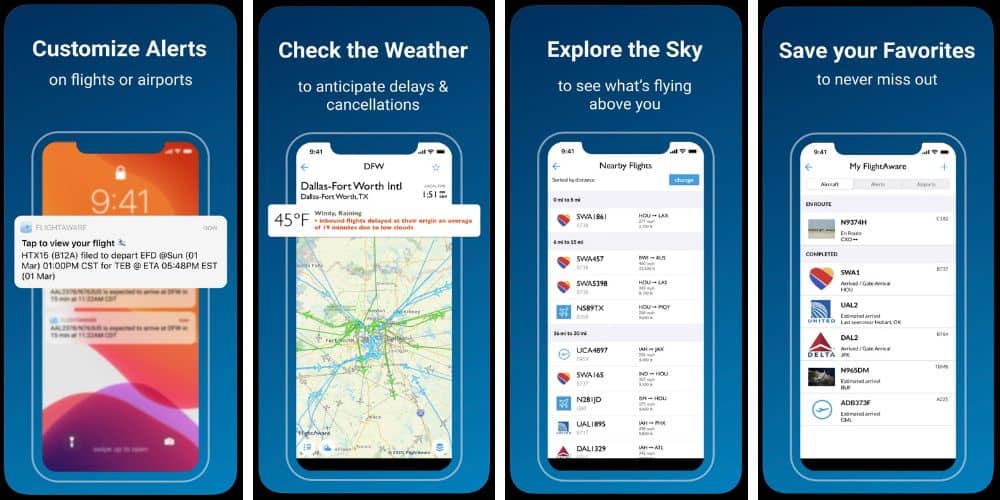 9. AllTrails
If you're the outdoorsy type and love hiking, AllTrails shows you the hiking trails in a particular area. This app has come in handy when I've been sailing out of Miami and Fort Lauderdale and wanted to get a few steps in.
It shows you everything from state and national parks to little recreation areas. It drills down pretty deep with the details on elevation gains (luckily barely any in Florida), if the trails are pet-friendly, the terrain, and warnings (slippery rocks or wildlife).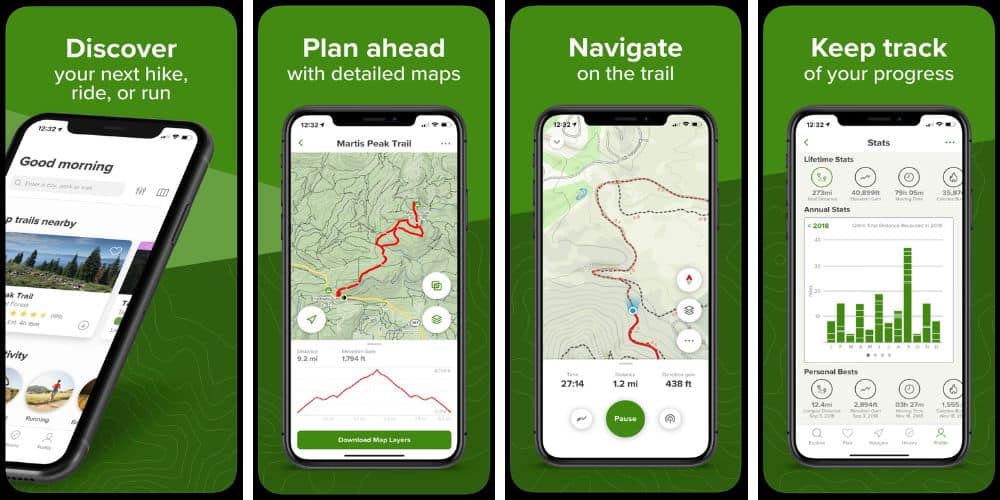 10. TripAdvisor
Ah, TripAdvisor, it's such a classic. Whether you're looking for a hotel, attraction, or restaurant in a particular destination, TripAdvisor is a great place to get photos and reviews from real people who have been there and done that.
Of course, TripAdvisor is first and foremost a normal website that you can view on any browser, but their app is optimized for the device you're viewing it on and offers a more streamlined user experience.
Aside from TripAdvisor's general review-forward format, another great thing that adds to the social aspect is the forums. If you have any question at all about a destination or traveling to get there that you haven't found the answer to, browse the forum to see if it's already been answered or ask it yourself.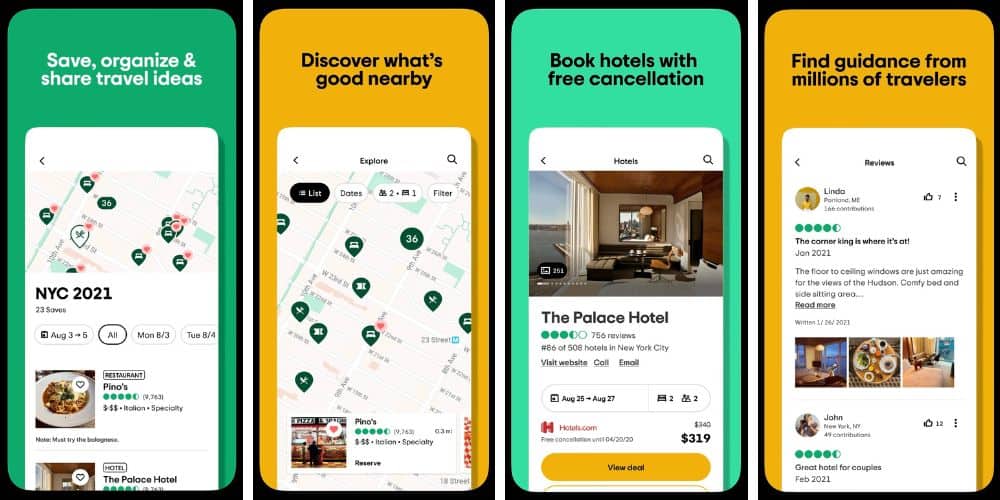 Written by Sarah Bretz and Doug Parker
READ NEXT: 9 Cruise Concepts That Didn't Quite Catch On
Pin it!