As soon as I heard that "Summer: The Donna Summer Musical" was to be among the Norwegian Prima shows, I got excited. Over the years, I've seen many top-notch shows on Norwegian ships, as the company has brought numerous Broadway shows to sea, including "Rock of Ages" and "Kinky Boots." The shows are pared down a bit, taking them from two acts to a ship-friendly 90 minutes, but remain among the most well-produced shows you'll see on a ship.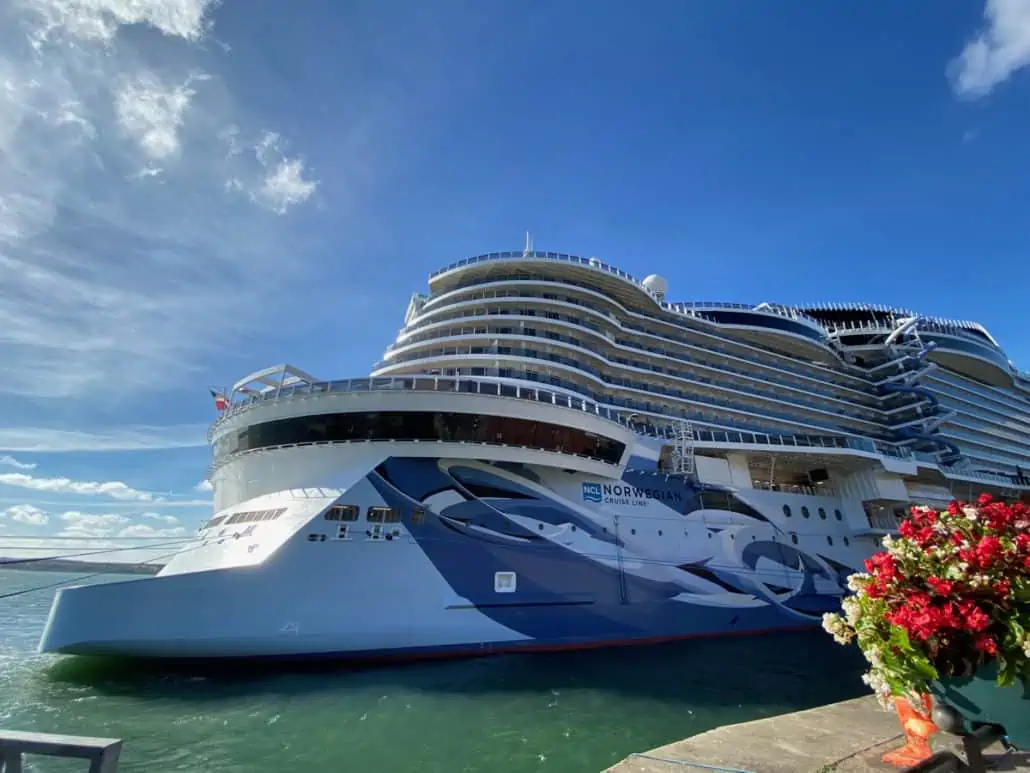 I booked my tickets early – yes, you do need to reserve a spot. The reservation does not hold a specific seat, but guarantees a spot in the theater. If you have a certain seating preference, but sure to arrive at the theater as soon as it opens. (Guests staying in The Haven have a special area of the theater reserved just for them, and are escorted into the theater by the concierge.)
If you were not fortunate enough to get a reservation, get into the standby line at least 10 minutes prior to the show. Whether because the theater is not entirely full or because those who haven't shown up at that point lose their reservation, there's a decent chance you'll be able to get in. It's also worth remembering that there are entrances on both the lower and upper level of the theater. The upper level tends to have more readily available seats, in my experience.
For this show and others, I found that availability changed frequently, so don't give up if your preferred show time isn't initially available.
This show interweaves three different time frames of Donna Summer's musical career and life into a cohesive show. Three different performers play the role of Donna at different stages of her life and career: Duckling Donna, Disco Donna, and Diva Donna. Kimberley Locke, the season two finalist on "American Idol," plays the role of Diva Donna. Portraying Disco Donna, Valerie Curlingford hails from The Netherlands. As Duckling Donna, D'Nasya Jordan sings the story of Donna's youth.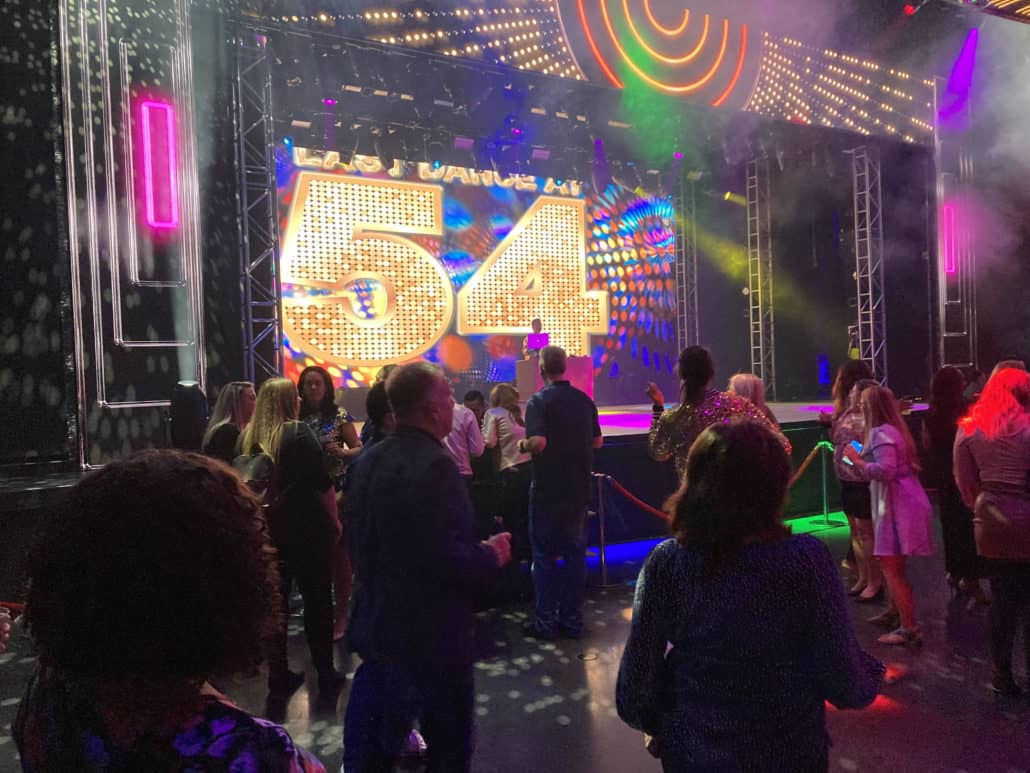 The theater transforms into a disco set-up and guests are free to dance to the popular Donna Summer songs being performed. The 85-minute show allows time for over 20 of her best songs to be memorialized. The show tastefully shares the story of Donna's life, but I did start getting a bit antsy toward the end not realizing that the production would be longer than others I have seen.
The performance is full of energy, which did keep me staying until the end. "Summer: The Donna Summer Musical" did not disappoint.
Other Norwegian Prima Shows
Just like the production shows, game shows require tickets. "The Price is Right LIVE on NCL" is featured on Norwegian Prima and takes place in the theater. How clever to fashion a theater that can be transformed to suit a variety of shows and events. It's nice to see that the atrium on Prima isn't commandeered by games, sporting events, and other group entertainment.
In the case of "The Price is Right," this is the real thing. The set is just like that on the live show. When you reserve your spot, you will get a name tag and are eligible to participate. Hang on to the tag to wear on the day of your reservation. If you want to see the show, but prefer not to participate, you may opt out. Do this when you initially reserve your spot. Contestants are randomly picked by a computer.
I don't think that I had watched "The Price is Right" since the Bob Barker days, but was quite impressed with the set. Guests who are called up to participate do win real prizes. And just like on the TV show, winners will be required to pay taxes on their winnings. Norwegian will assist with the shipping of winnings.
MORE: My First Impressions of New Cruise Ship Norwegian Prima
Activities
You needn't join a large group of people or rely on others to entertain you on Norwegian Prima. There are a multitude of options for entertaining yourself at your leisure. Do be sure to check the Freestyle Daily for opening times.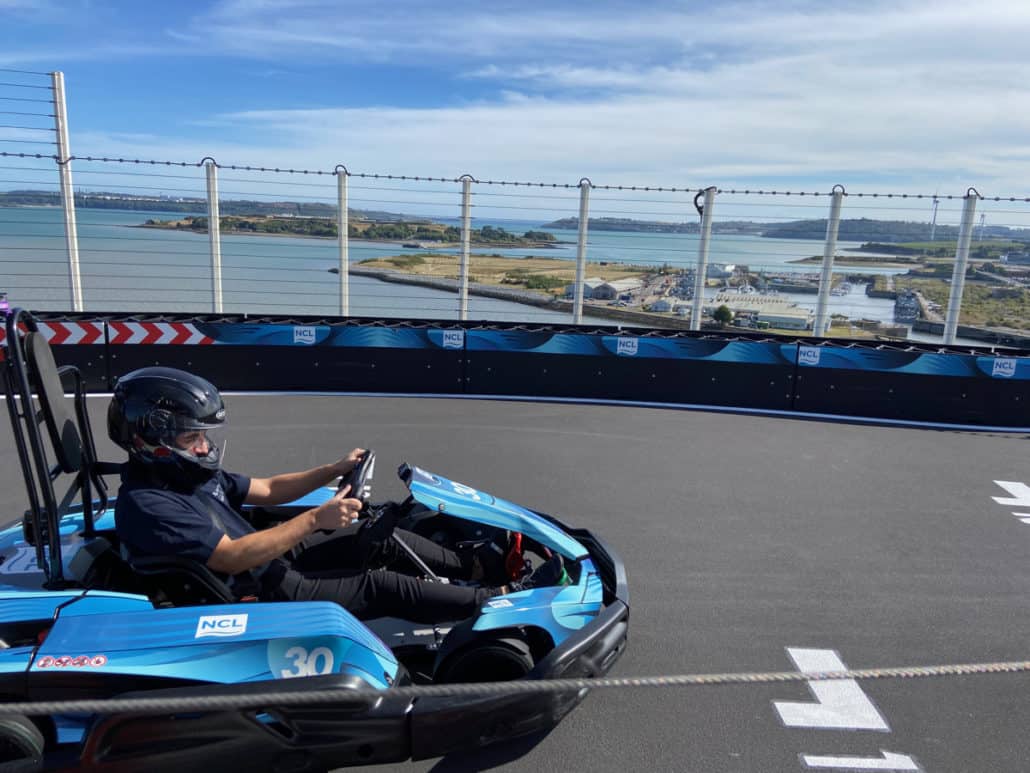 Several Norwegian ships have a race track, but Norwegian Prima surpasses them all with its three-level Prima Speedway track that basically wraps around the ship's funnels. There are both height and weight restrictions. Riders must be at least 55" tall to ride solo. The double go-karts are perfect for adding a shorter person to enjoy the experience. Max weight for the carts is 300 pounds. Each 8-lap ride costs $15. There is an unlimited pass that costs $199.
For those who prefer to watch, there are viewing decks. Look for the laser guns that can be used to boost your favorite driver's car. Just hit on the magic button — a very small spot on the driver's helmet — to give them an advantage.
Other new activities include Tee Time, an interactive mini-golf course. This costs $15 per nine holes. There is no free mini-golf on the ship.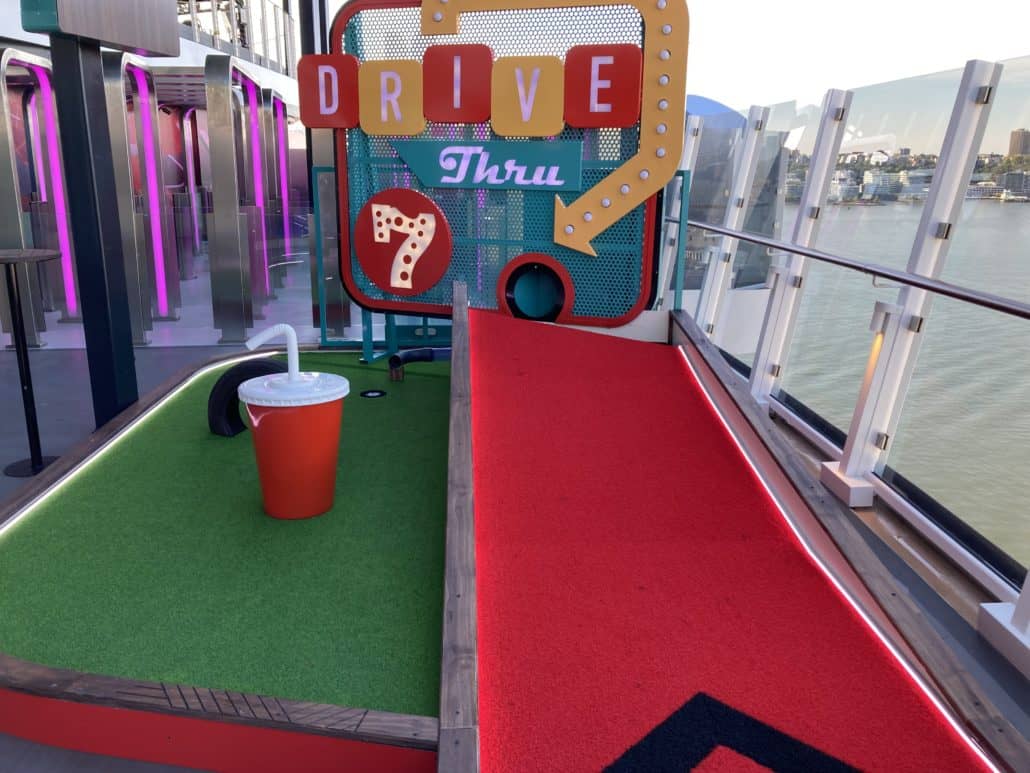 Near the course are several lounges for playing darts. These individual rooms look like something from a stately manor and include scoreboards that keep track of not only your points, but also show where you have landed your darts.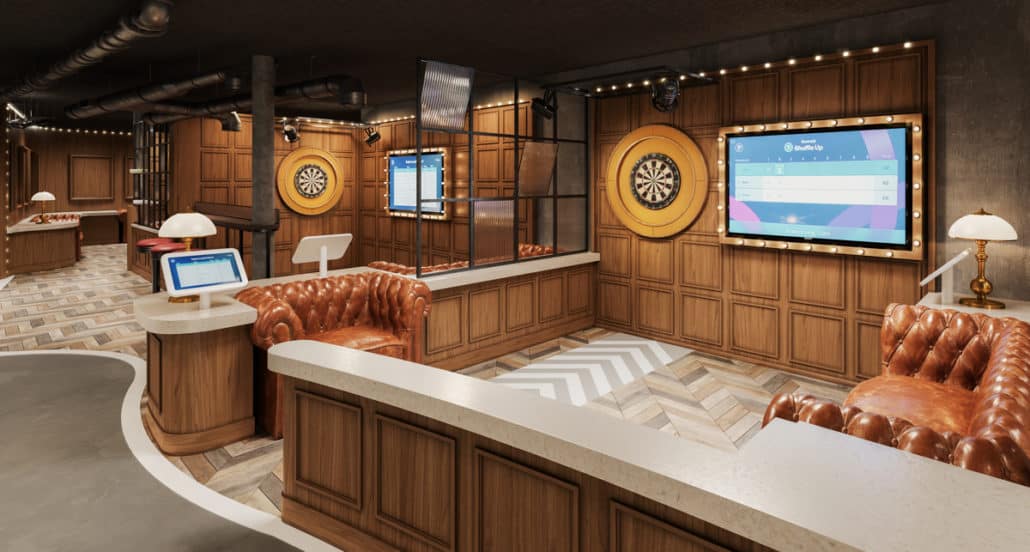 Pickleball is the latest rage — that and games like shuffleboard and other table games are found in The Stadium area. This is also where you'll find several beer-pong tables, as well as an unusual tube-shaped ping-pong table that'll take your game to the next level.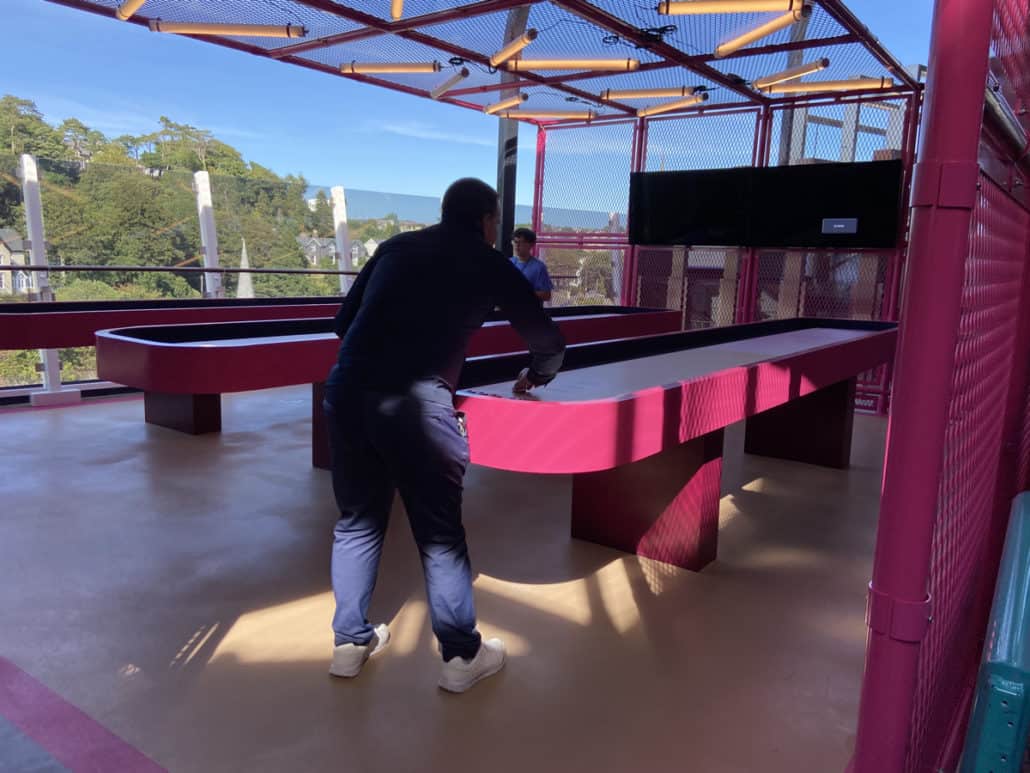 The Drop plunges riders down 10 stories on a dry slide. Considered to have the highest G-forces at sea, it's certain to provide a heart-racing experience. The Rush is a duo-racing dry slide. There is also the Wave waterslide, which sends tube-riding thrill seekers down a steep slope before hurtling them up a steep incline. It's a quick experience, but thrilling nonetheless.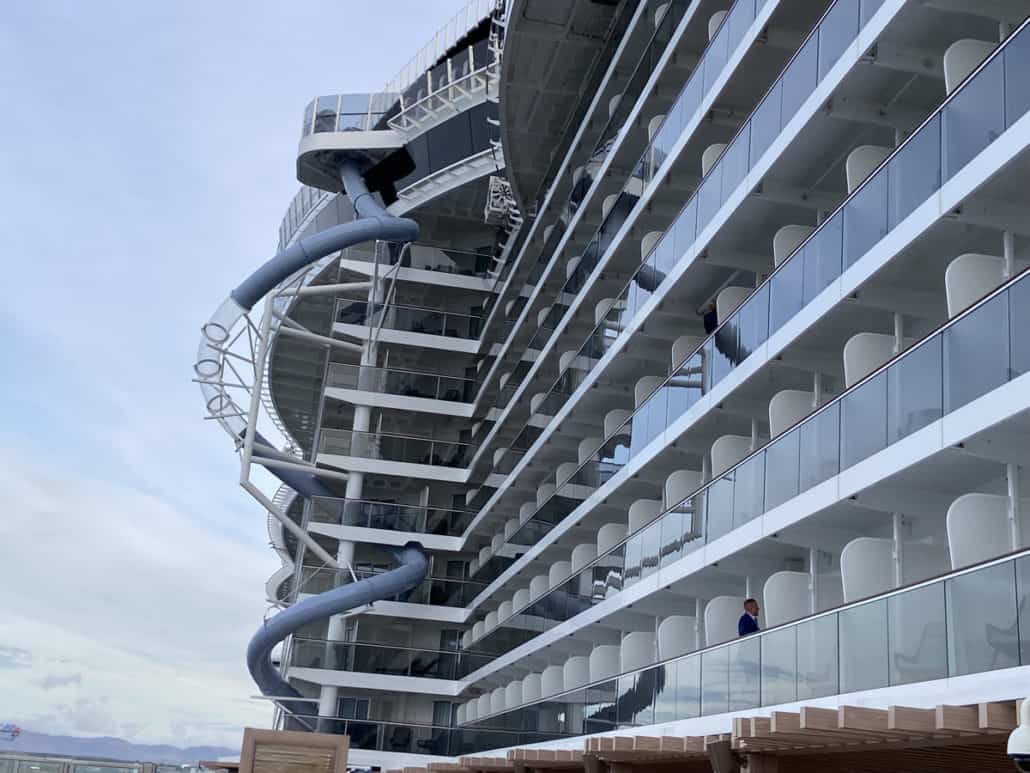 Speaking of G-forces, some of the simulators in The Galaxy Pavilion will give you the ride of a lifetime. I tried a rollercoaster ride and closed my eyes after a short time so as not to get sick during the experience. I wonder if anyone ever actually gets sick during these virtual reality experiences.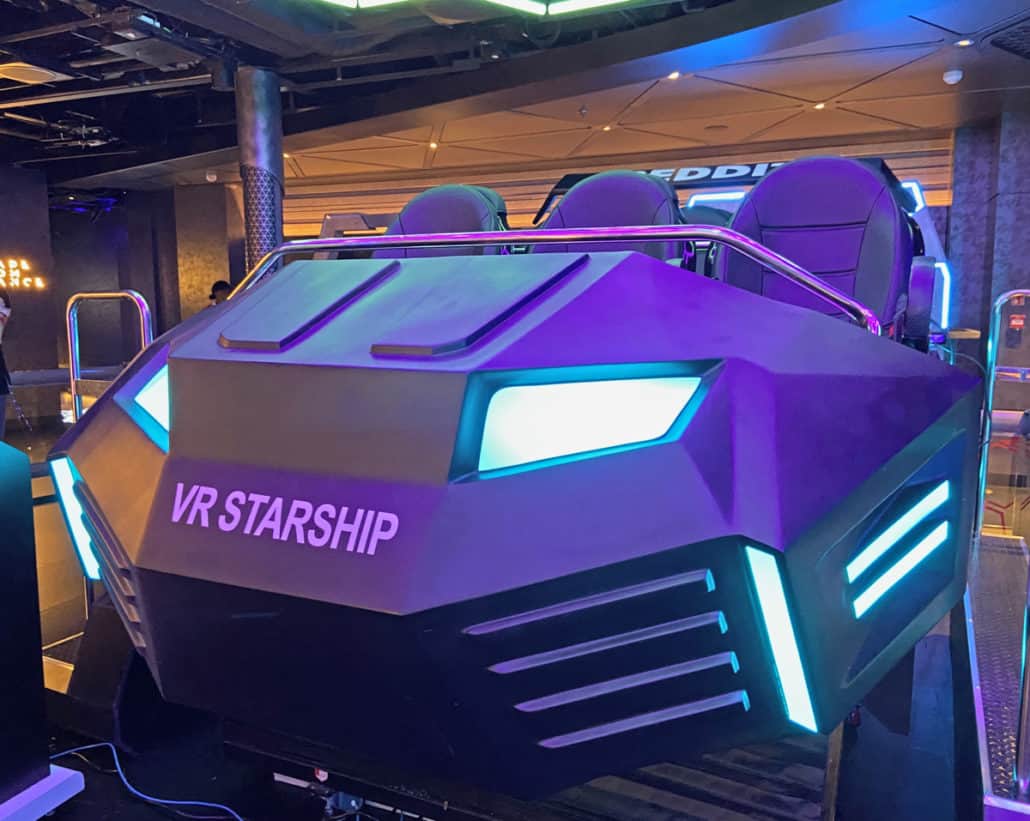 The Galaxy Pavilion has 14 experiences to choose from including escape rooms, a Topgolf Swing Suite, and four hyper-immersive simulators. The cost for the experiences is $8 per person, per experience. Many of the experiences seat more than one person. A daily pass costs $49.
Norwegian Prima offers plenty of entertainment to choose from. Rock music at Syd Norman's or comedy in Improv are worth investigating, but be sure to get there early as space is limited. Improv requires reservations.
Whether you are looking for something to increase your heart rate or prefer to sit, relax, and enjoy music at your favorite venue, you will find it on this newest ship.
READ NEXT: The Best of Norwegian Prima: Checking Out 5 New Hot Spots to Grab a Cool Drink