I don't know about you, but I always sleep well at sea. i heard a few people complaining that they could feel the ship rocking, but aside from the very gentle sway I think of as what happens when a big ship plows through the ocean, I didn't notice. Our first sea day on Norwegian Prima started out rainy and misty, but it was oddly beautiful and eventually turned into a much better day than it had any right to, based on how it started.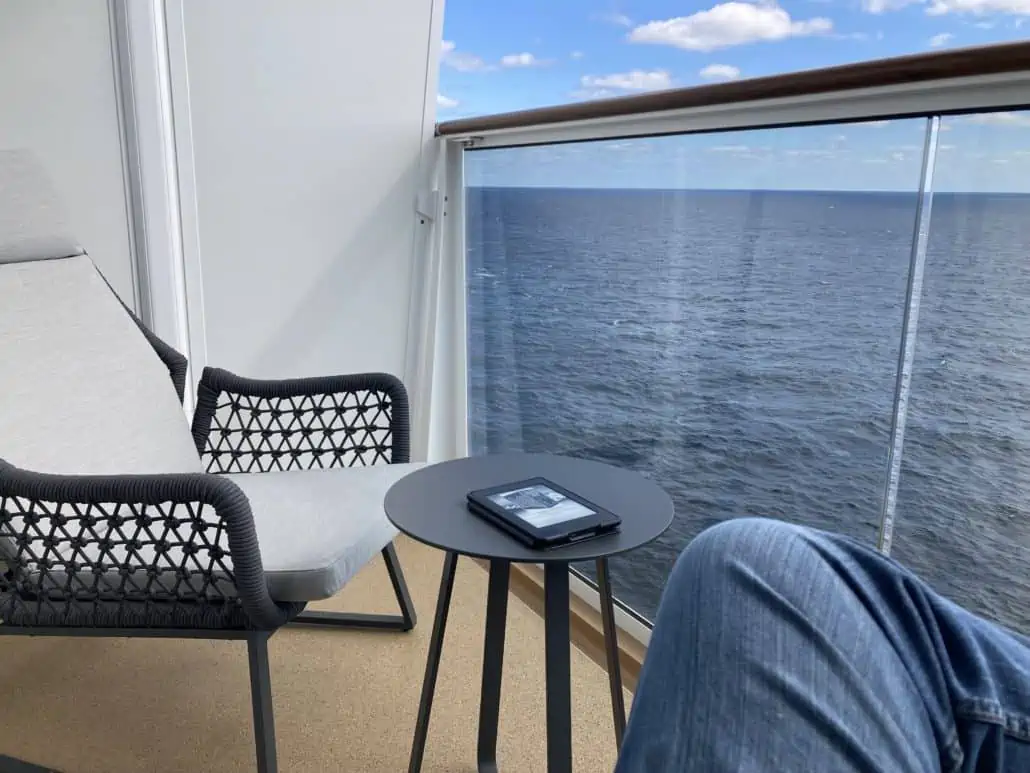 "You Want to Put What Where?"
The day started off with a coffee chat featuring team members from Studio Dado, the folks who designed many of the public spaces and most of the staterooms. (They did not, however, design The Haven.) Founding partner (and wildly entertaining speaker) Greg Walton explained how many of the decisions were made and the challenges they faced.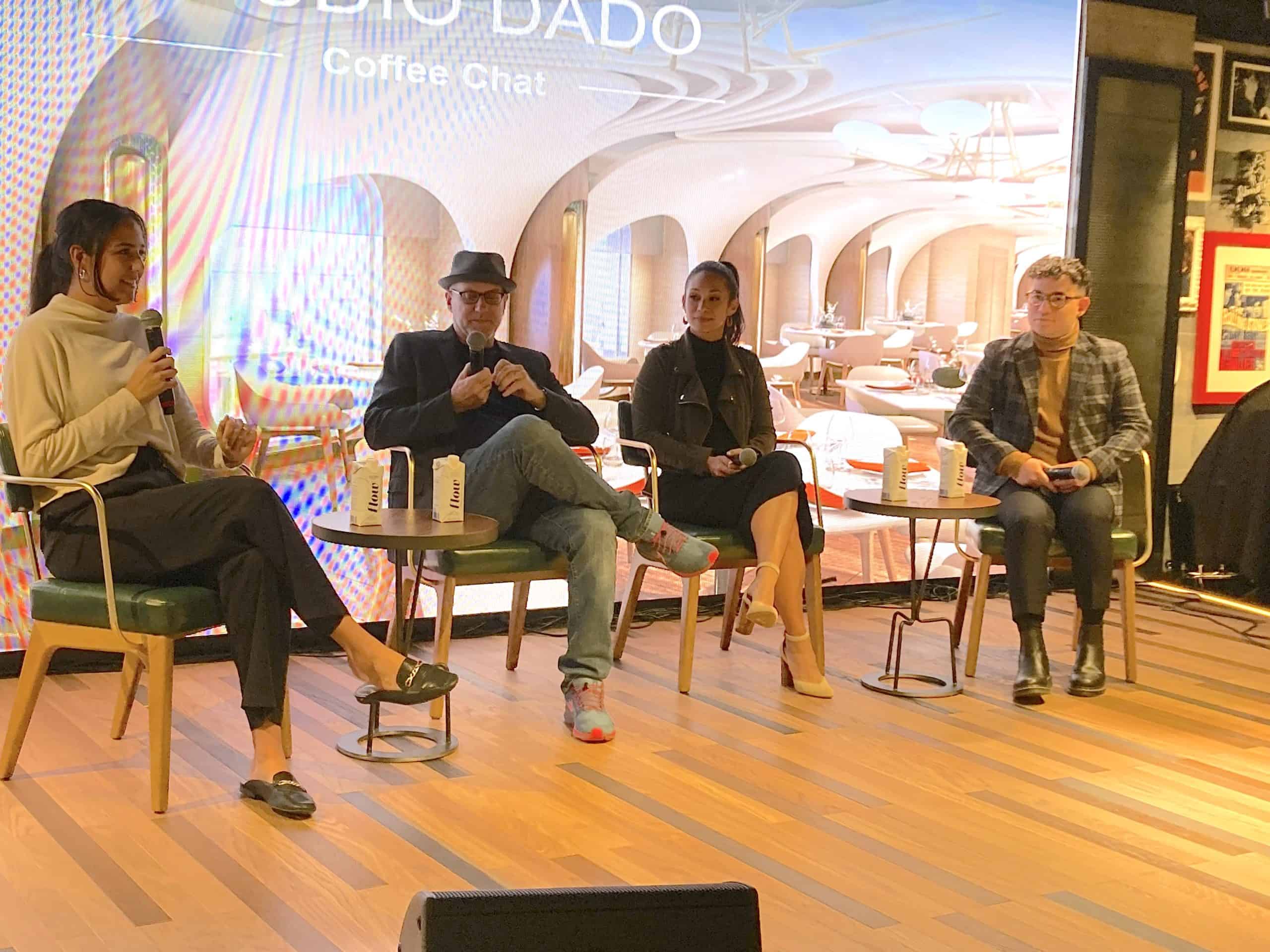 For example, that gorgeous Primrose lobby we spoke of yesterday? Well, carving a big, three-story chunk out of the center of the ship created more than a few challenges. And then there are the Le Bistro chandeliers. Three of them, to be exact, all of them floor-to-ceiling height. (Trust me, even if you don't wind up eating in the French specialty restaurant, it's worth swinging by to see these beauties.)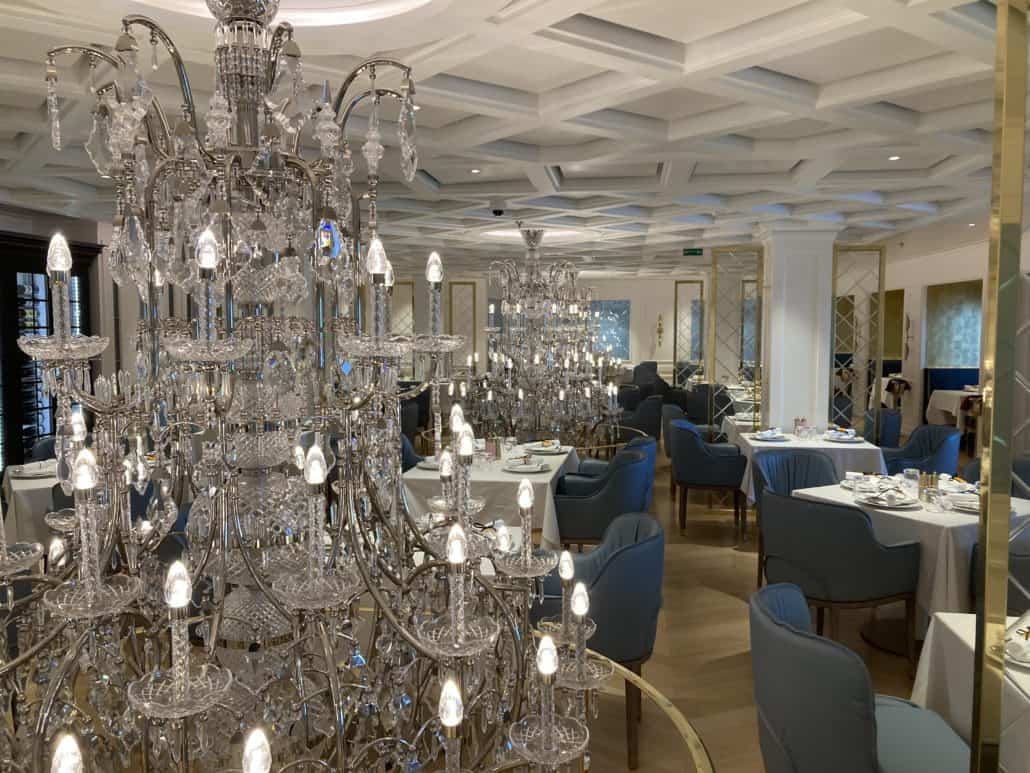 Speaking of chandeliers, Norwegian has long been known for the ones which serve as a centerpiece, whether in 678 Ocean Plaza (as on the Breakaway class ships) or elsewhere. Here, the chandelier hangs above the Penrose Atrium and is designed to resemble stars. Why? It's a tribute to the history of sailing, when seafarers used the lights in the sky to plot their course.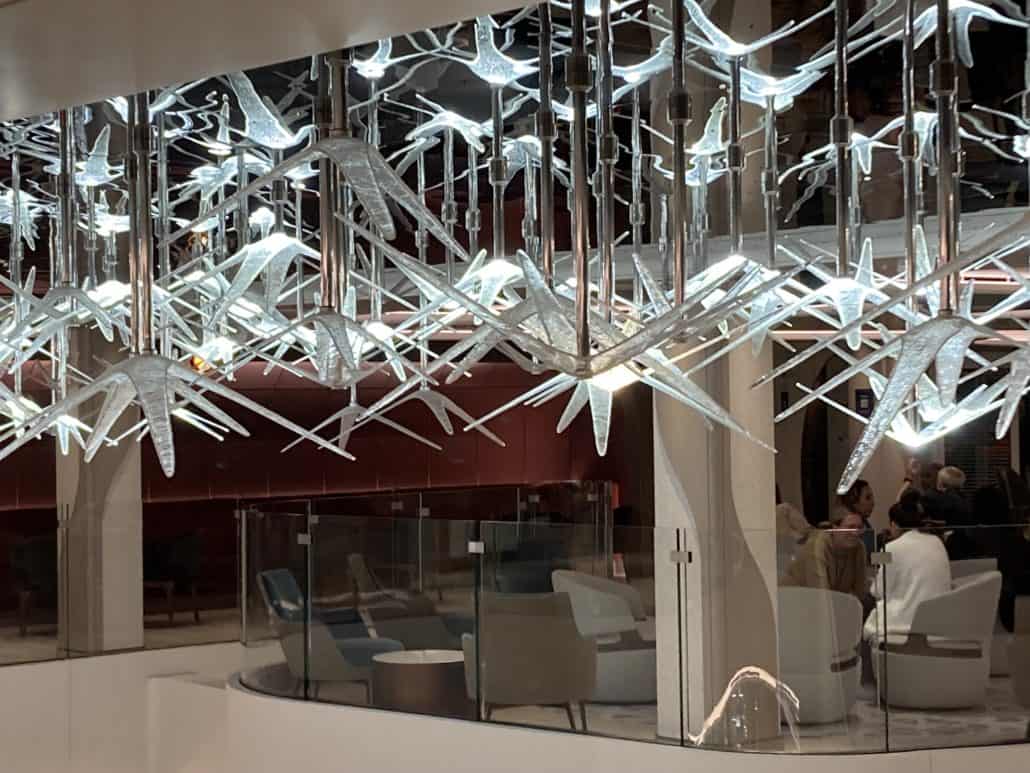 Meet Scoops, the Sea Puppy
In the months leading up to Prima's debut, much was made of the fact that Norwegian would be spending around $8 million on artwork, most of it newly-commissioned pieces. And walking around the ship, it's impossible not to think, "Wow, they got their money's worth, huh?" Artwork is absolutely everywhere. But perhaps my favorite display is on The Concourse, part of Ocean Boulevard.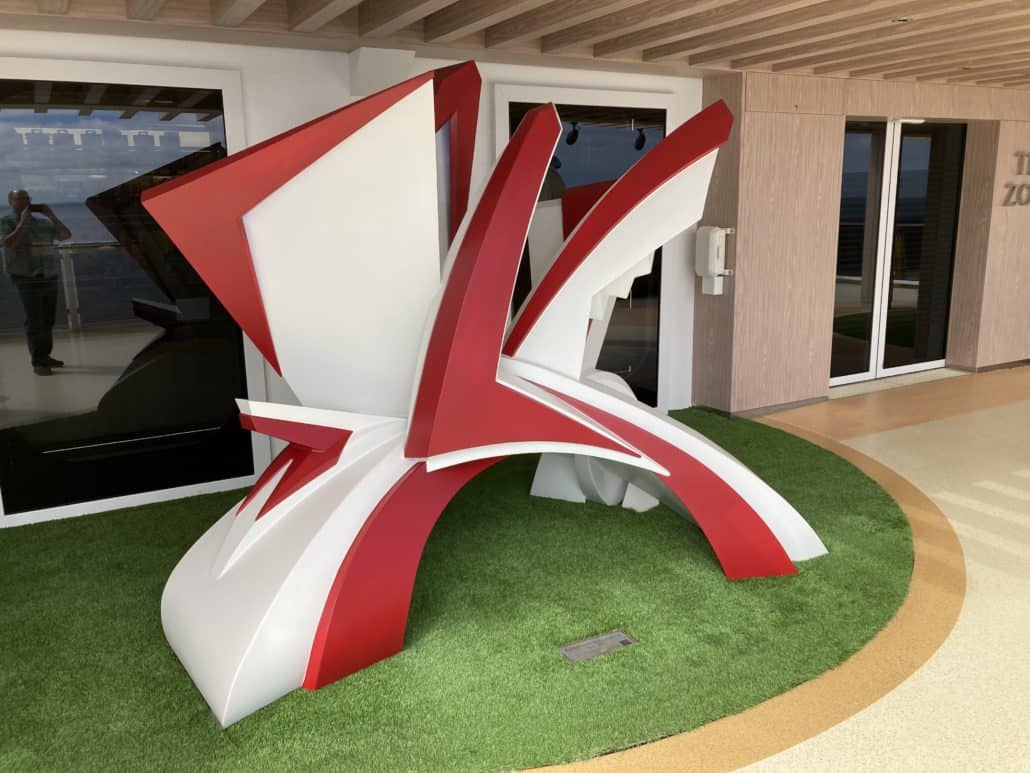 Now, it's safe to say that I'm not an art connoisseur by a long shot. But wandering The Concourse and taking in some of the sculptures was, dare I say, fun? Is that allowed when talking about really expensive art? I mean, I have to assume so because look at the piece below…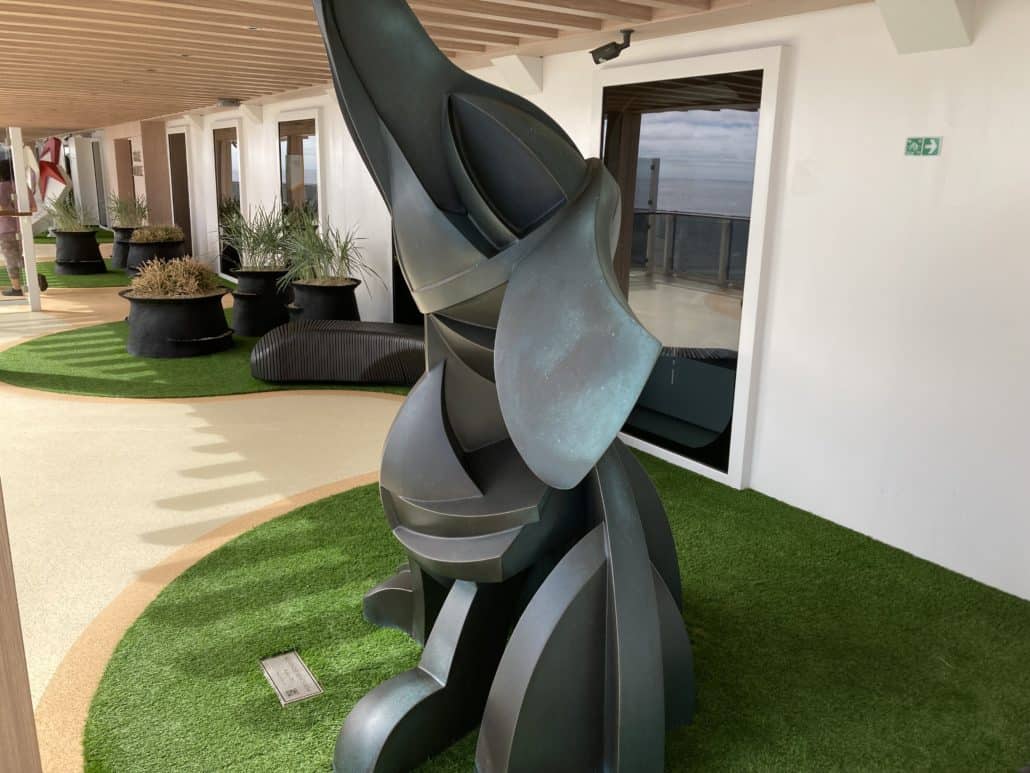 This, my friends, is Scoops the puppy, designed by sculptor Alexander Krivosheiw, and in my book, he's the star of The Concourse.
As I mentioned, The Concourse is part of Ocean Boulevard. Let's talk about that area for a second, since we're here. Like many other lines, Norwegian has been doing outdoor walking areas for ages. But like so much else on this ship, this is NCL taking a concept to the next level. Yes, you can walk the entire 360-degree promenade. And along the way you'll find shops, bars, the glass walkway which extends out over the ocean, and two infinity pools. (Though, let's be clear: Calling these "pools" is sort of misleading as they're basically the size of hot tubs.)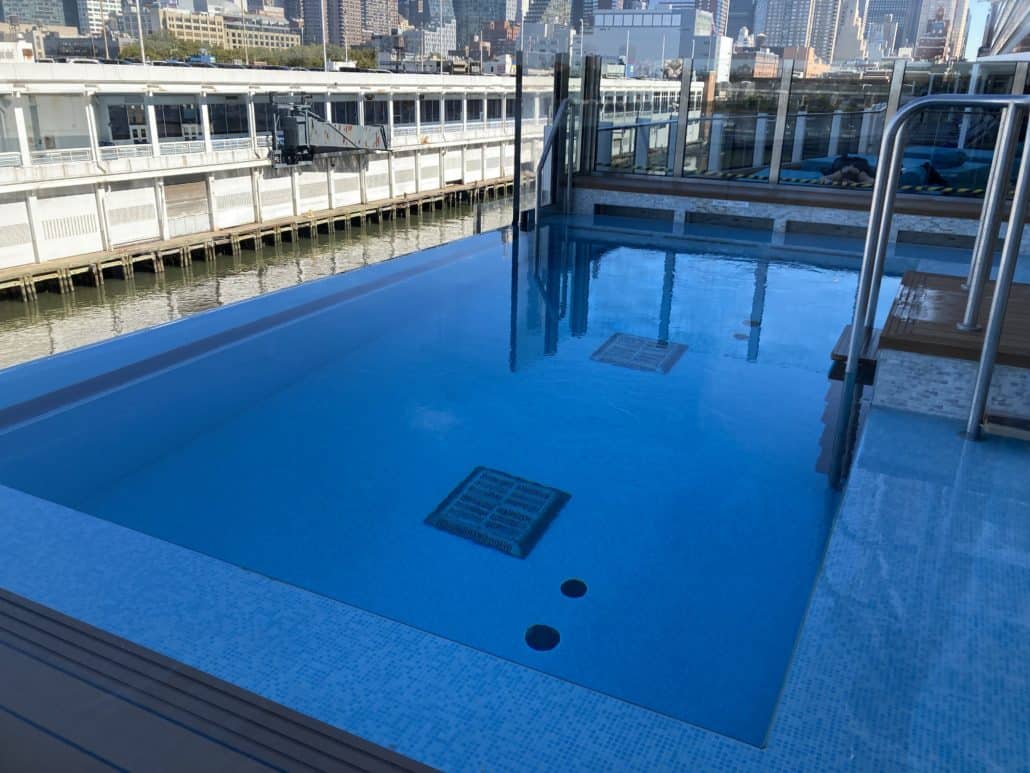 There's also every kind of seating imaginable, from swinging chairs (perfect for napping in) to daybeds to, on La Terraza, alcoves with big couches perfect to hang out with a group of friends while having a drink.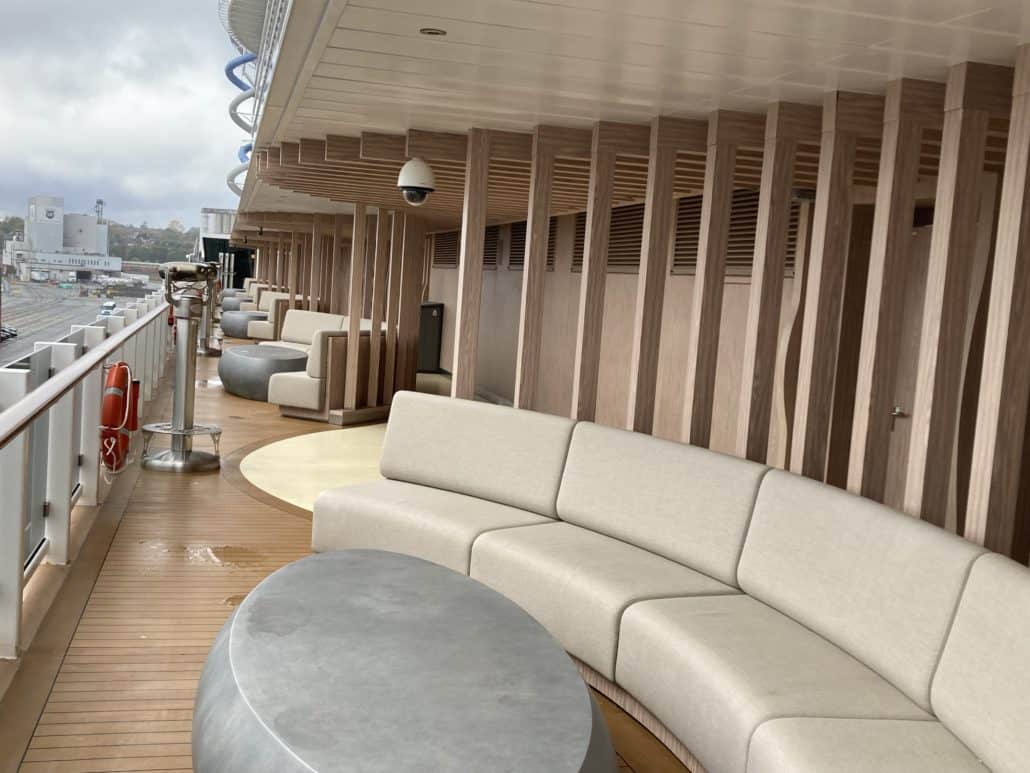 It's worth noting that with so many of its best features being outdoor spaces, Prima is definitely a warm-climate ship. Yes, there are great interior spaces — from the spacious atrium to the Observation Lounge and the various bars — but some of the ship's best selling points are the amazing outdoor spaces which allow you to feel truly connected to the sea.
Go Ahead, Indulge… Again
I mentioned yesterday what a brilliant concept Indulge Food Hall is, and so it's probably not surprising that I found myself heading back here for a late lunch. This time, I went with the chicken tika, the crab tostada, and a few other dishes.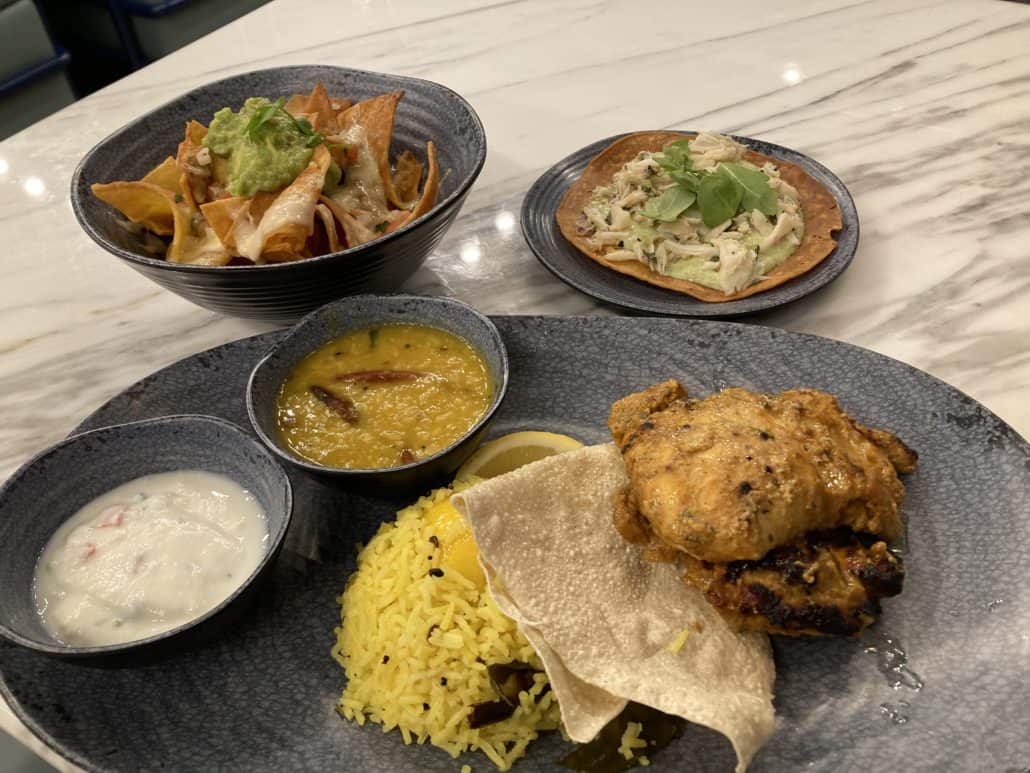 Again, the biggest problem was finding a table. You could see others wandering the space, too, each of us looking for an opportunity to swoop in on an empty table. It was like playing musical chairs with the winner getting to order lunch. Here's hoping that as they move forward with future Prima class ships, they recognize that this venue definitely needs more seating.
Drinks With a View
Anyone who knows me knows I love a good aft-facing bar. So after lunch, I headed just outside Indulge Food Hall and pulled up a (very comfy) barstool at Soleil. By now, the sun was out and it had turned into a gorgeous day, making this an amazing place to grab a drink or two before heading back to my balcony to do some work. (Hey, these trip reports don't write themselves, ya know!)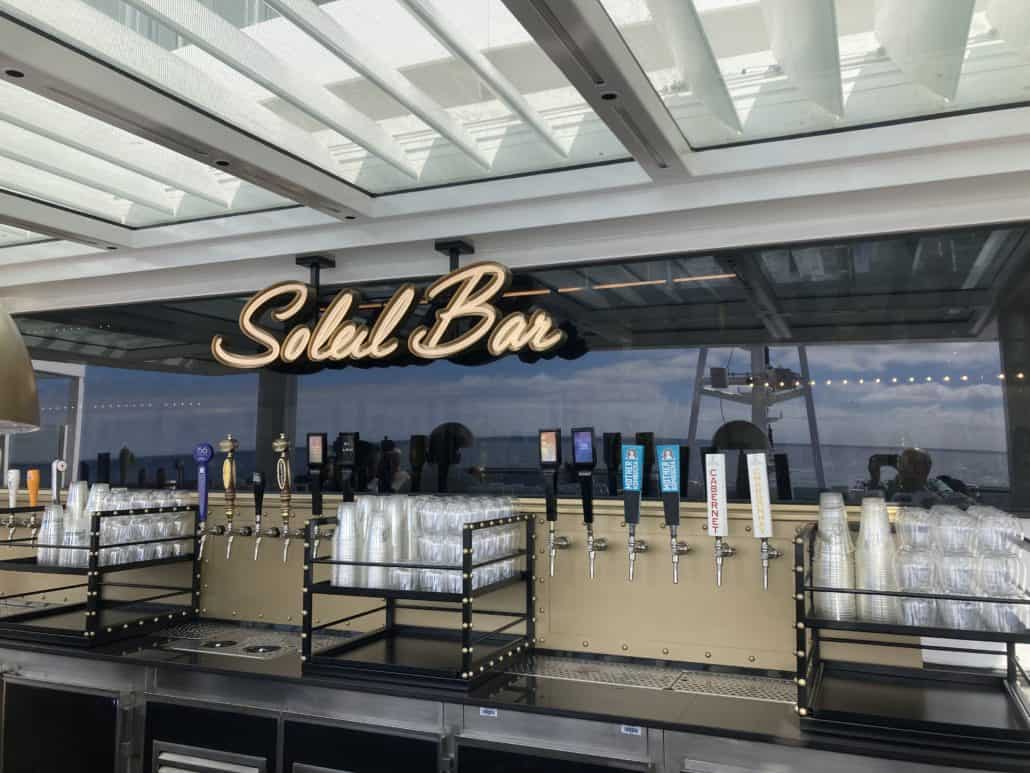 After working and napping, it was already time to eat again (ah, the life of a cruiser!). Tonight, I was joining a member of the NCL PR team and several other journalists for a meal at Onda, the high-end Italian specialty restaurant. Now normally, I'm that guy who whips out his phone and takes pictures of every bit of food. ("Look, they serve bread… and butter! Get a picture!") But with this being sort of a business dinner — and the conversation being a whole lot of fun — I didn't do that this time. Suffice to say we ate a lot (we ordered a bunch of starters to share) and it was excellent.
Afterwards, I hit the casino for a bit (and won!) before heading back to the room, well-fed and exhausted. Tomorrow, we would arrive in Halifax. I wasn't yet sure if I'd get off the boat or not, but figured it wouldn't hurt to be well-rested either way!
Catch up on my Day 1 Norwegian Prima trip report: