About five minutes after stepping on board Norwegian Cruise Line's new ship, Prima, I thought to myself, "Okay, so we're definitely stepping up our game." Twenty minutes later, I thought to myself, "Well here's something that's not happened to me on an NCL ship in a long time: I'm completely lost." Welcome to Day One of my Norwegian Prima trip report!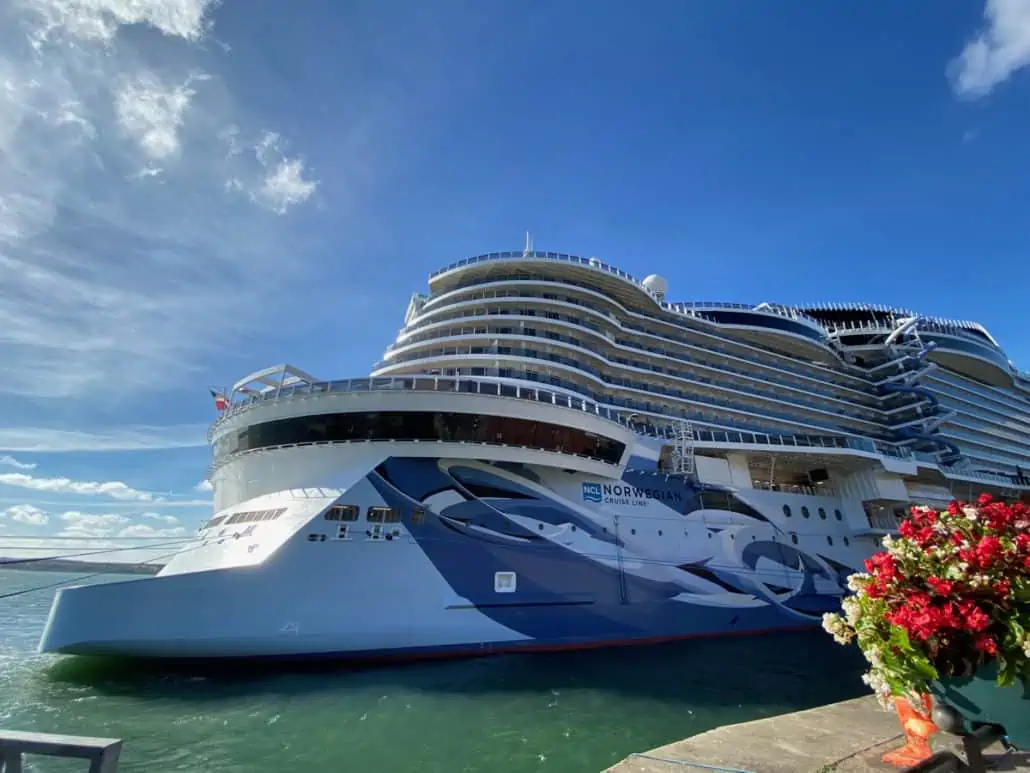 And Now, For Something Completely Different
Given that the majority of my sailings have been on NCL, I have a pretty good understanding of their ships. I'm sure you've had that same experience with whatever line you've sailed the most often: You know how to get from the atrium to the buffet, and from the theater to the casino, because while many elements change, the basic layout of the ships remain the same.
Well, that's definitely not the case with Prima.
While most NCL ships tend to be pretty easily navigated from bow to aft, this ship's pathways prove that while the shortest distance between two points might be a straight line, that's not necessarily the most interesting route.
But let's back up a little bit, shall we? So one of my longtime issues with Norwegian's Breakaway and Breakaway-Plus class ships was that when you walk off the gangway, there's no "wow" factor. You basically are dumped into a hallway. So imagine how happy I was to discover that on Prima, you walk directly into a three-story atrium that's sleek and modern and definitely sets the tone for what's to come.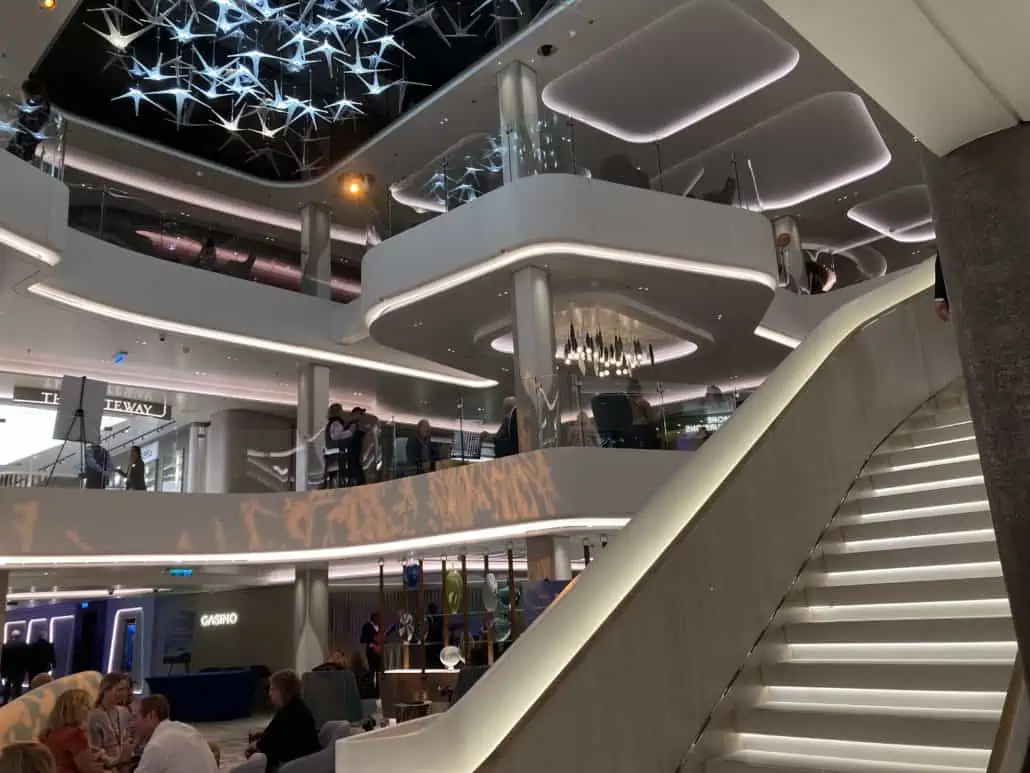 I should also mention before we go any further that I was a guest of Norwegian on board this sailing, as was everyone on board, whether they be travel agents or media. Norwegian paid for everything from the room to the gratuities. What they did not do, as longtime readers of this site will know, is buy or even influence my opinions. I'll tell you what I like (which to be honest, was a lot) and what I didn't like, no holds barred. 'Cause that's the way we roll. You come to us for honesty, not for corporate shilling.
That said, let's move on.
Where To Start?
To be honest, the first day on board was a bit of a blur. After arriving at the port for the easiest check-in ever (this type of sailing tends to be pretty easy in that regard), I got on board, took a quick meeting with the media reps, hit my muster station (where literally all they did was scan my card and send me on my way) and sought out my room.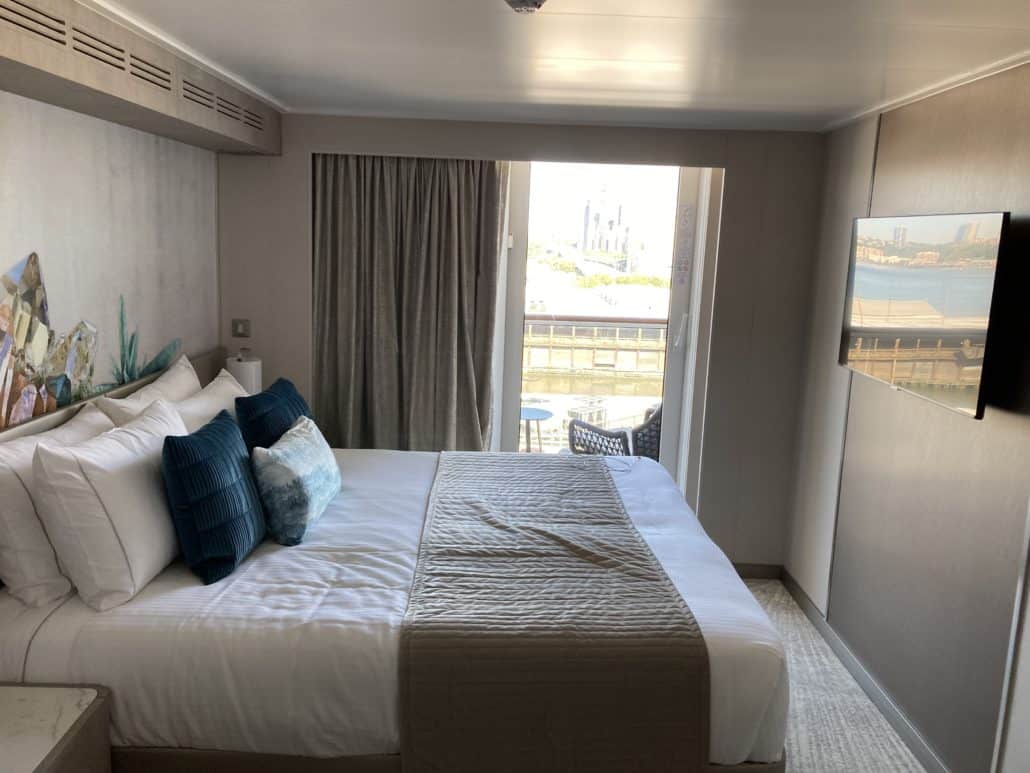 I'm on deck 15 in a Family Balcony. Like many of the spaces on the ship, the staterooms were designed by Studio Dado. During a Q&A session with several of their folks, chief designer Greg Walton explained that they wanted to create a space in which one could nest.
Like the rest of the ship, everything here feels very modern, sleek and upscale. One thing I'll be interested to see people's reaction to is the art in the staterooms. Rather than simply have a painting on a wall, the walls themselves are basically murals here with some very cool images… including the one lady pictured below, with butterflies obscuring her face. I really, really love it, but could see it giving some people nightmares!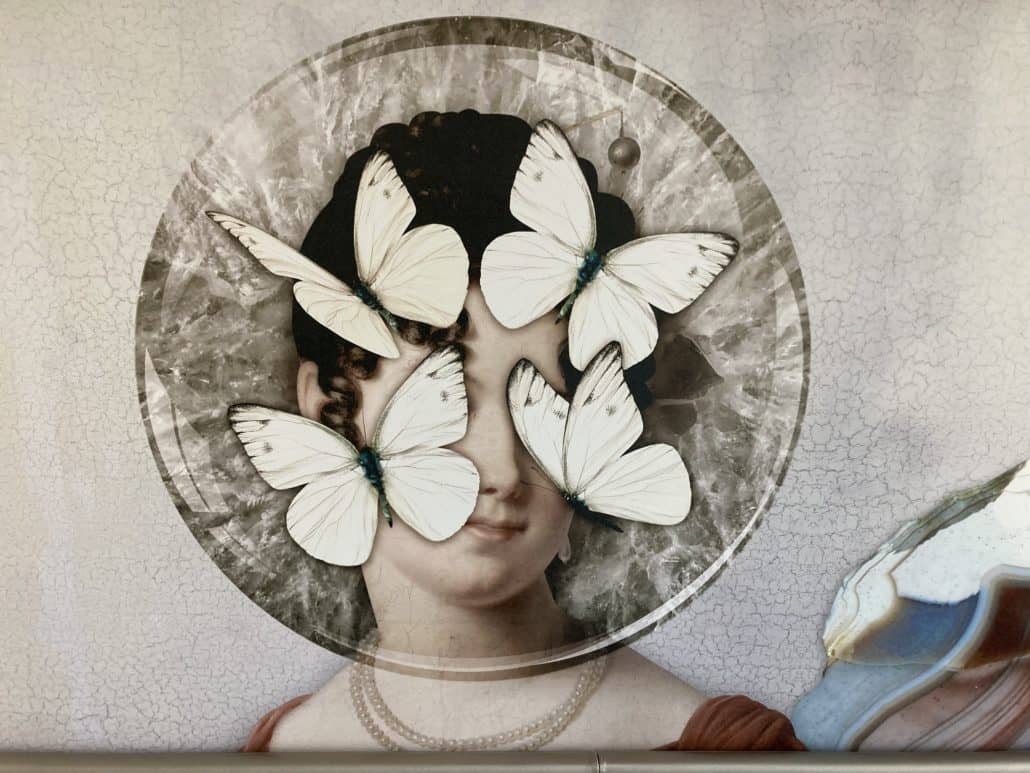 The bathroom is spacious and the showers not only have glass doors which swivel to create a wider entrance but what Cruise Radio head honcho Doug Parker likes to call "car wash" nozzles that hit you from all over. That's the kind of thing you rarely find in standard staterooms, but that little bit of the suite life is in all Prima staterooms.
Meet the Diva
No sooner had I thrown my things into the stateroom than it was time to rush to Syd Norman's Pour House, where Kimberly Locke — the American Idol runner-up who is currently headlining in Summer: The Donna Summer Musical on Prima — would be meeting with the media.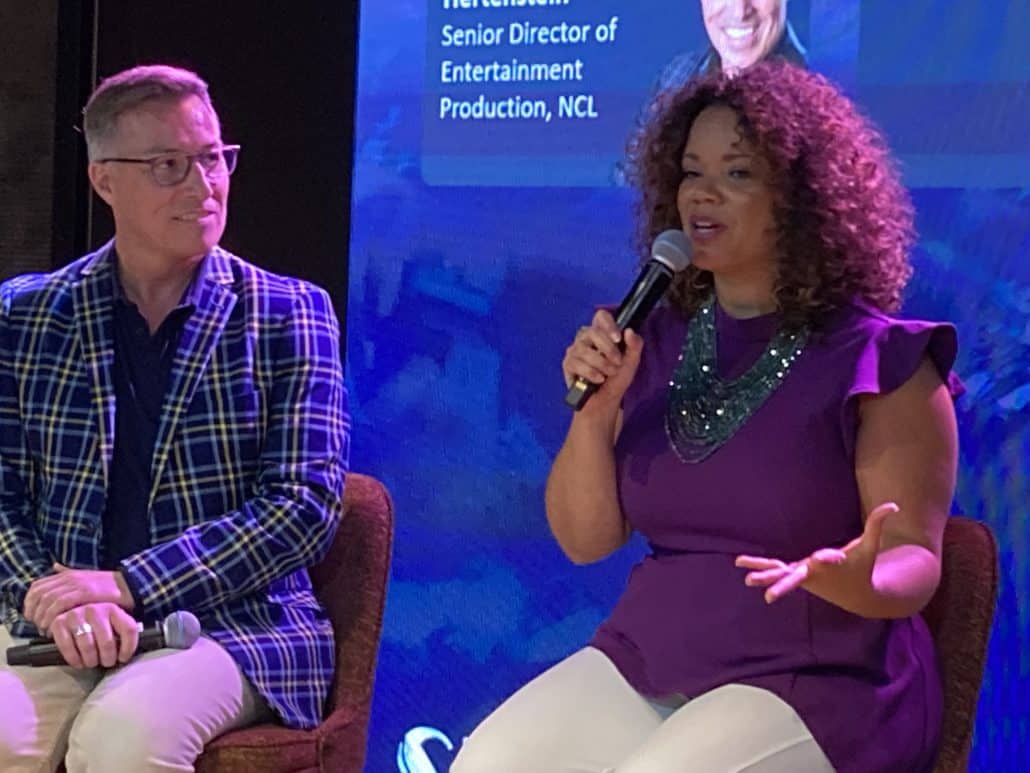 I don't know what I expected, but it wasn't to have Locke put on a private performance for the 20 or so people in the room. Rather than simply sing a couple songs from the Donna Summer hit list, she eschewed those entirely to tell us stories of her past and perform songs which had personal meaning to her. Here it was, 11 a.m. on a Thursday, and I was having one of those moments where you think, "Wait, is this really my life?"
Go Ahead, Indulge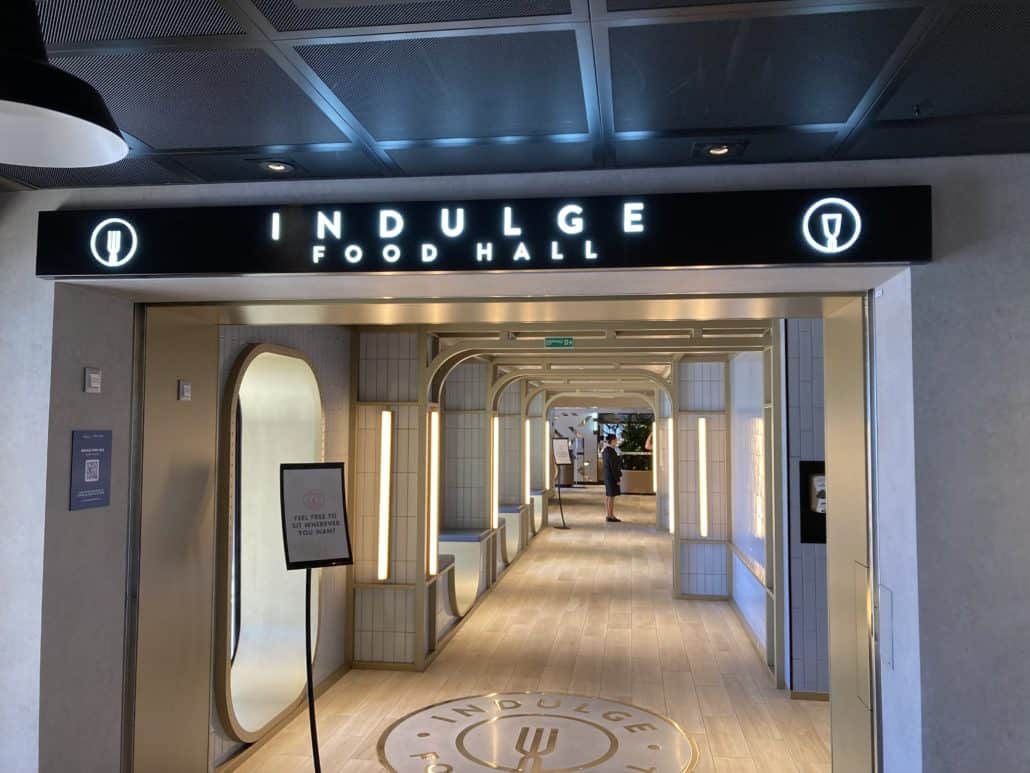 By this point starving, I headed to Indulge Food Hall. This is a new-to-Norwegian concept and the best way to describe it is as an upscale food court. You know, like they have at the mall. Except instead of Panda Express and Sbarro Pizza, this one has an amazing selection of restaurants. Best of all, you can sit at a table and — by ordering off a tablet — get different things from each of the venues, all of which are delivered to your table.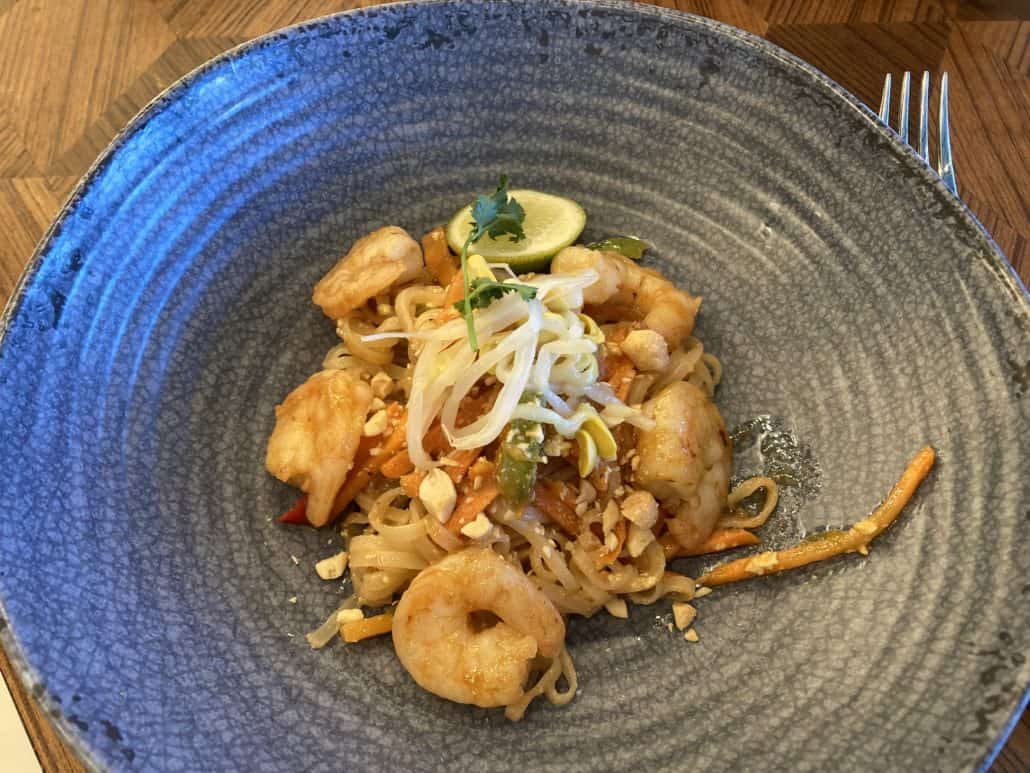 I wound up having shrimp pad thai from Nudls, Crab Tostado from the Latin Quarter, chorizo from Tapas, and more. Like Food Republic (a for-fee restaurant on board), this is a great spot to hit with a friend so you can share small plates. But be warned: It gets super crowded during peak lunch and dinner times, when finding a table can be tough.
Feel the Vibe
The rest of the afternoon is a bit of a blur, as I wandered around trying to take in as much as possible. Because this is not considered a revenue sailing, spaces like the Vibe Beach Club (which are normally only accessible to those willing to pay around $250 a week) were open for all. Given that Vibe is one of my favorite spots, of course I had to check it out. Despite this being a smaller ship than the Breakaway and Breakaway-Plus class ships, Prima has a larger Vibe area… and it is gorgeous.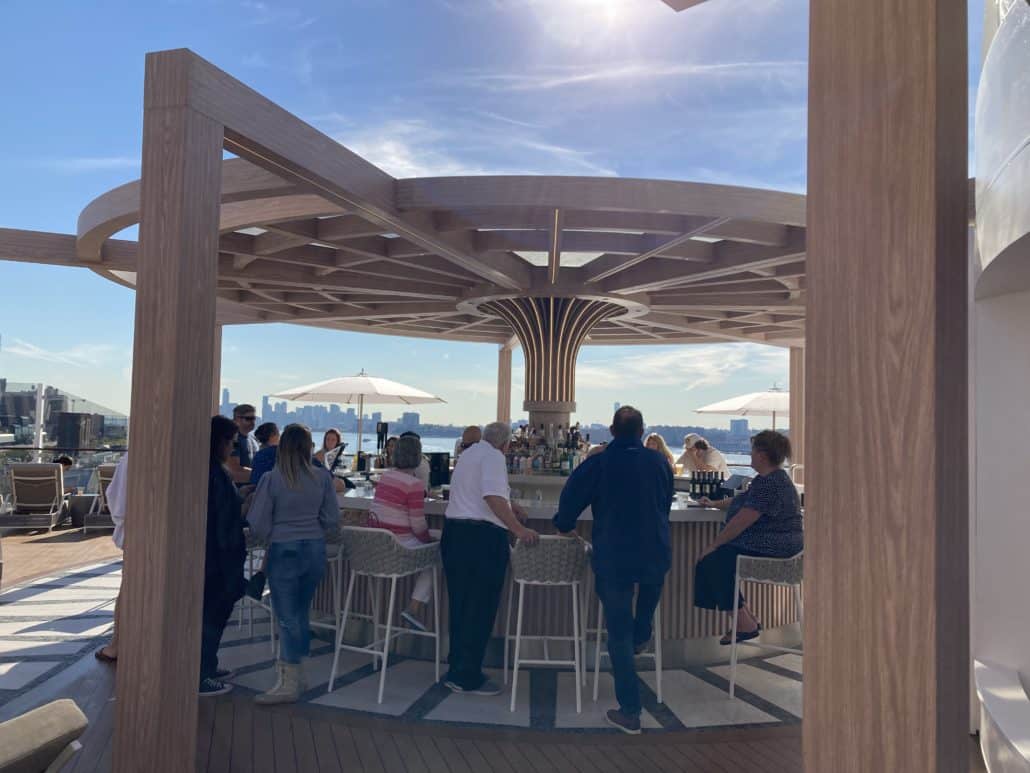 One thing I particularly loved about this space was visiting it after dark, when lighting effects allowed the hot tub to bubble a deep blue and a lighted pathway wove through the chairs to the bar which anchors the entire space, itself a beautiful piece of architecture.
I'll admit I was surprised that Vibe is literally directly beneath the three-story Prima Speedway. While the go-karts aren't extremely loud, I'm not sure it's a sound I'd want to listen to all day when I paid a premium price for a spot to relax and get away from the madness of the ship as a whole.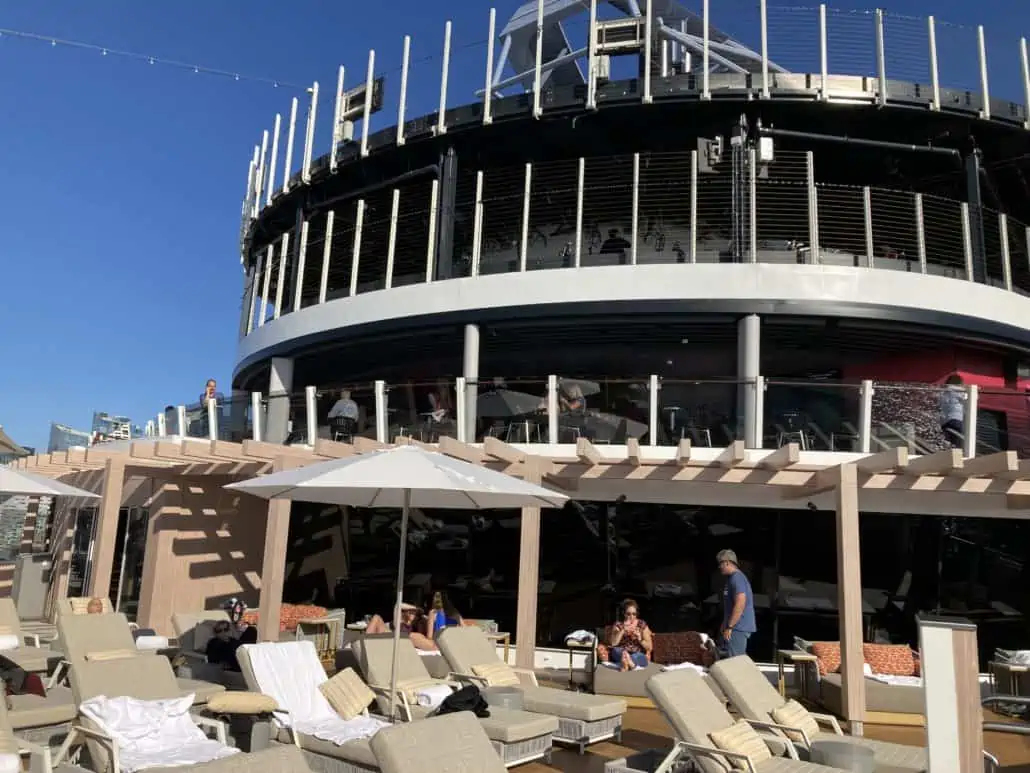 Something Fishy
Because Norwegian was providing every guest on this special sailing with at least one (and in some cases two) specialty dining restaurant credit, things were a bit chaotic when it came to trying to snag reservations. The two restaurants I knew I wanted to try were Onda by Scarpetta (Italian) and Palomar (Mediterranean/seafood). As it turned out, my media rep had arranged for several of us to have dinner at Onda; I only needed to get a Palomar reservation.
Easier said than done.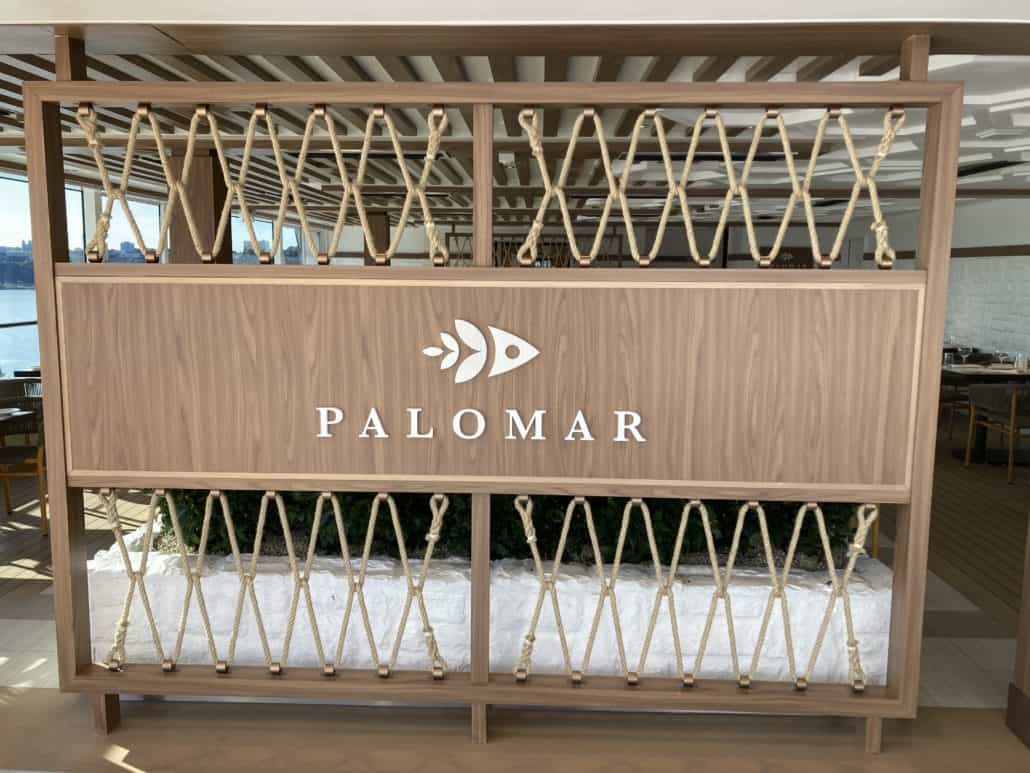 Theoretically, one can make dining reservations in a variety of ways, including on the Norwegian app or any of the touchscreens located around the ship. But technology being technology, none of that was working. So in order to get specialty dining reservations (or entertainment reservations), folks had to stand in line and hope for the best. In my case, being a single diner definitely worked, as I was able to book Palomar for this, our first night.
Now, I'll admit I'm not a huge seafood person. But this being a totally new-to-NCL restaurant, I felt it was practically my duty to give it a try. I was not disappointed at all. The meal started off with warm, fresh baked bread and a plate of oil with snipped-at-your-table rosemary in which to dip it. I then ordered oysters and a grilled squid appetizer, followed by a perfectly-prepared sea bass. So good was the chef that I wound up eating a carrot-and-chickpea puree, something I wouldn't even look at on dry land.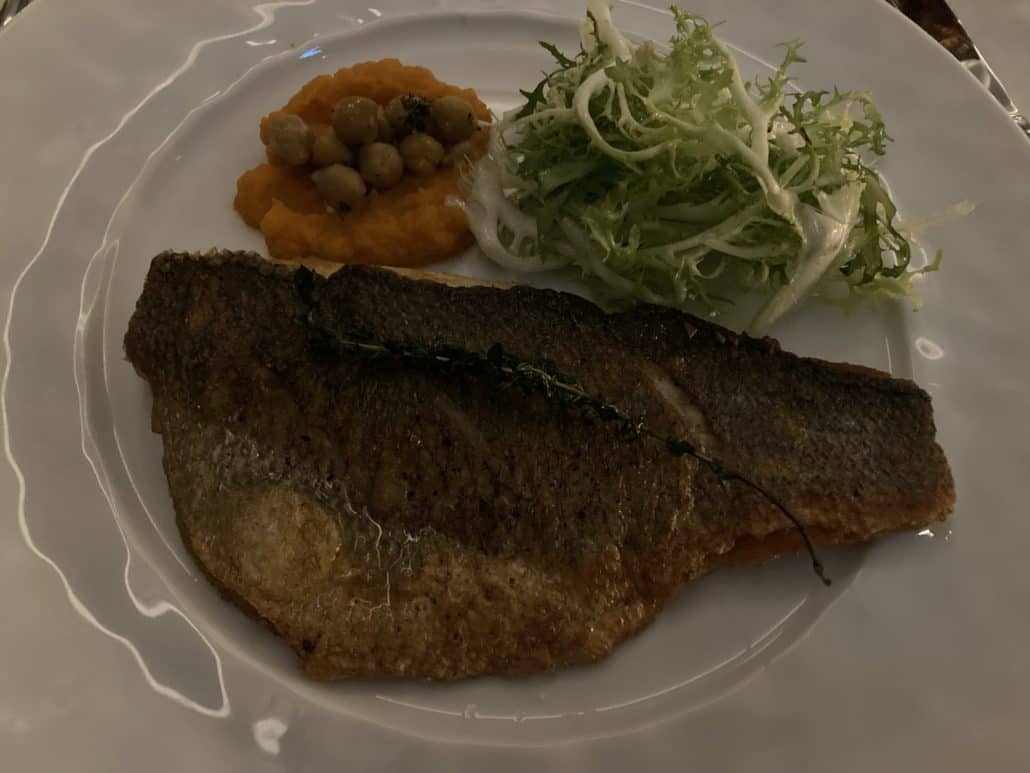 And I liked it!
One thing worth noting: Palomar is upscale and it ain't cheap. There are a limited number of entrees, and at least three of them come with a surcharge if you're using the dining plan. Frankly, I was surprised to see that many of the main entrees have an extra fee attached to them.
Summer at Studio 54
Now at home, I have a tough time staying up past 10 p.m., and that's often true on a cruise, too. But damned if I was going to miss the big show on this ship, Summer: The Donna Summer Musical. As I mentioned earlier, Kimberly Locke is the star of the show, but she's joined by two other performers who play the iconic Ms. Summer at different times in her life.
The show is… what it is. It's a well-produced, fairly well-paced jukebox musical featuring around two dozen songs made famous by the reluctant Disco Queen. Locke is good as "Diva Donna," but never really felt connected to the part for me. Her vocal enunciations felt a bit too forced, especially when compared to those of the other performers.
As you might assume, the final song of the show is Last Dance… but it proves to be anything but as the theater is then transformed into the legendary New York City nightclub Studio 54. Now, much has been made of the transformation from theater to dance club, and it is kind of amazing. But lest anyone think this is a simple "push a button, the theater chairs go away and a dance floor magically appears" kind of thing, think again. It takes about 20 minutes or so for a small army of crew members, to collapse all the seats and slowly but surely allow them to slide backwards into a wall cubby. It's rather like when you were in high school, and the bleachers would stack up against the wall when not in use.
Wisely, to keep the party going while this transformation is taking place, the entertainment staff creates a disco on the actual stage and encourages people to come up and dance. With 70s disco music throbbing, a fog machine working overtime, and even a few velvet ropes, the atmosphere is energetic and a whole lot of fun.
Word of warning, cabin-booking wise: Given how loud the music is during both the show and the afterparty, I definitely wouldn't want to be in a stateroom above or below the Prima Theater/Club!
Having been well fed and entertained, it was off to find out just how comfy that bed in my stateroom really was. After all, tomorrow would be another action-packed day…
Check out my other Norwegian Prima trip reports: