We arrived later than expected in Halifax, which was the one and only port call on this particular four-day sailing of the Norwegian Prima. Given that it was sort of a rainy day (although it would later clear up), I pretty quickly decided that I was going to stay on the ship. This decision was made a whole lot easier upon realizing that we weren't in the nice port that dumps you into an area with shops and restaurants, but rather a slightly further away dock which is basically an ugly shipyard.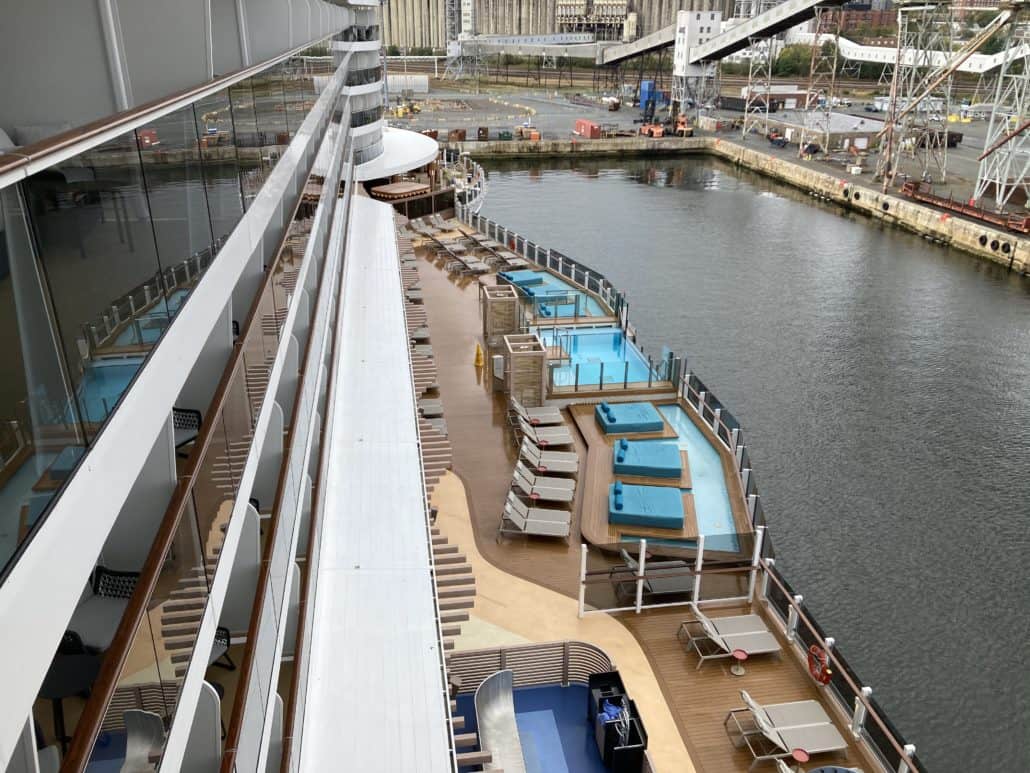 Nah, I'll pass, thanks.
Checking Things Out
One of the great things about staying on a ship when it's in port is that so many people get off, you can really explore without interruptions. This was that kind of day for me. I walked the entire promenade, taking in all the different types of seating. I don't know why, but I'm a total geek for that kind of thing. Hanging chairs, swivel chairs, low tables, high tables. I was honestly shocked by how many different types of seating arrangements and materials there were on this ship.
Another thing that strikes me is how small some of the venues are. By this point, I've attended two different events in Syd Norman's Pour House, both specifically for the media. And as a small group of us sat there, I found myself thinking it would be really crowded were there an actual, say, show going on. I later heard from several people that was definitely the case… it was, "Get there early, or you're going to be out of luck."
The same holds true for the comedy club. Fun fact: outside the comedy club there's a wall with the symbols for various chemical symbols. For a second, I forgot I was on a Norwegian ship, because this reminded me of something you'd see at Carnival's popular Alchemy Bar. But Greg Walton — cofounder of Studio Dado, the firm which designed many of the public spaces — explained it thusly: "I've always thought that when it comes to comedy, it's like the person on stage is trying to create just the right chemistry with the audience." This, kids, is why he and his team get the big bucks.
The Mask Question
Someone reading my first day's report messaged me to ask about onboard protocols. So let's just hit that real quick, shall we? In essence, there weren't any. A day or two before we set sail, Norwegian dropped the requirements for pre-cruise testing, even for unvaccinated guests. I'll be honest, this gave me pause. I've worked darn hard to avoid getting COVID, and this seemed like a rushed decision.
Crew members on board were given the option to wear masks. Most didn't, although every now and then you'd see one who was masked up. I sort of went half-and-half. I always had a mask in my pocket and if I was getting into an elevator or headed into a crowded venue, I masked up.
"Did you feel weird?" a friend asked. Personally, I didn't, largely because back home, I tend to mask up whenever we go shopping or anywhere else. I'm kinda used to being the only one!
The Man, The Myth…
While wandering around and exploring the ship, I eventually came upon the Metropolitan Bar. This is a new-for-NCL venue featuring "sustainable cocktails." The best way to explain the concept is that a drink might be made with a syrup made from banana peels. Another might use watermelon rinds as both the basis of a syrup and as a decorative touch.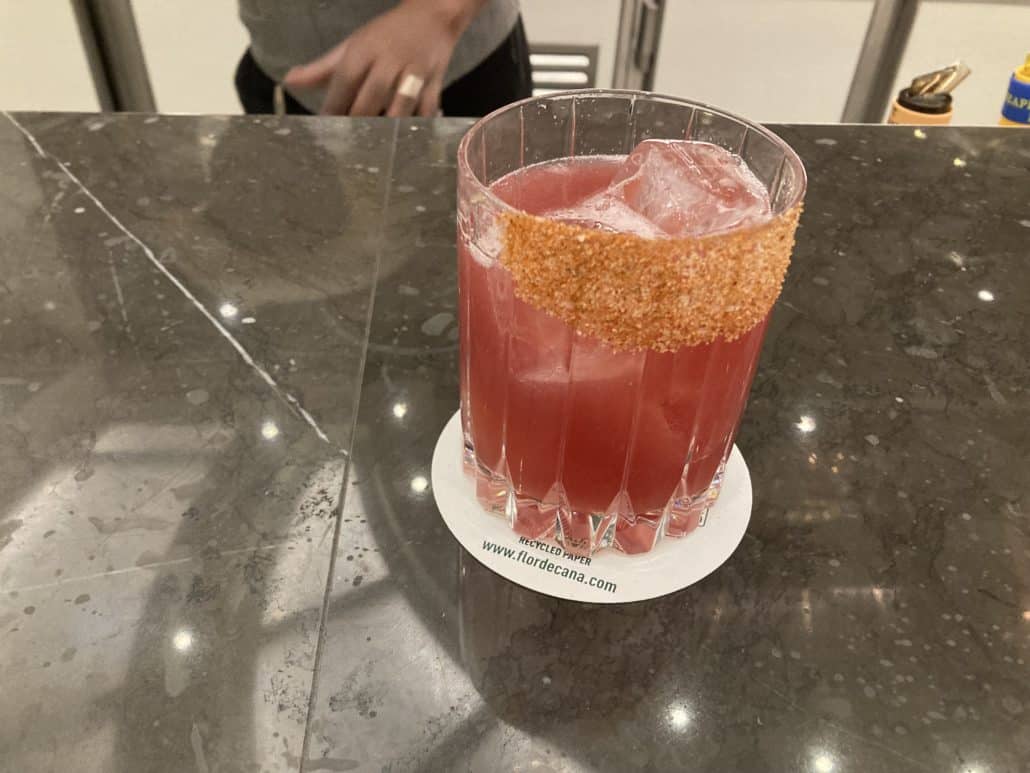 The Metropolitan is a large space with clean lines and décor that some have found a little bit clinical. But it's also home to a man who is literally legendary amongst Norwegian cruisers, Clarence Bennett, also known as the Chocolate Cowboy.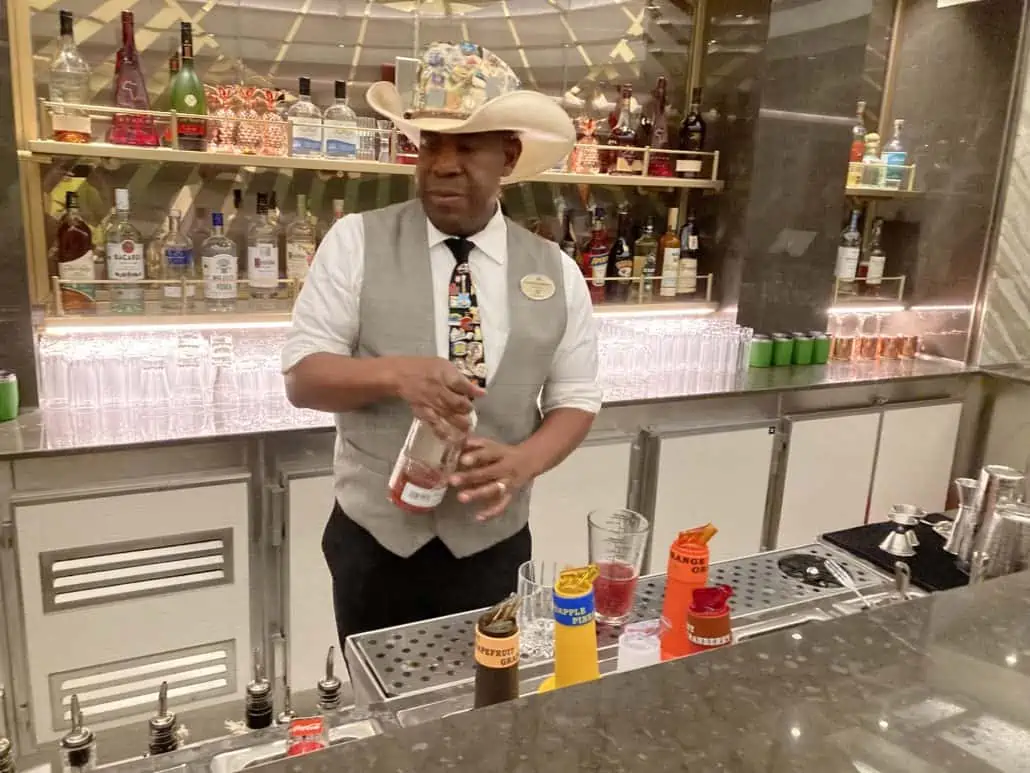 Some might bristle at the nickname, which was lovingly bestowed upon Bennett during a far less PC era, but it's one he relishes. The man is a fantastic bartender and gifted storyteller, which is why my original intent to stop in for one cocktail turned into… well, the kind of afternoon which leaves one staggering just a bit as they head for their stateroom to take a hard-earned nap.
Big Bucks, No Whammies!
What was supposed to be a short nap turned into the kind of all-afternoon-and-into-the-evening snoozefest that vacations are all about. You know how some people don't much care about what stateroom they're in, saying they just use it to sleep and shower? Not me. I love to nest. On any given cruise, whether it's a four-day or 14-night sailing, I'm going to spend at least one day with the "Do Not Disturb" sign on the door, completely relaxing. This was pretty much that day.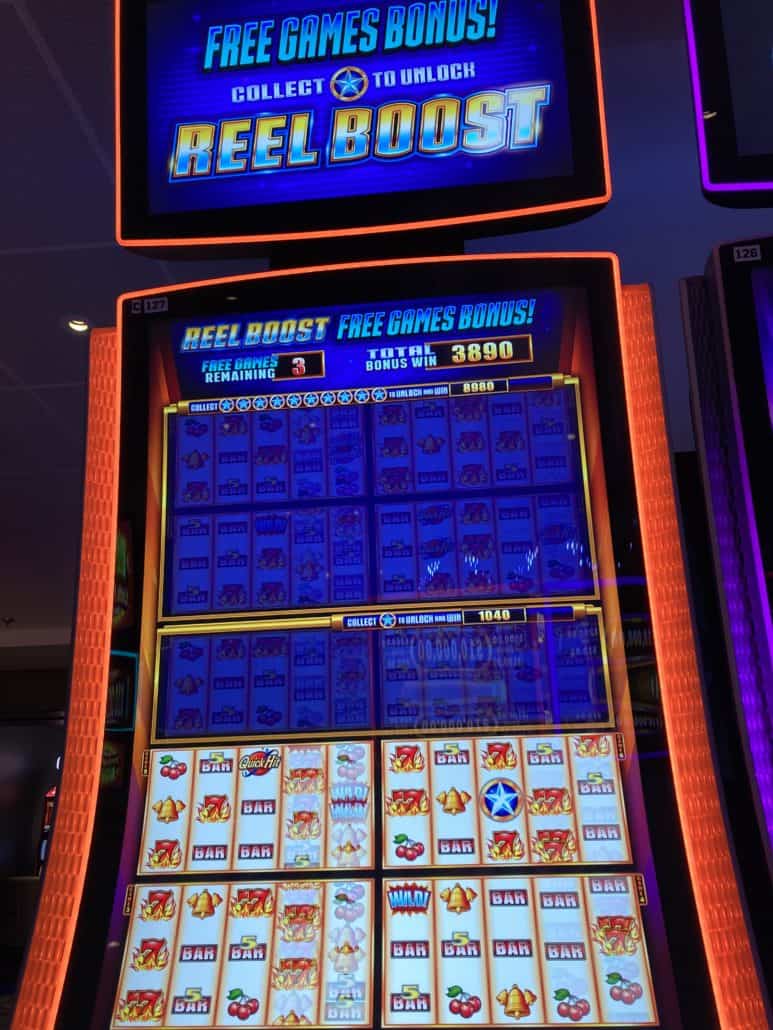 When eventually I woke up, I headed to the casino. The Prima casino is a nice size… not nearly as big as on some other ships and — I know many will be glad to hear — it has a separate smoking area. Both the smoking and non-smoking areas feature a nice selection of slots and table games. Perhaps because of the nature of this sailing — which was comprised of travel agents and media — the space seemed somewhat quiet. But I suspect on regular revenue sailings, it's going to be crazy popular.
Having skipped dinner, I decided to hit one of Norwegian's long-time hot spots, The Local. This 24-hour venue is well known for exactly what I was looking for: chicken wings! On Prima, The Local is laid out almost as two different spaces. On one side is a colorful, loud bar as well as some tables, booths, and swinging chairs. On the other side is a more conventional restaurant-style space. I sat at a table on the bar side, but it seemed there was only one waiter working and after 20 minutes or so, it became pretty apparent this was going to take a while. But by hopping over to the restaurant side, I got my wings pretty quickly. (They didn't even give me a side dish of judgment when I asked for a triple order, bless their hearts.)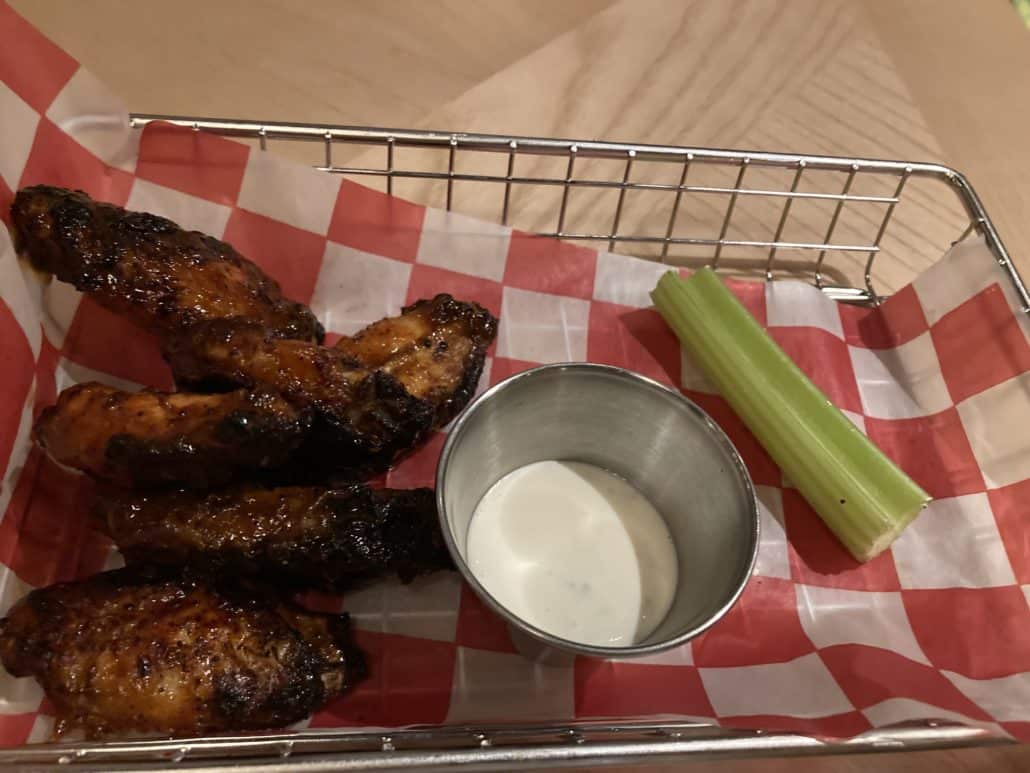 Time clearly does fly when you're having fun, because by this point it was after midnight. I wandered back to my stateroom, stopping to listen to a bit of music in the atrium, and strolling through the Observation Lounge just to enjoy its quiet vibe. Then, after sitting on my balcony and listening to the ocean rush by for a half hour or so, I called it a night. Tomorrow would be our final day both at sea and on the Prima, and I wanted to make the most of it.
Check out my other Norwegian Prima trip reports: